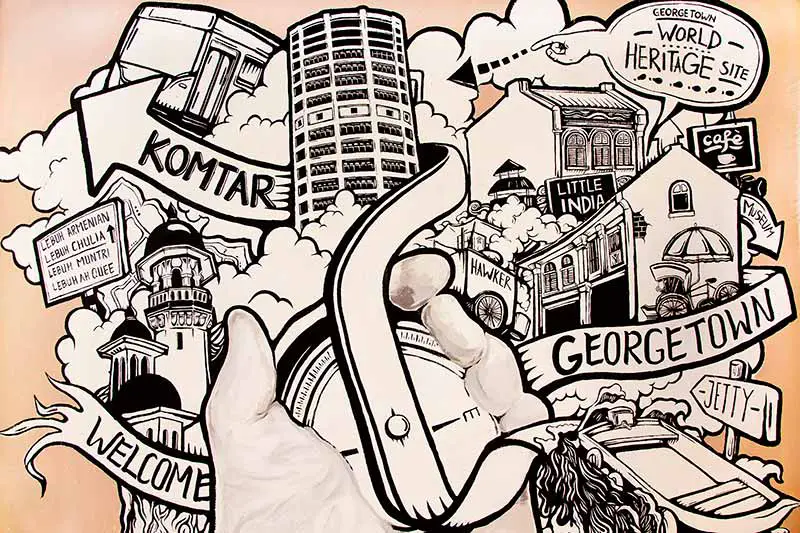 Welcome to Penang Insider, the smart guide for traveling and living in Penang, the pride of Northeastern Malaysia! This Penang blog brings you first-hand living experience from a real Penang Insider who made this blessed multi-ethnic, tropical island his love nest since 2009.
That would be me, Marco Ferrarese. I help people figure out how to get to the heart of Penang, showing them the best the island has to offer. And if you don't trust my insider knowledge because I am a foreigner, please consider that even the CNN asks me to write about Penang 🙂
If you are visiting this site, you are probably a Penang lover, like me; or you may just be looking around the web planning your first visit, on the hunt for a good Penang blog to read what you need to know to get started — and there's nothing wrong with that.  With the suggestions contained in this blog, you'll not only arrive in Penang hitting the ground running, but you'll get to the very heart of an incredible Malaysian destination that, because of a lack of real insider knowledge, is most often only experienced superficially.
Penang Insider's suggestions are all honed by a decade spent living and studying on these shores. We are helped by locals to constantly update these pages. More important, we don't simply try to promote a dying heritage using gentrification to lure in more tourist dollars. On the contrary, we try to describe Penang as it really is, with pure honesty, and a no bulls**t attitude.
Why You Should Trust the Penang Insider
I am many things, but mostly a travel writer. Besides calling Penang home, I have visited more than 60 countries on three continents and have crossed Asia overland to my native Europe twice. I am the author of Nazi Goreng: Young Malay Fanatic Skinheads — a bestseller in Malaysia, that was translated to Bahasa Malaysia before being banned by the KDN — and Banana Punk Rawk Trails. I published short fiction in Malaysia and written book chapters on Malaysia for the world's leading academic publishers. Since 2016, I am also working with Rough Guides. I have updated the Malaysian and Brunei chapters of their guidebook Southeast Asia on a Budget, and worked on their guides to Malaysia, Singapore & Brunei, Thailand, Thailand Beaches & Islands, and India. I also updated chapters on Laos and Cambodia for the Fodor's Guide to Thailand.
I have also written about travel, culture and extreme music in Asia for a variety of international publications such as Travel + Leisure Southeast Asia, CNN Travel, BBC Travel, National Geographic Traveler (UK), South China Morning Post, Roads and Kingdoms, Southeast Asia Globe, Perceptive Travel, Time Out, Singapore Airline's Silverkris, Bangkok101, Vagabonding, and Penang Monthly.
If you really want to know more about me, you can read interviews in the South China Morning Post, Malay Mail, Monsoon Books website and the Penang Monthly.
You can follow me on Twitter (@monkeyrockworld), on Facebook, or reach me by e-mail.
And please don't forget to sign up to Penang Insider mailing list. I will send you a monthly recap of the best stuff we published, plus exclusive tips and materials, only for those loyal subscribers.