When visiting Singapore, most travellers barely think of anywhere else but the Civic District, Chinatown, Little India, and Sentosa Island. These are all worthy spots for first-timers (are you? Here are the things to know before visiting Singapore and a perfect One Day in Singapore itinerary), but the action has also moved further East these days. Do you already know Joo Chiat, where rows of cafes dish up some of East Singapore's best food?

READ MORE — Best Time to Visit Singapore
---
A quick history of Joo Chiat's neighborhood
Katong/Joo Chiat district may not say much to most, but what was once a coconut-strewn weekend retreat for wealthy city dwellers first developed into a residential suburb in the 20th century and soon became a center for the educated English-speaking middle class — including Eurasians and Peranakan, or Baba Nonya.
This Malay/Indonesian word refers to people of mixed Chinese and Malay/Indonesian Islamic heritage. A group that, like those on Penang island (read more about Penang Peranakan Mansion here) and Melaka in Malaysia, had their unique culture, looks, and architecture. Their two-story traditional shophouses and terrace houses have ornate, coloured facades embezzled by ceramic tiles and intricate motifs.
It's on one particular street in Katong, Joo Chiat Road (which took the name from its developer, Chew Joo Chiat), that thanks to those unique pre-war houses, an influx of local and international tourists transformed the area into one of the most popular entertainment and food districts in Singapore today. Bars, restaurants, record shops, street art and giant murals, and even a Muay Thai gym dedicated to women coexist along this stretch.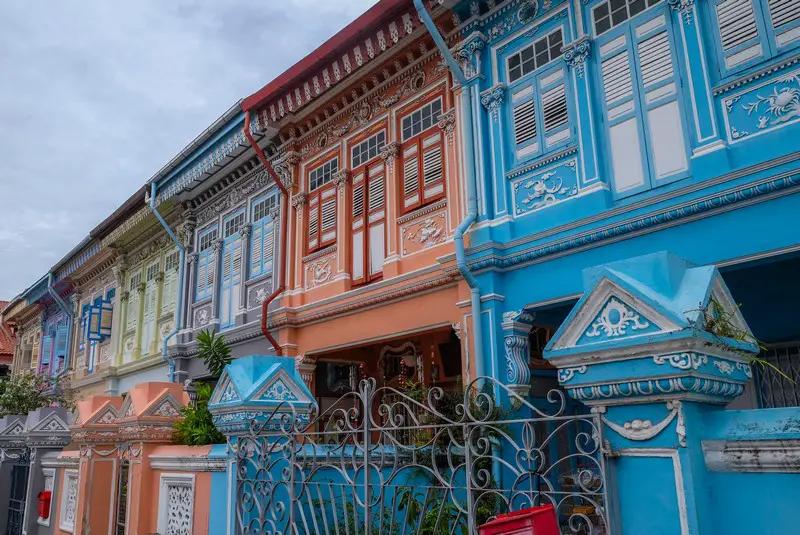 Being only 20 minutes away from Singapore's city centre, it's very easy to visit Joo Chiat for a few hours — but the place really deserves some time and a stay, given there's a selection of very affordable hotels straight in the center of the action.
Interested? Here's all you need to know to plan the time of your life and experience the best food, cafes and things to do in Singapore's Joo Chiat.
---
Best Food in Joo Chiat
Joo Chiat has many restaurants to satisfy every craving and budget, but we think the following are some of the best this trendy strip offers.
All about meat (and excellent wines) is also Asador, possibly one of Singapore's best Spanish restaurants. Start with Pan Casero and Jamon Iberico, and then tear into a portion of Costillar de Ternera (S$56), their popular juicy short ribs of glazed Angus beef. The pan-Iberic selection of wines from most regions of Spain, paired with international sparkling Rose, Brut and Bollinger, will excite wine lovers and connoisseurs.
---
2
Old Bibik Peranakan Kitchen
There are plenty of food choices in Joo Chiat to satisfy every budget, but we think you should start local and try Old Bibik Peranakan Kitchen (328 Joo Chiat Rd, #01-02). Housed on the ground floor of a traditional shophouse that spills tables on the street, this acclaimed Peranakan-style eatery is as unpretentious as it's delicious. Their signature beef rendang, ikan asam pedas, udang nenas masak, grilled sambal barramundi, chinchalok omelette are all affordable, authentic, and flavorsome Nonya dishes.
---
For a change of taste, hop to Joo Chiat Caphe (263 Joo Chiat Rd), which specializes in hearty, juicy Vietnamese Banh Mi (from S$5.80, come early as they sell out fast) and Mackerel otah (a mix of fish paste and flavoursome spices). This simple and popular spot spills tables on the five-foot way of a traditional shophouse, and it's perfect for people-watching and a quick lunch fix.
---
4
Common Man Coffee Roasters
The Joo Chiat outlet of Common Man Coffee Roasters is part of a Singaporean ethical coffee franchise established in 2013. They offer what they boast as the "best brunch in Asia" — judging by the lines waiting by the entrance, it may as well be. Their popular Organic Egg Benedict (S$27), runny and served along with braised ox cheeks, chive hollandaise and artisanal sourdough bread, is the explosion of tastes you need to power charge your day. The coffee, sourced from organic farms and served by their own trained baristas, is also brewed to perfection.
---
Next door but another world away is Blue Smoke (261 Joo Chiat Rd), a proud Asian Smokehouse decked out in dark, industrial chic interiors and ambience, and a part of the craft beer operation, 1925 Brewery. They test Western smoking techniques on Asian meats to create savoury concoctions such as Wood Smoked Stingray Steak (S$45) spiked with sambal belacan, and Teochew-style braised Kurobota (Japanese Black Hog).
---
Best Cafes, Nightlife and Meeting Spots in Joo Chiat
Besides traditional pubs such as The Cider Pit (328 Joo Chiat Rd), try something more unique at Crane (285 Joo Chiat Rd), in the centre of Joo Chiat Road. What most people see of this beautiful 1920 corner lot shophouse is through the floor-to-ceiling windows of Japanese-inspired cafe Natsu, but like a hushed secret, what happens at Crane is hidden inside — and a lot, on the charming rooftop. Number two of a four-venue city franchise, Crane Two is part co-working space, hipster cafe, and community space (including a podcast recording room) to share urban experiences and bring them into real-life projects. On weekdays, people come for pizza nights on the terrace, interest groups' meet-ups, and private dining. On Weekends, the East Comedy Club and a Farmers' Market bring the space's three delightfully retro floors to full-scale life.
Wine lovers may want to try Wine Mouth (432A Joo Chiat Rd), Singapore's first retail store-cum-drinking den dedicated only to natural wine — biodynamic farmed, organic, with minimal intervention in the winemaking process. From reds, whites, oranges, rosé, sparkling, and spirits, Wine Mouth is the spot to get natural, healthy hangovers.
At last, music lovers should head to Retrocrates (370 Joo Chiat Rd, #01-01), a vinyl mecca specialised in jazz, blues, and world music. It's an excellent spot to look for professional turntables, stereo amplifiers, speakers, etc. They also grade and buy second-hand vinyl, the format they stock and specify in, and sit next to a hole-in-the-wall pizzeria that sells slices and stocks more records.
---
Where are Joo Chiat's famed Peranakan shophouses?
If truth be told, most businesses have taken up and refurbished old Peranakan shophouses, but Joo Chiat's most famous row is slightly off the main strip, where two rows of brightly painted houses became an iconic background for the 'gram. Walk along Dunman Road and past Joo Chiat's main junction, and continue for another fifty metres along Koon Seng Road. You'll find yourself amid a rainbow of coloured shutters, pillars, and doors.
See the location on this map:

For a crash course in Peranakan Culture, a visit to The Intan (69 Joo Chiat Terrace) is also a must: this private home is filled with a collection of Baba Nonya items painstakingly assembled by a local Baba collector. In nearby Katong, the Eurasian Heritage Gallery (139 Ceylon Rd) has more artefacts and exhibitions of this curious ethnic group.
---
Recommended Hotels in Joo Chiat
Try Hotel 81 Sakura to stay in the action's thick at a bargain. Housed inside an azure Peranakan shophouse corner lot, it brings Japanese-themed budget rooms to the very centre of Joo Chiat. Spread over four stories, rooms are bright and equipped with perks like mini-fridges, high-speed Wi-Fi, TVs, and warm wooden parquet and furnishings. Check prices and book on AGODA|BOOKING.COM.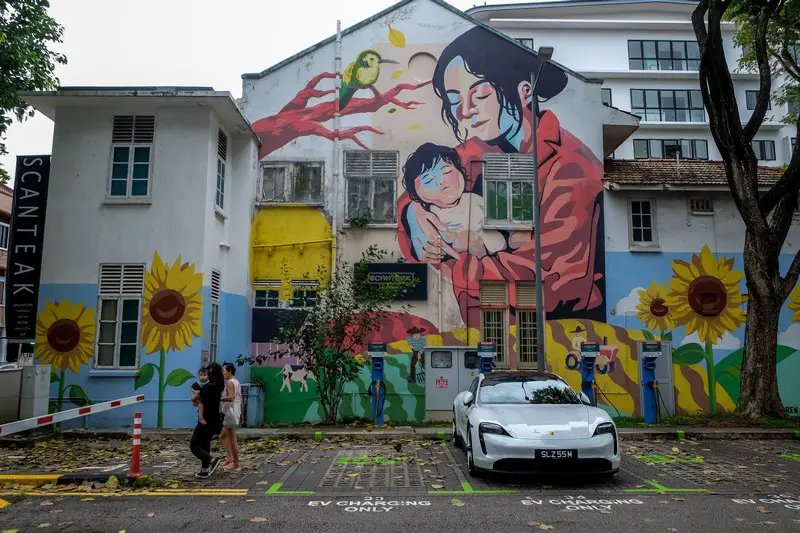 Ibis Budget Joo Chiat (219 Joo Chiat Rd) is the best choice for many other heritage-themed hotels. This central, tall, mustard-coloured building soars over the thick of Joo Chiat's bars and restaurants and offers clean, functional rooms with Peranakan-themed touches and a low price tag. It's also a 10-minute walk from Geylang Market and accessible by public transportation. Check prices and book on AGODA|BOOKING.COM.
Venue Hotel The Lily is a budget hotel in the centre of Joo Chiat's main strip and is surrounded by Vietnamese restaurants. The Lily has very adequate rooms for its price tag. Furnishings are functional and decorated with Peranakan tile-inspired motifs, but space is limited, and with no windows in some rooms, one won't feel inclined to do much else but sleep when staying here. Check prices and book on AGODA|BOOKING.COM.
YOU MAY ALSO LIKE:
How to Cross the border from Singapore to Malaysia
Flight from Penang to Singapore
Why do Malaysians move to Singapore?
---
And if you liked this, why don't you sign up for our mailing list? We will send you immediately a FREE photographic eBook with some incredible pictures of Penang, and we promise, we will disturb you only about once a month with some good local advice you won't find on the site