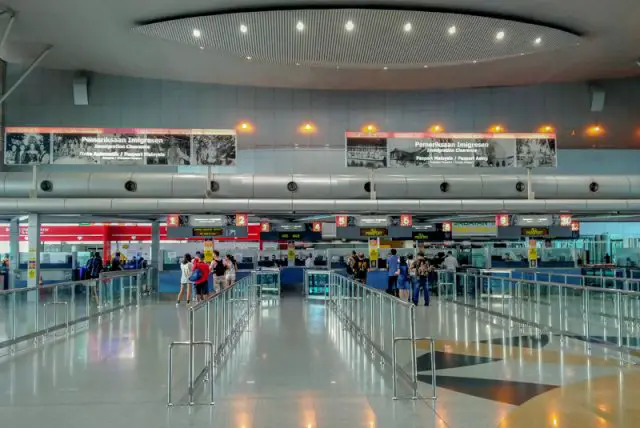 Going from Singapore to Malaysia and you are not sure how to do it? No worries, you have landed on the right page. We crossed the Malaysia-Singapore border in May 2023 and this is a full report of our (positive) experience.

This post will tell you:

– How to go to Malaysia from Singapore
– What are the cheapest ways to go from Singapore to Malaysia
– What is our preferred method of going by land between Singapore and Malaysia
– How we actually went from Singapore to Malaysia

READ MORE – A Perfect One-Day Singapore Itinerary
---
First of all, is the Malaysia-Singapore border open?
This is a very legitimate question in this post-pandemic world.

Yes, the Singapore-Malaysia land border crossing reopened in April 2022 and now travellers can travel by land between the two countries using one of the two land entry points — the main Woodlands Causeway Link into Johor Bahru, or the less-used Tuas Checkpoint border.
READ MORE – Things to know before travelling to Singapore
---
What do I need to enter Malaysia?
As of now, Malaysia does not require any proof of COVID-19 vaccination to allow travellers to enter its borders. All you need is:
– A passport that's valid for at least 6 months
– A visa, if your nationality requires one. See a list of countries needing a Malaysian visa here.
– Proof of leaving the country, such as a return flight ticket to your own or another country (this is not always enforced, but it's a good idea to have one).

You can check the latest entry regulations on the Malaysia Immigration Official website.
---
How to get to Malaysia from Singapore?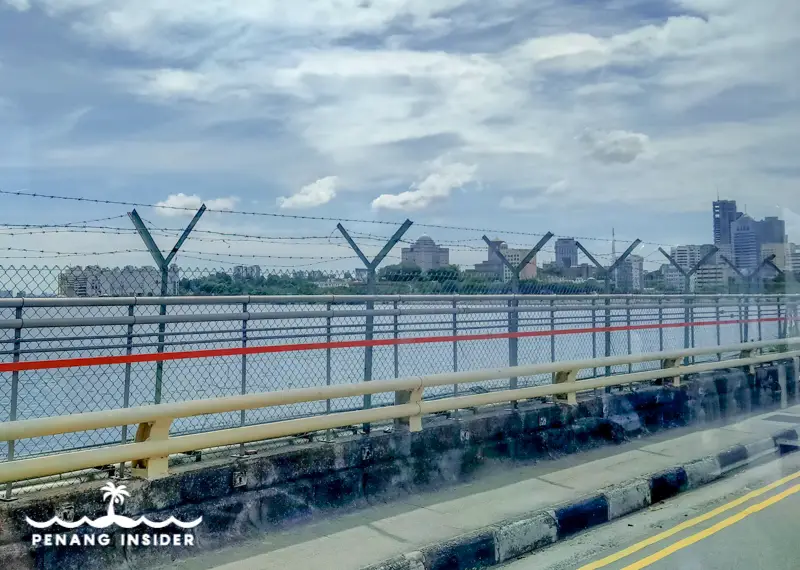 You can always fly from Singapore to Malaysia (Kuala Lumpur and Penang are the two most connected cities in Peninsular Malaysia), but this post focuses on how to get to Malaysia from Singapore by land, and how to do it the cheapest way. And the answer is…
Singapore to Malaysia by Train
You can catch the Intercity train service from Singapore's Woodlands to JB Sentral operated by KTMB. This train from Singapore to Johor Bahru departs 13 times a day, with the first service leaving Woodlands for JB Sentral at 08:30 am and the last train at 23:45 pm. The train journey takes just 5 minutes and tickets cost 5 SGD (about RM17.20 or USD3.70). You can read more information here.  

The problem with this train service is that it's not so frequent, with gaps of up to two hours between departures, and most important, Woodlands is far from Singapore's city center where visitors are most often located.

The cheapest, fastest and best way to go to Malaysia from Singapore is by using the bus. 
---
Singapore to Malaysia by bus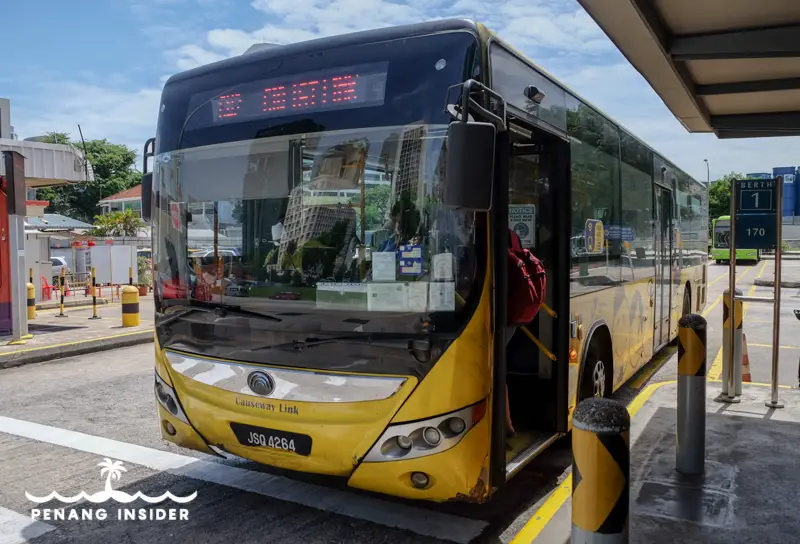 The cheapest way to travel between Malaysia and Singapore is by taking the private, air-conditioned buses that ply the route between Singapore's Queen Street and Malaysia — JB Sentral for Johor Bahru and catching trains further north into Malaysia, and Larkin Bus Terminal, to catch onward buses to many Malaysian destinations.

This is a map of the bus station's location, which is about 350 meters walk away from Bugist MRT station:
These inter-causeway buses are quite affordable and comfortable. The cheapest and best way to get from Singapore to Malaysia is to catch the Singapore Bus Service (SBS) bus Number 170 which leaves from Queen Street bus station to Larkin Terminal in JB. It leaves every 15 minutes from 05:20 am to 00:10 am and takes about an hour to get to the border. It costs S$4.80 one-way.
TRAVEL TIP: Drivers never have change, so either bring the correct amount or use any contactless Visa or Mastercard credit card to pay for the ride. You can tap them in and out on every bus and metro in Singapore to avoid buying one-way tickets and carry cash with you all the time. The border bus is no different.
---
This happens at Woodlands Immigration Checkpoint in Singapore 
The bus will drop you right at the Singapore immigration checkpoint, but it will not wait, so bring all your belongings off the bus with you to continue through immigration. 
Walk only about 100 meters from where the bus drops you to moving escalators that bring you to the immigration gates. If you have entered Singapore, you must have filled up a Singapore Arrival Card (SGAC) at least three days before your arrival (you can find the online form here) and know that right now, Singapore WILL NOT stamp your passport — it's all digitalized and even automated.
---
Using Automated Gates when Exiting Singapore
Citizens of ASEAN countries, the USA, the UK and most European nations can avoid dealing with an immigration officer and use the automated gates provided. Clear signs will point you to the correct line. All you have to do is scan the biometric data page of your passport, enter the gates, and follow the instructions on the screen. If you are wearing a facemask, you must remove it to allow the camera to scan your facial features. If there's no problem with your stay, the automated gates will prompt all the information and open, and you'll be on your way out of Singapore.

Pass the customs check by keeping on walking straight, and you'll get out and on the moving escalators that take you down to the next bus stop: on to Malaysia!
---
Catching the bus from Woodlands Checkpoint to Malaysia JB Sentral
After exiting Singapore you may be quick and end up on the same bus you disembarked from, but by any means, you have to pay another S$2.60 cash (or only S$2 if you use a contactless card) to continue across the causeway to JB Sentral and onward to the Larkin bus terminal.

Yes, steep for the short ride across, but what to do? If you don't want to pay, you can walk to Malaysia across the Causeway — there's a walking pathway. It takes about 30 minutes, and it's not recommended when it's very hot and you carry loads of luggage.
---
Entering Malaysia at Bangunan Sultan Iskandar/JB Sentral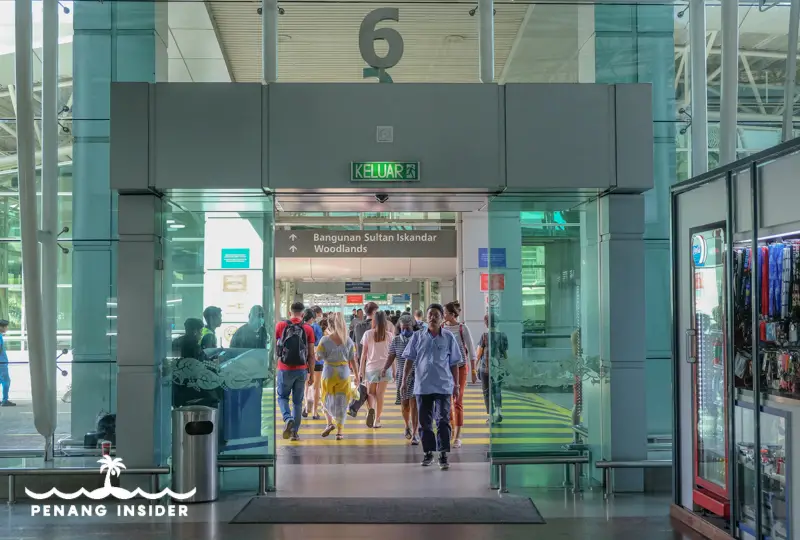 The bus will leave you again next to a moving escalator that will take you upstairs and into the large hall with the immigration desks at Bangunan Sultan Iskandar's checkpoint. Prepare your passport, queue up, be polite to the immigration officer who will examine your documents, and be prepared to uncover your face if you wear a mask and have your thumbprints taken digitally.
Once you get across… welcome to Malaysia! You are in Johor Bahru, and in one of the best spots in this city to keep moving forward!
---
Proceeding to Larkin Terminal by Bus
If you need to catch a bus onward to destinations in Malaysia, you should get to Larkin Bus Terminal: 
You need to exit the immigration checkpoint, proceed back downstairs and board one of the buses that continue to Larkin. You have paid for it already!

You can pre-book some of the common bus tickets from Larkin:
– Bus from Johor Bharu to Melaka
– Bus from Johor Bharu to Kuala Lumpur
– Bus from Johor Bharu to Kluang
– Bus from Johor Bharu to Penang
---
What to expect at JB Sentral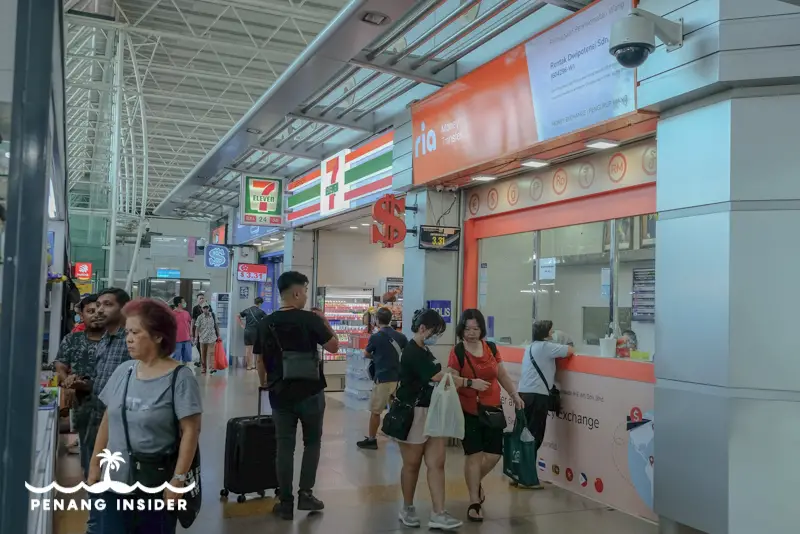 JB Sentral is the main southern terminus of KTMB trains to Gemas and, from there, either ETS services to Kuala Lumpur/Butterworth, or the East Coast services to Kota Bharu/Tumpat in Peninsular Malaysia's northeast. 
Here's a map of JB Sentral location:
JB Sentral has several moneychangers where you can exchange your S$ into Malaysian Ringgit at decent rates, so it's recommended you do so here unless you carry huge amounts. ATMs and some restaurants are also available.

What is NOT available in 2023, unfortunately, are luggage lockers — I had to catch an evening train to Gua Musang at 8.30 pm and had to lug around my backpack for the whole time.

JB Sentral is also connected to two shopping malls, KOMTAR JBCC and City Square, so if you need to wait around for your train connection, there are plenty of shops and restaurants you can check out.

Otherwise, right outside of City Square is one of the most interesting parts of Johor Bahru, with Indian and Chinese temples, restaurants and services, and plenty of cafes and bars in the grid of streets surrounding the Pasar Karat — look for Jalan Dhoby, Jalan Pasar, and Jalan Tan Hiok Nee.
---
Some Useful Suggestions for crossing the Singapore-Malaysia Border
The Singapore-Malaysia border can get awfully busy on weekends and during peak commuting hours, when many Malaysians working in Singapore go back to their homes.

If you are travelling by land between Singapore and Malaysia, it's best if you do so well before 5 pm, and on weekends, as early as you can. We travelled on a Tuesday, leaving Queen Street at about 1 pm, and arrived at JB Sentral before 2.30 pm. As a Singaporean-based friend of mine commented, that "must have been the shortest crossing in Malaysia-Singapore border history". He has a point: endless waits and queues are normal at this very trafficked border — you have been advised. 
---
And if you liked this, why don't you sign up for our mailing list? We will send you immediately a FREE photographic eBook with some incredible pictures of Penang, and we promise, we will disturb you only about once a month with some good local advice you won't find on the site