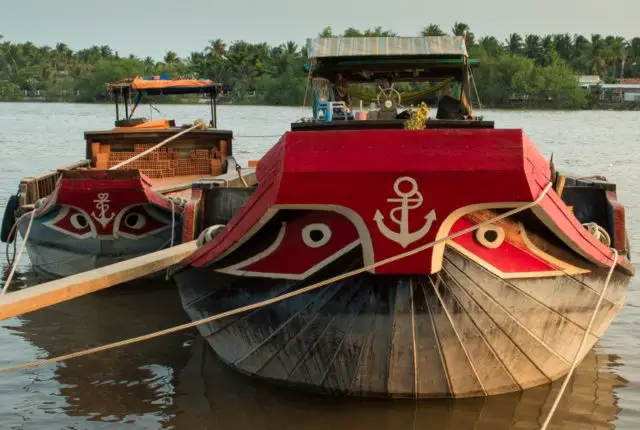 With a cheap and convenient direct AirAsia flight from Penang to Ho Chi Minh City, now it's possible to reach southern Vietnam's capital in less than two hours.
However, keep in mind that the bustling chaos of central Ho Chi Minh City – particularly the bar and guesthouse-filled back roads of tourist ghetto Phạm Ngũ Lão – give southern Vietnam's megacity a constant soundtrack of engine noise. For a better experience, you may want to check out 6 of the Mekong Delta's lesser-known towns.
The escape necessarily starts in the city: it's the best place to rent the wheels you need to whiz on smaller roads get out on the Delta.
First thing first: the trick is avoiding National Route 1A – a cross-country bonanza of honking trucks, reckless driving, and hair-raising overtaking – as soon as the less trafficked QL50 leaves Ho Chi Minh City's southern reaches at Gò Công town. After a mandatory hour of trafficked, congested highway, the landscape opens up, and greenery starts popping between the concrete. Here you will start enjoying the first liberating glimpses of the Delta's waterways, and you may spend as long as a week (or two) meandering between these towns.
Mỹ Tho

In the Delta's third biggest city, Ho Chi Minh's modernity is never too far behind: the main drag is chocked full of hotels, shops, restaurants, and the obvious traffic. But Mỹ Tho also has an attractive side: four lush riverine islands float between the bends of Mekong and can be explored by boat as a day trip. On top of that, the long and less trafficked avenue that flanks the river has inexpensive places to stay and many restaurants dishing up fresh seafood at incredibly low prices. A feast of fish, squid and fried pork nibbles will cost as low as RM10 per person… and don't forget to wash it all down with one of Vietnam's own beer brews, the world's cheapest.
"Riding a motorbike along Southern Vietnam's back roads offers quieter alternatives to Ho Chi Minh City's urban chaos"
2. Bến Tre
Just half hour to the south of bustling Mỹ Tho, road QL60 bifurcates into the very quiet TL884. Enjoy a scenic countryside ride and take keys off the dashboards at Bến Tre's quaint waterfront, where traditional Southern Vietnamese boats with eyes painted on their bows quietly float. Popular folklore has it that the painted eyes are "protective devices" drawn on the boats to scare away storms, pirates, and crocodiles.
The town center develops around a quiet lake guarded by the very communist-looking statue of a young fellow with his raised fist. At night, besides the sounds of locals slurping noodles from their bowls and meat sizzling on open-air barbecues, there's no trace of Ho Chi Minh's noise… you may even hear the sounds of crickets.
3. Trà Vinh
This province has a sizeable Khmer population and is dotted by temples that resemble those found in nearby Cambodia. Trà Vinh's town centre has a lively market dominated by a monument to Uncle Ho, the evergreen national superstar. Women in straw hats peddle their goods with nonchalance while motorbikes buzz around quiet back lanes that are the opposite of Saigon's stressing traffic. French colonial mansions dot the streets among the Khmer temples – watch out, because they often double as restaurants serving delicious handmade Vietnamese spring rolls filled with fresh vegetables, pork and prawns. The roads that extend from the town towards the sea are clad in jungle and villages that are a delight to explore at leisure on the back of your bike.
"The trick to enjoying a road trip in the Delta is avoiding National Route 1A – a cross-country bonanza of honking trucks, reckless driving, and hair-raising overtaking"
4. Cai Be
This village is famous for the floating markets, dawn affairs that bring hordes of tour buses to clog the town's main road. But try to arrive at mid-afternoon, when the tourists have long gone, and the fishermen moor at the docks, bringing tonnes of produce back to land. Nostalgic for the touristy floating market? No worries: several cafes lined with swinging hammocks and great brews make glancing at the river an equally meaningful affair.
5. Vĩnh Long
Instead of proceeding to Cần Thơ, the fourth-largest city in Vietnam, zoom east on QL53 and make a pit-stop in this famous Delta settlement. The place looks a bit overdeveloped by tourism, but the area next to the river, with its flat avenues that make for great river viewpoints to explore by motorbike, deserve your full attention. Here, one starts feeling that besides the obvious development, Vĩnh Long started as a small town on the flanks of a majestic river.
6. Sa Đéc
After Vĩnh Long's busy character, sleepy Sa Đéc, less than an hour away, seems the perfect alternative. It's a charming colonial hamlet that served as the setting of Marguerite Duras' famous novel The Lover. Thirty years after the book's release, Sa Đéc maintains the vibe of a place lost in time, inhabited by friendly people who will change your ideas about the rudeness of the Vietnamese, especially seeing how they tend to the flowers sold in the nurseries here. The fish market, a gruesome affair of wriggling scales and crabs tied by their chelipeds, it's one of liveliest I've seen in Asia and sits right next to the river. Sitting in a corner and observing how life is taken from the water and served on metal plates is worth the trip to Sa Đéc alone.