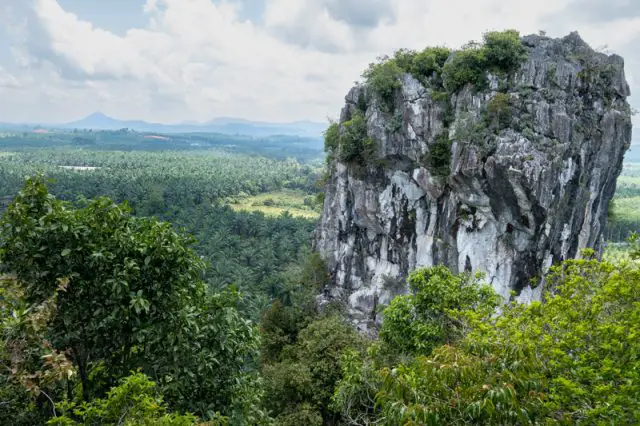 Hidden to the south of Malaysia's largest national park, the horned pinnacle of Paya Gunung put me to a serious test. Keep adventuring, or succumb to my fear of heights?

Picture this: I grapple to a rock face, swinging a leg, and trying to find a hole big enough for my toe box to take hold. As I pick up the courage to turn my gaze away from the gray stone, I watch below and see the top of palm trees, dozens of meters far away, looking like the backdrop of a Christmas creche. I gulp down and realize that the worst thing I can do is land a wrong step as I try to climb to the top of Paya Gunung.
---
Welcome to Paya Gunung Extreme Park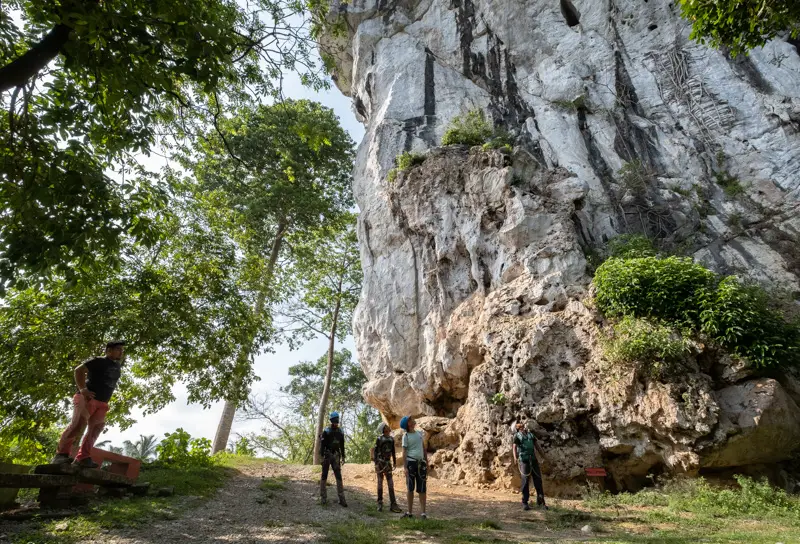 Ok, press pause, stop, rewind. Don't listen to an acrophobic who tried (and actually managed) to climb one of Malaysia's least-known attractions — the two limestone pinnacles of Paya Gunung in Pahang state. This jungle-shrouded mountain soars like a horned fist to the east of Jerantut, the last sizeable town before Malaysia's biggest national park, Taman Negara (don't forget to check out Sungai Relau New Treetop Walk).

Drama aside, Paya Gunung it's thrilling, but far from lethal. "Remember to always unfasten and re-fasten your carabineers to the iron line as you get along," my guide Khayyam told me before we set off.

Together with a group of young local Malay men, Khayyam runs the Paya Gunung Extreme Park. Opened in 2018 by a motley crew of climbing enthusiasts in their namesake kampung (village), the peak of Paya Gunung enjoyed a little promotional push locally before COVID-19 shut down tourism in the entire country.

But to foreigners, Paya Gunung is still absolutely written off Malaysia's tourism map — and its "secrecy" is not the only reason you should visit.
---
How to Get to Paya Gunung?
This rocky hill on the outskirts of Jerantut has existed for millions of years, and according to the villagers, they once used the area as a quarry. Named Kampung Paya Gunung Pinnacle, this free-standing monolith has two distinct peaks. Both are challenging climbs, especially for those, like me, who suffer from heights. The best part of the climb is, in fact, following a route that slithers around the exposed rock face.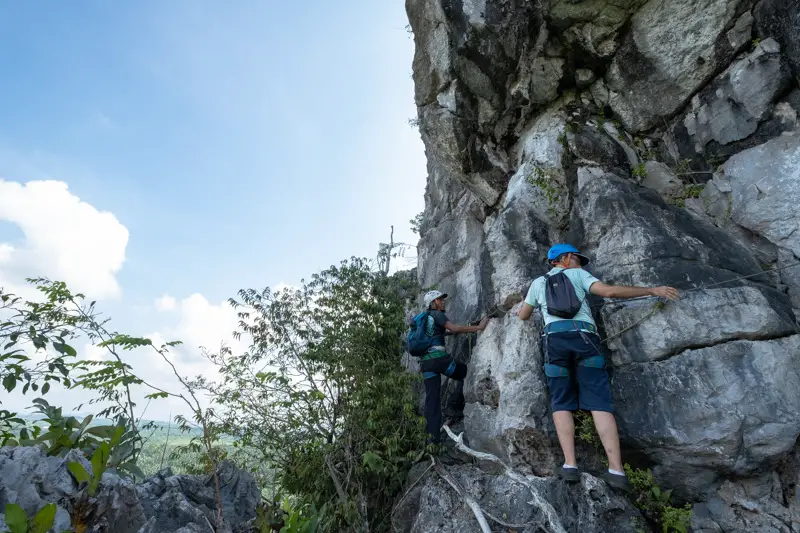 The best way to get here is on your own wheels or reach Jerantut first via public transport. Jerantut is a three hours bus ride from the Pekeliling bus station in Kuala Lumpur or a train ride along the East Coast railway. This train does not generate in Kuala Lumpur or Penang though — only in Kota Bharu, Gemas or Johor Bahru.

Once you have reached Jerantut, you can also arrange with the Paya Gunung Extreme Park's staff to fetch you in town. You can also catch a Grab or other ride-hailing service like InDrive. Go in the early hours of the day to avoid climbing under the most punishing sun.

This is a map of the location:
Don't believe Google as it says that the place is "permanently closed". It's not. We visited in May 2023 and all you have to do is contact Paya Gunung Extreme Park and book your tour.
---
How much does climbing Paya Gunung cost?
You can book a full course package including Via Ferrata, abseiling, and an exploration of the caves at the bottom of the monolith for RM200/person. The Via Ferrata alone is 100RM/person. Prices include a light lunch after the activities. Camping on the grounds is an additional 10RM/person using your own gear.

You can Contact Khayyam (Whatsapp +60 199839822, English language) or Iqbal (Whatsapp +60145009002, Malay language) for further information.
---
My Experience climbing Paya Gunung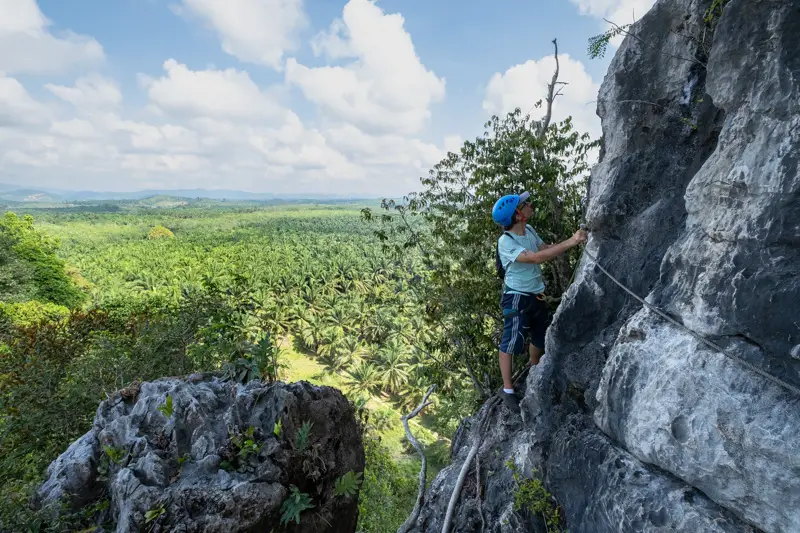 There are about twenty different routes leading up to Paya Gunung Extreme Park's two twin peaks. The first, and main, is the slog up to Paya Gunung's Tower A. It's a via a multi-pitch climb or Via Ferrata —- which is Italian for "iron road", from the steel safety cables affixed to the rock face in remote alpine locations — and takes climbers straight to the top of the main peak in about 1½ hours.

Malaysia is already home to the world's highest Via Ferrata (Mount Kinabalu's in Sabah, that starts at 3,400 metres high and ends at 3,800 metres) but altitude difference aside, I believe that Paya Gunung is a much more thrilling and challenging traverse.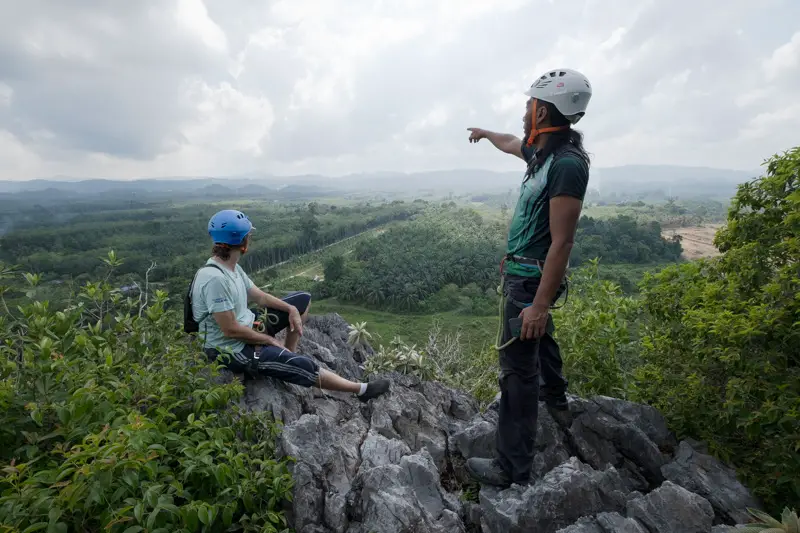 Once you have reached the top of Tower A, the reason why one should visit this rock becomes apparent. There are spectacular 360-degree panoramic views of the surroundings from the top — and trust me, Malaysia is a viridian beauty from above. The panorama stretches from Jerantut town and the Felda (plantation) settlement surrounding this monolith to the nearby Kota Gelanggi cave system. Another neighboring limestone massif, the impressive Gunung Senyum, soars 25 kilometers to the south. It has more caves galore to fill up another whole day's worth of explorations.
---
Abseiling from Tower A
Take it easy resting and regaining your strength on the top as you enjoy the views, because the terrifying part is about to start: descending to the lower part of Tower A via a heart-stopping abseiling.

Paya Gunung Extreme Park's staff were very professional in preparing the ropes, harnesses, carabineers, and everything we needed for a safe descent. It was just me: standing on the edge of the cliff with a minimum of 30 metres of free-fall behind my back, I pretended to be relaxed and do what they said, but I was no longer in control of my limbs.

"Pull the rope upwards with your left hand, and keep your right arm behind your back," one guide instructed me as a knot of crickets swarmed through my bowels. "Use the right arm to pull the rope backward." I did all he said, but I barely moved down. The fact he was speaking to me in quick-fire Malay was not helping.

When I moved the rope a bit, it was too late to backtrack — frankly, an option I did not favor, as it would mean traversing that rock face once again in the opposite direction. Swinging in mid-air, the sky above and very spiked rocks and a large crevice like an open mouth ready to swallow me alive, I somehow lowered myself down until Iqbal, the stockiest among our guides, swung the rope and grabbed my ankle as I rocked back toward him. As soon as my feet touched again the solid ground, I hugged him as a child does to his lost mother.

If climbers still have the energy and goodwill, they can come down to where the monolith bifurcates, and proceed up the second peak via another Via Ferrata route. With trembling legs, I gave up and returned down to safety — but my wife and photographer Kit Yeng persisted. She disappeared up a long metallic ladder following Khayyam toward more vertical adventures.
---
Paya Gunung Extreme Park: The Verdict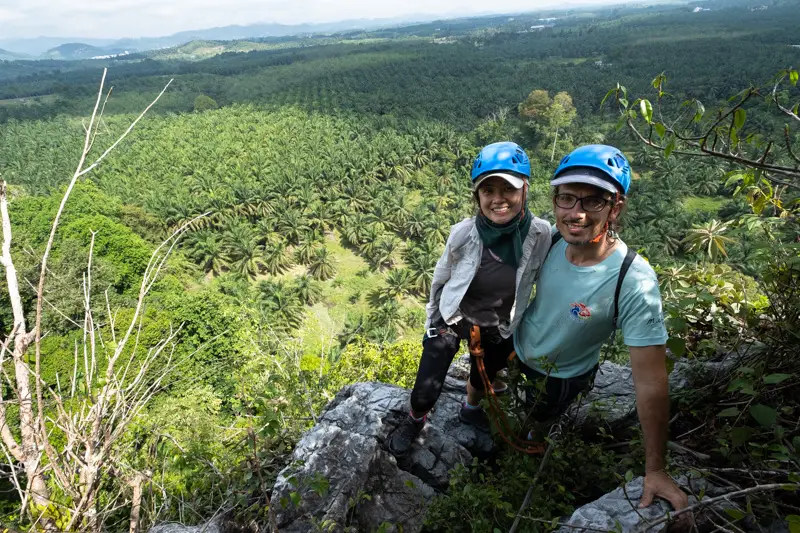 Don't be scared after reading this. If you have no problem with heights like Kit Yeng, Paya Gunung is challenging, but after all, is a climb that's suitable for beginners. The staff are polite and professional and will help you throughout the way with patience. To be honest, climbing Tower A was enough for me: the route is challenging and yet straightforward, and the views are great from the top.

But I am glad I gave up after abseiling, because Tower B may not be as technical as the first, but as Kit Yeng reported, it has a much longer exposed tract of Via Ferrata to traverse — about 40 feet — on the way to the second peak. And unlike Tower A, there's no way to abseil back to safety from here — climbers have to retrace every one of their hazardous steps along the Via Ferrata. Trust your instincts: if, like me, you feel like vomiting when thinking of attaching another carabineer, then just stop.

It took Khayyam and Kit Yeng about another hour and a half to complete both peaks. They came down sweaty and tired, and collapsed next to us on the floor of the small pavilion that serves as a rest area and shower point in the Paya Gunung Extreme Park complex to dig into their nasi ayam.

In the end, we safely defeated that horned beast — at least, they did. I was content with my half attempt.
The research and writing for this article were jointly collaborated with Tourism Malaysia with a focus to boost tourism growth and promote Malaysia as a tourist destination post-COVID-19 pandemic.

Kindly visit the Tourism Malaysia Official page for more information.
---
And if you liked this, why don't you sign up for our mailing list? We will send you immediately a FREE photographic eBook with some incredible pictures of Penang, and we promise, we will disturb you only about once a month with some good local advice you won't find on the site
---