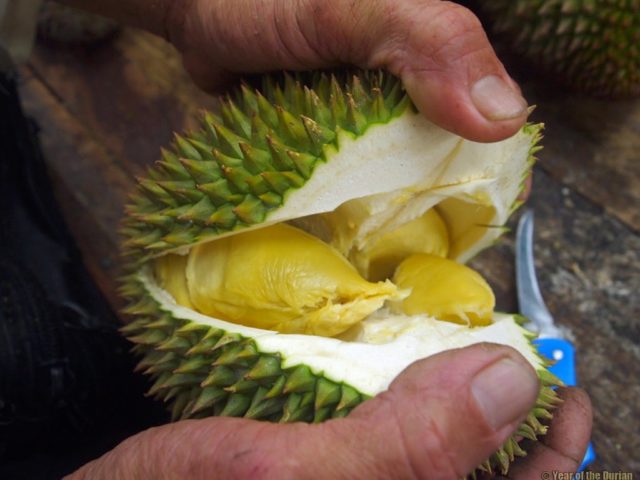 [lastupdated]
Where to eat Durian in Penang? From famous places like Ah Teik Durian stall, to others you may not know about yet, here are 4 of the best spots to eat Durian in George Town.
By Linsday Gasik – Contributing Writer
I was at Jelutong Market with some friends when it started raining.
The sky was dark, and it looked like our plan to hike up Penang Hill wasn't going to happen.
Instead, we decided to get our exercise scurrying from durian stall to durian stall between bursts of showers. We ended up visiting (and eating at) four durian stalls in downtown Georgetown within a few hours.
What better way to spend a rainy Sunday afternoon?
Rob and I don't typically spend much time in George Town. We like to go straight to the source – the durian farms. So I hadn't yet patronized most of the durian stalls there.
But I knew that most people who go to Penang get their durian in George Town, and I wanted to find out where.
With four of the most popular durian eateries within walking distance of each other, an afternoon tour sounded like a great way to compare the stalls and get a real feel for the durian culture in Penang's largest city.
I hope this review helps you choose a stall to try if you find yourself hungry in  Georgetown. Remember that these stalls are seasonal.
Durian in George Town