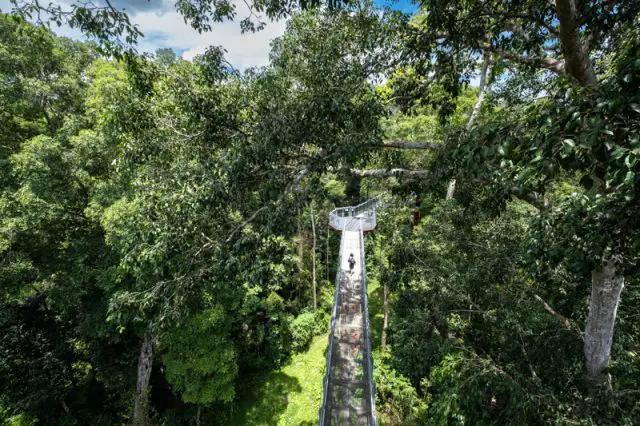 There's something about rainforests that just fascinates me. It's not just the eternal sounds of insects and birds, the large and tall trees, and the roots that create blood-vessel-like tapestries on the forest floor. This environment is quiet only on the surface: from the floor to the top of the canopy, a rainforest is constant plant warfare to get light. And one of the best ways to understand it is to see this incredibly rich ecosystem from above. One latest spot is the Treetop Walk opened in Taman Negara Sungai Relau, Pahang, at the end of March 2023.

Malaysia still keeps some of Southeast Asia's largest and wildest forests. Founded in 1938, Taman Negara in Pahang, meaning "national park" in Malay, occupies the very center of the nation — still a veritable elephant and tiger-dwelled wilderness. The main entrance with most tourist facilities is Kuala Tahan to the reserve's south, but the park's second entry point, Sungai Relau near the village of Merapoh to its northwestern side (and only 25km away from Gua Musang and all the things it offers), has something new that may help anyone, adventurers or not, make better sense of the tropical rainforest.
---
Sungai Relau Treetop Walk – Malaysia's new canopy walkway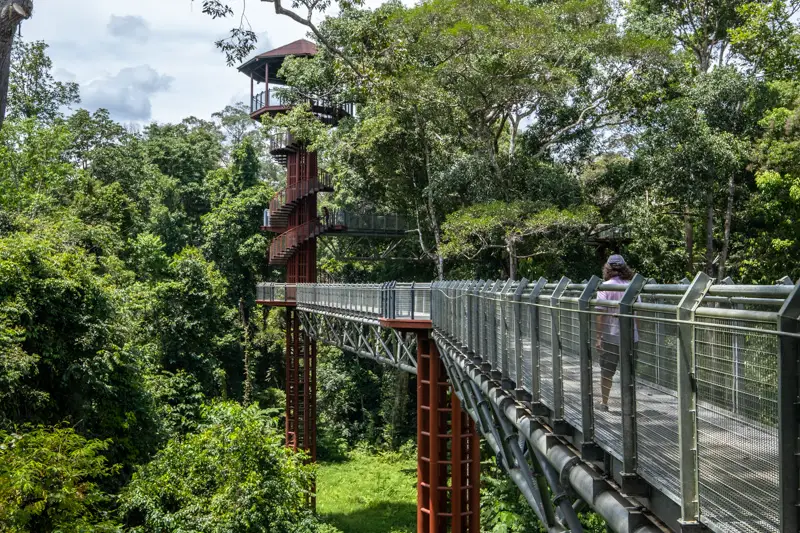 After being in the making for several years, at last, Sungai Relau opened its new Treetop Walk in April this year. Consisting of 7 observation towers and 13 platforms, Sungai Relau Treetop Walk is a brand-new, state-of-the-art installation. It comes to revive an offbeat part of Taman Negara that, until now, served mostly as the entry and exit point for the tough treks up Gunung Tahan, Peninsular Malaysia's highest mountain at 2,187 meters.
The Treetop Walk opened with little local fanfare, but it's definitely something to keep on the radar if traveling to Malaysia in the next few months, as it's going to be free until September 30 this year. And since Merapoh is also surrounded by limestone karsts which, like stony giant forms of Emmenthal cheese, are filled with dozens of explorable caves, the Treetop Walk is the new cherry on top of the pie if thinking of making a trip here.

Another good and clever thing about Sungai Relau Treetop Walk is that, besides the observation towers, most of the lower platforms are wheelchair accessible. As one steps beyond the ticket booth — for now, just a gate manned by a friendly ranger who will check you paid the symbolic RM1 (AU$0.33) entry fee to the park — the first bridge of the Treetop Walk extends above the pristine and sloshing Relau river. Look properly, for this is a haven for the rare and huge Kelah fish, which can be often seen swimming against the currents.
---
How to get to Sungai Relau Tree Top Walk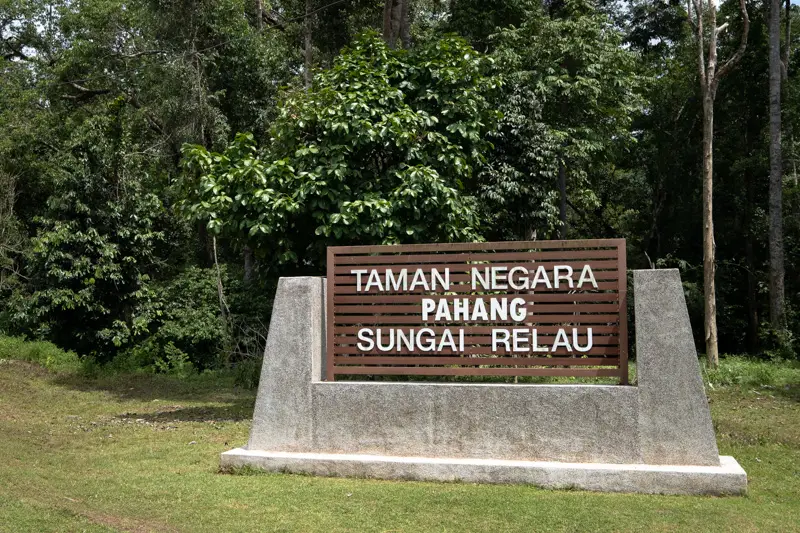 The best way to reach Sungai Relau Tree Top Walk is to self-drive because the national park's entrance is 7 kilometers inland from Merapoh.

Both Merapoh and Gua Musang are served by the East Coast railway, or Jungle Train, and can be reached by boarding at either Kota Bharu, Gemas, or Johor Bahru. There are no direct trains from Kuala Lumpur or Penang to this line.

Buses go from Penang or Kuala Lumpur to Gua Musang, from where you'll have to book a taxi or use a hail-ride app like Grab or InDrive.

This is a map of the Tree Top Walk at Sungai Relau:
---
What are the opening times?
The treetop walk at Taman Negara Sungai Relau is open from 9 am to 4.30 pm every day except Thursdays when it's closed. Plan your visit accordingly to avoid disappointment.
---
What to expect from a visit to Sungai Relau Treetop Walk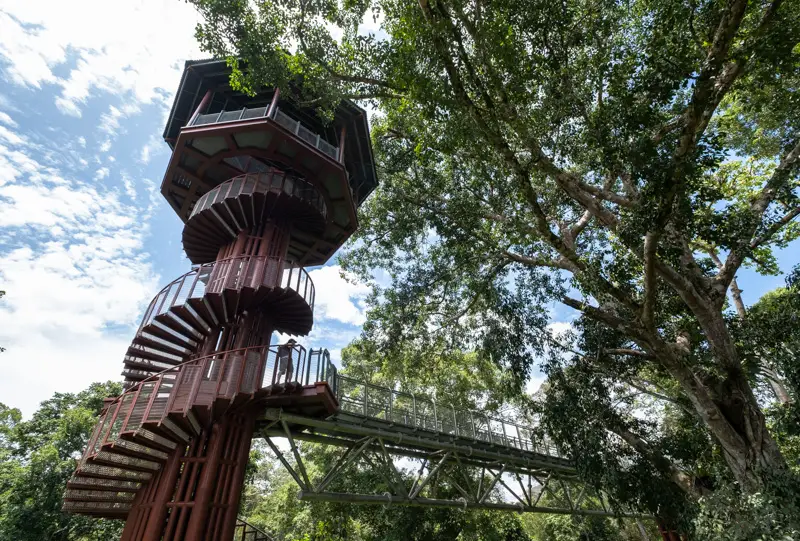 The beauty of the rainforest and all its sounds will start enveloping you as you proceed along the structure, passing the first few platforms that hold the structure together. Things start getting more interesting once reaching the third Menara ("tower" in Malay) Meranti, which stands 17 meters tall and takes its name from the majestic Meranti tree. It can reach up to 60 meters in height and 100 centimeters in diameter — a tall, slender tree topped by a sprouting bush of branches, whose wood, unfortunately, has been used to make prized furniture, contributing to deforestation and logging.

The next and fourth tower is an upward slog to a stunning 32-meter-high viewpoint giving 360-degree views all over the surrounding forest. From this vantage point, the rainforest's law of survival of the fittest comes into full view — only the tall ones who managed to fight for space can grow to the very top and soak the most sunlight. The rest, well… they are still basking in the shadows of the undergrowth, waiting for a chance to rise… slowly and steadily.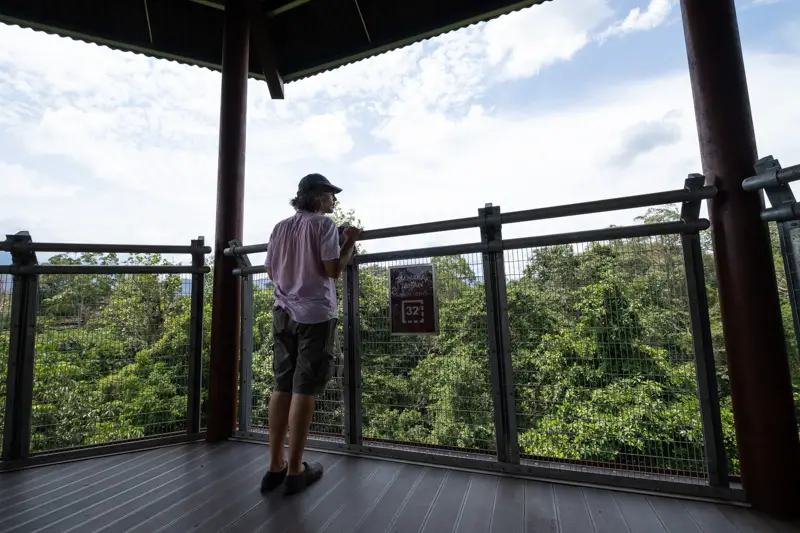 Menara Tahan, that's what it is called, is also where you'll like to stop and sit longer. On a good day, it offers unparalleled views of Mount Tahan, Peninsular Malaysia's tallest, and the whole interconnected Tahan range. It looks like the hairy spine of a green Godzilla that's taking a nap as it lays face down in the jungle, sending out blue reflections each time the blistering sun shines above it.
The next tower is 23 meters-high Menara Ara, named in honor of the fig tree — the forest's king of fruits, beloved by every animal. Where there are fig trees, then there is wildlife. Soak down in the views here, for from now, the Sungai Relau Treetop Walk descends towards the seventh platform, and then another tower, Menara Simpoh. At 17 meters in height, that's far from shabby, but after Menara Tahan, eyes are used to far different heights.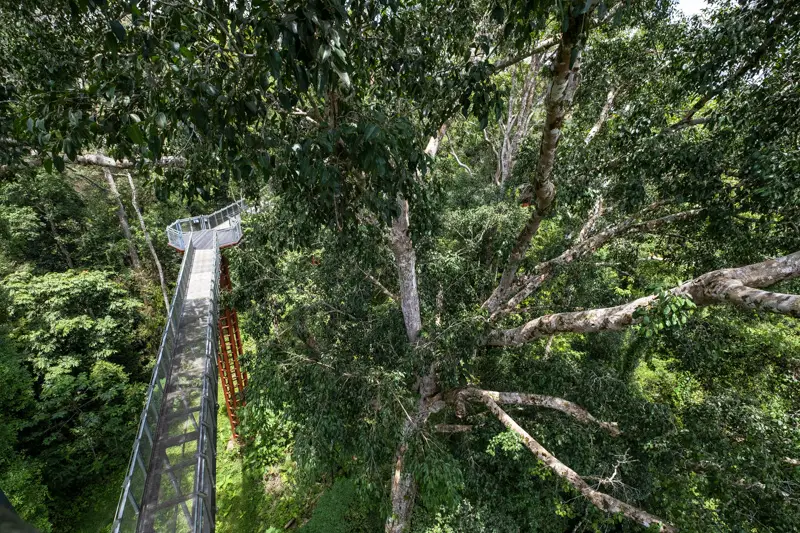 The structure descends again to Platform 8 and onto the 11-meter-high Menara Leban, the last tower on the loop. From here, the Relau River comes again into view — don't forget to wait for the Kelah fish to make their majestic appearance.
Platform Nine can either connect back to the starting gate or bring you across four more platforms that offer an elevated view above the lower, less-forested flanks of this forest. Take your time before returning to the park's headquarters.
---
What else can I do at Taman Negara Sungai Relau?
Sungai Relau no longer has open hiking trails that one can visit without a guide. Today it mostly functions as an entry or exit point for the strenuous trek to Gunung Tahan, Peninsular Malaysia's highest. But Sungai Relau wide grounds, equipped with toilet and shower facilities, are a beautiful place to camp — at only RM1 per person, it's really a steal. Remember, though, that the closest village, Merapoh, is seven kilometers away, and without a car, you'll have to bring all the food you need, plus a camping stove. The rewards are great though because if you are here in the early morning, with a little luck you'll be able to catch a few Rhinoceros Hornbills flying all around the headquarters' open grounds. And that, trust me, is worth gold.
---
And if you liked this, why don't you sign up for our mailing list? We will send you immediately a FREE photographic eBook with some incredible pictures of Penang, and we promise, we will disturb you only about once a month with some good local advice you won't find on the site
---