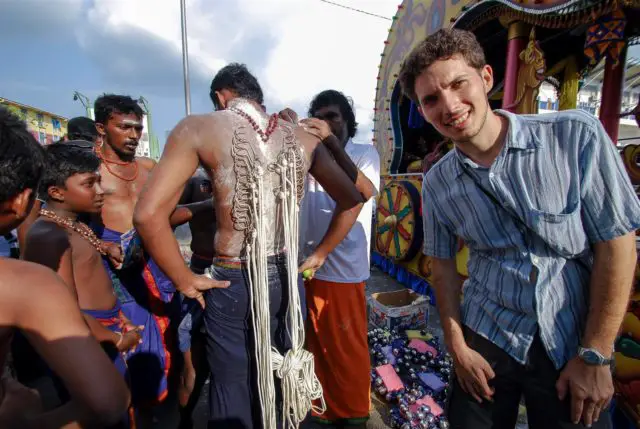 Welcome to the Penang Insider, a blog on Penang, the northwestern Malaysian island that figures on all the cool kids' Southeast Asian itineraries. My name is Marco Ferrarese — I am Italian, yes, not from Penang nor Malaysian, but I have lived on this island for the best part of a decade. In this life, I am many things, but mostly, a writer, and a travel writer, particularly.
Why I am Launching this Blog
Penang and Malaysia are my specialties: I have written dozens of articles on Penang and Malaysia, I am responsible for Malaysia and Brunei guidebook updates for the Rough Guides, and wrote about Penang for, among others, the CNN. Some locals have told me that I know their island (and Malaysia) better than themselves, and many of my Penang friends come to me to ask suggestions on where they should go on holiday in Malaysia, Southeast Asia, and further.
And now, I added the hard task of editing this blog to my plate. Why? Because writing authoritatively about Penang is a hard task. A few other blogs like Penang Travel Tips are doing a great job of putting relevant information out there. But I started this blog for one simple reason: to provide simple, no-frills Penang travel intelligence to the uninitiated, and especially, to first-timers and foreigners.
Wasn't the Internet already full of information on Penang?
You are right: available information is all over the place. But to me, it was not enough, too brainy, or too self-controlled to be practical, useful. Or if it was, it was not CLEAR enough. In my decade in Malaysia, I understood way too well that it's hard to crack Penang's surface and get to really know the locals. It's also hard to make sense of the cornucopia of ethnicities that make up this tropical egg yolk, with all the paranoia that asking such questions ensues. And if you start browsing around, you will quickly realize that no casual visitor is taking the time to unpack all of this "Malaysianness" without the hard-to-understand jargon.
On top of that, it was also hard to find the right information on very basic everyday stuff like where to go drink a beer or chase some girls/boys, for all that matter. With all its focus on heritage and upper middle-class wannabe-ism, Penang looked like a stuffed deer under formaldehyde: totally friggin' inaccessible.
"I started this blog for one simple reason: to provide simple, no-frills Penang travel intelligence to the uninitiated, and especially, to first-timers and foreigners."
Right: I want to make Penang accessible to the uninitiated, open and not mysterious. So that when the uninitiated come, they can hit the ground running, and have the time of their life. Otherwise, why in hell would I have stayed here for a decade??
What needs does the Penang Insider answer?
Are you coming to Penang for the first time, and looking for a particular fix to your specific niche? Or are you about to live in Penang long-term, for leisure or for work?
Are you looking for places where you can meet interesting locals, or search for a soul mate? You don't know what to do in your long weekends after work and you are damning your multinational company for having sent you onto this forgettable tropical island that's as interesting as a date with a deaf-mute without knowing sign language?
Fear not, for the Penang Insider aims to give you the kind of information that solve your living, traveling, and partying needs, as simple as that. And with the irony and quirkiness that most locals have long lost when they decided that a Unesco listing had made their town "oh-so-cool". Well, for 90% of visitors it's not so cool because said locals always forget (or are afraid) to inform visitors of what's going on, so that they cannot make really meaningful Penang experiences!
I thought long and hard before starting this blog because I know the jealousy and the shit storm that it may ensue. This is an island, after all, I know my people… for long I thought that this blog wasn't required, that I didn't have to do it, that locals could end up figuring out they needed a similar tool to reach out to the world. And also, I didn't want to give away all of my hard-earned secrets, ending up sharing my favourite places with too many unworthy tourists. But in the end, I am oh-so-sick of hearing people tell me that what they remember most about their visits to Penang is the same old choices of boring food, some hipster graffiti and too many nights out at Love Lane's backpacker bars. Well, I thought it was about time I stepped forward and opened my mouth: maybe my voice could do Penang, and its visitors, a lot of good.
So what shall I, the curious reader, do now?
Please subscribe to our mailing list to be constantly updated and receive exclusive content about once a month.
Penang Insider Newsletter
And if you have suggestions for improvements, worthwhile places I may have overlooked or have been unable to visit as I often travel around, please contact the Penang Insider: we welcome all sort of feedback, praise and hate mail. Just keep your spam away, thanks.