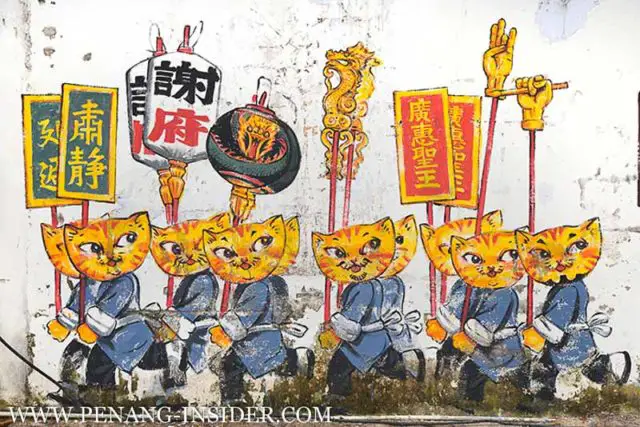 Wall Art in George Town has become one of the main tourist drawcards to the island. Truth be told, there are so many tourists coming specifically because of Penang Street Art, and not because of Penang history, that the whole trend has started to annoy us a tad bit. Originally started in 2012 by Lithuanian artist Ernest Zacharevic, the walls of Penang have become the favourite method of expression of many local and international artists. A few international festivals, most notably the Urban Xchange, helped embellish George Town main streets (and most side alleys) with dozens of wall murals and great-looking street art. But remember: Penang street art or not, outside of hip George Town there's always much more to do on the island.
But back to Penang Street Art: this post collects 14 George Town wall murals that only depicts…cats. Why CATS in Penang, of all things? We have always seen a lot of mice (well, RATS) running around the streets, but what about cats?
Well, for one time there is a hidden "political meaning": since 2008, the State Government of Penang has pledged to use good governance, running its administration with a C.A.T. (which stands for Competency, Accountability, and Transparency) approach. That's why even mural artists in Penang have started using cats throughout George Town… enjoy the gallery. And may the upcoming May 2018 General Election maintain a C.A.T. situation in Penang, and all of Malaysia, for years to come!
Let's not forget to thank our photographer friend Bertrand Linet, the author of these great shots. Follow him on Instagram and show some support, for Bertrand spent the best part of a month walking around George Town, finding every possible piece of street art available, and documenting it with his camera. We will keep publishing the "Linet Penang Street Art" digital archive in the future… but for now, here you have the cats of Penang street art!