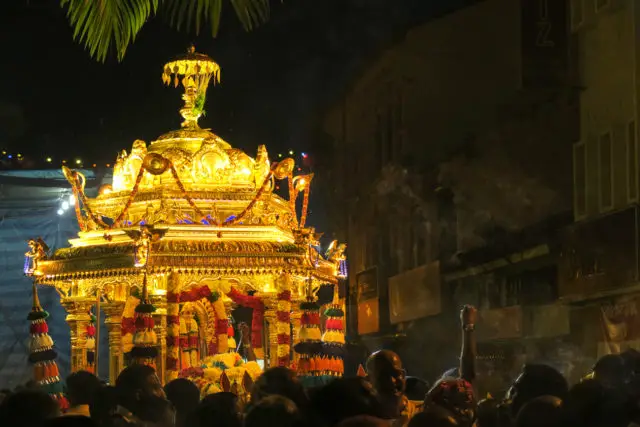 New visitors almost always come to the island (see how to travel from KL to Penang) with a few things in mind: visiting George Town and the famous Penang Street Art, eating a lot of Penang Food such as the famous Penang laksa, indulge in one of its best Western food restaurants, bring kids to see butterflies and creepy crawlies at Entopia by Penang Butterfly Farm or Penang Botanic Gardens, and maybe checking out one or two of the best Penang beaches.
Don't get us wrong: Penang has many great things to do, but you can do them every day, year-round. The best time to visit Penang, to us, is when you can catch one of the unforgettable Penang events and festivals that pepper every month of the year. Book yourself a perfect Airbnb in Penang and bring your whole family with you, or check in one of Penang's best budget hotels.
What most first-time visitors get wrong about Penang (see a list of common Penang mistakes) is that by paying attention to the calendar, a well-timed visit to Penang can be shockingly more memorable. How? Just come during one of Penang's incredible festivals and events, certainly the best time to travel to Penang. It's incredible that given the relatively small of the island, there are so many festivals and events!
Here's a breakdown of the island's main events, so that you may quickly choose the best time to visit Penang suiting your tastes. Just try to time your visit to Penang right, and you'll leave with so much more memories – not counting a whole slew of SD cards filled with some of the most amazing travel photos you can snap in the whole of Malaysia – and arguably, Southeast Asia.
Weather in Penang: When is the Best Time to Visit?
Penang is a year-round destination with a pleasant, yet humid, tropical climate constantly hovering between 25 and 30 degrees celsius. The temperature is more or less always the same, given Penang's blessed tropical climate and never-ending summer. The only thing that really changes the weather is Penang's two monsoon seasons, which come in April, May, September, October, and the first half of November. Together with your passport, an umbrella is a very handy thing to carry with you at all times in Penang.
Penang Monsoon Season
Visiting Penang during the monsoon seasons is not so bad, because it never rains for the whole day — most often, it only rains at night, leaving the best part of the day for normal activities and exploration of the island. See what to do in Penang in 3 days and some beautiful boutique hotels to stay in Penang. Or you can check our list of preferred budget hotels in Penang and George Town.
The monsoon is also the low season, which is one of the best times to visit Penang because there are fewer tourists and the weather is fresher in general. You won't be able to go hiking in Penang Hill or at Moon Gate, where you may spot some strange Malaysian animals. Regardless, there are still many things to do, like visiting KOMTAR or one of Penang best shopping malls and explore Penang best night markets.
Penang is hottest in March, when humidity is very intense, and experience lighter rains between June and August which, together with the months between December to February, are considered the busiest — both in terms of events and visitors.
---
Best Time of the Year to Visit Penang
For its size, Penang hosts an impressive number of cultural events, from religious celebrations to international arts festivals and celebrations of Penang food and heritage. Timing your Penang visit with one of these events can be the highlight of any trip to Malaysia.
Unmissable Penang Events from January to April
Thaipusam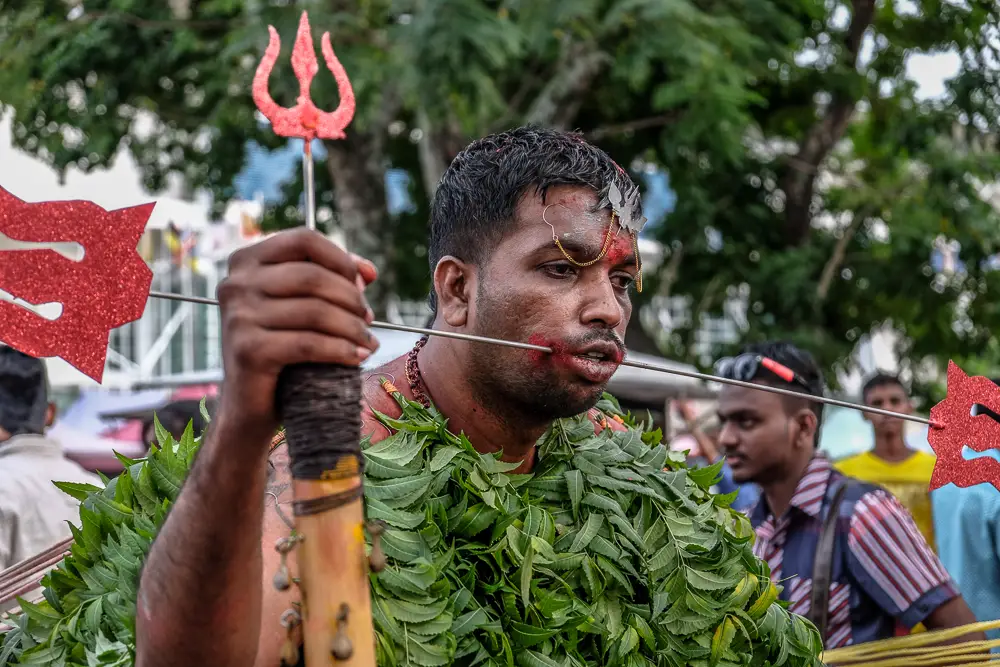 This Tamil festival, the most important to Hindus in Malaysia, is a visual smorgasbord and one of our all-time favourites. Celebrated to remember the fight of the spear-toting Lord Murugan against the demon army of Soorapadam, it runs for 3 days. Actually, if counting the day when the golden and a silver chariot depart George Town's Sri Mahamariamman temple in the center of Penang Little India. The year 2017 marked the 231st edition of Thaipusam, and the introduction of the golden chariot – one which brought a bit of controversy.
The 10km procession to Penang's Hilltop Temple is famous for its gruesome ceremonial kavadis (or sacrifices in the form of physical burdens). They range from the overhead hauling of metal pots filled with milk, to supporting intricate canopies of metal rods over the shoulders, and the piercing of cheeks, tongues, and bodies with hooks and skewers. Whether you decide to follow all or part of it, for example, by going to witness the ceremonial piercings at the Sri Muthu Mariamman Temple in Lorong Kulit, make sure you have spare batteries and plenty of SD card space on your camera.
When: First Full Moon of Tamil Month of Thai (between January and February)
---
Chinese New Year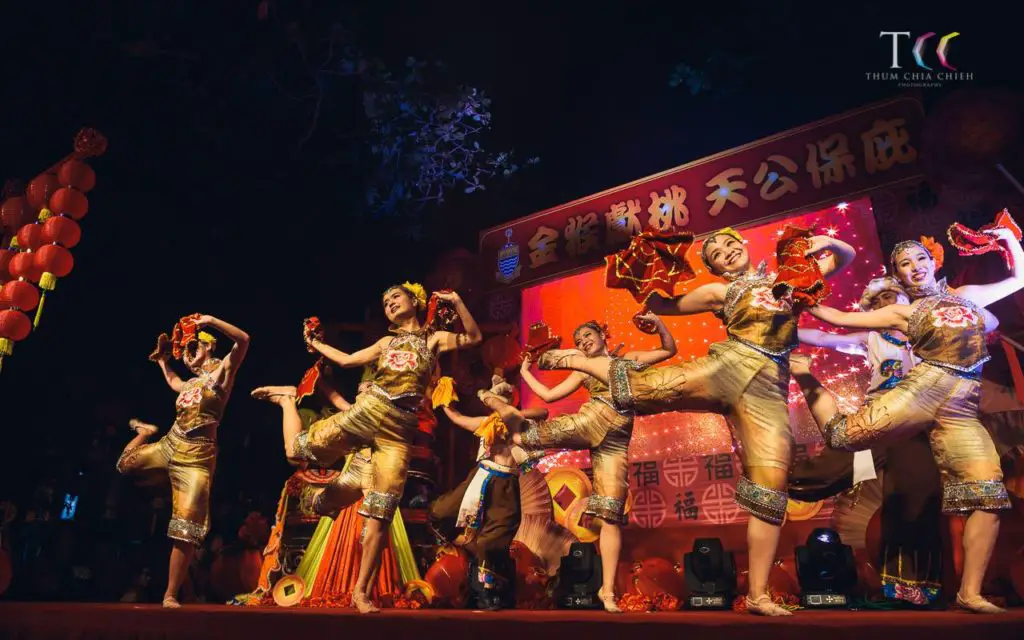 Celebrated with great fervor in George Town, Chinese New Year reunites Straits Chinese families who finally kick back and relax after a year of hard work, blocking most businesses around Penang island. If you are lucky, the best way to experience Chinese New Year in Penang is to be invited to someone's home and share meals and fun with them.
When: January–February depending on the Lunar Calendar
---
Hokkien New Year Celebration
Lion Dance right in the Crowd (image credit: Marco Ferrarese)
This colourful celebration comes right at the end of the Chinese New Year. Be ready to mingle with hundreds of locals at the Clan Jetties, just a 5-minute walk from Chulia Street. Prepare to witness a parade of burning giant joss sticks, tables adorned with foods and countless barbecued pigs, lion dances and a showcase of fireworks that – let a local tell you – it's best seen from the water. How? Just walk at the end of any of the Clan jetties that line Weld Quay, and enjoy the show.
When: On the Eight Night of the Chinese Lunar New Year
---
Chap Goh Mei
On the fifteenth day of Chinese New Year, unmarried girls throw oranges into the sea, traditionally an auspicious omen to get a good husband. It ends the Chinese New Year celebrations, and act as a sort of Hokkien "Valentine's Day". Join the local girls as they flock to the Clan Jetties to throw baskets of oranges to the sea.
When: January–February
---
Penang Hot Air Balloon Fiesta
Huge hot-air balloons of different colour and shape fill up the sky at Padang Polo in George Town, close to the Botanical Gardens.
When: February
---
Best Penang Events in May-August
Wesak Day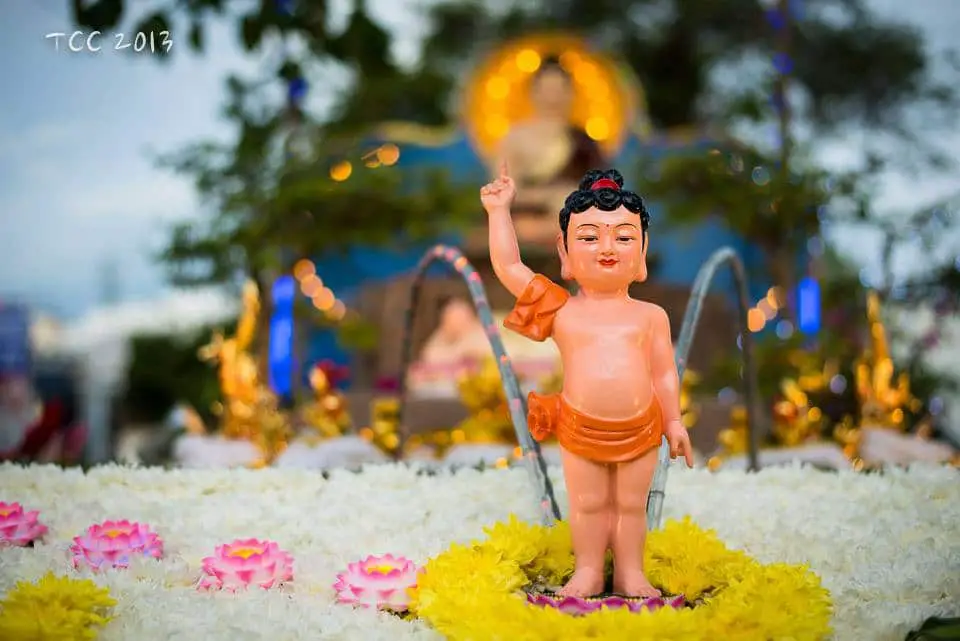 This Buddhist festival celebrates Buddha's birthday, enlightenment and achievement of Nirvana with rituals of prayer and cleansing. It is celebrated in most of Penang's Buddhist temples, but the main parade and prayers are performed at the Wat Chayamangkalaram in Pulau Tikus. It houses one of Malaysia's longest reclining Buddha statues.
When: 7 May
---
Penang Dragon Boat Regatta
A weekend of boat races at the sound of beating drums, the thrust of oars, and the excitement of dozens of boatmen and fans that converge to Teluk Bahang Dam.
When: Mid June
---
George Town World Heritage Site Celebration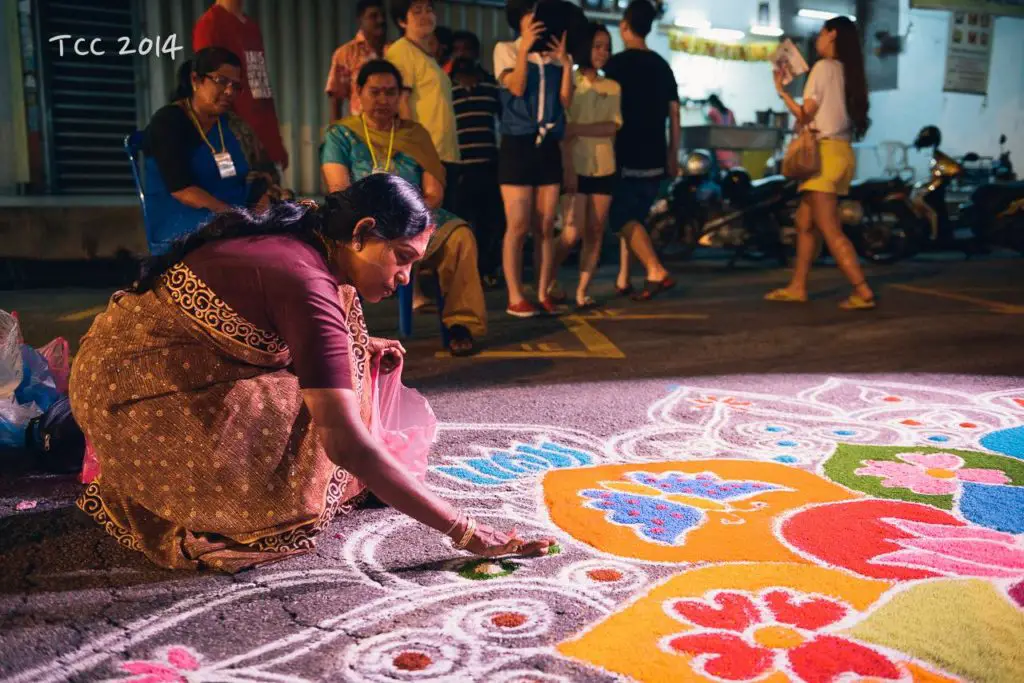 A week of cultural events and pop-up stages to celebrate George Town's UNESCO status and inscription. The heritage streets of Little India and Chinatown come alive with stalls, food, and people dressed in old-world attire to celebrate the trades and rich heritage of Penang's Malay, Indian and Chinese communities. You can follow their official FB page.
When: 3–7 July
---
Balik Pulau Festival
Another enticing art festival to celebrate Balik Pulau, the beautiful southwestern side of Penang, with its beaches, palm trees and relaxed atmosphere. A place that's picking up on tourists radars.
When: Early July
---
George Town Festival
Traditional Thai Puppetry Live at George Town Festival 2014 (image credit: Marco Ferrarese)
This month-long festival, organized by Joe Sidek Productions until the year 2018, has grown in the past 8 years to become one of Southeast Asia's leading culture and art festivals. International and local performers come together on the stages of George Town, offering anything and everything, from ballet to traditional kuda kepang – a form of Malay ritual dancing, which most often ends up with trance –  from art installations to street art. Remember that Ernest Zacharevic started his series of worldwide famous Penang Street Art as a part of this festival.
When: July
---
St. Anne Festival
A 10-day prayer ritual that draws many believers from all over Malaysia and Southeast Asia to this famous Catholic church in Bukit Mertajam, on Penang's mainland — don't miss our guide to the best 19 Things to Do in Bukit Mertajam. On that special evening, a scenic candlelight procession is usually conducted around the church grounds during the night.
When: 24 Jul 2020 – 02 Aug 2020
---
Penang Bon Odori Festival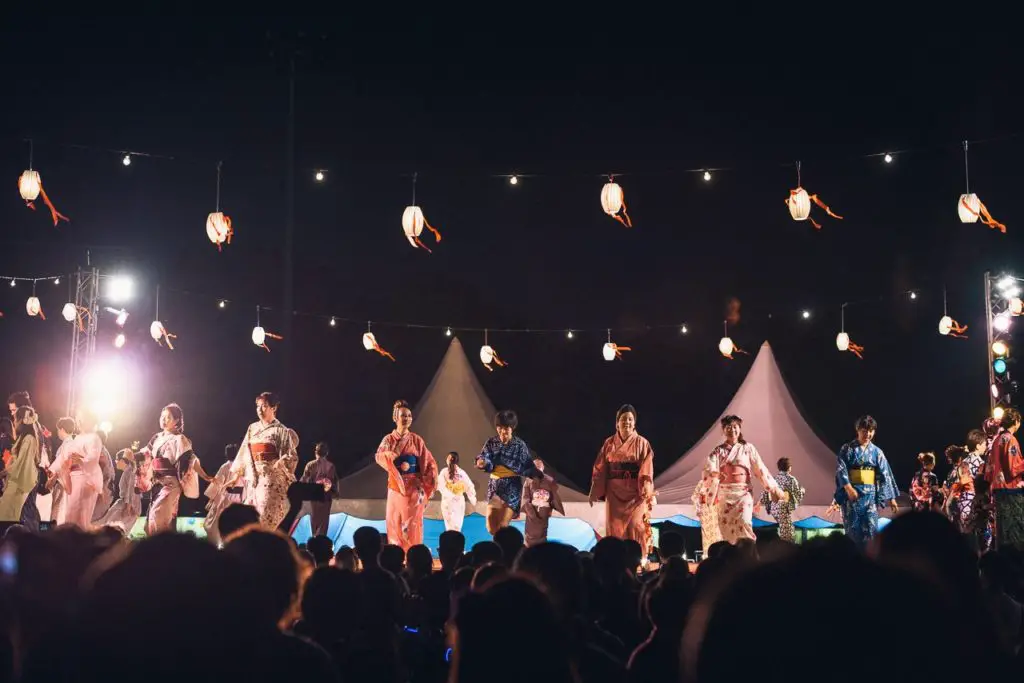 Once a year, this Japanese-Buddhist festival celebrates the return of the spirits of the ancestors to their families. Held near the sea at Padang Kota Lama, Bon Odori mixes performances with a market filled of street food, Japanese souvenirs, fireworks and so on.
When: 25 July
---
Penang International Paddy Festival
This yearly event held in Permatang Pauh is a celebration and a showcase of the work and tradition of local rice farmers, who keep feeding Penang and Malaysia, with storytelling, music, traditional rice planting and games.
When: 14-16 August
---
Merdeka Day
A parade to commemorate Malaysia's Independence on the beautiful grounds of Penang Esplanade.
When: 31 August
---
Hungry Ghost Festival
A huge statue of Tai Su Yeah waits next to stacks of paper money (image Credit: Kit Yeng Chan)
This is another of my favourites, as I described here. A cheeky and cheesy festival thrown by the Chinese community to honour their dead. It is said that life in hell is a miserable affair, so much that once every year, King of hell Tai Su Yeah breaks the hell gates letting the dead unleash upon Earth. George Town fills up with impromptu shrines set under precarious lean-tos where the Chinese revere paper statues of Tai Su Yeah, the biggest of which is made across the Penang bridge in Bukit Mertajam. They offer foods and entertainment: these days, instead of Chinese Opera, the dead prefer the performances of sexy and curvaceous singers. Don't sit in the empty chairs at the front, that's Hell's VIP area. In the end, all ghosts go back to hell… in flames.
When: In the Ninth Month of the Lunar calendar (usually August/September)
---
Penang Events from September to December
---
Penang International Lion Dance On Stilts Championship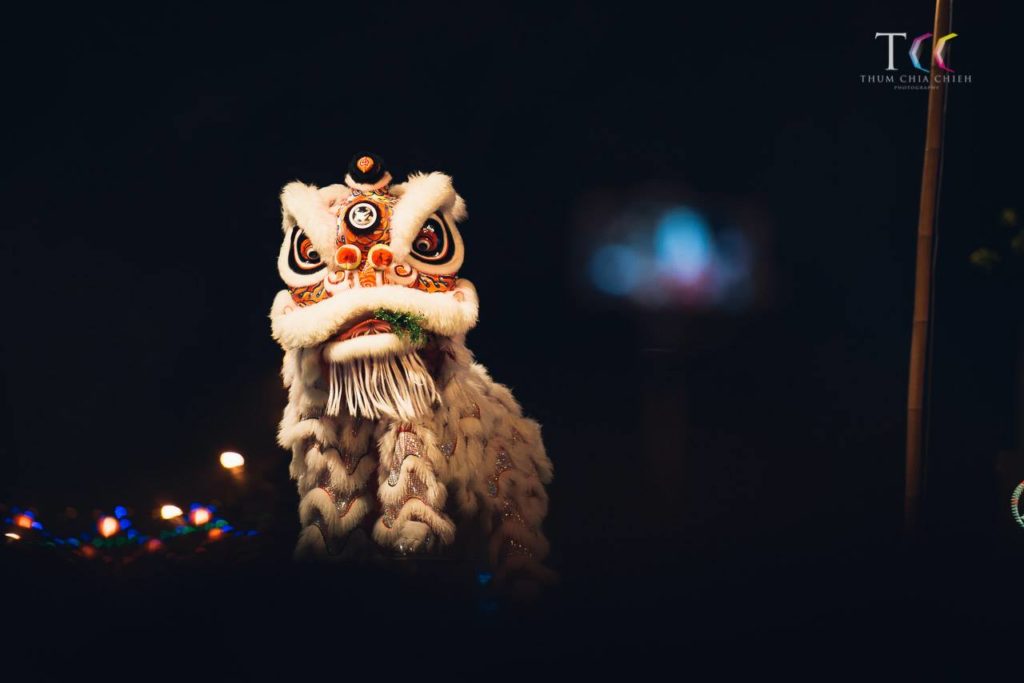 A competition of traditional lion dance on stilts with teams from all over Malaysia, Vietnam and China, who battle it out to deliver the most staggering and acrobatic performance.
When: 26 Sep–27 Sep
---
Mid-Autumn Festival
Chinese festival celebrated eating moon cakes, which were used in ancient China to carry secret messages.
When: 26 Sep
---
Nine Emperor Gods
Celebrated from the 1st to the 9th day of the ninth month of the Lunar calendar, this festival offers a parade of chariots to welcome the arrival of the Taoist gods, with some light acts of self-injury and fire walking. On the last day, the gods are sent back to the sea together with many colourful floats.
When: 16-25 Oct 2020
---
Navratri Festival
For 9 Days, Hindy devotees pray to Goddess Durga, Goddess Lakshimi and Goddess Saraswathy to ask for power, wealth and education. Celebrations are held at most Indian temples around Penang island.
When: 17- 26 Oct 2020
---
Deepavali
The Indian "Festival of Lights", celebrates by Hindus all over the world, enlivens the streets of Little India, George Town.
When: 14 November 2020
---
Penang Bridge International Marathon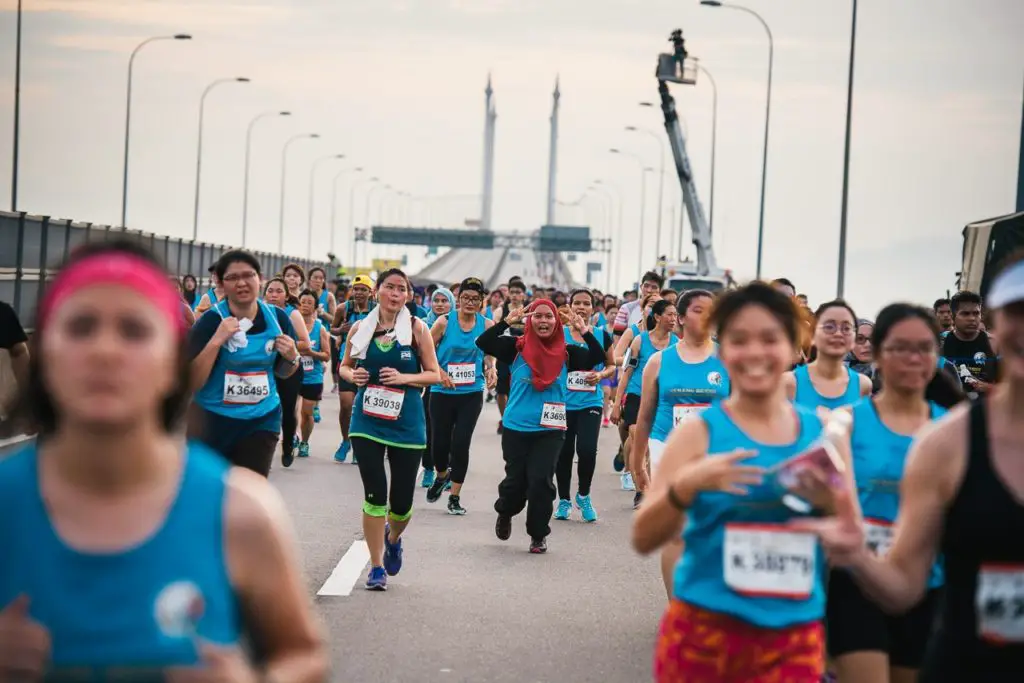 The Penang Bridge International Marathon, re-branded as "The Asian Challenge", takes place on the First Penang Bridge with both full and half marathons.
When: 22 November 2020
---
George Town Literary Festival
A panel during the 2013 edition of the George Town Literary Festival
This is Penang's only literary festival and one that's garnering more and more international momentum. If you like books and the written word, it's an excellent occasion to come together and talk about it. You will rub elbows with international and local authors in one of Southeast Asia's most arty and cultured small towns. For four days, besides a book market, the festival is centred on a series of panels and workshops, most of which are free of charge.
When: 26–29 November 2020
---
Butterworth Fringe Festival
An annual celebration of arts, heritage and culture of Penang's mainland enclave. Local acts perform alongside international artists converge on Padang Pemuda Merdeka, Butterworth in this free for all, engaging list of events.
When: 5–6 December 2020
---
Penang International Dragon Boat Festival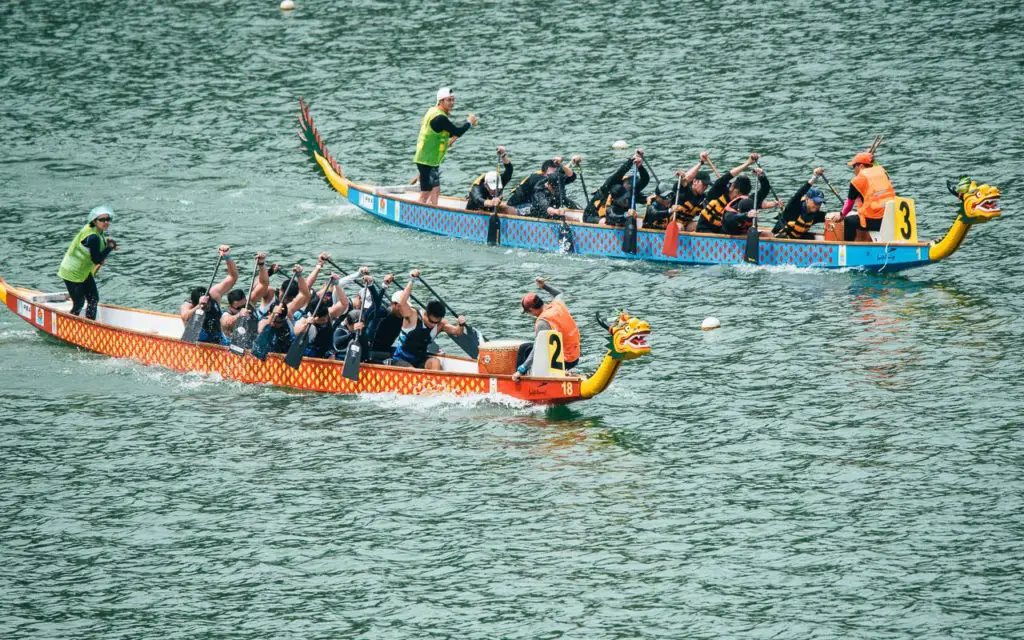 Dragon boats from all over Asia race on Teluk Bahang's Dam for another final round of oars.
When: 5–6 December 2020
---
Penang Pesta Chingay Festival
Don't miss this celebration of ancestral Malaysian Chinese acrobatics. The Chingay and Lion Dance troupe members display their skills in balancing stilt poles on their feet, heads and chests during this boombastic annual street parade. Be ready for giant colourful flags, lion and dragon dance performances.
When: 12 December 2020
---
New Year Countdown Party
Every year, a spectacle of fireworks glitter over Penang. Join the locals at Padang Kota and prepare for another exciting countdown.
When: 31 December
---
And if you liked this, why don't you sign up for our mailing list? We will send you immediately a FREE photographic eBook with some incredible pictures of Penang, and we promise, we will disturb you only about once a month with some good local advice you won't find on the site