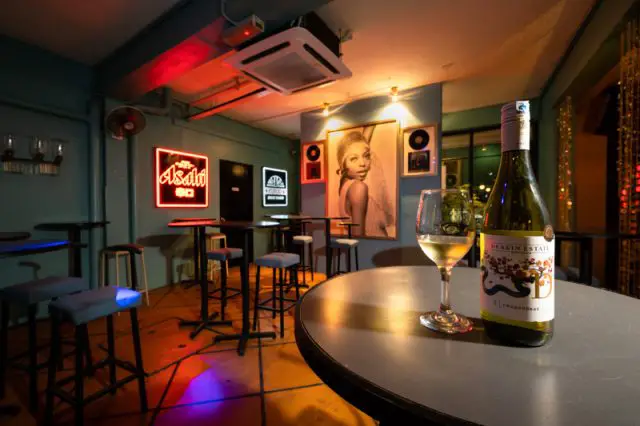 Tucked in the very center of George Town's tourist-haven Chulia Street, a large, stylishly refurbished shophouse occupies one of the strip's most prized pieces of real estate. I am talking about Chulia Court: set right in front of the super central 7/11 junction between Chulia Street and Penang backpacker-tastic Love Lane, Chulia Court is and has been a pivot of Penang's nightlife scene and one of its longest-running bars.
---
Chulia Court: an eclectic space
Chulia Court was originally a soy sauce factory. The workers used to sun the vats of fermenting sauces at the back portion of the building, where today Chulia Court has a large car park — 5rm per entry, and one of the easiest spots to park when George Town is packed to the gills with tourists. 
The place had also been used as a medicine shop, a budget hotel (see our list of some of Penang's best budget hotels), and a coffee shop. It was revamped to Chulia Court in January 2014 thanks to the work of YKH Group of Restaurants. 
The large rooms are adorned by rare Peranakan embroidery, ancestral portraits, period furniture, and vibrant colours of the Baba Nyonya culture mixed with European influence. The decor mixes fantastical China with bits and pieces of international retro, with a dim, welcoming light and atmosphere.
Chulia Court survived the starvation of tourism during the lockdowns of the COVID-19 pandemic, and it's now back in action to serve Penang's day and night revelers better than ever.
Why? Chulia Court is known as a nightclub — the most central in town. But it's also a casual bistro dishing up some great Thai food and a stylish spot to sit down and enjoy coffee or different aromatic teas. In the future, Chulia Court is also set to reopen its upstairs quarters as a budget hotel in the center of George Town. Watch this space for more updates.
Here's a lowdown of what you can do at Chulia Court, in the thick of Chulia Street.
---
Chulia Court's Thai food at Cha Da
They say you won't get anything closer to an authentic experience than getting it from an authentic source — so welcome to Cha Da, Chulia Court's gastro pub offering scrumptious Thai food prepared by a local Siamese family!
The place is open from 11.30 am for lunch to 9 pm for dinner and hot drinks. For RM23, you can order large and abundant portions of staple Thai favourites such as boat noodles, Phad Thai, seafood tomyum, somtam (papaya salad with fish sauce), and more.
We tried a few, the first being the boat noodles, inspired by Thailand's traditional floating markets. It comes in two varieties, beef or pork, and we chose beef. Unlike many other Malaysian establishments, the beef was exquisitely tender and not chewy. Cha Da's chef told us the secret is how they prepare it: the gravy was thick enough, with an overall fine taste, to pair with the clumps of silky noodles. The broth is prepared by mixing different soy sauces, to which one can add their homemade chili and sweet and sour sauce according to their taste.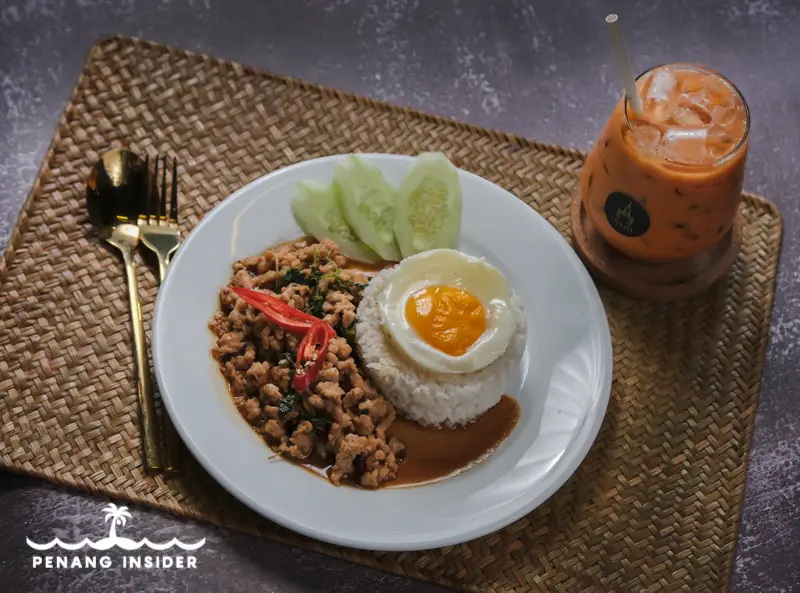 Our second tasting was Basil pork rice, a Thai classic that Cha Da makes very well. The pork has a nice and spicy kick, all complemented by the thick egg served on the rice.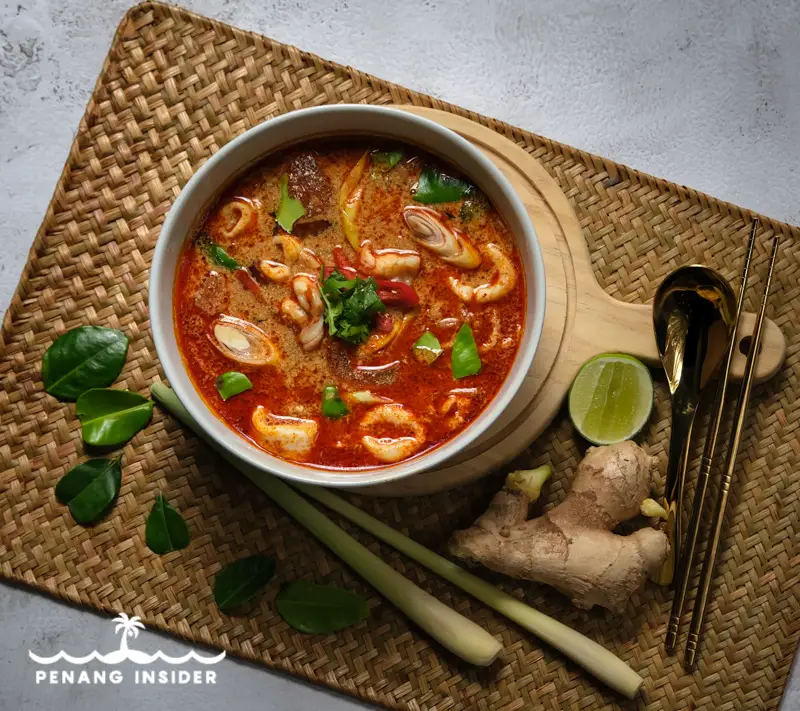 To close it off and before exploding — as we said, portions are pretty large for one person — we had to try the Tomyum Seafood, which lived up to our expectations. There's no hesitating in serving fat, juicy prawns that marry perfectly with the tangy, rich texture of the tom yum soup. The white and thin noodles soaked the sauce like a sponge of flavors — don't forget to sprinkle some lime. Highly recommended.
---
Coffee and Tea at Chulia Court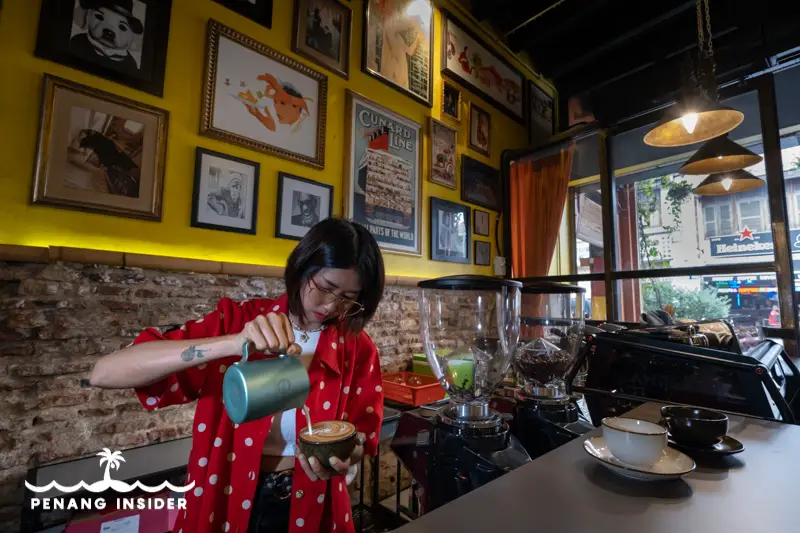 Cha Da is complemented by a compact bar with a proper espresso machine. The perk here is that the milk used is only sourced from Japan and is of higher quality than that used in most other Chulia Street bars. Expect your coffees and cappuccinos garnished with foam by an expert barista.
The different flavoured teas and lattes are worth trying, including mint-sprinkled marshmallow milk, that's very refreshing.
---
Chulia Court is also a great place to go for a drink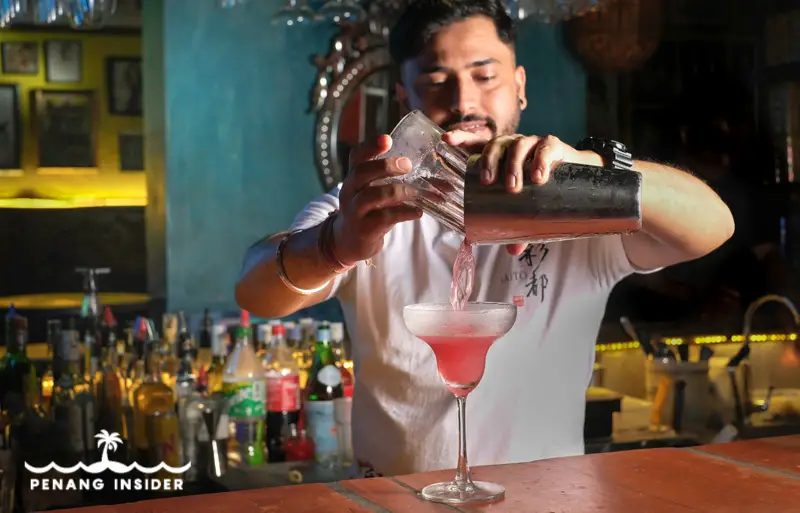 With so much foot traffic, Chulia Street inevitably serves as a parking pad for many domestic and foreign tourists looking for a drink or a sundowner — no, you can't see the sunset from here, but all bars in the area have happy hours until 8 pm.
Few know that Chulia Court also has drinks — and a much better ambiance to sit with a date and enjoy some quiet space. For starters, Happy Hour beers cost RM10 and come in drafts — Connor's, Kronenbourg Blanc, and Carlsberg, and a series of cocktails whose average price is RM30.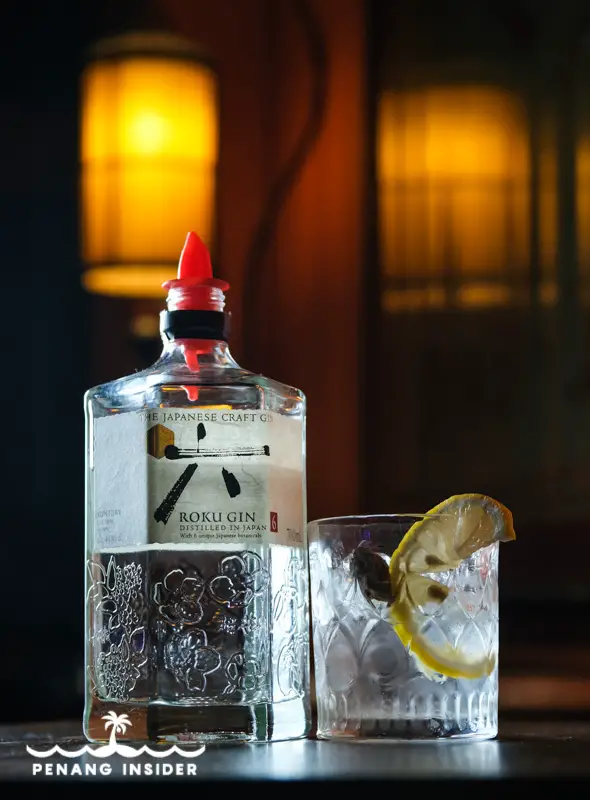 We tried Gin Tonic, Blue Lagoon, and Cosmopolitan — and loved the latter most — but there's a wide variety of alcohol and bottles, including "cocktail towers" that come at an average of 6 shots.
---
Chulia Court: a most central nightclub in Penang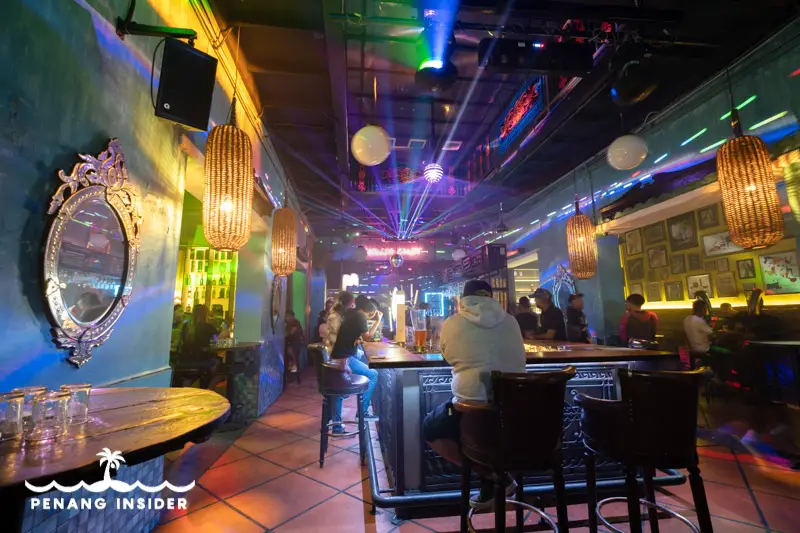 The best-known face of Chulia Court is night club: come especially on Wednesdays (ladies' night) and weekends when coming 11 pm, the place literally transforms from a quiet and classy chilled bistro and drinking den to a full-scale nightclub — the most central in George Town.
With the closure of the club artery at Upper Penang Road, George Town was left with few or no clubbing options until Chulia Court honed its disco balls and laser lights and packed up the back of the shophouse with a large and heritage-inspired dance floor. You can also enter directly from the back after parking and arrive straight in the action's thick.
The music is provided by a team of local DJs who alternate themselves over the console, pumping up classic dance hits with a focus on techno and club-style oldies. That makes for some good fun, with customers slowly coming closer (and sometimes, on top) to the stage as the beats pump louder.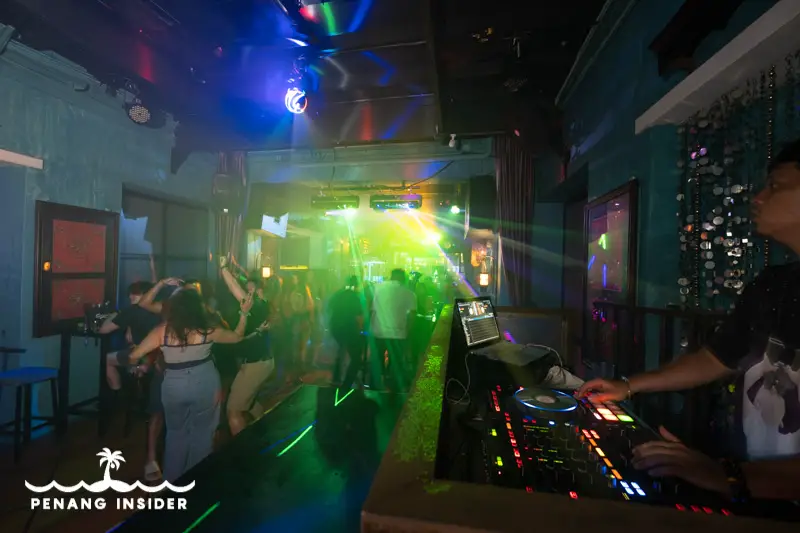 The bar is never too far away, and the rule is singles or groups must purchase drinks at the door to be allowed in. But if you have come to clubbing, you must be drinking and mingling, right? Customers — and, of course, girls — start by occupying the side rooms of Chulia Court, chatting and drinking until the party most often explodes under the DJ stage, and by midnight, arms are up in the air, and bodies are dancing, all in the center of George Town.
---
Chulia Court: the Verdict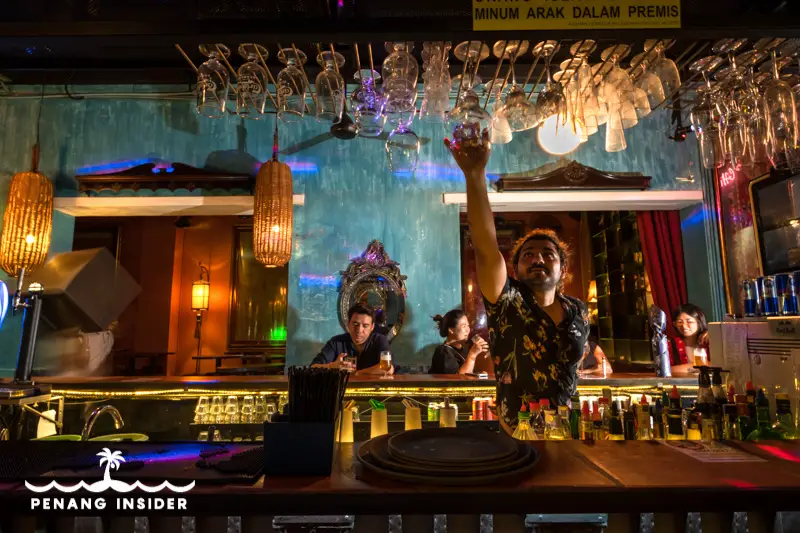 If you are up for a clubbing night in George Town, there's nothing better in 2023 than hitting Chulia Court after 11 pm. That's where most local dancers and revellers go to let off some steam, as it's a perfect place to mix and mingle with a local crowd, all in half a minute's walking distance from the packed pubs and restaurants of Love Lane.
In terms of food, Cha Da's high-profile selection of Thai dishes makes Chulia Court even more attractive to those who prefer not to dance and have some quiet time with a date or a friend. Coffee and other sweet drinks are great, too — and that prime Japanese milk taste it's hard to scrub off your palate.
Three different times, three different vibes: a place to go if you have an average to a high amount of cash to splash on your night out.
Check for their latest news, promotions, and events on Chulia Court's official Facebook Page.
Disclaimer: Chulia Court sponsored this post on Penang Insider and hosted us to try their offerings. However, all the opinions expressed in this article are ours. If you think we are bull$#it#ing you, we recommend you go out there and try yourself — we take pride in our integrity and well-honed taste buds.
And if you liked this, why don't you sign up for our mailing list? We will send you immediately a FREE photographic eBook with some incredible pictures of Penang, and we promise, we will disturb you only about once a month with some good local advice you won't find on the site