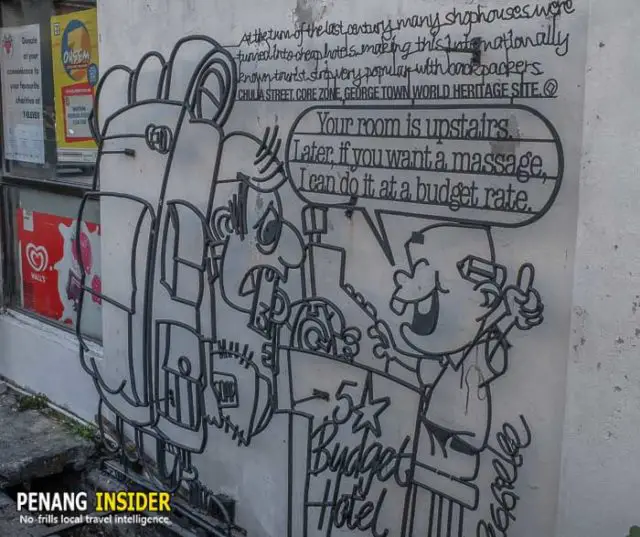 Like it or not, in recent years, backpackers flooded Penang as they travel between Thailand and Kuala Lumpur/Singapore. Penang, in fact, offers a free 90-day long tourist visa and has steadily become a hotspot for backpackers in the region. It's also well connected to Kuala Lumpur, another Malaysian travel hub. It also rose to international fame thanks to Penang street art and the many trendy cafes in George Town.
Are you a backpacker in Penang, and you don't know where to start? First, check our guide to the best things to do in Penang, which includes must-see attractions like the Kek Lok Si Temple, one of Southeast Asia's biggest Buddhist complexes, Penang Botanic Gardens, and other lesser-known destinations. Don't forget to browse our guide to the best time to visit Penang. Did you already get a Malaysia Tourist SIM Card to use data and get online? Great, then.
Now it's time to read this amazing guide to backpacking Penang: it has everything you need to know in regards to the best backpacker accommodation in Penang (and you can check more budget hotels in Penang and a list of Penang best Airbnbs), the most happening backpacker hangouts in George Town, where to find local food (check out our beginners guide to Penang's must-try dishes and Penang iconic breakfast and don't forget guide to where to eat the best Penang laksa and the best Nasi Kandar) and Western comfort foods in George Town, and tips and tricks on what to do, see, and where to go party and sunbathing as a backpacker in George Town and Penang.
First of all, where do backpackers go in Penang?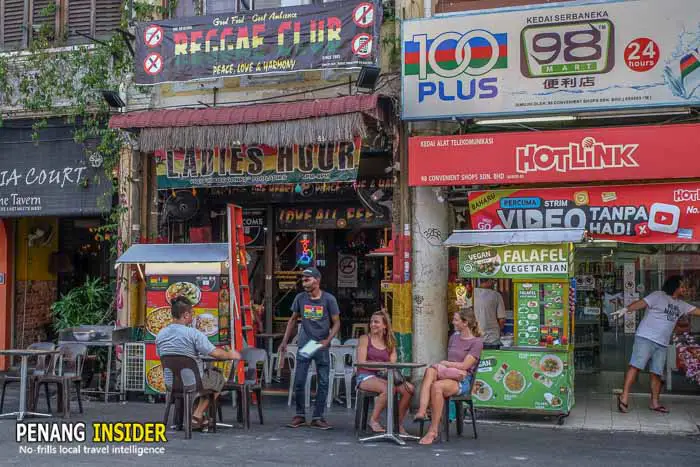 First of all, Penang is an island, but it's pretty developed – it surely has at least 20 exciting beaches to explore, but forget a beach backpacking experience like you can have, for example, in Gili Trawangan, Indonesia. For that, you are better off to Langkawi or Pangkor Island. But don't forget Monkey Beach, a cool party-vibe cove on the island's northwestern coast, or offbeat and quiet Pulau Aman.
Penang's backpacker central is the cluster of side lanes around Chulia Street, especially Love Lane and Muntri Street, found within walking distance from Penang Ferry's docks in George Town and set next to the fascinating Penang Little India that's filled with some of Penang's best bars. From lively backpacker bars to Western-style cafes and bistros, the middle section of Chulia Street may not be Penang's most authentic, but it's a hit with international backpackers. They come, check into a backpacker hostel, and don't stray too far from the convenience of the bars and clubs around Chulia Street. Penang nightlife here is indeed quite happening.
READ MORE — 31 Best Places to go in Penang at Night
Just look for the junction of Chulia Street and Love Lane, where you'll find a 7/11 convenience store on the corner, right opposite the Chulia Court Mansion and the Reggae Bar. To their left is a cluster of street stalls selling some of Penang's best curry mee. This is where most backpacker action happens in George Town and Penang.
How much does backpacking in Penang cost per day?
It depends on your habits and whether you are a drinker, but costs for backpacking in Penang can be limited to about USD 10 – 20 per day.
Cost Breakdown for Backpacking Penang
Basic Backpacker budget
Dorm in a hostel: RM 20 to 30 (USD 5 to 7)
Breakfast: often included in the cost of a dorm, otherwise about RM5 (USD 1.5) for local breakfast like the delicious roti bakar
Simple meal/ street food: RM 6 twice a day (USD 3)
Attractions: depends on what you want to do, but factor RM 20 (USD 5)
TOTAL: about RM 65/USD 16
Mid-range Backpacker budget
Private room in a hostel: RM 50 to 100 (USD 12 to 25)
Breakfast: often included in the cost of a room, otherwise about RM20 (USD 4) for Western-styled breakfast in most cafes downtown
Simple meal/ street food: RM 6 twice a day (USD 3)
Attractions: depends on what you want to do, but factor RM 20 (USD 5)
TOTAL: about RM 100/150 or USD 25/38
You may shave off some costs if you cater your food yourself. Check out a list of the best places for buying groceries in Penang.
READ MORE — Best Western Food Joints in Penang
Cheap transportation for Backpackers in Penang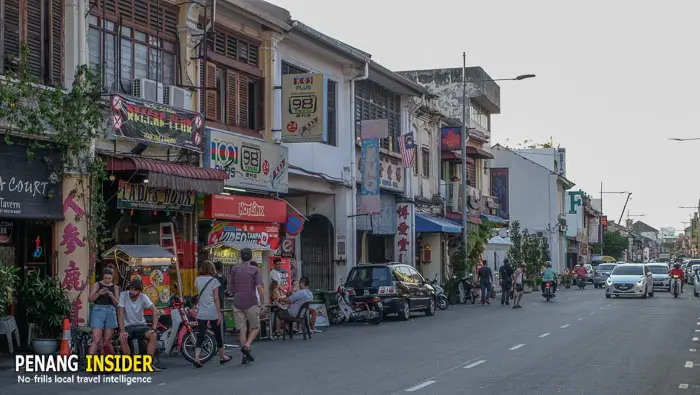 The crossroads between Chulia Street and Love Lane (where the 7/11 is) is also where most buses coming from the Weld Quay Jetty stop on their way to KOMTAR — check our list of 13 cool things to do in Komtar at The Top Penang — and the rest of the island.
Rapid Penang buses cost only RM 1.40 for a ride that won't exceed 5km and go up after that to a maximum of RM 4.50 to Teluk Bahang, where Penang National Park is, or Penang International Airport, both at the end of the line.
You may as well walk around in George Town, as it's easy to navigate and compact. Otherwise, you may want to rent a scooter (from RM 30/day) along the several outlets along Chulia Street. Filling the tank will cost between RM 7 and 10 (2 to 2.5 USD).
Penang is serviced by Grab Car as a last convenient resort, and prices are pretty convenient outside rush hour (8 to 9 am and 6 to 8 pm).
The Best Cheap hostels in Penang where backpackers stay (and party)
Penang's tourist and backpacker central of Chulia Street, Love Lane and Muntri Street and outlining roads are packed to the gills with accommodation options to suit every budget. You can also check our list of Penang's best Airbnbs. Regarding cheap backpacker hostels in Penang, the surge of budget travelers arrivals these days means there are way too many to choose from.
We have compiled a list of the best cheap backpacker accommodation options in and around George Town. Consider that, on average, dorms go for about RM35 (USD 8.5), and private en-suite double rooms for RM100 (USD  25) per night. The standard is pretty high, however, with very well-furnished and clean backpacker hostels, most of which offer top-of-the-range facilities, such as lockers, individual pods, privacy curtains, power stations, etcetera.
Blogging transparency: If you like this website and found the information in this post helpful, please note that if you book a dorm/room through our links, we will get a small commission at no extra cost. Consider it a small way to say thanks and keep Penang Insider going.
---
House of Journey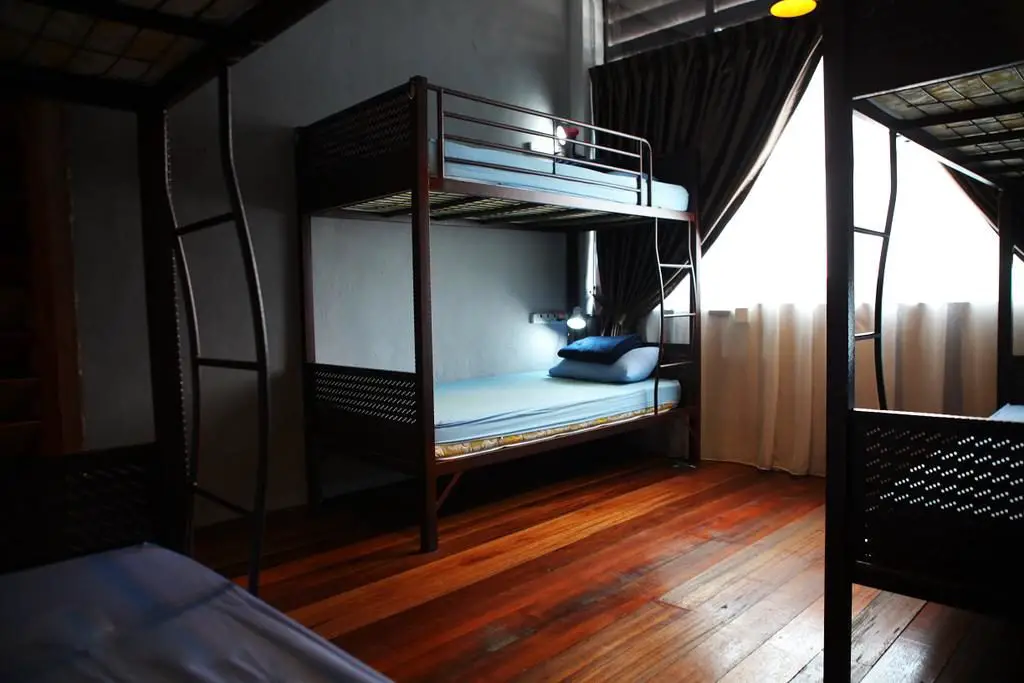 Set in a corner shophouse in Lorong Sek Chuan, straight in the heart of Penang's backpacking action, tucked up a quiet road, House of Journey is our favorite backpacker hostel in Penang. The dorms are airy, sparkling clean and have industrial-chic shared bathrooms with all the perks modern backpackers have come to expect. Hundreds of musings scribbled on the wall give this place a cool, seasoned traveler vibe few other backpacker hostels have in Penang. You won't regret your stay here.
Olive Spring Hostel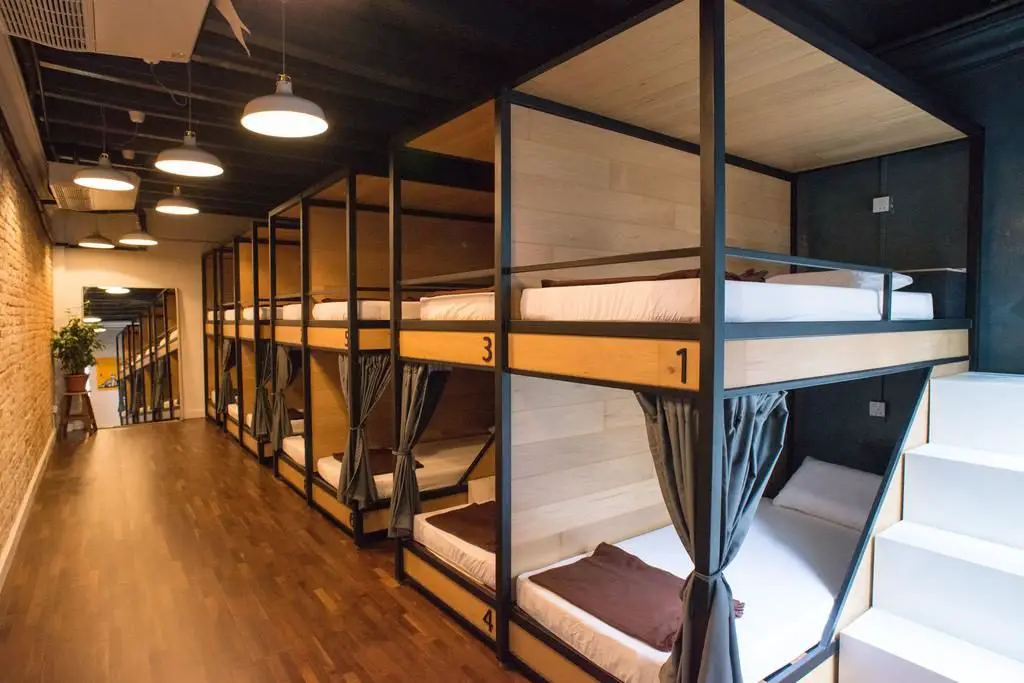 A beautiful hostel with flashy individual pods, set right on top of popular bistro Mugshot, literally in the center of Chulia Street's action. Swanky, cool, and within walking distance of everything.
Tido Hostel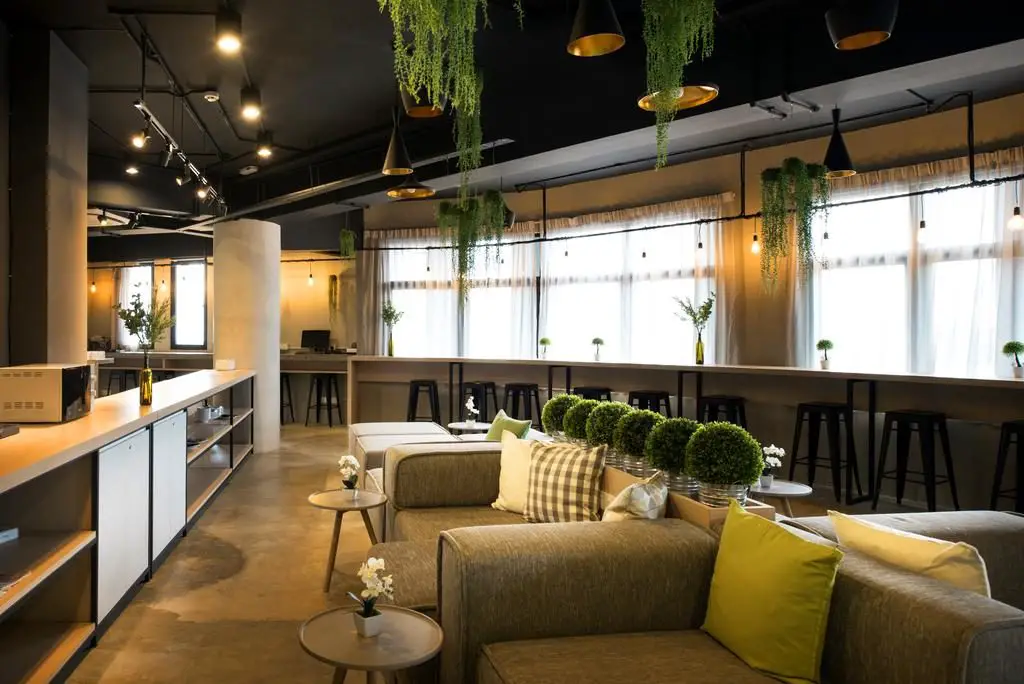 More of a full-scale hotel than a hostel, Tido is tucked at the end of Magazine road, within 5 minute's walk from bustling Chulia Street. It has dorms with plush beds, wooden partitions, reading lights, lockers, and a charming boutique atmosphere. The lounge is great, with minimal chic furnishings and comfy couches to chill.
Hutton Lodge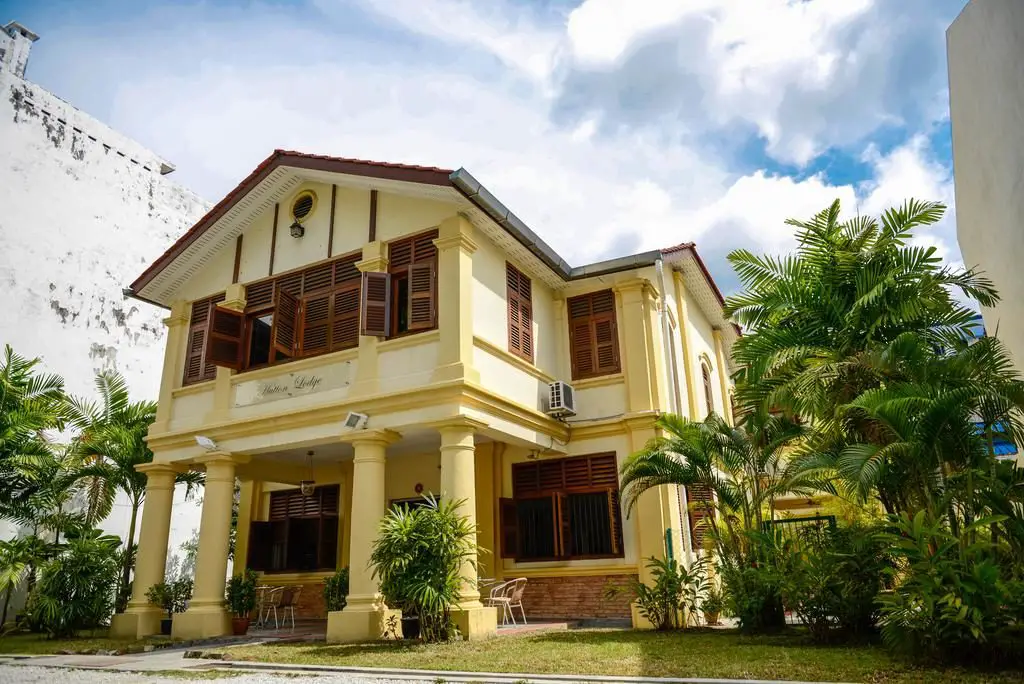 This is one of our favourite, long-standing Penang backpacker hostels. Set in Hutton Lane, within 5 minutes walking distance to Chulia street, it's housed in a beautiful colonial mansion with its own garden. Rooms are spartan yet clean and cozy, and the common areas are retro and attractive. A perfect, cheap and atmospheric dig to explore George Town at leisure.
Sim Citystay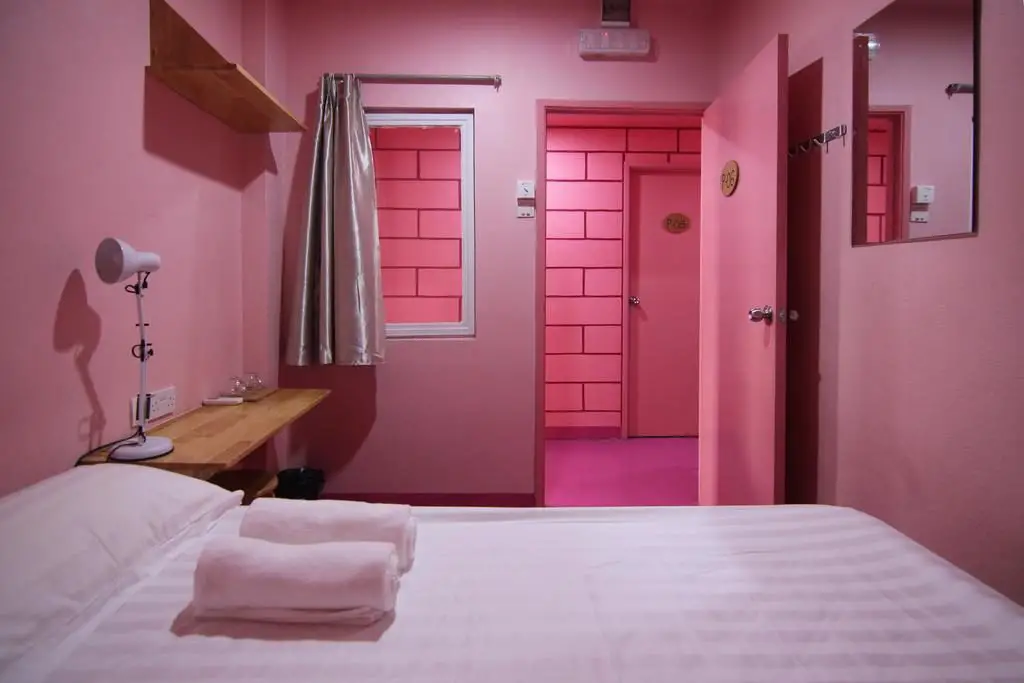 A good option for backpackers set in front of Penang's Clan Jetties, with scenic views over the sea. It has dorms with privacy curtains, private rooms, and nice common areas to chill and meet other travelers.
Drippin' Dragon Hostel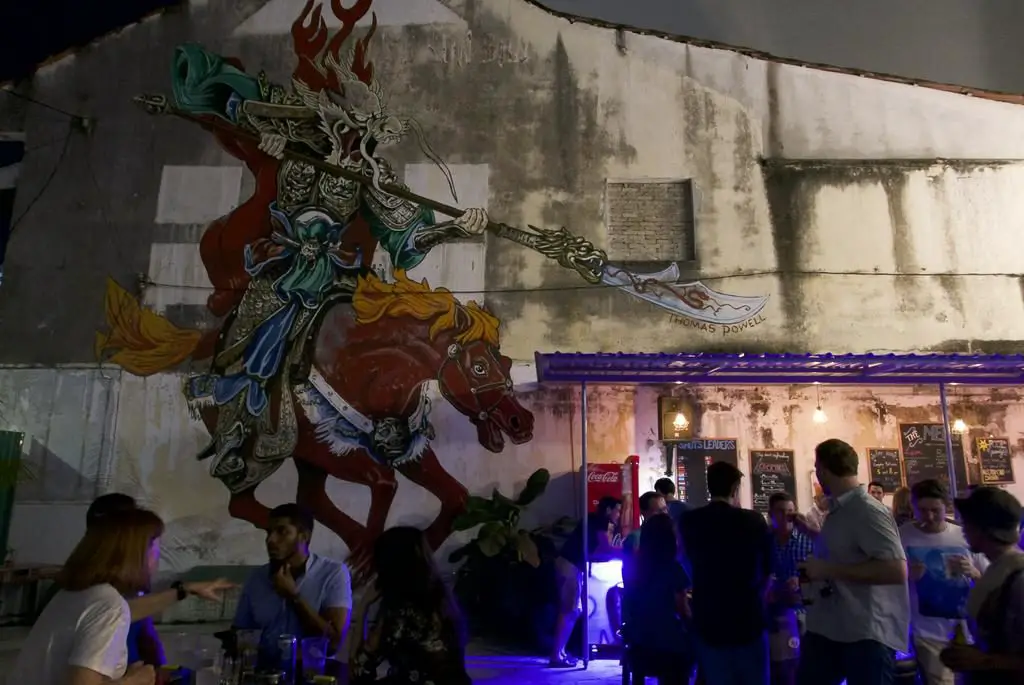 Another place for the party-loving backpackers, its main feature is a swimming pool, mural art by Tom Powell, and an open bar that fills up with drifters and drinkers on every good night. Tucked up Hutton Lane, it's a bit more relaxed than other Penang party hostels.
The Frame Guesthouse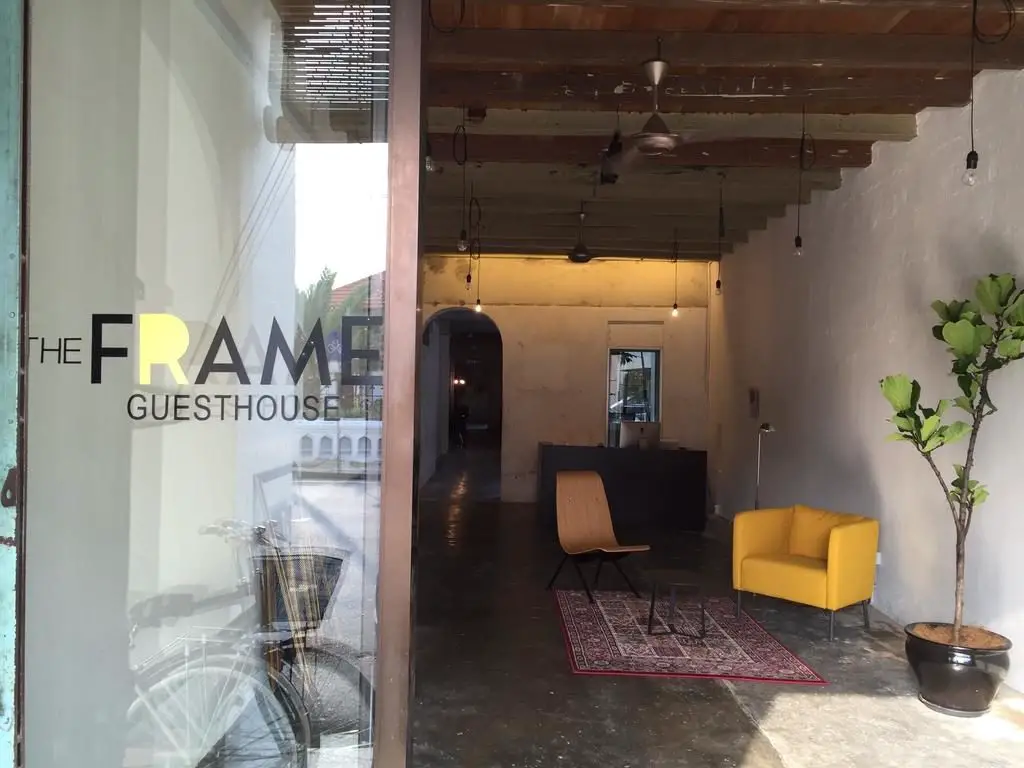 One perfect industrial-chic designed guesthouse for flashpacker, it's right along Chulia Street and a good choice for those who don't want to sacrifice comfort when traveling.
The 80's Guesthouse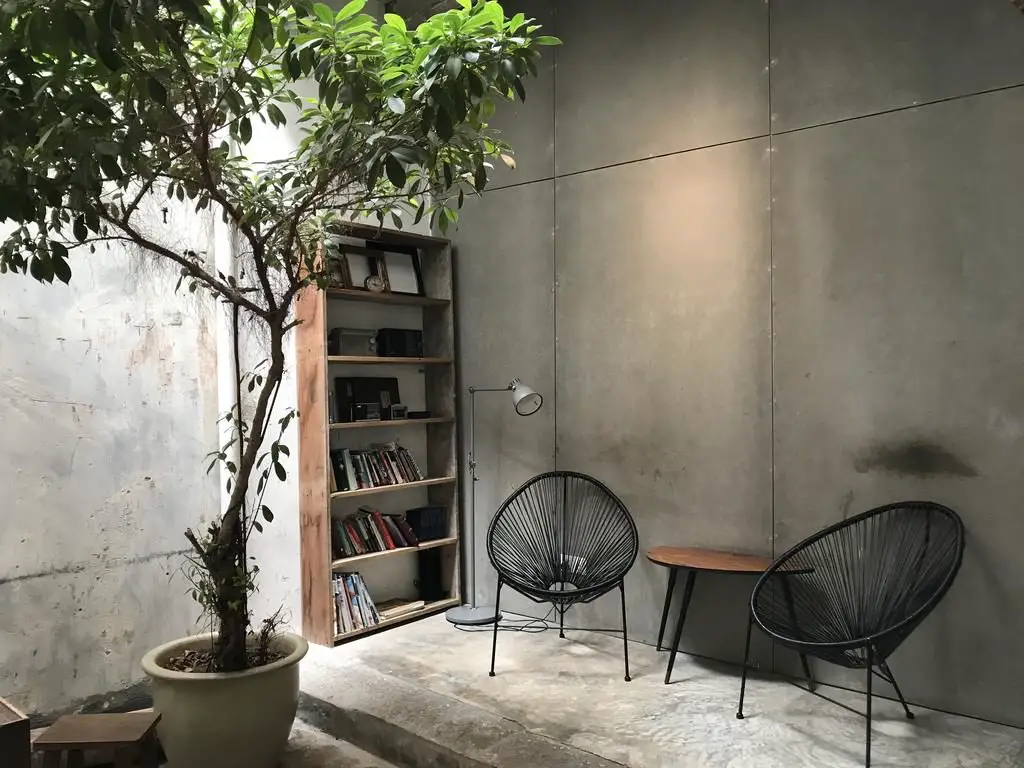 A sister property of The Frame Guesthouse, the 80's Guesthouse caters to more of that flashpacker crowd. Tucked at the quieter end of noisy Love Lane, it's stylishly furnished with memorabilia from the 1980s, paired with minimal chic furnishings and naked light bulbs. Very central and attractive.
Red Inn Court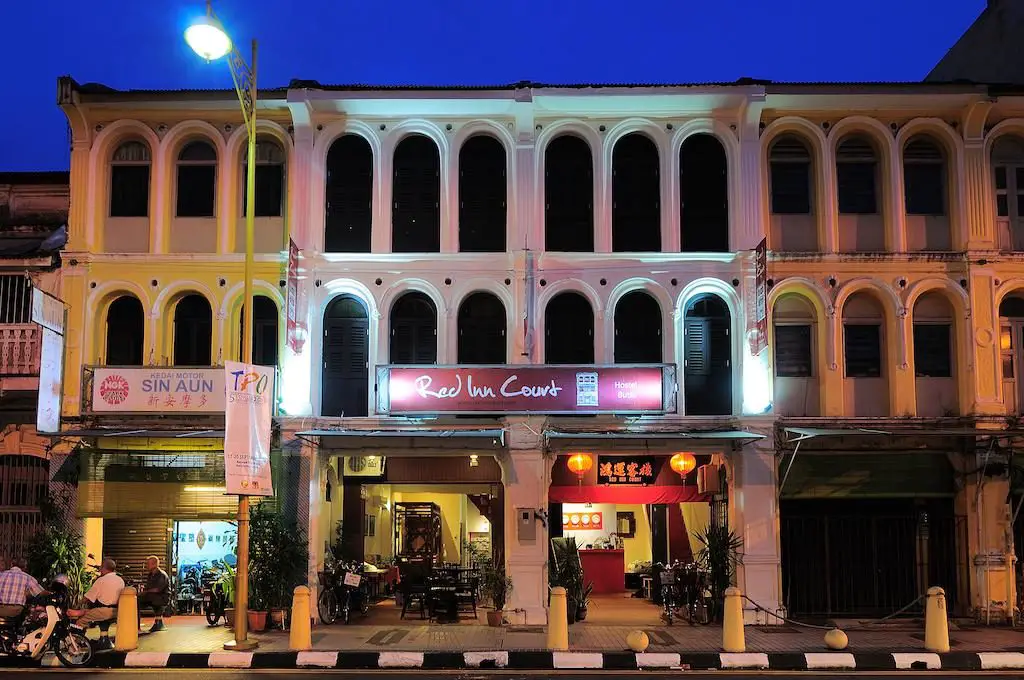 Super central and set into a beautiful shophouse, Red Inn Court has been around for many years, tirelessly serving backpackers have a cozy stay in Penang. They have bicycle rental, a nice lounge on the first floor, and they are located on a quiet corner of Jalan Masjid Kapitan Keling, in meters from temples and Chulia Street's action.
Summer Tree Hotel Penang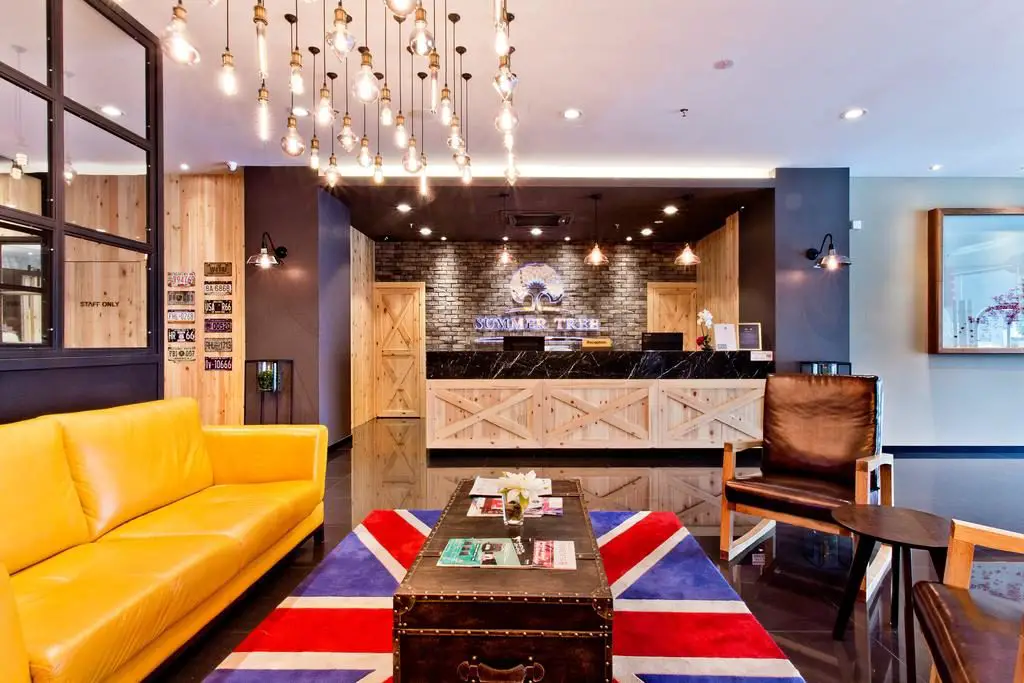 More of a budget hotel than a hostel, this place has a swanky hall and better-than-average rooms for those backpackers needing a break from the usual shoestring. Get pampered here the right way, and enjoy Penang refreshed.
What backpackers can do in Penang?
If it's your first time, check out a list of the essential things to do in Penang for first-time visitors
With two days in Penang, check out our 48 Hours in George Town itinerary
With three days in Penang, you can explore a little bit more. Check our Penang in 3 days ultimate itinerary.
Best places to meet other backpackers in Penang
Besides your hostel's common room, most backpackers hang out on Chulia Street and Love Lane. The area is small, and one has to walk around and make eye contact with other backpackers to start a conversation.
Another exciting option for local interaction is participating in the weekly Couchsurfing Penang meetings, held in a different cafe every Friday night from 8.30 pm to 10.30 pm. Sign up for Couchsurfing and check the Penang event page here.
Useful shops for backpackers in Penang
Being in the center of town, Penang's backpacker area is in walking distance of a huge range of shops. If you need to have something replaced or fixed, you'll most certainly be able to do so somewhere in George Town.
Second-hand clothes stores for backpackers
Need to replace your backpacking clothing and want to keep it on a shoestring? Have no fear, for on 41 Chulia Street, you can find the Kawan Shop, run by Youth with a Mission Penang. It sells second-hand clothes and other stuff, whose profits are used to help homeless people have warm meals and a place to bathe and wash their clothes.
A little far out of town on the southern part of the island, right in front of the Bukit Jambul shopping mall area (catch bus 101 from KOMTAR) is Doubt? (see map), specializing in second-hand Japanese clothes and pre-loved fashion. Their choice is wide and pretty trendy, so it's worth the time you need to get there.
Prangin Mall
This mall, one of the best shopping malls in Penang, is also one of the oldest and cheapest. It's very convenient for backpackers as it's right next to the KOMTAR building, straight in the center of George Town and in 5 minutes walk from Chulia Street.
Prangin Mall has a lot of different things for sale, from cheap clothes (on the 1st and 2nd floor) to electronics and computers (on the 4th floor), shoes and a lot of mobile phones (on the ground floor). It's also convenient for backpackers looking to purchase a SIM card as it has shops from the main telecommunication companies in Malaysia, including Maxis, Digi, and UMobile.
Several travel agents are here selling bus tickets to many destinations in Malaysia.
READ MORE — A Complete Guide to Traveling by Bus from Penang to Kuala Lumpur
Best backpacker party spots in Penang
Penang backpackers usually only have a few days to explore the island (see our guide to spending the perfect 3 days in Penang) and therefore don't really move very far from central George Town. Luckily for them, that's where most of Penang's party spots are located.
Penang Bars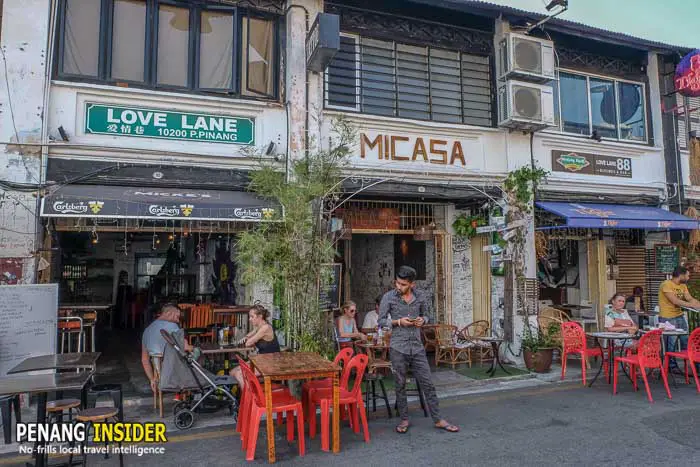 George Town has a smorgasbord of bars and nightlife to suit any taste. From small drinking holes to proper Irish pubs and a Reggae Bar, all a backpacker has to do is walk down Chulia Street and stop where she fancies. The upper part of Love Lane, connected to Chulia Street, is now packed with backpackers bars from wall to wall.
Mike's Place is a popular hangout that spills tables on the street and collects the written musings of a thousand travelers on its walls. They have live musicians strumming guitars and singing on most nights and are possibly the friendliest backpacker joint in town. In front of it, Wheeler's Cafe is slightly more upmarket, with a menu of Western comfort foods, coffees, and good fruit juices.
Right up the road is a series of bars, including Eclipse Bar & Cafe, Friend Forever Bistro and Bohemian Home Bistro, most of which are kinda cookie-cutter and offer the usual happy hour specials and average food.
But if you are a real penny-pinching backpacker, just consider that prices in this area soar because the travelers don't mind paying more than RM10 for a drink — very overpriced for usual Penang standards.
Chulia Court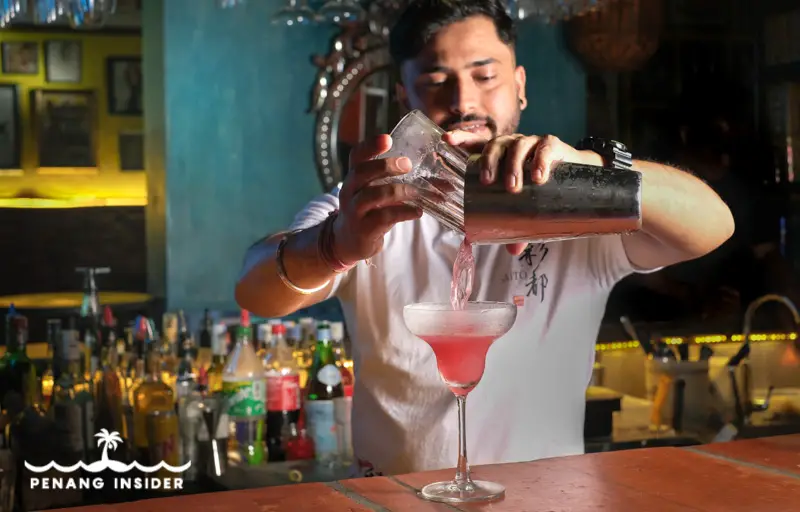 Smack-central in the tourist enclave of Lebuh Chulia, this large club-cum-bistro has evolved over the years from a pure backpacker haunt (and guesthouse) to a vibrant club where Penang locals end their nights.
It's undoubtedly tough to miss: housed in a 100-year-old shophouse directly facing the busy Love Lane intersection, Chulia Court is open most of the day and offers delicious Thai food, imported Japanese coffee, cocktails and beers in a large, decadent-chic ambience that mixes local heritage and history with a modern club vibe.
Start by enjoying their happy hour (they serve proper draft beer, not cans, at only RM10 per glass) and then grab a cocktail (a delicious Cosmopolitan always does it) and wait for the lights to dim out and the place to turn into George Town's most central dance club.
Don't forget that Chulia Court also has a big parking lot right at the back (5RM per entry), a real godsend when George Town's traffic makes it hard to find a spot.
Antarabangsa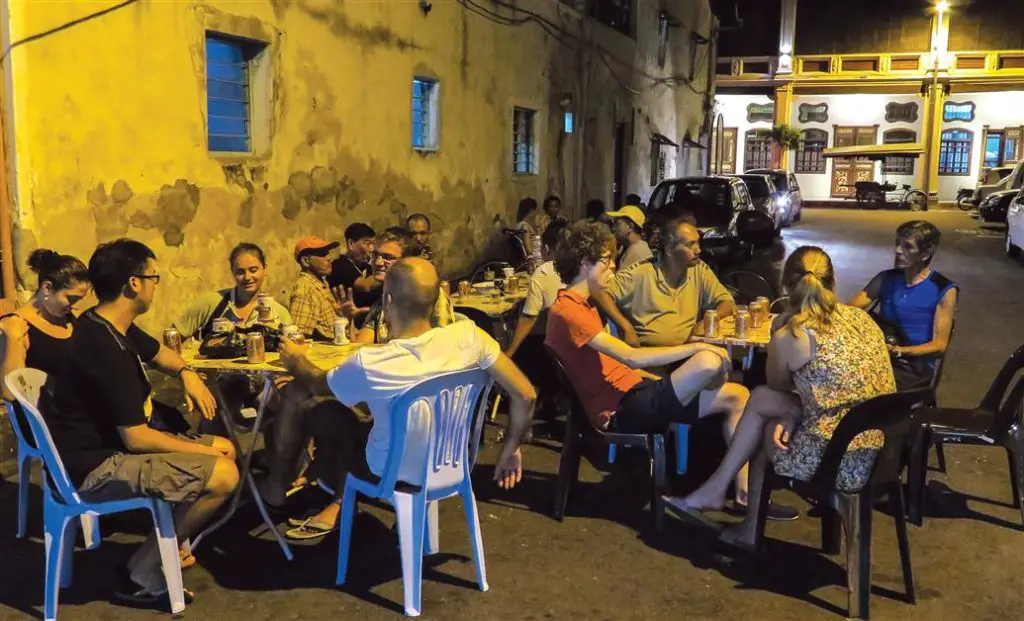 Once a backstreet dive populated by crazy locals and ever-drunken Indian patrons, and some local gangsters, Antarabangsa has sadly turned to be a hipster dive. Backpackers love it because of its cheap beers, the cheapest in town, for about RM4 per can, and the series of red plastic stools and sticky tables that spill on the curb. We have had a few glorious drunken nights here before it turned to cater to the under-35 foreigner party crowd, and we don't prefer it anymore. But it must be said, it does get many young locals, too, and it can be a great place for backpackers to start diving into real Penang life, well beyond the limits of the hostel.
Penang Speakeasies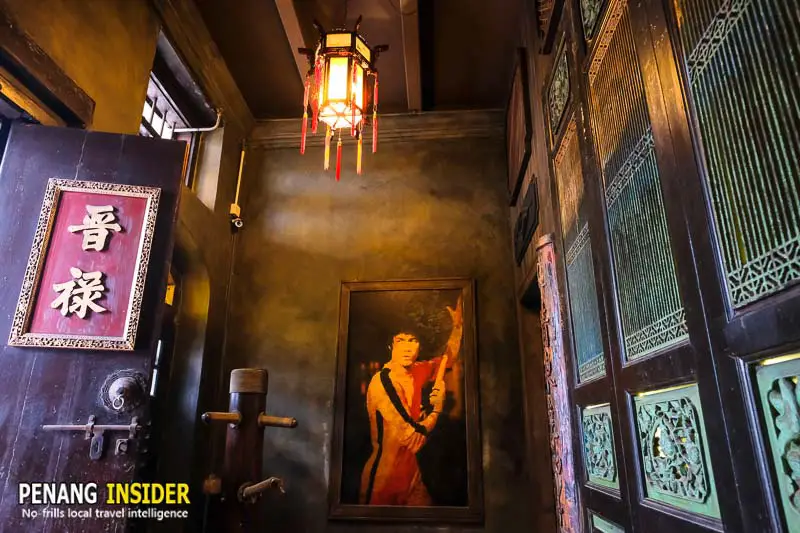 In recent years, George Town has seen a boom of "hidden bars" with quirky settings and stranger entrances. Think a fridge, a golden toilet that opens onto a Melbourne-styled graffiti-strewn back alley, or a Bruce Lee painting and a Wing Chun Dummy. There are a lot, and we discussed some in our guide to the 31 best places to visit in Penang at Night.
Penang Clubs
If you are a backpacker interested in clubbing the night out in George Town, there are a bunch of clubs lined along Beach Street. Typically, the entry fee is around RM50 and sometimes this includes a drink, and there's a popular Ladies' Night on Wednesdays when girls enter and drink free of charge. Be careful ladies because this can become a problem if you get too drunk and locals will inevitably try to pick you up.
Hin Bus Pop Up Market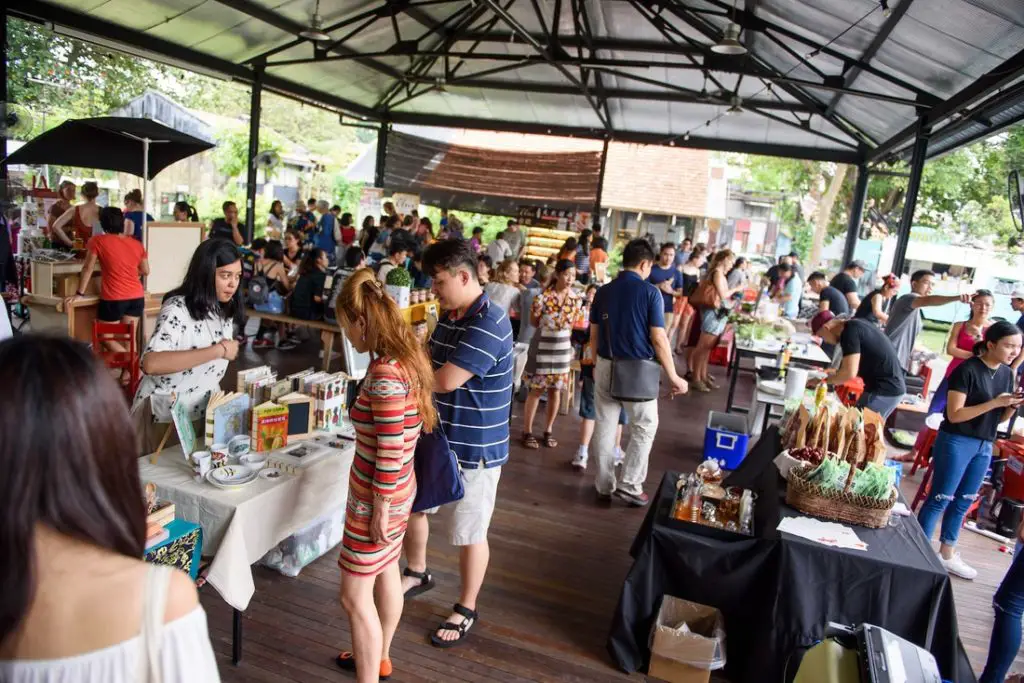 This is one of the best alternative markets in Penang and could be a perfect spot for Penang backpackers to go to on Sundays. The open garden at Hin Bus Depot is the unbeatable location of a vibrant alternative market where backpackers may find interesting souvenirs, original artworks, meet local artists and independent thinkers, and also observe (or join) a session of acrobatic yoga (starting from 3 pm).
The place also has several cafes and eateries, and although not the cheapest, could be a perfect place for a Sunday lunch.
Washing Clothes for backpackers in Penang
Most guesthouses and hostels offer this service, but you'll end up paying more.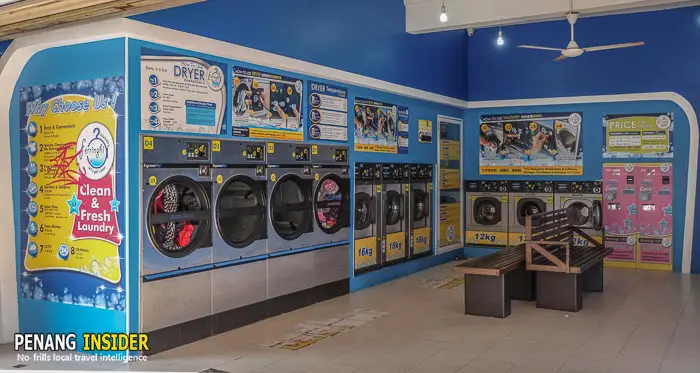 The best place to go is the coin-operated laundromat on Muntri Street, called Ferringhi Laundry. You can use machines to wash loads up to 12kg for RM6.50/7.50 (cold/hot water wash), or up to 16kg for RM8.50/9.50 (cold/hot water wash).
Driers can stock up to 15kgs and cost RM5 per every 25 minutes drying cycle.
Best Places to Eat for Backpackers in Chulia Street Penang
There is a lot of food along Chulia Street, especially Chinese and Western, and it's very easy to walk to nearby Little India for a fix of curries and rotis.
Backpacker-friendly comfort foods
Being filled with foreigners, Penang backpacker ghetto Chulia Street has a series of interesting Western and international food options. Holy Guacamole has Tex-Mex food and Margaritas, serving nachos, burritos, and all the range. Halab is more of a mid-range restaurant, but if you want some Syrian-Middle Eastern food for a change, it's a very good choice.
Local Foods
Chulia Street Food Market
The section of Chulia Street between the junction with Love Lane and Lorong Sek Chuan packs a vibrant night street food market.
Considered the vicinity of backpacker central, it's surprising to see how much good food one can still find here. Be prepared for a local, authentic and not-so-clean experience: you'll eat sitting at a roadside plastic table, with vehicles passing by, and you'll see the hawker sellers wash bowls, chopsticks, and cutlery in plastic bins filled with water by the roadside.
Is it safe to eat here? Of course yes: and if you don't try any of the delicious Penang Food (see 26 best Penang dishes to start with) you'll miss out on the experience.
Mamak Food on Chulia Street
"Mamak" means "Indian Muslim" and often doubles for restaurants serving Indian and Malay food, without alcoholic beverages. There are plenty of these places along Chulia Street, and they often appeal to backpackers because they are cheap, and yet tasty.
Kapitan is famous for tandoori chicken, so much so as Kassim Mustafa Nasi Dalcha. Both restaurants also serve classic Malay Indian staples such as mee goreng, fried rice, and the quintessential nasi kandar (white rice upon which a customer adds different choices of curries. You pay by the amount/quantity).
Best beaches for backpackers in Penang
Every serious backpacker wants to hit the beach, correct?
Well, Penang is definitely not so famous for its beaches, but if you are a backpacker with a desire to tuck toes in the sand, there are still some decent options available. This is a list of Penang's 20 Best Beaches, and here we have summarized the most famous ones.
Batu Ferringhi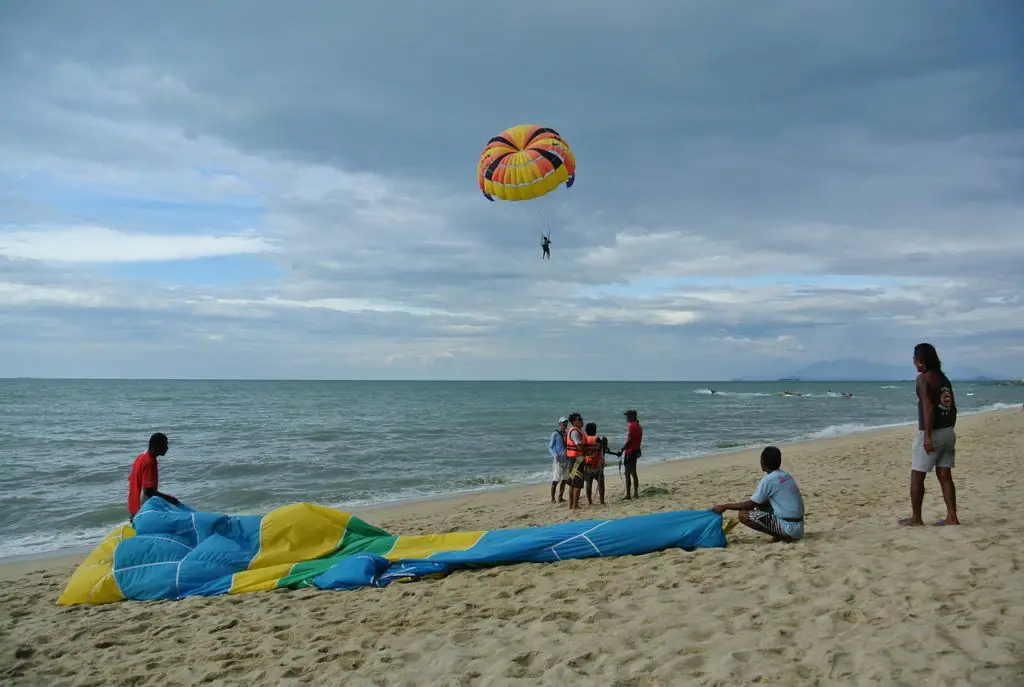 This is Penang's most touristy and developed area, whose beaches have been mostly enclosed by the many 5 star resorts present here. Regardless, beaches here are quite OK for a stroll, less so for swimming.
Moonlight Bay is recommended, for it has a very good sunset view and a little bar on the beach that's perfect for sundowners.
Balik Pulau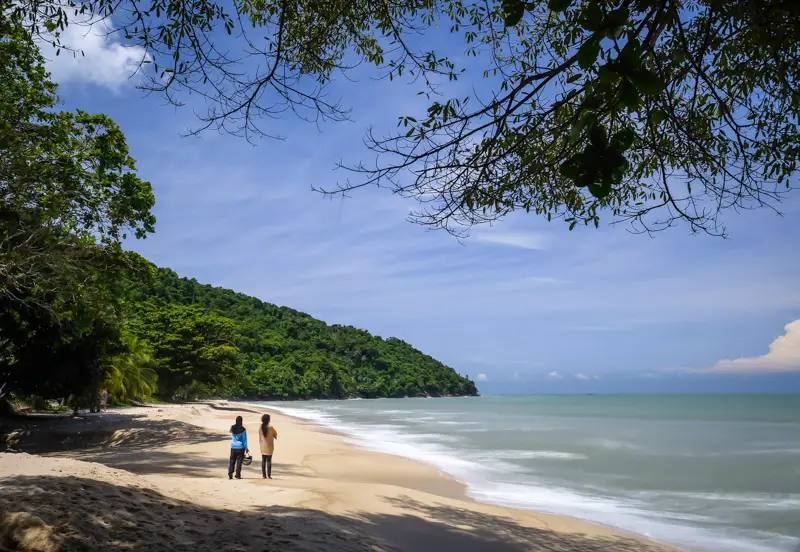 The southeastern part of the island is the most natural and unspoiled, and so are its beaches, if you have the time/desire to explore. The best beach on this part of the island is perched at the extreme southeast and it's called Pantai Pasir Panjang. It sits next to an army camp and is an arch of powdery golden sand fringed by a backdrop of tropical trees.
Technically swimming is forbidden here — there's a deep slope and most often the water has jellyfish. Be careful. You can read more in our complete travel guide to Balik Pulau.
Penang National Park
The national park, Malaysia's smallest, has hiking trails, plenty of Malaysian animals, and two different beaches: popular Monkey Beach, on the northeastern end of the island, and Pantai Keracut, or Turtle Beach, which is down on the eastern side of the coast. You can read our article on the best things to do at Penang National park.
People will tell you that the trail to Monkey Beach is closed, but it's not. You can hike without any problem and reach the beach in about an hour, provided you can cope with the not so stellar conditions of the trail. The beach itself has developed somewhat into a tourist beach, but it's still a decent spot to visit.
Pantai Keracut is better, wider, and at the end of a better hike that crosses the National Park. On arrival, you'll see the Meromictic Lake, where salt and freshwater coexists and never mix, which is one of two existing in the world. There is also a campsite here (remember, you need to hire a guide at headquarters if you want to stay overnight) and a small turtle conservation center where it's possible to see baby turtles. If you are looking for more offbeat hikes, check out our article on the best hikes in Penang Mainland.
---
And if you liked this, why don't you sign up for our mailing list? We will send you immediately a FREE photographic eBook with some incredible pictures of Penang, and we promise, we will disturb you only about once a month with some good local advice you won't find on the site