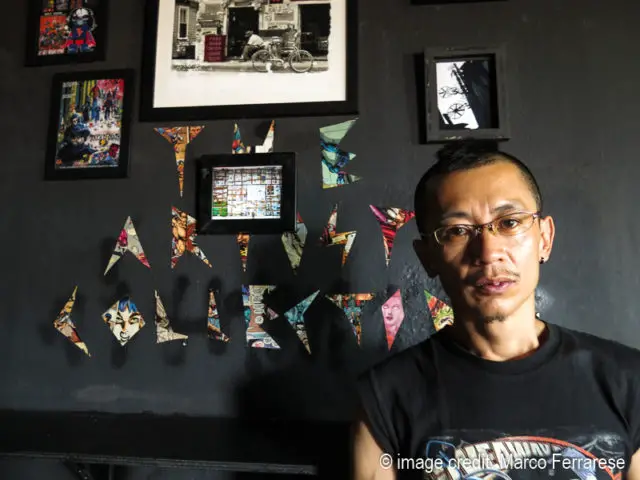 The pulsating heart of northern Malaysia's music underground radiates from the first floor of a battered building along the shoreline of Georgetown coastal thoroughfare Pengkalan Weld. Its ribcage—a black-tinged loft where Penang's wretched rock and roll youth come together to mosh away their frustrations—is a do-it-yourself (DIY) concert hall, rehearsal room and recording studio with the unambiguous name Soundmaker Studio. For the best part of the past decade, a skinny, tattooed Malaysian Chinese named Cheong has been the only person keeping this place alive. He has hosted hundreds of shows and alternative DJ set parties, played guitar in Malaysian avant-garde-post-rock stalwarts Hui Se Di Dai, and runs Soundmaker as Penang's truest patron of the music scene.
"Me, Wai Kong and Kash started Soundmaker to give performance space to local alternative bands," says Cheong, as we sit in Soundmaker's tiny control room, hidden between the club's gig hall and rehearsal studio. It's here that he mounted the computer-cum-mixing-board he used to record countless Malaysian underground demos and albums, and where he manages a tight schedule of weekend shows.
"I book all sorts of extreme and alternative bands who wouldn't have a chance on the island's mainstream stages," he says. That's not an easy feat in Malaysia: the Department of Islamic Development (Jakim) cracked down on underground rockers in 2001 and 2006 based on their alleged "devil worship". Jakim went as far as ban black metal music, arrest teenagers and raid rock shows and record shops, painting of the whole underground music scene as a single immoral flame.
"The police came only once, and luckily we didn't suffer big consequences. But they could return any day. The Opposition government in Penang may help encouraging freedom of expression and the art scene, but even recently some gigs around the country have been busted," explains Cheong.
"I'm starting to scrape off a profit now, but trust me: it's never enough. Amplifiers break, pipes leak, we've got to cope with termites in the walls…"
Running Soundmaker is surely no piece of cake: Yew is forced to charge rental fees for Soundmaker's show room as there's a landlord to pay, equipment to maintain, and premises to keep clean and functional. He kept a day job for several years before he could start to support his philanthropic rock and roll mission with the club's meager earnings. "I'm starting to scrape off a profit now, but trust me: it's never enough. Amplifiers break, pipes leak, we've got to cope with termites in the walls… this building is old and very hard to make over."
Supporters, however, keep trickling into Soundmaker's locales, which host a good deal of shows. "This is a small island-state with a smaller music scene that prompts people to mix more than in other Malaysian cities, but we face constant difficulties," says Yew. "It's important to benefit from each other and create a space for people to foster a DIY music scene. At the moment, I let the people from Kandar Mosh record shop run their business here. They had to close because of high rental fees in the city, but here they won't pay anything until they can squeeze a profit".
Underground Hardships in Penang
To keep the boat afloat, Soundmaker has just launched music classes – and mind well, not traditional ones. This is the place to learn how to blast beat, play hard riffs, and especially meet other like-minded heavy and alternative rock fans. "The school idea remained in the backburner for a while as we didn't have enough teachers, "explains Yew. "I'm happy that now we have a crew because I believe music learning is a crucial element to encourage newer generations to keep the underground cycle. About ten years ago we had XFresh FM and it was easier to start listening to local talent, but these days the radio is only online. Some Malaysian bands are very innovative and promising, but the country still lacks the local support, marketing, investors. Some get some recognition, but it's much harder than in other countries to get beyond that."
Cole Yew is constantly hard at work to keep the machine's wheels well oiled. "Now we can offer a complete platform for musicians, from learning, to showcase their talent by performing on stage. With a bit more of time, more young blood and the right partnerships, I am sure we'll make an impact". For the moment, all we can do to help is to support Soundmaker by paying a visit while in Penang.