Like it or not, Penang Street Art is one of the most famous things to do in Penang and among the island's prime tourist attractions. Practically anyone coming to Penang has to dart to George Town to take some pictures for the Gram posing in front of the now extremely famous Penang mural art.
Well, we have been living here for more than a decade, consider this place home, and, in all honesty, we don't think that Penang Street Art is really that much of a good thing, for it reduces Penang's charms and the complicated layer of heritage and history into a very superficial experience. Ask any tourist, and you'll quickly realize that very few know anything about the island except that "it has good food, famous Penang cafes, and street art". Sad, really.
But Penang Street Art exists, and there's nothing much we can do to change its history and direction.
We have already published a few galleries collecting some of the best Penang murals, including one on the best Penang Street Art featuring Cats, and the best Penang Street Art of Women.
We are now publishing this article now because we think we should:
Update old and not very insightful information on Penang Street Art written by bloggers who just come here for a short stint and then leave. Much has changed since then.
Give you some of the best advice available on the Internet to actually UNDERSTAND something about the history and meaning of Penang Street Art.
Most importantly, suggest ways to enjoy Penang Street Art avoiding the crowds of zombified tourists with their selfie sticks and Iphones.
Wouldn't the above help you have a much more enjoyable George Town Street Art experience? Please read on.
---
Penang Travel Essentials
Use Klook to get discounts and great deals for a lot of activities around Penang. I use it myself all the time
If you are looking to rent an apartment in Penang, start by reading my article on the best Penang Airbnbs.
Penang has some great 5-star hotels and inexpensive boutique hotels for a special stay. But you can also find some great Penang Budget Hotels that are a great bang for your buck
If you are a backpacker on a budget, I have a complete guide to backpacking in Penang
If you want a private car to take you around, check out this link
There is much to learn about Penang food and there are some great cooking classes and food tours, like this and this
If you are coming to Penang from Kuala Lumpur, check out this guide to know all the best ways to travel to Penang.
---
What do We really think of Penang Street Art?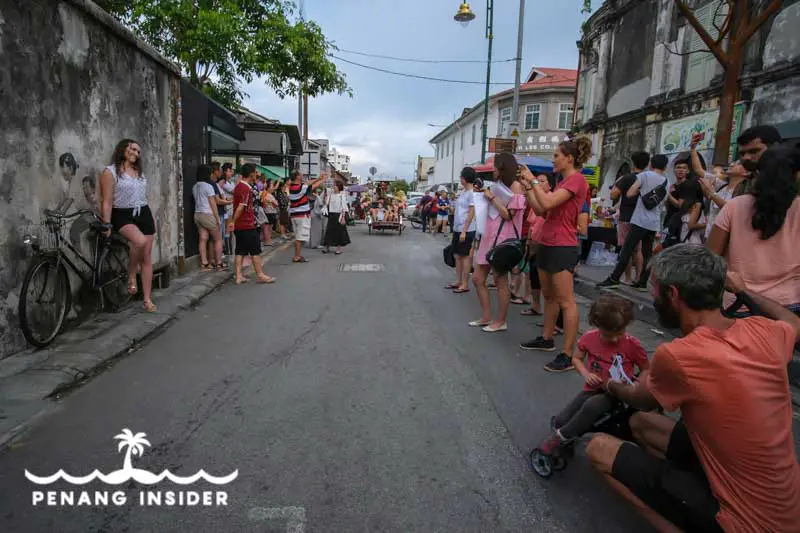 When Lithuanian artist Ernest Zacharevic penned the original mural installations for the George Town Festival series "Mirrors of George Town" in 2012, I was off the grid in Uzbekistan without an Internet connection. I managed to take a look at images of "Little Children on a Bicycle" and his other artworks from the flimsy connection of a guesthouse in Bukhara.
"What the heck is that," I said to myself, as I couldn't quite understand the need for painting over the walls of a nice historical lane such as what Armenian Street was before the tourist hordes arrived. When I first landed in Penang in 2008, there was no such thing as street art and frankly speaking, it didn't need any of that gentrification — it already was a fantastic place steeped in history.
George Town was also decaying and empty of tourists, and that was the main reason I fell in love with it and decided to stay.
But when I returned to Malaysia at the end of my hitchhiking trip from Singapore to Italy in late 2012, change had switched to high gears: Penang street art had started to lure in both local and international tourists, and the main issue was that Penang Street Art was NOT complementing the island's multicultural UNESCO heritage — it was taking over it.
When the UK newspaper the Guardian declared Zacharevic's "Little Children on a Bicycle" one of the world's best pieces of street art in 2013, Penang's State Government and local tourism authorities sniffed a golden goose opportunity and used Street Art to boost Penang international reputation.
In the same year, the project "101 Lost Kittens" by Artists for Stray Animals added another 12 cat-only-themed murals in George Town — you can see some here — to raise awareness for abandoned animals. Today, several of those murals have faded under the tear of time and weather.
The former chief minister of Penang Lim Guan Eng actually used street art to lure in business and tourism: the international art events he supported, like Urban Xchange in 2014, brought in artists from as far as New York City, Australia, and Spain, and kept promoting Penang as a hub of Southeast Asian arts. But they also progressively helped take the focus away from Penang's original UNESCO World Heritage inscription: the multicultural people of George Town, with their century-old trades and mix of Asian and European urban landscapes that are impossible to find anywhere else in the world.
I'm afraid to say that the rise of Penang Street Art's fame was one of the main agents to boost mass-tourism, gentrification, and bleak commercialization upon Penang island, driving up interest and real estate prices and pushing the original people who made George Town a UNESCO Heritage Site out in the suburbs. The new George Town emerged like a collection of gentrified cafes and guesthouses around the backpacker enclave of Chulia Street. This went on until in 2017 the same British newspaper the Guardian, four years after initial praise to Penang Street Art, spoke again of massified tourism in George Town as "UNESCOcide".
The worst part is, because of UNESCO and local policies, street art in Penang grew to be the opposite of what I consider "art" because it lacks artistic freedom. If an artist wants to pen a mural, he needs to seek the permission of heritage authorities, which also have the final say in the type of artwork allowed. It must be "Penang heritage", even though nobody really knows what this heritage is, especially now that George Town is filled with gentrified cafes and boutique hotels.
After having visited other prominent street art cities of the world, like Valparaiso in Chile, or the political street art in the Italian island of Sardinia, I can't vouch for the value of Penang Street Art anymore.
Like the gentrified city it colors, Penang Street Art is kind of cookie-cutter and innocuous, in my humble opinion. This said, given that street art still is such an important facet of George Town's tourist experience, I believe there are ways to appreciate it away from the crowds, and this article aims at showing you the best way of doing so.
---
How to See Penang Street Art
The easiest and best way to see Penang Street Art is to walk. Wear a sun hat, strike off in the morning or after 4 pm to avoid the worst of the heat, and take your time strolling and photographing.
The George Town Penang Street Art Map I enclose below is perfect to know where to go find the pieces of street art and suggest a convenient itinerary. Check it out.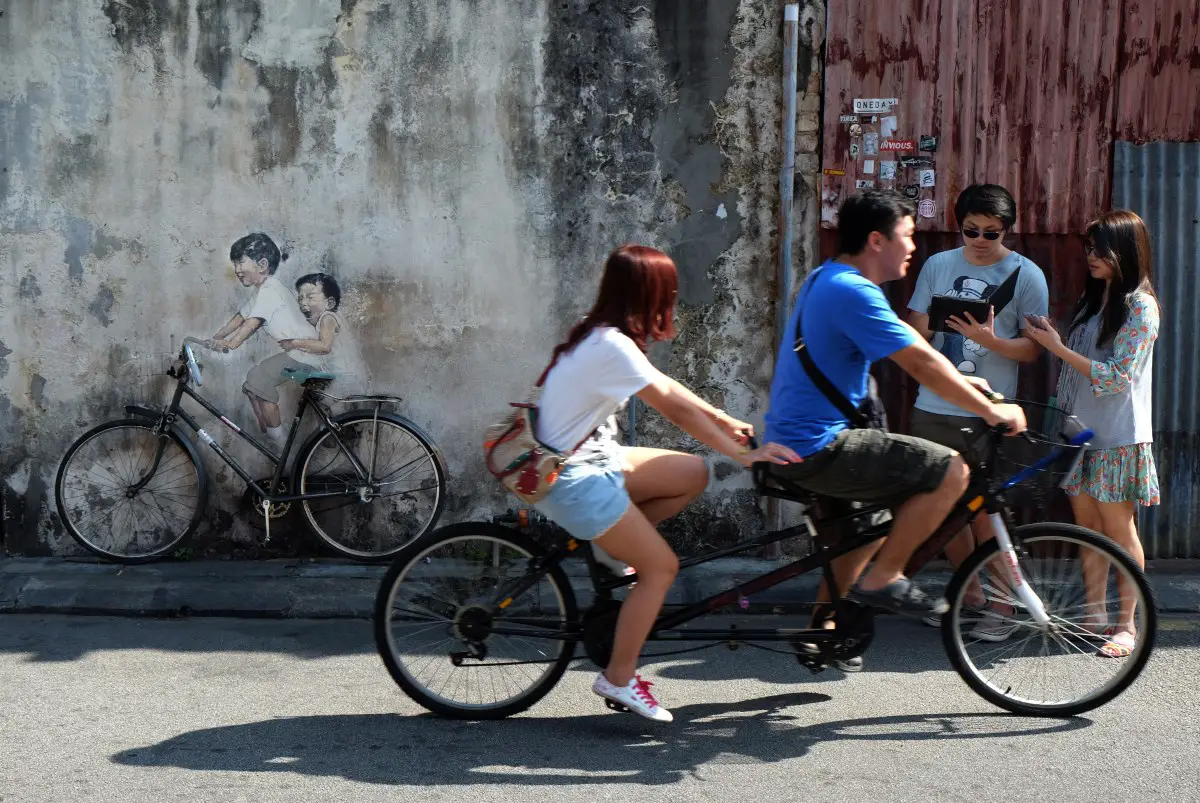 Renting a bicycle is another fun and faster way to see Penang street art. Bikes are rented almost everywhere for around RM 15 per a couple of hours (expensive, we know). You could try to get a LinkBike, which is cheaper, but that requires downloading an app on your phone and using a credit card to pay.
Riding a rickshaw is another scenic way to see Penang Street Art. It's best if you go out before sunset or in the early morning where the sounds, colors, and smells of George Town are at their best. You can book a trishaw tour on Klook at this link.
Taking a tour is the least stressful way to see at least 50 pieces of Penang Street Art and combine it with a visit to many other sites like the gorgeous Buddhist temple of Kek Lok Si, and the Thai and Burmese temples of Pulau Tikus. You can book your street art tour on Klook at this link.
---
Best George Town Street Art
The majority of Penang Street Art is located in George Town. Murals come and go, are painted over, or fade with time, hence keeping an exhaustive list is a nearly impossible task. But we have tried our best, and that's what you'll get:
A Penang Street Art Map with embedded visual reference to all the murals and installations we have found around the island.
A list of all the most important streets and lanes where you can see murals in George Town, with pictures and descriptions
---
Suggested Penang Street Art itinerary in George Town
Start by familiarizing yourself with this map of Penang and George Town Street Art I compiled for you. The locations of murals were updated in October 2020, during Malaysia's closure of borders for the coronavirus pandemic.
We have divided the murals by the streets they appear in and listed them hereinafter keeping to a loose itinerary structure. Have a look at the images of some of the best murals available around town, and go visit the ones you like the most.
---
Armenian Street
Armenian Street is a good place to start a street art walk as it's within five minutes' walking distance to Chulia Street and his backpacker enclave and budget Penang hotels. There is quite a number of murals painted on the walls here because this is the road that hosts the famous "Little Children on a Bicycle" and therefore must keep George Town's tourists happy.
Magician Plays a Scary Trick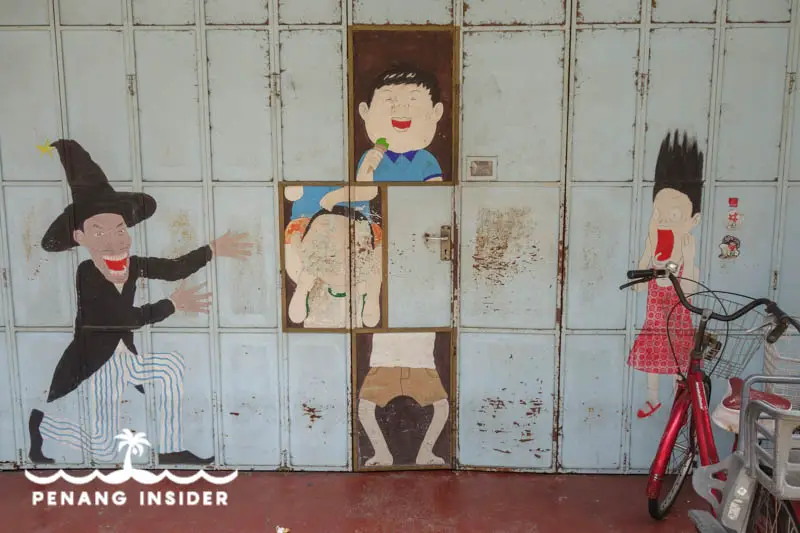 Etched on the metallic door of the vintage bicycle shop at the beginning of Armenian street, this funny mural starts showing a bit of wear and tear but remains one of our all-time favorites.
Racial Harmony in Penang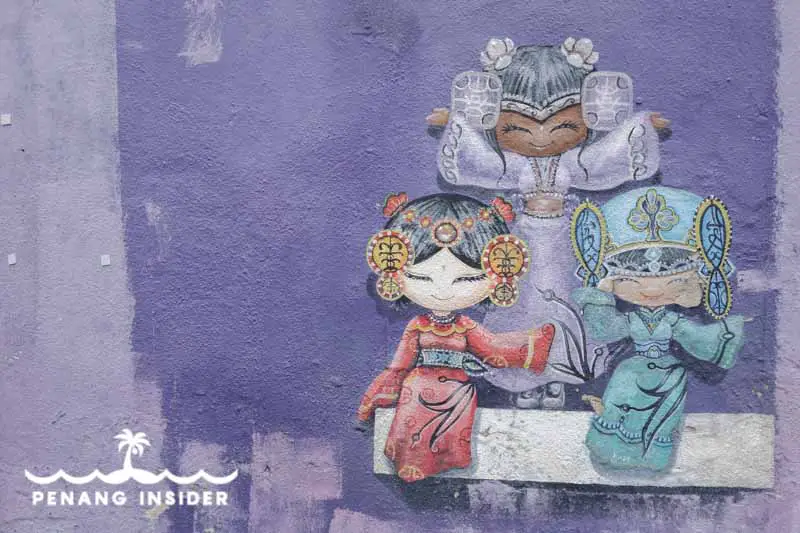 This mural represents Penang's multi-ethnic cultural heritage by picturing a Chinese, an Indian, and a Malay girl donning traditional dresses.
Teach You to Speak Hokkien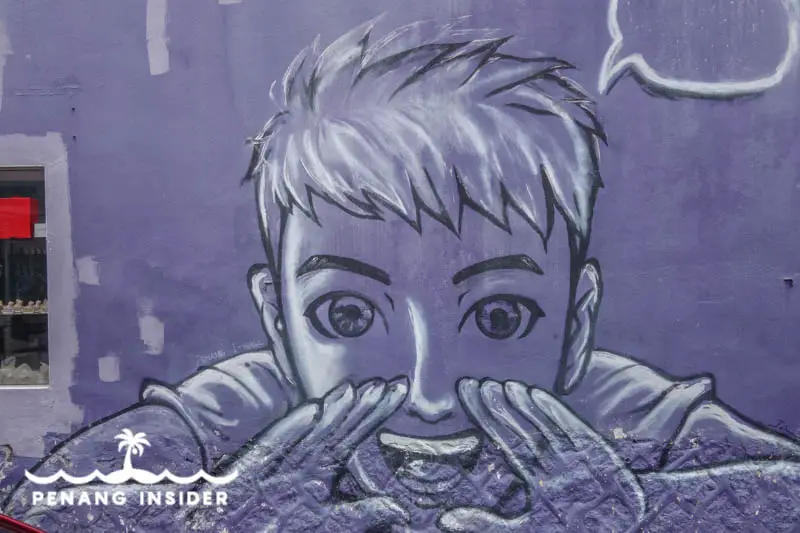 Back in the day, the empty space in the speech balloon had Hokkien — Penang's own Chinese dialect — words in it. Today the balloon it's empty, but locals would still love you to learn some words in their language.
Psychedelic Cat Chasing a Mouse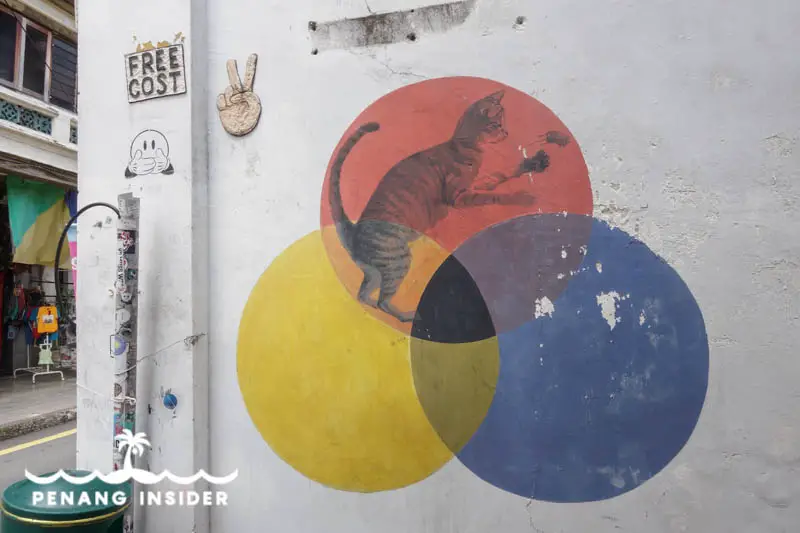 This cat catching a mouse inside of colored circles has been standing on this wall for quite a long time. I associated the bright colors with a psychedelic style, but that could just be my own interpretation of this mural.
Little Children on a Bicycle
This is Penang's most famous piece of street art, created by Ernest Zacharevic as part of the original six murals he was commissioned to do for the "Mirrors of George Town" series back in 2012. It has kept luring the tourists in and received countless touch-ups ever since.
---
Armenian Ghaut
This is the name of the part of Armenian Street that goes from right after "Little Children on a Bicycle" all the way to Pengalan Weld and the sea. Just keep walking east across Beach Street to find the first murals.
Skippy the Cat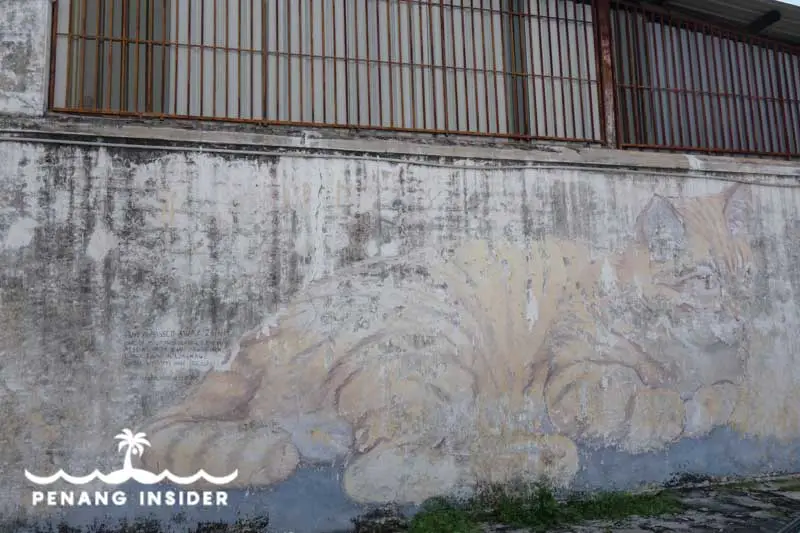 Almost faded entirely, the portrait of Skippy has attracted people to this wall for several years. There's no reason to repaint it though because, as the writing next to the cat says, Skippy has passed away. He was one of the resident cats of the shelter found on the nearby island of Langkawi.
Love Me Like a Fortune Cat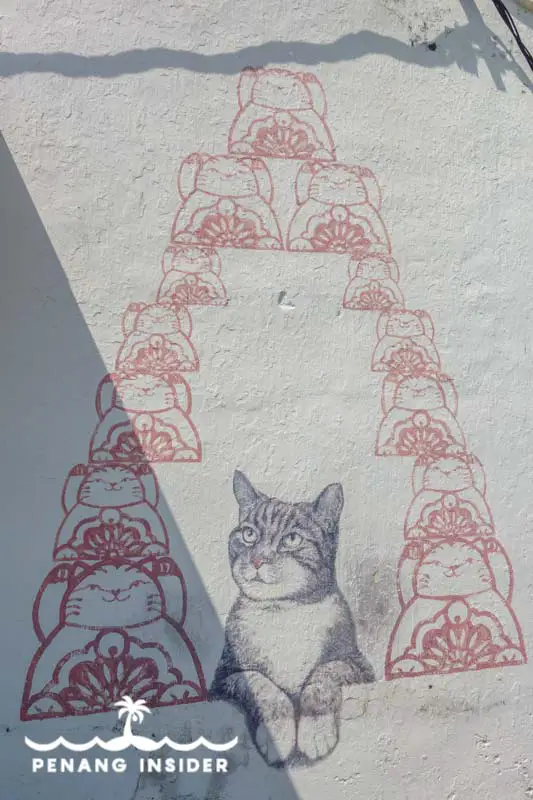 Another of Penang's famous cat murals, its meaning should be to love real animals as you would love a jade Fortune Cat — because it brings good luck and wealth.
Monkey Face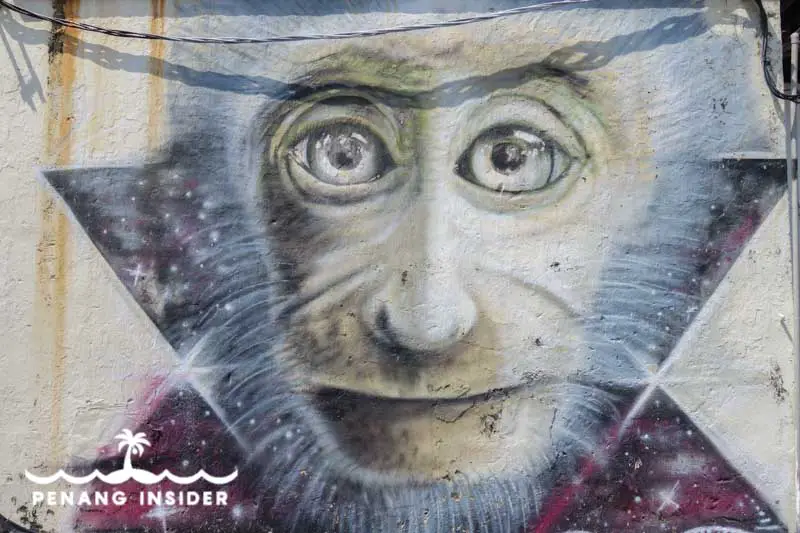 This mural has always been a bit of an enigma: it looks like a mix of a macaque's and a human's face, set against a galaxy-like background. It's a strange mural, and also one that's been watching people from the entrance wall of Gudang Cafe for a very long time.
I Want Bao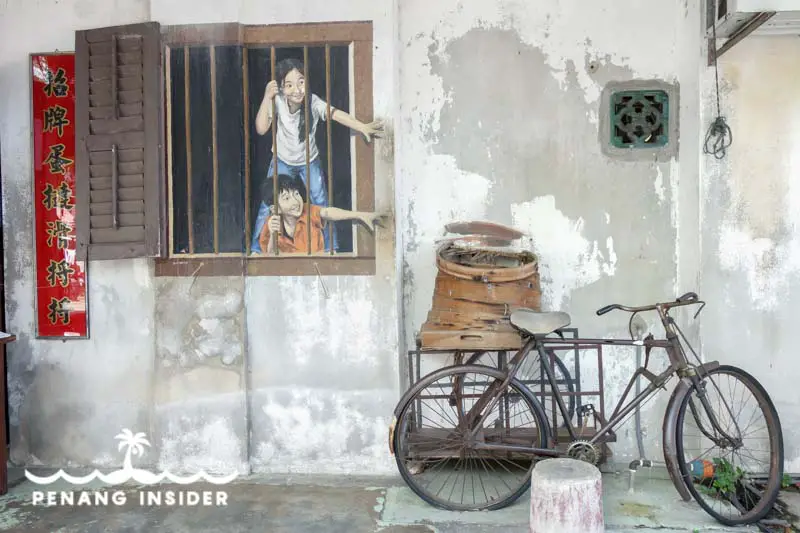 Realized by Kuala Lumpur-born and Penang-based artist WK Setor, this mural cum real-life bicycle installation is etched on the side of the excellent Ming Xiang Tai pastry shop. Tourists have almost destroyed the wooden bao box on the back of the saddle, and it is hoped it will be restored soon.
---
Lebuh Cannon and Aceh Street: A Smorgasbord of Penang Cats
Cannon Street is perpendicular to Armenian Street and packs quite a lot of cat-themed Penang Street Art, which spills around the corner into Aceh Street. You could visit this road before you start walking down Armenian Street, or right after. You can loop back onto Armenian Ghaut by walking down Aceh street and then turning left.
Owl Standing
Cat peeking from a Bicycle Tyre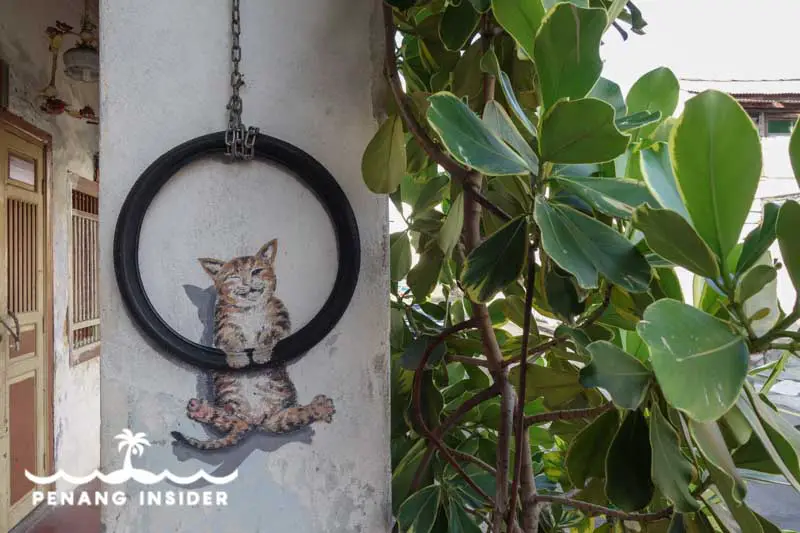 Cat on a Swing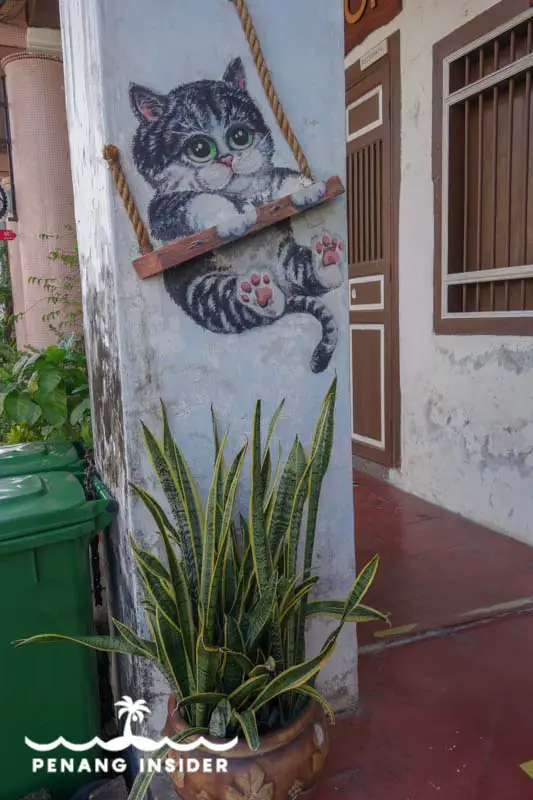 Girl with the Cowboy Hat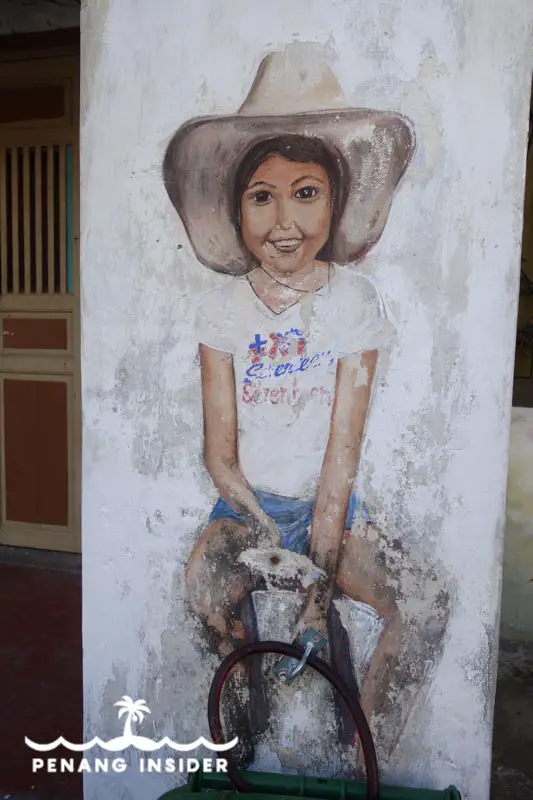 In the past, this girl was seated over a real charcoal burner set on a stool in front of the mural. It's no longer there, and the girl is now seated above a green plastic garbage bin. It's an old piece that has remained on this column regardless of having lost its original meaning, but we'd like to remember it for what it was.
Boy on the Chair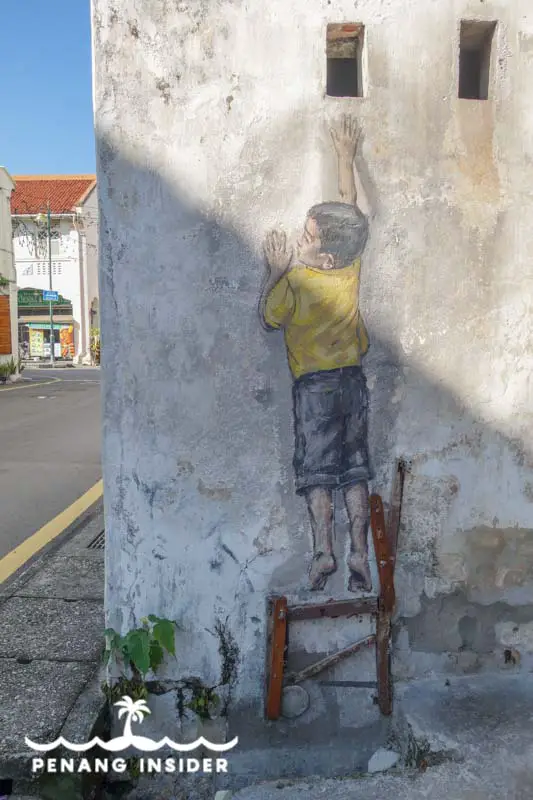 This is another of Ernest Zacharevic's original six "Mirrors of George Town" murals and has been painted here since 2012. The original chair, which popped out of the wall, is long gone, but the boy reaching for something inside of the hole remains a very nice example of Penang's three-dimensional street art.
Cat at the Blue Window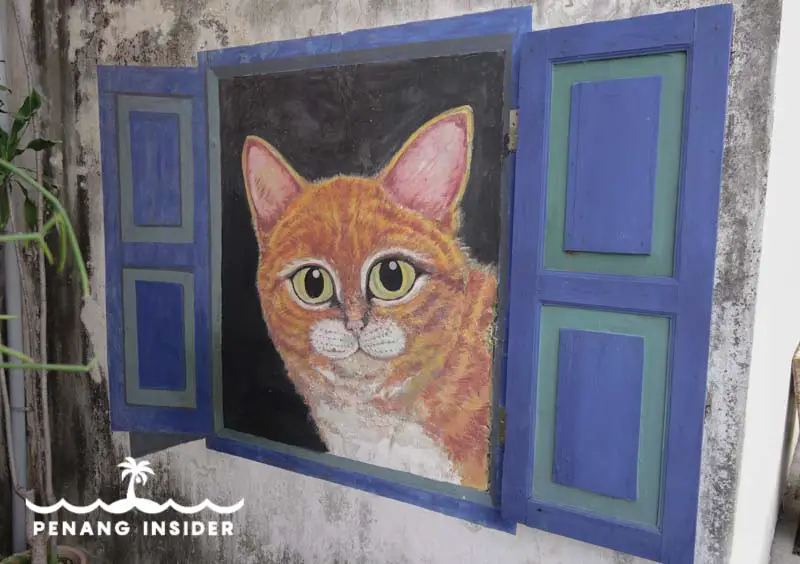 Four Cats Looking out of the Green Window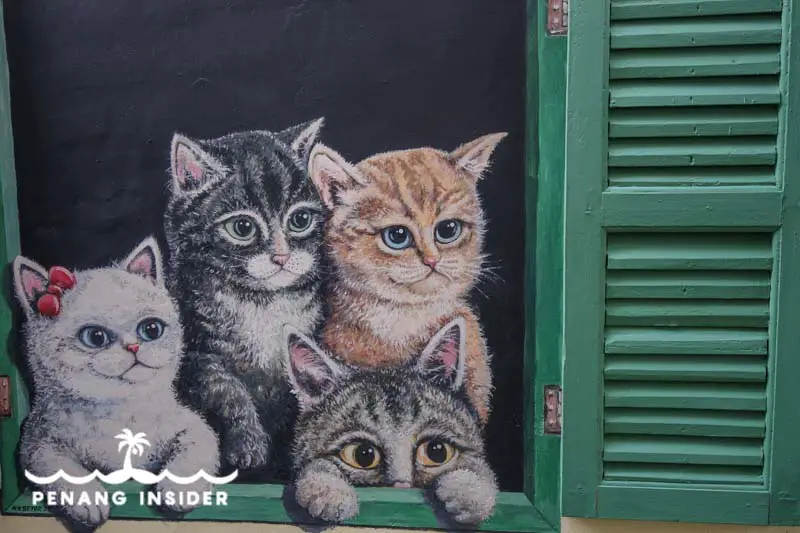 One recent and cute mural by WK Setor complements the cat looking out of the blue window (see above) that's drawn about thirty centimeters to the right.
Butterfly Cat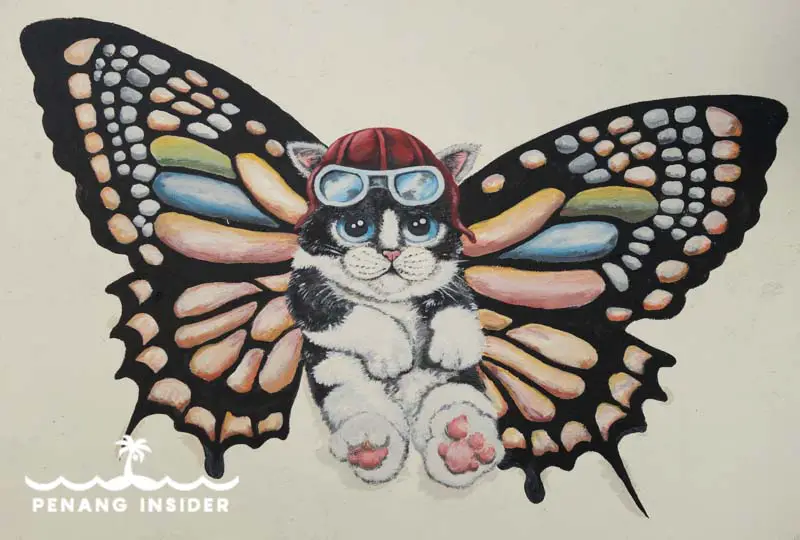 Cat Flying with Heart-shaped Balloons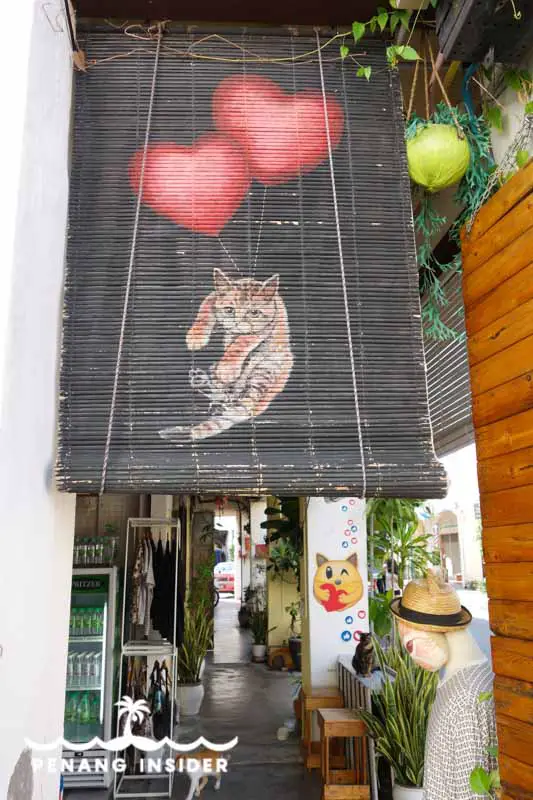 Lion Dancer Cats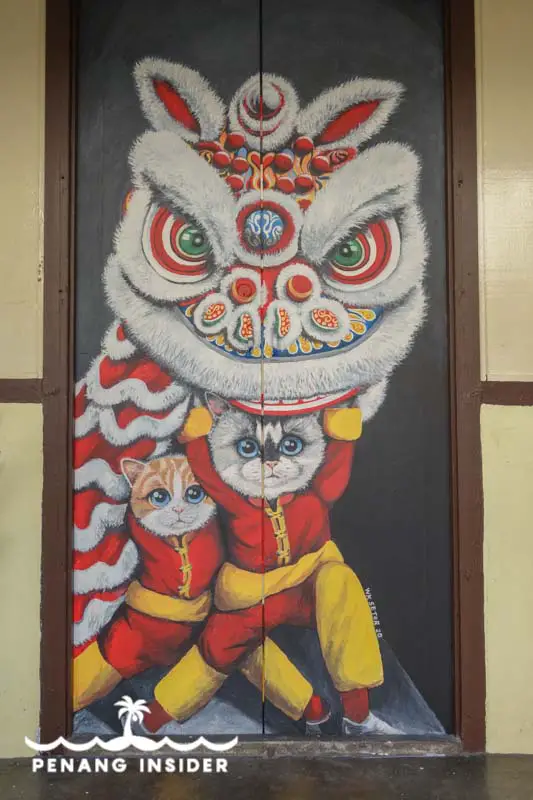 Another beautiful mural by WK Setor, was realized in 2020 and etched on the door of a shophouse on the corner of Cannon Street and Aceh Street.
---
Lorong Between Armenian Street and Lebuh Ah Quee
This nameless lane connects Armenian Street with Lebuh Ah Quee, was spruced up and completed by the State Government in 2019, and packs quite a few cool murals you shouldn't forget to visit. Take a left right before the vintage bicycle shop on Armenian Street, and you'll find the first "Roti Seller" mural on your left.
Roti Seller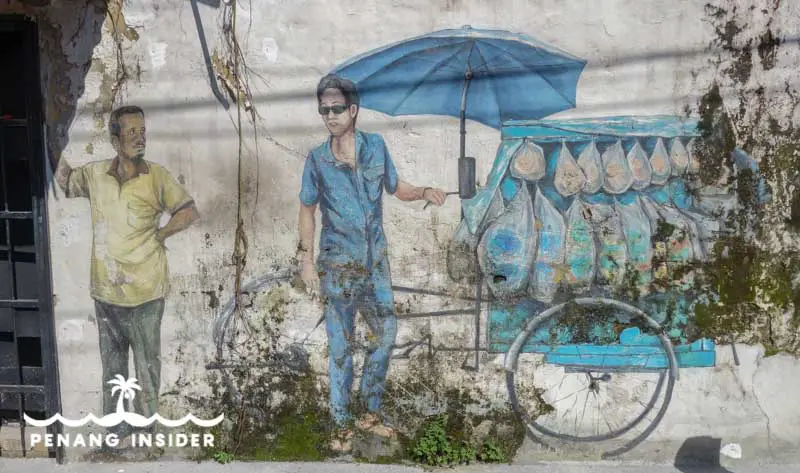 This mural reproduces an old-world bread seller with his moveable cart. Loaves of bread, snacks, and other foods hang from the plastic bags tied at the cart's sides. Truth be told, this is quite an uncommon sight in Penang these days: the last roti sellers can be found in nearby Penang Little India.
Two Men Pushing a Door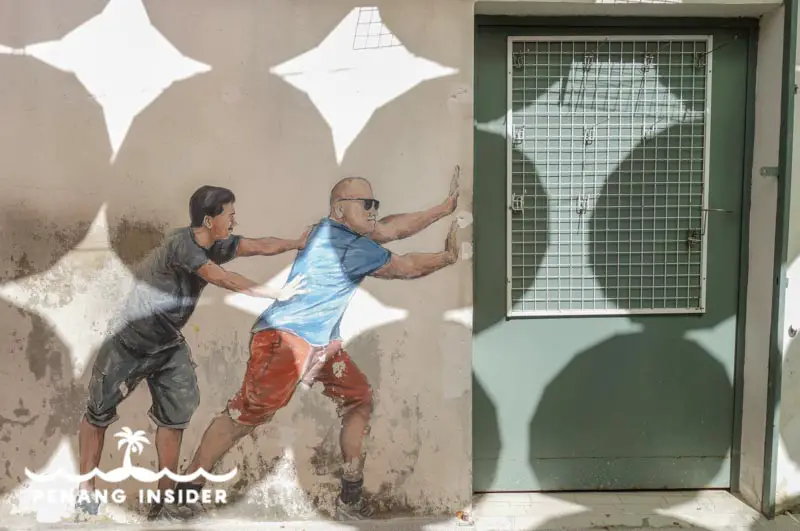 Chinese Woman Praying at Hanging Altar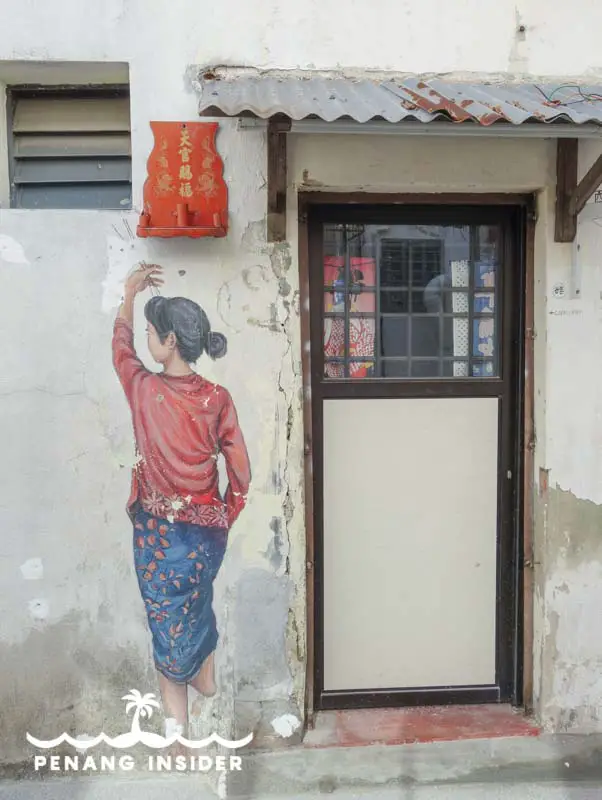 This is one beautiful piece of mural art that exploits a Chinese hanging altar next to a door for a three-dimensional effect. Like many people do every day, this piece of Penang street art depicts a local lady dressed in a sarong as she lifts her arm up to put burning ritual joss sticks on the altar.
Aboriginal People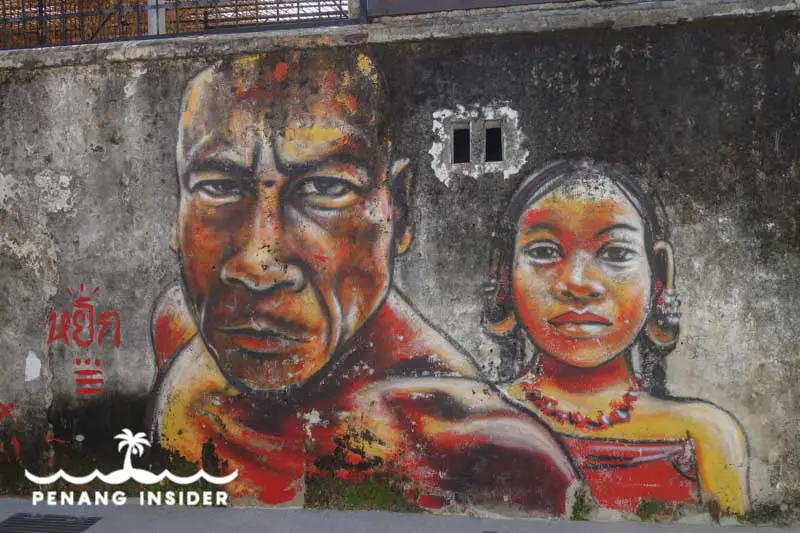 Flying Diamond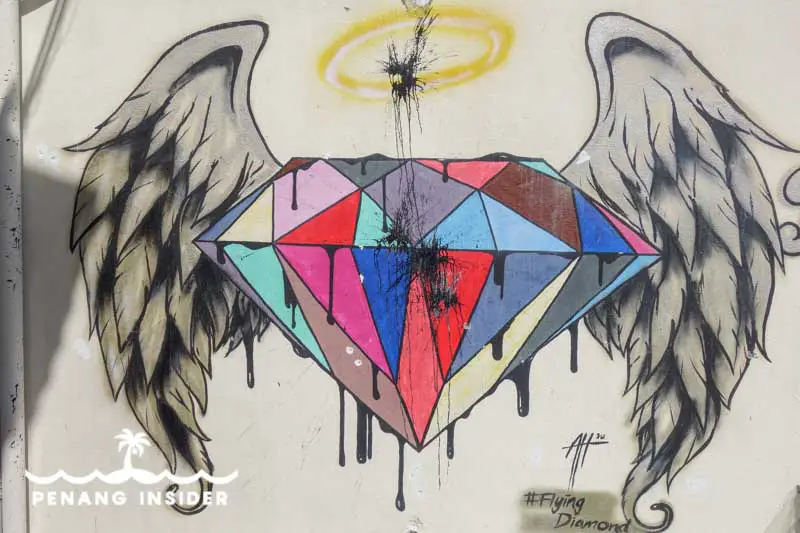 ---
Lorong Lumut
Lorong Lumut Connects the western end of Armenian Street, where Armenian Park is, with Beach Street. As it's a bit of a hidden alley, you won't find many tourists here and I recommend you come for the atmosphere and a couple of hidden cafes that are worth a stop. You could walk here after you see the "Flower Ice Cream Cone" mural on Beach Street. The "Chinese Door Guardian" will beckon at you as soon as you'll look to the right. You can then reconnect to Armenian Street or Lebuh Ah Quee by walking down Armenian Street alongside the beautiful park.
Chinese Door Guardian
Indian Woman under the Tree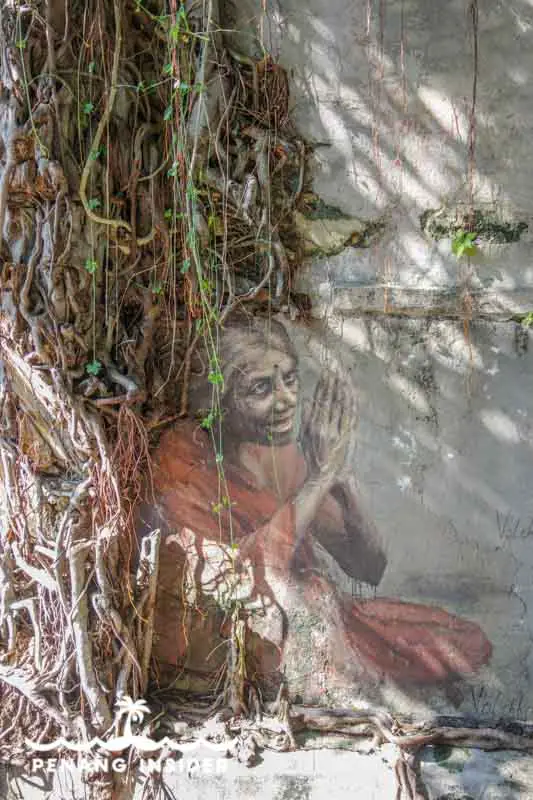 This is one of Russian artist Julia Volchkova's early George Town murals and still turns heads with its clever mix of real tree branches and street art.
---
Beach Street
Beach Street is a very long road that bisects the eastern part of George Town going south and doesn't have a lot of street art once you leave the city center. You can still find "The Very Strange Machine" etched inside of a pay per parking lot by walking past the traffic light next to the Firemen's station on the Chulia Street junction.
The other two murals are further down on the other side of Beach Street. Keep the Fireman station to your left and walk down until you'll see the "Little Girls Walking on tiles" on the side of the Lang Hoose Boutique Hotel. From here you can loop back to Chulia Street by turning right onto Lorong Lumut.
The Very Strange Machine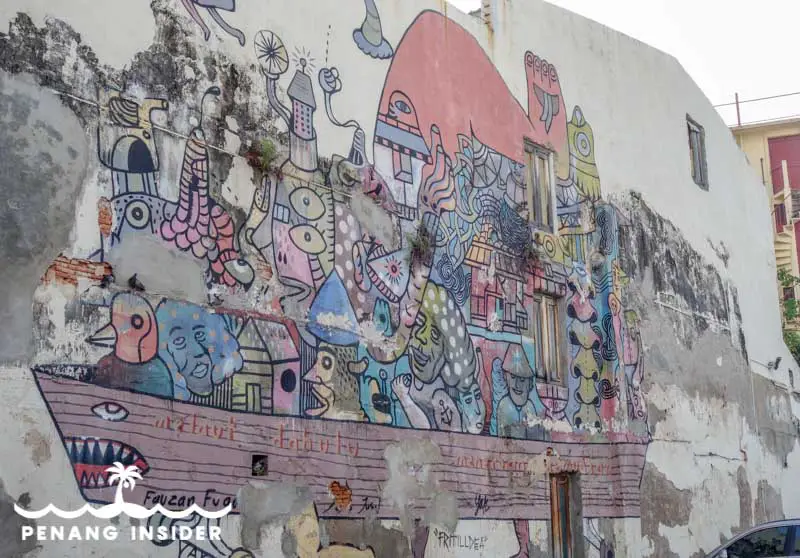 This large mural is drawn on the side of the Coffe on the Table's shophouse inside a parking lot on the northern end of Beach Street. Realized by Malay artist Fritilidea, this is one powerful, innovative piece — and one which attracted the criticism of conservative Penangites, who didn't understand what this mural was all about. Neither do we, but we think it's beautiful!
Flower Ice Cream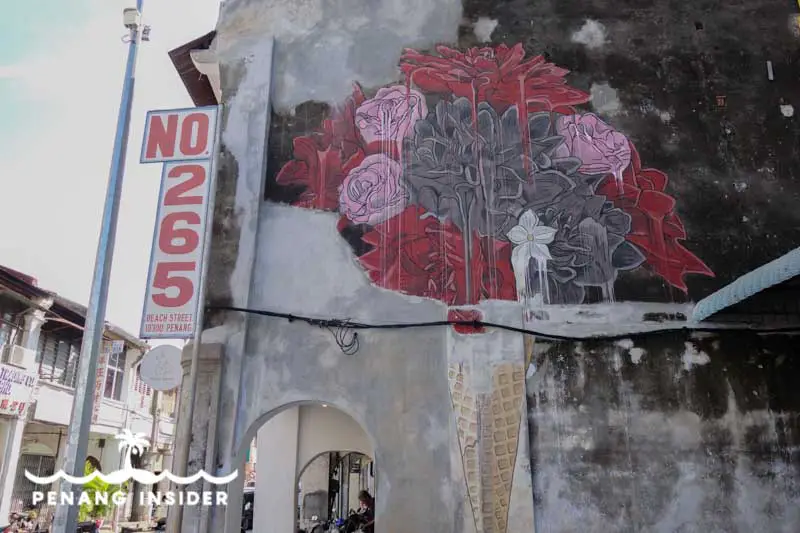 Little Girl walking on Numbered Tiles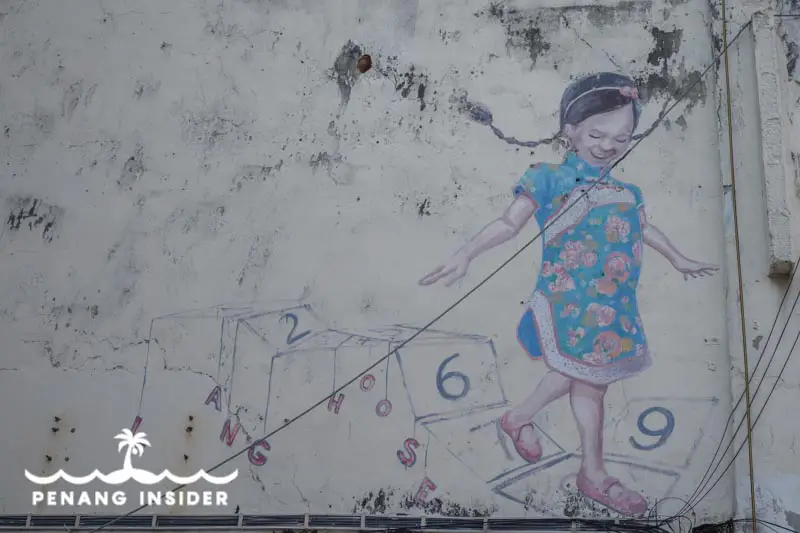 ---
Lebuh Ah Quee
This lane runs perpendicular to Beach Street and between Chulia Street on one side and Armenian Street on the other. There's a lot of street art to see, including some of Ernest Zacharevic's early work, on its eastern end.
Fireman Minion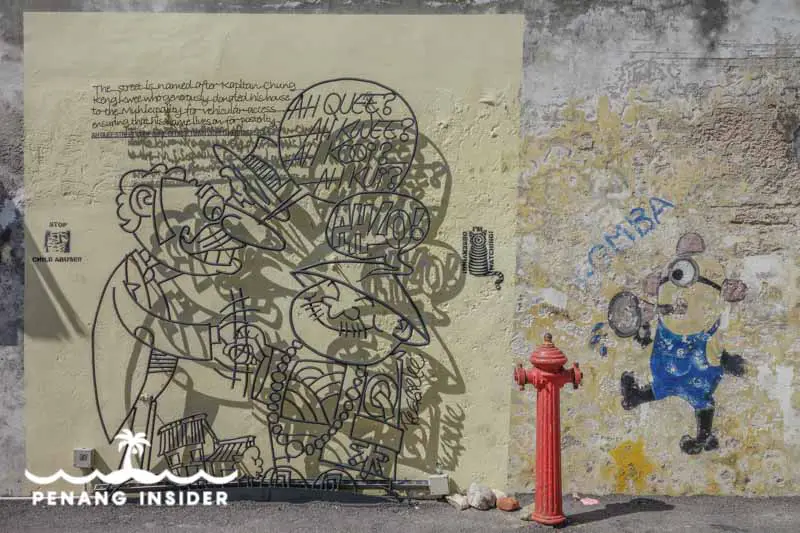 "Bomba" means "fireman" in Malay, and this little minion screams it through a megaphone next to a red hydrant. It really needs a hand of fresh paint.
Man Portrait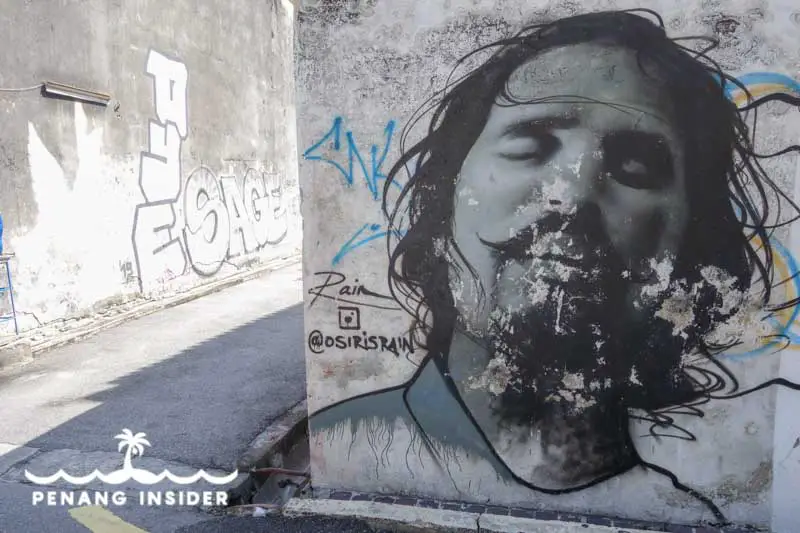 Happy Dog with a Steak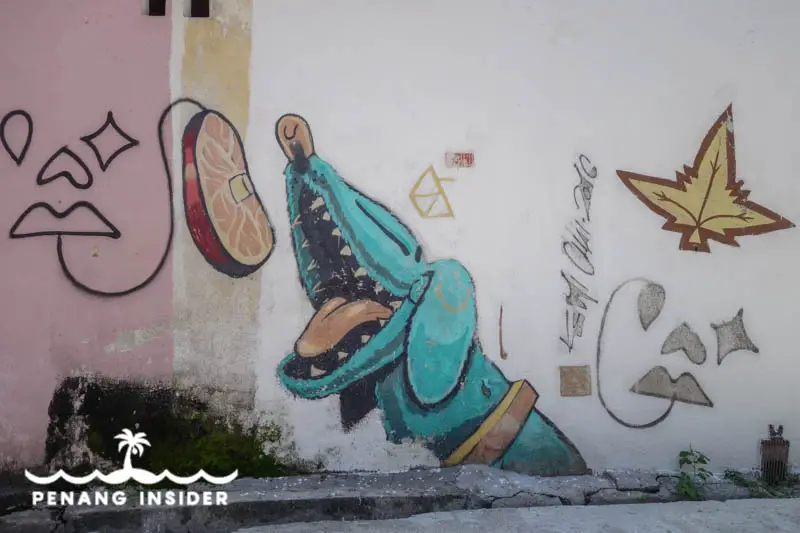 Sandakan artists Kanji Chai's iconic dog has been enjoying its steak on this George Town wall for quite a number of years. It's an iconic mural that many associate with this part of town.
Bruce Lee Would Never Do That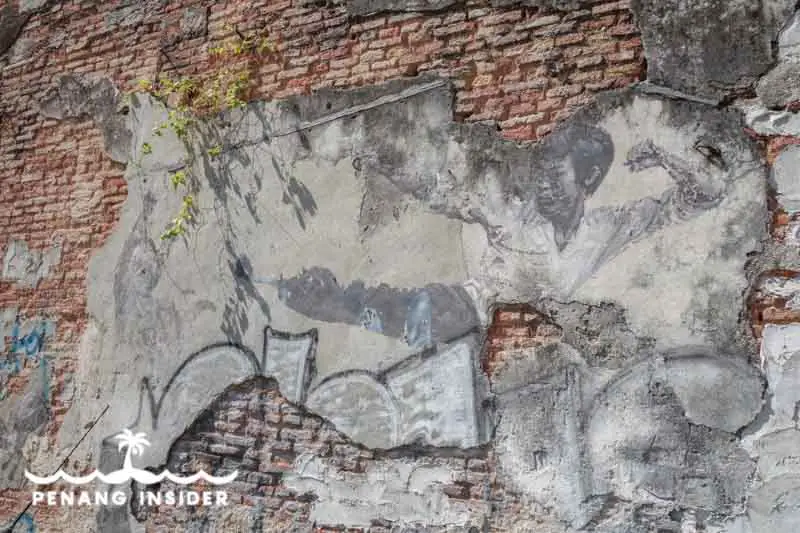 First realized for the collection "101 Kittens", this mural was one of my favorites, but it's now sadly disappearing as the wall it's painted upon slowly crumbles to pieces. Go see it now before it's too late.
Boy Pulling a Dinosaur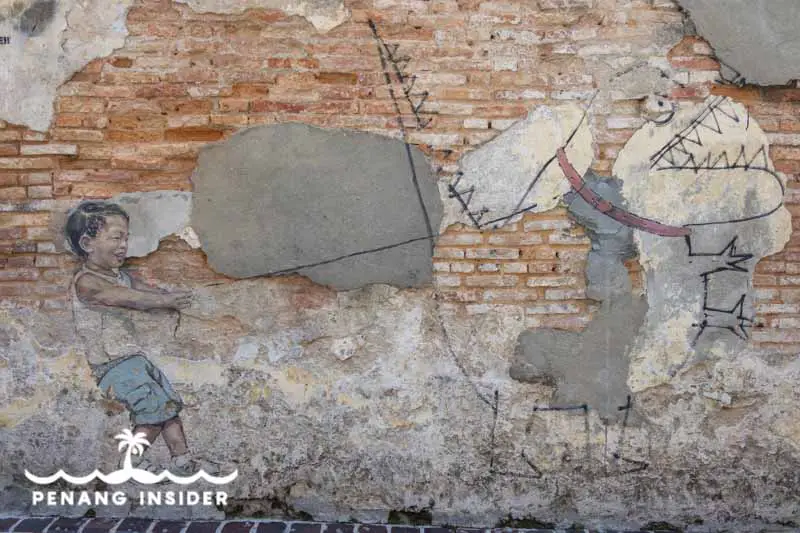 This realistic boy pulling a stickman dinosaur by a leash it's a fun mural by Ernest Zacharevic. Gone for good for a while, it was repainted and can still be enjoyed.
Man in Malaysia Flag T-Shirt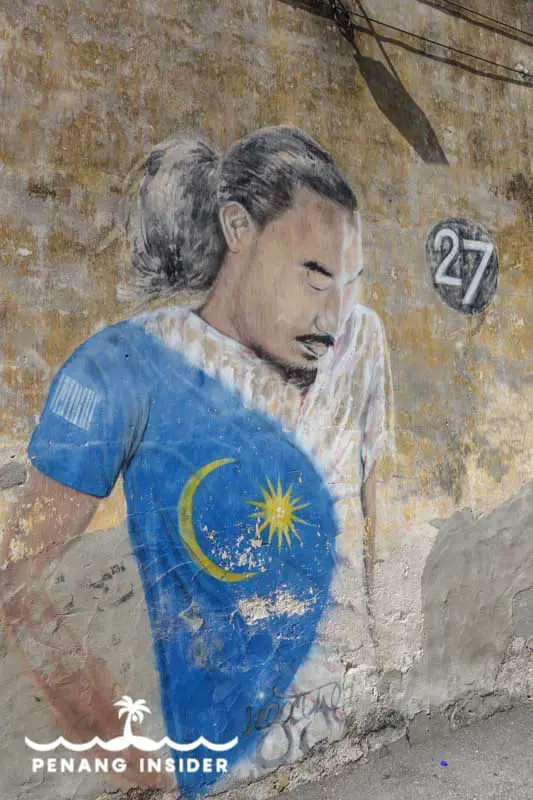 Man on a Motorbike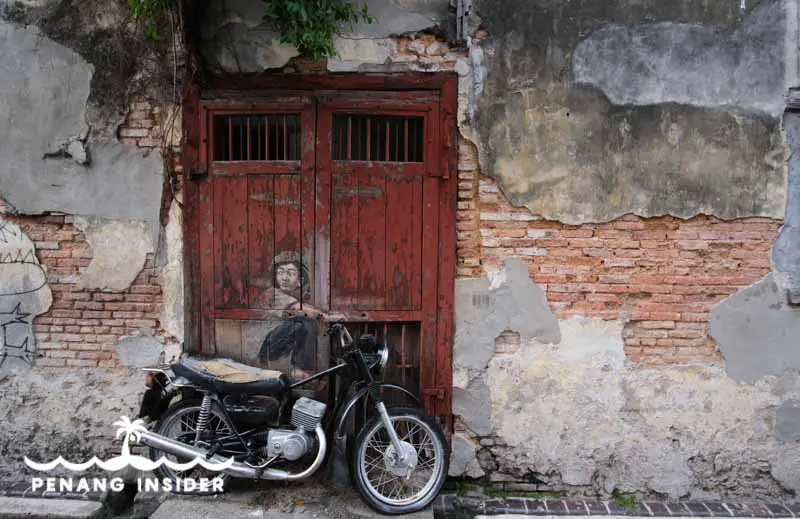 After "Little Children on a Bicycle", this is Ernest Zacharevic's other most famous piece of street art in Penang. Thousands have sat on that saddle to get one for the Gram, so the motorbike keeps being repaired as soon as it shows signs of wear and tear, as much as the boy, who has been freshly repainted not long ago.
Only You Can Stop Air Pollution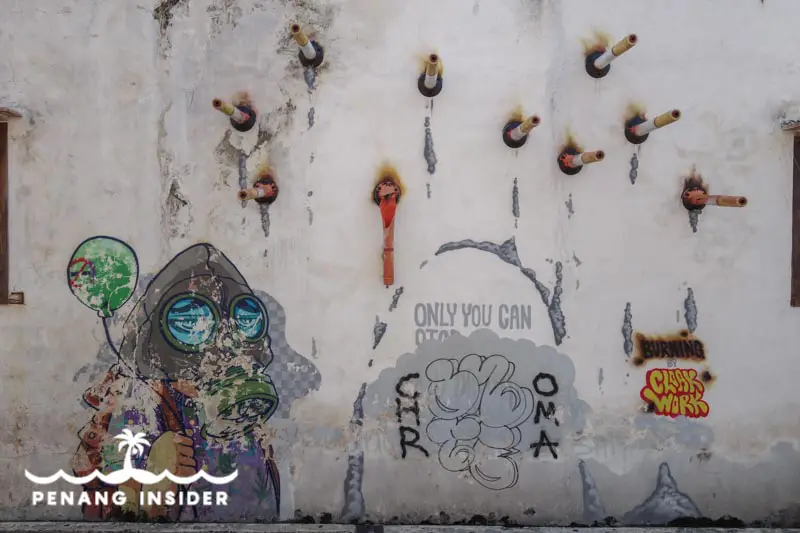 This is a very interesting piece of street art cum installation by Kuala Lumpur-based Cloakwork. The ten cigarette butts emerge from the wall in an eerie, powerful way, even though one has broken. The piece is showing some wear and would require a bit of restoration work.
I Hate ❤ Street Art Photos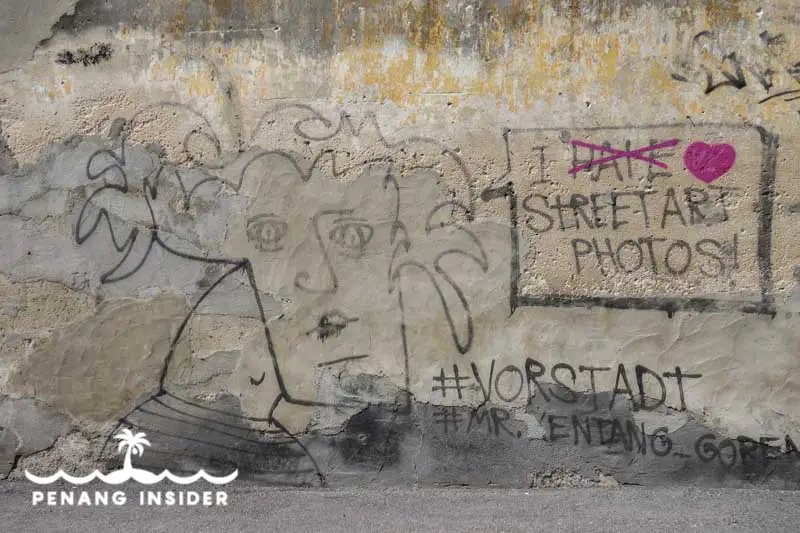 Don't we all do? At least someone had the guts to say it before someone else came and changed the "hate" with a purple heart.
Abstract Face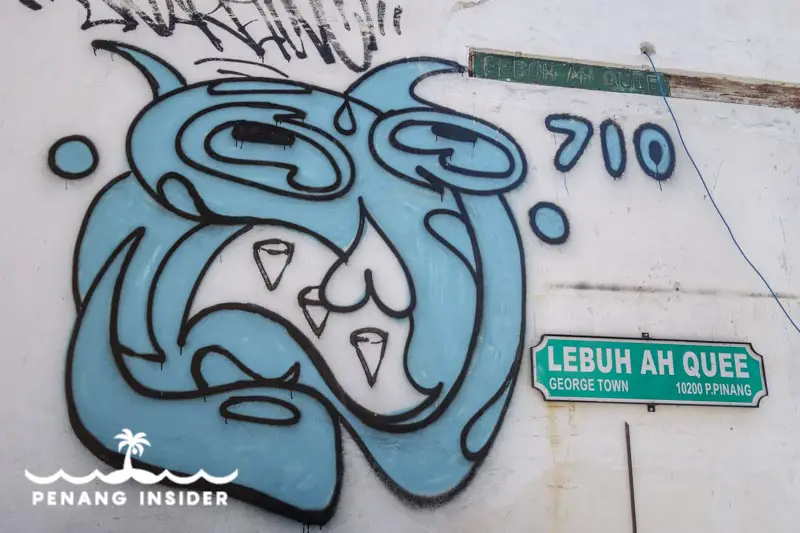 ---
Love Lane
Love Lane is backpacker central and is packed with bars, but strangely doesn't have many pieces of street art. To find more of those you'll have to walk until the junction with Muntri Street. Take a left first, walk until Ryokan Muntri, and then head back in the other direction.
Street Busker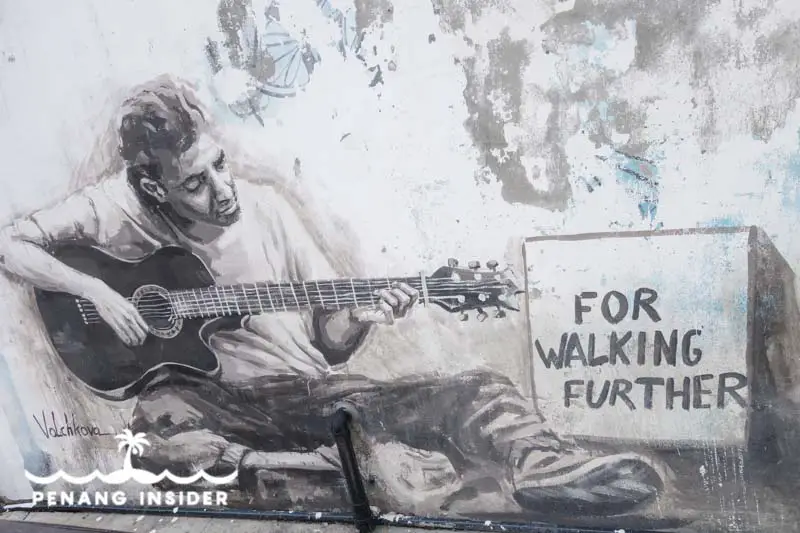 Another piece by Julia Volchkova, this very realistic musician sets the mood for Love Lane's music and parties.
Ghost Band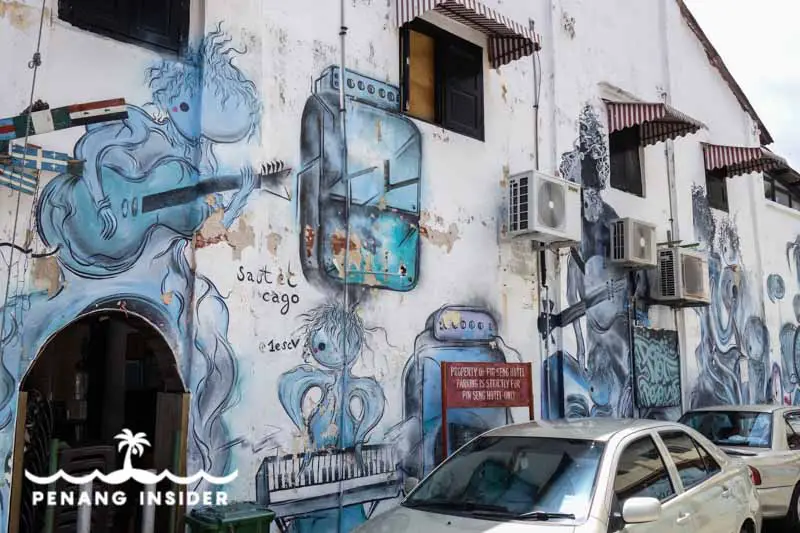 Drawn across the length of the shophouse that leads to Ping Sen Hotel, this is one powerful mural that has, once again, music as its main theme. Ghostly performers stand next to their amplifiers and instruments right behind the corner from popular traveler hangout Mike's Place.
---
Muntri Street
Cutting Love Lane into half, this street is packed with guesthouses and boutique hotels and is one of George Town's most touristic and yet always charming. There are quite a few pieces of street art that you shouldn't miss here.
The Five Foot Way Mouth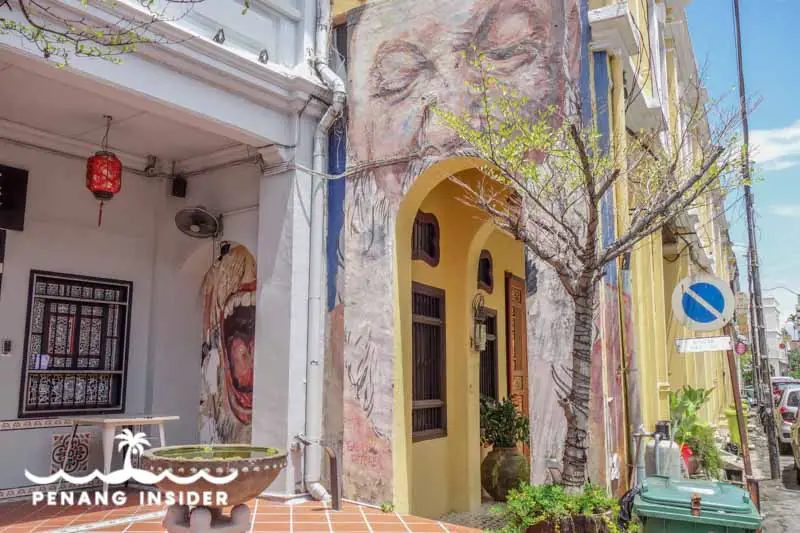 Kung Fu Girl in Blue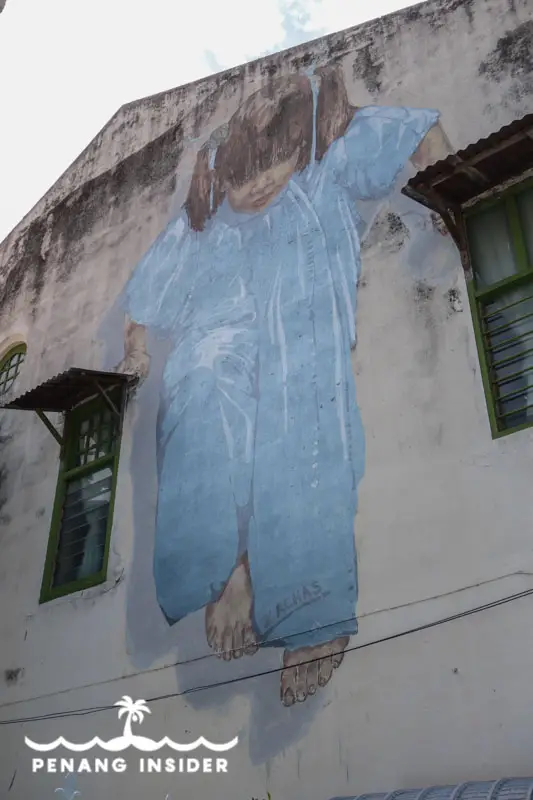 In another popular Ernest Zacharevic's painting, the blue "kung fu" girl balances herself over two windows. This piece has been here since 2012 but doesn't attract as many as his other installations — maybe because people can't sit on this to take a selfie.
Ballerina On the Five Foot Way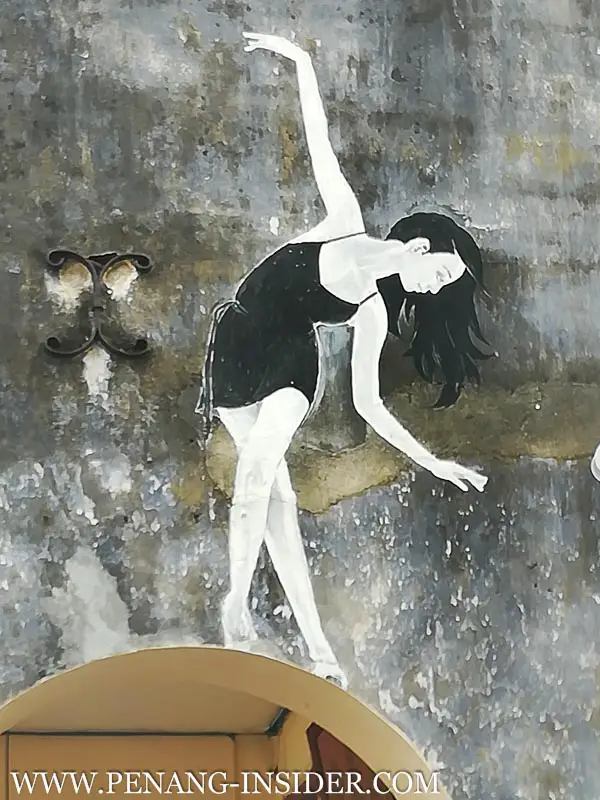 Mahathir has Breakfast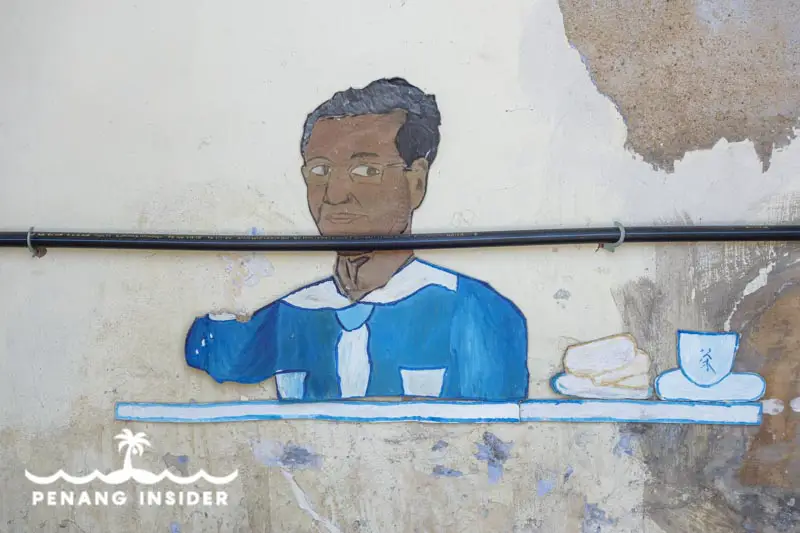 This small mural is a quirky and fun depiction of Malaysia's former Prime Minister Mahathir having a breakfast of roti bakar and coffee. You'll appreciate it if you know about the man and Malaysia's turbulent political history.
Indian Boatman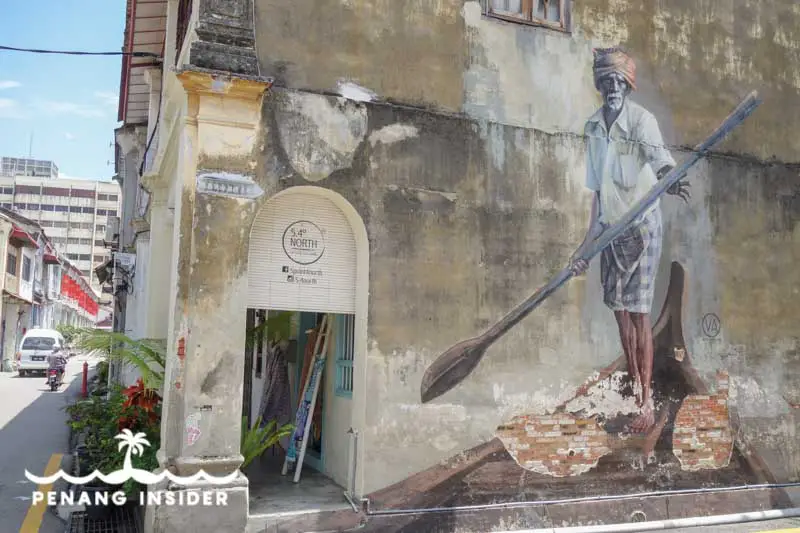 In another of Julia Volchkova's series of George Town murals, the Indian boatman is very realistic and stunning. The bottom part of the wall is cracking and leaving sight of exposed bricks, but the best part of it is still in very good condition.
---
Penang Road
Penang Road has one of the biggest murals to date, the giant trishaw rider by Ernest Zacharevic. This old mural has been gracing the facade of a building and can be seen best from the parking lot behind the Red Garden Food Court, accessible from Penang Road. On the other side of the road, the real trishaw drivers park their vehicles to take a rest.
Trishaw Rider takes a Rest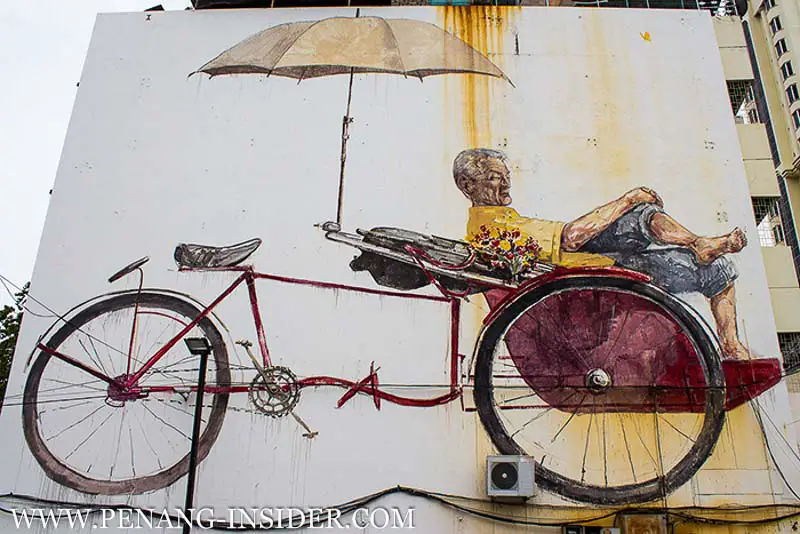 ---
Chulia Street Ghaut / Jetty 35
The easternmost section of Chulia Street had more pieces of street art, but today only three prominent and beautiful ones remain. They are on the two sides of the main entrance to Jetty 35, cool performance and art space that opened in 2019.
Tau Fu Fa Seller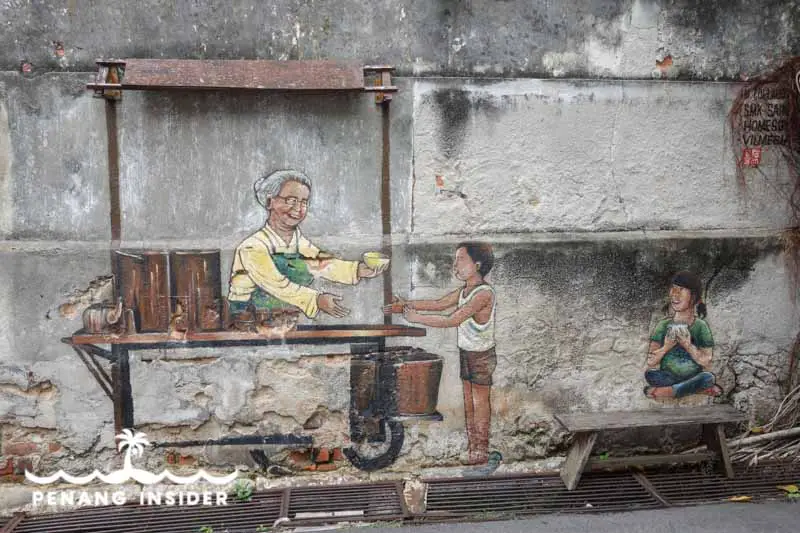 Kung Fu Minion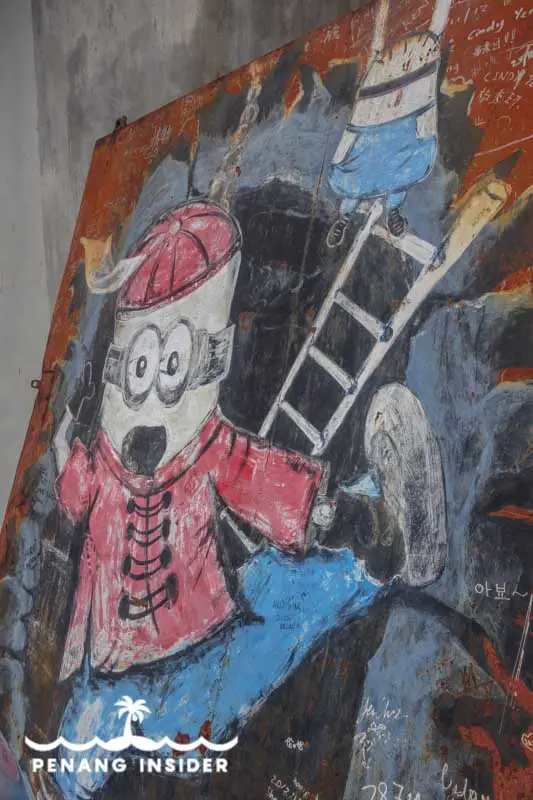 Children on a Swing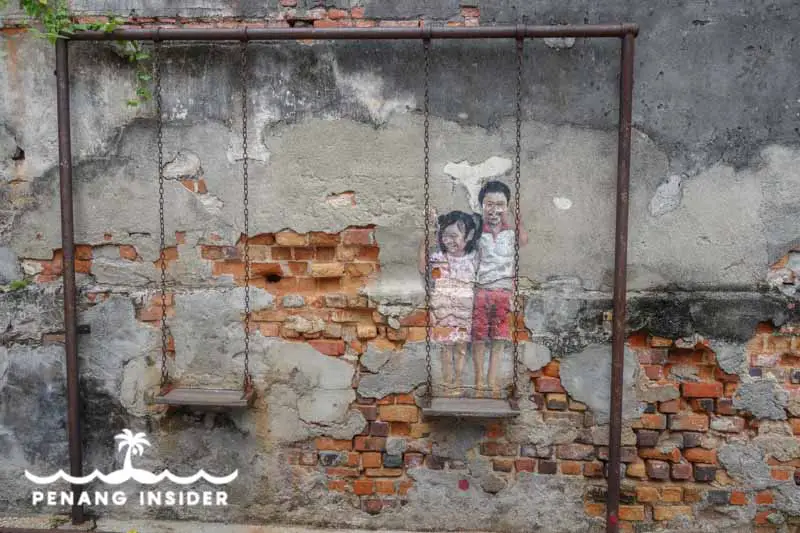 This is a famous Penang street art piece by local artist Luis Gan. It's still in very good condition, despite the fact many tourists like to climb on the swing to the left to take their pictures.
---
Chew Jetty
The Chew Jetty, located at the further end of Armenian Street after you cross Pengkalan Weld, has a bunch of interesting murals. Note that this is also a very touristy spot, so try to come here in the early morning or after the tour buses have gone.
One of Ernest Zacharevic's early murals, "Two children inside a rowboat" used to be etched across the length of a wooden house on stilts, but it has faded away long ago. These are the murals you will see around Chew Jetty today:
---
Auntie and Grandson Smiling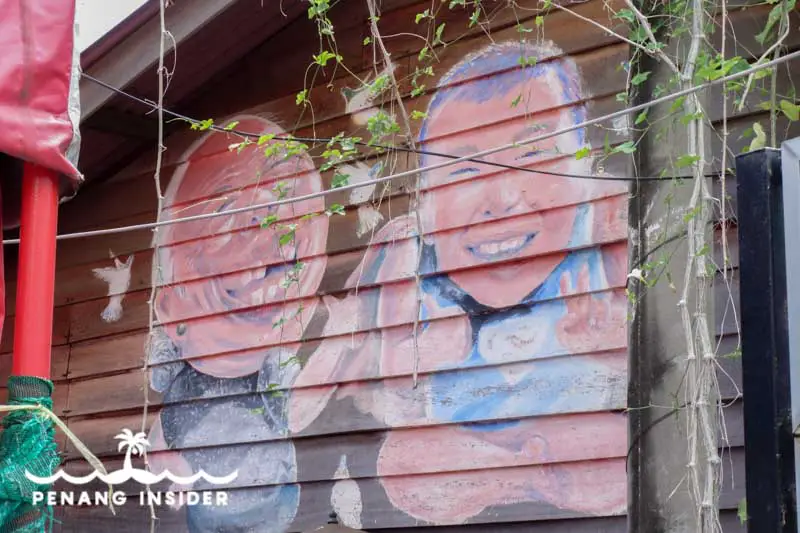 This mural is almost faded away but is one of the first to have been drawn at Chew Jetty. You can still see it if you look on your left just before you start walking on the jetty itself.
---
Woman on a Vespa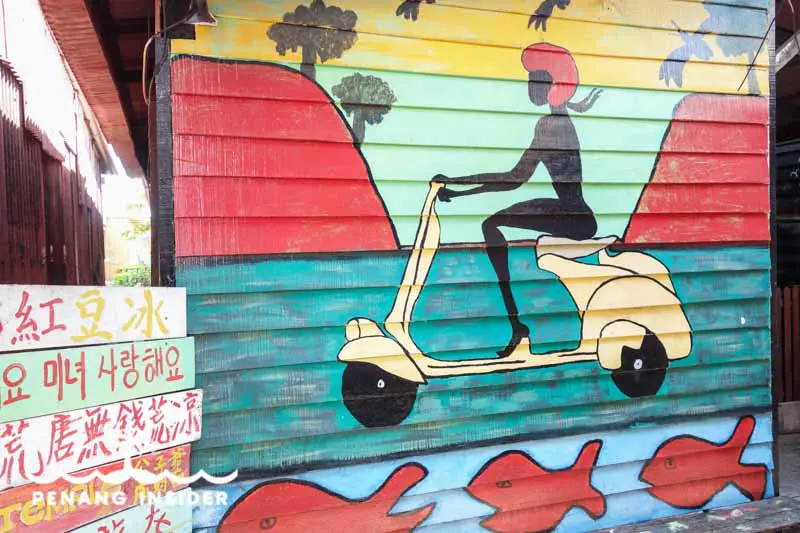 A colorful mural of a woman riding on a Vespa against a tropical backdrop. It's etched on the outer wall of a shop, and you won't miss it as it will just come up to your left as you walk towards the sea.
Trishaw embedded in the Window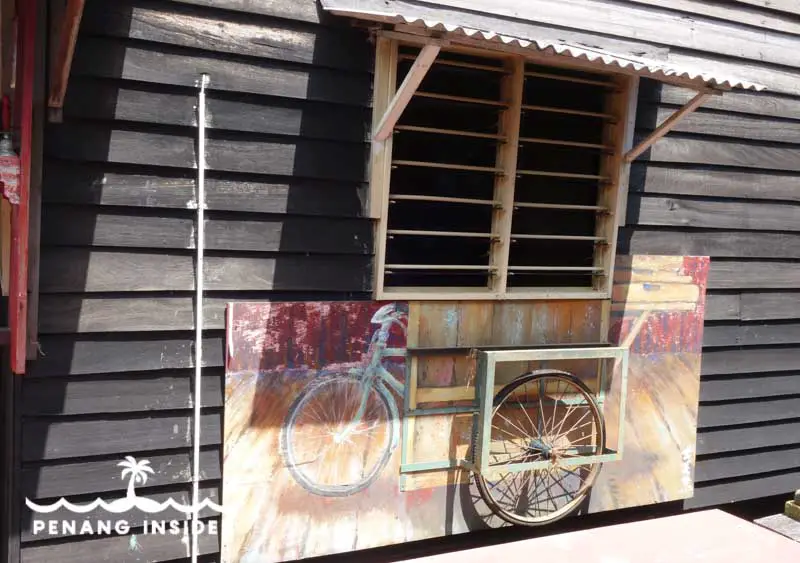 ---
Folklore by the Sea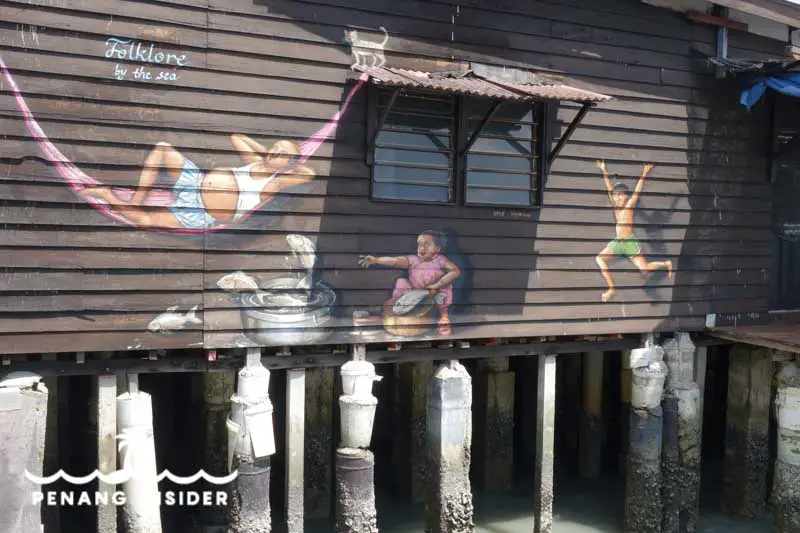 Chew Jetty's newest centerpiece is a funny depiction of life on the Chinese jetties of Penang. An uncle relaxes in a hammock while his little daughter plays with fish, and his son runs around without a shirt. It's drawn across the length of a shophouse on stilts, right where the Chew Jetty opens on the sea.
---
Lesser-known mural art in George Town
Art Lane on Beach Street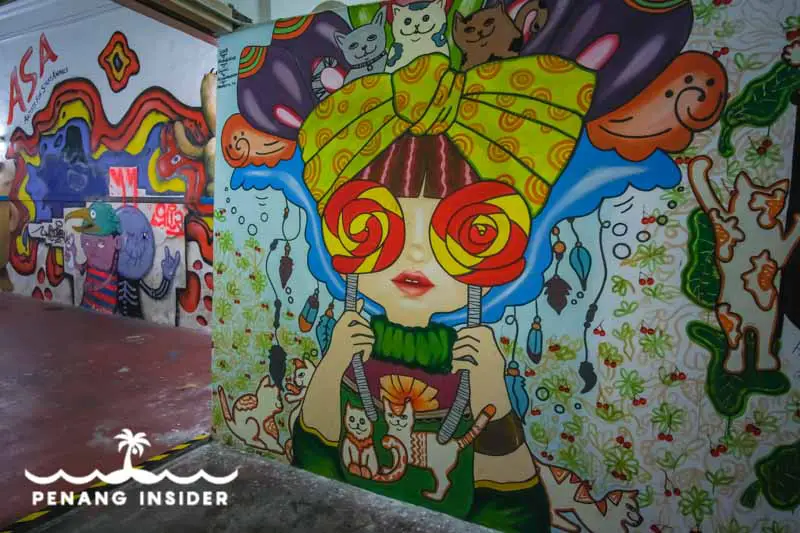 Opened in 2018 by Australian resident and owner of Chinahouse Narelle McMurtrie, Art Lane is an empty shophouse converted to a free-for-all art gallery for murals. In other words, visiting artists are encouraged to apply to Art Lane, which offers the paint and space to leave their permanent mark on George Town street art. The only difference is that these pieces are indoors — actually a boon in disguise, as a roof will make them last much longer.
Art Lane is usually open from 9 am to 7 pm, but it was closed at the time of our visit in October 2020.
---
Marking George Town — Iron Rod Street art in Penang
So, before Penang street art became a thing, this was the first, original attempt at celebrating the streets of George Town with art.
After George Town became a joint UNESCO World Heritage Site with the city of Melaka in 2008, the Kuala Lumpur-based art studio Sculpture At Works won the Marking George Town project launched by the State Government in 2009. The idea was to highlight the history of the most historical streets of the new UNESCO site with a series of iron rod caricatures placed in iconic street corners.
The result was a series of 52 iron rod caricatures that were installed in 2013 and can be found all over George Town. They were realized by artists Baba Chuah, Lefty, Reggie Lee, and Tang Mun Kiang. To be honest, the caricatures are funny and well made but have a too Malaysian Chinese outlook on the history of the island. The other ethnic groups are kind of left out, and when included, are seen under the stereotypical Chinese perspective.
Here are some of our favorite steel rod caricatures:
Portuguese Church and Chinese Street Gangs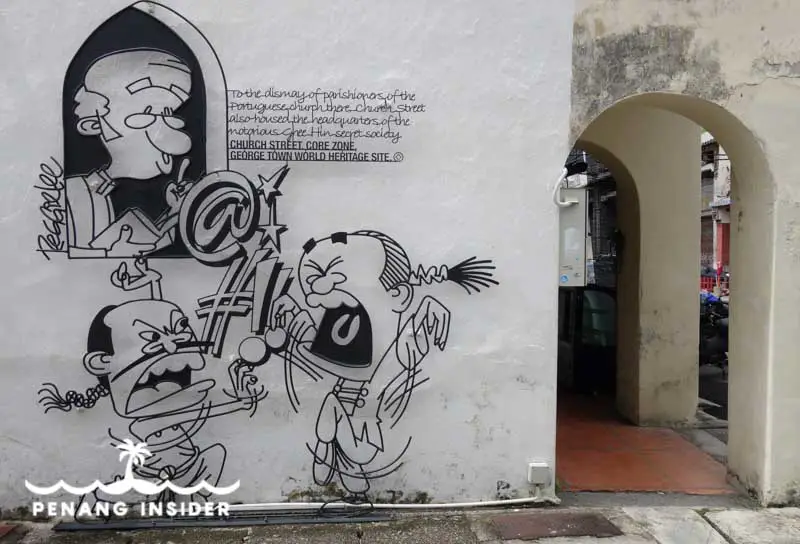 This artwork by Reggie Lee is on Church Street, at the corner with King Street in Little India. It hints at the gang wars that culminated in the Penang Riots of 1867, while the priest looking down on the street fighters represents the Church of Assumption, which was on Church Street until 1857. Historically the vignette is a bit off (like 10 years), but it's still a very beautiful piece.
The Bald Tamil Coolies of Green Hall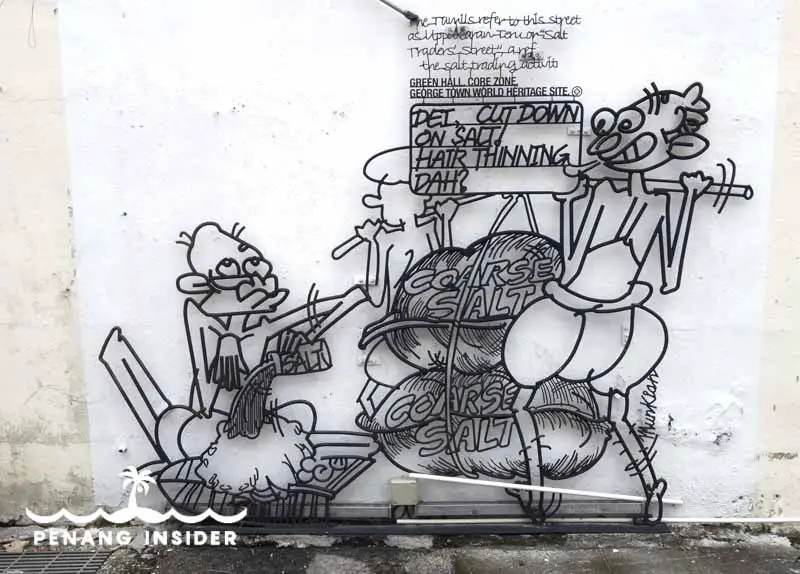 This sculpture is near the junction of Green Hall and Light Street and depicts two Tamil coolies who blame their thinning hair on the excessive use of salt. Green Hall road, which was gentrified in the 1980s, was once the main road for salt traders.
---
Hin Bus Depot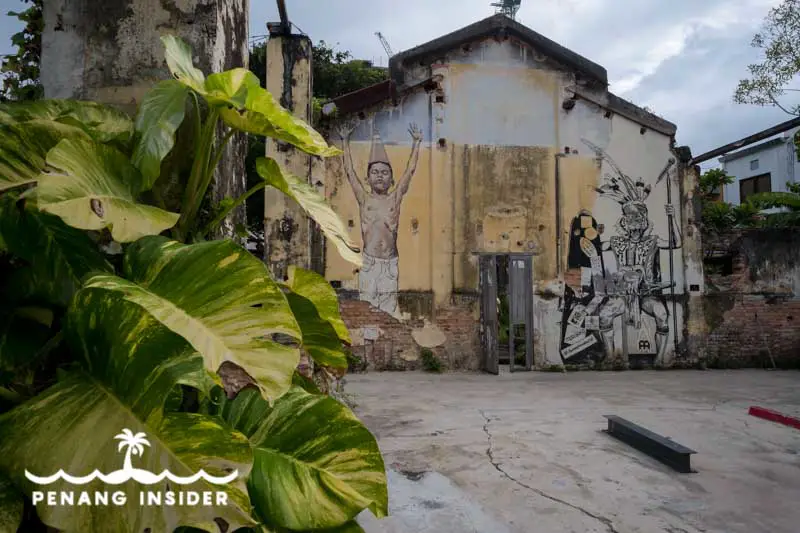 Hin Bus Depot is a former bus park that transformed into George Town's first and most important art gallery on 17 January 2014 by hosting Ernest Zacharevic's exhibition "Rubbish is Art is Rubbish". The works are made from preloved junk, discarded materials, and other street treasures. Since then, Hin Bus Depot has become George Town's most prominent alternative art space and market, helping many local and international artists showcase their work on the island.
The seminal Urban Xchange Festival was partly hosted here in 2014. The place itself — an old and semi-crumbling yet fascinating structure with an open-air courtyard — is very charming, and today has become a (slightly gentrified) one-stop shop for food, yoga, arts, and community — check out their Hin Pop Up Market on Sundays for local arts and crafts.
You may want to come here to admire some of Ernest Zacharevic's oldest murals, like the kung-fu girl bending backward, or start digging into George Town's creative scene. Coming on Saturdays during the Hin pop-up market is best for this purpose.
---
Penang Street Art at Nagore Square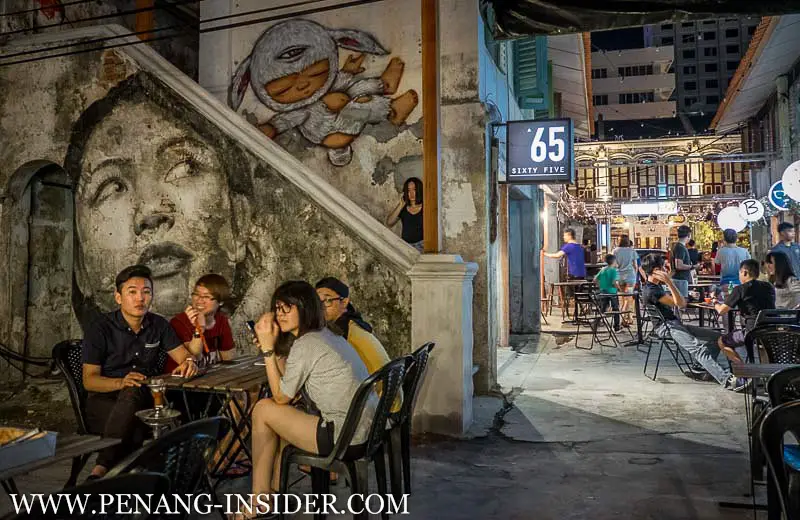 Beyond main heritage arteries Chulia Street, Love Lane, and Jalan Muntri, the Urban Xchange Festival made Penang Street Art leak into Nagore Square. This one-way street lined with gracious two-story Nyonya shop houses connects Hutton Lane and Burmah Road and is a mere 10 minutes walk from the western end of Chulia Street. Even if it's been plastered with street art since 2014, Nagore Square still sees very few tourists and remains an insider's secret sheltered by a jumble of less developed side streets. Take a short walk or hop into a cab, for this is a great area to check out some excellent pieces of street art without the crowds.
Here's a map of the location:

As a bit of history, Nagore's upsurge started when Ernest Zacharevic's entourage of international and local artists found their early gathering space at Pik Nik, transforming it into Nagore Square's first café for young hipsters. Today, Pik Nik is still a magnet for free-spirited mavericks, but also a cozy place to lepak – the local lingo for 'chillin' out'. Besides sipping hot cuppas, try the waffles (RM 15) – the salmon, scrambled egg, mayonnaise, and black pepper is Pik Nik's best piece of art.
At the end of 2014, the international street art project Urban Exchange propelled Pik Nik's fun vibes farther down Nagore Road. More spray cans used the formerly abandoned and vine-tangled lots of a former cluster of worker barracks as the canvases for more colorful murals. The arty spruce-up helped Nagore Road's placid Nyonya houses bloom into brand-new restaurants and shops. The transformation to full entertainment district was completed in May 2015, when a crew of debonair young locals set up three rows of restaurants, watering holes, and boutiques in the former cell-like shelters. Now the center of Nagore Square boasts an attractive alfresco smorgasbord of clinking glasses, fine dining, and more casual hang-outs to while away Penang's nights.
These are the best pieces of Penang Street Art you can find at Nagore Square:
Girl's Portrait and Baby Bunny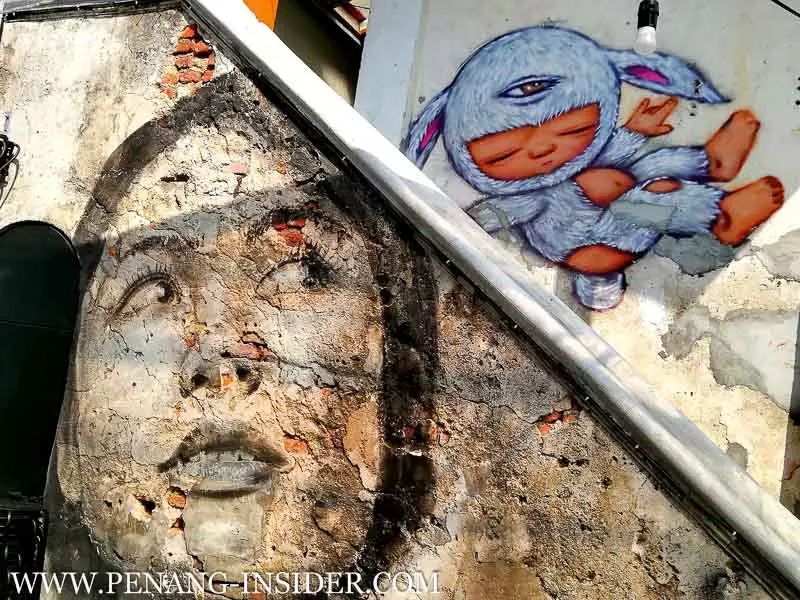 Walk inside the little square called Nagore Square proper, where Thai graffiti artist Alex Face drew his iconic three-eyed baby bunny hovering above a portrait of a dreamy girl who — it is said — was inspired by Wanida, the current co-curator of Hin Bus, who worked for the Urban Xchange Festival at the time.
The Girl in the Tropical Forest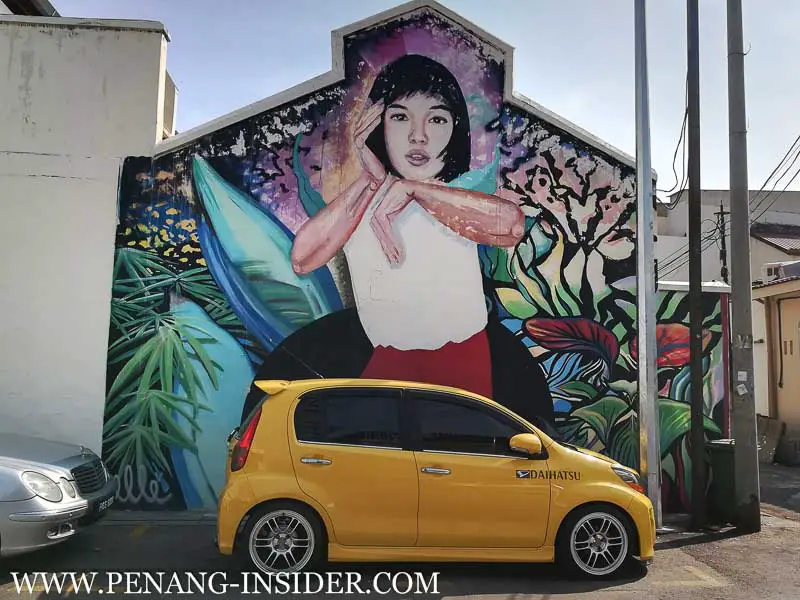 This piece by New York-based artist Elle colors the side of a shophouse in Jalan Bawasah, the road that intersects with Nagore Road.
Badass Peranakan Girl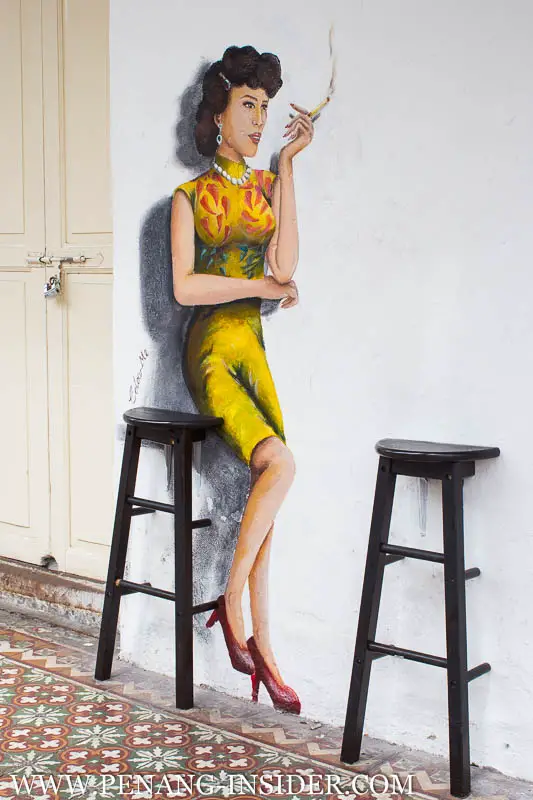 You can sit next to this beauty if you walk at the beginning of Nagore Road and look to the wall on your right.
---
Offbeat Penang Street Art
There are murals all over the island, and now that even cafes and restaurants use street art to spruce up their walls, it's even harder to track them all down. These are a few of what we found, and we'll keep updating this list for you.
Lorong Kulit, George Town – Football Player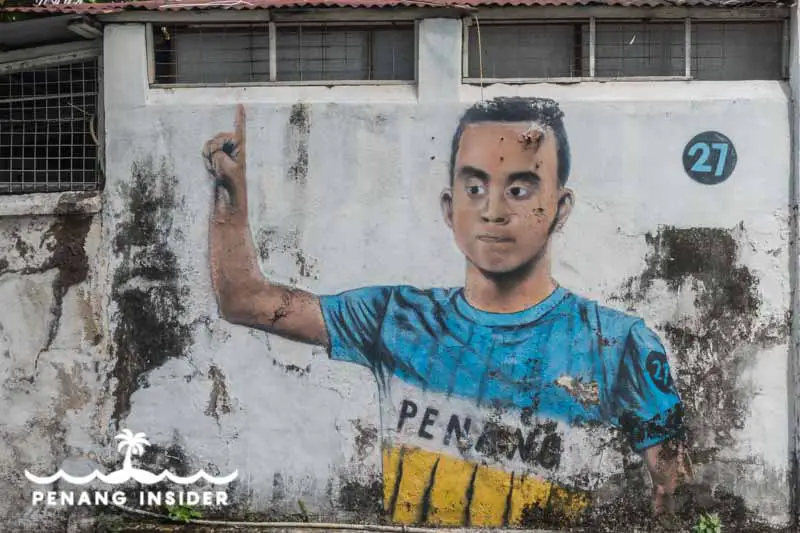 This mural is etched on the end of Lorong Kulit as it connects to Jalan Dato Keramat. I am not familiar enough with Penang's soccer team to tell you who this player is, but the stadium is literally 100 meters away.
Station 5, Penang Hill – Dusky Leaf Monkeys Having Coffee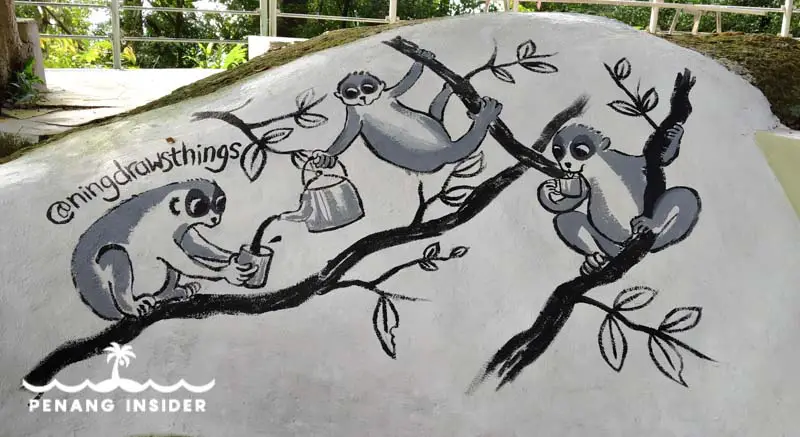 This cute mural is etched on a rock at the rest area Station 5, found midway to Penang Hill via the hiking trail from Moon Gate, near the Botanic Gardens. Artist Ning drew a group of three cute dusky leaf monkeys, among Penang's endemic animals, having a coffee like the thirsty hikers who visit this beautiful rest area. Mural aside, the hike here is really recommended.
Singing Metal Demon and Headbanging Skeleton Punk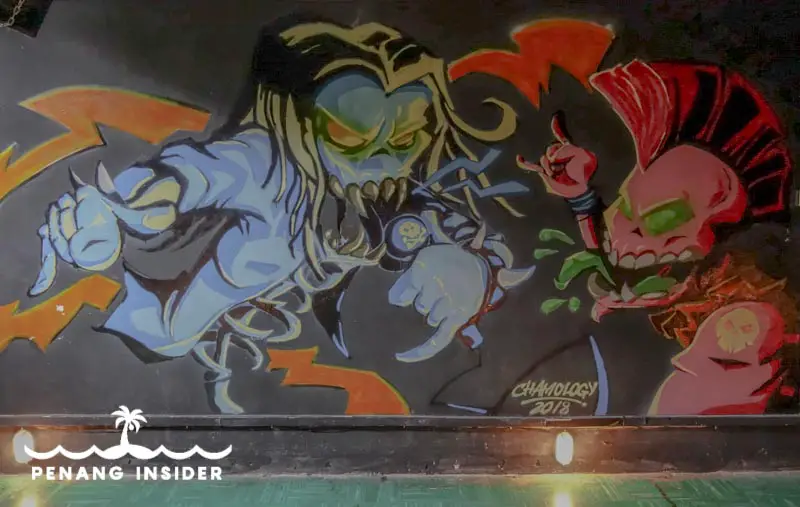 This mural is etched next to the stage of Soundmaker Studio, George Town's one and only alternative music club, one of the best choices for live music and Penang nightlife. It's probably the most quirky and extreme Penang murals I've seen thus far — and honestly, it's quite innocuous and cool. Go check Soundmaker out to check it out.
---
2019 Container Art Festival
The latest addition to Penang Street Art is the series of installations that landed on the island at the end of 2019 thanks to the Penang Container Art Festival (PICAF). PICAF is the first festival in Asia to feature urban art on ship container installations.
Held at five different locations throughout the island and on Seberang Perai – the mainland part of Penang state, near amazing Bukit Mertajam – the festival should have concluded in May 2020, but because of the COVID–19 pandemic, the containers are still around, and we don't know when, and if, they will be taken away. For this reason, we feel important to include them in this article.
PICAF offers five pop-up container art installations by five international and seven Malaysian artists. The 10 large-scale murals (about 12m high and 8–12m long) depict the people of Penang.
The three installations on the island are:
Prangin Mall, George Town
Set in the open space before Prangin Mall, one of the longest-standing shopping malls in Penang, this container art has one giant trishaw rider drawn by Ukrainian artist Sasha Korbain on one side, and a tribute to the late batik artist Chuah Thean Teng by Penang-based artist Bibichun.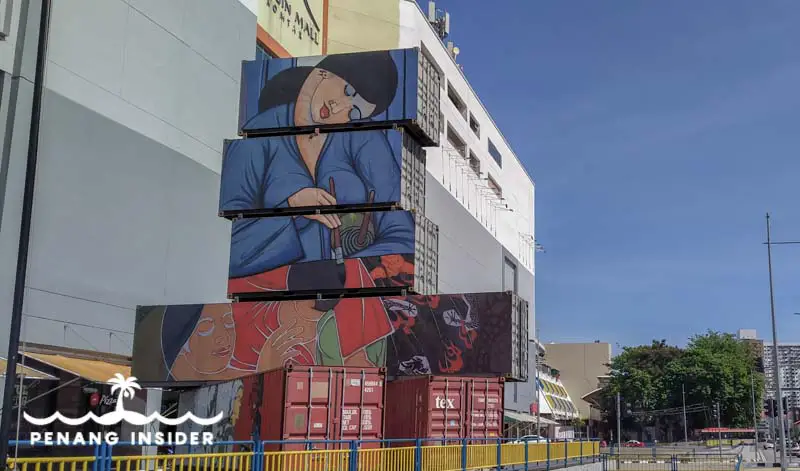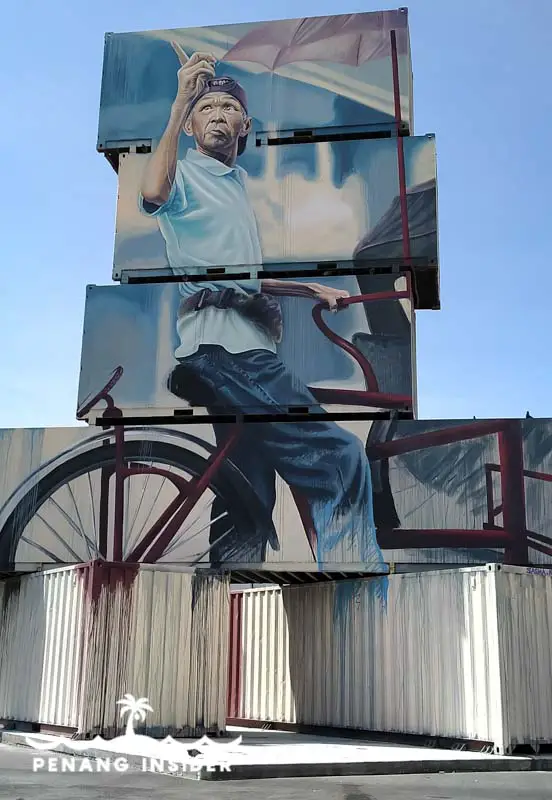 Karpal Singh Drive
Set on the southern end of Karpal Singh Drive, one of Penang's city beaches, is another container featuring art by Sandakan-based Kanji Chai, featuring an indigenous woman with a hat filled with tropical animals and Asian-looking buildings.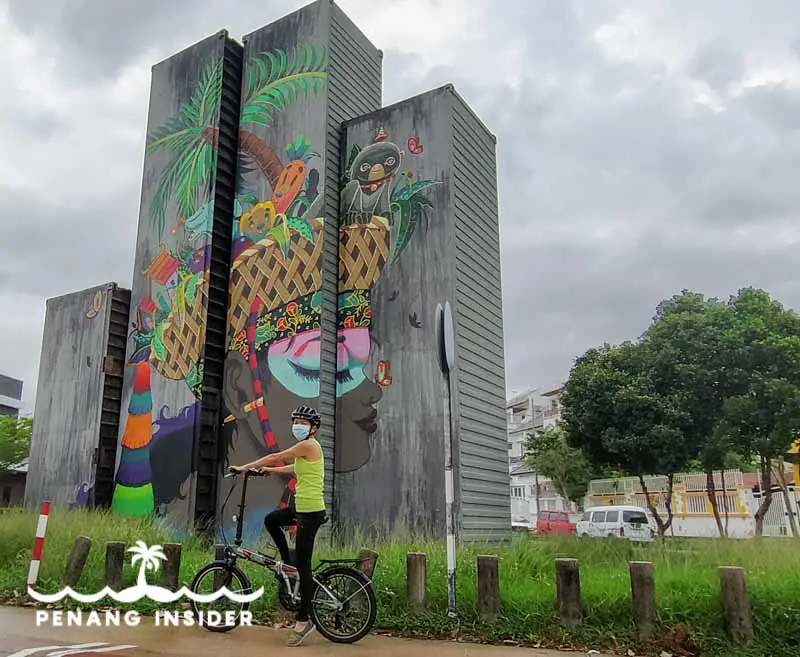 On the flipside is Julia Volchkova's "Hope for the Future", which depicts a girl looking ahead in the distance.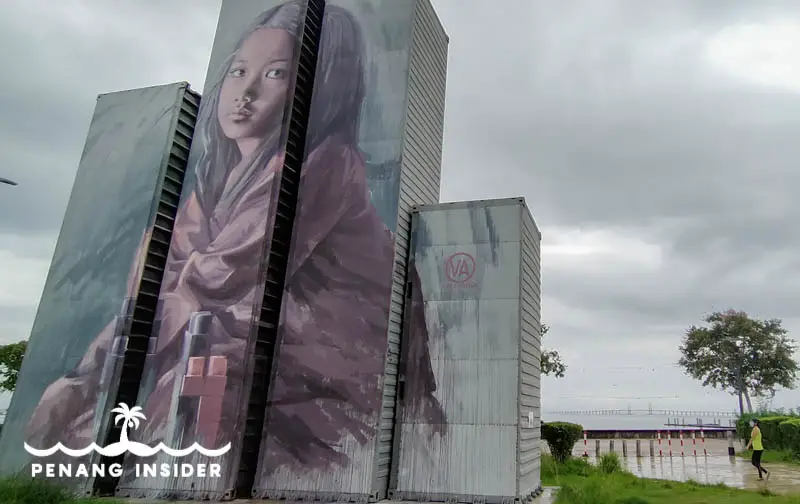 This container art installation is set along the cycling lane, so you may want to come here on a bicycle, exactly as we did.
Kampung Terang in Balik Pulau
Scenically set in the middle of a paddy field in Balik Pulau, this installation is one of the most beautiful. It has "The Joy of Harvest" by Leonard Siaw and Aries Kong, both from Sarawak, on one side, where two farmers show their produce (corn and the foulest-smelling of all fruits, the Durian).
READ MORE — A Complete Travel Guide to Balik Pulau's Best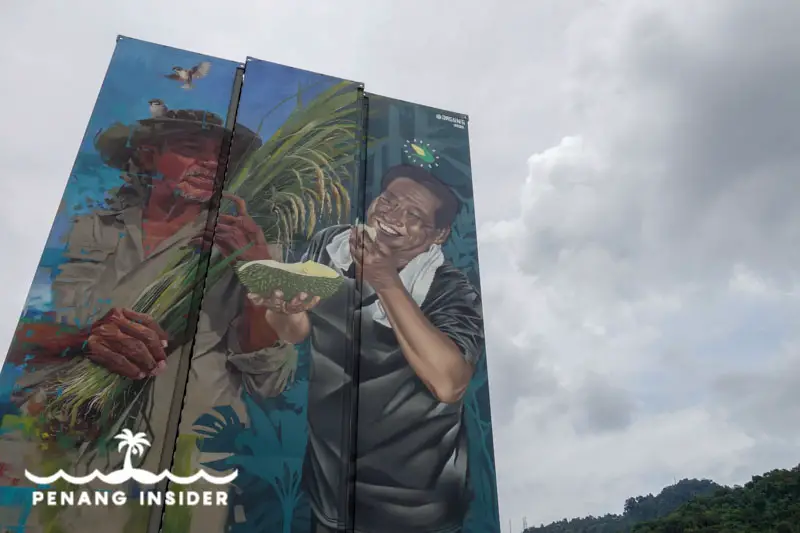 On the other side is "Once at Balik Pulau's Street Market" by Russian artist Marat Danilyan. It depicts a hawker seller, proudly standing next to his wok at the market.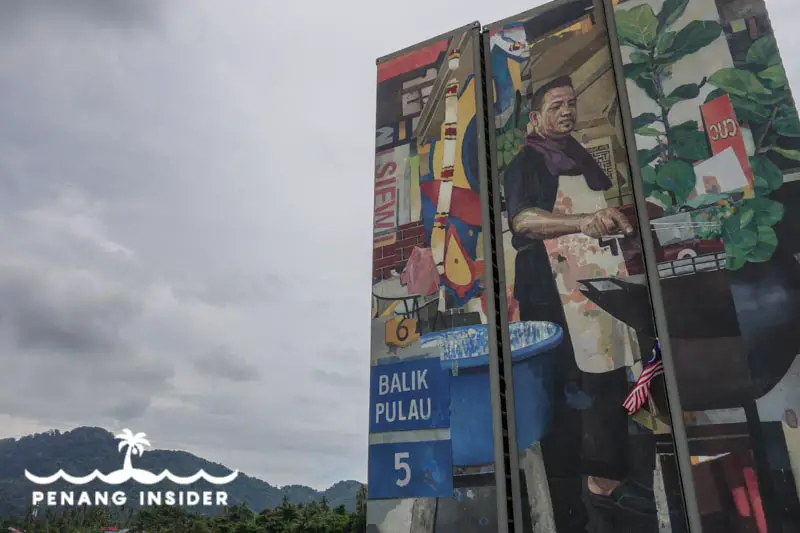 ---
Penang Container Art on Penang's Mainland
The two installations on Seberang Perai are:
Dataran Pemuda Merdeka, Butterworth
Set within the grassy Dataran Pemuda Merdeka, near to Hotel Lodge 18 and the interesting Butterworth Art Walk, is one container with the Penang Fisherman on one side (drawn by Danish artists Judith de Leeuw), and the Batik Painting on the other. This was made by Malaysian artists Abdulrashade from Penang, and Andharas from Melaka.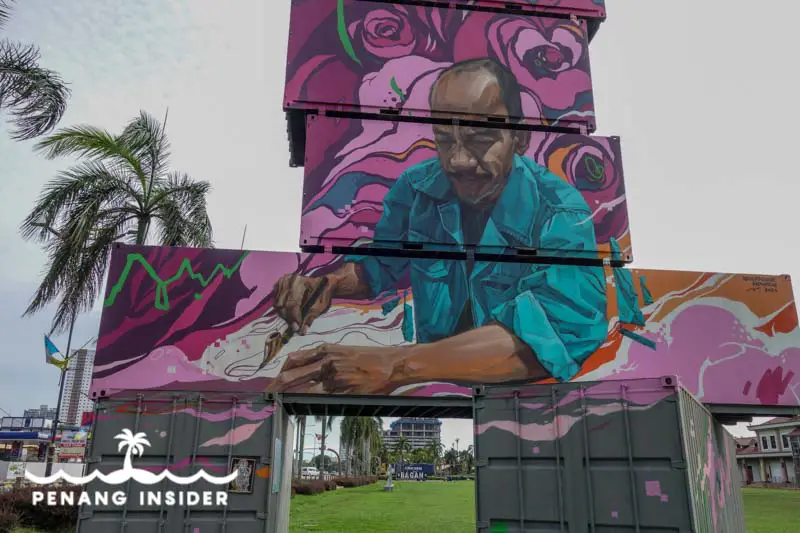 Aspen Vision City
Always on the mainland, close to Batu Kawan, seafood haven Bukit Tambun, and the Design Village shopping mall and IKEA, the second container art has one side drawn by Canadian artists Emmanuel Jarus, representing an offshore fisherman.
On the flip side is "Connection" by Caryn Koh from Kuala Lumpur, a very realistic mural depicting a young woman holding a rope that looks like a red braid.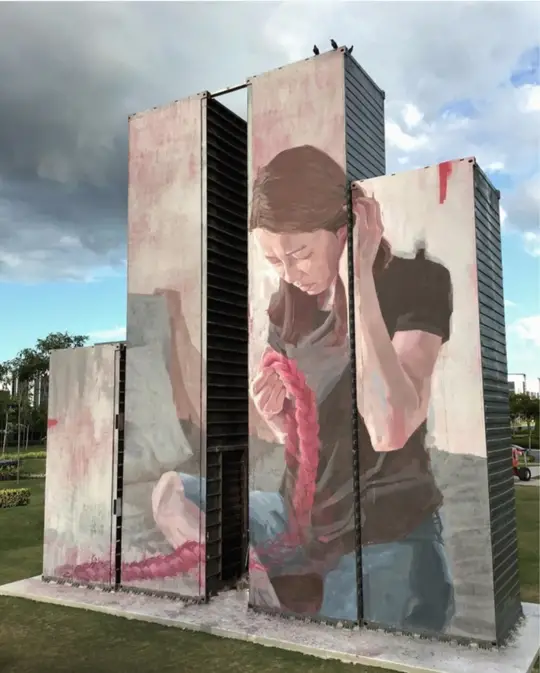 ---
Penang Street Art in Balik Pulau
Balik Pulau is the most pristine side of the island. Set in its southwestern corner, the area is pretty vast, but when someone says "Balik Pulau" they generally mean the small municipality of the same name — a famous place for those who love food as it as some of Penang's best laksa.
Following the fashion of Penang Street Art, Balik Pulau spruced itself up in 2016 by inviting Russian artists Julia Volchkova to etch some very realistic murals along the town's main thoroughfare.
We believe they are unmissable, and yet most people miss them — it's because Balik Pulau is still pretty much off the beaten path, a good 45 minutes drive or a one-hour bus ride from George Town, and very few tourists come here looking for street art.
Old Fishermen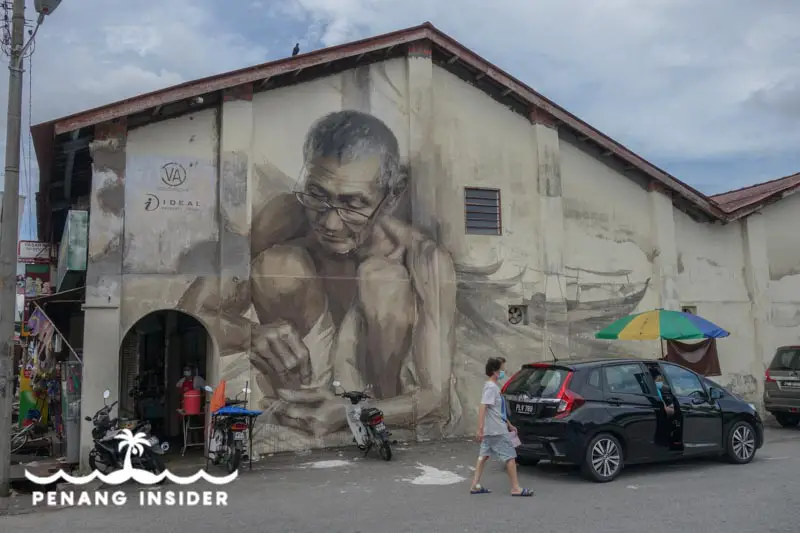 Silat Master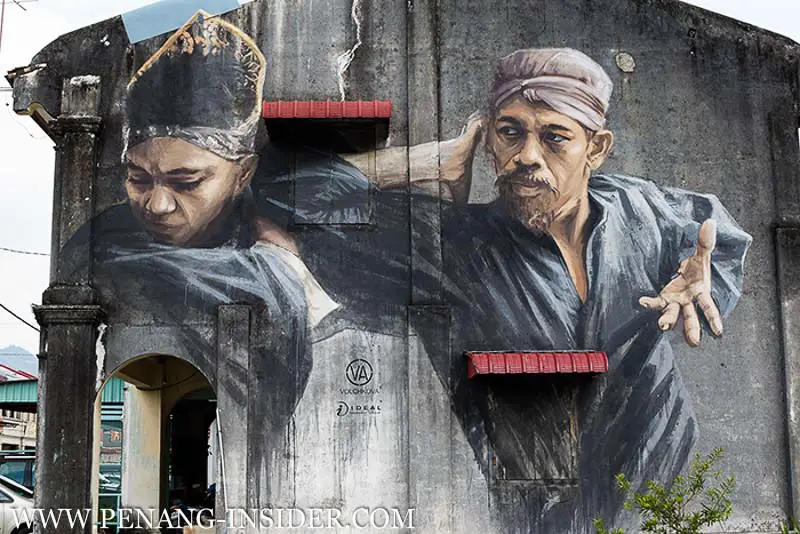 Hakka Dancing Girl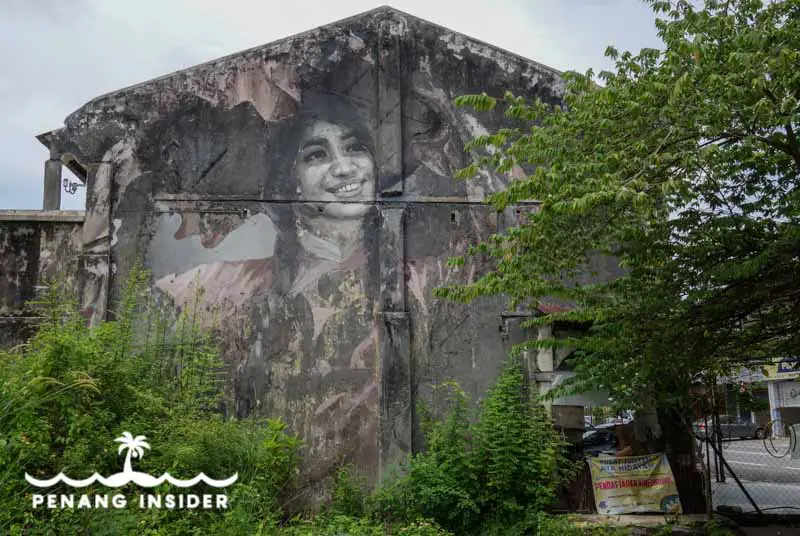 Rubber Tapping
---
Balik Pulau Town and Art Festival
In July 2019, the township of Balik Pulau launched the three-day Balik Pulau Festival. As part of this event, new street art was etched on walls, adding more local colors to the murals realized earlier by Russian artist Julia Volchkova.
Roti Man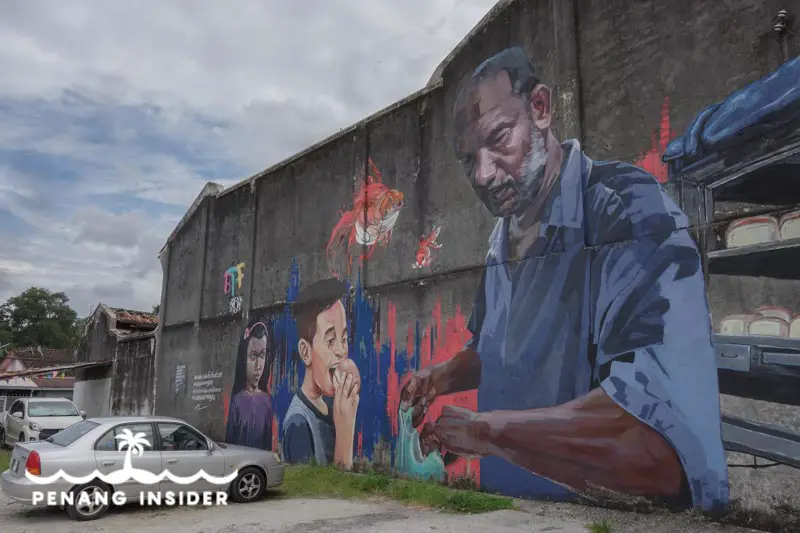 Lily Garden Flats in Jalan Bukit Penara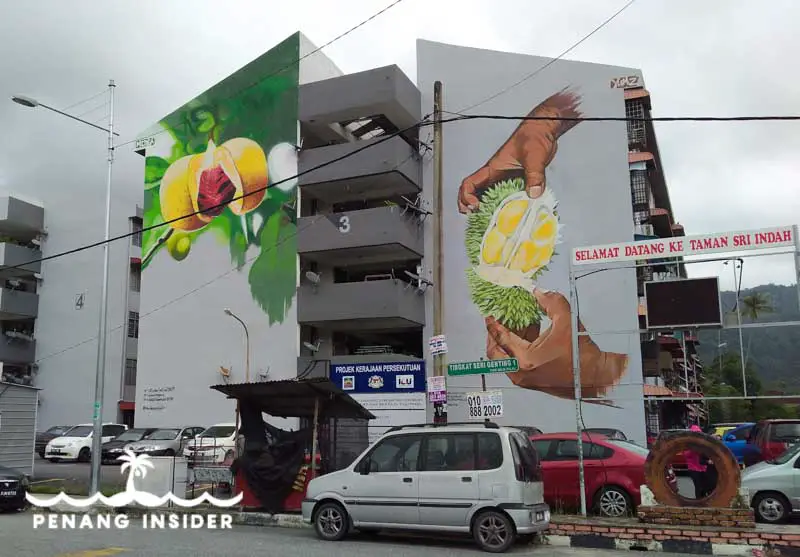 This low-cost condo was spruced up with a bunch of beautiful murals of fish by artist Nasrul Hisham, or Nash Art. There is a 5-meter-long Half Moon fighting fish, plakat fish, and a tiger barb that stretches about 3 meters.
On the two sides of the flat, two of Balik Pulau's most famous produce, nutmeg, and durian, are painted in much larger than life-size.
The murals were commissioned by the National Art Gallery and the Culture and Arts Department with the scope to beautify one disadvantaged housing area and create inclusivity among people through arts.
---
Butterworth Art Walk: Penang Street Art across the Straits Sea
If you think that Balik Pulau is offbeat street art, did you know that even Butterworth has some? Wait: do you know WHAT IS Butterworth? The city set across the Straits Sea, where the Penang Ferry lands. With so much stress on street art on Penang island, it was inevitable that, in the end, even Butterworth wanted to have a piece of the cake. Even though street art in Butterworth is still really under the radar, and if you make it all the way here, you'll most likely be rewarded by having Butterworth Art Walk all to yourself. You may also consider using Butterworth as a jump-off point to try these 7 great hikes in Seberang Perai, Penang Mainland and check out Seberang Perai best attractions. If you want to stay here, check out our list of the best hotels in Bukit Mertajam and our complete guide to the best things to do in Bukit Mertajam. Worthy side trips are definitely the beautiful Frog Hill and a hike to Bukit Juru.
---
What to expect at Butterworth Art Walk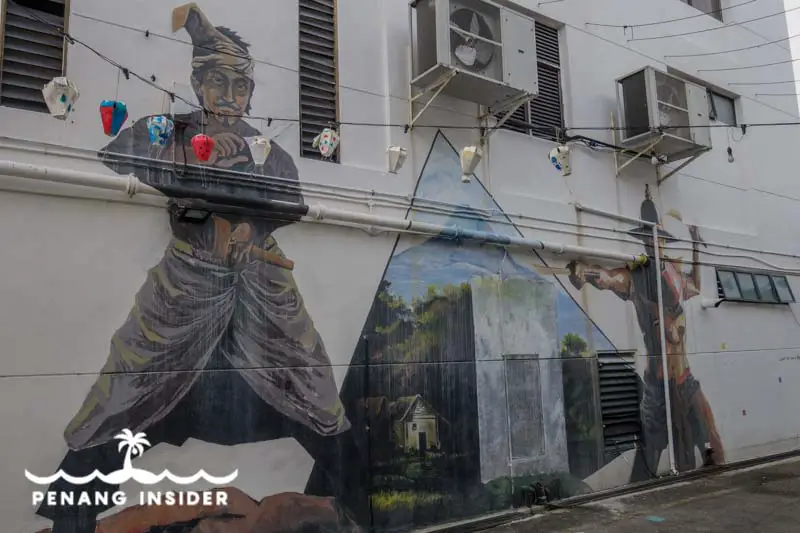 The main question is, "is it worth traveling across the Straits Sea to see Butterworth Art Walk"? Our answer is yes, but you can judge by yourself by taking a look at the images hereinafter.
Consider that seeing street art in Butterworth is much easier because it's all concentrated in a short street, Butterworth Art Walk, situated at Lorong Bagan Luar Satu, right beside the Lodge 18 Hotel and Dataran Pemuda Merdeka. You can catch the Penang Ferry, arrive at Penang Sentral, and either walk or hire a Grab car as Butterworth Art Walk is about one and a half kilometers away. The street was covered in murals and gained popularity thanks to the annual Butterworth Fringe Festival, which is held in this area at the end of every year.
Most street art in Butterworth is inspired by life on the nearby sea, British Malaya history, the local coconut, and the popular sugar of Seberang Prai. Here are a few images of the most impressive Butterworth murals.
Seberang Prai Sugar and Anatomy of a Coconut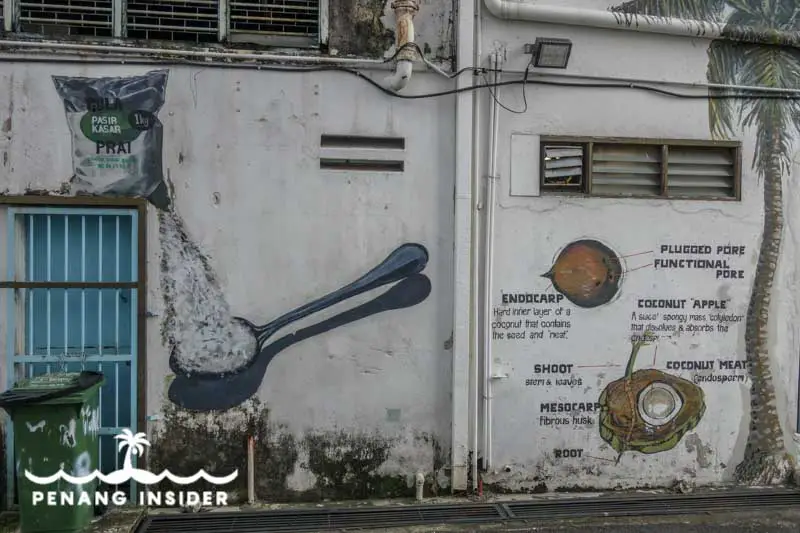 Rainbow-colored Asian Elephants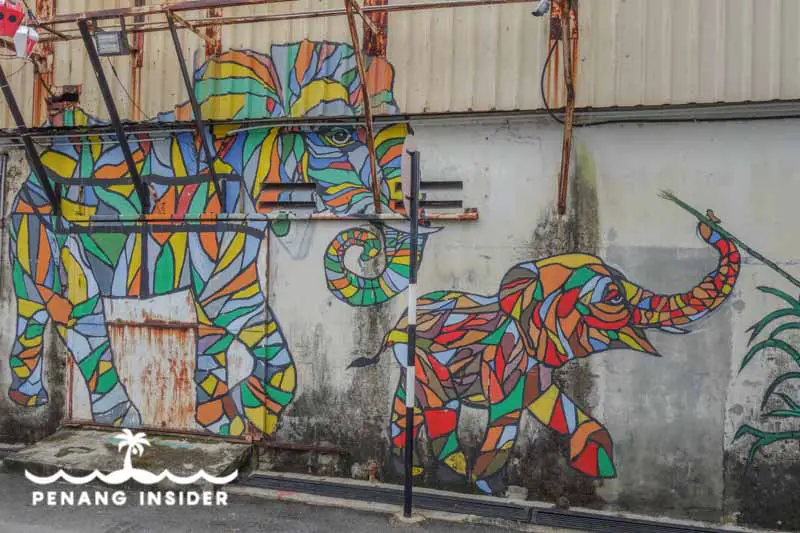 Tropical Fish Swimming in the Sea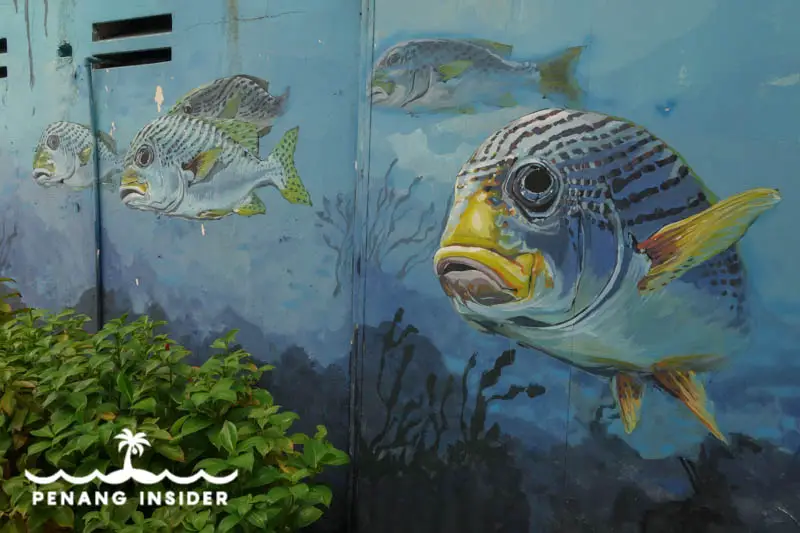 Fisherman Waiting for his Catch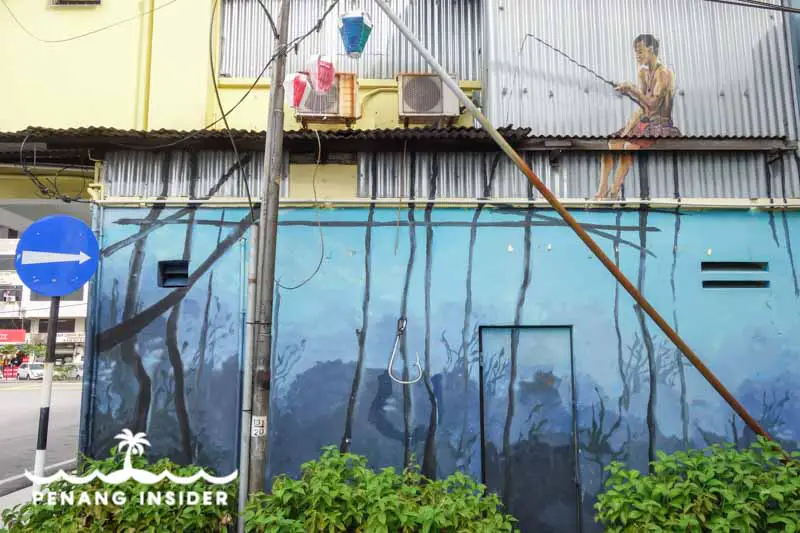 British Malaya 4 Cents Stamp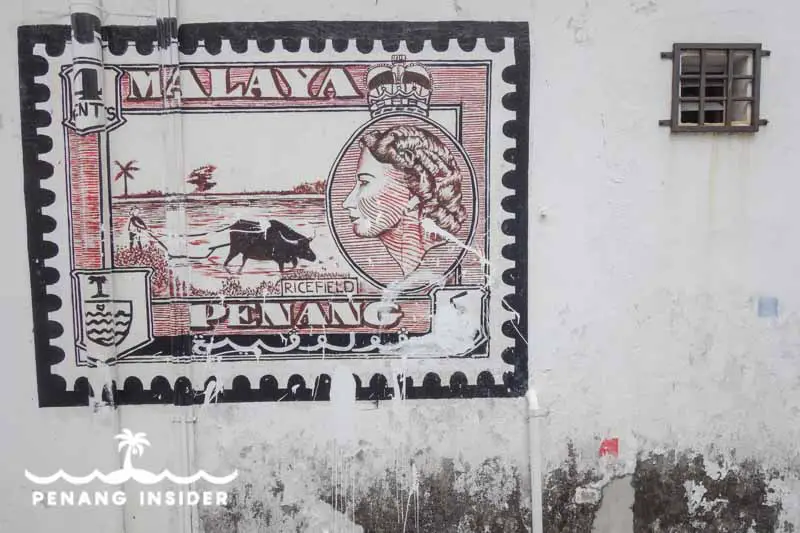 … and that's all, this is pretty much all the street art I was able to find in Penang this year! If you have any suggestions for more pieces and locations, please let me know in the comments below and I'll go and find the murals out.
---
And if you liked this, why don't you sign up for our mailing list? We will send you immediately a FREE photographic eBook with some incredible pictures of Penang, and we promise, we will disturb you only about once a month with some good local advice you won't find on the site