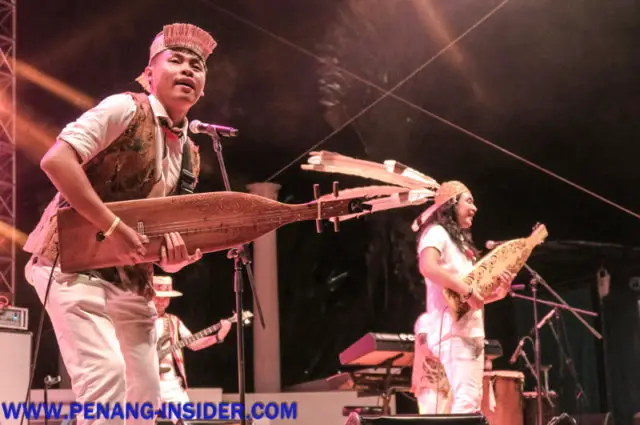 You may wonder why a Penang-focused blog wanted to publish a post about the 20th edition of the Rainforest World Music Festival in Kuching, Sarawak.
Well, you may not know, but I love Kuching. The city shares a lot with Penang: a burgeoning art scene, a walkable waterfront, some of Malaysia's best hotels, mouth-watering food, great live bands, and a rich British colonial heritage.
But that's not the reason why I decided to write this post. This year, Kuching and Penang have much more to share, exactly in terms of Rainforest and Festivals: the newborn Rainforest Fringe Festival (RFF).
It was indeed a Penang-based team, Joe Sidek's productions, who organized the first edition of this new event, from July 7th to the 16th, with the help of Sarawak's Ministry of Tourism, Arts, Culture, Youth and Sports, and local partners the Waterfront hotel and Kuching's lifestyle magazine Kuching In and Out.
I was invited to the event and attended most of what was on the menu of exhibits. I'd like to share here what I thought were some of the Rainforest Fringe Festival's highlights.
Sada Kamek
As a music lover, I must start talking about the RFF's only music event, hosted at Kuching's Amphitheater on the evening of Sunday 9th July. This free-for-all show — like all the other exhibits housed in the attractive Old Court House of the White Rajah Brooke, in the centre of Kuching's old town — featured artists Dayang Nurfaizah, Noh Salleh, Tony Eusoff, Nading Rhapsody, At Adau, Pete Kallang, Alena Murang and Mathew Ngau.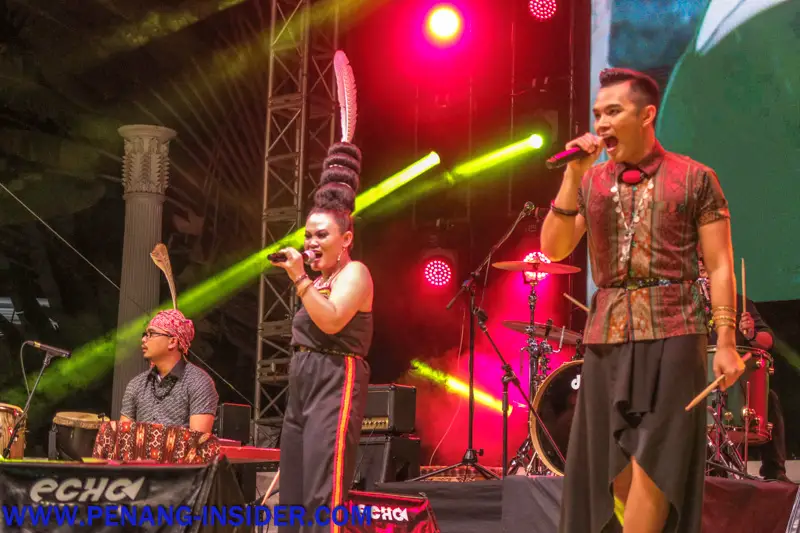 The opening act was master sape-player Mathew Ngau, accompanied by his prodigal daughter Alena Murang. She's one of the first few women to take up this instrument, which is traditionally reserved for males of the indigenous orang ulu tribes. Both mentor and disciple were able to pull a very intense set.
Nading Rhapsody, a rock band that relies heavily and cleverly on indigenous rhythms and imagery, was a pleasant surprise and a band I'm sure we'll hear more about.
To me, the nights' highlight was certainly At Adau from Kuching. This 7-element combo has two talented sape players and a female percussionist at work on the Djembe and Dunun, from West Africa, and Congas from Latin America. They weave tribal Sarawakian sounds over a base of pure rock drums, electric bass, and a 70s-inspired rock guitar, adding an interesting choreography of native elements, such as Iban war shields.
Chien C. Lee's Nature Photography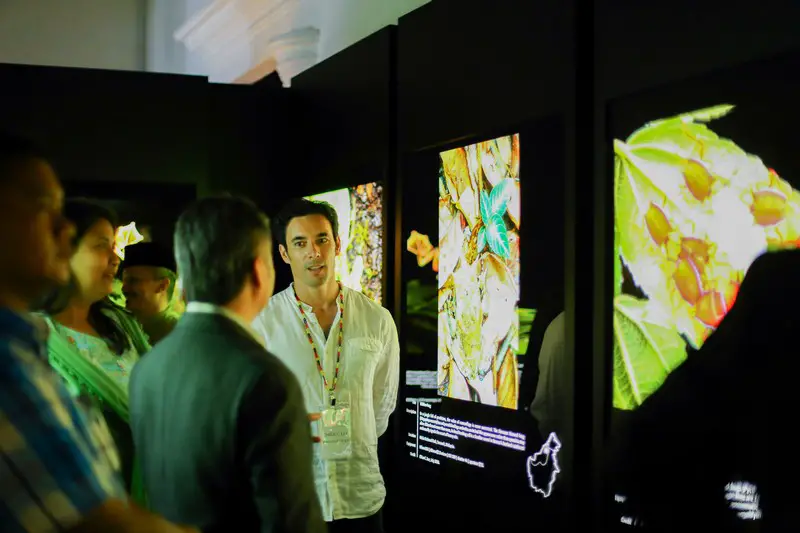 I was strolling around the Court House when I stumbled upon the exhibit of American-born, Kuching resident Chien C. Lee. This botanist, who started his Sarawakian sojourn studying pitcher plants, has been researching different patches of the remaining Borneo rainforest for the past 20 years. During these wild jaunts, Lee has also been working locally and internationally as a photographer, selling images to the likes of National Geographic. "The nature of my work forces me to spend a lot of time in the jungle," he told me. "I take my best shots by sitting still in a shelter for days, waiting for rainforest's life to come to me, or setting camera traps with infra-red triggers." Regardless of how he shoots, Chien H. Lee's work is stunning.
"Kuching shares A LOT with Penang: a burgeoning art scene, a walkable waterfront, some of Malaysia's best hotels, mouth-watering food, great live bands, and a rich British colonial heritage"
Jimmy Nelson's Photos of Disappearing Tribes
Much has been said about this British photographer, who was not present at the festival because of shooting commitments in Vanuatu. His gallery team was present, however, and taking care of introducing Nelson's work to the people of Sarawak. The photos, extracted from Nelson's 2013 book Before They Pass Away, are all shot with a 50-year-old 5 x 4-inch camera. They depict the 35 indigenous communities that Nelson encountered travelling for 5 years across Asia, South America, Africa, Europe and the Pacific. No picture was about Borneo, but alas, Nelson's powerful images from Mongolia, New Zealand, Vanuatu, China and Papua New Guinea were beyond impressive. I'm looking forward to catching Nelson live in Penang at George Town Festival on the weekend of July 28th. Read more here and don't miss out.
Rainforest Fringe Festival's other highlights
The three events above were by far my favourite, but there was more I will try to summarize here.
Starting with something "Penang", I had the pleasure to meet Penang-born visual artists Lay Hoon and Sumay C. of Otherhalf! Studio. They mounted a tunnel-like installation outside the Old Court House, and projected inside of it a kaleidoscope of rainforest-themed images. Paired with music, the artwork had a dynamic and psychedelic effect. "Truth be told, we have never been into Borneo's rainforest. We tried to give an outsider perspective. Ours is a different 'lens' through which we imagined Borneo's jungle," Lay Hoon told me. A mother of one, Lay Hoon said that her installation was primarily built with children in mind. She wishes to get them interested in Malaysia's primary eco-system and its threatened future. Otherhalf! Studio will be also participating in the upcoming George Town Festival.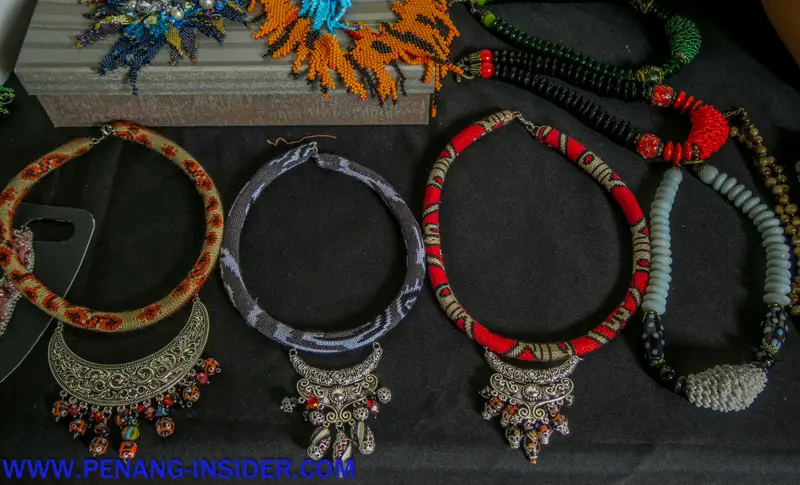 Bidayuh artist and researcher Kendy Mitot presented quirky installations created using primarily wood and suspended ropes. He tries to visualize the myths and symbols behind his tribe's folklore. On the opposite side of the Old Court House, I found the paintings of Raphael Scott Ahbeng. Born in 1939, this master of Sarawak's landscape painting offered a personal interpretation of his homeland's ever-changing nature-scapes.
At last, an exhibit of early indigenous tribes' black and white photos by K.F. Wong, perhaps the pioneer of Sarawak indigenous tribe's photography, is the last of my Rainforest Fringe Festival First Edition's highlights
While Joe Sidek Productions' team is fast approaching their next mammoth task — coordinating the eight edition of month-long George Town Festival — we hope to see more greatness next year at the second edition of the Rainforest Fringe.