There are many things to do on Pangkor island, one of Perak's best attractions, but we think that visiting the Kali Amman Temple during festival celebrations is particularly interesting.
Located on the waterfront at Sungai Pinang Besar, Kali Amman Temple (also called Sri Pathirakaliamman Temple) is Pangkor's only Hindu temple, and also Malaysia's only sea-facing Indian shrine. The temple has been rebuilt and re-opened in 2019 and now boasts a new shrine.
"We have finished the new Kali Amman temple after five years of hard work and raising donation money," said Mohana Dass, the chairman of Pangkor's Kali Amman Temple, which cost about 3-million Malaysian Ringgit to complete, when I met him in February 2019. With pure gold sections, the temple is now set on a concrete esplanade next to the sea in the village of Sungai Pinang Besar. It houses a sacred golden statue of Kali, a much-revered icon in this part of Malaysia, and it's the only sea-facing temple dedicated to the Goddess in the whole country.
This is where Malaysian Hindus gather from all over the country to celebrate Kali's birthday: it falls in the month of Massi (usually between January and February) when the star of Magha shines high in the night's sky. For two days, Goddess Kali is at her most powerful — a most propitious time to ask her to fulfil one's dearest desires.
Visiting the Kali Amman Temple during the festival celebrating the goddess' birthday is an experience not to be missed: it's something similar to the Thaipusam festival in Penang and Kuala Lumpur, which honor Lord Murugan and its vel ("spear", in Tamil) with devotees carrying ritual kavadis. Loosely translated as "burdens", the kavadis range from hauling pots filled with milk over one's head, to a different range of mortifications of the body using hooks to pierce one's back, or skewers to "seal" the devotees' cheeks and tongues. It's definitely a strong spectacle, and one to see at least once in a lifetime.
---
Visiting Pangkor Kali Amman Temple during Kali's Birthday in the Month of Massi
After a 5-years hiatus, the Kali Amman Festival returned to Pangkor Island in 2019, when the new Kali Amman Temple was finally completed. It was a unique occasion to celebrate with greater happiness, and the island was buzzing in preparation, as the local Hindu community had stayed without a proper temple for several years until this new one was completed.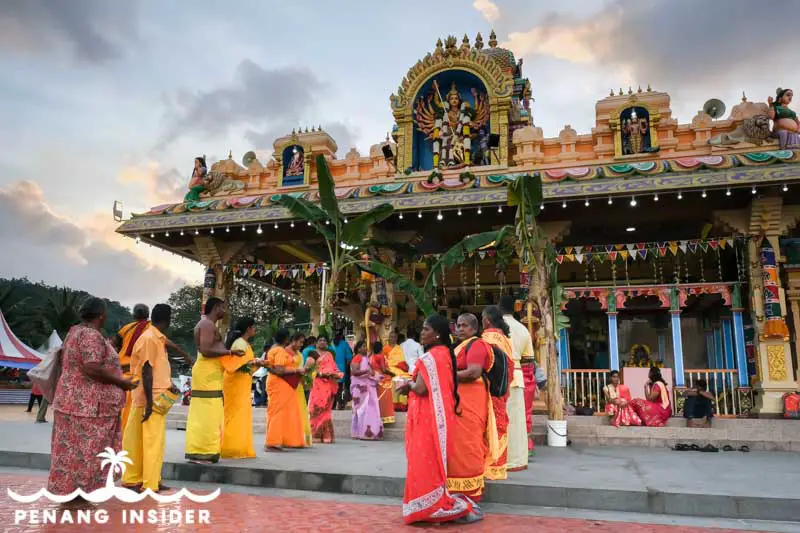 On the day of the festival, dressed in colorful tunics and sarees, a group of Indian and Chinese people stand on the bone-white sand of Pasir Bogak beach. Some sit on their haunches, preparing flower garlands and trays strewn with incense sticks and fruit offerings. Others close their eyes in prayer, gathering around the brave souls who have come to this tropical beach to begin their march of penance. It's their extreme effort to pay respects to Mother Kali, who has listened to their prayers and granted them a precious vow.
The atmosphere becomes electric when a woman closes her eyes as she prepares to receive the vel ("spear") through her cheeks. She lays her hands on her sides and shakes slightly as her husband, the main supporter in her march to the Kali Amman Temple, pierces the tip of a metal skewer (the vel) through her left cheek.
It seems like she feels no pain: but when the vel slips across her mouth and cuts through the right side of her face, she's transformed. Hissing and rolling her eyes, she becomes a receptacle of her many former lives: she starts whispering in tongues, possessed by ancient spirits, while her family members smear her face with a thick, blood-coloured paste. She must start her 5km walk to Kali Amman temple, to pay back for the wish the merciful Goddess granted her.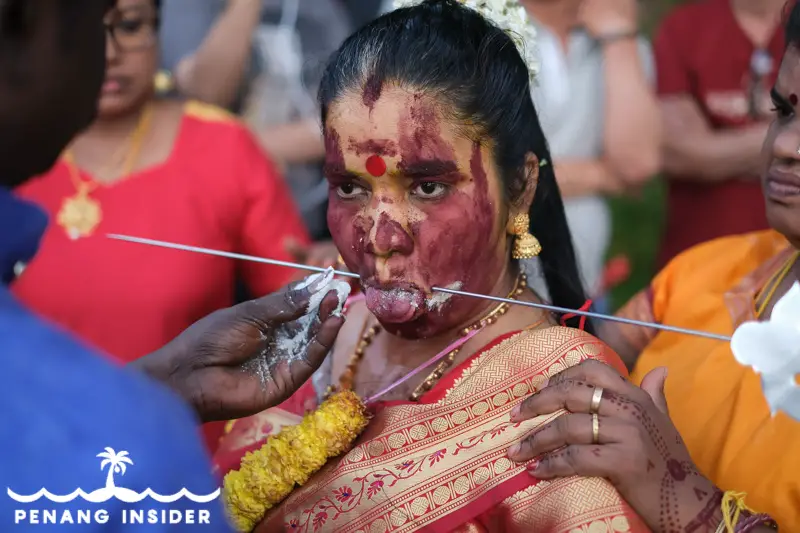 Before parading at the Kali Amman festival, all the devotees must follow a strict vegetarian diet and refrain from sex and alcohol for 48 days. That's how they can attune to the divine, becoming able to carry their kavadis — "physical burdens" ranging from piercing skewers and hooks through the skin, to carrying pots filled with milk over the head, to repay the Goddess — without bearing any scars.
It's only then that devotees can be released from their kavadi, and face the scared Kali statue for final retribution. "We finally managed to give Mother Kali a new home," says chairman Mohana Dass. "And this truly is the biggest reason to celebrate this year."
---
Local Significance of the Kali Amman Festival
The Kali Amman Festival is also significant because, unlike elsewhere in Malaysia, it truly bonds the Indian and Chinese communities of Pangkor Island. To the Taoist Chinese, the Kali Amman Festival is a reason to pay respect to their Goddess of Mercy Kwan Yin, considered by Hindus as Kali's older sister. And indeed, every kavadi bearer must first pay his respects to the small Kwan Yin shrine set along Sungai Pinang Kecil's main road.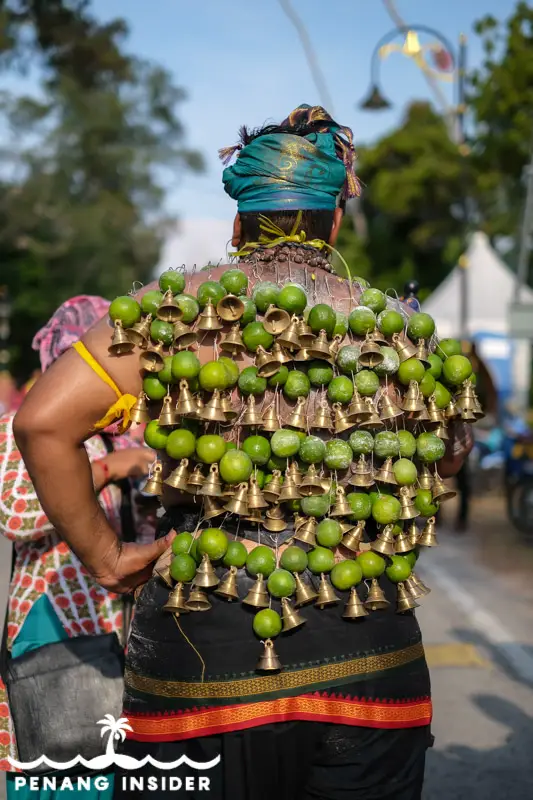 During the procession in Pangkor, it's usual to see both Indian and Chinese devotees walking together and carrying their burdens side to side. This is not so common to see in Penang, for example, where there are some Chinese people who decide to pay respects and vows to Lord Murugan, but in very small numbers.
---
How To Reach the Kali Amman Temple on Pangkor Island
Pangkor is situated roughly halfway between Penang and Kuala Lumpur, and is very close to Ipoh and its cave temples. A stop here is very much worth and there are many cozy Airbnbs in Ipoh.
From Kuala Lumpur, take the North-South highway and exit either at Tapah or Gopeng. Interstate roads lead to Highway 5 to Sitiawan and Lumut, where the jetty for Pangkor is located.
From Penang, drive to the Changkat Jering highway exit after Taiping (a worthy place in itself, with great Taiping food, the lush Taiping Lake Gardens, and the Bukit Larut Hill Station), and proceed south to Terong and along the coast via road A101 and 60 passing Pantai Remis to Lumut.
Lumut marina's multistory car park is right next to the pier where a half-hourly ferry departs to Pangkor Town (40 minutes; RM14 round-trip). You can park your car here at a multi-level car park and pay by the hour.
If you are coming to Lumut by bus, the station is within walking distance of the Pangkor jetty. Here's a map of Sri Pathira Kaliamman temple's location:
---
Best Places to Stay on Pangkor Island
If you come to Pangkor to visit the Kali Amman Temple during the festival, it's necessary to book as the island packs up with domestic tourists. We have already published a guide to the 20 best hotels in Pangkor Island. The following is a quick selection of good places to stay in different price ranges, from Airbnb homestay to the poshest hotels on Pangkor.
Best Budget and Mid-range Pangkor Hotels
1- Nipah Guesthouse is a perfect choice, clean and super friendly, with charming A-frame mini-villas set around a long and thin swimming pool. Check prices on Booking.com | Agoda.
2 – Joe Fisherman Inn is another flashpacker option offering two storeys of comfortable rooms tucked around an inner courtyard equipped with a long swimming pool. Check prices on Booking.com | Agoda.
3 – If you can ride a motorbike, Pangkor Fish House is a nice yet simple place with rooms inside an overwater stilt house and plenty of character to get to know the real-life of Pangkor's fishing villages. Check prices on Booking.com | Agoda.
Not enough choice? Check more Pangkor hotels here.
High-End Pangkor Hotels
Tiger Rock is Pangkor's charming and trusted boutique accommodation. The former secluded home of Penang-based visual artist Rebecca Duckett-Wilkinson and her family, Tiger Rock packs a cluster of charming eco-chalets on a former rubber estate enveloped by lush rainforest. Check their official website.
Set in the midst of Pasir Bogak's bay on the tiny islet of Pangkor Laut, the secluded Pangkor Laut Resort has a private beach and a series of thatched villas, and it's Pangkor's most luxe accommodation. Check prices on Booking.com | Agoda.
---
And if you liked this, why don't you sign up for our mailing list? We will send you immediately a FREE photographic eBook with some incredible pictures of Penang, and we promise, we will disturb you only about once a month with some good local advice you won't find on the site.
---