In this article, we will tackle a very important topic that few other sites have unpacked properly: where is the best place to stay in Penang? What areas of Penang are best for a holiday, find a short or long-term living solution, or just having fun on one of Penang best beaches? After reading this article, you'll have a much better idea of where to stay in Penang and the pros and cons of living in each Penang neighbourhood.
Where to Stay in Penang?
At 1048 square kilometres, Penang is not huge, but you'd be surprised to realize how fragmented it can be. As a result of its quick, deregulated development, the whole island is crisscrossed by highways that split its geography into smaller chunks, and it's wise to know and pick the best neighbourhood in Penang.
Because of the terrible rush hour traffic, the distances and poor road planning, knowing where to stay in Penang is crucial to enjoying your time on the island. For suggestions on what to do, we already have guides to what to do in Penang in 3 days, some of Penang best festivals, the best things to do in Penang, and the best of 48 hours in George Town.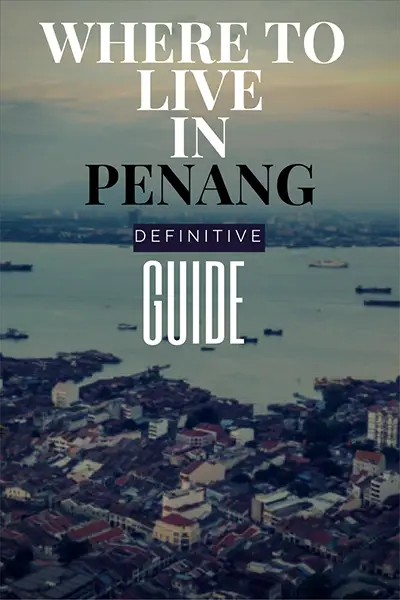 Since we want you to avoid mistakes, the following is a neighbourhood-to-neighbourhood low-down of Penang. It evidences living pros and cons, to help you have a better grasp of where to start your search for the best place to stay or live on the island.
The Best Places to Stay in Penang
---
George Town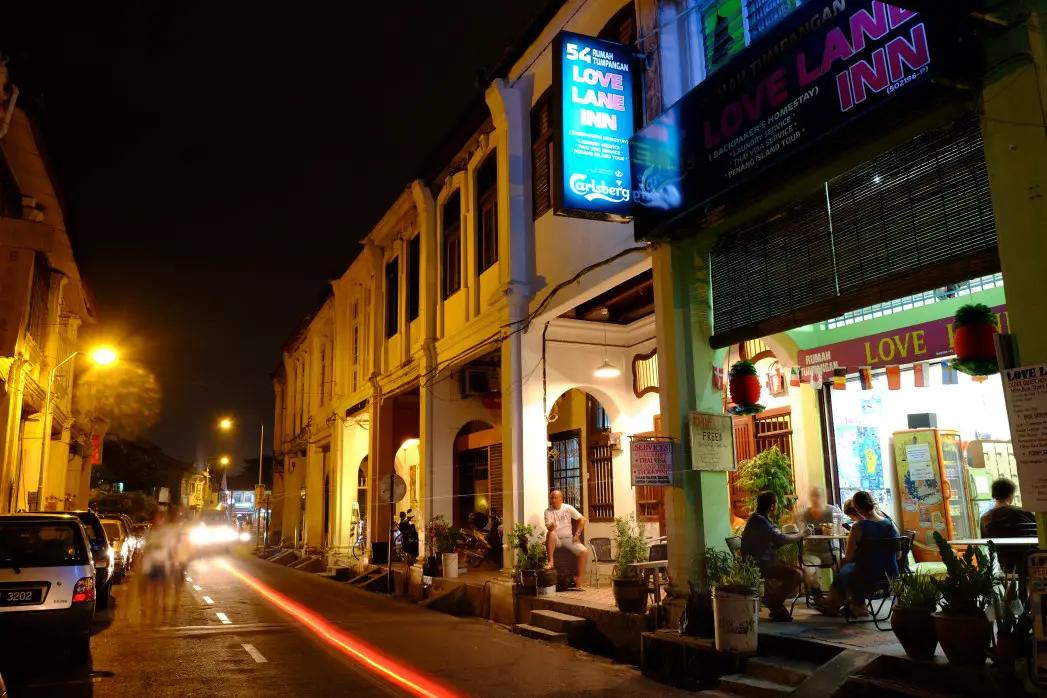 This is where most tourists and residents start and end their Penang explorations. Located in the northeastern corner of Penang, it's where all the action is. Bars, nightlife, festivals and events all happen here. George town is also where you'll find most of Penang famous street art. There's also an urban theme park with observation deck on top of Komtar, George Town's tallest building. And it's also where you can find a lot of iconic Penang food. There would be scope in dividing George Town into further sub-zones — and I will do that in another post — but for the moment, think that this is where everybody wants to be. Read here if you want to make the best of 2 Days in and around George Town.
Pros: more central than central, happening, close to the Butterworth ferry that connects to the bus and train station on the mainland, very walkable
Cons: expensive rent, noisy, chocked full of tourists, a traffic gridlock at festival times
Gurney Drive
Until the early 1980s, this area used to be a fantastic stretch of tropical beach in walking distance to the city. Today it's just another concrete eyesore where there's more real estate than sand. Famous among tourists for a now very expensive food court and some of Penang's most famous malls, Gurney drive today is being transformed into a futuristic sea park in Singapore's footsteps. To me, that's not good news, but the area still maintains a good vibe for those who want to have a full array of modern comforts within walking distance.
Pros: close to George Town, good public transport connections, close to Botanic Gardens and international schools
Cons: 9 am to 12 am pay per parking along the main road, very packed and trafficked on weekends and holidays, food is more expensive than elsewhere, aggressive drivers who just want to speed out of traffic — but clearly can't, and make horrible gridlocks.
Pulau Tikus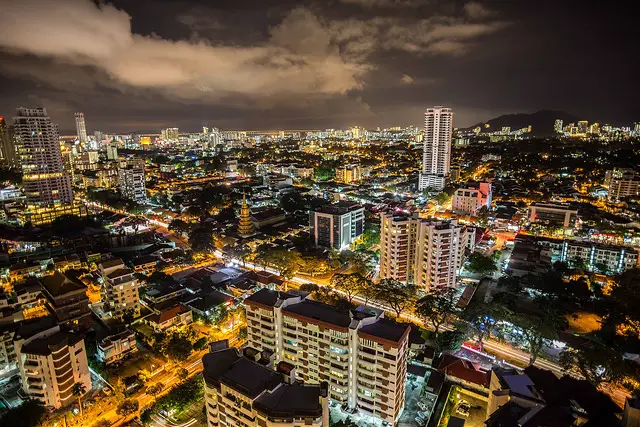 With a name meaning 'Island of Rats", I can't imagine how this place looked like in the past. Today, it's a bustling suburban neighborhood with a good selection of eateries, an old center, and a very characteristic market. It's a good option as it sits at the edge of George Town and on the way to Gurney Drive and Tanjung Bungah. A mini-city in itself, it has Penang Adventist Hospital, banks, and gets tourists who come here to visit the Thai and Burmese temples.
Pros: close to George Town, good public transport connections, close to Botanic Gardens and has a private hospital
Cons: traffic can get worse as the roads are tiny, driving around is hard because of too many one-way streets
Tanjung Tokong & Tanjung Bungah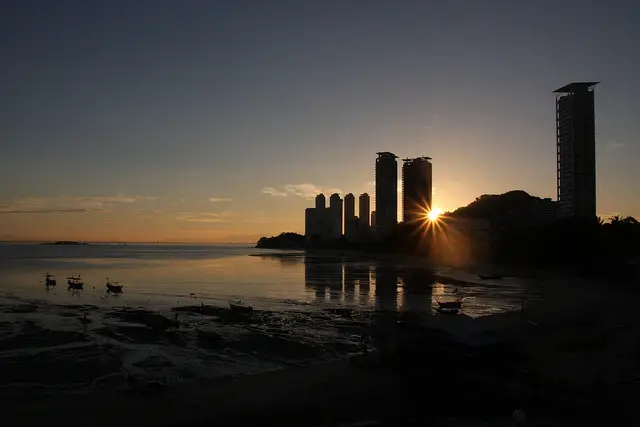 Nestled on the northern coast along a stretch of beach that once was probably beautiful, Tanjung Tokong and Tanjung Bungah are essentially a highway flanked by super-high-rise condos on one side, and townhouses on the other. The condos have amazing sunrise views over the sea that give a real sense of living on a tropical island. A bit inland, the area is nicer, skirted by low hills and filled with attractive villas organized in quiet neighborhoods. Tanjung Tokong's expatriate enclave Straits Quay sits next to a marina and a Tesco, and has some of the most expensive accommodation in the area, not counting the most Western-like facilities.
Pros: not too far from George Town, filled with Brit/Aussie expats if that's your fancy, has a lot of Western-like facilities and hi-end restaurants
Cons: generally expensive, cut by a highway and thus not very safe for families with children/teenagers, hard to reach without own transport, huge traffic at peak times
Batu Ferringhi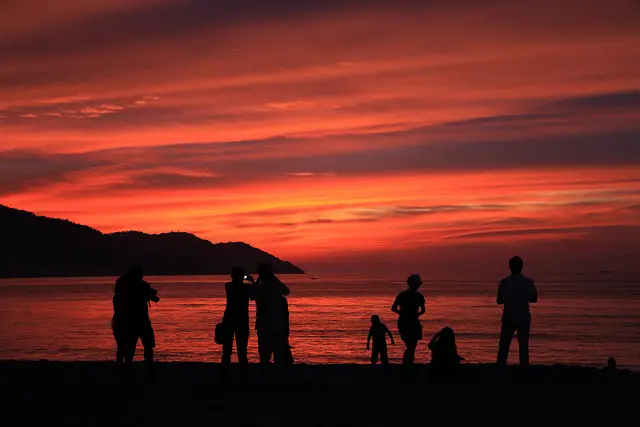 An idyllic cove of dope-smoking hippies in the 1970s, Batu Ferringhi became a victim of its own hype. It transformed into a family-oriented high-end beach resort that sees little action besides restaurant hopping, an interesting night market filled with tourist trinkets, and a Hard Rock Cafe. It's often chosen by long-term expatriates for the proximity of international schools such as Uplands and the laid-back-by-the-sea atmosphere. Indeed, the forested backdrop is quite a sight in itself, if you can cope with the Russian, Arab and Chinese package tourists.
Pros: Picturesque location next to touristy but decent beaches, close to Penang National Park, close to international schools, quiet, a good selection of different types of accommodation and international cuisines
Cons: VERY FAR from George Town, trafficked at weekends, too many hotels spoil the beach views, it can get filled by holidaymakers at any given time of the week
Sungai Dua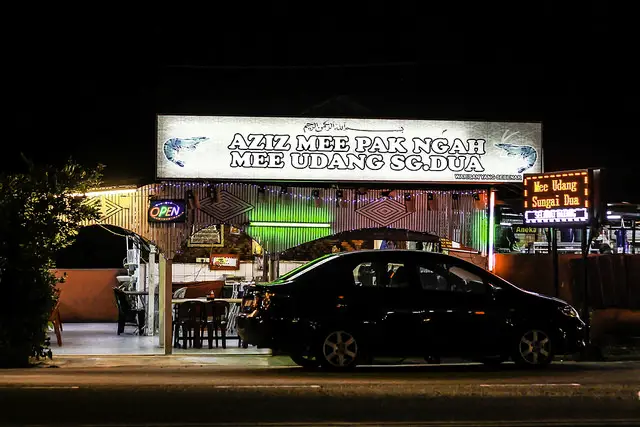 Midway along Penang's east coast, Sungai Dua lives and dies around Universiti Sains Malaysia — and it's really not a bad place to be. It's pretty close to George Town, connected by a four lanes highway, and given the presence of students, it has some of the best accommodation prices — and cheap rooms for rent in shared apartments. Food is plentiful and cheap, there's a weekend pasar malam worth checking out, and an always interchanging population of students. They occupy evergreen condos with good facilities such as E-Park, N-Park, and Sunnyville. Worth checking out for a good location that won't break the bank.
Pros: full-fledged facilities at a quarter of the prices of other neighbourhoods, young international population, plenty of food options for all budgets, a higher concentration of international cuisines — especially Middle-Eastern, given the huge Iranian and Syrian population here
Cons: several mosques with high-pitched muezzins may wake you up at night, quick turnover of residents, alleged higher robbery rate because of the presence of international students that are believed as wealthier
Gelugor and Green Lane
Midway between Sungai Dua and George Town, these two suburbs are nothing more than a cluster of townhouses and apartment blocks. Gelugor has a strong Indian community and is perceived by some as a treacherous place — very wrong idea for such a friendly neighborhood. Green Lane is a bit more middle class and has not much more than rows and rows of identical townhouses laid in a grid of quiet lanes. There are some good food courts here, but not as many as you'd find in other parts of Penang. What's also lacking here are foreigners: this can be a blessing or a curse, depending on what you are looking for. It's worth saying that rental prices are among the most affordable island-wide, but you better have your own transport.
Pros: low priced quality accommodation, immersion in local culture, real Malaysian suburban experience
Cons: need your own transport, not as many food options as elsewhere
Jelutong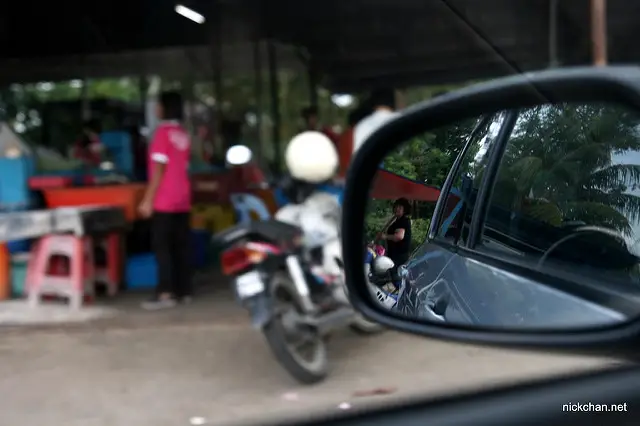 A sprawl of new buildings and old, decaying traditional Malay and Chinese wooden homes, Jelutong is a phantom even among Penang residents. Go figure its standing to tourists and outsiders…a totally forlorn zone that still takes up the best part of Northern Penang. Here, you won't feel George Town's gentrified poshness, nor the proximity of a Unesco Heritage site. There are so many houses and condos available here that finding accommodation won't be an issue — but can you cope with a fistful of Malaysianness straight in your face?
Pros: real immersion in the local culture, plenty of food, markets, facilities and even a few franchise chains like Starbucks
Cons: (again) real immersion in the local culture, convoluted street planning, lower prices that also mean overpopulation
Farlim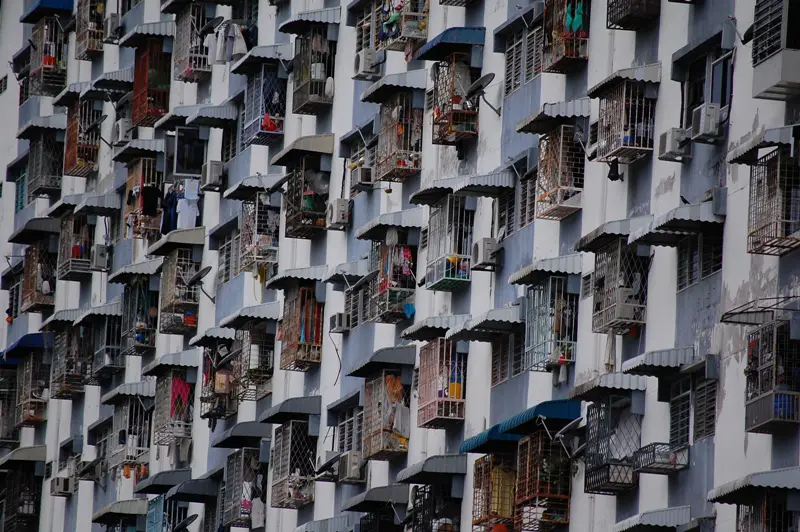 The north-central neighborhood that skirts Air Hitam, Farlim, is packed with condos, apartment blocks and way too many parked cars. Like a mini satellite city, it has everything, but it doesn't shine for organization and urban planning. The positive side is that with so much accommodation on offer, you will find real bargains. Also, its location in the shadow of the big Kuan Yin statue of nearby Kek Lok Si Temple is somehow attractive. You'll need transport to get around, but avoid rush hour like the plague.
Pros: cheap rental options, many facilities including supermarkets, pharmacies and car-repair shops as per a satellite town
Cons: A LOT of parked cars, deadly traffic, a lot of humanity
Air Hitam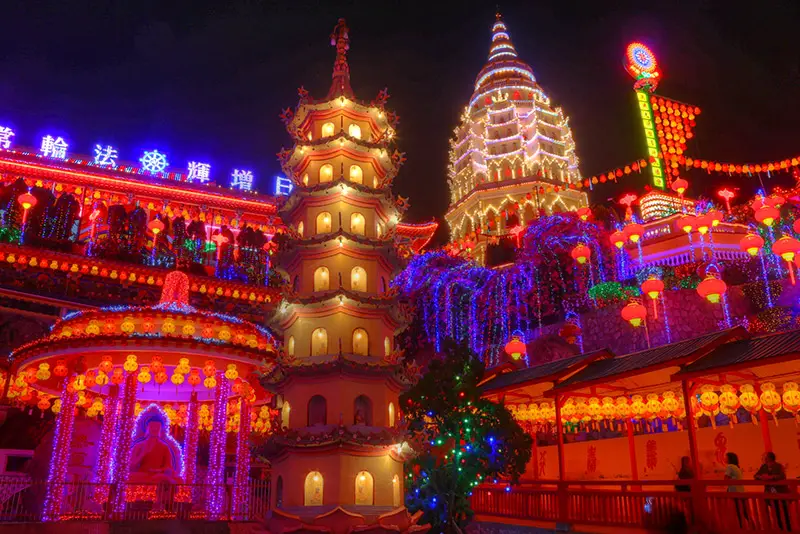 Stuck between Penang Hill and Kek Lok Si Temple (read our complete guide to visiting Malaysia's biggest Buddhist temple), Air Hitam is a nice neighborhood with orderly rows of 1970s and newer townhouses. It's also one of the few areas on Penang that didn't suffer from excessive over development. Air Hitam's morning markets are great, with some of the best laksa available island-wide. The area's downside is the main road, that was built when nobody knew Penang would have become such a success story. The consequential huge traffic problem is a test on anybody's nerves, and getting from here to and from George Town can be a time-consuming affair.
Pros: pretty neighborhood with more spacious accommodation, close to Penang Hill, Kek Lok Si Temple and nature, good food
Cons: gridlocked traffic at rush hour, less housing means higher rental costs, it gets packed during Chinese New Year because of devotees going to nearby Kek Lok Si Temple
Paya Terubong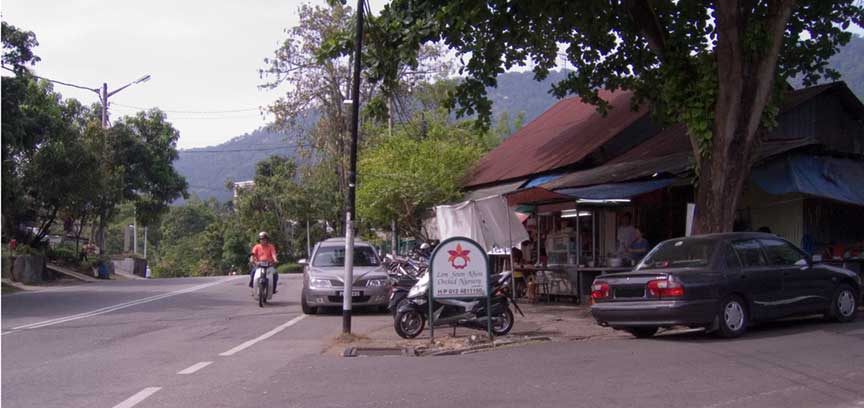 Following the road from Air Hitam to the south of the island, this is one of the cheapest places to stay, and as such, has attracted a lot of immigrant workers — don't be stereotypically racist, it's not necessarily a bad thing. You can rent an apartment for less than RM500 (about US$ 110) per month here, but you'll have to have your own transport as it's far from everything "hip" or convenient. Finding a parking will be a problem, but again, living costs here are rock bottom — and the hillside views, paired with less development, make it an attractive option to some.
Pros: cheap housing, cheap food, cheap thrills
Cons: alleged higher crime rates as it's famed for being an immigrant workers area, hard to park, need your own transport
Queensbay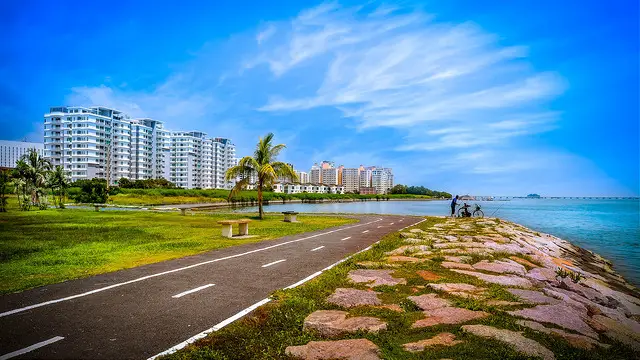 Queensbay is similar to Gurney Drive: upmarket condo accommodation developed along a stretch of coast, with one of the island's biggest shopping malls, and tons of facilities. I prefer it because it has better sea views, green Jerejak Island looming right off the bay, condos with more spacious facilities, and very nice outdoor swimming pools. It can get crowded on weekends, of course, but there is more parking and it looks a bit less cramped and development-obsessed than its northern sibling.
Pros: good facilities, great views, more space, a very social shopping mall nearby
Cons: gets crowded on weekends, has lesser mid-range options, need transport to get around comfortably
Bayan Baru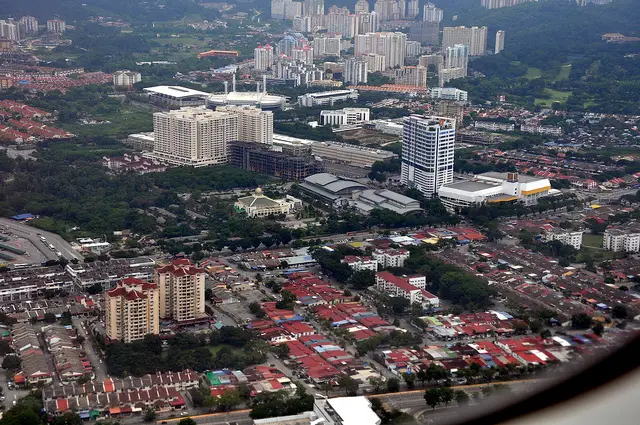 This southeastern stretch of the island includes the suburbs of Relau, Sungai Ara and the area adjacent to the Bukit Jambul shopping mall complex. Not bad transport-wise as it's stuck between Penang airport and the two Penang bridges, on the other hand Bayan Baru lacks character and looks like a sprawl of suburban homes. It's also another haven for immigrant workers who move here for the cheap high-rises in proximity to Penang's Industrial Zone. All in all, Bayan Baru doesn't get high marks for beauty, but it's a cheap and convenient southern option.
Pros: close to the airport and the two Penang Bridges
Cons: Not very attractive, lacks a real center beside the shopping mall
Bayan Lepas and Batu Maung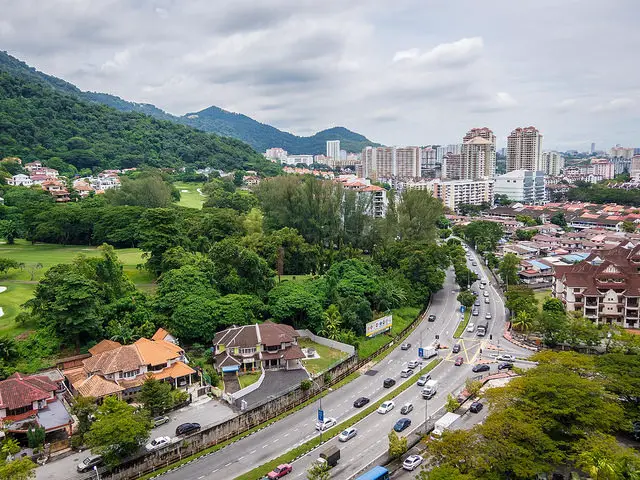 The south-easternmost reaches of the island used to be green, sparsely populated land, but have picked up with development as of late because of the proximity of the second Penang Bridge. If you want quiet, you may consider coming here, but remember that it's pretty much far from most of the action. Another downside is its proximity to Penang's industrial area — you'll find A LOT of traffic at rush hour. It's a stone's throw from the airport, though.
Pros: very close to the airport and the second Penang Bridge, quiet suburban neighborhood, close to some secluded beaches
Cons: spoiled by Penang's industrial area and airport's traffic, suffered recent over-development
Balik Pulau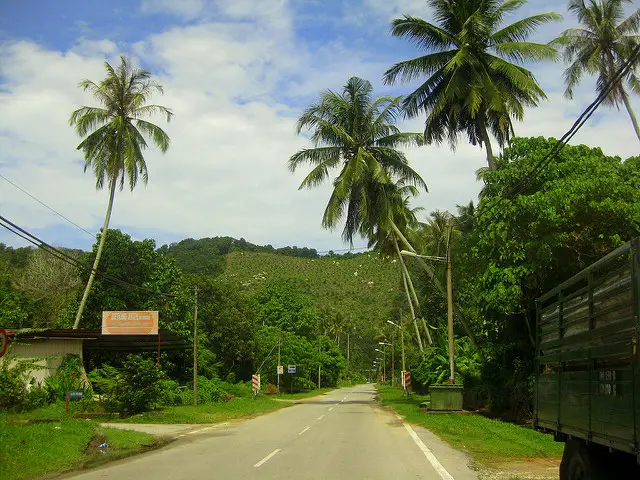 Protected by Penang Hill to the North, the 'Back of the Island' is a gracious mini-town surrounded by Durian farms, palm trees, and Penang's last greenery. Of course, the tentacles of DAP-sponsored Singaporeisation have reached this far, but it's still possible to find a quiet spot. Housing in Balik Pulau is of the terraced house/townhouse variety among attractive patches of green, but to be honest, it's far from anything else.
Pros: great place to live among nature, close to Penang's best beaches, real tropical island feel
Cons: far away from anything of relevance, 20-odd kilometers from George Town
Butterworth and Perai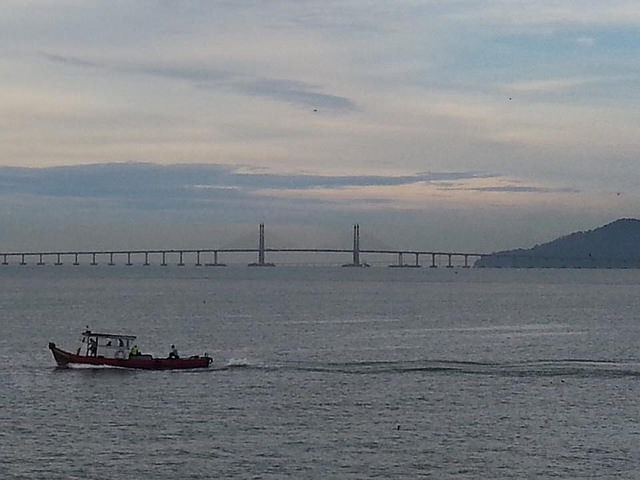 Very few consider the mainland as an accommodation option because it's on the opposite side of the bridge, but Butterworth is picking up. These days the Raja Uda area is full of clubs and hip cafes and is growing as a consequence of the island's limited space. Bukit Mertajam is another good option, with an interesting heritage city center filled with mouthwatering food, and pleasant neighbourhoods that are improving their facilities year after year. Here, life is definitely off the tourist radar — but it's also true that you can rent a double-story house for the price of a master room on the island. It could be ideal for those expatriates working in the mainland's factories, even though some find the place very dull after working hours. I believe it's a matter of finding the good spots, like Juru's Auto City, and travel to the island on weekends.
Pros: bigger housing at cheaper prices, more space for parking and living, less hectic than the island
Cons: it can be dull as there's no real tourist infrastructure, necessary to commute to the island for pleasure
This roadmap should be essential to all those looking for a suitable place on the island. And with such different wealth of choices, it's granted that anyone will find what she's looking for.
Do you live in Penang? What are your preferred neighbourhoods? We'd like to know your opinion, so please comment below 🙂
---
And if you liked this, why don't you sign up for our mailing list? We will send you immediately a FREE photographic eBook with some incredible pictures of Penang, and we promise, we will disturb you only about once a month with some good local advice you won't find on the site