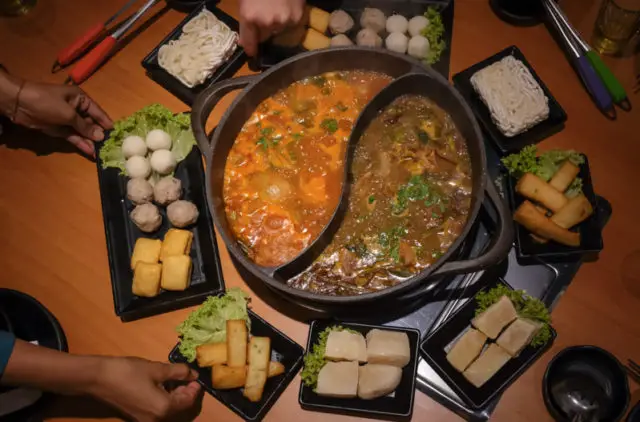 Steamboat in Penang is yet another variant of its mouthwatering choice of food that includes, among others, delicious Penang curry mee and a large number of excellent Western food oulets. Steamboat, or hotpot, is a Chinese dish prepared by boiling aromatic broth into clay or earthen pot. Once the soup boils, groups of friends or families throw in all sorts of vegetables, meats, and tofu into the mixture. Steamboat is best consumed in a group, dunking foods and waiting for them to cook as you spend your time conversing and having fun with your loved ones. For this reason, Penang steamboat buffet is a popular way to spend a night out in Penang (for more things to do, check our 2 days and 3 days Penang itineraries).
But what if we told you that maybe the best steamboat in Penang is actually NOT a Penang-inspired hot pot? Sacrilegious!!
The Best Steamboat in Penang?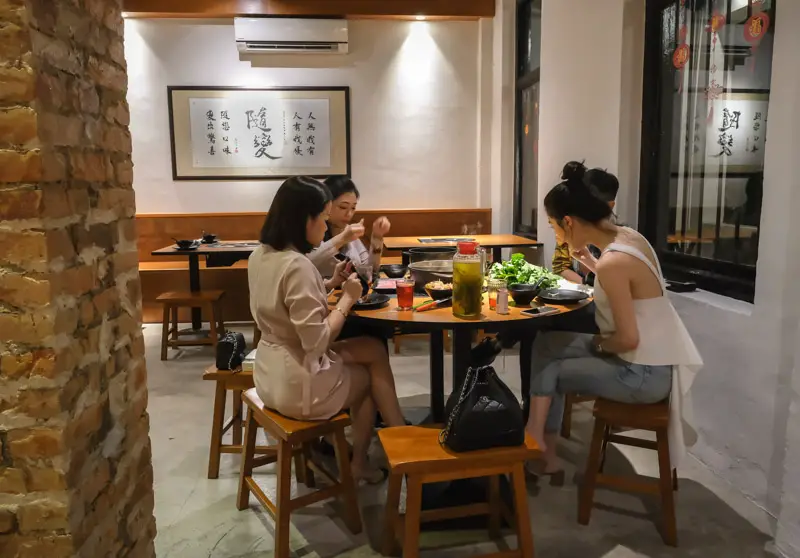 Come the end of 2018 and a new restaurant, As You Like Chicken Pot opened in Jalan Chow Thye. Run by a local family who moved back to Penang from Hong Kong a few years back, As You Like Hong Kong Chicken Pot (AYLHKCP) does something that few other restaurateurs tried to do in Penang: bring in some "foreign influences" (Hong Kong-style hotpot) to the conservative food scene of this notoriously self-righteous island.
READ MORE – 8 Things Tourists Say that Annoy Penangites to Death
Why do we think that experimenting with food is so special in Penang? Because we know well how hard it is to please the Penang Chinese — a people who carry their own traditions literally on their sleeves. It's hard to introduce something new in Penang, but AYLHKCP try, and we believe, really succeed in what they do. Here's why you should consider booking your next Penang steamboat dinner at AYLHKCP.
Penang steamboat with a twist
First of all, AYLHKCP wins a few points for location because it's frankly hard to find. Set along the offbeat area of commercial shophouses along Jalan Chow Thye, it takes a bit of navigating Penang's back lanes to get here. For the better: the restaurant is housed in a swanky shophouse, well-lit and welcoming, which makes a good first impression. It's definitely cosy enough to bring family or a date, and yet, not too over-pretentious.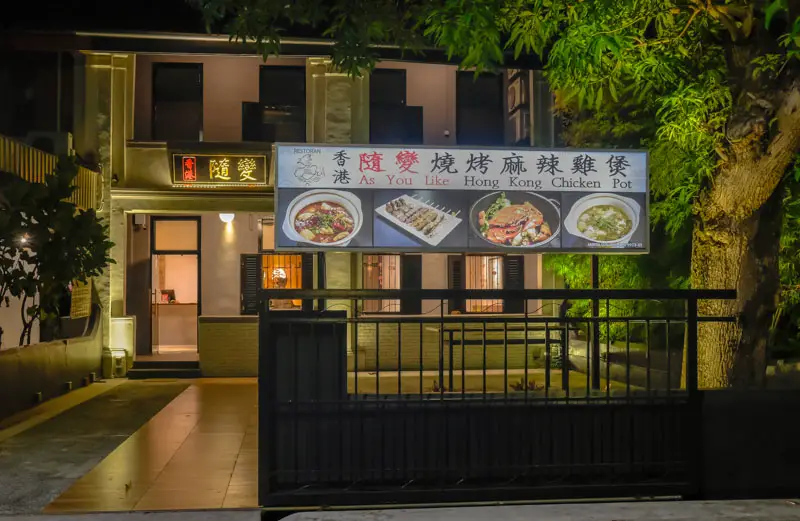 We arrived with a group of 5 friends and were seated into the back room beyond the main sala. With a door frame that reminds of old Chinese wooden carvings and warm bright light overtones, it's a perfect spot to host your reunion of family and friends. The table has a gas stove installed at its centre, upon which the staff will set your hotpot to boil.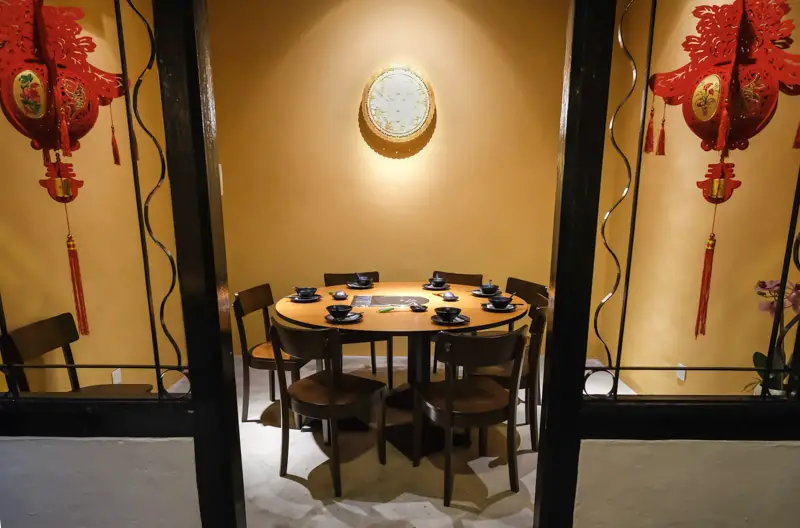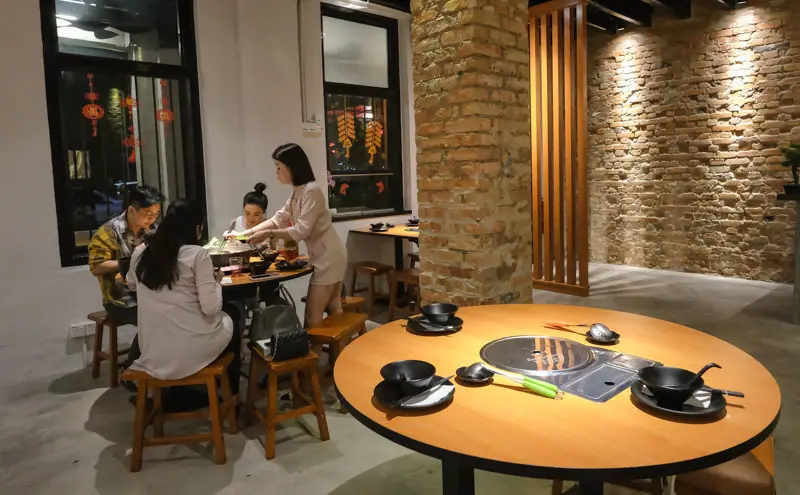 As the name implies, the beauty of AYLHKCP is the fully customizable menu: the "signature chicken pot" is essentially sliced pieces of half chicken cooked into a soup of your choice. As this hotpot is heavily inspired from those consumed in China, we are talking spicy here: AYLHKCP imports and uses Sichuanese peppers, you have been advised — choose the gradient of spiciness (yes you can) on the mild to the small side if you want to avoid burning your tongue. Don't worry though, because the house signature drinks, including watrecress juice with lemon and honey, is very refreshing.
We opted for a medium spiciness. Although I found it perfectly comfortable and flavoursome (I am an adept of spicy food), most of my friends, who have tamer taste-buds, preferred the spicy soup only after it was diluted with several scoops of additional soup broth.
As a base, you can choose between Sichuan spicy chicken pot, the very flavorful tomato chicken pot, and even a sour pig stomach chicken pot. All of these cost RM68 (RM58 for the authentic chicken pot) and can easily feed four people.
Fully customizable Penang steamboat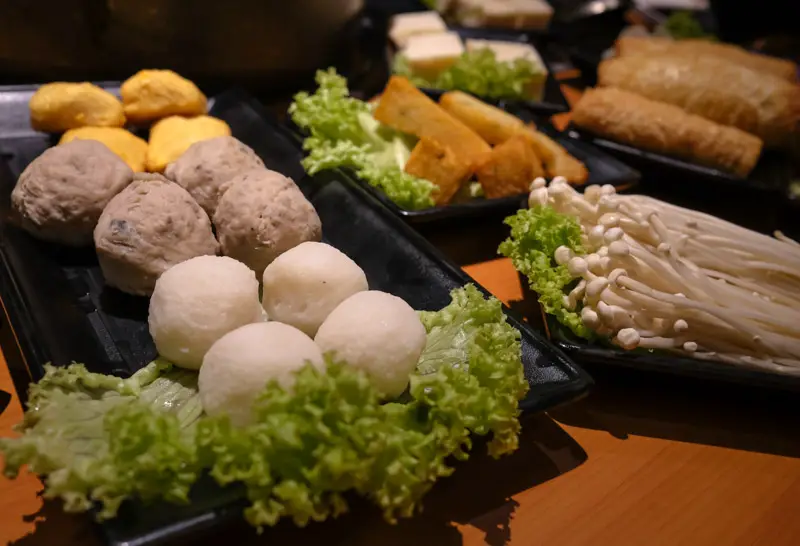 Yes, AYLHKCP provides different soups, each with its own taste. So what if you have a big group, and want to try more than one soup?
As we did, you can opt for the Special 2 in 1 Chicken Pot which allows you to choose between two different soups, served into the same whole casserole. We had tomato and spicy soups: the chicken immersed into each of the two halves had its own delicate flavour and texture. The meat was fresh and tender, literally peeling off the bone without breaking off, and perfect to suck and melt into your mouth.
The best part, however, is the range of side dishes you can add to this basic chicken hotpot setup. You should start eating the chicken first, and when you are halfway done, throw the extra ingredients in to simmer.
The selection of fresh handmade dumplings and balls at AYLHKCP is superb: I particularly recommend the cheesy fish tofu (RM8), so zesty and soft it just melts in your mouth.
Speaking of tofu, consider that AYLHKCP takes so much care when it comes to the quality of its ingredients, that your tofu cubes are served frozen. Why? To make sure that they have the time and space to absorb the soup properly, and thus maintain the most ideal, sturdy texture. The attention to detail is also highlighted in the choice of beef and pork cuts: local meat from farms in Simpang Ampat is used alongside more expensive (RM88) original Wagyu Beef from Japan.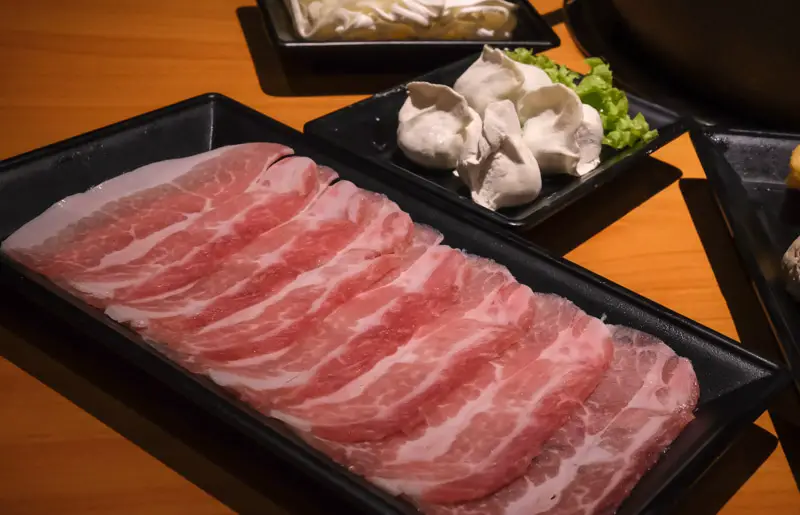 Speaking of Japan, some of the noodles used here are also imported from the Land of the Rising Sun. The "Inaniwa noodle" are more resistant to high temperatures and don't get too soft and soggy when immersed into the hotpot for too long.
Dry Pot Steamboat in Penang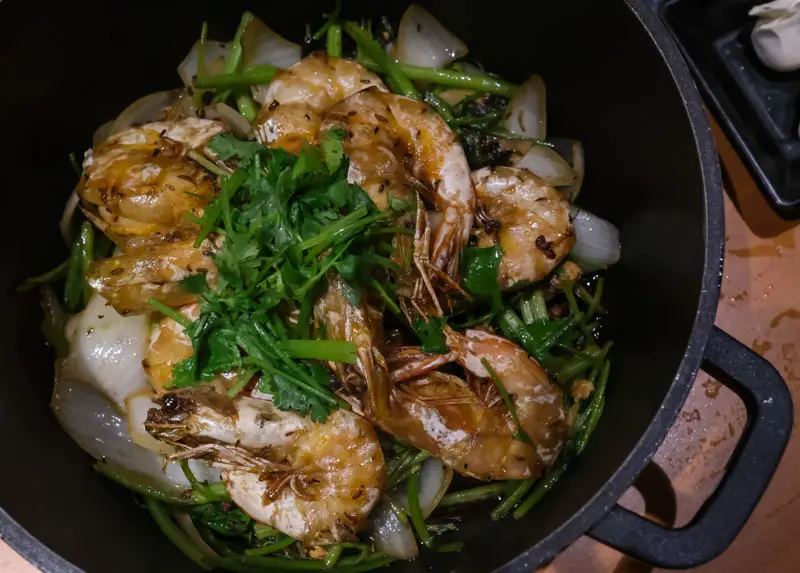 For a bit more of steamboat anti-conformism, AYLHKCP introduced the concept of "dry pot" to Penang. In brief, it's simply food served in a hotpot without any soup. You can eat it cooked as is, or you can ask the staff to tip up the pot with your soup of choice.
AYLHKCP's dry pot speciality is fish: we tried a dry pot with large white prawns (RM78 for 8 pieces) which were frankly very well barbecued and juicy. We didn't even consider adding extra soup, as we already had a double chicken pot, and just enjoyed the prawns as they were served — deliciously marinated and crispy.
Recommended Choices to enhance your Penang's Hong Kong-style steamboat
You should start with Hong Kong Fried Fish Skin (from RM6), a crunchy and delicious starter that is good eaten by itself or dunk into the boiling broth.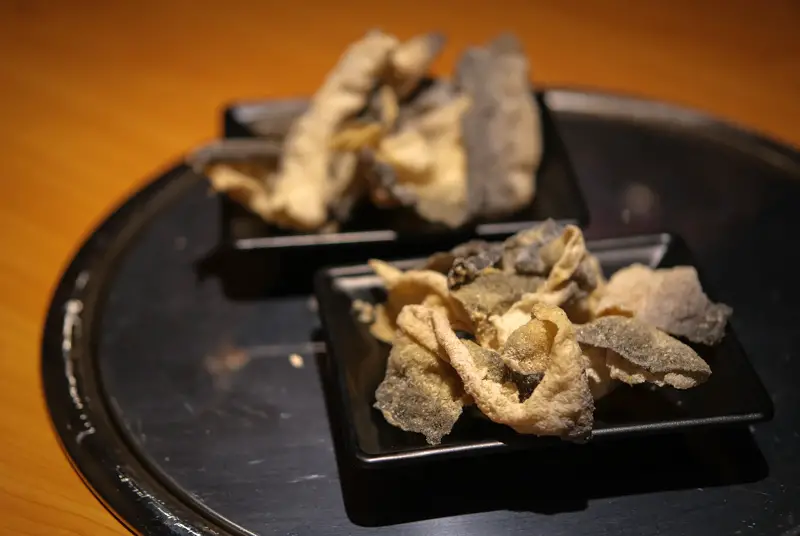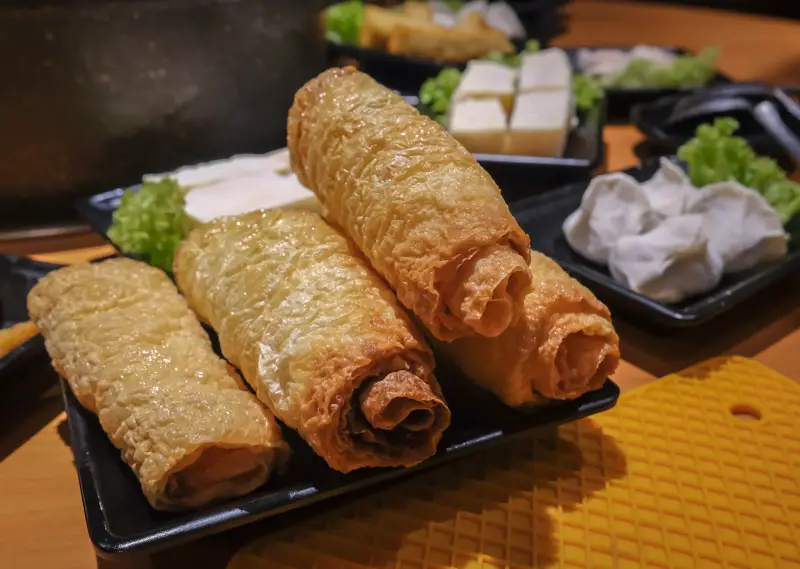 A real speciality and extremely delicious here is the Homemade Bean Curd Roll (from RM10) shaped as a spring roll. You will be instructed to dunk it into the broth for only about 3 seconds, so that it will maintain its crunchy and spongy features, soaking in the soup, rather than melt into it. Pay attention to this simple detail because if you do, you are in for a real treat.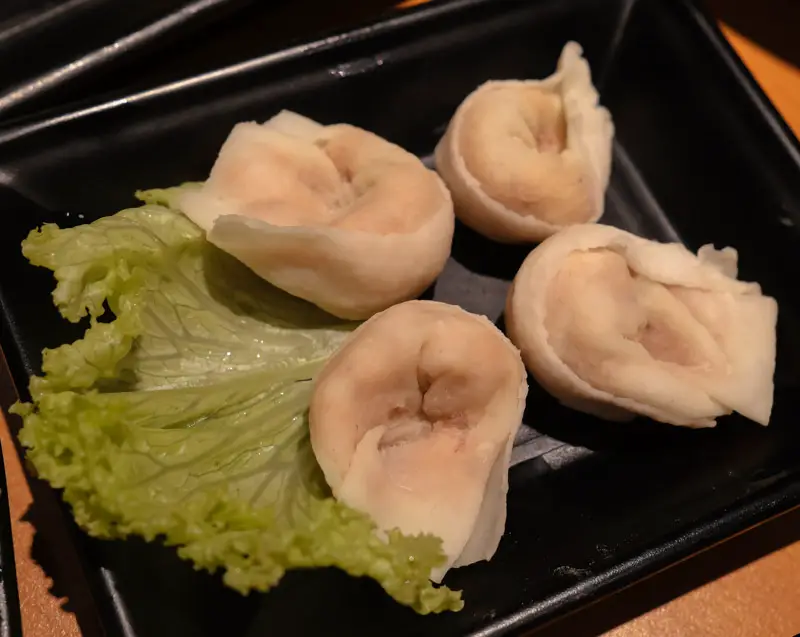 The handmade dumplings are also very good, especially the watercress dumpling (RM10), and pair well with the fried fish cakes (RM10).
The Verdict: is this the best Steamboat in Penang?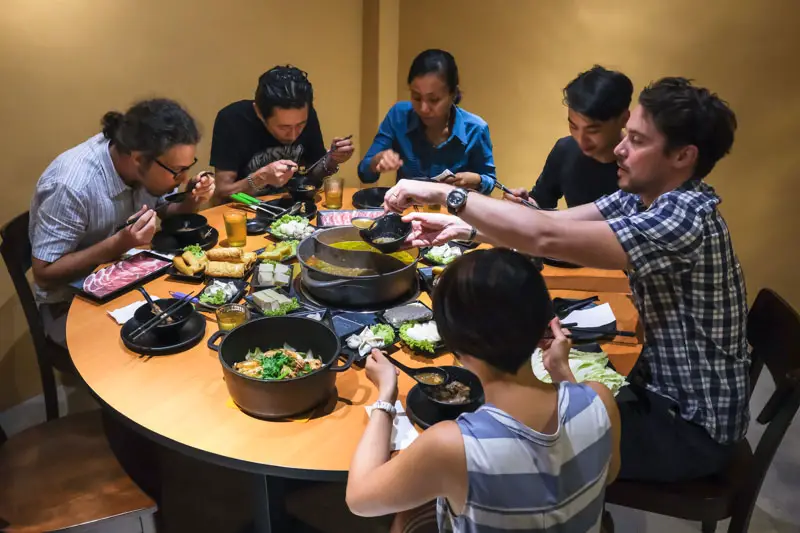 Well if it's not, we think it goes darn close to it. Usually, when I have hotpot I end up feeling kind of sick afterwards — that's due to the poor quality of the soup, and most often, the food, like fish cakes and meatballs, which is often processed and spiked with Ajinomoto. At AYLHKCP, however, we understood that the rule of business is to provide a fresh, healthy and tasty steamboat experience. Sourcing all ingredients from trusted providers and abroad, selecting the ideal temperature and suggesting customers on the best ways to cook their choices, the staff at AYLHKCP takes away the guesswork from customers, focusing on a quality-driven hotpot experience that tends to turn patrons into fans. And especially, after eating here you won't feel drowsy or stuffed, for the food here is of very high quality, and at a modest price tag when shared among a group of friends.
The bottom line: go and try. We are sure you'll agree that if this is not the best steamboat in Penang, it gets very well close to earning the title.
---
Disclaimer: We care to precise that As You Like it Chicken Pot invited Penang Insider to sit for a meal. All the opinions expressed in this article, however, are solely our own and are an honest review of our dining experience. In other words, if a place sucks, we'd never recommend it to our readers. Believe it or not, we are always honest in our judgment, and a free meal doesn't mean we will give positive coverage. If you don't believe our opinion, please go and try for yourself.
---
And if you liked this, why don't you sign up for our mailing list? We will send you immediately a FREE photographic eBook with some incredible pictures of Penang, and we promise, we will disturb you only about once a month with some good local advice you won't find on the site