Penang is popularly known as an island paradise of food and culture. Tourists and out-of-towners flock to the island with beach bodies and a goal to leave with an added layer of love handles. But trust me: as much as Penangites are proud that Penang has turned out to be a popular holiday destination, we are left to deal with two major pet peeves during holiday season – traffic congestion and annoying tourists. And the latter, in particular, can make a lot of noise. Including saying a lot of darned things.
Can you think of a few already? We have collected the 8 things tourists say that annoy Penangites the most. Read on.
1
"Where is the best Char Kuey Teow?"
That's all most people ever ask us about – food. Well, there is Google and not to mention 1001 websites and blogs to refer to, such as Top 19 Street Food You Must Try in Penang, 10 Best Cheap Eats in Penang, 4 George Town Durian Restaurants to Try, and many more. Besides, taste is so subjective. More often than not, my preference may not be the same as yours. Yet, most Penangites would be more than happy to bring you to their lesser known favourite spots. Just be aware that it makes our blood boil when you respond by saying, "Nice meh? Should have gone to the other famous one!"
2
"Penangites are so cheapskate!"
For some reason, Penangites have a bad reputation for being stingy. Maybe it all comes from the fact that there is no other Malaysian city where one can find a bowl of steaming hot noodles for less than RM3. Thus, visitors often have the misconception that the cost of living in Penang is low when it's indeed quite the contrary that's true: Penang has one of the highest housing prices in the country. Let's just say then, that Penangites have "their priorities clenched in their fists".
3
"Take me to Nasi Kandar Beratur…"
…and then go on to complain about the long queue. Penang Road Cendol, Siam Road Char Kuey Teow and Deen Maju Nasi Kandar are among the victims to hordes of hungry out-of-towners. Even the poor Char Kuey Teow uncle from Siam Road had to take a break from operating due to the sudden popularity stirred from being ranked in the World Street Food Top 50 list. Being celebrated like a rockstar doesn't fit well with the laid-back nature of Penangites. If we could, we would keep the best places a secret; away easily hyped tourists.
4
 "Penang drivers are so aggressive!"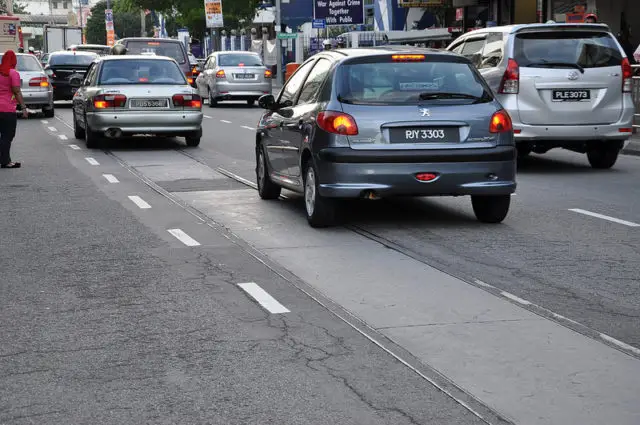 Actually this is a sad truth and in fact, most Penangites would sheepishly admit it, "If you don't bully them, they will bully you!". Often times, tempers flare when out-of-towners flood the streets with double parked cars on weekends, causing further congestion on this tiny island.
So… well, visitors are just not encouraged to drive around the island. Penang, and especially George Town, is best explored on foot, by cycling or by Rapid Penang — the cheap public bus transport. Not to mention, Penang has one of the cheapest Uber and Grab rates in the country. With all the above, it's a no brainer to leave it to the Penangites to battle their own wars behind the wheel.
5
"Penang is too laid-back. I don't think I can live here."
This is actually a backhanded compliment.
People are drawn to Penang for its relaxed culture and work-life balance. Penangites have a knack for knowing when to work hard and when to play hard. Businesses wind down as early as 6 pm and it may be difficult to get errands done after this hour. At 8 pm, rush hour traffic dwindles as bars and bistros come to life. A recent survey carried out by TheEdgeProperty discovered that Penangites are the happiest people in the country, with the lowest stress levels.
"Penang has turned out to be a popular holiday destination, BUT we are left to deal with two major pet peeves: traffic congestion and tourists WHO SAY annoying THINGS"
6
"Which is the best club to party at?"
There is more to Penang than holing yourself up in a large dark room with deafening music and sweaty strangers. If you need your alcohol fix, there are many watering holes where you can have a couple of cheap swigs and meaningful conversations with locals and travellers alike. Check out Antarabangsa Enterprise, Narrow Marrow, Talk Talk Wine Bar, or Mish Mash (not the cheapest, but they have the best Guinness on tap!) just to name a few.
Need a dance floor? Head down to Love Lane and dance on the streets. Take the party out of the dark room!
7
 "Where can I find the bicycle mural?"
*Throws the Street Art Map at you*
8
"OMG! Penang is so hot!"
Duh. It's a bloody island!
Fellow Penangites, are there any other annoying things you have heard from out of towners that really piss you off?
Let us know in the comments, thanks!
---
And if you liked this, why don't you sign up for our mailing list? We will send you immediately a FREE photographic eBook with some incredible pictures of Penang, and we promise, we will disturb you only about once a month with some good local advice you won't find on the site