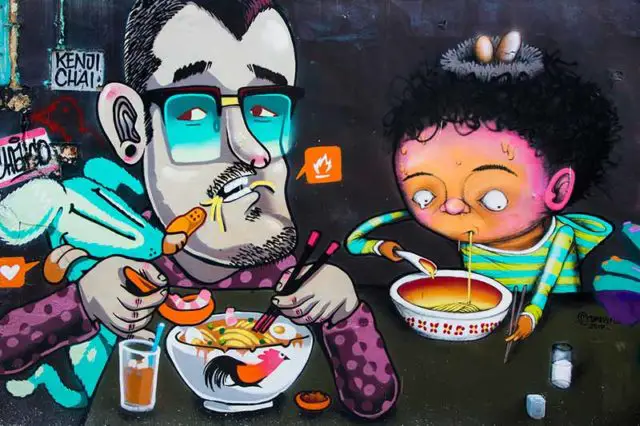 There are many exciting things to do in Penang, but what about eating in Penang? Praised as one of the best places to eat in Asia, Penang food is rich and varied thanks to the multi-ethnic history of Penang island. With Malay, Indian and Chinese settlers, the island offers the best of three world cuisines (plus a lot more Western Food choices, cafe food, and delicious Penang breakfast) and has an incredible variety of dishes. Food hunting in Penang is a fun and endless discovery of new tastes — and you can try even more driving an hour south to foodie heaven Taiping.
Besides winning accolades for Penang Street Art, in 2014 Lonely Planet even declared Penang as the Best Foodie Destination of the year, thus sanctioning the quality of the famous street food in Penang and its best hawker dishes to the world. Since then, more and more tourists have come to the island (check out our suggestions for the best budget hotels in Penang and George Town) not only to see George Town's street art and enjoy Penang nightlife and many exciting bars and 20 best Penang beaches, but especially to enjoy a Penang food trip, gorging on Penang's famous food, and trying some of the best Penang restaurants. From upmarket tourists to backpackers, everyone thinks that eating in Penang is a crucial aspect of any trip to the island. Eating in Penang is also one of the best things to do with kids in Penang. There are more Penang local dishes than what you can sample on a single trip.
Penang Travel Essentials
Use Klook to get discounts and great deals for a lot of activities around Penang. I use it myself all the time.
If you are looking to rent an apartment in Penang, start by reading my article on the best Penang Airbnbs (I earn a small commission if you book via any of my links).
Penang has some great 5-star hotels and inexpensive boutique hotels for a special stay. But you can also find some great Penang Budget Hotels that are a great bang for your buck
If you are a backpacker on a budget, I have a complete guide to backpacking in Penang
If you are short on time, consider taking this half-day tour or this heritage tour.
If you want a private car to take you around, check out this link
There is much to learn about Penang food with some great cooking classes and food tours, like this and this street food jaunt
If you are coming to Penang from Kuala Lumpur, check out this guide to know all the best ways to travel to Penang.
If you are looking for a greener, offbeat Penang experience, check out our Balik Pulau guide.
But what is the best food in Penang, and the famous eating places in Penang? And what are some of the unmissable things to eat in Penang, or the best hawker food in Penang you must try when going to George Town for the first time? To tell you the truth, with so many choices, it's hard for first-timers to know where to start chewing.
So what's the stuff of dreams, the Penang traditional food that one must really try when in George Town, besides visiting its best shopping malls, and before going from Penang to Langkawi, or catching a bus from Penang to KL?
The following list contains 26 Penang famous foods (and 80 places where to eat them in Penang) as chosen by us. Forgive any omission, for this task is so subjective and difficult that it would be close to impossible to come up with a perfect list of things to eat in Penang. Regardless, in our humble opinion these are some of the best food in Penang – absolutely NOT in order of preference – and more than enough information to get you started on your Penang food hunt. Watch the waistline, as it WILL GROW !!!
---
Ultimate Penang Food Guide
First of all, a word of expert advice: eating in Penang is an informal experience, and the best food in Penang is not necessarily found in posh restaurants. You must understand, in fact, that Penang traditional food has always been prepared on the street by hawker sellers in ways that may not be considered very hygienic according to Western cooking standards.
But you have to believe us: Penang street food is delicious, and some of the best places to eat in Penang are indeed rickety street carts.
READ MORE – The best restaurants in Penang.
Penang Food Tours
Yes, you may rightly think that finding the best street food around the island is tricky for first-timers. Where to go eat the best char koay teow in George Town? What is the best time to beat the crowds at a particular Penang night market? I hear you.
That's why, if you are short on time, you may want to consider a local Penang Food Tour to maximise your food hunt with the help of a guide. We recommend signing up for a tour with Klook, a popular online booking site used in Malaysia.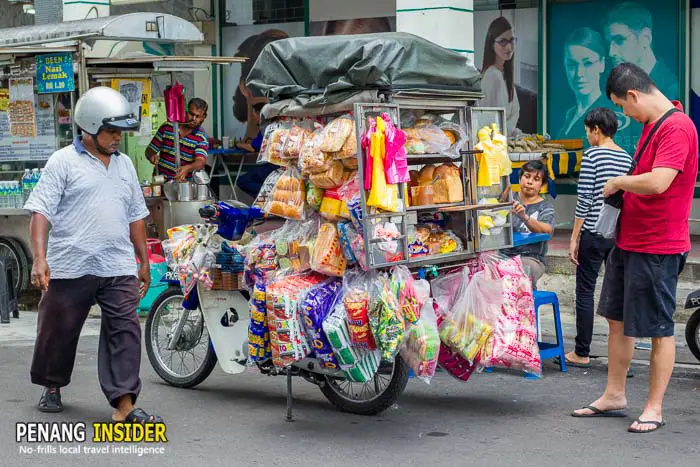 You could sign up for a Penang Street Food Tour with a local guide that will take you to some of the best shops and street stalls, stopping to admire the famous Penang street art and some of George Town's most interesting temples. Heritage on a Plate Food Tour is a three-hour long food hunt at four different locations. You can choose between lunch or dinner, and you'll have a private guide ready to explain the nitty-gritty of Penang life and culture. George Town Night Food Tour mixes food hunt with an exploration of the Chinese Clan Jetties, and ends with drinks in one of Penang's most exciting bars.
And if you have children with you, why not taking them at the Wonderfood Museum, which features giant replicas of Malaysia's most famous dishes? It's a great, fun way to get started on your Penang food hunt and bring home some fun pictures. You can buy your tickets here.
26 Must-Try Famous Penang Foods for First-Timers
Whether you decide to take a guided Penang Food Tour or explore on your own, this list of what we consider Penang's top food will prepare you to start your food hunt hitting the ground running. We have also included links to 80 best street stalls and restaurants, with maps of their locations around George Town and Penang. Are you ready to put on some kilos? Here we go: