What to do in Penang in 3 days? Trust us, there are many things to do in Penang, Malaysia, and most of them don't include sitting idle at one of George Town's hipster cafes eating breakfast, or lazying on one of Penang's best beaches.
We have been living on this island for a decade, and we know what to do in Penang pretty well. This itinerary covers the best of Penang in 3 days, from more conventional spots, to some truly off the beaten path gems. For suggestions on the best time to go to Penang, the best things to do on Penang Hill, or visiting Penang with kids, check out our related guides. If you have kids, you could even consider spending a day in George Town's city theme park, The Top Penang in Komtar.
Do you have a place to stay in Penang yet? If not, check out our suggestions for the best budget hotels in Penang and George Town, charming Penang Airbnbs, and a list of great and inexpensive (from 35$) boutique hotels in George Town.
What to do in Penang in 3 days?
Basic Considerations
Three days in Penang are a sensible amount of time to get a decent grasp of its main tourist area, George Town — accessible with a ride on the iconic Penang Ferry — and get a better feel for the island by exploring some of its jungle and beaches. Penang is also great for food (here's a guide to Penang 26 essential must-try dishes and a list of Penang's best Western restaurants) and its eclectic nightlife (check out our suggestion for 31 places to visit in George Town at night). But to avoid disappointment, also keep in mind that Penang is not as lively/touristy as, let's say, Bali in Indonesia – and the beaches are not as nice, either. For squeaky sand and loungers, you may consider going from Penang to Langkawi instead.
Penang it's a completely different experience. This Penang in 3 Days itinerary concentrates on the more accessible north-western coast, including visits to Penang National Park and Batu Ferringhi, and the less-touristed area of Balik Pulau. If you have more time, consider exploring across the bridge in Bukit Mertajam. The area also has some interesting offbeat Penang Mainland hiking trails, including Bukit Juru, and Insta-worthy attractions like stunning Frog Hill.
Please note that you will need your own wheels to travel efficiently, especially in and around Balik Pulau. And if you travel with children in tow, you better check our complete list of 32 awesome things to do in Penang with kids.
Remember that, if you don't feel like renting a car or a motorbike, Grab is generally better than using taxis in Penang. Why?
 > 5 Reasons Why Grab is better than taxis in Penang
You can follow this itinerary at any time of the year, but you may have some difficulties during the rainy season – there are two distinct rainy periods in Penang, one around May, and one in September/October – when frequent, yet short, showers make exploring the beaches and rainforest of Penang a very wet, uncomfortable proposition.
Penang in 3 Days Itinerary
Day 1: A Feast of George Town
8.00 am: Breakfast in George Town
George Town offers a smorgasbord of eating options, from Chinese noodles to Indian rotis and Malay roti canai and nasi lemak. But to ease yourself better into your first day away from the comforts of home, we suggest kicking off with a stop at one of the  6 best roti bakar places in Penang. Literally called "burnt bread", roti bakar is the closest thing to a toast with butter and (coconut) jam you'll find in Penang. Wash it down with a nice kopi, and please familiarize yourself with how to order drinks in Penang.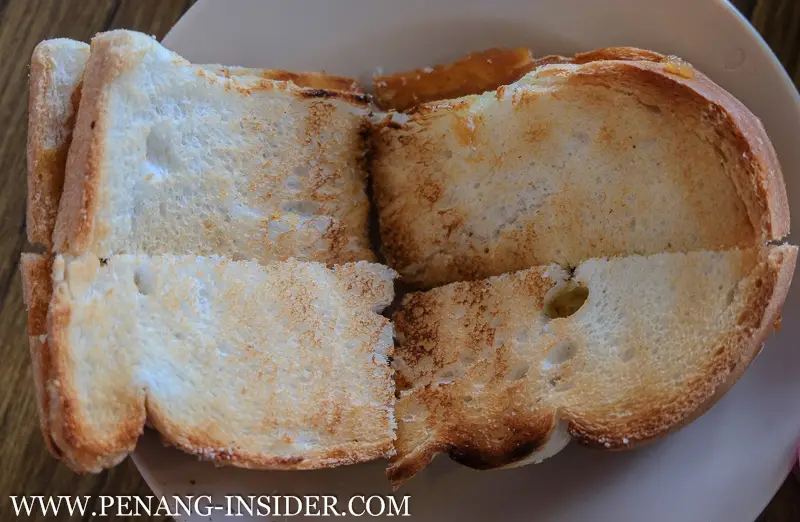 9.00 am: Cheong Fatt Tze Mansion
Also known as the "Blue Mansion", this is one of central George Town most striking buildings. Once the mansion of Chinese tycoon Cheong Fatt Tze, it's today a beautiful museum that will bring you back to some of the best periods on the island.
You can also decide to book an atmospheric stay here or have dinner at their fine dining restaurant Indigo.
10 am: Peranakan Mansion
The Peranakan, or Baba-Nyonya, were mixed-race Malay/Chinese offspring who took on the best part of their two original cultures. The Peranakan Mansion in Penang, set beyond a beautiful courtyard along Church Street, is one of Malaysia's best-preserved traditional Baba-Nyonya mansions. Transformed into a permanent exhibit ad museum, it's a fantastic place to learn about one of Malaysia's original peoples, their lavish way of life, and observe the objects and homeware that made their culture iconic and famous throughout Southeast Asia. It's also one of the most famous pre-wedding photography locations in George Town.
10.30 am: Explore Little India
Just after stepping out of the Peranakan Mansion, look no further than… all around yourself. You are now standing in the midst of Little India, one of the best areas in George Town to just stroll, walk around and shop for colored spices and cheap Indian clothing.
Read our guide to the best things to do and eat in Little India to know even more.
This grid of small lanes is always bustling until mid-afternoon and quiets down after that to a slow night crawl. There are countless restaurants, food stalls and kopitiam where the best thing to do is just sit down, order a drink, and watch people and old-world trades still unfold before your very eyes.
11.30 am: Kapitan Keling Mosque
Leave Little India behind from Ah Kwee street, and you'll find yourself in front of George Town's most central and elaborate mosque. Named after an important Tamil Indian general, the Kapitan Keling Mosque can be visited during the day and offers a glimpse of Islamic culture straight in the heart of George Town. You should come dressed modestly – no short pants or skirts, and please don't expose your shoulders – but if you don't, the staff on site will provide long gowns to cover yourself. Some may even try to talk you into converting to Islam, but don't worry: give them some of your time, and you may end up learning much more than you expected about this mosque, and the people keeping it alive.
11.45 am: Have a stroll down Armenian Street
Just a hundred meters or so away from Kapitan Keling Mosque is Armenian Street, once the cove of many Chinese clan-houses and the secret societies that kept them alive. In all honesty, after becoming the epicenter of Penang famous street art, this street has gentrified beyond belief, with all sorts of hipster shops and boutiques changing hands very frequently (rent is at its highest here). The famous street mural "Kids on a Bicycle" attracts crowds of selfie-toting tourists at the eastern end of the road.
Armenian Street is also home to many beautifully preserved buildings and temples, which include the Cheah Si Hock How Kong Kongsi, the Sun Yat Sen Museum, the Teochew Puppet and Opera House, and Yap Khongsi.
Remember that around the main corner down Lebuh Cannon is the amazing Khoo Kong Si, with an entry fee (RM10), and totally worth paying as it's one of the most striking Chinese historical buildings in Penang.
Whatever you want to make of it — browse for tourist trinkets or engage in a careful visit to some of George Town's best historical buildings — Armenian Street should be a must on your Penang Day 1 itinerary.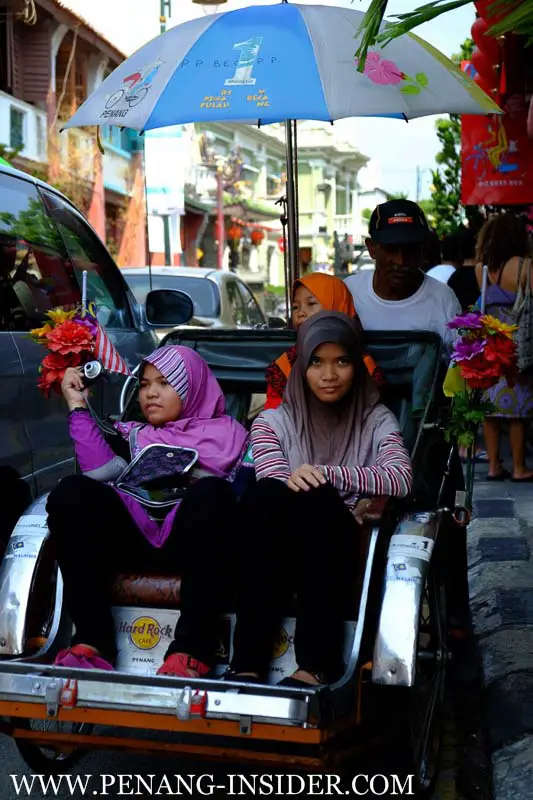 TAKE A GEORGE TOWN TOUR BY RICKSHAW
Sitting in a traditional "becak" and strolling the streets of UNESCO-protected George Town is a quintessential Penang experience and a perfect way to impress your partner or your family. Now you can
book your private and discounted Penang rickshaw tour
without any hassle online, and you'll be met by your driver in George Town. A very recommended option to avoid wasting time dealing with unscrupulous drivers.
12.30 pm: Lunch in George Town
Depending on your craving, retrace your steps to Chulia Street or Little India, and dig into one of the way too many restaurants and food stalls on offer here.
Early afternoon
The best suggestion is: take a rest in your hotel to avoid the excessive mid-day heat. It really gets scorching hot between 1 pm and 4 pm, and you better take a break before you set out again. And remember to carry some drinking water.
If you are not happy, you can keep browsing for other places to stay – we are sure Booking.com will have something that appeals to your tastes.
YOU COULD ALSO TRY ONE OF THESE RECOMMENDED LOCAL TOURS:

2.30 pm: Browse the central shopping malls and enjoy some a/c
As we just said above, it gets very hot on any given day in Penang, unless it rains — not too much, these days and age, "thanks" to global warming. A good idea to avoid the heat is to spend some time at one of Penang best shopping malls. George Town has a few, all clustered next to the KOMTAR Tower. They all offer different kinds of popular designer brands, cheap Asian-produced clothing, and a good selection of electronics, from mobile phones to laptop computers.
The reason you are here, though, should be enjoying the a/c and see what Penang locals do on most of their day-offs: come to the malls, sit down at a cafe', chat and chill.
If you hate shopping, there are some excellent markets and shops that beat the malls any day, but it's best if you go when the sun is more forgiving.
3.30 pm: Learn about Penang Popular Music History
Few visitors care to know that Penang has given Malaysia some of its most important artists – and no, I am not referring to Lithuanian Ernest Zacharevic or any of Penang street art. I mean people like P. Ramlee, Ahmad Nawab and others, who made the history of Malaysian popular music and film since the 1950s. It's all explained with a great showcase of choreographic exhibits and panels at Penang House of Music, tucked away on the 4th floor of Penang Digital Mall. Don't miss out.
You can buy a discounted Penang House of Music entry ticket if you buy it through our partner Klook. Click here for details.
4 pm: Explore the Chinese temples and Clan Houses of George Town
When the sun starts being more forgiving, go back to Chulia Street and Love Lane and start working your way around the Chinese Clan Houses and Temples along with it. Visit the Ng Fook Thong and the Yeoh Kongsi along Chulia street, and end up at the Goddess of Mercy Temple, which, legend says, was spared in the Japanese World War II bombing. If you have time, the Carpenter's Guild (Lo Pan Hang) is quite a stark contrast to Love Lane's modern and gentrified face.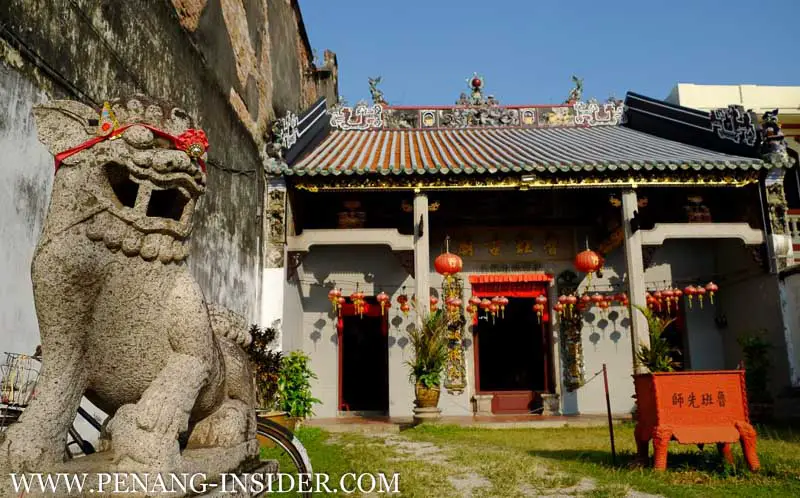 6 pm: Take a Break at Hin Bus Depot
This former bus park transformed into one of Penang's prime alternative places for shopping and art-browsing. The location, with an open garden surrounded by hip f&b options, is enough to keep you happy for a while. Check what's going on in the main hall, a permanent home to rotating art exhibits, before you go.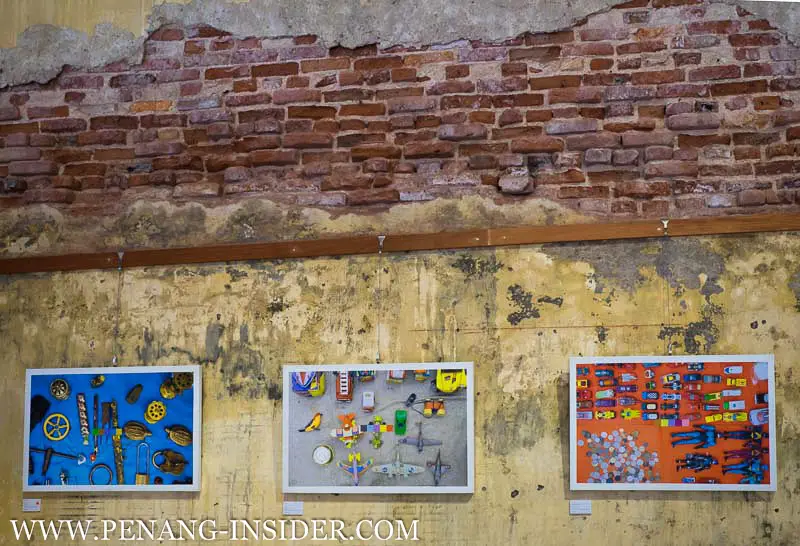 Alternative Activity for your First Day in Penang: Visiting Kek Lok Si Temple
If your interest is architecture and temples, you can consider taking a trip to Air Hitam, a nearby small town at the foothills of Penang Hill, to see the striking Kek Lok Si temple. One of Southeast Asia's biggest temples has a 36-meter-high bronze statue of Goddess of Mercy Kuan Yin, and the impressive Ban Pho Tar 7-tier pagoda built in a mix of Thai, Burmese and Chinese styles. To reach Air Hitam, you can take Rapid Penang Bus 203 and 204 from Chulia Street. Read more information on our ultimate guide to visiting Kek Lok Si Temple in Penang.
7 pm: Dinner in George Town
George Town changes after sunset, and you better be back to see the city's glow after dusk. There are plenty of options to suit each and every budget, from simple street-side food stalls to high-end restaurants tucked into restored shophouses. Whatever your budget, you will find something worth eating in George Town. And don't limit yourself to browsing Chulia Street: be more daring than the general backpacker, and venture off and away into the grid of lanes that extend towards KOMTAR. Some of the best and least trafficked stalls are there, and yes, we won't tell you which ones, so that you can keep you wandering and experiencing.
After Dinner
Depending on your mood, you can join the international travelers in Love Lane for some backpacker banter and beer. This is absolutely not one of our favourite Penang activities (hiking, anyone?) but we believe it's good that you come to grips with the fact that, these days, a scene of hedonistic foreigners on gap years has taken foot also on this island. Love it or hate it, it's there to be experienced, and you should definitely have a look. Check out the top bars in Penang here.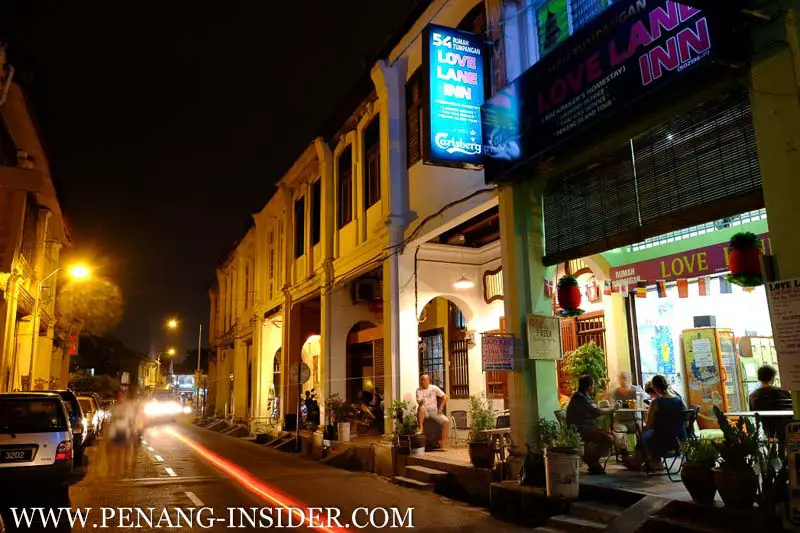 But, if it's a Thursday, you can go to Hikayat to catch one of their movie nights (RM15 including refreshments and coffee/tea). Check their Facebook Page to know what, and if, is showing. And then… go back to your hotel to catch some much-needed sleep, as you've been around a lot today!
Day 2: Beaches, Jungles, and Sea
On your second day, you'll leave the hustle and bustle of George Town behind to discover that, after all, Penang is a tropical island filled with beaches and interesting Malaysian animals… you should enjoy it, right?
8.00 am: Breakfast in George Town
But it still makes sense to start in town, and have breakfast in George Town. Yesterday, you tried roti bakar, so I suggest going for roti canai or any of the many Indian restaurants in Little India. Masala Dosai, a semolina pancake filled with a mix of spices and potatoes, is highly recommended.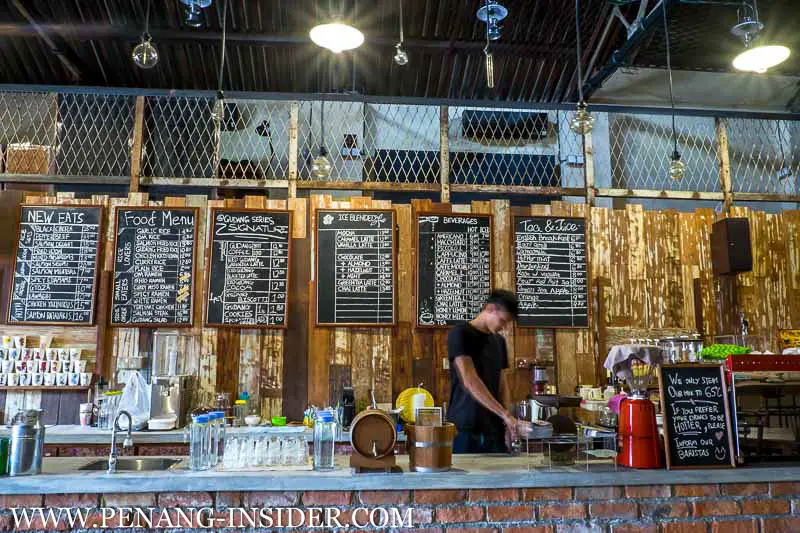 9.00 am: Penang Botanical Gardens
There are many things to do at Penang Botanical Gardens, possibly the biggest botanic gardens next to a town center in the world. Come visit these lush gardens at the bottom of Penang Hill, and enjoy their concrete pathways that snake around a series of local and imported plants and flowers. They include the cannonball tree, giant acacias and ferns, and a series of interesting little greenhouses which contains, among others, cacti and orchids.
Penang Botanical Gardens recently changed management, and are better organized than before. It's also a great place to come for a stroll or for jogging — come on weekend mornings, or weekday evenings, and you'll meet many locals running around the main track here.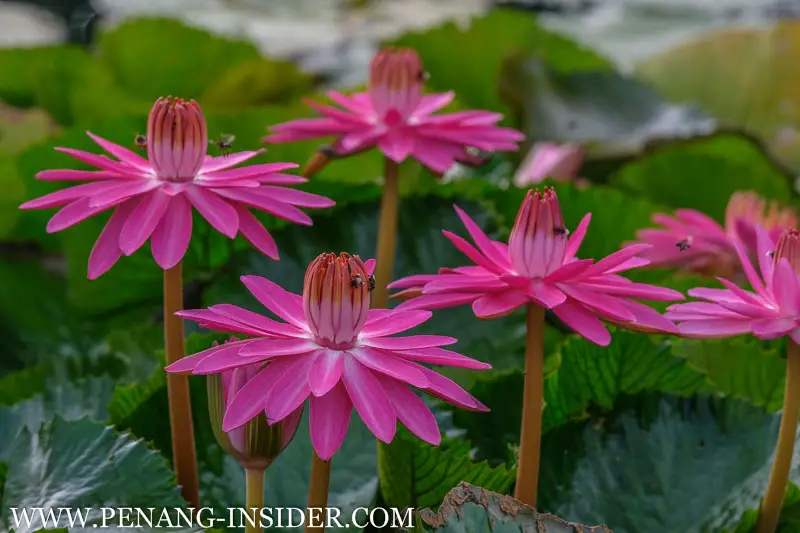 Whatever you do, beware of the monkeys: the macaques here are plenty, and aggressive when they see you carrying plastic bags (they know there might be food inside). When confronted by an angry little monkey, don't try to be smart, just leave as fast as possible. Their bites often bring rabies, and a guaranteed trip to the local hospital.
You can get to Penang Botanical Gardens using the Rapid Penang Bus 10, or using the tourist bus Penang Hop-on Hop-Off City Route, Stop number 2.
11.00 am: Visit Penang National Park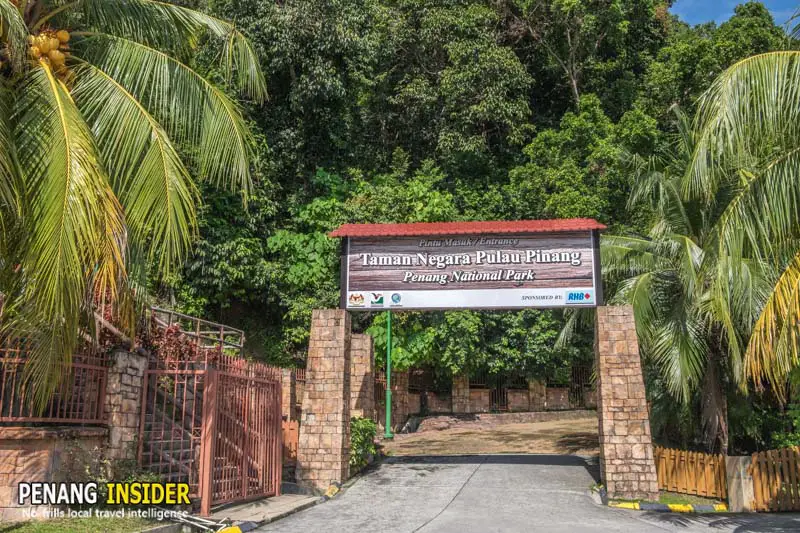 Penang National Park at Teluk Bahang (read our guide to the best things to do at Teluk Bahang) is the smallest in Malaysia, and yet, it covers a healthy dose of rainforest on the northwestern coast of the island. It's a very nice place for having a feel for the jungle and the sea. There are two main beaches, Monkey Beach, on the northwestern end of the park, from which you can continue to Muka Head, the old lighthouse. And then there's Pantai Keracut, to the southwestern side of the park. The hike to this beach cuts through the inside of the forest and you won't see much sea until you actually get to the beach which, believe it or not, has one of the few meromictic lakes in the world — or better explained, a freshwater lake that receives seawater, which never mixes with the pre-existing freshwater. At the end of Pantai Kerachut there's also a small turtle sanctuary where you can see little hatchings.
The preferred way to visit is by hiking, but if you are unfit or short on time, there are many boats shuttling passengers between the beaches and the park's headquarters for about 30RM/person. You can also camp out in the jungle, but you must check with the park's office, as you may be required to bring a guide with you — new security concerns, as of late, as some foreigners have been attacked here.
Want to avoid all the headache of getting there by yourself? 
Consider getting on a private Monkey Beach tour then! You'll be picked up and dropped off at your hotel, shuttled to Monkey Beach on a scenic 30-minute boat ride, and you'll have a yummy BBQ lunch on the beach. Did we say you'll have plenty of time to swim and enjoy the place? Worth considering if you are not up for hiking for a total of 3 to 4 hours roundtrip…
2 pm: Enjoy a fresh stroll at the Tropical Spice Garden
On your way back to the city, the first worthwhile stop is the Tropical Spice Garden, an interesting collection of tropical plants from around the Malay archipelago, all lovely tendered on the side of a viridian slope. The audio tours are a great way to get to know all the details about these plants, and there's a new section, the Poison Garden, that highlights venomous plants and the use that humans have made of them throughout the centuries.
You can buy your Tropical Spice Garden tickets in advance via our partner Klook — and you will get a 3RM discount!
3.30 pm: Take a stroll at Batu Ferringhi
Since you are here, a stop at Batu Ferringhi, Penang's most developed and touristy stretch of beach, is mandatory. It's a line of beach-side resorts and shops, restaurants and a tourist trinket market that opens at night. But the beach, a long and wide stretch of powdery sand, it's actually less terrible than what most people say.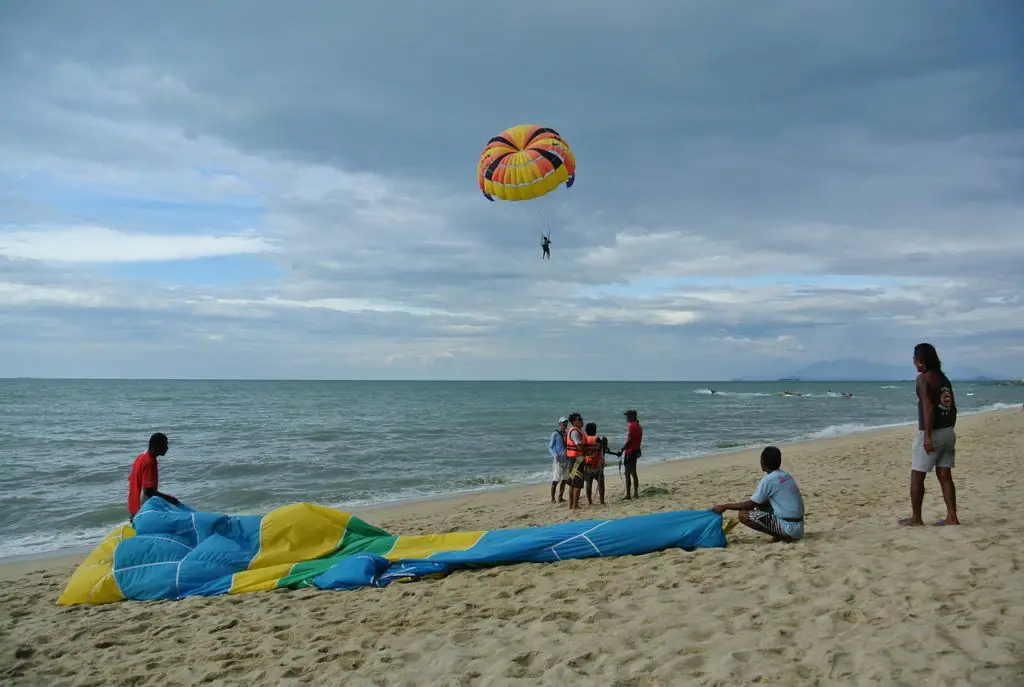 The trick is to get on it: you have to walk across any of the resorts and their poolsides to actually end up on the public beach. Don't expect sandy wonders, like anywhere else on Penang, but it's much better to sit on the beach here than to endure the flow of high-end tourists trawling up and down the strip at your back.
WANT TO STAY AT BATU FERRINGHI?

Batu Ferringhi has some of Penang's best hotels and a definite "resort vibe" that's ideal for families or groups of friends. If that's what you are looking for, we recommend you stay at one of these properties:
HIGH-END RESORTS WE RECOMMEND
Rasa Sayang Resort (
Booking.com
|
Hard Rock Hotel Penang (
Booking.com
|
Lone Pine (
Booking.com
|
BUDGET HOTELS WE RECOMMEND
Baba Guest House (Booking.com |
ET Budget Guest House (Booking.com |
5.00 pm: Visit the Buddhist Temples of Pulau Tikus
Get off the bus at famous Gurney Drive and walk down Lorong Burma to have a look at two of Penang's most interesting temples, the Thai temple (Wat Chayamangkalaram), with its reclining Buddha, and straight opposite, the Burmese temple (Wat Dharmikarama), a collection of golden Buddha statues, with a small pavilion showing different Buddhas coming from each Buddhist country in the world, and a garden filled with interesting statues — including a replica of the world held by two horse-like creatures. During the songkran celebrations in April, this is the place to come to get splashed with buckets of water.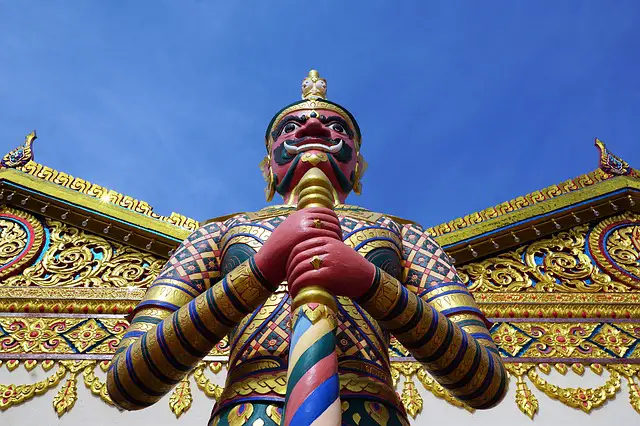 5.30 pm: Gurney Drive, shopping malls and enjoy some a/c
Most people will tell you to come here to eat, but no, we don't recommend it: the hawker center at Gurney Drive has become characterless and expensive, the domain of Singaporean tourists who think the food prices are low when compared to their own country. Well, prices are instead inflated, it's a tourist market, and really not recommended, regardless of what everyone says. Your reason to stop here is, again, to enjoy some a/c at two of Penang's best shopping malls, Gurney Paragon and Gurney Plaza. Whether you have come for international brands, books, electronics or just indulge in a pizza or cappuccino, you will find everything you want here.
7.30 pm: Dinner in New Lane
To close off the day, a better solution is to head down from Gurney to the hawker center at New Lane, which is about 20 minutes walking distance to KOMTAR and the heritage core of George Town. New Lane is no more the hushed secret it was, but the food, atmosphere, and crowd are more local and authentic than at Gurney Drive. There's a big selection of Chinese street food here, from curry and Hokkien mee to popiah and fried oyster, so you just have to browse and choose what tickles your fancy.
After Dinner:
Depending on how you feel, before you hit the sack you could go to the Esplanade for a stroll and some drinks at the food court perched on its western end. Otherwise, for a less touristy side of George Town, you can go for drinks along the upper end of Victoria street: around the famous China House, which has occasional live music and very yummy cakes and coffee, new cafes and bars have sprung up. They all offer a less frantic, less 30-something and less backpacker-ghetto nightlife in George Town.
At last, if you feel romantic or want to get away from most people (not all, not anymore), you can visit the Chinese Clan Jetties at night. An orgy of tourists and trinkets by day, at night, these wooden jetties make for a refreshing (literally, given the sea breeze) stop, and offer a very different view of George Town's coastline. Just be careful when trawling over the wooden planks in the dark… falling in the mud or into the sea is no fun. And remember that the longest jetties close at 9 pm — sadly, thanks to the stupid actions of others, the residents have decided that it's no longer possible to hang out here later at night.
READ MORE & GET INSPIRED:
Day 3: Balik Pulau, the Back of the Island
Which is what "Balik Pulau", Penang's least developed and greenest area, literally means. Check out all you can see, eat and do in Balik Pulau.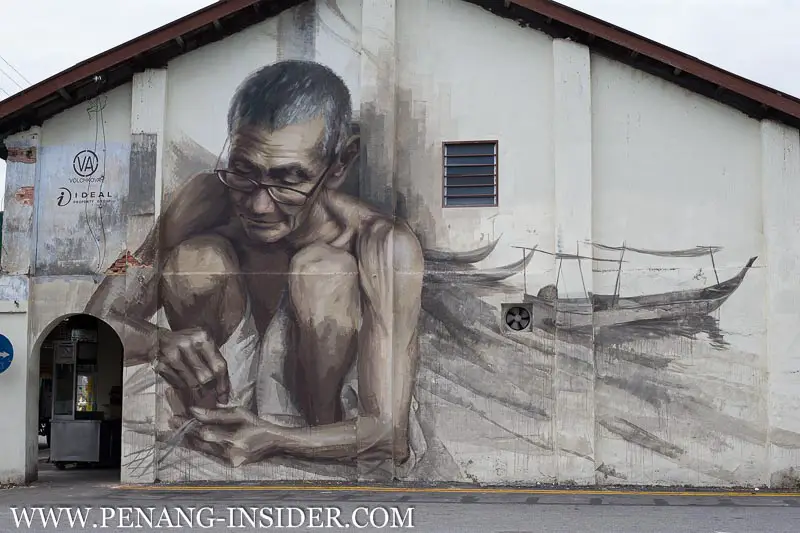 8.00 am: Breakfast in George Town
As in Day 1 and Day 2, if you stay in George Town, just grab some breakfast there before you hop on a Rapid Penang bus and head to Balik Pulau — roughly a 45min/1hr ride.
10.00 am: Explore Balik Pulau town
Balik Pulau is the name of the whole area encompassing most of south-central and southwestern Penang, and has a small town center worth exploring. The place, a one-way street filled with old-world shops and some good eateries – don't miss the delicious Siam Laksa at Nan Guang kopitiam –  revamped thanks to the street murals by Russian artist Eva Volchkova. It's definitely worth a stroll, and an extra cup of morning coffee.
11.00 am: Pulau Betong fishing village and Penang's Best Beach
On the southwesternmost headland of Penang is Pulau Betong, a traditional Chinese fishing village that's a delight to visit, and of Penang's 20 best beaches. There are a fish market and water canals filled with dinghies, palm trees swinging overhead, and probably the island's most "tropical" setting. Proceeding along the road heading south, you will find Pantai Pasir Panjang, in our opinion Penang's best beach, accessible by road and perched next to a military outpost. It's definitely worth a stroll and a swim, but be careful, as there's a strong undertow and swimming is actually prohibited. Do at your own risk.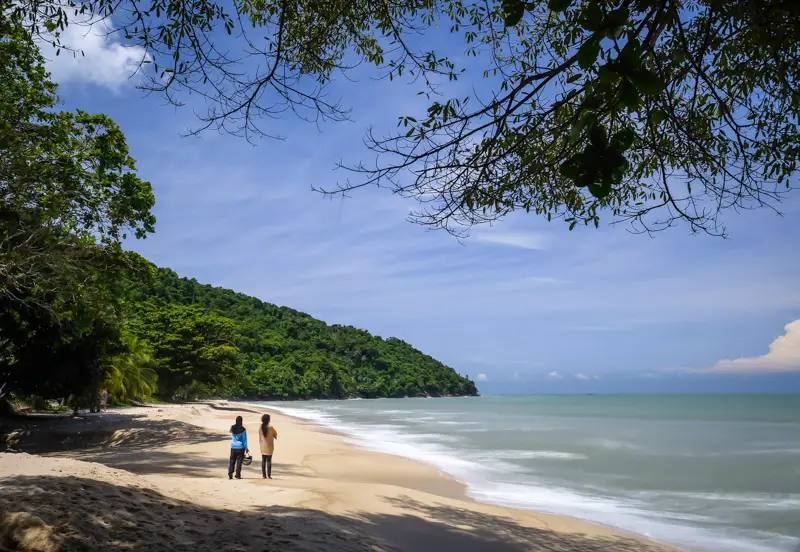 Noon: Lunch at Pulau Betong
Return to Pulau Betong village proper and have lunch at Jia Sang Cafe, a famous, yet super-basic (wooden tables and plastic chairs under a metallic rooftop) seafood restaurant. It's famous for steamed fish in Thai and sweet and sour sauce (a full meal for two will set you back around RM70).
1.00 pm: The Audi Dream Farm
Even if it's hot, a stop at this interesting mini-zoo is perfect, especially when traveling with your children. Besides having a cafe' and some light foods, Audi Dream Farm offers a few hectares of landscaped gardens and pools filled with flower, plants and… plenty of animals.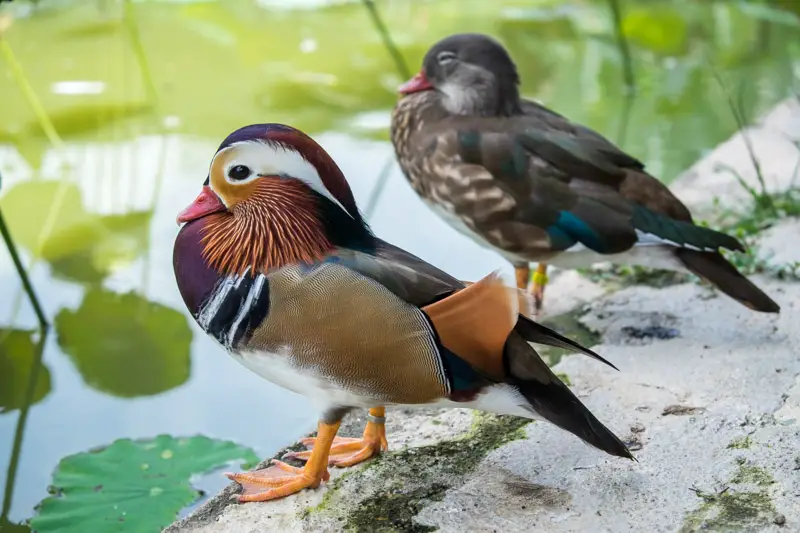 From pigeons to ducks, rabbits, horses and even a camel, you'll have a great time here, walking around and enjoying the well-manicured grounds.
2.30 pm: Bao Sheng Durian Farm
Anyone with an interest in Durian, the spiky and smelly fruit that's so famous in Penang should make a stop at this eco-resort overlooking a plantation. They organize eat & stay packages with historical explanations of the Durian and multiple tastings per day, but you can also just come for a stroll, and try if your taste buds are strong enough for Penang Durian. If you want to stay in their beautiful chalets with swimming pool overlooking durian fields and boasting one of Penang's best sunset, you can check their best prices and book here. 
3.30 pm: Ghee Hup Nutmeg Farm
Continuing up the road leading to the Teluk Bahang Dam is Ghee Hup Nutmeg Farm. The nutmeg is an endemic tropical nut that is quite established in Penang, where it has been grown for centuries. Ghee Hup offers tours of the farm and sells the heavenly mixture, to be diluted in water, by the bottle. A visit is highly recommended.
5 pm: Air Hitam and Kek Lok Si temple
Instead of returning via Teluk Bahang and Batu Ferringhi, make a detour south and then cut through the center of the island via Paya Terubong and arriving at Air Hitam. Here, besides a bustling market and some of Penang's most famous assam laksa at Pasar Air Hitam Laksa, the unmissable attraction is Kek Lok Si temple, the largest Buddhist temple in Malaysia, and one of the biggest in Southeast Asia.
Besides pavilions, lotus ponds filled with turtles, and a viewing deck with a series of Buddhas, there is a multi-story Chinese pagoda and one of the biggest statues of Goddess of Mercy Guan Yin to be found in Asia. The best time to visit is dusk, as it offers a great vantage point over George Town and the Straits Sea in the distance. If you happen to visit during Chinese New Year, remember that the place lits up for a whole month with hundreds of lanterns, which are switched on for the first time after a stunning display of fireworks. Read all about it in our ultimate guide to Kek Lok Si.
And if you prefer the convenience of visiting here on a private tour of Kek Lok Si and Penang Hill, we recommend you sign up for the interesting half-day visit via Klook, which also takes in a visit to Penang Hill. Klook accepts international credit cards and we have used ourselves several times.
7.30 pm: Dinner in George Town
After Kek Lok Si, return to George Town and grab dinner somewhere along Chulia Street or Little India.
After Dinner:
Tonight we recommend you leave the crowds behind and take a quick walk up Hutton Lane to Nagore Square, a hip collection of restaurants, bars and cafes tucked along Nagore Road, the little square that juts to its right, and perpendicular Jalan Bawasah.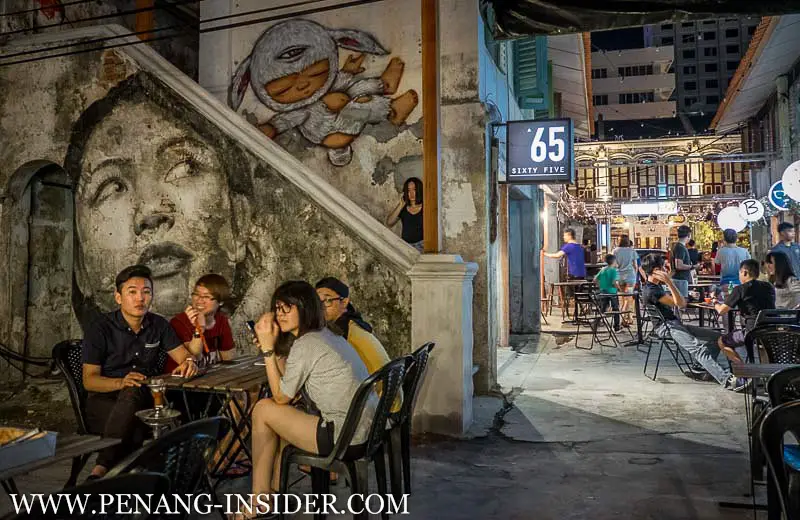 Try Pik Nik, one of the famous hang out spots of young hipsters, or What the Duck, a great restaurant with a quirky name, where each plate is duck-based (yes, also their desserts, which contains duck egg). There are a lot of street murals here, too, as the area was revitalized in 2015 during the second Urban Xchange Festival curated by Hin Bus Depot. The good thing is, this area is full of great dining and entertainment options, but so far, doesn't see a lot of foreign traffic. Try it for a chance to meet some locals and experience how they spend their evenings on Penang away from Chulia and Love Lane.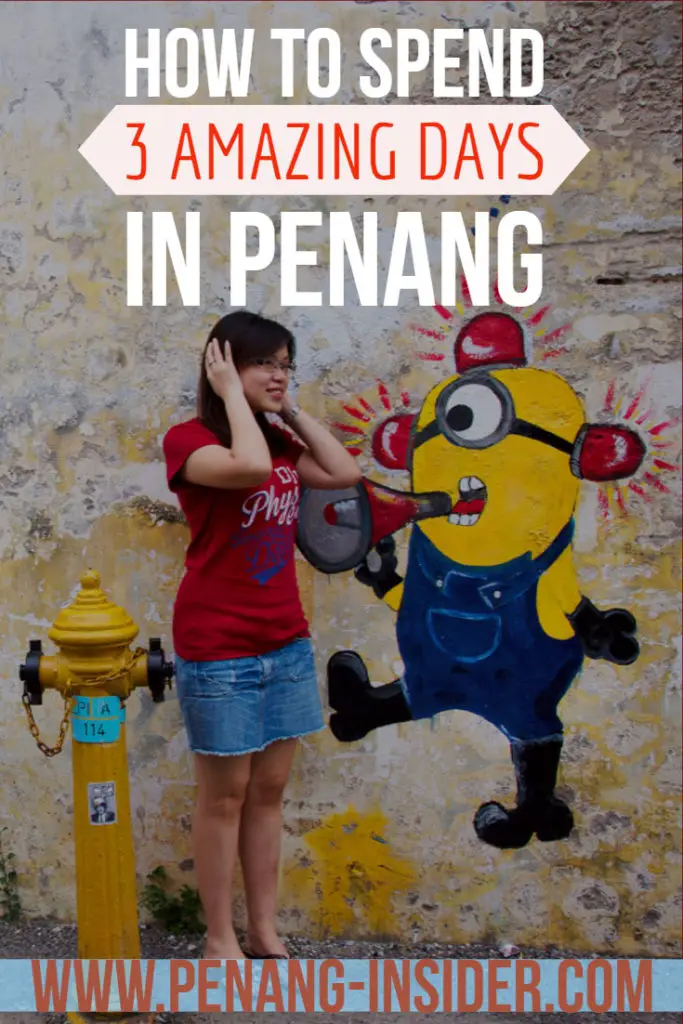 ---
And if you liked this, why don't you sign up for our mailing list? We will send you immediately a FREE photographic eBook with some incredible pictures of Penang, and we promise, we will disturb you only about once a month with some good local advice you won't find on the site