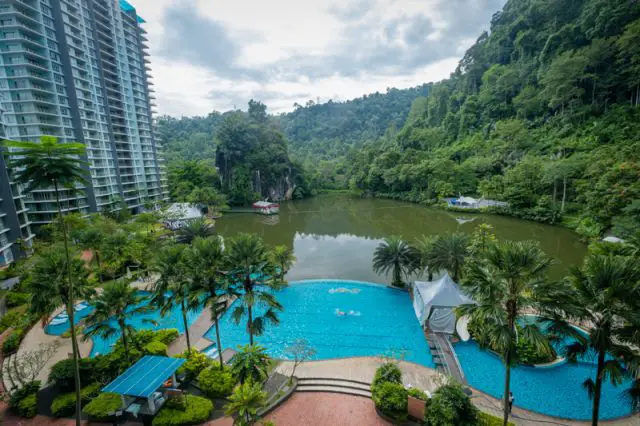 Among the several hotels in Ipoh we recommend, The Haven Ipoh is among the most luxurious and ideal for a secluded stay with family or a large group of friends. If you love the atmosphere of Ipoh cave temples, then staying at The Haven Ipoh will be the closest you'll get to that experience. It's also a perfect base to access all the best things to do in Ipoh.
READ MORE – Ipoh Airbnbs for a Family Stay
The Haven's three blocks of serviced apartments are in fact set in front of a stunning backdrop of limestones and a lake fringed by rainforest. Remember that Ipoh's Kinta valley is a UNESCO Geopark because of its unique rock formations? Well, if you are looking for a special place to spend a few days in Ipoh, you have found it.
We were guests of The Haven in October 2022 and this is an honest review of our visit.
You can check prices and book your stay at The Haven on BOOKING.COM or AGODA.
---
The Haven Ipoh: What you Should Expect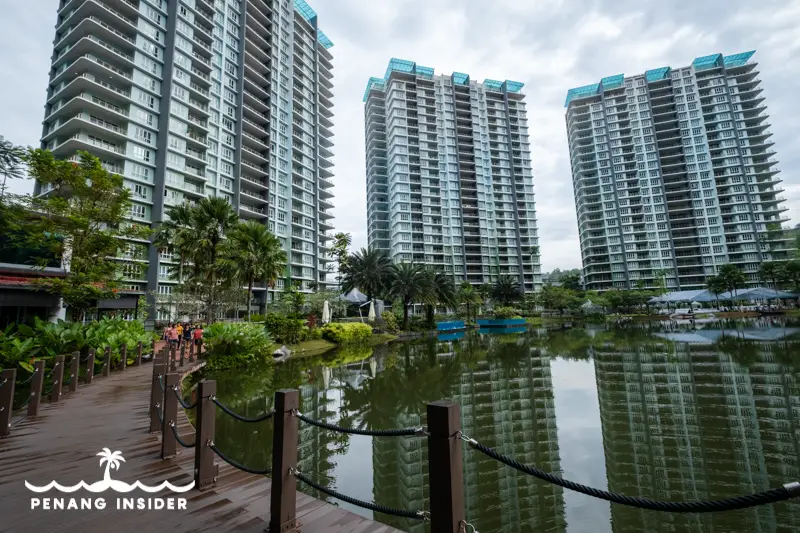 If you are thinking of a traditional five-star hotel in Ipoh, well, you will be a bit confused upon reaching The Haven. This place is actually three blocks of flats set in single file surrounding a lake and swimming pool, and looking straight into the side of a jungle-clad limestone hill.
People can actually purchase units and live here, or rent long-term. But many of the apartments, which are all larger than 1000 sq feet and come with spacious balconies, are rented out as if they were hotel rooms.
Don't worry — there is a concierge and reception for checking in and out, and a restaurant and breakfast are generally included in a night stay. You'll definitely have the same level of facilities and comfort that a hotel can offer you, even though the feeling here is homier — you'll come in touch with the residents and the community.
---
Where is The Haven Ipoh?
The Haven is tucked in the northwest of Ipoh's town between the suburbs of Bercham and Tambun with its famous pomelos. It's also only 1km away from the popular Lost World of Tambun.
If you drive, it's only 5km away from the nearest toll gate on the North-South expressway. If, on the other hand, you arrive using the ETS Train to Ipoh, then you'll have to hire a Grab or InDrive car as the resort is about 15km away from Ipoh's Old Town.
Here's a map:
---
The Haven Ipoh: Room and Hotel Overview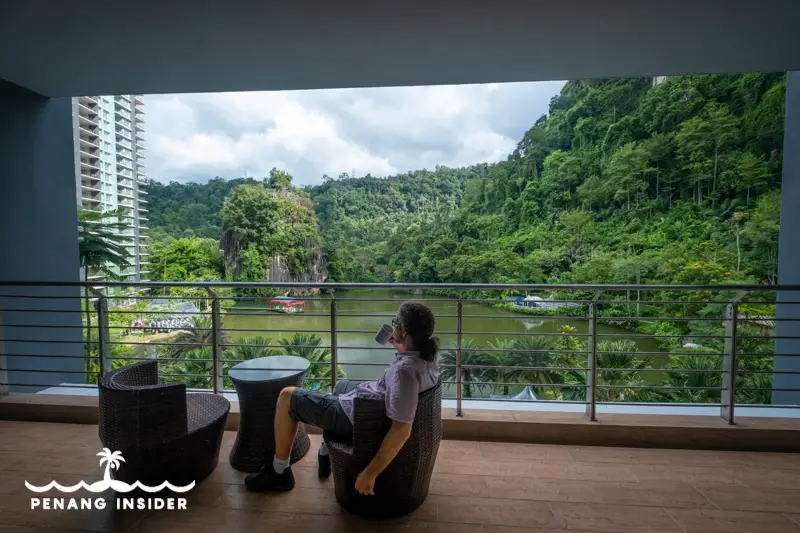 We stayed in Block A on the sixth floor. Our apartment had three bedrooms, two bathrooms and a large living room equipped with a kitchen. There were no plates or pots and pans available, however, so if you plan to come out here and do your own cooking, you should be ready to bring what's necessary.
The highlight was the balcony: overlooking the resort's large pool, we stayed on the right side of the lake, with amazing views of the whole bay and an unparalleled 360-degree view over the limestone massif. The comfortable table with chairs here became my favourite spot to lounge and observe the beauty of the setting.
Unfortunately, it was raining quite a bit when we visited, but staying on the balcony was perfect: the building is designed with ample space to keep the outdoor area always dry, and I could sit and enjoy some superb coffee provided free of charge next to the Espresso machine we found in the kitchen.
---
How are The Haven's Bedrooms?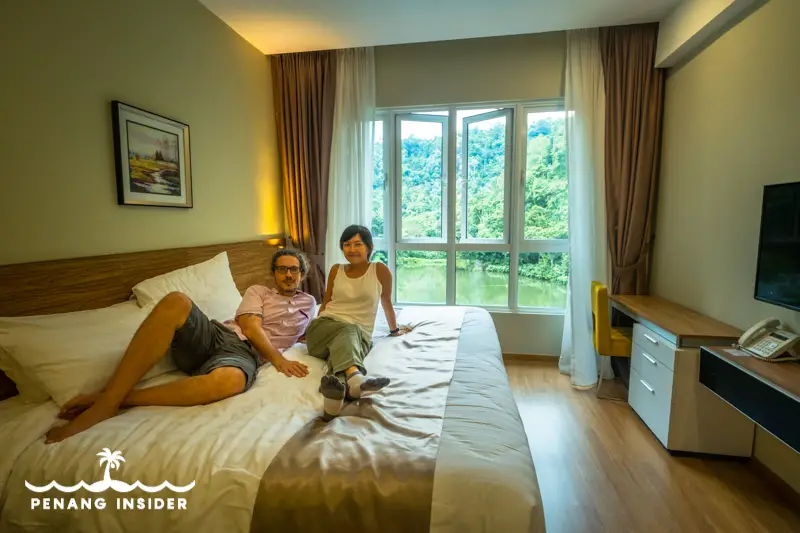 I think it depends largely on what room you get, but in general, the standard is very high. Our master bedroom had a floor-to-ceiling window from where we could peek at the beautiful views while relaxing on the bed, which was very large and comfortable — the GM told us that the mattresses had just been changed prior to our visit.
We had a large en suite bathroom equipped with a standing shower, which is enclosed in a glass cage, and a large jacuzzi which, to be honest, I didn't have time to try this time!
At night, the place is extremely quiet and we had a very nice, relaxing sleep.
The second room does not have an en suite bathroom, but is large enough for good comfort and still has a large window to enjoy the views.
A third room, converted from what I think is a studio space, lacked a proper window facing the outdoors and so it was a bit dark — but again, unless you come in a large group, you'll hardly use it.
---
What makes The Haven Ipoh a beautiful place to stay in nature?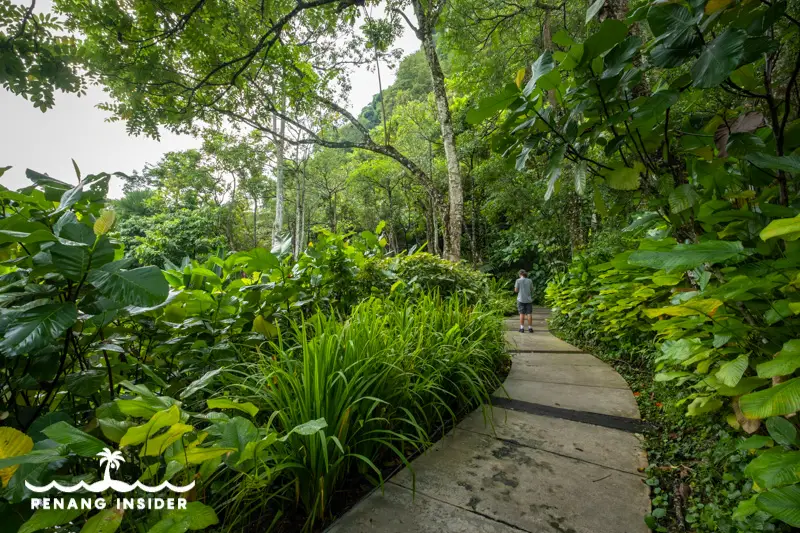 The best part of staying at The Haven is enjoying its 4-acres gardens that extend around the lake and swimming pool.
There is a 600-metre jogging track going around the lake that's perfect for an early morning jog or leisurely stroll with children or older parents.
One of the place's perks is Rockhaven, a 280-million-year-old limestone rock formation that soars on the western side of the lake. An observation deck and an Amphitheater by the Lake, set in front of each other on the southern and northern sides of the lake, are beautiful vantage points to observe the surroundings.
At last, the free-form swimming pool, set in front of the lake, is almost Olympic-sized and perfect to while away the hours you won't spend in your room or balcony. It closes at 10 pm, which is later than most other resorts.
---
Eating at The Haven
Breakfast at The Haven's restaurant Cuisines is quite varied, with a good choice of pastries and Western-styled items such as croissants and jams, and plenty of options for Asian and Malaysian-style breakfast — from Nasi Lemak to some of Ipoh's popular noodles.
We had a chance to sample lunch from The Haven's restaurant, and can definitely vouch for the Singapore Laksa — creamy and delicious, with scrumptious prawns the size of fingers — and fish and chips. The batter is not heavy at all, and melt-in-your-mouth tender.
---
The Haven Musical Extravaganza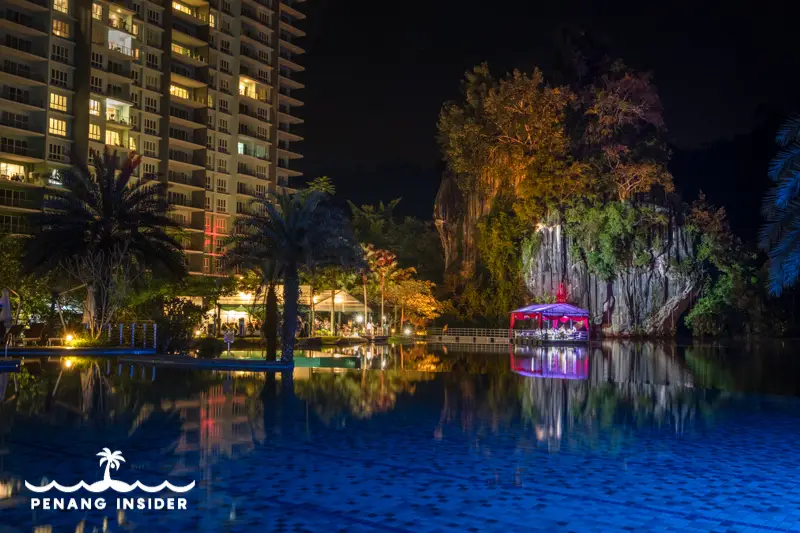 Our stay coincided with an interesting musical event organized on the lake, The Haven Musical Extravaganza, in collaboration with the Selangor Symphony Orchestra. This first-of-its-kind "natural surround" performance was held over three nights from the 27th to the 29th of October 2022.
Orchestra and sopranos alternated on the Lake Viewing Deck set in front of the three apartment blocks for an evening of classical music and iconic international songs. The expert light plays enhanced the performance to new heights, making good use of the limestone amphitheatre to both enhance the sound, and give a spectacular effect of music over a lake in jungle heaven.
The setting was definitely impressive, and it is hoped that there will be more such musical events hosted here.
---
The Haven Ipoh: Our Verdict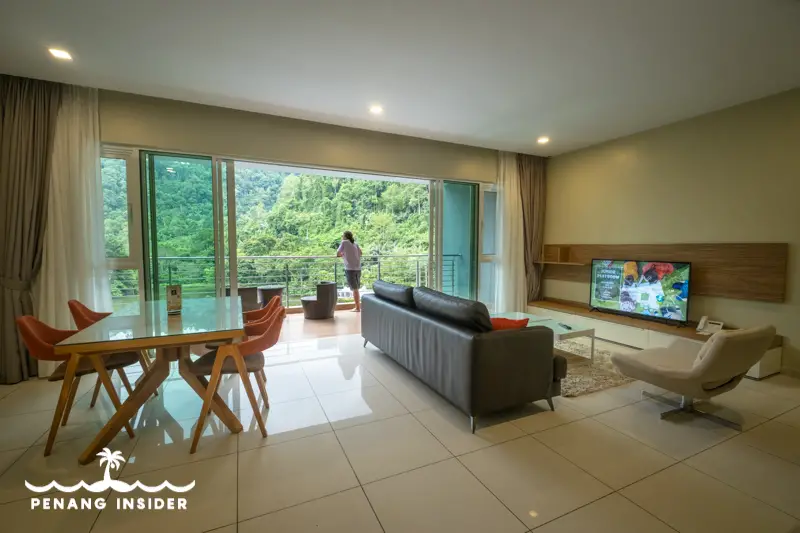 If you are expecting a five-star butler experience, you may be disappointed with The Haven in the sense that it truly feels like a community, rather than a "hotel". But this is absolutely a perk for those who have families in tow, especially children. Set them free in the large pool, and go back to your balcony where you'll be able to "monitor" them as you brew yourself a nice cup of Flat White courteously offered by The Haven.
The Haven resort is, however, a bit difficult to reach and move away from if you don't have a car. You'll have to resort to hailing drivers, but the good news is, Ipoh Gardens and all its food courts are pretty close by and a much better alternative to going eating in Ipoh Old Town, which becomes pretty much dead after 5 pm.
If you travel in your own car and are interested in bringing your children to the Lost World of Tambun, for example, then The Haven is a very good choice — especially if you are planning to do your own cooking. Just make sure that the hotel knows, as they may be able to provide cooking utensils and pots, without having you bring your own — quite a pain in the neck when all you want is to relax in nature on holiday.
Convinced? You can check prices and book your stay at The Haven on BOOKING.COM or AGODA.
---
And if you liked this, why don't you sign up for our mailing list? We will send you immediately a FREE photographic eBook with some incredible pictures of Penang, and we promise, we will disturb you only about once a month with some good local advice you won't find on the site