There are many great things to do in Ipoh, the capital of Perak in Malaysia. But if we had to recommend one, it is visiting at least a couple of its many beautiful Ipoh cave temples. Why? Set inside limestone massifs covered in viridian tropical vegetation, Ipoh's Cave Temples are some of the most unique in Malaysia and even the whole of Southeast Asia.
This post will teach you the absolute best, must-visit Ipoh Cave Temples you shouldn't miss when visiting Perak's capital. To start, find a nice Ipoh Airbnb or the best Ipoh hotel to settle down and enjoy the city.
READ MORE – A Stay at The Haven Resort Ipoh
And if you have extra time, don't forget to add at least a day to visit the nearby outdoor adventure capital Gopeng, or stop for a foodie trip in Taiping (don't forget to visit its serene Taiping Lake Gardens and beautiful Hill Resort Maxwell Hill) with a side trip to beautiful river towns Kuala Sepetang and Kuala Kurau on your way back to Penang. With more time, take a break at Pulau Pangkor, Perak's own resort island, or check out Kuala Gula Bird Sanctuary.
Ipoh Cave Temples: a Brief Introduction to the Famous Caves in Malaysia
The Kinta Valley is dotted with an incredible landscape of karst rock formations that resemble those found in other parts of Asia, such as Krabi in Thailand and Yangshuo and Guilin in Southwest China. Limestone karst and tin mining go hand in hand, and that's exactly what helped Ipoh, and the Kinta river valley establish themselves as a crucial center of British colonial Malaya.
READ MORE — Best Perak Attractions
The cave temples of Ipoh are born because immigrant settlers from south China came to Ipoh and were very impressed by the many hollow caves they found opening inside the biggest limestone hills scattered in the Kinta Valley. They decided that these rock halls would be the perfect places for prayer and meditation. That's how the Ipoh cave temples were born and still survive today.
Today, more than 30 Buddhist and Hindu cave temples around Ipoh are certainly some of Ipoh's most special attractions. In fact, not only are there not many cave temples in Malaysia, but also all over Southeast Asia, and not visiting Ipoh's cave temples would be a big mistake.
What are the Best Ipoh Cave Temples you Must Visit
The following is a list of the best Ipoh Cave temples we think you should visit. The suggestion is to take your time and not try to visit more than two of the Ipoh Cave Temples in a day because every Ipoh cave deserves its time. Many have large grounds, hidden parks, and staircases that lead to the top of the limestone hills for beautiful views over Ipoh city and the Kinta Valley. You could pack the three temples around Sam Poh Tong in a long morning or afternoon visit, but only because they are close to each other. The Perak Tong Cave Temple and Sam Poh Tong, for example, lay at the two opposite sides of Ipoh city.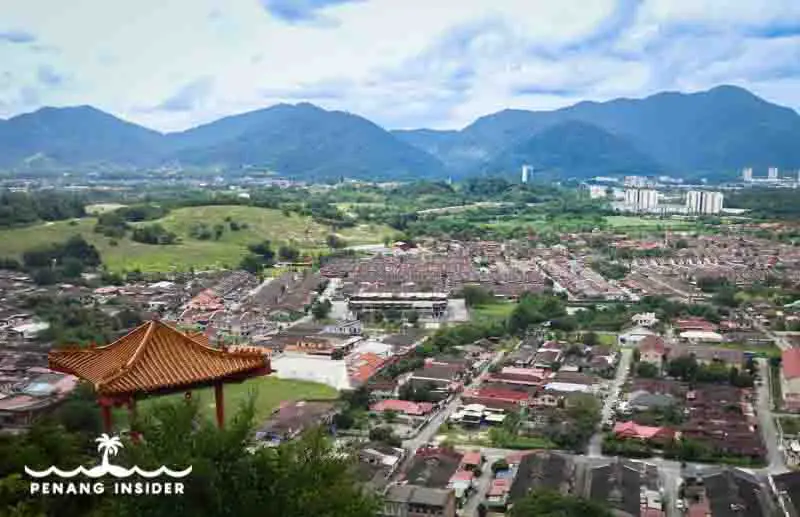 Also, keep in mind Malaysia's unforgiving heat: try to visit early in the morning or after 5 pm. Otherwise, you'd easily get dizzy and dehydrated. Bring plenty of water and a sun hat with you.
How to Get to Ipoh's Cave Temples
OK, if you don't have your own car, the best way to get to Ipoh Cave temples is by using a Grab Car from Ipoh's old town.
If you really want to save some money and you are not afraid of spending considerable time waiting for public transport, then the buses by Perak Transit leave from the Medan Kidd bus station within walking distance from Ipoh's old town are a good option and cost less than RM2. You can check routes here.
This is a map of the Medan Kidd Terminal:

To reach Gunung Rapat and the main cluster of temples around Sam Poh Tong, you should take bus 66, T37 (which stops at Gunung Rapat) or bus T34 to Gopeng. Ask the driver to drop you off at the Sam Poh Tong turnoff.
To reach Perak Tong Cave Temple,  catch bus 35, T30a, or T30b.
To reach Bercham, take the T32.
Kek Lok Tong Cave is the most beautiful, but also the hardest to reach by public transport. You can choose Grab, or, if you value your time and are OK with having a guide, you may join a tour that also includes a visit to a Pomelo farm and an exploration of Ipoh's old town including a food tour. This may work best for families or groups of friends, so check it out. Click here to reserve your spot.
---
Famous Cave Temples in Ipoh, Malaysia
The Perak Cave Temple may be the most famous of all Ipoh caves. Situated in the northwestern corner of Ipoh, close to the Ipoh Utara North-South highway exit, the Perak Cave Temple is very easy to visit for those driving from northern Malaysia — it's a perfect first Ipoh attraction to visit for those coming from Penang.
Founded in 1926, the Perak Tong cave Temple was discovered by Cong Sen Yee and his wife, Choong Chan Yoke, two Chinese immigrants from Jiaoling province. For the following 50 years, the couple worked hard to collect the funds needed to develop Perak Tong Cave Temple. When they passed away in 1980 and 1983, they left the Perak Cave Temple in the hands of their son Chong Yin Chat.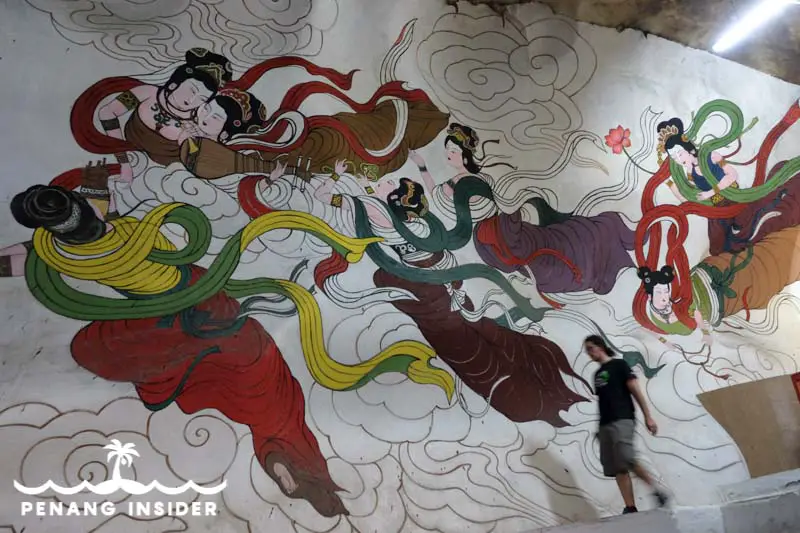 The Perak Tong cave temple is famous for its beautiful entrance, a symmetrical Chinese temple gate set at the bottom of the limestone massif Gunung Tasek. The main hall hosts a 40-foot-tall golden seated Buddha flanked by four guardian deities. The beauty of this cave is also the giant wall murals depicting characters from Chinese mythology and Buddhist scriptures.
Behind the main altar, there's a flight of steps that, after passing through the upper recesses of the cave, brings visitors up and out on the top of the limestone hill. There are supposedly 450 steps, passing through finely designed Chinese gazebos where one can rest throughout the sweaty climb. The views from up here are spectacular, to say the least, but bring an umbrella and plenty of sunblocks if you wish to dare the climb during the hottest hours of the day.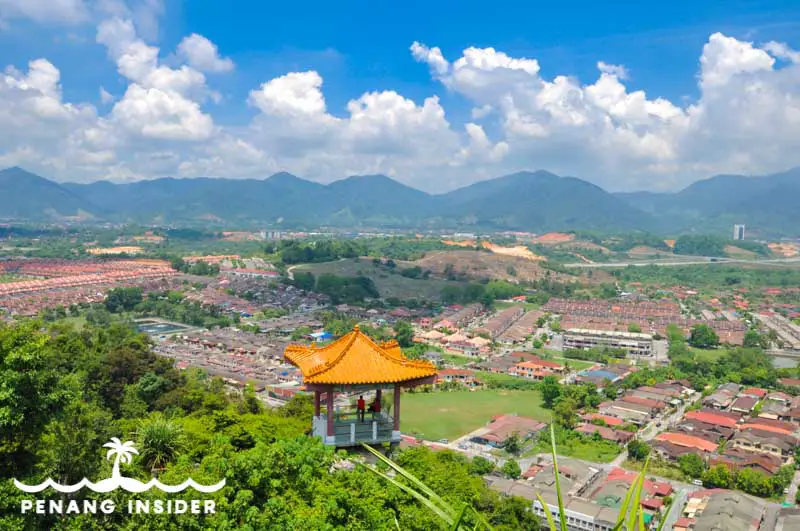 ADDRESS: Jln. Kuala Kangsar, Kawasan Perindustrian Tasek, 31400 Ipoh
OPENING HOURS: 8 am to 6 pm, last entry at 5.30 pm
ADMISSION: Free entry
---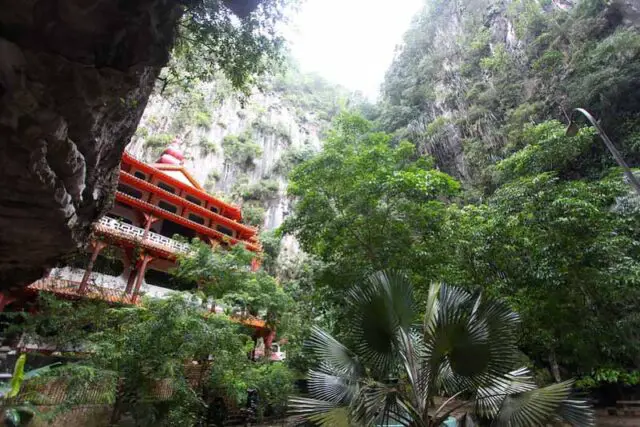 The beautiful red pagoda and tortoise pond at the back of the Sam Poh Tong Cave Temple massif (image by Flickr Creative Commons)
Sam Poh Tong is the second most-known Ipoh cave temple and the most important in the cluster of cave temples situated within the Gunung Rapat area to the southeast of Ipoh and on the way to Gopeng.
Sam Poh Tong opens majestically with a Chinese archway set beyond a landscaped garden with a Japanese pond stocked with carp and tortoises.
The beauty of Sam Poh Tong, however, is inside and beyond a tunnel, where the cave temple opens into a gap in the limestone where the monks built a stunning red Chinese pagoda in front of a turtle pond. Releasing tortoises here, it is said, brings great fortunes.
ADDRESS: Jln. Kuala Kangsar, Kawasan Perindustrian Tasek, 31400 Ipoh
OPENING HOURS: 8 am to 6 pm, last entry at 5.30 pm
ADMISSION: Free entry
---
Many people confound Ling Sen Tong Temple as a part of Sam Poh Tong, but it's actually a different temple — the first in a string of five, all set within the Gunung Rapat area, to be precise. Ling Sen Tong is mostly remembered for its bright colors — red pillars, yellow-tiled Chinese roofs, and blue walls — and the cartoon-like life-sized statues that stand before its entrance. They are possibly the reason why this temple carries this name — Ling Sen Tong means "Rock of Heavenly Spirits". Among the many statues you'll be able to meet monk Xuan Zhang and the Monkey King from the Chinese Epic Tale "Journey to the West", the 12 animals of the Chinese zodiac, and also see a large golden reclining Buddha.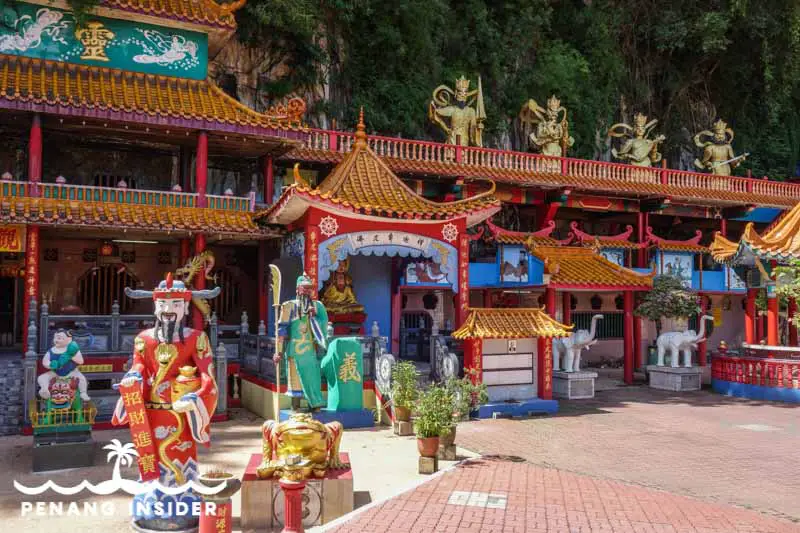 Once inside, look at the cave's ceiling to witness real devotion — the rock is dark because of the smoke stains of the thousands of joss sticks that the devotees have burned here for decades.
ADDRESS: Jln. Temoh, 31350 Ipoh
OPENING HOURS: 8 am to 2 pm, last entry at 1.30 pm
ADMISSION: Free entry
---
4
Nam Thean Tong Cave Temple
Set between Lim Sen Tong and Sam Poh Tong, Nam Thean Tong is often mistaken for being a part of the latter, but it's a standalone temple. The entrance, built right against a towering limestone massif, is worth noting, as is the giant golden statue of Confucius standing tall in the well-manicured zen gardens on the front.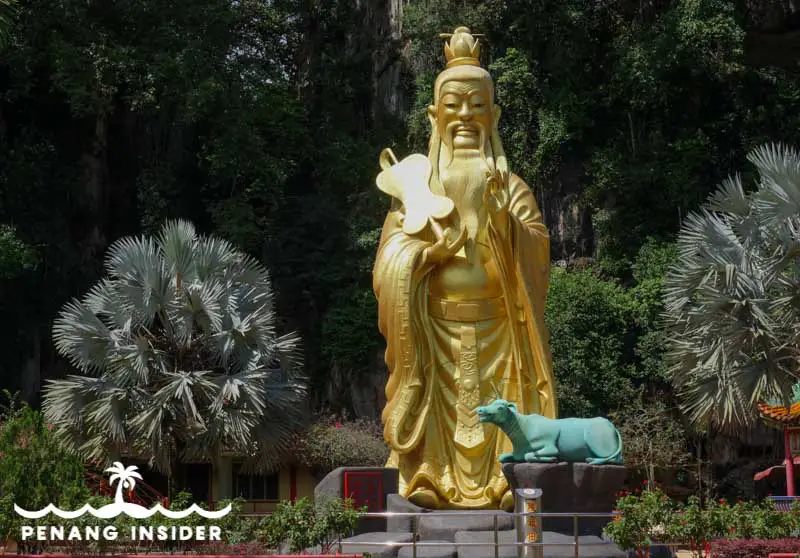 ADDRESS: Jln. Temoh, 31350 Ipoh
OPENING HOURS: 8 am to 2 pm, last entry at 1.30 pm
ADMISSION: Free entry
---
5
Kek Lok Tong Cave Temple
With Perak Tong Cave Temple, Kek Lok Tong — not to be confounded with Penang's Kek Lok Si Temple — must be the grandest and most beautiful of all of Ipoh's Cave Temples. Set in the grounds of Gunung Rapat — the same cluster of limestone hills containing Sam Poh Tong, Ling Seng Tongm Nam Thean Tong, and the Kwan Ying Tong Temples — Kek Lok Tong has a special, more hidden position right beyond a quiet local neighbourhood, and is hard to reach without your own wheels.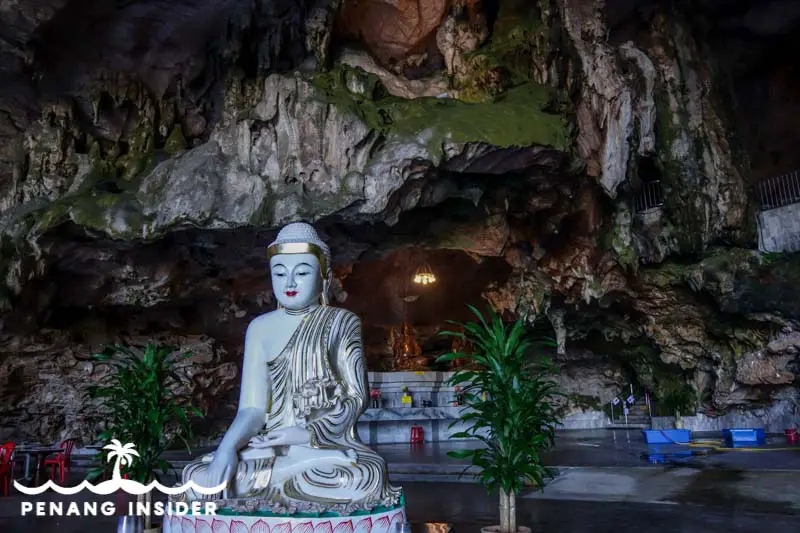 The Kek Lok Tong Temple entrance is huge, like an open giant mouth stretching for the best part of the hill face. The entry is via a path that immerses into the cave, tall enough to house a small building filled with statues of Taoist deities. In the middle of the cave, a staircase leads visitors through a narrower tunnel that hosts Buddhist statues and opens once again onto a beautifully landscaped garden with a pond, encased by walls of limestones topped by viridian vegetation.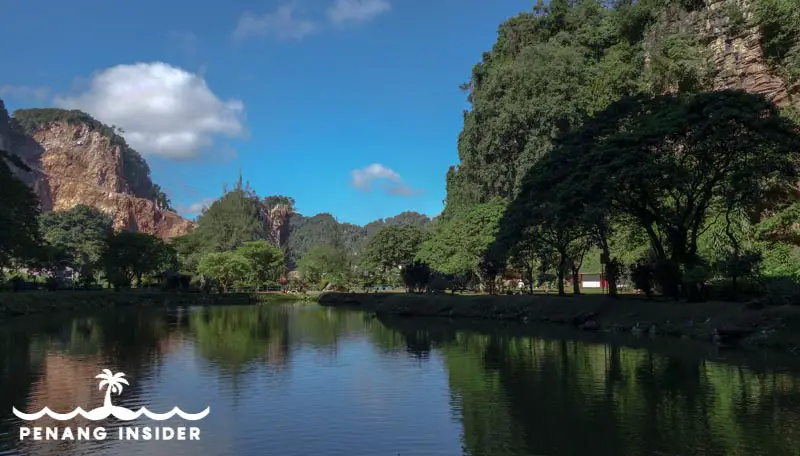 To be frank, the red and white communication tower and the factory one can see beyond the park are a real eyesore and take away quite a lot of charm from the experience of visiting these zen gardens. Still, Kek Lok Tong Cave Temple remains a gem among all other Ipoh cave temples. You can also take a 30 minutes pedal boat ride (RM12 for 2 people or RM20 for 4) in the river that flanks one of the limestone walls at the left-hand side of the park so that you may have a much better view of the rugged stalagmites and stalactites.
ADDRESS: Pesiaran Sepakat 3, TMN ENDAH JAYA, 31350 Ipoh
OPENING HOURS: 8 am to 5 pm, last entry 4.30pm
ADMISSION: Free entry
---
6
Kwan Yin Tong Cave Temple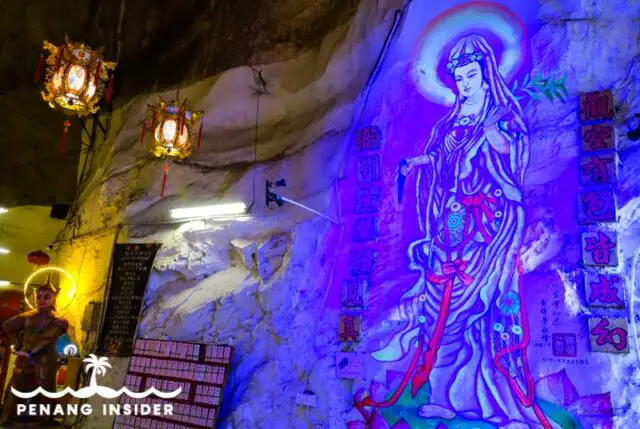 Kwan Yin Tong cave temple in Ipoh is entirely dedicated to the Chinese Goddess of Mercy (image by Marco Ferrarese)
Situated just a couple of kilometers south of Sam Poh Tong on the highway to Gopeng, Kwan Yin Tong is a lesser-visited, but frankly not less beautiful, Ipoh cave temple. Built to the left side of a limestone hill inside a smaller cave, this Ipoh cave Temple is dedicated to the Goddess of Mercy Kwan Yin — her statue is reproduced everywhere. Of particular note is a mural painting of Kwan Yin lit up with blue, psychedelic light and the endless rows of hundreds of Kwan Yin statues set on the cave's walls. The altars at the center and the back of the hall celebrate beyond Kwan Yin, the Buddha, and other characters of Chinese mythology.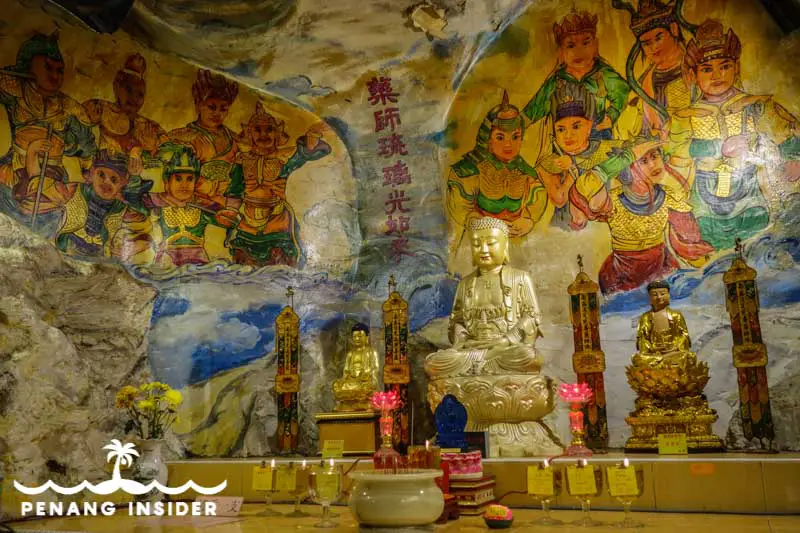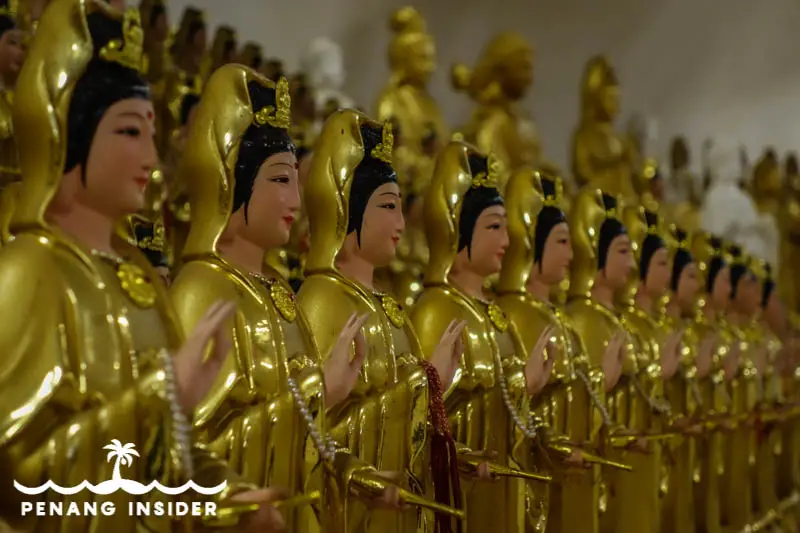 As one last perk, don't forget to make a wish to Goddess Kwan Yin by hitting on a drum three times and tolling a bell once, before leaving a small money offer in the jar below. This temple is popular during the third day of the Chinese Lunar New Year when devotees occupy the parking lot in front of Kwan Yin Tong to perform dances and rituals.
ADDRESS: Lot 21606, Batu 4 1/2, Jalan Gopeng, 31350 Ipoh
OPENING HOURS: 8 am to 5 pm, last entry at 4.30 pm
ADMISSION: Free entry
---
7
Dong Hua Cave Temple (东华洞)
This is an offbeat Ipoh cave temple that few people visit, and it's a pity indeed, for the temple's face looks like it is embedded in the limestone, and you have to climb a row of stairs to reach it. Inside the temple, you'll find a huge, 100-year-old stalactite in front of the staircase leading to the main altar.
ADDRESS: Lot 26006, Hala Perindustrian 1, Taman Bistari, 31400 Ipoh
OPENING HOURS: 8 am to 5 pm, last entry at 4.30 pm
ADMISSION: Free entry
---
8
Huat Tian Keong Cave Temple
This lesser-known Ipoh cave temple is set in the quiet neighborhood of Bercham, right inside the limestone hill called Gunung Tambun. On the left side before entering is a pool filled with Chinese carp and a set of miniatures positioned on the cave's rock face as in a diorama.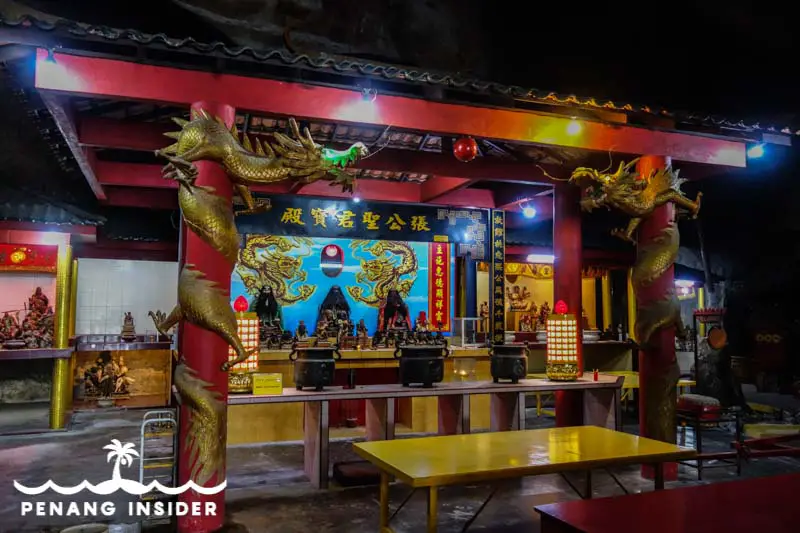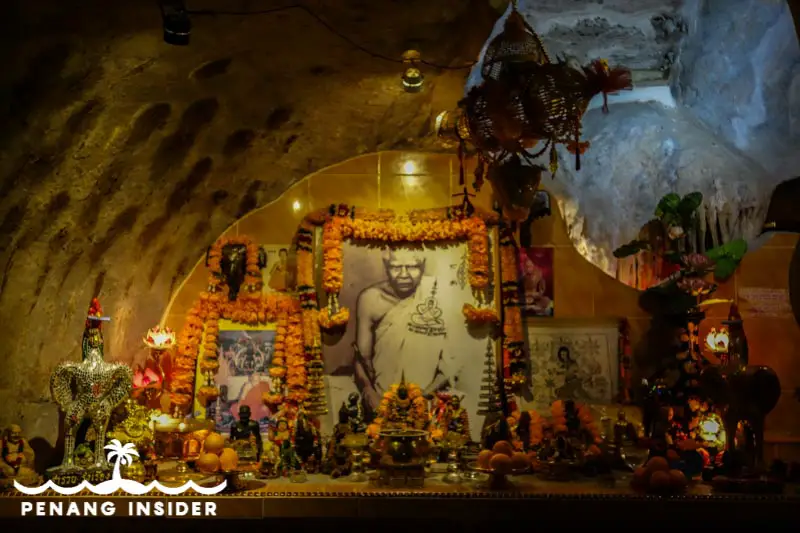 The temple is pretty dark and evocative, with a right-hand path leading into a narrow cave that ends with an altar celebrating a Thai monk. Looping back out, you'll find yourself again in the main hall, with a simple yet sumptuous altar guarded by two golden dragons. Look out for the particularly haunting and ancient statues of Tua Pek Kong, or the "Grand Uncle" of Malaysian and Singaporean Taoist religion, in a niche at the bottom left-hand side of the main shrine.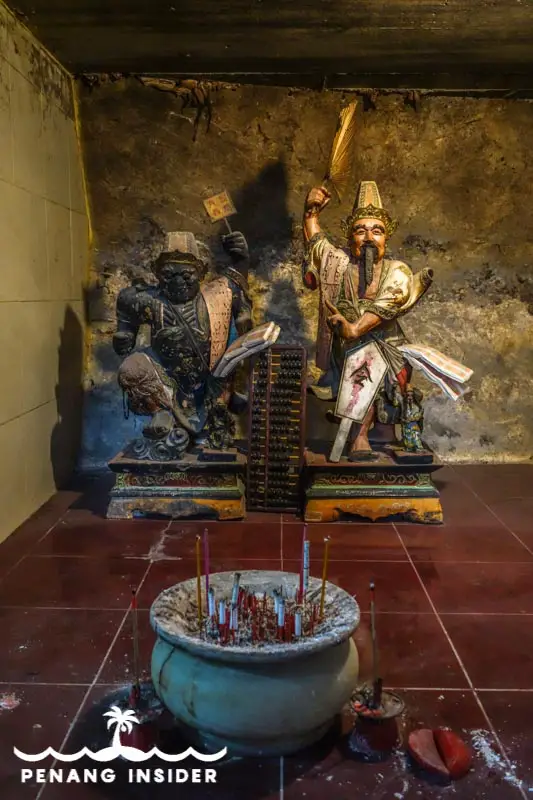 Before you head out, you may climb a staircase and reach a pavilion perched upon the cliff face of Gunung Tambun.
ADDRESS: Lebuh Bercham Selatan, Taman Desa Impian, 31400 Ipoh
OPENING HOURS: 8 am to 5 pm, last entry at 4.30 pm
ADMISSION: Free entry
---
And if you liked this, why don't you sign up for our mailing list? We will send you immediately a FREE photographic eBook with some incredible pictures of Penang, and we promise, we will disturb you only about once a month with some good local advice you won't find on the site