When thinking of traveling to Malaysia, Gua Musang is definitely not the first destination that comes to mind.
Tucked in the southernmost corner of Kelantan state, which always gets a bit of a bad reputation because of its conservative Islamic majority, Gua Musang is on the contrary an amazing little town that definitely deserves some of your time.
First of all, Gua Musang functions as a bit of a "central" hub when moving from Penang and Ipoh — don't forget its cave temples, which are one of Perak's best attractions, and the series of attractive Ipoh hotels and Ipoh Airbnbs — to the forested interior of the country.
There's so much nature, especially amazing caves, all around Gua Musang. This post will tell you all you need to know to make a visit to Gua Musang a highlight of your trip to Malaysia.
---
First off, Where is Gua Musang?
Gua Musang is located in the deep southern end of Kelantan state, but frankly, it feels more like a part of the interior Pahang state, whose border is only a few kilometers south of the town. Gua Musang is a gateway to the caving, jungles, and culture that Pahang's national parks such as Kenong Rimba are well known for.
Here is a map of Gua Musang:
---
Where to Stay in Gua Musang? Gua Musang Best Hotels
For its small size, Gua Musang offers a nice selection of hotels and places to stay that are all around the train station or in very close proximity to the Old Town. These are some of our favorite hotels in Gua Musang:
Welcome Inn Gua Musang is not too far from the old town and possibly offers the best accommodation in the town, with large rooms overlooking a quaint part of the suburbs. Check for the latest prices on BOOKING.COM|AGODA
M Quality Hotel is very close to the new Gua Musang train station and very good value for money, with clean and comfy rooms. Check for the latest prices on BOOKING.COM|AGODA
Phoenix Hotel is another very good choice in close distance to the new train station. Rooms are luminous and modern, with rain showers and all the bells and whistles you need — including electric kettles and free coffee and tea. Check for the latest prices on BOOKING.COM|AGODA
---
Gua Musang's Attractions: Best Things to do in Gua Musang
Gua Musang has a train station and a bus station, but as its attractions are quite spread out, it's best visited with your own wheels. There is ample — and free — parking pretty much everywhere, both in town and in the outskirts.
The following are suggestions on some of the best activities for a couple of days well spent in and around Gua Musang.
---
1
Visit Gua Musang Old Train Station
Gua Musang has always been one of the most important stops along Malaysia's famed Jungle Railway and today a new train station serves routes to Tumpat, Johor Bharu Sentral, and Kuala Lipis.
But the most interesting is the Old Train Station, set about 1km away, around which the proper old town of Gua Musang developed. The main characteristic here is the huge limestone massif towering above the old station, a symbol of Gua Musang — and a haven for caving, as the name of the town suggests. "Gua" means in fact "cave" in Malay, and "musang" is the common palm civet.
The Old Train Station is closed, of course, but the attraction here is to wonder at the limestone and soak in the small town life that still develops around this old railway track, rather than the new one. There's a little Malay-run coffee shop set right next to the Old Station's platform where you can have a drink or a nice breakfast — the roti canai here are pretty good.
---
2
See Gua Musang's Street Art
Penang street art is famous all around the world and has certainly initiated a national obsession. Even Gua Musang is no longer immune to it: start at the Old Train Station, where artist Koo Yean Ni painted the left side of the original facade in June 2020 with a cutesy caricature celebrating the glory days of the local Keretapi Malaysia (Malaysian Railway).
Only a hundred meters or so back into the Old Town, don't miss one of the perpendicular alleys connecting the two main roads, where there are two other newer murals celebrating Kelantan's Malay folklore with silat fighters and scenes from Malay kampungs of the past.
---
3
Climb into Gua Musang's soaring limestone and see stunning caves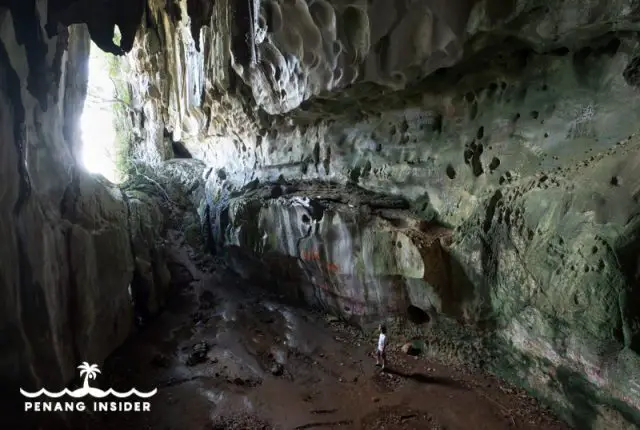 Don't tell me you wouldn't like to visit this cave chamber… the best that Gua Musang has to offer. (image © Kit Yeng Chan)
Coming to Gua Musang and not seeing the reason why the town got its name it's a big big mistake. Truth be told, I have been to Gua Musang at least three times before without ever venturing into the limestone massif that soars above the Old Town. The reason — both the Lonely Planet Malaysia guidebook and the local people I asked to said "it's dangerous and you need a guide". Also, no guide was ever available, it seems.
But on my last visit in June 2022, I decided that no matter what, I HAD to enter Gua Musang's cave and climb the massif — it's the best thing to do in Gua Musang indeed! And truth is, if you have a little experience hiking, you do not need any guide — just consider that the trek up is steep, can be slippery, and then, potentially dangerous. Don't go alone after rain.
How to visit Gua Musang's limestone cave
To reach the trailhead, go to the Old Train station, step up on the platform and walk along it to the right until you see a 321.5 sign pole stuck on the other side of the railway track.
That's where you'll have to cross the rails (be advised that trains only pass here around 8 am and 10 am in the morning or late at night, nevertheless watch out before crossing) and follow a jungly path that goes in and towards the bottom of the limestone hill. Keep walking to the right side until you'll reach a kampung. Go through: the road zig-zags through the shanty houses — keep following the track and pay attention on your left, where you'll see the beginning of a steep trail up the side of the massif. You may ask the residents if you can't really see it, but you should be able to note ropes hanging at the sides of the trail.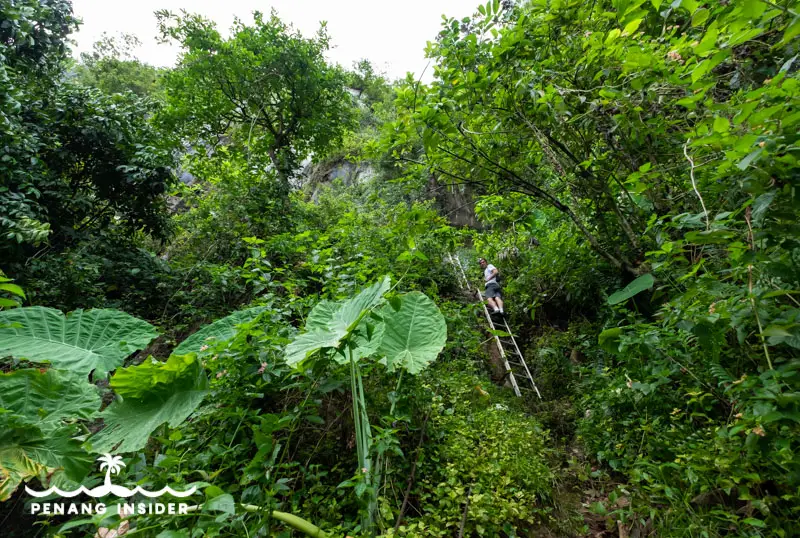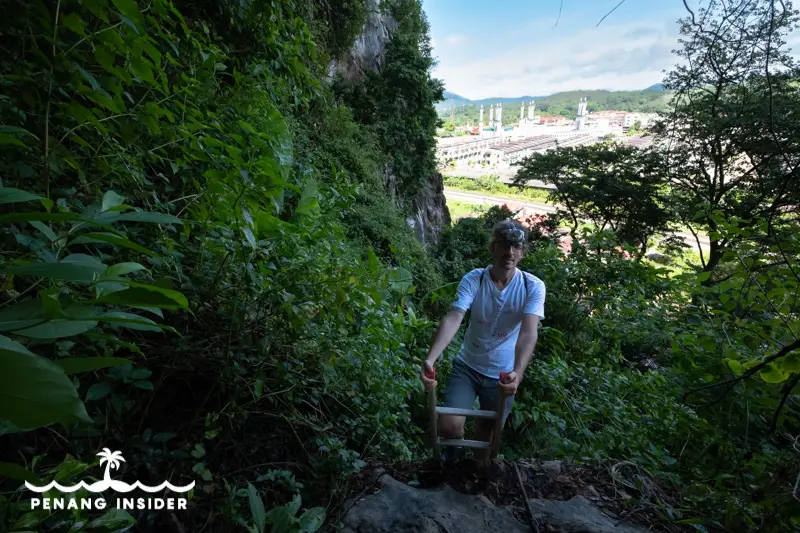 Once you find it, climb up using the ropes and ladder provided — you can't go wrong, if you find the ropes, the trail is clearly marked onwards. Just remember that after the ladder, you'll have to follow a small path to the left for ten meters or so, until you'll see a narrow fissure in the rock face. You must squeeze in to reach the first cave chamber. From the bottom, it should take about 15 minutes for an averagely fit person to get to the fissure.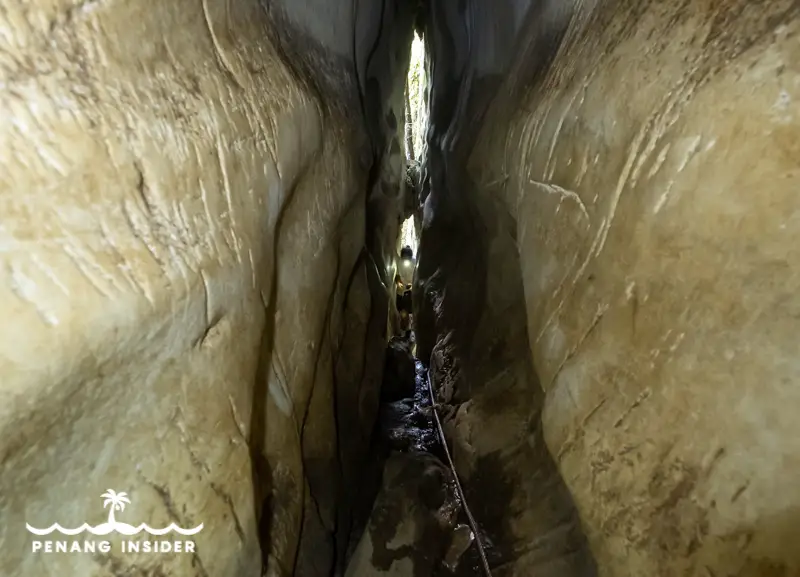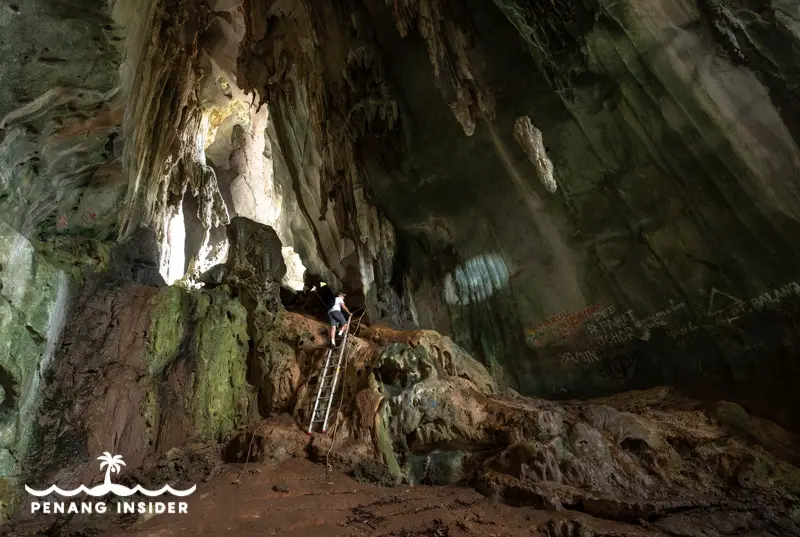 You can explore the cave for a good hour or so: take the ladder on the right side of the fissure and climb up to explore the depths of the cave. On the left side, a rope leads outside through an opening in the rock face, from where you can follow the path and ultimately reach the top of the limestone massif. Don't proceed if you feel queasy or are afraid of heights — the views are still wonderful even from the lower openings.
Think you can't do it by yourself? Then book this cheap, guided caving tour of Gua Musang limestone on Klook. And if caving it's not enough, challenge yourself with this 1-hour adventurous via ferrata.
---
4
Get a bite Under the Tree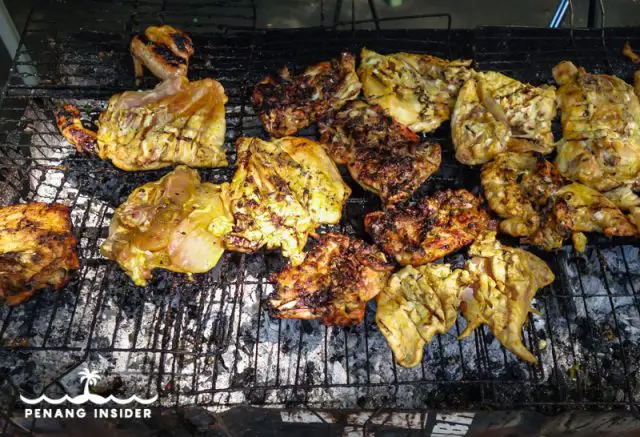 Don't leave Gua Musang before having tried the ayam percik at Under the Tree. (image © Kit Yeng Chan)
After you are done hiking, get back to the Old Train Station and just walk a few meters along Jalan Pekan Lama, where you'll find a concrete clearing shaded by a couple of old, large trees. There are two simple restaurants here — one serving Malay food, and the other serving Chinese food. Have your pick. The ayam percik is delicious and grilled fresh in front of your eyes.
---
5
Take a look at Gua Musang's Old Town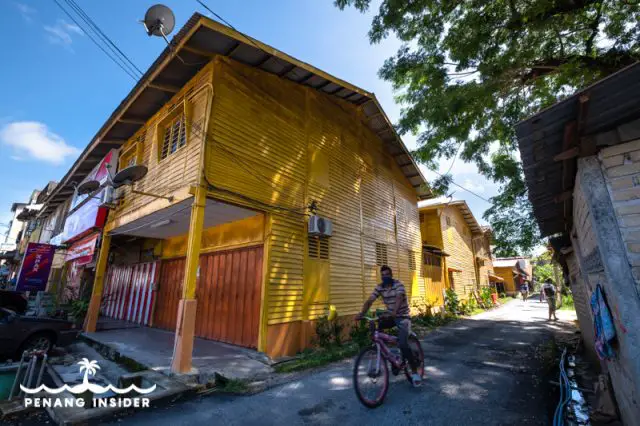 Shophouses and old-world shops line the two parallel roads making up for Gua Musang's compact town center. (image © Kit Yeng Chan)
Gua Musang Old Town is a beauty of sun-battered old shophouses, stores, and hair salons that have barely changed in more than 50 years. You should have a look, at a minimum by driving around in your car, or getting down and walking around. If you speak some Malay, the very friendly locals are open and a delight to talk to.
---
6
Chill out at Bayu Lenang
Just south of Gua Musang's bus station, after the traffic light on the road to Kuala Lipis, is Bayu Lenang, a large fishing pond set below another majestic limestone karst formation.
Locals come here to fish and enjoy the breeze at the annexed restaurant. You can come for a look, a walk, or a bite — the views are pretty spectacular.
---
7
Visit Pulai's ancient Water and Moon (Shui Yue) temple
If I told you that a slice of Southern China's Guanxi exists in the thick of Islamic Kelantan, would you believe me? Kampung Pulai, set only 8km south of Gua Musang and slung on a quiet bend of the Galas River, IS that place. Surrounded by limestone rock formations and set on the bend of a quiet river, it reminds of a smaller, lower-key version of the popular Guilin in Southern China. I bumped into Pulai as I was exploring the area back in 2015, and never found a more scenic village in all of Malaysia.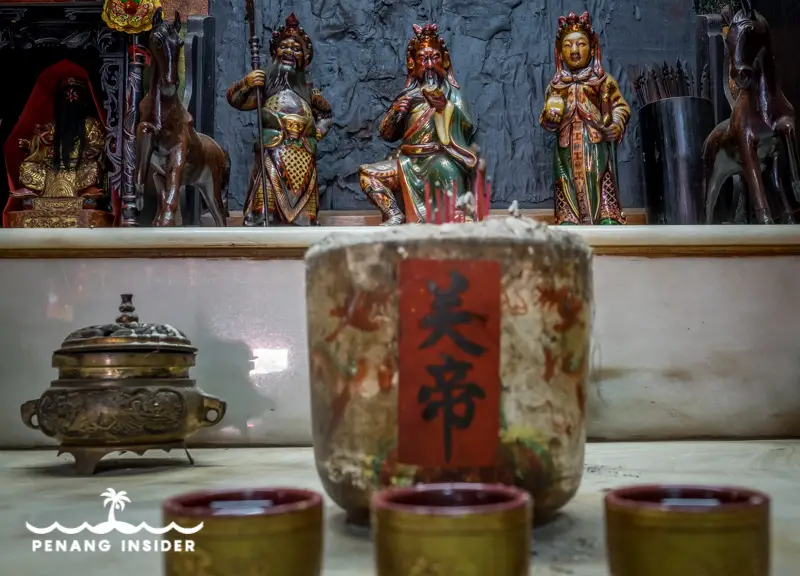 Pulai's centerpiece is the Shui Yue Gong temple dedicated to Goddess of Mercy Guan Ying — when it's said that the Hakka settled here at least 600 years ago, this temple (in previous incarnations than the present, of course) it's said to be at least 400 years old. Pulai's life revolves around it and the large square it dominates, right in front of the Galas river.
---
8
Hike to Princess Hill and a Guan Ying statue made out of a stalagmite
At one side of the Shui Yue Gong square is a suspended bridge that leads to another towering limestone massif called Princess Hill. Walk across rubber plantations to the base of the hill, where there's a pond with a statue of fishing Jiang Taigong.
If you climb the staircase to the left side of the pond you'll reach halfway up Princess Hill, where a cave hosts another temple dedicated to Guan Ying. A statue of the goddess carved out of a stalagmite is the central piece here, and the views over the Galas River, the Shui Yue Gong temple, and the surrounding jungles are incredible, especially at sunrise — the temple opens between 6.30 am and 6 pm, or find the caretaker who's always happy to open for the few guests who make it here.
---
9
Eat amazing Hakka food in Pulai
Don't leave Pulai without trying some of the Hakka Chinese food on offer here. Just to the right side of the Shui Yue Gong temple, for example, is a row of houses where you'll find Yuenling restaurant. It's a rice-and-dishes type of joint where it's best to eat in a group, but they also serve rice and noodle dishes in a single portion. Call 0193317867 for information, keeping in mind that only Mandarin Chinese and Bahasa Malaysia are spoken.
---
10
Go spelunking in nearby Merapoh
Not in Gua Musang or Kelantan per se, but only 25km south of Gua Musang along the new, perfectly paved toll-free Kuala Krai–Kuala Pilah Highway ( a.k.a. Central Spine Road) is the town of Merapoh.

READ MORE – Best Things to Do in Merapoh
Merapoh is well-known for being a caving paradise, with countless caves piercing through the soaring limestone hills that surround the village. There are 12 caves open to the public. You can visit by yourself, if you can find them — the signage is off and they stay hidden away behind local kampungs and farmlands. Getting a guide is recommended, and Merapoh Adventure is a recommended tour operator. Expect to visit 4 caves in a full day of exploration.
---
11
Visit the rainforest at Taman Negara Sungai Relau
If you make it to Merapoh, you may as well travel 7km more inland and land at Taman Negara Pahang Sungai Relau, the second, lesser-visited entrance to Taman Negara, Malaysia's oldest and biggest national park established in 1939.
Taman Negara Pahang Sungai Relau has a nice campsite, a canopy walkway, and some easy trails surrounding the park and it's very pleasant to spend a day out in nature. It's fairly easy to see hornbills here, but for bigger animals, the only change is venturing far more inside the park at Kuala Juram — a 40-minute jeep ride to the east. This is where there's a Kelah fish sanctuary, and where the challenging hike to Gunung Tahan, Peninsular Malaysia's highest peak, starts. You'll need to arrange a guide either at Merapoh Adventure or at Sungai Relau Park Headquarters.
The research and writing for this article were jointly collaborated with Tourism Malaysia with a focus to boost tourism growth and promote Malaysia as a tourist destination post-COVID-19 pandemic.

Kindly visit the Tourism Malaysia Official page for more information.
YOU MAY ALSO LIKE
Hiking Gunung Tahan, West Malaysia's Highest Peak
Best Perak Attractions
---
And if you liked this, why don't you sign up for our mailing list? We will send you immediately a FREE photographic eBook with some incredible pictures of Penang, and we promise, we will disturb you only about once a month with some good local advice you won't find on the site