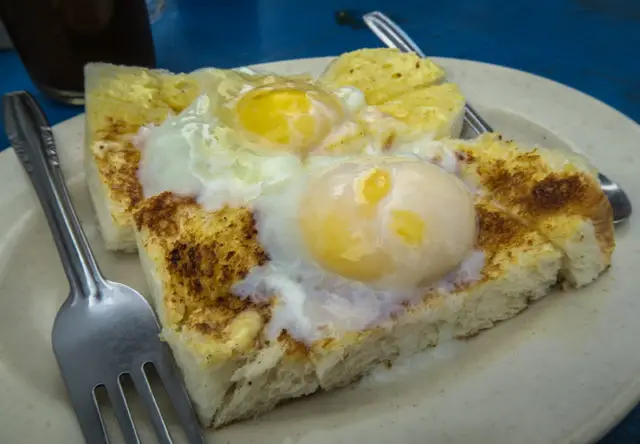 Roti Bakar – translated as "burnt bread" – is a British legacy and one of the simplest and most delicious breakfasts you can grab in George Town, a mecca of great street food. Technically a simple piece of white bread grilled to perfection and smeared with butter and kaya (coconut jam), roti bakar becomes heavenly when paired with hard-boiled eggs.
The Chinese, Malays and mamak (Indian Muslim) cook this breakfast in very similar ways, so much that we may rightly call roti bakar a real multi-ethnic Malaysian breakfast (as I argued here). However, in my opinion, there are still some minor differences, and each of Penang's main three versions should be tried before you pass a final judgment.
Starting with mamak, that is, the Indian Muslim way: where can first-timers find the best roti bakar mamak in George Town's chaotic back lanes? Where is that one mean bread that will leave them with a great aftertaste in their mouth, and that will make them come back, again and again?
I have no hesitations in recommending Abdul Hamid Gerai Kopi Dan Makan, literally a food cart parked at the northern end of Transfer Road, right at the crossroad with Jalan Argyll, and in 5 minutes walk from Penang Road. Here, food is consumed on plastic tables in a back-alley, customers chat and smoke, and the "chefs" prepare the bread from a rickety barbecue pit set at the side of the road.
If you were expecting to try some of George Town's best food in a boutique hotel environment, with air conditioning and credit cards accepted, let me tell you one thing: first of all, don't even try to get to the bottom of George Town's food vault. Second, pay for your greek salad, and go back to where you belong.
For all the others, the beauty of Abdul's roti bakar lies in the fact that here, bread is still traditionally grilled over charcoal fire, using thick slices of white bread. I love how the stall's workers carefully roast each piece to semi-burnt perfection, side by side, until it gets golden and crispy, and ready for a mean butter-and-kaya-smattering.
Besides Eating, There are Plenty More Things to Do in Penang.
GET INSPIRED:
How to Eat? A Roti Bakar 101
Abdul's Roti Bakar is served in two different ways: eggs on top, or served on the side, in a cup. The first method should be self-explanatory: just dig in, break the yolk and wait until it soaks the upper layer of the bread. Just enjoy the mess on your plate. We are not sitting at a 5-star hotel, remember?
The second method is a bit less self-explanatory for the uninitiated: why did they serve you a plate with bread and sugar, and two eggs floating in a coffee cup? Simple: you must stab one piece of bread with your fork and smear it in the sugar. Once you have done that, dunk the whole thing into the cup with the eggs and… enjoy the pulp!
If you want to consume this roti bakar like a real local, don't forget to add some white pepper and soy sauce to the eggs, and mix, before you dunk your bread. Of course, coffee or teh tarik would go along very, very well, too.
Besides roti bakar, Abdul Hamid Gerai Kopi Dan Makan is also great for frothy kopi tarik (pulled coffee), banana ball fritters (chokodok in Malay) and nasi lemak. But again, why should you come here to have something else, when Abdul's mamak roti bakar is the best in George Town?
If you think there's anything better, please tell me where, by leaving a comment below, and I'll check it out.
---
And if you liked this, why don't you sign up for our mailing list? We will send you immediately a FREE photographic eBook with some incredible pictures of Penang, and we promise, we will disturb you only about once a month with some good local advice you won't find on the site