Everybody loves some freebies, isn't it? Especially when travelling to a new city, knowing where to go, avoid basic mistakes and see good stuff without opening the wallet is gold. Penang has its fair share of free points of interest: in this post, we have collected 8 good roundups to free things to do in Penang.
All of these articles include Penang points of interest, not much Penang food, a bit of Penang beaches and, of course, quite a lot of George Town.
Reason is, it takes a while living on the island to come up with some really original free things to do in Penang — guess what, Penang Insider will do that soon.
But before we do, take a look at some of the best suggestions from around the web.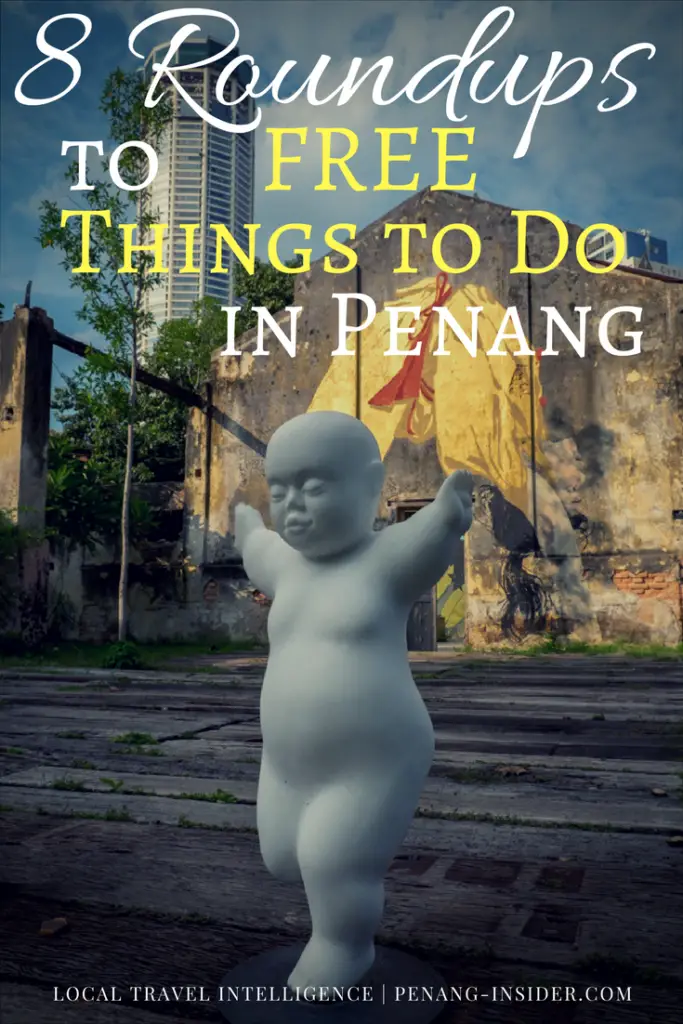 Good Roundups to Free Things to Do in Penang
Lash World Tour has a page with some good advice. I like the fact she suggests you visit a Nutmeg factory, which is not something everyone does while in Penang.
A Guide from Travelfish is always a good thing. Southeast Asia travel leading website gives some love to Penang's freebies, and you better listen to their expert advice.
We have to congratulate Tripfez, who found not 10, but 30 Free Things to do in Penang! Pretty awesome! Kudos for having listed the awesome Lorong Kulit Flea Market, that very few visitors get to know.
The Trippin Turpins have a very well laid-out list with clear explanations of prices (there are a couple non-freebies, indeed) and directions how to get there. Well done.
Malaysia Asia presents a list with some of the most known sites, besides Lorong Kulit Flea Market. Not bad, but there are a bit too many temples thrown into the mix.
Lady Iron Chef has a 7 points list suggestion that is pretty basic but includes our beloved Botanical Gardens. Give this a go.
Not all free, but a well-done list is available at The Culture Trip. Note that the Butterfly Farm listed here is now a new theme-park called Entopia.
Good to Know Before You Go to Penang
At last, you should take some time to familiarize yourself with this good list of 18 Things to Know Before You Go to Penang, Malaysia written by Durian expert Lindsay Gasik. There are quite a few good points here that will help you arrive in Penang with a better grasp of its multicultural legacy and how to understand it as a newbie.
Do you know of other online resources to the freebies of Penang? Please insert the link in the comments below, so that we can keep growing this post into a complete online reference.