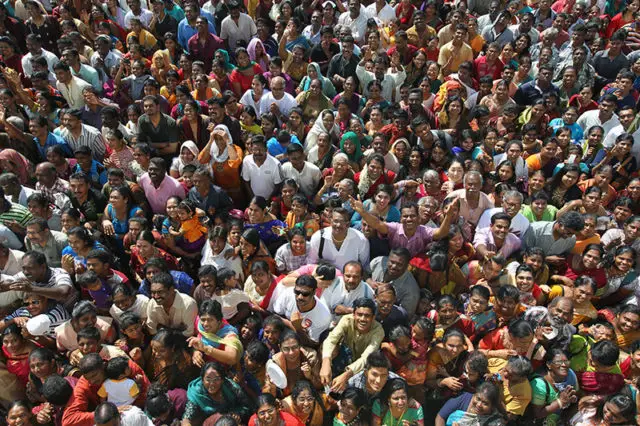 Going to Penang for the first time can be confusing, and making a few mistakes as a first-timer is very normal. But we believe it's always better to arrive and hit the ground running: we have already told you what to do with 48 hours in Penang, how to catch the iconic Penang Ferry, what 26 essential Penang foods you should start with, what are Penang best beaches, what are the 13 Best things to do at Komtar, and how to visit its biggest Buddhist Temple, Kek Lok Si. You can even prepare more by reading some of the best books on Malaysia.
In this post, we continue the wealth of good advice helping you avoid basic nuisances in order to make your stay happier and save your ringgit. Read on.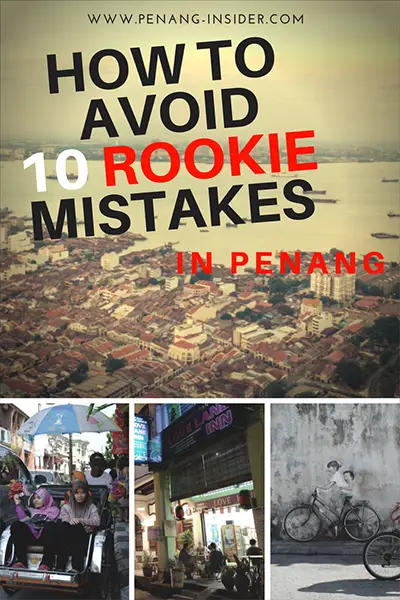 1
You travel with a trolley bag/hard case luggage
Seriously? Have you seen the quality of the pavement, the potholes, the open drains and more than anything, the terrible traffic on Penang roads? How do you think those pathetic plastic wheels will cope with all of the above?
You don't have to be a backpacker, but please, carry a bag that you can sling over your shoulder/back. It's the best to lug into taxis/Grab cars (do you know why Grab is better than taxis in Penang by the way?), and walking down the road to your accommodation.
2
You are a control freak and booked your accommodation ahead.
I am not a fan of planning every aspect of my trip, and especially, I like to see where I am going to stay with my very own eyes before I make a decision. Penang is particularly blessed with a smorgasbord of accommodation options to suit all and every budget. Just walk around, get a feel for your surroundings, and check-in. Most of the time walk-in prices are cheaper than booking rooms using any of the online sites. Book only if you know that you are going to arrive late at night, or if you want to stay along the beach in Batu Ferringhi — remember that higher-end hotels in that area often have online discounts. Check all the best areas to stay in Penang, before you decide where to put your feet up. And if you have some cash to splash, this list of Penang's best boutique hotels or Penang Best Airbnbs will help you a lot.
3
Taxis are overpriced and shady. Use GrabCar.
Do you like to be ripped off by criminally insane taxi drivers charging the most extortionate rates in Malaysia? You are welcome, jack. All the others, do yourself a favor, download the GrabCar smartphone apps, and start saving. Here's a full article on why Grab is better than taxis in Penang.
4
You learned some Malay. Great. But use it with caution.
In a multi-ethnic nation where the Malay Muslim majority is often misrepresented as the appendix of a corrupt and shortsighted racist central government, it's best if you address Penang locals in English. This is especially true of ethnic Chinese (who primarily speak Hokkien, similar to the language of Taiwan, and not Mandarin as one would expect) and Indians (who are mostly Tamilians and speak Tamil, not Hindi). I am not saying that locals would not appreciate your cracking efforts at speaking Malay, but leave them for when you'll travel to Malaysia's interior, the East Coast, Sarawak, and Sabah. In Penang, nobody cares. Speak English, mat salleh/kwai loh/ang moh… that's what is expected to come out of your mouth.
5
Street food is dirty and you won't eat it.
So why have you come to Penang in the first place? Not enjoying its wealth of cheap, delicious and greasy street food is like having sex with three condoms: paranoid, and utterly tasteless. Have your head checked, jack.
"this is a wealth of good advice, helping you avoid basic nuisances in order to make your stay better and save your ringgit"
7
You think you'll be awakened by the call to prayers. Oh, those bad, bad Muslims.
You may occasionally hear the call to prayers in the early morning, yes, if your accommodation is nearby a mosque. That's quite unlikely in George Town, unless you stay in Acheen Street next to the mosque. A visit to Penang will change one or two — or a hundred — of your preconceived stereotypes, so please come and see for yourself.
8
You only drink coffee in those fancy cafes because everyone goes there, and there's air conditioning
This is great and totally fine once in a while, but it's not the real Penang experience. The coffee culture that's so hip right now is an import of the West. Kopi in Penang has been consumed for centuries on simple plastic tables, with frothy bubbles at the top, and a plastic spoon sticking out of the cup. And most often, with a hot slew of delicious roti bakar. This local brew tastes better, costs ten times less, and (if you happen to sit too close to the roadside) gives you a humid and toxic insight into real Malaysian culture. I've learned by experience that the tattier the stall, the better the kopi: real Malaysians have no time for decor. They just concentrate on preparing heavenly brews.
Unless you travel with your family, save your time. Why? Because you will spend more time sitting in the car and breathing air-conditioned air in constant traffic, rather than enjoying your time in Penang. Besides George Town, which can definitely be navigated on foot, buses and Grab car are the best way to get around the island. Scooters are also cheaper, and a great option to get around Penang's heavy daylight traffic. Ask around Chulia Street for one, expecting to pay about RM30 per day. And if you really must drive, don't rent your car at the airport, as it tends to cost more than from other operators in the tourist enclave Chulia Street. Make your time and money worth, jack.
10
You took a taxi from the airport
Didn't we suggest that you avoid taxis? So, why you wanted to catch one from Penang airport, when there's a convenient bus stop with departures to George Town and Balik Pulau just opposite the airport's arrivals hall? Why did you want to consider a taxi in the first place, when you can reach both ends of the island for a mere RM2.50? Buses drop you super-centrally at KOMTAR, so what's the problem? If you really need your private vehicle, again, use Grab — they will save you a bunch, jacka%#.
Do you think we have forgotten other common mistakes that first-timers make when they visit Penang? Please write your suggestions in the comments below, and help us educate newcomers to have the best start on the island.
---
And if you liked this, why don't you sign up for our mailing list? We will send you immediately a FREE photographic eBook with some incredible pictures of Penang, and we promise, we will disturb you only about once a month with some good local advice you won't find on the site