Penang island has many hiking trails, including treks in Penang Hill. The hiking routes extend well beyond the island: there are even more hiking trails in Penang Mainland at Seberang Perai.
The most arduous hikers should however set their goals a little further east near the town of Baling in Kedah. Unbeknown to most travelers, and even locals, Baling offers two very intense hikes to the twin, bison-shaped range of Gunung Baling and Gunung Pulai.
This post focuses on Gunung Pulai, by far the hardest of the two. This 620 mt-high mountain is not for beginners and the faint of muscle: it's a powerful slog up a quasi-vertical and very rocky limestone mountain. Untrained or unfit people, stay away from Gunung Pulai because it will literally break your legs. I am quite fit, and still, my thighs still hurt two days after my climb.
From how to get there to how to climb, here's all you need to know to make the best out of your visit to Gunung Pulai in Baling, Kedah.
---
How to get to Gunung Pulai, Kedah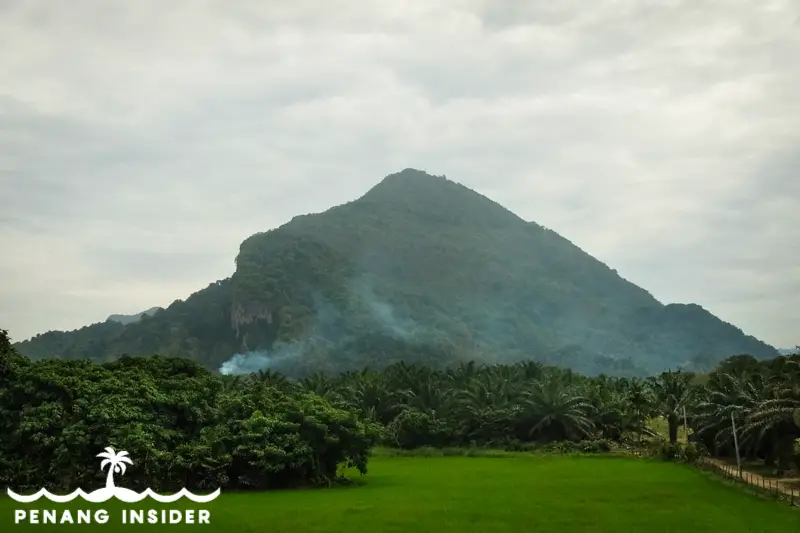 First of all, don't confuse this Gunung Pulai with the mountain of the same name in Johor state, in the south of Malaysia. The Gunung Pulai we are talking about here sits between the village of Kupang and the town of Baling in eastern Kedah. The Thai border at Pengkalan Hulu/Betong is only a few kilometers away.
The best way to get to Gunung Pulai is to self-drive or to catch a bus from Penang or Kuala Lumpur to Baling. But you'll need transportation to reach the trailhead, so factor this into your planning.
The trail head to summiting Gunung Pulai starts at the back of Kampung Pulai near Baling. You'll have to drive on a dirt road that skirts the Ketil River, and you'll know you have arrived once you have reached a collapsed bridge. On the left side, you'll see a wooden fence with a clear entry path towards the foothills of Gunung Pulai.
To make sure you find the correct trail, keep to the right and walk past the ancient Malay cemetery — a sight to behold in itself — until you'll see a track go up the side of the mountain. Remember, it's a steep climb.
This is a map of Gunung Pulai's trailhead:
If you are looking at this map, the exact pin is at the beautiful Kelambu cave right next to the beginning of the hike. Make sure you visit it but don't strike too far at the back — there are 13 caves piercing through this massif, most of them interconnected, but you do need someone who knows the way or you may seriously never come out of those tiny tunnels.
---
Can I hike Gunung Pulai by myself?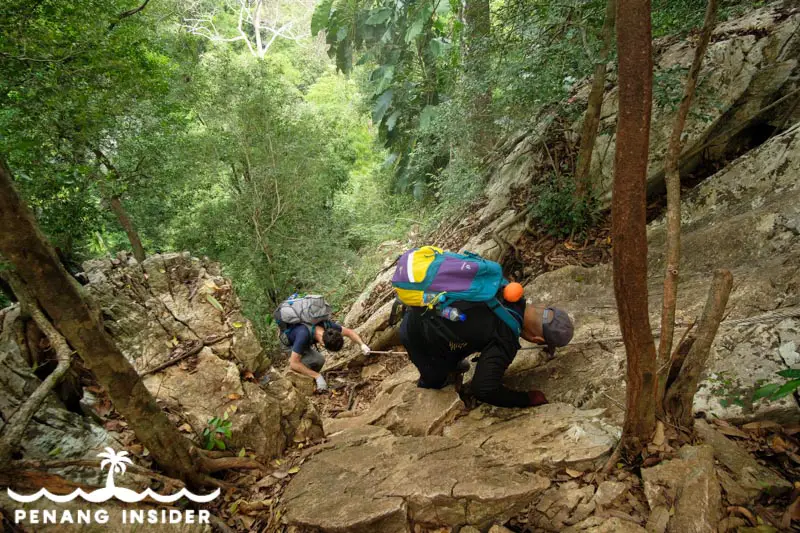 No, you need to inform Baling's Bomba (the local fire brigade) and get a permit from them, and then hire a local guide because the ascent is dangerous and not always clearly marked.
When I contacted the office of nearby Gunung Baling's park (call +604 470 1803) they suggested getting in touch with a guide called Solehan, who can be contacted at +6017 461 6972. You may call or use Whatsapp, but you must be able to speak Malay to him.
In our case, we went with the super sporty Mak Teh, a kind Malay auntie who really is the go-to person for anything hiking-related in the Baling area. She can help organize everything regarding your trip to Gunung Pulai, and you may contact her at +6010 658 3207. Again, use the Malay language.
---
Gunung Pulai: hiking to the summit
The beauty of Gunung Pulai is to reach the top for the great views over Kedah's plains, which are best at sunrise. For that reason, most people tackle the climb in the dead of night, leaving about 3 am in the morning to time the arrival on the summit by 6 am. Sunrise arrives between 6.30 and 7 am year-round in tropical Malaysia.
It takes between 2 to 3 hours to climb from the bottom of the mountain to the peak, and I say climb because if you thought that this would be a normal hike, please think again — it's a rugged, quasi-vertical scramble along a very rocky trail. I much recommend using gloves to protect your hands from sharp rocks and thorny vines (a pair only costs RM2 at any Mr. DIY outlet).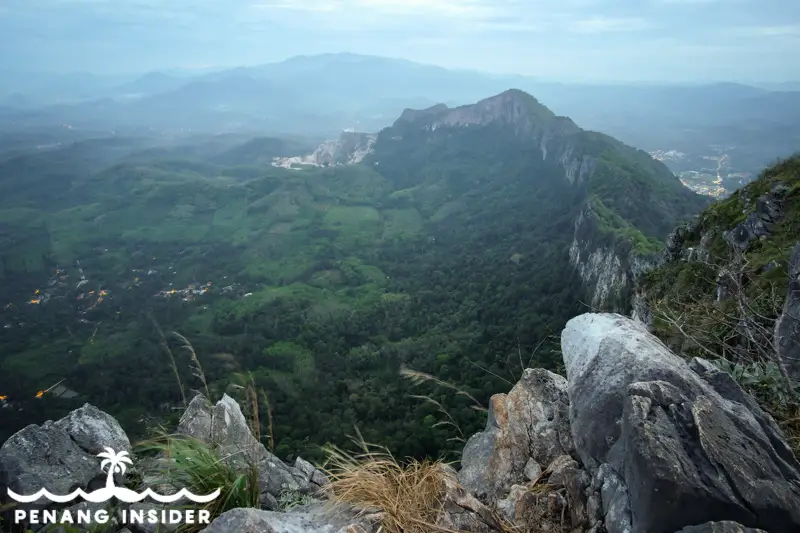 From the very start, the trail presents a serious incline and pretty much continues the challenging climb all the way up. Some colored ropes hanging from tree branches help indicate directions, but for the most part, you'll have to follow the rocky and barren trail. If you find yourself in a place without stones, you probably have to backtrack until your feet will feel the sharp rocks again.
You'll know that you have almost reached the summit once you arrive at the only spot that's kind of flat and could be used as a small campsite — it's sheltered by a high rock wall and trees, where you'll notice a few carpets stashed between the lower branches.
This is the only place where you may pitch a tent, and from here, it's about another 20 to 30 minutes to the summit, from where you'll see beautiful views of Gunung Baling, the other tip of this scythe-like, interconnected limestone range, emerging in the distance.
The summit is quite small, and it can get packed with hikers on weekends, so be careful where you thread because there are cliffs on all sides, and a fall would certainly mean serious injury, if not death.
NOTE ON GUNUNG BALING's CURRENT ISSUES:
From the top of Gunung Pulai, the horrible deforestation one can see on the western side of Gunung Baling, which is now exploited by a bloody quarry, is a real eyesore!!
The issue also affects Gunung Pulai. Both peaks face some serious threats. Do whatever you can to get informed, and express your dissent against yet more brainless destruction of Malaysia's precious environment for the sake of money!
---
Staying on Gunung Pulai's summit overnight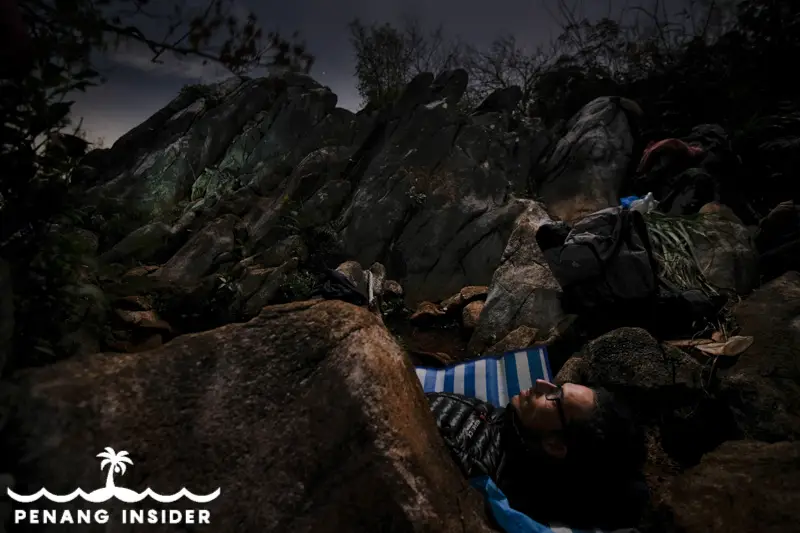 The reason why people start climbing Gunung Pulai in the wee hours of the night is that the summit is not big or flat enough to allow for comfortable camping.
Some people still overnight on the top, and we did exactly that, but in hindsight, I do not recommend it.
The summit has a lower slope where hikers can bivouac for the night, yes, but you need to carry hammocks, and there are not many trees to pitch them anyhow. There's no proper space for tents, and at best, as we had to do, one has to lay down on the bare floor wherever there are no rocks.
Our group of ten people spent the night there, but unless you have thick skin and experience in very wild camping, I do not recommend it — did I say that it gets cold and windy at night, too?
The only advantage to overnighting on the summit of Gunung Pulai is that you'll be able to catch the sunset, and the sunrise the next morning. Leave by 4 pm from the bottom to make sure you have enough time to catch the sunset views, otherwise, start at 3 am and be content with sunrise.
NEED TO SLEEP IN BALING? MUCH BETTER IF YOU CHECK THESE PLACES OUT:
Baling Garden Mountain Village is the cream of the crop, with individual chalets, a swimming pool, and a pretty awesome mountain backdrop. CHECK PRICES ON: BOOKING.COM | AGODA
Sacha Homestay offers a comfy studio room that accommodates 3 people, with a kitchenette, TV and a charming veranda. CHECK PRICES ON: BOOKING.COM | AGODA
Bunga Raya Guesthouse has more than adequate budget rooms in a cute green pea-colored building, some with an outdoor seating area. CHECK PRICES ON: BOOKING.COM | AGODA
---
Descending Gunung Pulai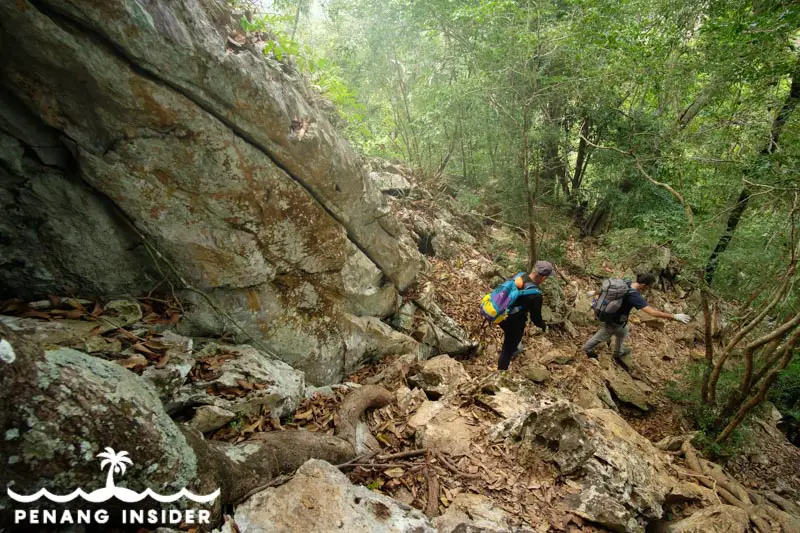 Another reason why I advise against sleeping at Gunung Pulai's puncak is that the descent is way more challenging than the ascent. After a rough night, it'd be easier to not see the path properly, fall, and really hurt yourself against the many jagged rocks.
We started descending at about 8 am after taking plenty of pictures of the sunrise, and arrived at about 11 am. And we were among the fastest. Calculate about 3 hours to come down — something that I believe would still be challenging to do even after the night hike.
---
Gunung Pulai's Verdict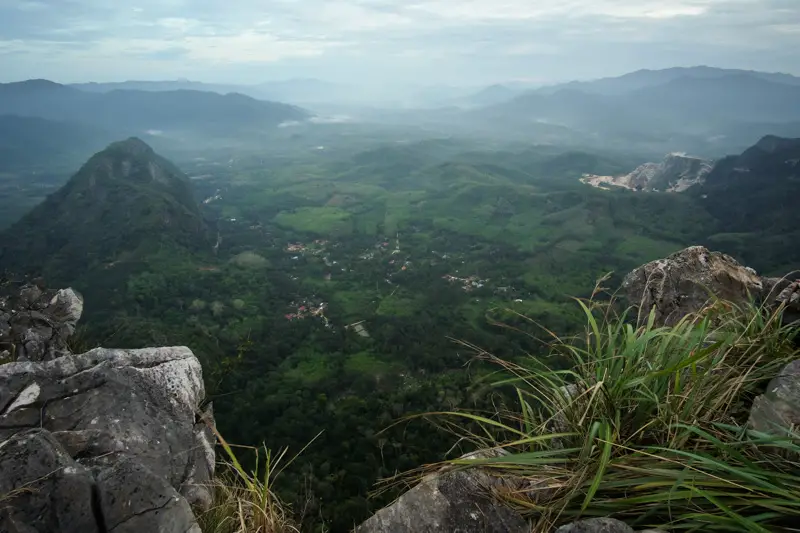 Gunung Pulai is an advanced hike that feels like a climb and that only seasoned hikers should attempt in good weather. Ascending with or after rains would be hazardous, to say the least.
This said, the thigh-ripping ascent grants very marvelous views all over Kedah's plains. Looking out west from the summit, on a good day one can see all the way to Gunung Jerai on the coast, and even Penang's bridge.
Gunung Pulai is definitely a mountain climb that every serious Malaysian hiker should try at least once, but it requires plenty of stamina and some training to be enjoyed, and not just suffered. You'll feel all of those 620 meters burning at the top of your legs for days on end, no matter how fit you are. But the views, well, are definitely worth it.
If you feel like, you may want to check out a YouTube video rendition of this hike from the hiking videos channel of my good friend Miswanto Suliman, the real Pengarah Hutan Terbaik. Not only you'll get a good grasp of Gunung Pulai trail's conditions, but also see myself and my wife Kit Yeng in action — and listen to my attempts at speaking broken Bahasa Malaysia 🙂
---
And if you liked this, why don't you sign up for our mailing list? We will send you immediately a FREE photographic eBook with some incredible pictures of Penang, and we promise, we will disturb you only about once a month with some good local advice you won't find on the site