Penang island has many hiking trails, including on Penang Hill. Trekking opportunities extend well beyond the island as one tackles the many hiking trails in Penang Mainland at Seberang Perai.
But the most inspired hikers should set their goals a little further east near the town of Baling in neighboring Kedah state. Unbeknown to most travelers, and even locals, the town of Baling — only about one hour and twenty minutes drive from Penang island — offers two very intense hikes to the twin, bison-shaped mountain range ending with the two peaks of Gunung Baling and Gunung Pulai.
This post focuses on Gunung Baling, a 546 mt-high mountain that soars like a protective fan over the town of Baling. It's a straightforward uphill hike with some climbing sections that require moderate levels of fitness.
Hiking to the summit of Gunung Baling to enjoy the breathtaking views that straddle all the way to Penang island to the west, and to Thailand to the east, is the most popular activity in town. We have visited in 2022 and this article will tell you all you need to know to make the best out of your visit to Gunung Baling, Kedah.
---
How to get to Gunung Baling
Gunung Baling sits right above the center of Baling town, a quaint and quiet Malaysian interior hamlet. The Thai border at Pengkalan Hulu/Betong is only a few kilometers away.
The best way to get to Gunung Baling is to self-drive from Penang: get to Kulim and then Lunas, and drive along the perfectly paved Highway 4 until you'll reach Baling.
You may also catch a bus from Penang or Kuala Lumpur to Baling. But you'll need transportation (Grab Car is not easily available in Baling) to reach the trailhead from the bus station, so factor this into your planning. The owners of the hotels listed below may help you reach the trailhead.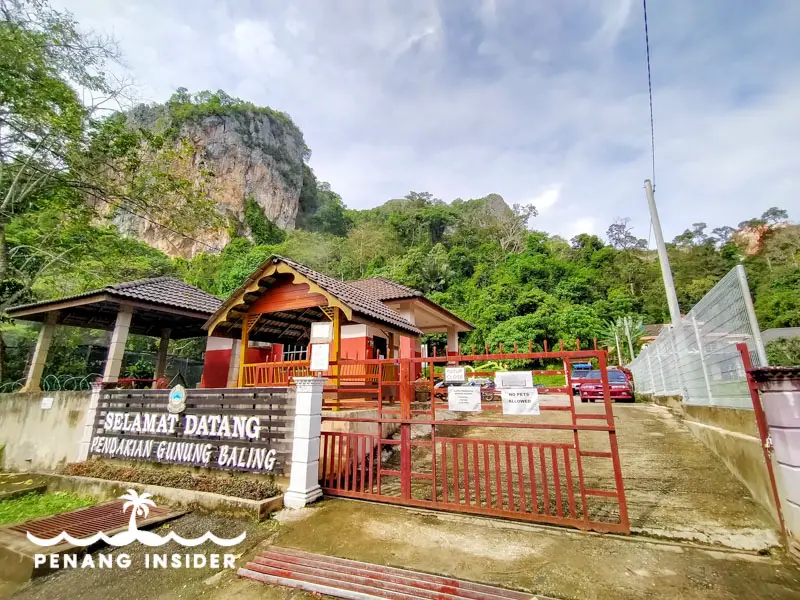 The trail head to summiting Gunung Baling is well-signposted and starts at the side of the main road from Baling to Pengkalan Hulu — look for the Pendakian Gunung Baling sign, just off Kampung Seberang Pekan. If you are driving, you can park inside the compound. That's where you will meet your guide, pay your fees, and start hiking to the summit along a very well-marked trail.
This is a map of Pendakian Gunung Baling's trailhead:
---
Can I hike Gunung Baling by myself?
No, you need to get in touch with the Pendakian Gunung Baling office in advance and pay your climbing permit (RM15 per person). The best way is to call them from 8 am to 5 pm (notice that on Fridays they are closed) at +604 470 1803 and book your slot.
The office will assign a guide to each group of up to 10 people, at a cost of RM70 per group. Remember that overnighting on the summit is not allowed.
---
How long does it take to reach Gunung Baling's summit?
Gunung Baling's hike is about 2 kilometers one way, most of it uphill and including a few scrambles over sharp and jagged limestone rocks. All in all, the hike should take between one and one and a half hours for any moderately fit person.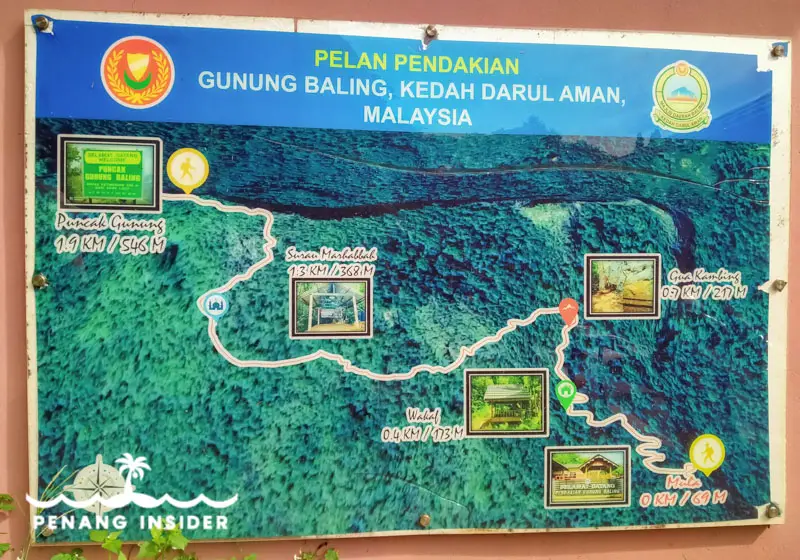 We have seen local children climb with their parents, so you may consider bringing yours — although it may pose some challenges.
---
Gunung Baling's Opening times in 2022
The best views on top of Gunung Baling are definitely at the crack of dawn, especially when Kedah's plains are covered by the most quintessential awan karpet ("carpet of clouds"). In the past, the first groups started the climb at 4 am in the pitch black to reach the summit by 6.30 am and prepare for the sunrise.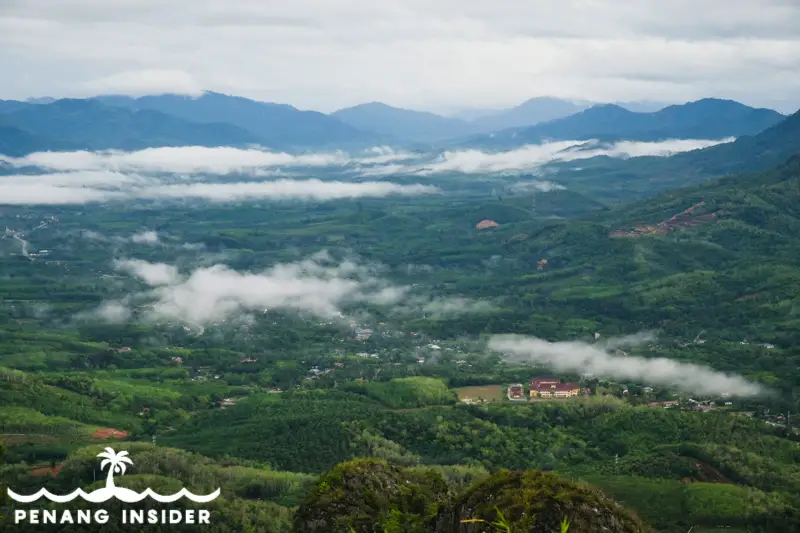 Unfortunately, since the beginning of the COVID–19 pandemic and related lockdowns, Gunung Baling is only open to hikers from 8 am to 10 am. This means that you'll have to start hiking within this short time frame and be back at the base of the mountain by 2.30 pm.
---
What do I need to Hike Gunung Baling?
Gunung Baling is not a very demanding hike, but you'll definitely want to consider carrying a few essential camping gears I personally never leave home without. In Malaysia, you can buy all of the following items online using any major local debit or credit card, GrabPay and Touch & Go eWallet at PTT Outdoor, a company we support and align with.
First off, carrying a portable stove is great for whipping up a quick coffee once you reach the summit. Consider buying a hiking pole, for Gunung baling is quite steep in places, and it'll be useful to smoothen work on your knees as you trample down. If you think the limestone rock is too hard to handle, a good pair of sturdy gloves will also come in handy.
You should at a minimum carry a backpack to fit all your stuff. Being this is only a day hike, you should be looking at a 20 to 24-litre backpack, like this by Deuter and this by Thule.
As the summit is cold and windy, especially if you manage to organize an early sunrise hike, don't come up here without a windbreaker. The best is to wear a waterproof shirt underneath so that even if you'll sweat profusely, you'll be fresher and drier when facing the winds on the puncak.
At last, don't forget to stay hydrated by drinking loads of water. Avoid using plastic bottles as much as you can, and think, instead, of a 2 litres bladder like this, that easily fits into your backpack.
If you decide to buy any of the above, all Penang Insider's readers can get a special RM10 off their first purchase
(minimum order of RM100) when buying at PTT Outdoor. Just use the coupon code
MARCO
upon checkout!
---
Gunung Baling: Hiking to the summit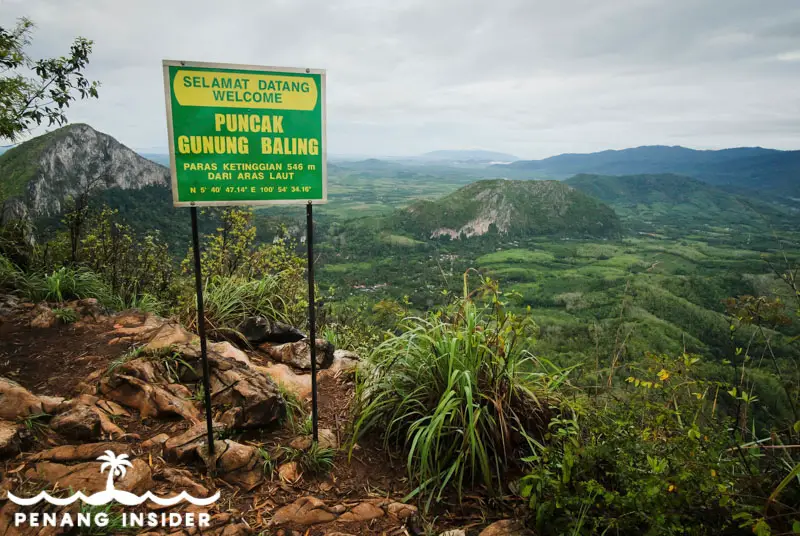 The top of Gunung Baling offers unobstructed views of Kedah's plains all the way into Thailand, and the soaring pinnacle of Gunung Pulai — a part of the same massif, which can be hiked separately.
You'll also see nearby Bukit Beirut, and on clear days, the views behind Gunung Pulai can stretch all the way to the northeastern coast of Penang Island, George Town, and Gunung Jerai.
As anticipated, it takes about an hour and a half to reach Gunung Baling's summit. This is an easier hike compared to sister Gunung Pulai, and the trail starts much more mellow, with a climb over ropes and then a gradual ascent following a well-marked footpath equipped with handrails — very useful after rains and in the dark.
You'll soon reach Gua Kambing, a cave set inside the peak's limestone at 217 mt of height and 0.7km into the trail. It's one beautiful anticipation of the rock formations that are about to come ahead on this trail.
The trail then continues up again and the first rocks will come into view. Be prepared to start climbing a bit. 1.3km into the trail at 368 mt of height you'll bump into the Marbabbah Mosque — nothing much else than just a wooden pondok — and from here, be prepared for the most difficult part of the climb up to the peak.
You'll have to climb a wooden ladder to pass through a hole in the rock and haul yourself up the trail until the final ridge — be particularly careful here because one part pass right by the mountain's cliffside, and falling here will result in, well… guts on the jungle floor, or even worst, the rock face beneath your feet.
NOTE ON GUNUNG BALING's DESTRUCTION
Once you reach the top, you will see how the western side of Gunung Baling has been horribly deforested, cut, and destroyed by a quarry site… it's a bloody shame and an eyesore sticking out like a dust bowl from the greenery all around!! The issue also affects Gunung Pulai, and both peaks are facing some serious threats.
Do whatever you can to get informed, and stand against another brainless destruction of Malaysia's precious environment for the sake of money and profit, disregarding the next generations.
---
Descending Gunung Baling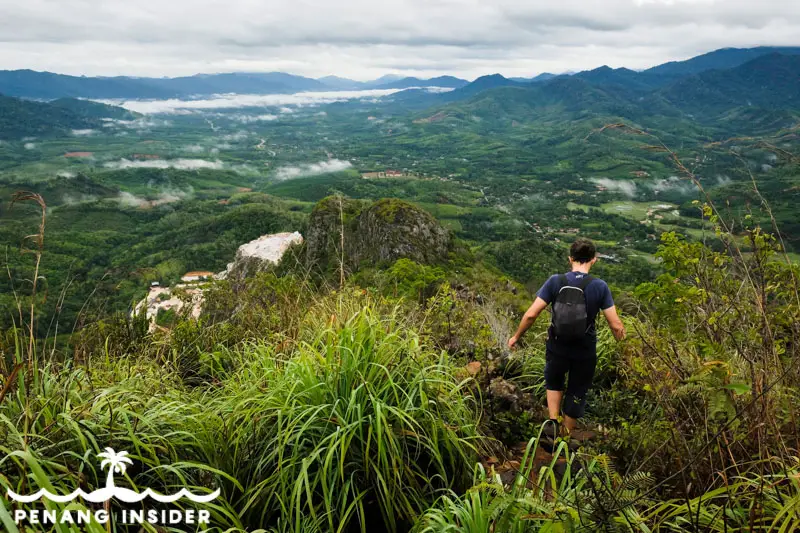 The first part of Gunung Baling's descent from the top is the hardest on this hike. The steep incline, paired with the rocky surface, is hard on the feet and must be tackled with attention. We recommend climbing back down backward, facing the mountain, and using both hands to support as your feet find stable ground.
The going gets definitely less though once you have reached again the Marbabbah Mosque: from here, the trail becomes soil once again, and the descent is quite easy thanks to the help of the several iron railings. Hold on to them after rains because it gets slippery.
It's a straightforward walk down to Pendakaian Gunung Baling, where you'll find toilets, showers and you'll be given a certificate of accomplishments for your climb. Congratulations!
---
Where to Eat after Hiking Gunung Baling
Head back to Baling's main roundabout and stop at Warung Mat Noi Baling Route 67, a chilled roadside restaurant surrounded by greenery and a beautiful view of towering Gunung Baling right in front of you.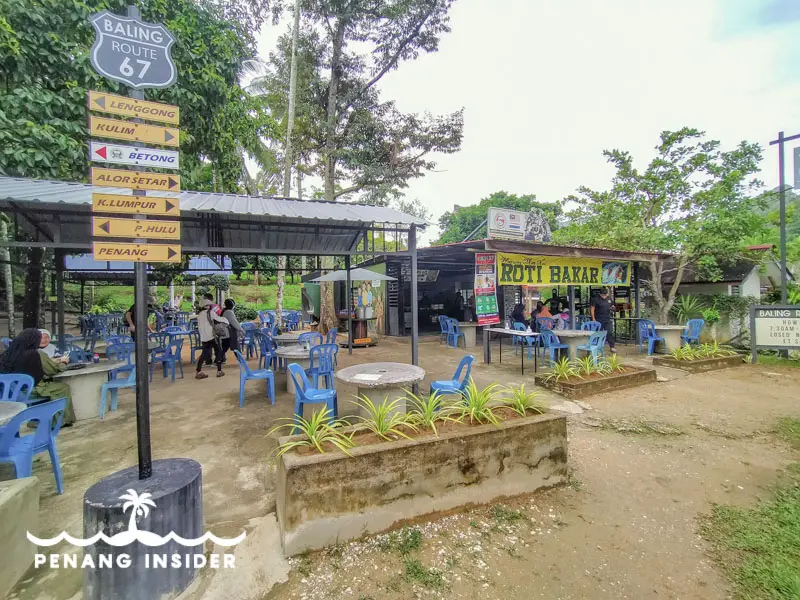 Warung Mat Noi is specialized in roti bakar and American-style breakfast — and they are super cheap. For about RM5 ($1.2) you'll get a choice of HUGE American breakfast platters, from sunny side up eggs and beans served on slices of toasted bread, hash brown, sausages, or even French toast Malay style — served with a side of delicious kaya. The coffee is strong, too. A heart-warming breakfast after a climb of Gunung Baling, at a fraction of the cost of similar Penang breakfasts at some of Penang's famous cafes.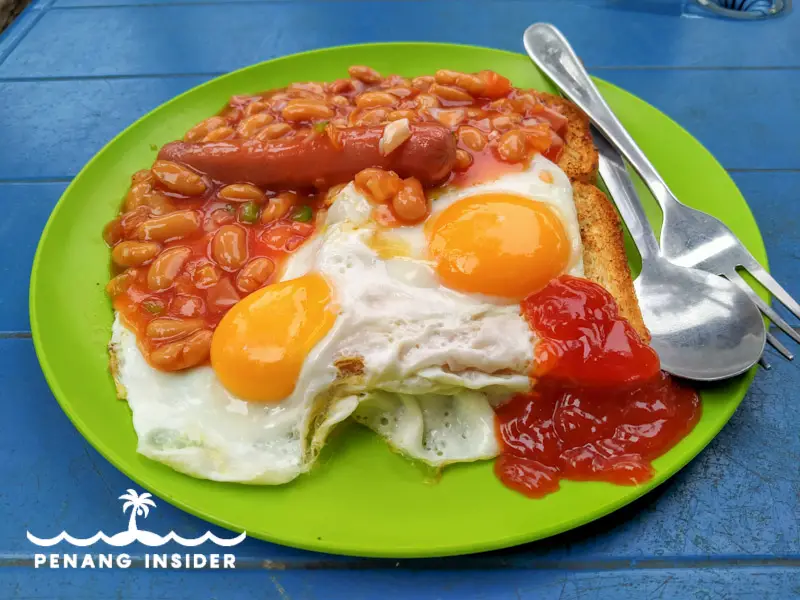 ---
Where to Stay before or after Hiking Gunung Baling
Baling Garden Mountain Village is the cream of the crop, with individual chalets, a swimming pool, and a pretty awesome mountain backdrop. CHECK PRICES ON: BOOKING.COM | AGODA
Sacha Homestay offers a comfy studio room that accommodates 3 people, with a kitchenette, TV and a charming veranda. CHECK PRICES ON: BOOKING.COM | AGODA
Bunga Raya Guesthouse has more than adequate budget rooms in a cute green pea-colored building, some with an outdoor seating area. CHECK PRICES ON: BOOKING.COM | AGODA
---
Gunung Baling's Verdict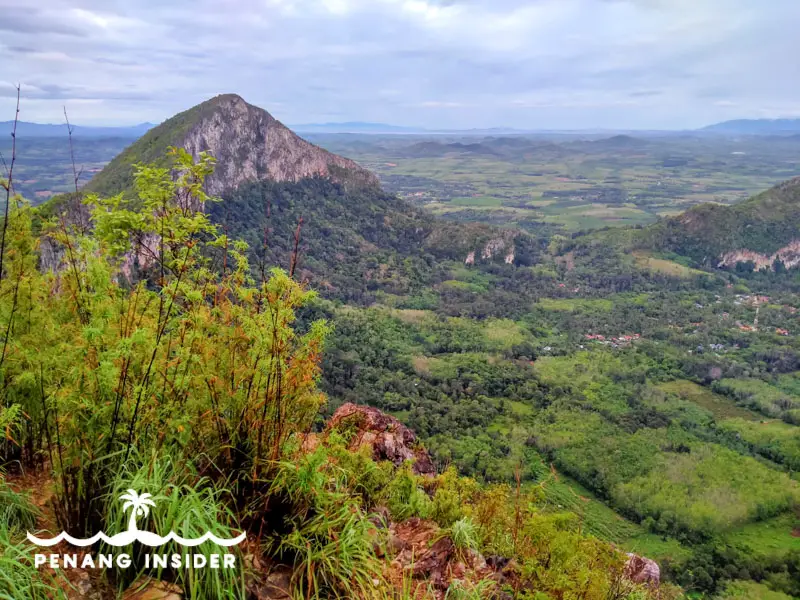 Gunung Baling is a moderate hike that's suitable for intermediate hikers and really anyone who wants to work out a nice sweat and get some thrilling views above Kedah's plains.

Looking out west from the summit, you'll see sister Gunung Pulai (a part of the same horn-shaped massif) rise like a broccoli-encrusted fang from the forest floor. You'll hear the sound of hooting gibbons from here, and on a good day, one can see all the way to Gunung Jerai on the coast, and even Penang's northeastern coast and George Town.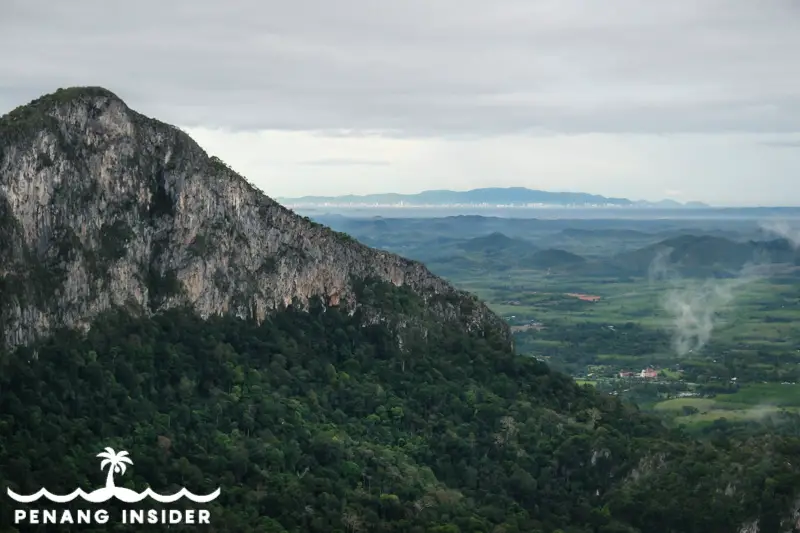 If you love Malaysian mountains, Gunung Baling is definitely one that you want to put under your belt. So close to Penang, and yet so less visited, it's a pity to leave it off your radar. Hopefully, the local tourism authorities will understand this too, improve the facilities and the timings available for the climb — the sunset was the highlight here, and even though views are striking even by 9 am, you'll miss the sea of clouds.
Baling is also a chilled town with friendly locals, cheap fruit sold at the roadside, and an interesting mix of Malay and Thai identities that would require further exploration. Try to stay over for a couple of days at least.
YOU MAY ALSO LIKE
Best Things to Do in Bukit Tambun
Best Things to Do in Batu Kawan
Things to Do in Seberang Perai
---
And if you liked this, why don't you sign up for our mailing list? We will send you immediately a FREE photographic eBook with some incredible pictures of Penang, and we promise, we will disturb you only about once a month with some good local advice you won't find on the site