This blog is focused on Penang and northwest Malaysia, but it's fair enough to say that most travelers start their Malaysian journeys in capital Kuala Lumpur. Read more if you need a Tourist SIM Card in Malaysia.
KL has many interesting things to do, but we still believe that Penang is a much better place to be — not convinced? Read this list of 60 unmissable things to do in Penang. This post describes in detail how you can travel from Kuala Lumpur to Penang, using every means of transport available from Malaysia's capital. If you need a place to stay in Penang, check our preferred budget hotels in Penang, best Penang Airbnbs, swanky Penang 5-star hotels, and boutique hotels in George Town.
READ MORE How to travel from Kuala Lumpur to Langkawi
Flights, trains, buses and even traveling by road from Kuala Lumpur to Penang, we got it all covered for you.
Why you should travel from Kuala Lumpur to Penang
Penang food and Penang's best restaurants are awesome, as much as its beaches and hidden islands. You can climb up to 200-meters-high futuristic KOMTAR, and the next day scoot into nature at Penang Botanic Gardens, Taman Negara Teluk Bahang or hiking at Penang Hill — and see some incredible Malaysian animals with a bit of luck. Did I say that Penang also has Kek Lok Si, one of Southeast Asia's largest Buddhist temple complexes, hundreds of famous pieces of Penang street art, dozens of trendy Penang cafes and bars in George Town, and at least 33 great things to do with kids?
There really is a lot to do in Penang, so get out of Kuala Lumpur as soon as you can!
Important things to know before traveling from KL to Penang
KL to Penang Distance
The distance between Kuala Lumpur and Penang is about 370km, and it takes between 4 to 6 hours to reach Penang depending on what form of transport you choose.
Best time to Visit Penang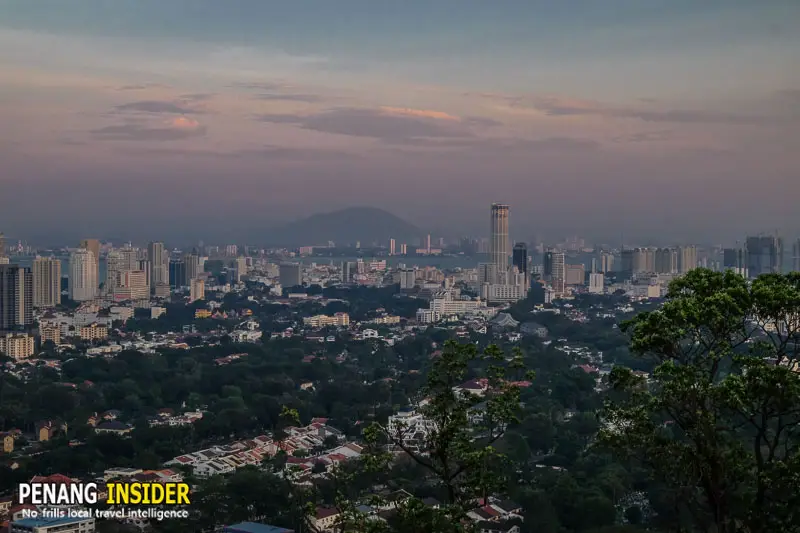 Penang is lively and interesting year-round, but to make the best of your visit you should try to time it to one of the many Penang festivals that span from arts to religion and sport, and are scattered throughout the year.
Things to do in Penang for first-timers
If it's your first time in Penang, you should consider starting by reading this great list of things to do in Penang.
Once you'll have a good idea of what you'd love to do in Penang — we have also a complete 3 Days in Penang itinerary, a list of the 19 best things to do in Bukit Mertajam, and an article on the best hikes in Penang Mainland if you need more help — the following is the most updated information on how to get from Kuala Lumpur to Penang.
KL to Penang by Flight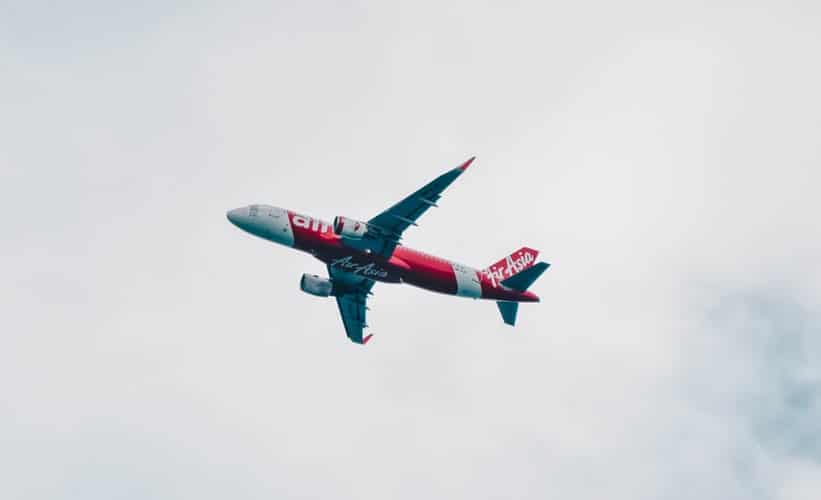 A flight from Kuala Lumpur to Penang takes about one hour and twenty minutes.
Established low-cost companies like AirAsia, Malindo and Fireflyz fly between the two cities several times per day.
Kuala Lumpur has a main low-cost airport, KLIA2, situated only a few kilometers away from the main international airport KLIA. Don't think that KLIA2 is small, though, as it receives most air traffic from all over Asia and Australia. A shuttle train connects the two airports in 5 minutes.
When flying from Kuala Lumpur to Penang, you should arrive at KLIA2 at least 2 hours before departure as queues can be long, especially if you have check-in luggage, and it's quite a walk from the departure hall to the gates.
Also, consider that KLIA2 is connected to Kuala Lumpur via the fast train Klia Ekspres leaving from KL Sentral. It takes about 30 minutes.
---
There's a cheaper alternative to reach KLIA2 by bus. You can catch one of the direct buses to KLIA2 (RM12 one way) that depart every 20 to 30 minutes from:
the lower ground floor at KL Sentral
the main bus hub Terminal Bersepadu Selatan (TBS)
former Pudu Raya station next to Kuala Lumpur's backpacker hub — similar to Penang's Chulia Street.Traveling by bus from the city to KLIA2 takes from an additional hour to an hour and a half, so head out to the airport at least 4 to 5 hours before your flight.


---
Catch a flight from Subang to Penang
As going all the way to KLIA2 — which is set near the city of Seremban, 63km south of Kuala Lumpur's city center — is frankly time-consuming, there is a quicker alternative for flights to Penang via the Sultan Abdul Aziz Shah Airport in Subang. It's much closer to the city center, right on the outskirts of Subang Jaya.
You can reach Subang Airport by taking a KTM Komuter train to Subang, and then catch a Grab Car from there, or you can alight at the Glenmarie LRT station and wait for Rapid KL bus 772 towards Subang Suria Mah Singh.
There is also a Skypark Link connecting KL Sentral Komuter Station to Subang Airport, but departures are not very frequent. You can check a timetable here.
FLIGHTS FROM SUBANG TIPS –
  Check the best prices and
book your flights from Subang to Penang
via our partner 12GoAsia, which accepts international credit cards and allows for refundable cancellations.
Kuala Lumpur to Penang by Train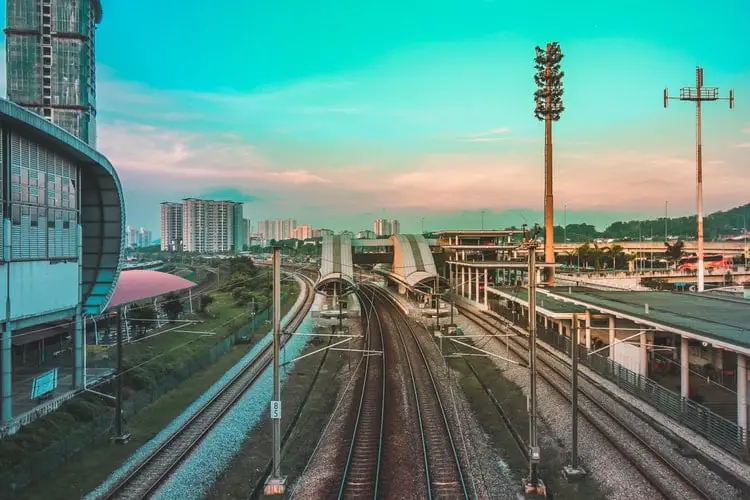 Another comfortable and quick option to travel from Kuala Lumpur city centre to Penang is using the train, which is connected to the island via the scenic Penang Ferry between George Town and Butterworth. Malaysia has a fast electric train service called ETS that connects Kuala Lumpur to the Thai border at Padang Besar — check our guide to doing a visa-run from Penang to Hat Yai— via Bukit Mertajam and Butterworth, the main transport hub to reach Penang. This is also where you can catch buses from Penang to Kuala Lumpur.
READ MORE – A Complete Guide to Trains from Penang
What to Expect from the Train to Penang
ETS trains are divided into Platinum (RM79 one way) and Gold Services (RM59 one way) depending on the number of stops and take between 4 to 5 hours to reach Butterworth from Kuala Lumpur. It's a very comfortable trip and we can only recommend it — but that's also the reason why ETS tickets sell quite fast and you need to book yours as far in advance as possible.
Catch a Bus from KL to Penang: Full Guide to TBS Terminal
Catching the bus from Kuala Lumpur to Penang is another very popular way of traveling between the two cities. When you consider that non-stop buses like the very recommended companies Konsortium, Transnasional and Plusliner take about 4 hours and a half to reach Penang, it's almost the same time you'd waste traveling from Kuala Lumpur to KLIA2 and flying to Penang.
The main bus hub in Kuala Lumpur is the Terminal Bersepadu Selatan (TBS). However, it's inconveniently located in the southeastern part of the city – a total nightmare when buses have to negotiate rush hour traffic to reach the northern side of Kuala Lumpur where the National Highway to Penang starts.
A quick guide to navigating TBS Bus Terminal
The TBS Bus terminal is well connected to the rest of Kuala Lumpur via LRT, Kommuter Train and the KLIA Ekspres trains shuttling between KL Sentral and the airport.
Once you arrive, you will have to walk up to the main terminal hall where there are several rows of ticket counters. As it often gets busy, we recommend you come here early enough (at least one hour before your intended departure time) or you book your ticket online.
If you book online, you will still have to arrive at least 30 minutes before departure as you will have to queue up and show your reservation to the online booking desks signed in green as "Pas Masuk Bas/Bus Boarding Pass", which will issue your paper ticket.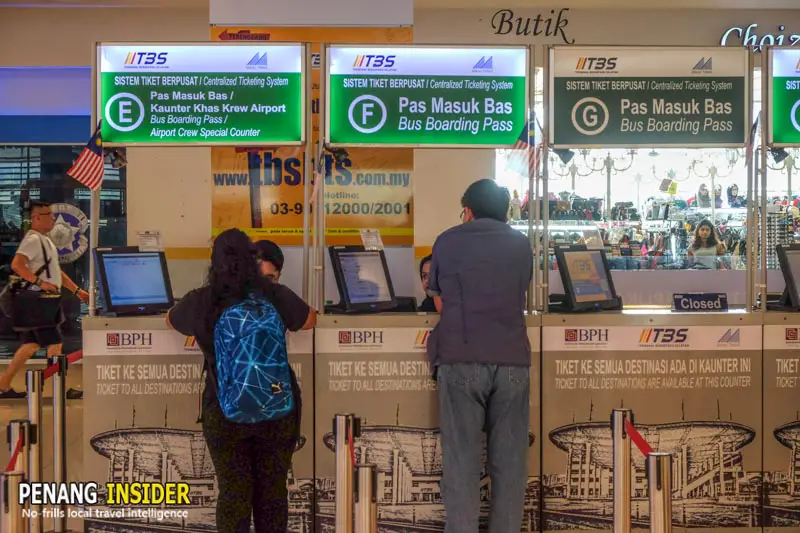 With paper tickets in hand, you will be allowed to the lower ground floor where the actual bus departure bays and waiting hall are. A policeman or a TBS staff will check your ticket, which will be scanned via an automated turnpike, and you'll be allowed to proceed to the moving escalators leading you to the bus departure hall. Check your departure bay number, take a seat, and wait. Delays are not uncommon, but in general, reliable companies like Konsortium, Transnasional, and Plusliner are on time. On top of that, their buses are direct, without stops at intermediate cities like Ipoh.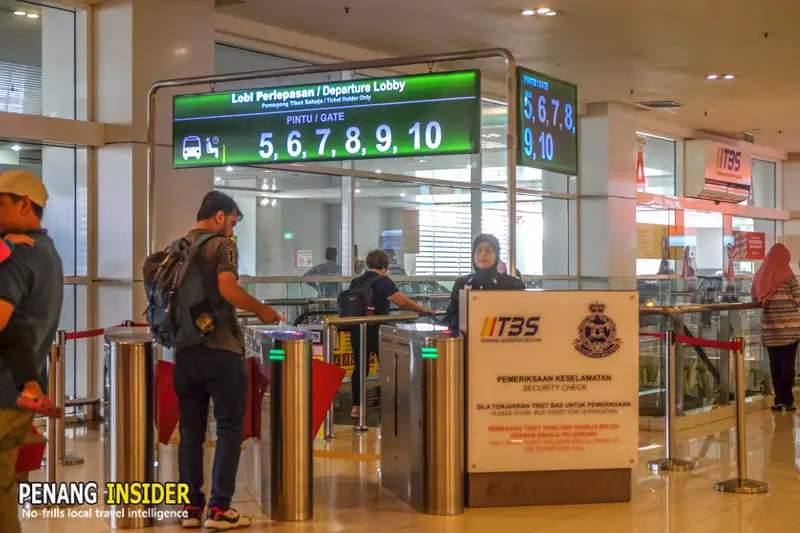 At the end of your trip, you will reach Penang Sentral from where you will be able to proceed to George Town on Penang Island using the iconic Penang Ferry. There are departures every 20 to 30 minutes, and until about 12.30 am, so you'll be safe leaving Kuala Lumpur to Penang until about 8 pm.
Kuala Lumpur to Penang by Road
As a last option, if you have a car, you can drive from Kuala Lumpur to Penang in about 4 hours. Avoid Friday evenings and Sundays when the commuting traffic is most intense. If using the highway, the toll for a vehicle costs RM50 — carpooling is a good option.
And if you are adventurous — or plain crazy like us — and have some time on your hands, you could even choose to motorbike (8 to 10 hours), or even cycle, from Kuala Lumpur to Penang. Trust us, it's very possible: we did in 5 days, and we have a great cycle tour itinerary from Kuala Lumpur to Penang for you to check out. Don't miss a stop in Taiping, a beautiful town with incredible local food.
There are some very beautiful and offbeat spots to check out on that route, something that most people skip when rushing between Kuala Lumpur and Penang.
Whatever transportation option you choose, have a safe trip to Penang!
---
Blogging transparency: this post contains affiliate links. These are products and services that we personally use and recommend. If you click on one and buy any service, we will get a small commission at no extra cost to you. Consider it a small way to say thanks and keep Penang Insider going.
---
And if you liked this, why don't you sign up for our mailing list? We will send you immediately a FREE photographic eBook with some incredible pictures of Penang, and we promise, we will disturb you only about once a month with some good local advice you won't find on the site