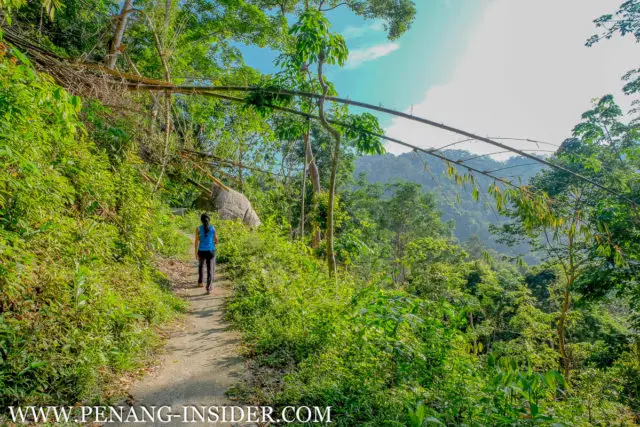 When you are sick and tired of spending time in George Town and looking at Penang street art, hang out on Penang's best beaches, or need a workout to burn off all of that yummy Penang food, you may check out some of Penang's last remaining, yet enthralling, nature.
Besides the Penang Botanical Gardens and the National Park at Teluk Bahang, Penang Hill is one of the obvious places to go. Because did you know there is some great jungle trekking and strange Malaysian animals on Penang Hill?
READ MORE — 60 Unmissable Things to Do in Penang
If you follow this site, you should. We have already listed the reasons why you will love Penang Hill and its fun 5-course zipline Flight of the Colugo. And you can also read what Penang Hill's the Habitat manager Allen Tan suggested you do to enjoy Penang Nature. But what about hiking at Penang Hill?
The most straightforward way to hike up Penang Hill is the funicular train leaving from the bottom of Bukit Bendera. But besides taking the expensive train ride up (it's RM30 damage for foreigners, I'm afraid), there are several other trails to enjoy Penang Hill without spending a single cent. For example, did you already try the jungle hike up to Moon Gate Station 5? If you want something more offbeat, this article on the best hikes in Penang Mainland will come in handy. We also have guides to hiking Cherok Tok Kun Recreational Forest, Bukit Juru, Bukit Pachor State Park, Berapit Market Hill and the scenic Frog Hill.
This article describes the route of my favourite Penang Hill hiking trails. It's a quiet and "secret" Penang Hill hiking track I found a while ago. I love hiking it from the bottom up to Middle Station, enjoying the sights, nature and the views en route. I will always have to thank my landlord, who brought me here for the first time, as I would have never found it otherwise.
Best recommended hiking times? Saturday or Sunday morning, starting between 8 and 8.30am when the temperature is bearable, and there are not many people around. It will take around one hour and a half, depending on your speed.
How to Get to Penang Hill Middle Station Secret Hike's Trailhead
My secret Penang Hill hiking trail starts from a side road off the main access to Bukit Bendera, and takes you up to Penang Hill's Railway Middle Station, at about 380 meters above sea level. You can proceed from here up to the top but will leave that for another post.
Park your car/motorbike and walk 20mt into Persiaran Taman Cantik until you see a little bridge over a stream next to the Happy Family Seafood House. You must turn left here, and start climbing up along the road that snakes up towards the hill. As an extra security landmark, note that, to the right side of the junction, you will see a blue colored Chinese house, the Keat Sun Yen Pertubuhan Buddhist.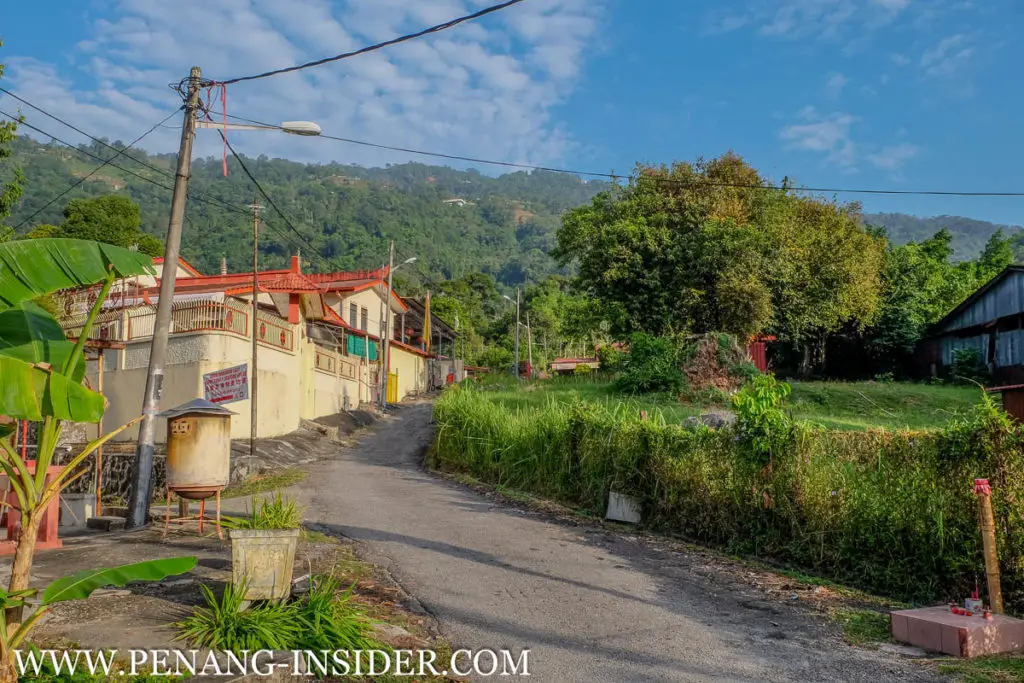 If you have taken the right road going uphill from Happy Family Seafood House, keep walking for about 10 minutes, soaking the great views of the hill to your right, towering above the last houses nestled at the bottom. I love the viridian vegetation here, especially when it's shrouded in the morning mist.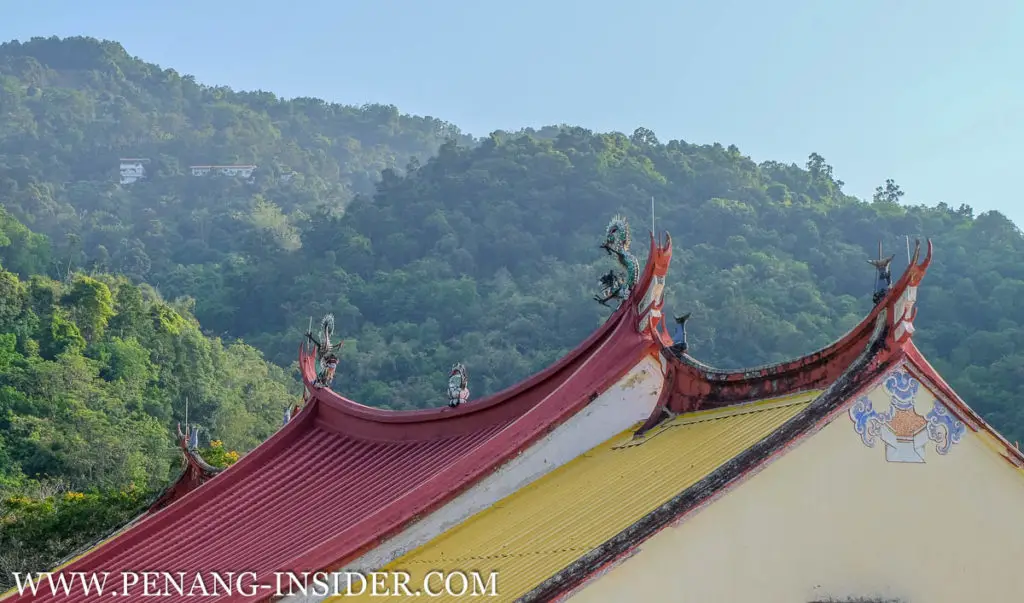 Keep walking until you meet a little red Chinese shrine on your left, and then a Chinese-Hindu shrine with little statues placed inside, sitting right at a junction. Take the right fork in the road and keep going until the path twists to the right. Follow and proceed climbing up until it turns to the left.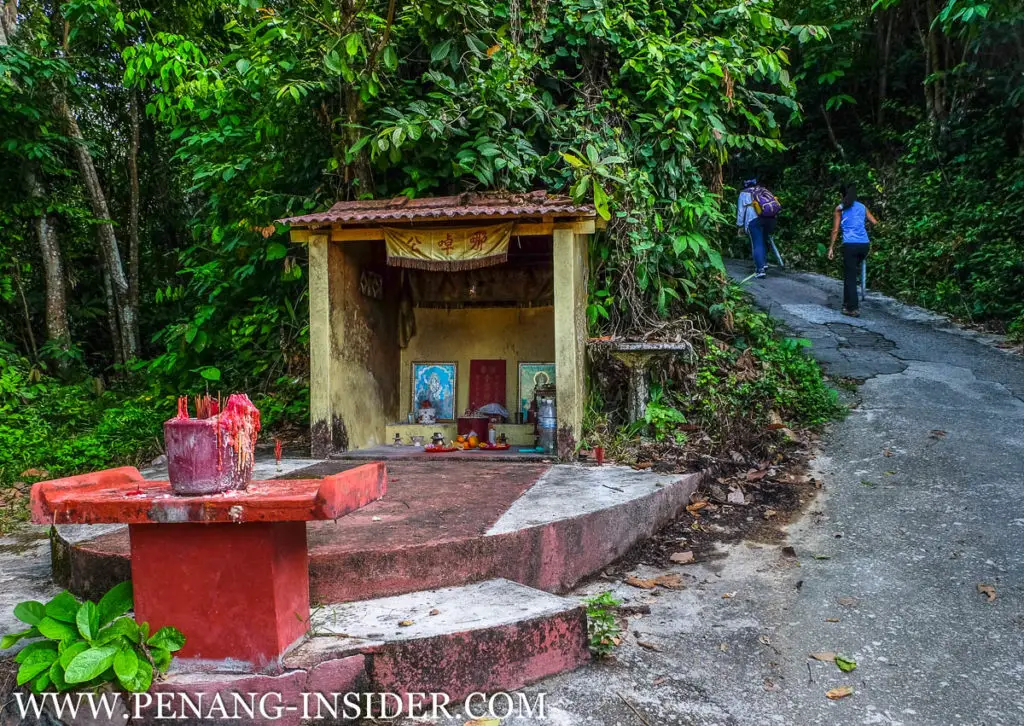 Mind the Number 18 as you go up
The important turning you don't want to miss is a bit further up and easily marked by a house with a number 18 written inside a hanging stone circle. Just about 10mt before this house, the path forks to the left and goes up, and that's where you want to follow.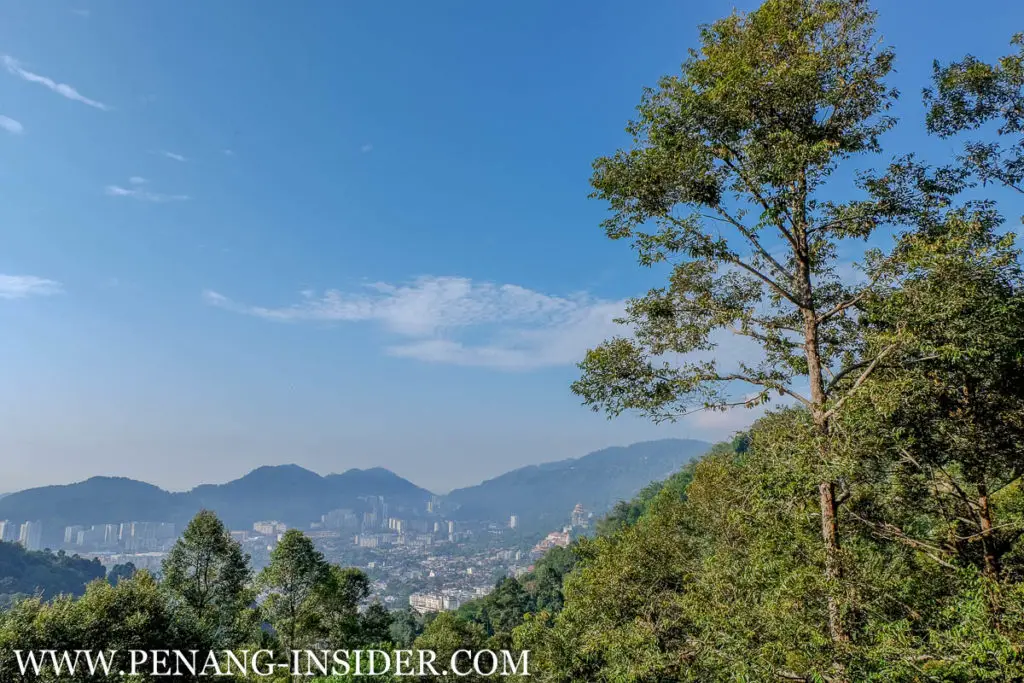 The trail, which until this point is well-paved and can easily fit a couple of people on motorbikes, starts becoming a little rougher. But after about 5 minutes going up and around the flank of the hill, come the first views — amazing in the morning light before 9 am. You will see all the way to Kek Lok Si Temple, rising on the hill to the right, and towering above Air Hitam and parts of Jelutong, all the way down Jalan Dato Keramat until the city of George Town and the sea. But, are you familiar with Penang districts? If not, check out our lowdown in the guide to the best places to stay in Penang.
Pay a homage to the Goddess of Mercy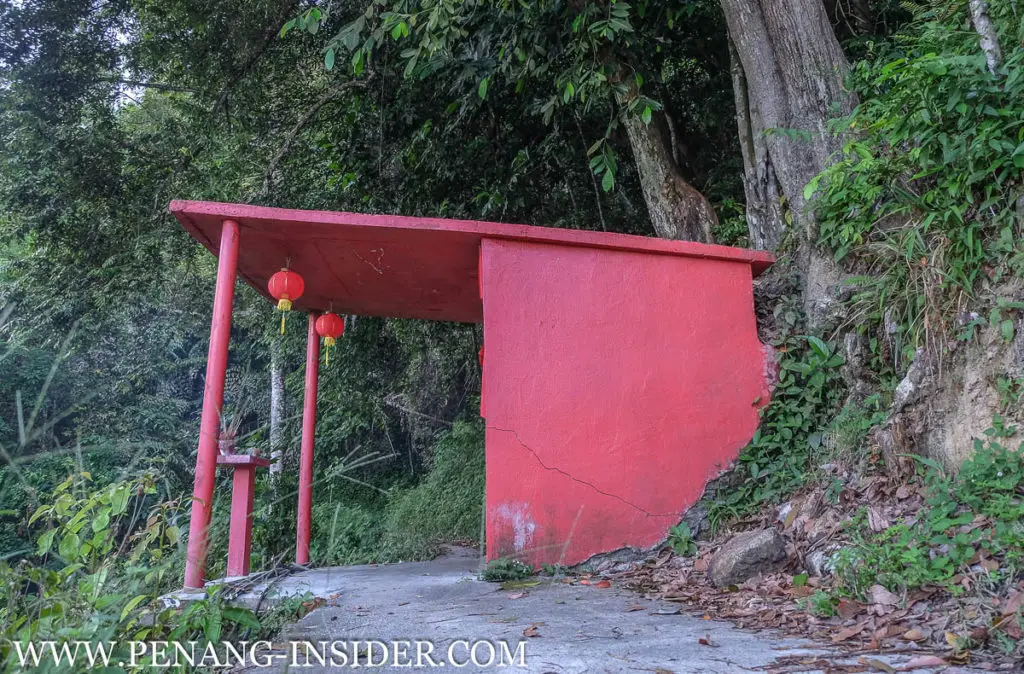 After about 10 more minutes, you will pass a small red shrine to the Goddess of Mercy Kwan Yin and Datuk Kong. This is more or less the half of the path. Keep walking as you climb further west and up again, switching to the adjoining side of the hill. Here the path is not steep at all and goes downhill until it tumbles down and over a small river, before bending upwards again for the last 30 minutes.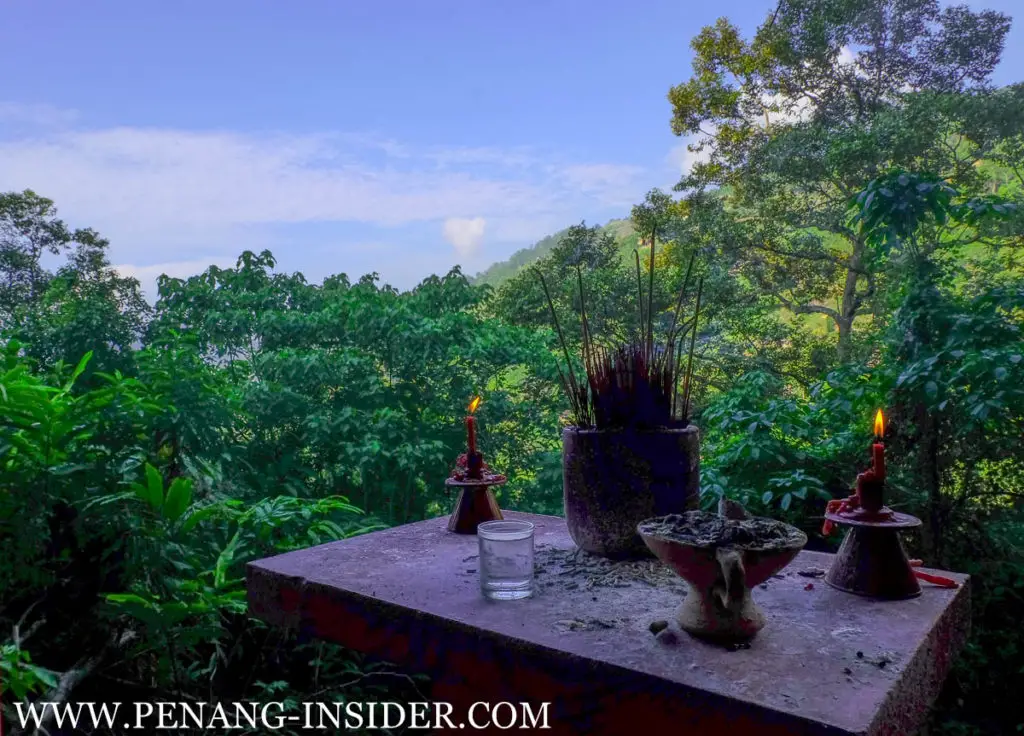 As soon as you hit the first bend, the views over George Town, the Penang Bridge, and Kek Lok Si become better and better. At current, there are two concrete platforms being built here, which hint at the possibility of seeing a cafe' or fruit stall in the upcoming future. But based on personal experience hiking this trail, there hasn't been any development in the past 8 months. Anyhow, keep staying on the path you came from and keep going up. Don't turn left and go down, as you'll enter private property.
The Golden Stupas of Penang Hill
This is quite a nice sight, and pretty unexpected when you are coming for the first time. Sorry for the spoiler 🙂
Just a few minutes after the soon-to-be-stalls, you will start seeing some Buddhist stupas — the religious pagodas with a large base and a thin and pointy end — to your right. You can take pictures here, but if you continue uphill and to the left, after swerving back to the right on another bend, you will end at a junction with a lot more pagodas visible at the end of a right-hand path.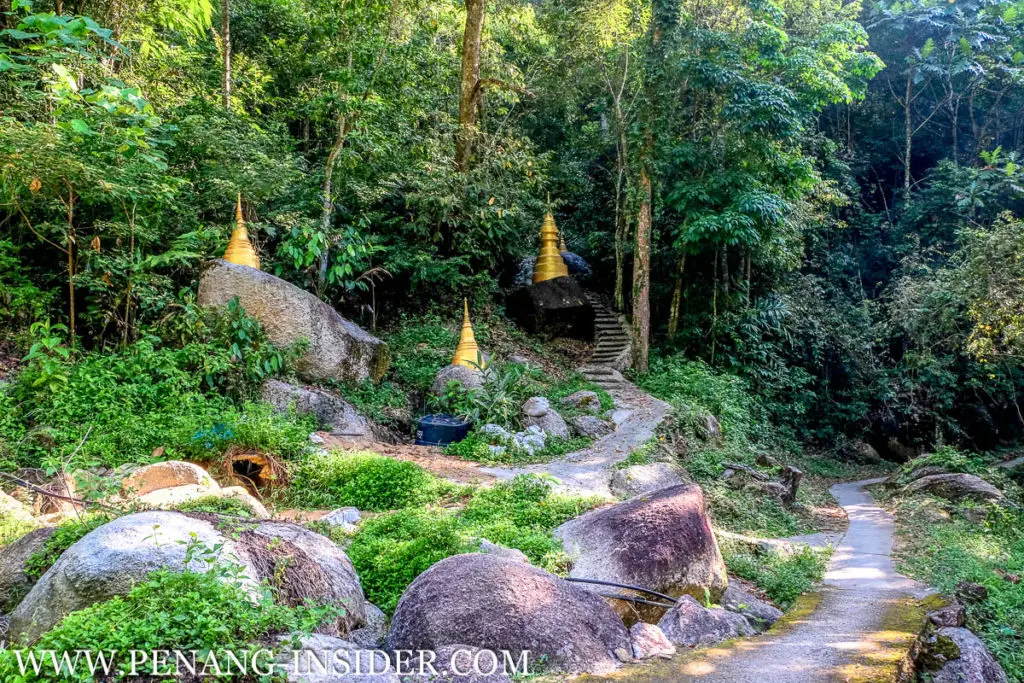 Walk down following the golden stupas, and you will find a delightful mountain Buddhist temple. The last time I stopped here, I met some custodian monks from Taiwan. Apparently, there's quite a rotation of international monks who come from foreign countries to take care of this little, yet beautiful, shrine. Bring them some food and snack as a gift if you are so inclined, they will appreciate.
Getting to Penang Hill Middle Station
After the temple diversion, retrace your steps to the junction and continue uphill for another 5 to 10 minutes (depending on your speed) and you will have reached the middle of Penang Hill, and the end of the hike. There is another Chinese shrine up here, protected by a red corrugated iron roof, and sitting on a graceful bend in the path that overlooks the northeastern corner of Penang.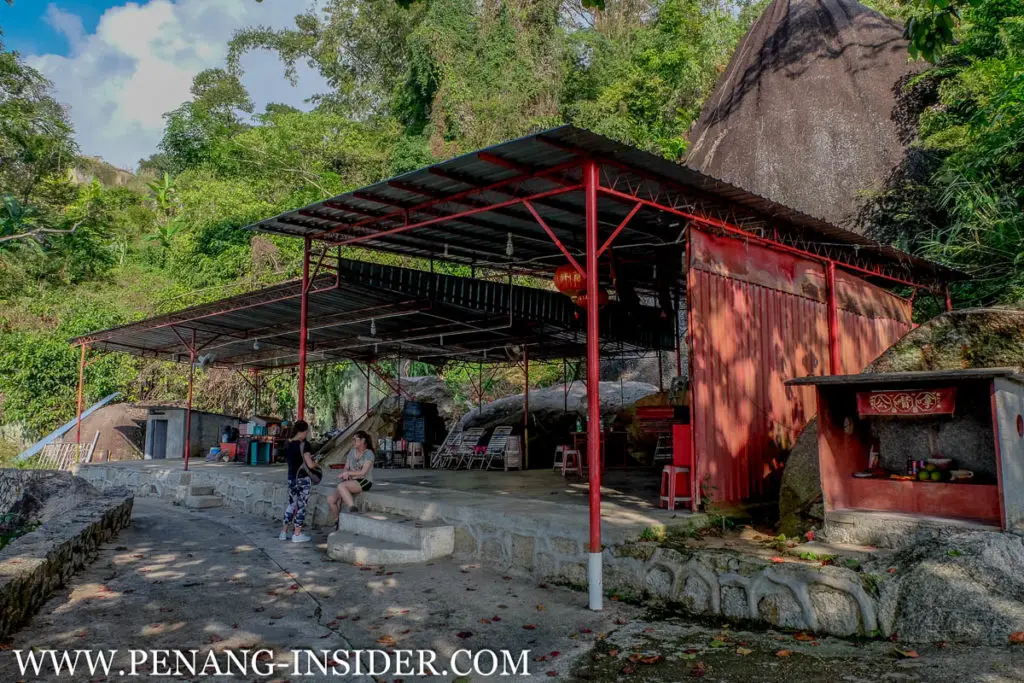 If you have come on a clear day, the views from up here, glowing in the early morning sun before 10 am, are just incredible and great for photographs. You can see the First Penang Bridge, George Town and the rest of the city extend all the way to Air Hitam. To the right, Kek Lok Si soars from the next hill. Ahead and opposite the Straits Sea, there is Bukit Mertajam, and sometimes, on very clear days, even Gunung Jerai is visible all the way in Kedah.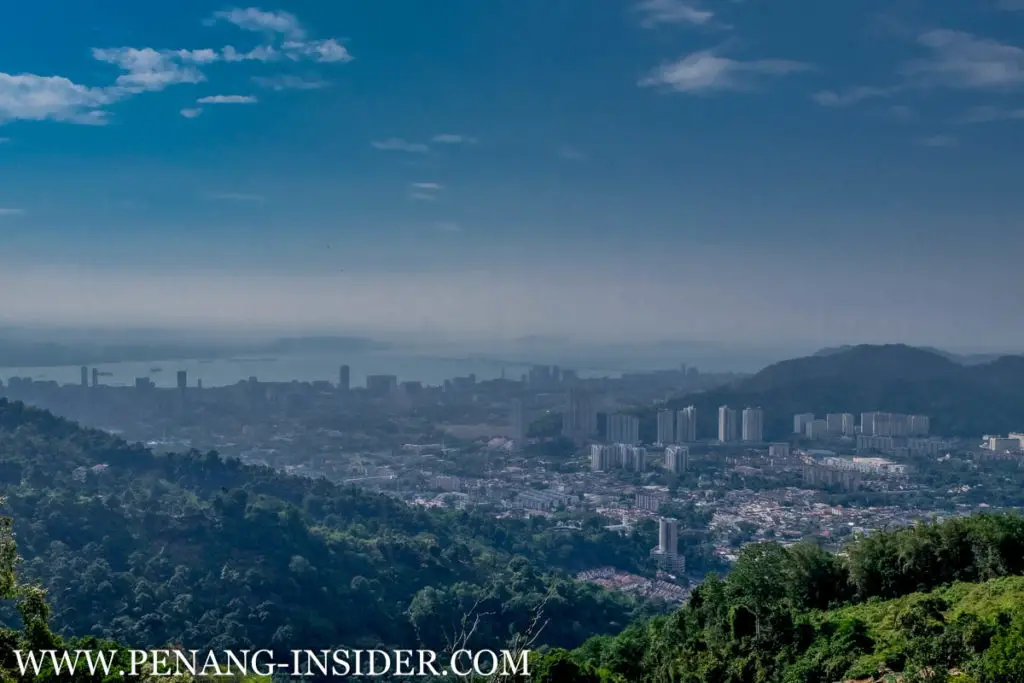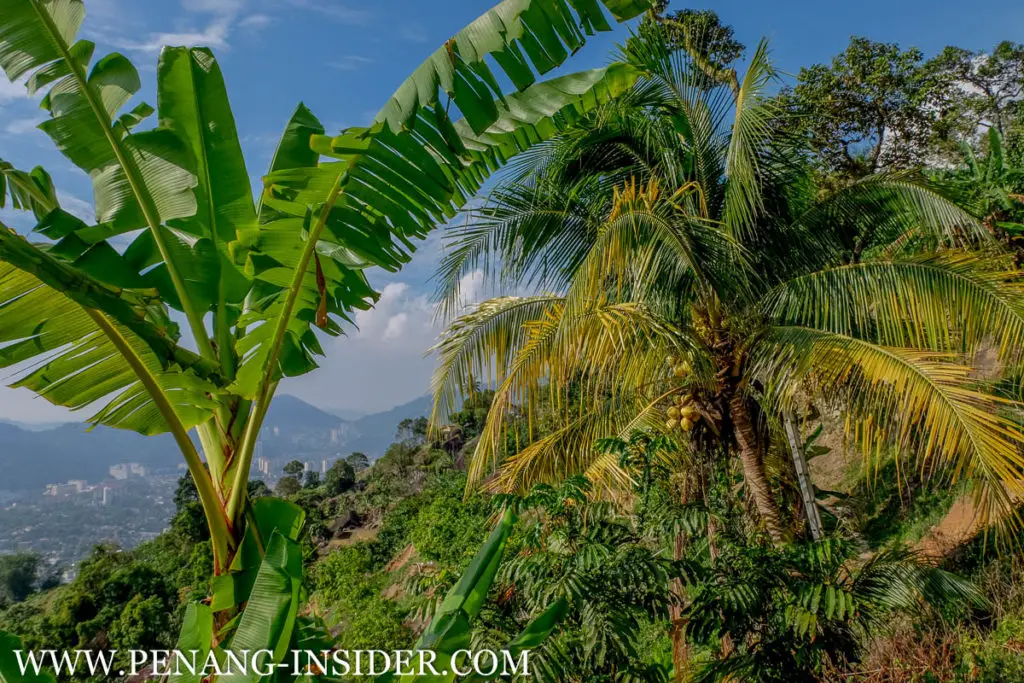 The temple has a simple toilet you can use. I recommended bringing a change of clothes and use the water tank and hose here to freshen up and change, as it's a sweaty and steamy hike. From this point, it's about another 10 minutes walk along the ridge to Penang Hill Railway Middle Station. It's a beautiful section of the hike, with big boulders soaring on both sides, and green fields and plantations extending all the way down the side of the hill.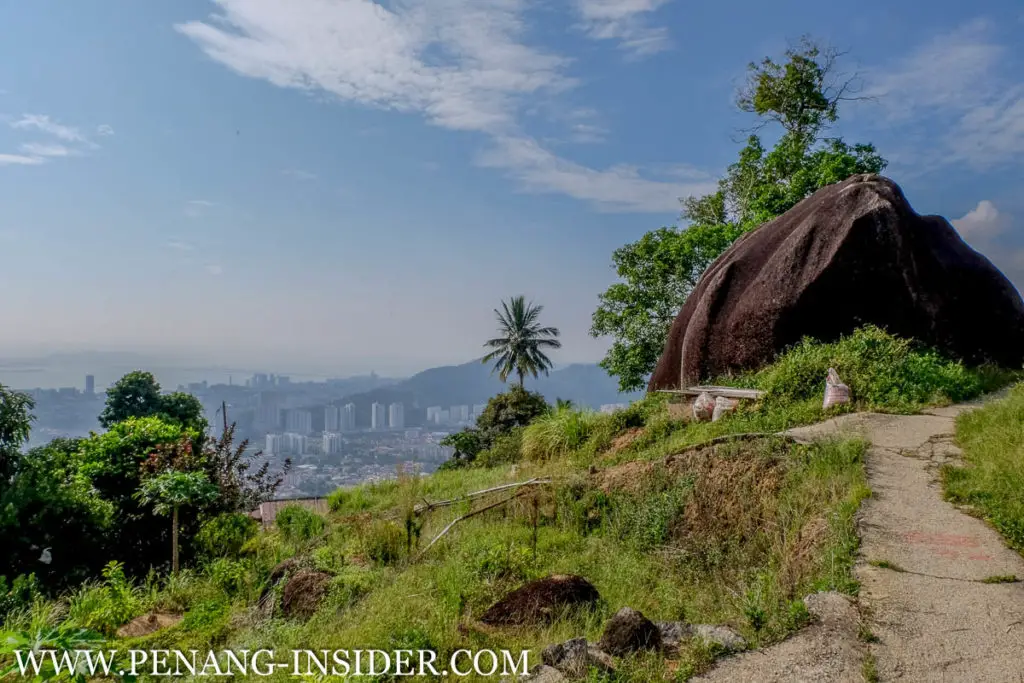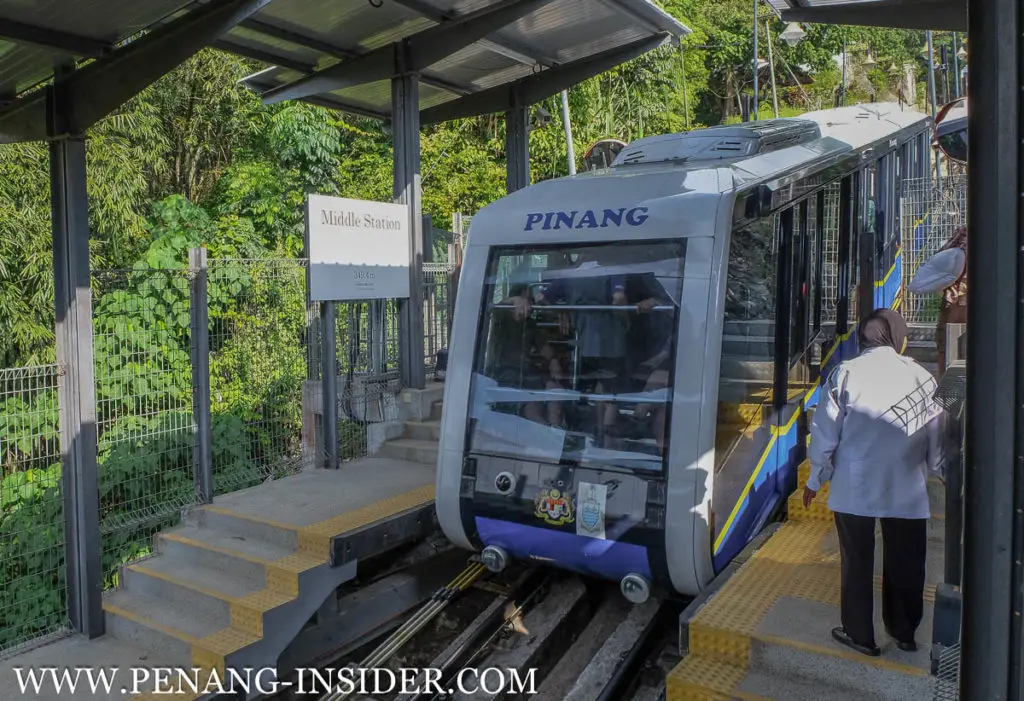 Allow time to snap some pictures, and please watch the time because not all trains stop at Middle Station these days and if you miss the 10 am departure you may have to wait up to another hour.
Something Juicy to check out: Abiu seller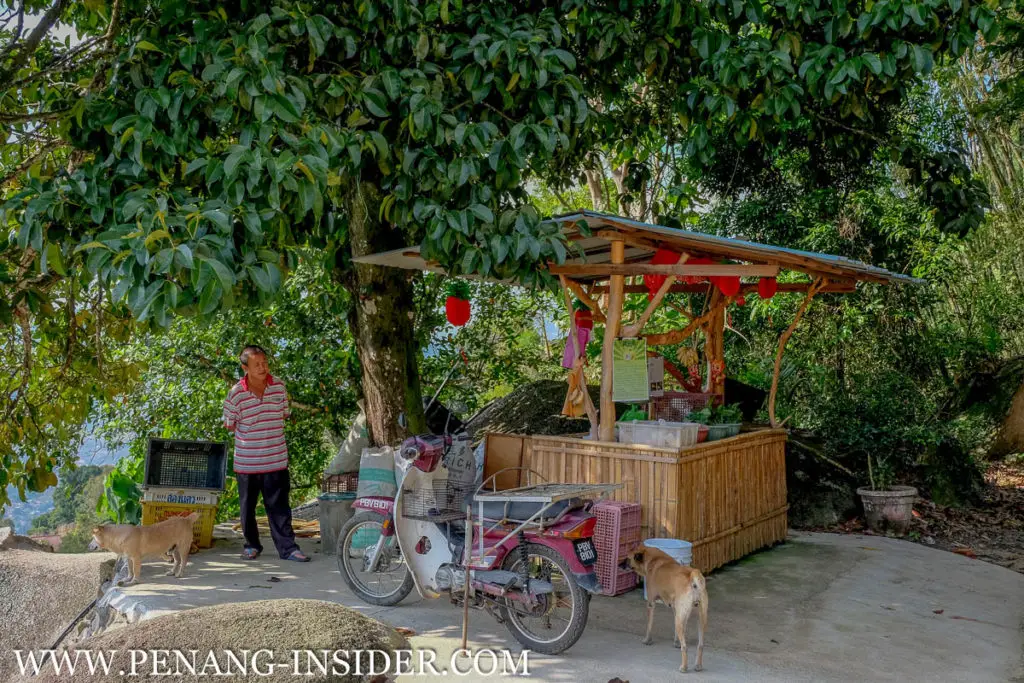 Just before the entrance to Middle Station, you will see one stall selling fruit at the side of the path. A local entrepreneur started selling the very sweet Abiu fruit, originally from Amazonia. It looks like a smooth orange from the outside and has a very soft transparent pulp, extremely sweet to eat. It's a bit expensive at RM18 per kg, but apparently, it's not available elsewhere in Penang, so… that's your only option. The man also sells some very sweet bananas, and he's a good conversationalist if you have time to spare before catching your train down.
Useful Tips for Buying a One Way Return Ticket to Penang Hill
The funicular train is not too cheap, especially for foreigners, who have to pay 30RM for a round-trip ticket(thanks, Malaysia). Locals and PR holders pay RM5 each way.
The best way for locals and PR holders is to show up at the funicular ticket office before 9 am to enjoy the early bird special discount, and pay only RM3 per round-trip. Remember, this applies ONLY to Malaysian IC and PR holders.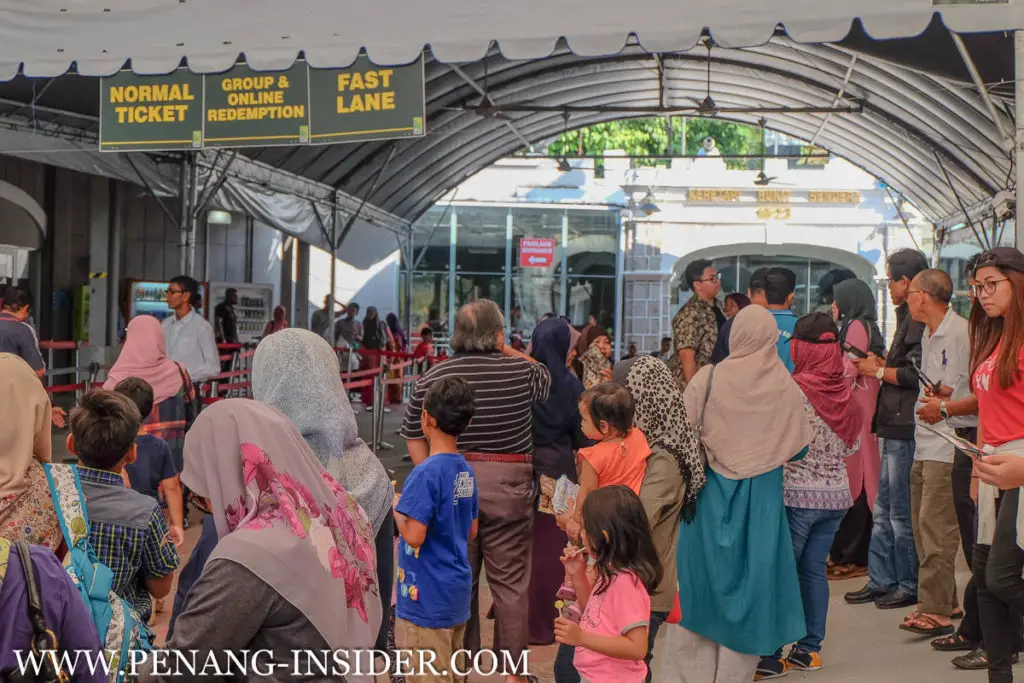 Get your card or ticket with barcode (both can be randomly issued, depending on the days and the ticket office clerk)and prepare it once you get OFF the train. You have to scan it at the turnpike. Drop the card in the machine, and hold onto your ticket as you go out.
Alternatively, if you cannot get a cheap ticket or you like to walk, you can always retrace your steps back and walk downhill until Persiaran Taman Cantik, and from there reach your car/bike or walk up the road to the Rapid Penang Bus Station.
Enjoy the hike, and leave any suggestions in the comments below.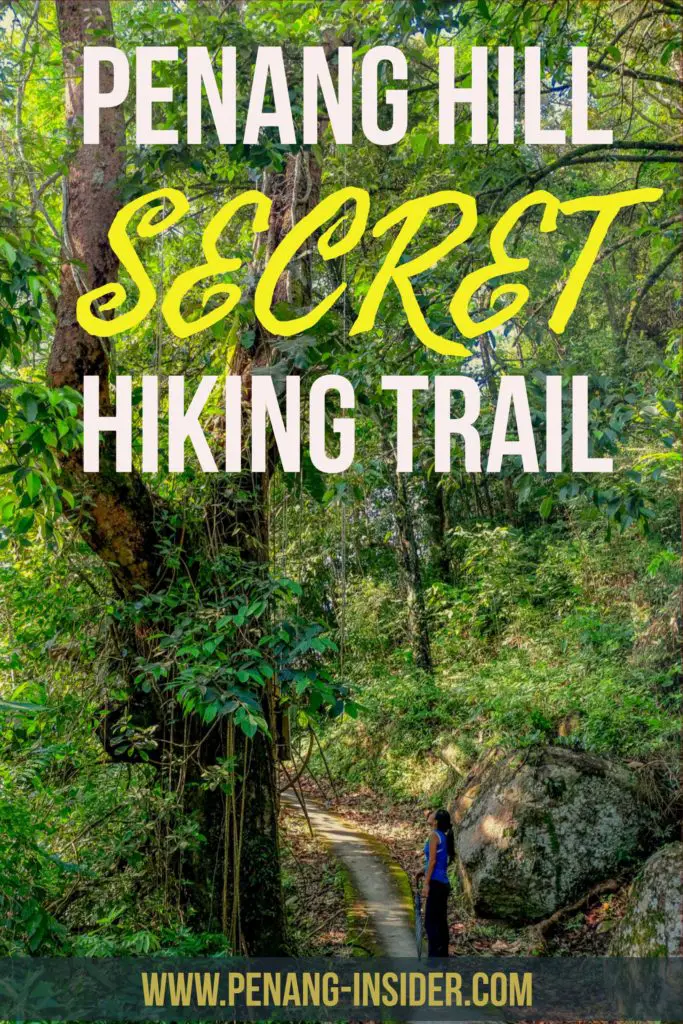 ---
And if you liked this, why don't you sign up for our mailing list? We will send you immediately a FREE photographic eBook with some incredible pictures of Penang, and we promise, we will disturb you only about once a month with some good local advice you won't find on the site 🙂