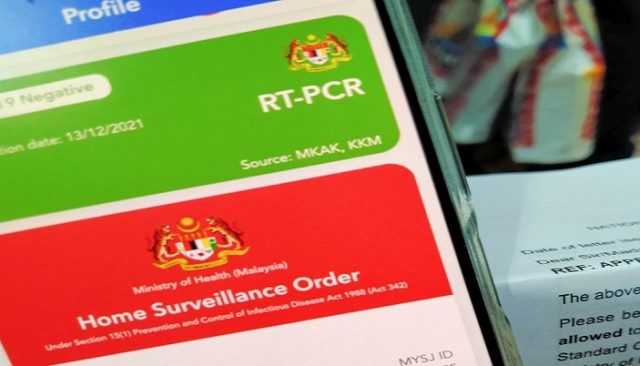 Are you a Malaysian or a long-term resident of Malaysia wishing to travel back from abroad during these current times of coronavirus restrictions? You have come to the right place.
This post is a first-hand guide to the process of applying and doing home quarantine in Malaysia as experienced by us [Marco, a Malaysia Long Term Social Pass holder who's the spouse of Kit Yeng, a Malaysian woman from Penang].
We traveled from Malaysia to Italy and back to Penang via Kuala Lumpur in December 2021 and January 2022. This post will tell you all you need to know to leave and return to Malaysia and get your home quarantine application approved quickly and without stress.
Here's all you need to know about home quarantine guidelines in Malaysia.
---
Malaysia home quarantine guidelines
At the time of writing, if you are a vaccinated Malaysian traveler or valid pass holder with a residential address anywhere in Malaysia, you can quarantine in the comfort of your Malaysian home, avoiding the expensive fees of local quarantine hotels.
Partially vaccinated travelers — those who only received one shot of any of the recognized vaccines in Malaysia— must observe a 10-day quarantine, while fully vaccinated people (two shots) only need to observe 7 days. If you already received a third booster shot, you'll only have to quarantine for 5 days.
---
What documents do I need before I can return to Malaysia from abroad?
You will need:
A negative COVID–19 PCR-test taken 2 days BEFORE the date of your flight.
A printout of your Home Quarantine approval letter
A working version of the MySejathera application installed on your phone.
Crucial Malaysia Home Quarantine Application Tips
–Try to take your PCR test ONE DAY before your flight. This can prove difficult in some European countries and the US, but it's the only secure way to avoid airline ground staff from keeping you off your flight.
As reported by travelers coming from the UK, some airlines (among which are Turkish and Qatar) often confused the 48 hours rule, and instead of BEFORE your flight's date, they count it BEFORE your final arrival time and date.
Avoid trouble by taking your test only a day before flying even though you'll have to pay more for it.
---
What if I have to transfer from Kuala Lumpur to Sarawak or Sabah?
Home quarantine is currently not permitted in Sarawak and Sabah. Passengers can either decide to quarantine at a hotel in Kuala Lumpur before taking an onward flight or proceed to Kuching or Kota Kinabalu and arrange to quarantine at designated hotels over there.
Ground staff will help secure your booking on arrival if you can't pre-book.
---
What if I just had COVID-19 and recovered from it?
Since 13 January 2022, fully vaccinated passengers (2 doses) who have been infected from COVID-19 between 11 and 60 days prior to arriving in Malaysia are not required to undergo quarantine.
Those partially vaccinated or unvaccinated, on the other hand, will have to be subject to a 7 days quarantine at the quarantine station.
Passengers who were treated at home with mild symptoms must have a negative RTK-Antigen test done 2 days prior to departure and upon arrival in Malaysia. Those who have been hospitalized, on the other hand, must show a "fit to travel" letter issued by the hospital where they received treatment.
---
Malaysia home quarantine application: How to do it?
Applying for Malaysia home quarantine is quite straightforward.
To start with, any person can apply for herself and up to 10 other travelers within one single application by logging onto the Malaysia Home Quarantine official website.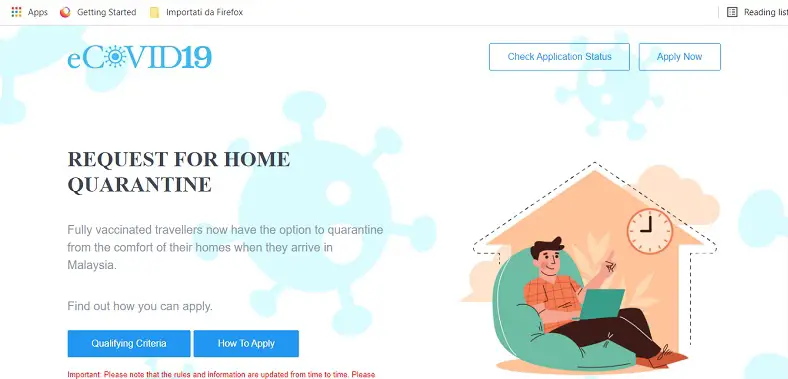 You are allowed to apply only 10 DAYS BEFORE YOUR FLIGHT, and it's strongly recommended that you mark your calendar and do so with proper anticipation. Check their calendar daily and apply as soon as your arrival date opens.
The Ministry of Health's official site states that you'll get a reply within 3 days, but the average answer comes in 7 to 9 days. Please don't leave your application to the last minute risking jeopardizing your return flight.
Together with your digital copies of your passport data page and flight details, you will also need to prepare a series of supporting documents you'll need to upload during the application process.
These are, at a minimum:
Passport copy
Vaccination proof as extracted from your profile on an active MySejathera app, or proper proof of vaccination abroad
Flight ticket reservation
Proof of residence in Malaysia
Foreign residents shall add:
Copy of valid LTSVP/other typology of visa
Supporting copy of marriage certificate, such as in my case
All these files MUST be processed in either Jpg. or Pdf. File format and each shouldn't be bigger than 250kb. You may use a free online Jpg. or Pdf. Resizer software to avoid having your application rejected due to missing documents.
A note on the documentation required to prove residency in Malaysia
For starters, the address you'll file as your home quarantine location MUST BE the same you have registered in your MySejathera application, otherwise, your application will most likely be rejected.
You don't know if you have already inserted the right address? No worries, you can change it.
Open your MySejathera app and click on COVID–19 Vaccination, then on Add Vaccine Dependent, and press the blue button at the bottom of the screen. You can see your registered address in the next section. If it's not correct, just modify it and then save it to update it.
If like us, you don't own your own home, you should prepare a single multi-page Pdf. document — the system only accepts one document per each specific query. Include the front page of your home's tenancy contract that should clearly state your and the landlord's names. Add the most recent utility bill, such as the Tenaga Nasional electric bill, which should be addressed in the owner's name.
The above was enough to get our application approved.
---
Malaysia home quarantine application: Email notifications and confirmation
Once you have prepared and uploaded the documentation listed above, you'll be prompted to submit it. Before you may do so, a pop-up window will ask for a verification code.
Remember that YOU MUST click on the button to receive the code in your inbox by email.
Based on many travelers' reports (you may check the constantly updated information on Facebook groups like Malaysia Quarantine Support Group and Malaysia Covid & Quarantine Support Group) we suggest that it's by far best to use a Gmail account for this purpose. Create one if you don't have it yet.
If all has gone well, you'll receive a confirmation email from eCOVID19 HQA. Shortly after, you'll receive another email that confirms your NEW APPLICATION. Be patient as it may take a few hours.
This confirmation email contains important information such as your HQA Ref. Number and the passcode needed to check the status of your application on the Malaysia Home Quarantine main portal — to do so, press the "Check Application Status" button on the web page's upper right side.
As explained above, the processing time is about 7 days, after which you'll receive the final "COMPLETED" email including your HQA Ref. Number and another passcode are needed to check your request's outcome.
If you have been approved, print a copy of the much-coveted approval letter for each passenger.
Flying Out of Malaysia
At the time of writing, both citizens and residents DO NOT NEED to ask for permission to leave Malaysia. Just buy a ticket, travel to the airport, and board your flight.
Flying back to Malaysia with a Home Quarantine Order
Thankfully, at the time of writing, both citizens and residents NO LONGER NEED to ask for any permission to return to Malaysia.
To board a plane, however, you'll need all the documents mentioned at the beginning of this article.
Our Personal Experience
We flew into Malaysia via its main gateway Kuala Lumpur International Airport even though we live in Penang. Some prefer to avoid transiting in KL and fly instead direct to Penang via Singapore, but it costs more. We chose Turkish Airways, which has cheap flights from KLIA to Istanbul. We had no problem flying out of Malaysia and reaching Milan, Italy.
The return trip was equally seamless after we had to defend our right to fly with Turkish ground staff in Milano — be patient, hold your ground, and show them proper proof that the documents you have are the correct ones. Bear in mind that check-in staff doesn't know the current entry rules of every country in the world, so bring printed evidence.
---
What happens when I arrive in KLIA before my Home Quarantine?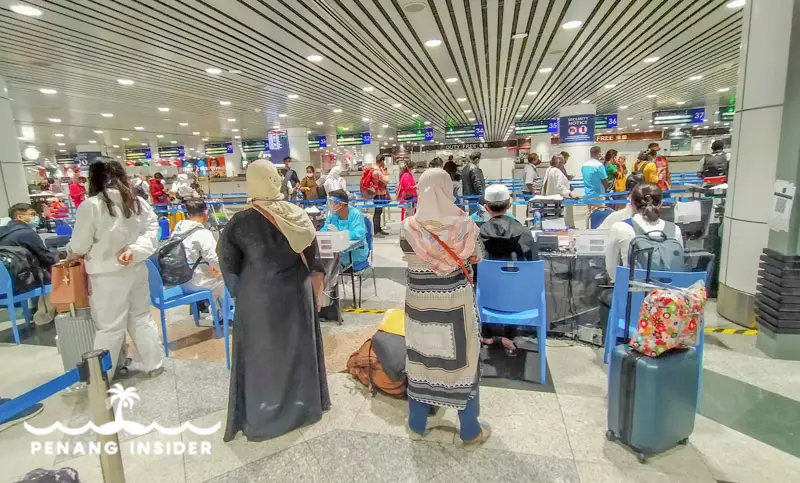 The process is seamless but to be honest, it could have been a bit better organized — clearer signage, more staff, and better instructions.
In a nutshell:
Get off the plane, find and scan the MySejathera QR code provided, and compile the webpage it will bring you to. This process will turn you into a PUS (Person Under Surveillance) for the duration of your home quarantine period
Take the shuttle bus to the main terminal
Present your HQA approval letter to the ground staff and get a pink wristband. If your HQA has not been approved, this is where you can appeal. Staff are positive and kind, and it shouldn't be an issue.
Go get your PCR-Test on arrival — free for Malaysians, 250RM for foreigners — If you need to pay for it, queue up in the foreigner lane and pay with cash or any credit card. You don't have to wait for your result, which will be sent to you by SMS and on your MySejathera app by the third day of quarantine.
Proceed to the immigration desks and get your passport stamped
Welcome back to Malaysia, and go to get your luggage
Exit the airport
---
Returning from High-Risk Countries: Digital Tracker for Home Quarantine
If you are returning from a country that's considered high-risk (at current: Australia, Canada, Denmark, France, India, Nigeria, Norway, Saudi Arabia, USA, UK, South Africa, Botswana, Eswatini, Lesotho, Mozambique, Namibia, Zimbabwe, Malawi) you'll be given a different electronic bracelet equipped with a digital tracker which will monitor your movements. Consider it as an extra level of care taken by Malaysia's Health Ministry.
There's a separate line for it, and a slightly different procedure (get your documents checked, and then go collect the tracker). Once you reach home, just place the device somewhere safe, and don't move it for the duration of your home surveillance order. The tracker bracelet, together with the machine, will have to be returned to the health authorities who will approve your discharge at the end of your last day of home quarantine.
---
How Long Does it Take to Leave the Airport and go to my Home Quarantine location?
Well, it really depends on your luck and how busy KLIA is when you land. All in all, it took us about 45 minutes from exiting the aircraft to getting out of arrivals with our shiny pink bracelet.
Time-saving tip: look for the landing QR code you'll find as soon as you enter the transfer hall and scan it. You'll have to fill up details of your flight, passport number, and vaccination dates, so keep these details handy.
If you are a foreigner and need to pay for your PCR-Test, using a bank card over cash will save you an extra queue.
---
How Can I Leave KLIA Airport and go to my Home Quarantine location?
As a Person Under Surveillance (PUS), you are not allowed to take public transportation BUT you may board a Malaysia Airline connecting flight to other destinations in Malaysia. That's what we did, booking a flight to Penang.
PUS can also be fetched by family members (at their own risk) with private cars, or be picked up by freelance drivers and transporters. These often advertise their service on Quarantine support Facebook groups.
We were quoted 650/700RM for a one-way trip from KLIA to Penang, an amount we did not want to shell out. Flying will save you money.
Note that together with your pink wristband, you will be provided with a pink "Surat Kebenaran Menaiki Kenderaan Awam" (Permission Letter to Board Public Transport) which is accepted by Malaysia Airlines and by the bus company YO-YO which departs from the ground floor of KLIA.
These buses go to Ipoh in Perak state and to Johor Bahru, Yong Peng and Tun Aminah in Johor.
Ipoh could be a good halfway meeting point for families of passengers living in the North of Malaysia who don't want to drive all the way to KLIA.
---
What to do during my Home Quarantine
Sleep, relax, eat well, recover from jet lag, and don't invite friends over — you'd be breaking the law.
There are only a couple of very important things you must do during your 7 day Home Quarantine in Malaysia.
Taking a PCR-Test on Day 5
If you are fully vaccinated like us, you must take another PCR-Test on your fifth day of home quarantine.
On that day, you are allowed to leave the house and go to either a private clinic (where PCR-tests cost 250RM per person) or to one of the COVID–19 support centers spread across the country. You can find a list here.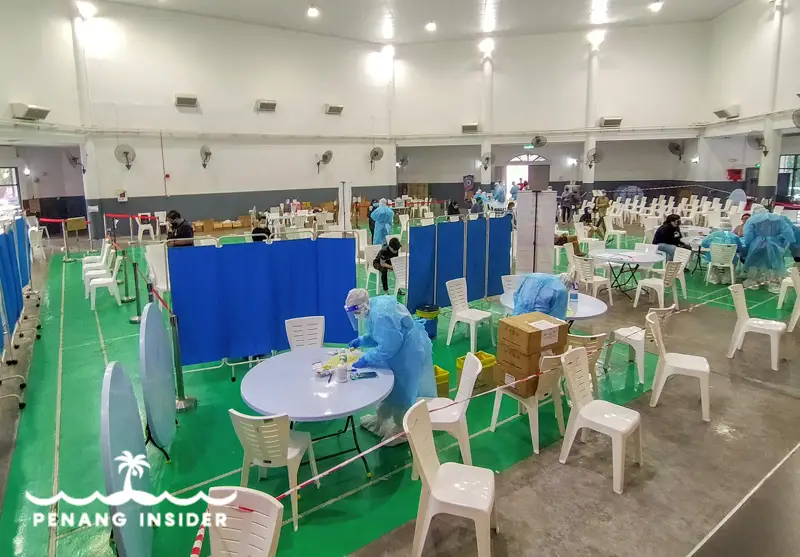 If you choose the second option, the test is free (again) for Malaysians, while foreigners still have to pay another 250RM. We opted for this second option. On Penang island, we went to the Balai Rakyat in Patani Road: PCR screening opens from 9.30 to 10.30 am. We got our (negative result) in the middle of Day 6.
We arrived a bit earlier than 9 am and found parking and very few people waiting ahead of us. By the time we had finished our swabs at 9.30 am, a much longer queue had formed behind us.
The (thankfully) negative result was swiftly recorded in our MySejathera apps by the morning of Day 7. If you experience delays, contact the number indicated in your HQA approval letter to request assistance.
Removing the pink wristband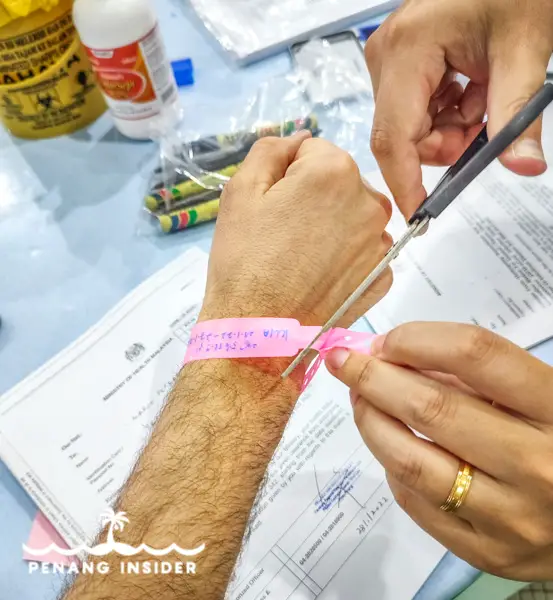 On the afternoon of Day 8, we returned to Balai Rakyat Jalan Patani at 2.30 pm to cut our wristbands and be freed from the home quarantine order.
This time, there was a long queue of cars waiting in front of the Balai's closed gate. We decided to park on the opposite road and by walking back we managed to be among the first in the queue. There were definitely quite a number of people, so the recommendation is to arrive earlier and hold your spot.
Two volunteers welcomed people at a table where, after a quick check of your MySejathera, they will ask you to sign your quarantine release form and cut off your bracelet. Freedom has never tasted so good!
We are now again able to go out and wherever we want as our apps show we are back to being Low-Risk individuals (a blue band at the top of the MySejahtera app).
After a week at home, we are able to enjoy all the Penang food and Penang restaurants we have certainly missed.
Do you have other questions about doing home quarantine in Malaysia? Please ask in the comment section below.
---
And if you liked this, why don't you sign up for our mailing list? We will send you immediately a FREE photographic eBook with some incredible pictures of Penang, and we promise, we will disturb you only about once a month with some good local advice you won't find on the site