With so many things to do in Penang, oftentimes the island is all most people ever see. But if you are tired of Penang Street Art, have quenched your craving for Penang food, and love nature but think that going up Penang Hill is not enough, this article is going to help you find a lot of things to do over the next weekends.
We have already discussed how to enjoy hiking on Penang Hill, visit Penang Botanical Gardens, reach Station5 via Moongate, or try some alternative hiking at Bukit Hijau. We even explained hot to go to nearby Kedah state to climb the challenging Gunung Pulai and Gunung Baling.
This time we'll focus on the offbeat nature trails and hikes that you can find right across Penang bridge in Seberang Perai — better known as "Mainland Penang".
READ MORE — Best Attractions in Seberang Perai
Without further ado, get in your car or catch the Penang ferry to Butterworth, for I will break down my recommendations on the 7 best hikes to do in Seberang Perai in this handy list. To know where to stay in the area, check out our review of the best hotels in Bukit Mertajam, and don't forget to take a side trip to the beautiful Frog Hill.
---
Best Hikes in Penang Mainland: Discover Seberang Perai on Foot
The following is a recap of what I believe are the best hiking trails in Seberang Perai. If you are interested in knowing more, I have discussed these and other trails in deeper detail in my guidebook Nature Trails of Seberang Perai, supported by Think City and published by George Town's Areca Books. It's a trekker's companion that explores a range of hiking trails, from coastal walks to uphill treks, in Seberang Perai, Penang State's mainland hinterland.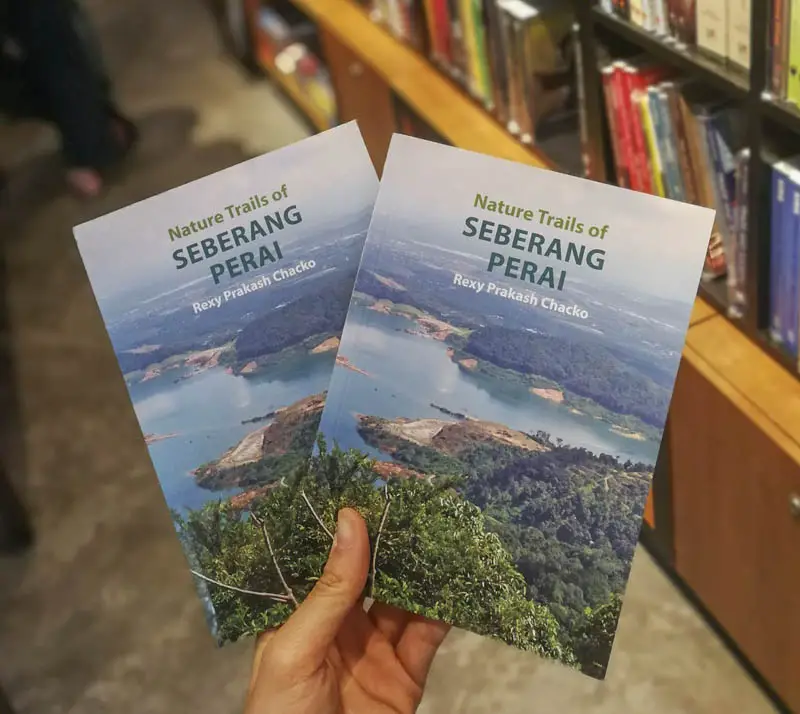 ---
Bukit Mertajam — read our ultimate guide to all the best things to do in Bukit Mertajam — is definitely at the top of the list when it comes to getting a taste of hiking in Seberang Perai. The dome-shaped peak, often called To'kun Hill by the locals is the tallest point on mainland Penang at 545 meters. It towers over the vast flat plains around it making it a clearly visible landmark from miles away. There is a maze of trails running up to the summit which can be done in as little as 1 hour 20 minutes or an arduous full-day loop that includes the nearby peaks.
READ MORE — 10 Best Hotels in Bukit Mertajam and surroundings
The best trails up to the summit start from the Bukit Mertajam Recreational Forest which is easily accessible by car and has ample parking. Be sure to try Station 1 trail, which starts at the impressive 81-year-old Cherok Tokun Dam and winds its way up along a shaded forested slope to the peak. The journey up takes close to 2 hours but it's a pleasant hike filled with the sight of chirping birds, a little cascade, and a few rest-stops along the way. As you go up, Long-Tailed Macaques and the shier Dusky Leaf Monkeys will most likely make their delightful appearance.
Map of Bukit Mertajam Recreational Forest:
---
2
The Big Tree of Bukit Mertajam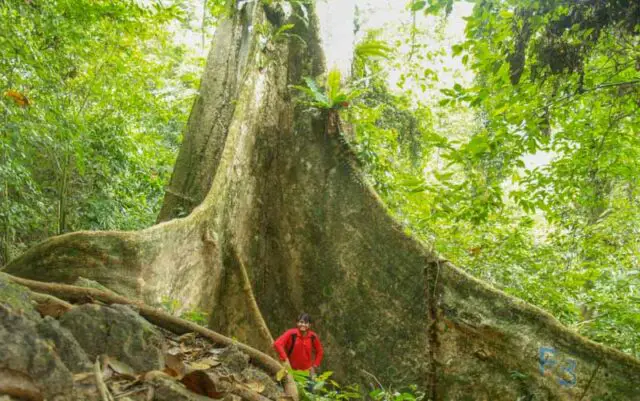 Author Rexy stands in front of Bukit Mertajam's Big Tree, considered the one tree with the biggest buttress trunk in Penang state (image by Rexy Prakash Chacko)
At the foothills of Bukit Mertajam stands one of the marvels of mother nature, a remarkable tree with the largest buttress trunk in Penang. This tree, a Mengkundor (Tetrameles nudiflora), is estimated to be more than a century old with a buttressed trunk that is twice or thrice the height of an average human being! The hike to The Big Tree is an easy 30-minute walk with minimal difficulty. How to get there? Start from the Bukit Mertajam Recreational Forest and follow the Station 2 trail which begins just beside the tarred road up to Bukit Mertajam. Follow the trail until you see a diversion to the left clearly signposted with the words 'Big Tree'. Be sure to bring a tripod along to take a photo in the shadows of the tree's impressive buttress trunk.
READ MORE — Complete Visitor Guide to Cherok Tok Kun Forest in Bukit Mertajam
Map of the Largest Tree in Penang:
---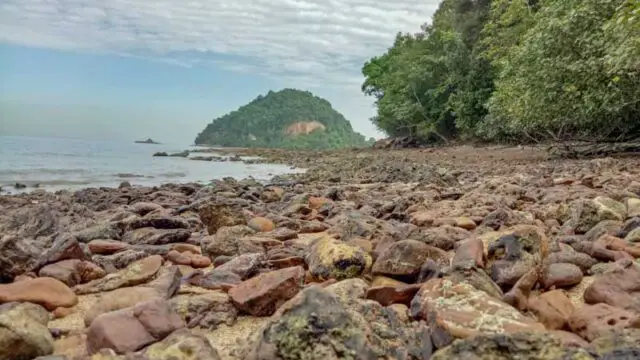 The rugged coastline of Pulau Aman, an islet floating between Penang Island and Seberang Perai (image by Rexy Prakash Chacko)
Did I say island hopping on Penang's Mainland? Yes, that's right, beside Penang's best beaches, Seberang Perai has two islets off the coast of Batu Kawan called Pulau Aman and Pulau Gedung. Pulau Gedung is uninhabited and generally does not see much activity like Pulau Aman, which is home to a colorful little kampung of about 250 people. Access is by boat from the Batu Musang Jetty with regular shuttle trips to and fro (timings have changed post-COVID). While most people know the island for its seafood, especially the fresh prawns and mantis shrimps, Pulau Aman has a lot to offer when it comes to nature.
READ MORE — Best Things to Do (and Eat) in Pulau Aman
This beauty is best seen on a hike: start walking from the main village and along the main footpath that snakes around the island to see the first Breadfruit Tree ever planted in Malaysia and the historic Golden Well which dates back to the 1780s. If its low tide when you reach, spend some time observing the exposed mudflats on the coast and catch the mudskippers sparring with the fiddler crabs. If you are up for something more challenging, a short but tough trail leads up from the main footpath to the 112-meter-high sandstone peak of Bukit Pulau Aman. Finish your adventure on the island with a bowl of spicy Pulau Aman prawn mee. And if you can't have enough of the seafood, once you return on the Batu Musang jetty, make a stop at nearby Bukit Tambun for more awesome food.
Map of Batu Musang Jetty to Pulau Aman:
---
4
Air Hitam Dalam Educational Forest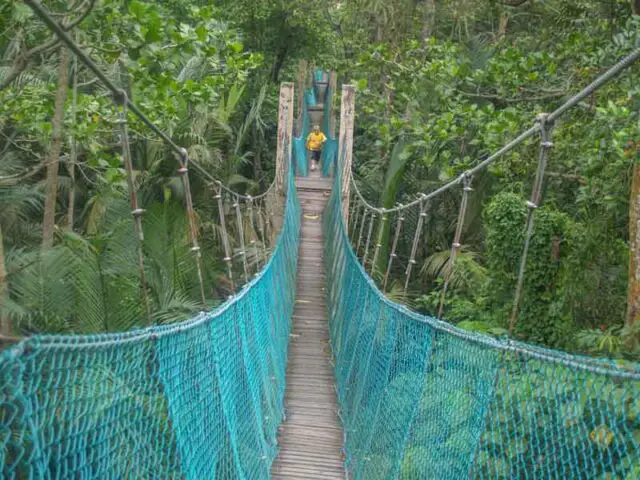 The suspension bridge at Air Hitam Dalam Educational Forest in Seberang Perai (image by Rexy Prakash Chacko)
This freshwater wetland is a unique ecosystem teeming with life. Figs, Nipah palms, and a wide array of reptiles, primates, and birds call this 11-hectare forest home. About 150 species of birds are known from the park, making it a popular spot with birdwatchers who come from far and wide to photograph them. Situated just north of Sungai Dua, the park is easily accessed by road and is equipped with an elaborate network of elevated walkways that ensure you get in and out of the wetland without actually getting wet.
The entire loop can be completed in less than 1 hour of walking. A key attraction is the 210-meter-long suspension bridge which gives a sneak peek into the canopy layer of the freshwater wetland. The educational forest is best visited early in the morning or in the evening when wildlife comes out to forage. Come with a pair of binoculars because if you are lucky you will be able to spot some woodpeckers, bee-eaters, and marsh harriers as you stroll around on the elevated walkways.
Map of Air Hitam Dalam Educational Forest:
---
5
Bukit Panchor State Park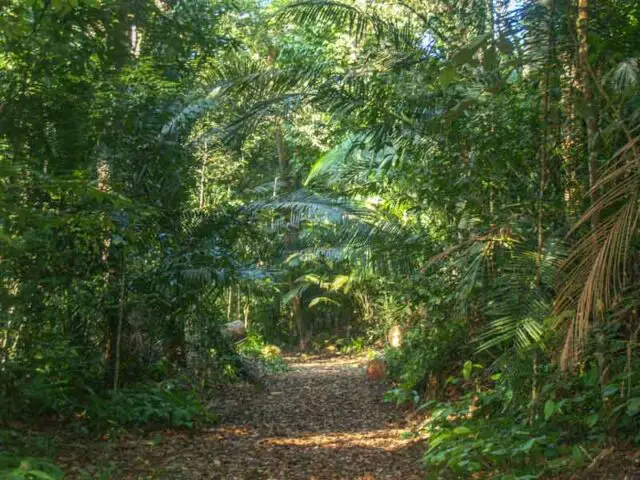 A shaded trail in Bukit Panchor State Park, one of the finest hiking reserves in Seberang Perai (image by Rexy Prakash Chacko)
Located on the south-eastern edge of Seberang Perai is one of the best-preserved Lowland Dipterocarp forests found in Penang state. With trickling streams, a bat cave, and towering stands of endangered trees, this park is indeed a gem of its own. A scientific study revealed a whopping 244 species of trees in several small sampling plots within the park and as recently as 2016, a new species of skink was found in the park.
Getting here is truly quite a journey, as it may take almost an hour from the suburbs of Georgetown to reach this far-flung corner of Penang State. Hikers should give the Bat Cave trail a try, a 2-hour hike that brings you to a cluster of large granitic rocks where bats roost. Do exercise caution and respect for wildlife, view the cave from outside, making no attempt to go inside as you may scare the bats.
READ MORE — Ultimate Guide to Bukit Panchor State Park
Map of Bukit Panchor State Park:
---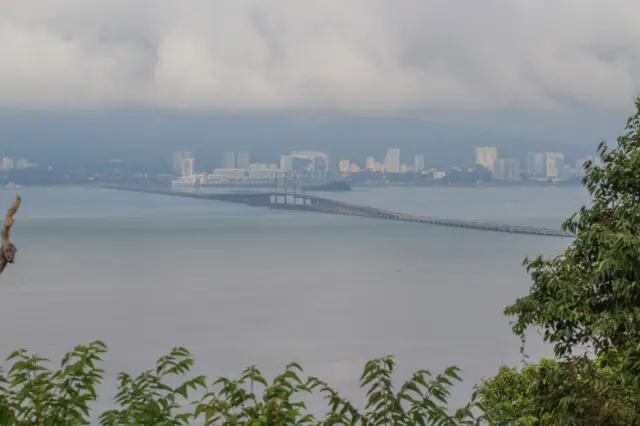 Looking at The First Penang Bridge from Bukit Juru, a lesser-known hiking trail between Juru and Bukit Mertajam (image by Rexy Prakash Chacko)
Juru Autocity is one of those landmarks which people often only zoom by as they travel between Kuala Lumpur and Penang Island. However, this township makes for an interesting pit-stop because tucked away behind Juru Autocity's modern façade is an area of traditional villages and a pocket of greenery on a hill called Bukit Juru. The isolated hill, rising to a modest 202 meters of height, makes for a pleasant, shaded hike with lovely views.
READ MORE — The Ultimate Guide to Hiking Bukit Juru 
The start point to the Bukit Juru hike begins at Jalan Kuala Juru near a parking lot and a jetty on Sungai Juru. This is called the "1800 steps trail" and is recommended over the older access, a few hundred meters back along the same road, where a series of 646 cement steps leads the way up to the top of the hill. At the top, an impressive view of the First Penang Bridge greets you. To make your return journey more interesting, continue along the gentle summit ridge as it winds northward and down to a little jetty along the banks of Sungai Juru, where you get to see lush mangroves lining both sides of the river. For a total Malaysian mangrove experience, don't forget to read our guide to Kuala Sepetang.
Map of Bukit Juru:
---
7
Paddy Fields of Teluk Air Tawar
The paddy fields of Teluk Air Tawar are part of a vast expanse of agricultural land which stretches all the way up to the Muda river on the border with Kedah. Almost devoid of tree cover, walking here is best done early in the morning or in the late evening. From the start point along Lebuh Nakhoda, you are able to do loops around the paddy fields in varying lengths. I think that the best one is a 4km loop which takes slightly more than 1 hour to complete. A unique thing to observe along the walk is how the growth stages of paddy in each field/pond differ from the next one, giving a picture of the entire life-cycle, from planting to harvesting the rice.
Map of the Paddy fields of Teluk Air Tawar:
---
8
Bukit Berapit's Thai Monastery
by Boon Kwan Tung
This hiking trail is located on the western slopes of the Bukit Mertajam hill and leads up to a Thai Buddhist monastery (known in Chinese as Chanxiu Jingshe 禅修静舍). It takes about 25 minutes from the parking lot at the bottom of the hill. You'll hike to an impressive five-story pagoda with an unparalleled view of Bukit Mertajam town, Butterworth, and Penang Island — a perfect spot for sunset or sunrise.
From here, another trail branches out from the original and leads to Vivekavana Solitude Grove, another Buddhist monastery at a higher elevation.
Read more detailed information on how to get there here and in our guide to the best things to do in Berapit.
Map of Bukit Berapit's Thai Monastery:
---
9
328 Rainbow Stairs @ Flower Fruit Hill (花果山)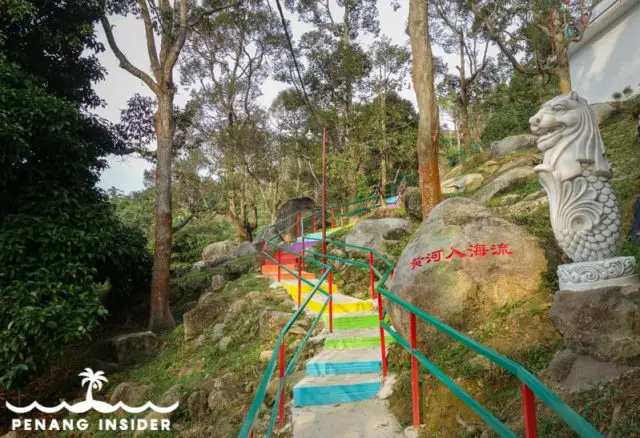 328 Rainbow Staircase is an easy hike that ends in a landscaped garden within a durian orchard (image by Marco Ferrarese)
by Marco Ferrarese
This recent addition to hiking trails in Berapit, Bukit Mertajam, is located on the western slopes of the Cerok Tok Kun hill and leads up to the popular Rainbow Stairs (彩虹梯) on Hua Guo San (花果山), or "Flower Fruit Hill". It takes about 30 minutes from the parking lot at the bottom of the hill in Kampung Besar.
The hiking path starts to the left of a Chinese temple, it's perfectly paved, and even has lanterns that light up at night. On top, there is a landscaped garden filled with animal statues, a nice place to bring children or take some funny selfies. If you just walk to the left-hand side of the garden, you'll find better spots wo see the sunset without obstructions.
From here, a trail continues to the Vivekavana Solitude Grove, from where you can keep walking to reconnect to the Thai Buddhist monastery (known in Chinese as Chanxiu Jingshe 禅修静舍) described above. Just remember that in this case, you'll end up on the other side of the hill at Berapit's Taman Pearl, which is quite a walk back to the original place you parked your car to reach 328 Rainbow Stairs.
Read more in our complete guide to Berapit.
Map of 328 Rainbow Staircase at Hua Guo Shan:

---
10
Batu Kawan Hill (Crazy Hill)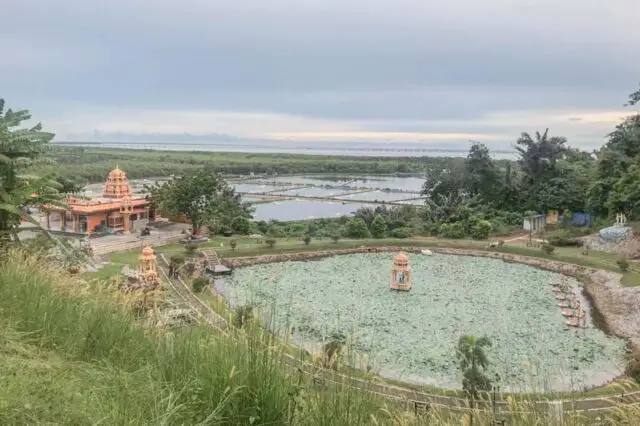 View of the Arulmigu Balathandayuthapani Devasthanam Hindu temple from Batu Kawan Hill (image by Boon Kwan Tung)
by Boon Kwan Tung
It's another short 20-minute hike near the town of Batu Kawan and its cluster of Penang shopping malls such as IKEA. It's a rather easy hike as there is a concrete and asphalt trail that leads all the way up to the summit. And although there's not much to see once you get up here except for a telecommunications tower, you'll enjoy a view of Batu Kawan and the Second Penang Bridge. This trail starts from the beautiful Arulmigu Balathandayuthapani Devasthanam Hindu temple.
READ MORE – 10 Best Things to do in Batu Kawan
The place is also frequented by mountain bikers, who gave it the name of "Crazy Hill". Look for the graffiti on a rock to your right as you approach the telecommunication tower. On the way down, don't forget that a trail forks down to the right until a secluded beach flanked with mangroves (and trash after a hard rain or high tide, so keep expectations low) that faces Pulau Aman. It's a steep climb up once you have reached the sea to get you back on the main trail that descends to the Hindu temple and the parking lot.

Map of Batu Kawan Hill:
---
11
Suling Hill (Bukit Langkap), Mengkuang
by Boon Kwan Tung
Suling Hill is a private hilltop retreat near Mengkuang Dam. At 180-meters in height, it's certainly not that high, but has very nice panoramic views of the Mengkuang Dam and its surrounding countryside. The hike is straightforward along a paved road. Don't forget that Suling Hill is also very famous in Seberang Perai as a spot for durian — if you love the spiky and smelly King of Fruits, you may consider pairing a hike with some makan when it's durian season.
Map of Suling Hill (Bukit Langkap):
---
12
Stone Dragon Hill (Bukit Tangga Batu, 石龙山), Sungai Bakap
by Boon Kwan Tung

Stone Dragon Hill has become a rather popular hiking trail among the locals because of the gigantic boulder known as 'stone dragon' which hangs on a cliff on top of the hill. Foreign tourists are, as usual, oblivious to this, and coming to Bukit Tangga Batu still makes for a rewarding off the beaten track adventure.
The hill offers panoramic views of the countryside as far as Valdor, Simpang Ampat, and Batu Kawan.
Map of Stone Dragon Hill (Bukit Tangga Batu):
---
And if you liked this, why don't you sign up for our mailing list? We will send you immediately a FREE photographic eBook with some incredible pictures of Penang, and we promise, we will disturb you only about once a month with some good local advice you won't find on the site