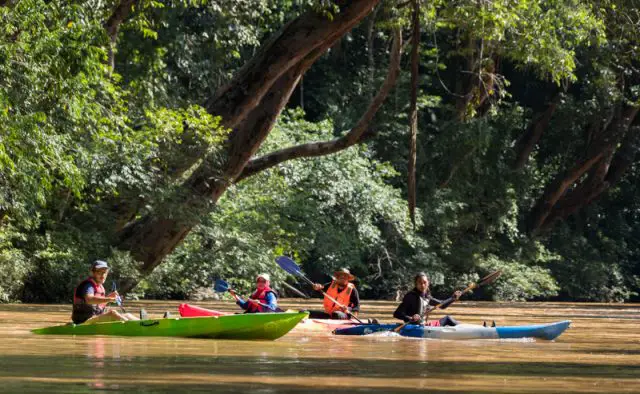 Very few people know what lies between Gua Musang, Merapoh and Kuala Lipis, the old capital of Pahang state. Even fewer would dare to venture off the Central Spine Road, especially in a place like Cegar Perah which, to be frank, seems to be one of those kampungs with very little claims to fame.
Well, if kayaking in Malaysia is on top of your list, then you should pay attention. There's a long stretch of the cappuccino-colored Sungai Tanum near Cegar Perah where you can kayak your face off by joining one of the new tours organized by Kuala Lipis' Tuah Travel, the pioneer tour operator in Kenong Rimba Park.
READ MORE Hiking Gunung Tahan's in Taman Negara Pahang
---
Kayaking in Malaysia at Lembah Tanum and Sungai Temau
This 2D/1N tour gives you chances to engage in Level 2 to 3 kayaking down the Tanum river and also experience traditional kampung homestay hospitality at Sungai Temau, a gracious village connected to FELCRA.
Instead of just relying on plantation activities, the people of Sungai Temau, together with Tuah Travel, are trying to revive the local economy by keeping their youth in the village and trying their hand at eco-tourism. The initiative is definitely worth supporting.
This is a map of Sungai Temau's location:
Tours cost RM360 for a minimum of 10 people and include demonstrations on the making of dodol, a traditional gummy-like sweet, and sambal hitam. Puan Shaidah runs her Warisan Dodol business from her home in Sungai Temau. They produce 4 different types of sweet dodol — gula kabong, pandan, durian, and Nisan Kelantan.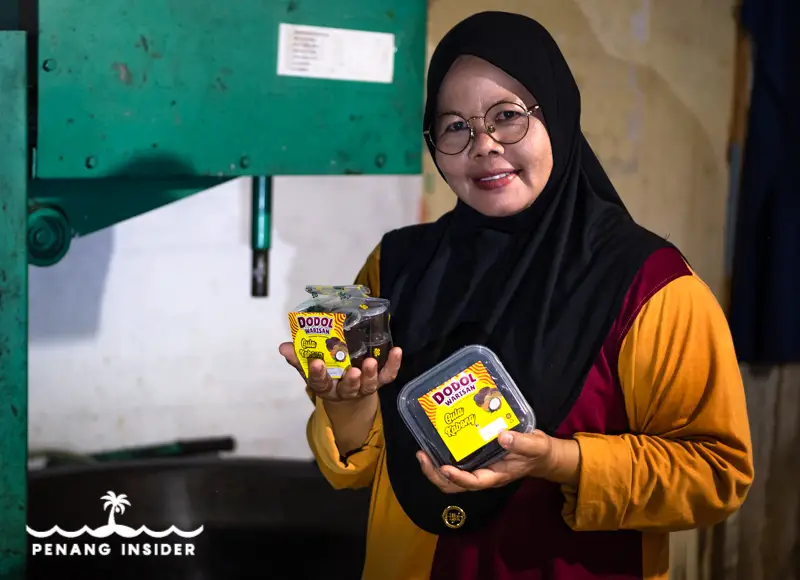 On your first night in Sungai Temau there will be a BBQ dinner and you'll overnight in a private house in the village. The kayaking activities will take place the next morning.
---
Kayaking Tanum River: What to Expect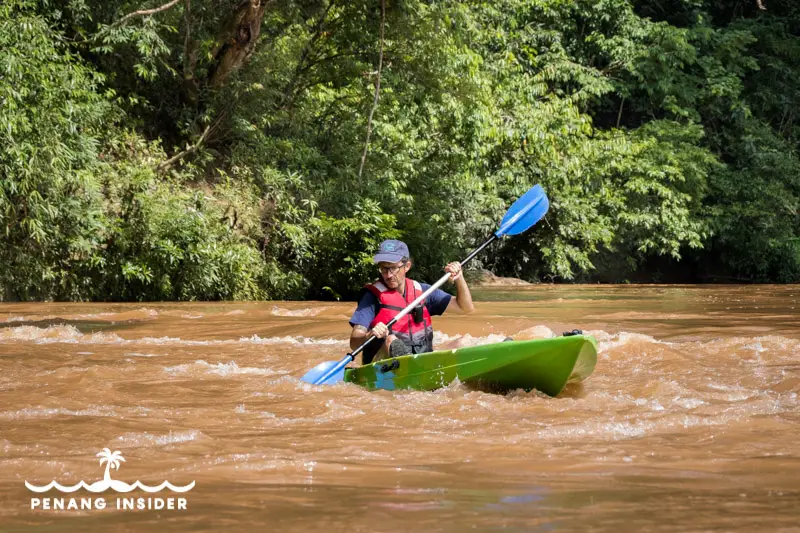 It's a long, 5 to 6-hour journey to cover a distance of about 12 km between two jetties across a wild section of the Tanum River.
It's a pretty unspoiled, meandering watercourse flanked by tall, undisturbed vegetation. Most often, fallen trees become obstacles in the water, and you'll have to navigate a series of small rapids which, however, can become more dangerous after rains when the water level is higher.
In parts of the river, the rock formations are unique and a delight to paddle to. These are the names of the different rapids and passages you will have to navigate on this trip:
Lubuk Chempedak
Lubuk Tor
Jeram Kambing
Pasir Larak
Pasir Pandan
Jeram Tarang
Jeram Sempar
Jejak Olak
Kuala Timah
Jeram Pipit
Jeram Batu
Batu Gua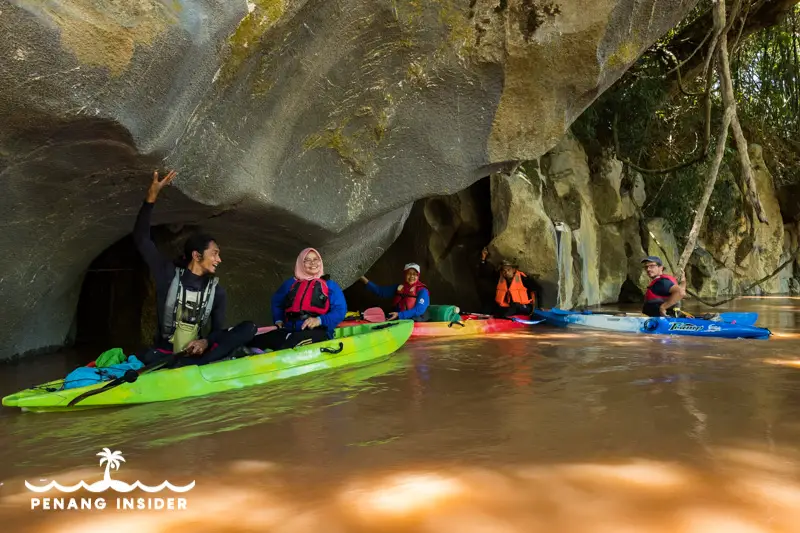 At this point, it's time for a lunch stop sitting on an atmospheric and rocky bend in the river with the packed food from Sungai Temau. After the break, the last section of the river features the following:
Jambatan Kubur
Jambatan Kuala Laman
Pasir Ripo
Teluk Lembu
Jeram Belacan
Lubuk Sibat
Jeram Hor
Jeram Jeri
Jambatan Runtuh
Tuah Travel provides kayaks — you can ride solo or with another person — and guides to follow you and bring you safely to the end point near Cegar Perah. If you've never been in a kayak, you may have some trouble adjusting to the river flow, so talk to your guide and in case, ride with them.
---
Traditional Boat Making Workshop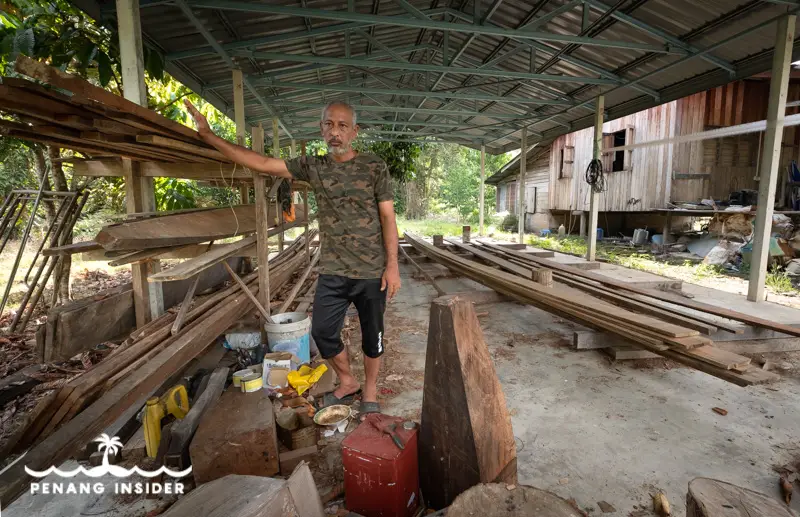 You will drift down by the river on a kayak, but consider that locals have plied these waters for centuries on longtail wooden boats ("Perahu" in Malay). Local craftsmen still make them and you can see how.
The Lembah Tanum exploration includes a visit to the house of Perahu maker Pitam Hadi. He explained that the wood used for these boats is Damar Hitam, Meranti, Perawai, and other light woods that won't sink when in the water. The whole process of treating and laminating the wood is done by hand, using traditional tools, and no machinery.
Customers can order and buy their boats here: each 1-foot cost 120rm. Regular boats are about 30-feet-long, cost a minimum of RM3600, and sit a maximum of 5 people. Of course, the cost of an engine is additional.
Traditional wooden perahu also needs maintenance twice a year. They must first dry under the sun and are then carefully smeared with oil to preserve and nourish the wood.
---
Gua Temalong: Lembah Tanum's unmissable cave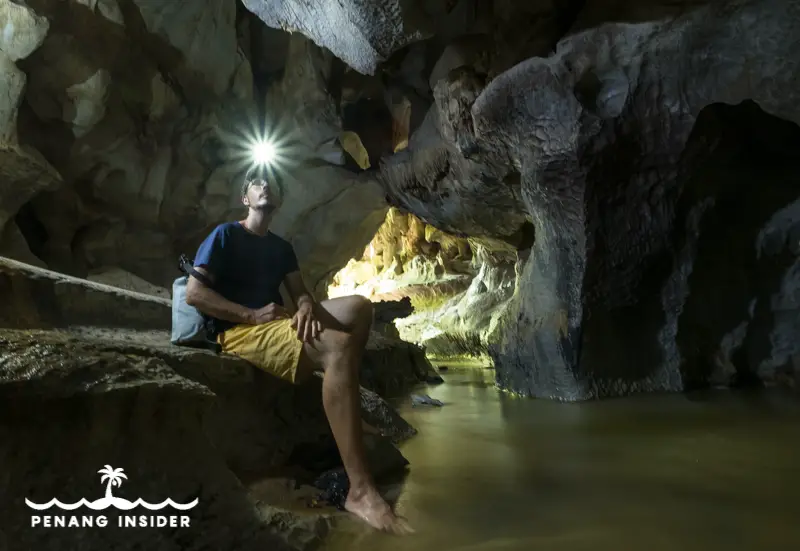 Some of Cegar Perah's best scenery comes last. After kayaking and visiting the boat maker, you'll ride on a 4WD to the beginning of the short (and mosquito-ridden) twenty minutes trek to Gua Temalong.
This cave is a highlight and, we believe, should be protected. It's incredibly beautiful: the mouth seems small and unassuming, but once inside, you'll find an underground stream that has carved a wave-like tunnel from one side of the cave to the other. Strange rock formations jut all around the tunnel, and to the back of the cave is a dark chamber full of bats — claustrophobic people, keep out.
If you can bend on your knees and squeeze through though, you'll end up deep in the recesses of the cave, where you may find animal bones, and more bats, and have a bit of an adventure.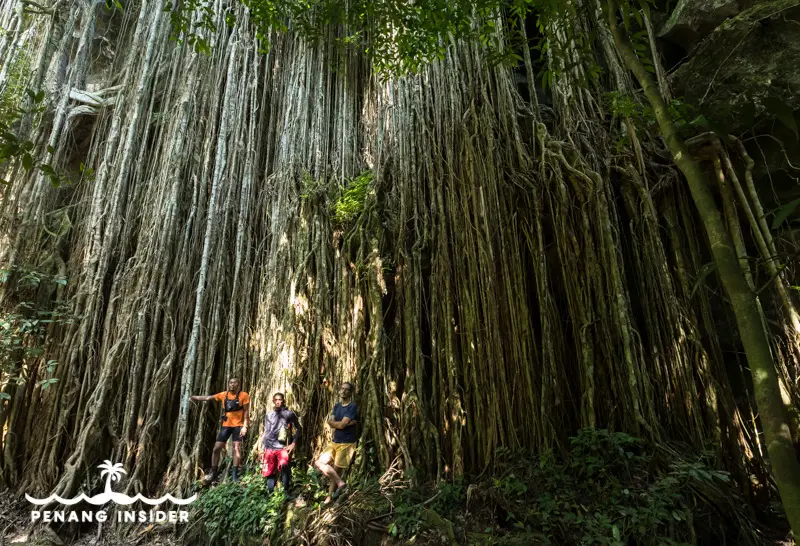 The absolute best of Gua Temalong, however, is left for last. Once you exit the cave, proceed along the rock face and you'll soon realize that the trees you see are in fact the roots of a fig tree hidden high up above the rock. The large, wide fan of roots cascades for meters, creating a natural and impenetrable curtain that protects a part of the cave.
I have honestly never seen fig roots so impressive, and I urge both the people of Cegar Perah, Malaysian Forestry, and the Tourism Department to do all they can to protect and preserve this gem. If you do visit, please refrain from climbing the roots to get your idiotic selfies – stick to the ground, in awe, for Mother Nature has, again, created something uniquely beautiful. Lembah Tanum is the place to experience it.
The research and writing for this article were jointly collaborated with Tourism Malaysia with a focus to boost tourism growth and promote Malaysia as a tourist destination post-COVID-19 pandemic.

Kindly visit the Tourism Malaysia Official page for more information.
---
And if you liked this, why don't you sign up for our mailing list? We will send you immediately a FREE photographic eBook with some incredible pictures of Penang, and we promise, we will disturb you only about once a month with some good local advice you won't find on the site