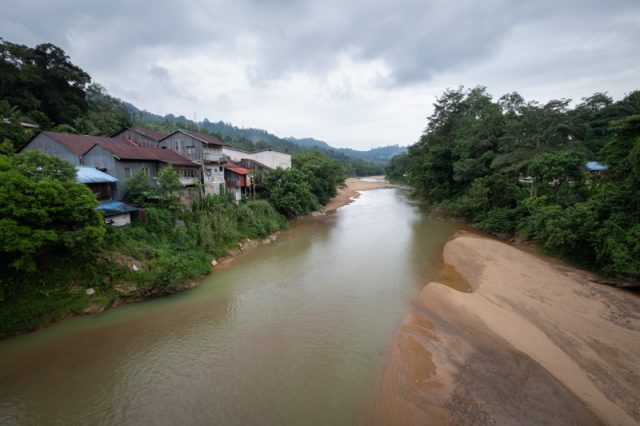 Sungai Lembing is arguably one of the most beautiful and characteristic small towns in Malaysia. With a handful of wooden homes and shophouses scattered along the meandering Kenau river, Sungai Lembing boasts an idyllic setting surrounded by verdant hills and mountains.
Sungai Lembing was founded in the early 1900s as a settlement for the once thriving tin mining industry — like an East Coast equivalent of other towns in Perak state, such as Taiping and the Kinta Valley around Ipoh.
With the decline of the mining industry after Malaysian independence, the mines at Sungai Lembing closed in 1987, many residents moved out, and the place became a ghost town. It was revived for heritage tourism in 2001, when the Sungai Lembing Museum dedicated to the history of the town's origins opened on a hillock outside of the town center.
Twenty years later, Sungai Lembing remains a delightful spot for a short trip in Malaysia, especially from Kuala Lumpur, which is just 3 hours away along the Karak Highway.
Are you planning to visit Sungai Lembing? Great, this post will tell you all you need to know to make your visit memorable.
---
Where is Sungai Lembing located?
Sungai Lembing is set about 42km northwest of Pahang's capital Kuantan. From Kuantan's city center, road C4 proceeds west and then becomes Road 231, which goes all the way to the center of Sungai Lembing.
Here is a map of Sungai Lembing:
---
How to get to Sungai Lembing?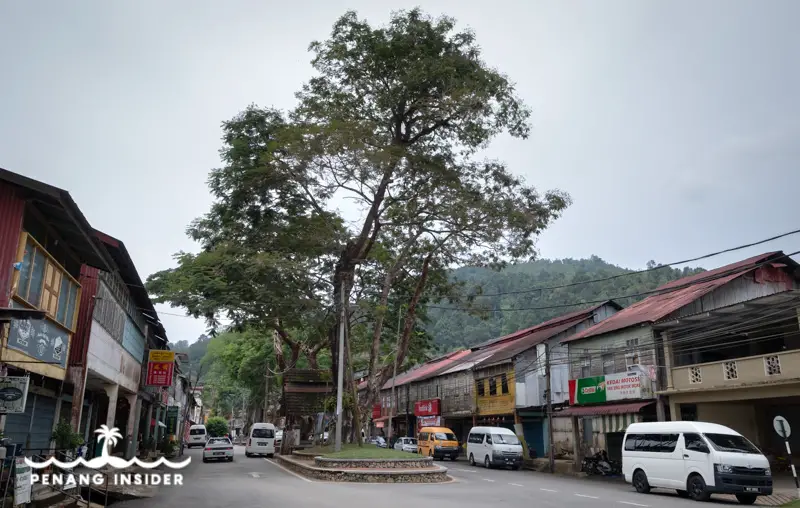 Once you get to Kuantan (book your bus tickets here), the RapidKuantan Bus 500 shuttles between the city center and Sungai Lembing every 30 minutes.
If you want more freedom to get around the sights and explore the area, however, coming with your own car is recommended. This is the only way to be able to stop where you like along the way and avoid wasting time walking around everywhere.
---
Where to Stay in Sungai Lembing
For its small size, Sungai Lembing offers a nice selection of hotels and places to stay, either scenically set on the surrounding hill slopes, or in close proximity to Sungai Lembing Old Town.
The following are some of our favorite places to stay in Sungai Lembing:
See more accommodation in Sungai Lembing.
---
Sungai Lembing Attractions: An Itinerary to the Best Things to do in Sungai Lembing
You should come to Sungai Lembing and spend at least a full day and one night because both trips to see the sunrise at Bukit Panorama and to Sungai Lembing's Rainbow Waterfall start at 6 am in the morning.
I met people who drove overnight from Kuala Lumpur to arrive in Sungai Lembing around 4 or 5 am and join the tour to save on a night's accommodation. If you are so desperate to save money, consider there are a few campsites like Campstay Sungai Lembing and Timah Campsite. They charge about RM30 per tent and offer shower facilities and electricity.
---
1
See a Carpet of Clouds at Sunrise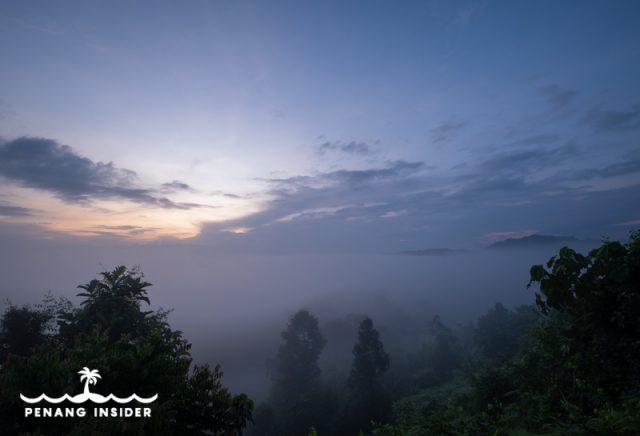 A little bit misty but still, a great start to the day with sunrise at Sungai Lembing's Sunrise Hill. (image © Kit Yeng Chan)
Every trip to Sungai Lembing is not considered complete without an early rise to see the sunrise. The two main viewpoints are Bukit Panorama, which is reachable hiking from the town's center, and Sunrise Hill. The second is best reached by own transport and is included in every package to the Rainbow Waterfall. We'll explain more about this tour later.
There's no guarantee of finding good weather and catching an unobstructed view of the valley, but even with clouds or mist blanketing the sunrise, the fresh air and atmosphere here are much recommended. Give it a try — you can always return later in the day when views clear up.
Remember that reaching Sunrise Hill is best done in a 4WD. Don't beat up your car on those unpaved roads…
---
2
Visit Sungai Lembing's Rainbow Waterfall
The Rainbow Waterfall is one of Sungai Lembing's most important landmarks, and coming here and not seeing it is a mistake. It gets its name from the rainbow that appears reflected against the bottom tier of the waterfall between 9 and 10 am. October is the best month to see this play of light.
If you are, again, unlucky, no worries: the waterfall is beautiful, with a tall, sheer drop and a large pool where visitors can freshen up and swim.
---
How to Visit Sungai Lembing Waterfall
You can only visit Sungai Lembing Waterfall by hopping in one of the 4WD that ply the offroad one-hour drive to the checkpoint of Lubuk Beruk.
As of 2022, the cost for one person is RM60. This includes pick up from your hotel (earlier at about 5.30 am) or from the food court in the center of Sungai Lembing's one-way street (a bit later at 6 am); a visit to Sunset Hill for the possible sight of a fireball burning above the clouds; a roundtrip journey to the waterfall; free hot drinks and instant noodles; and a driver-cum-guide.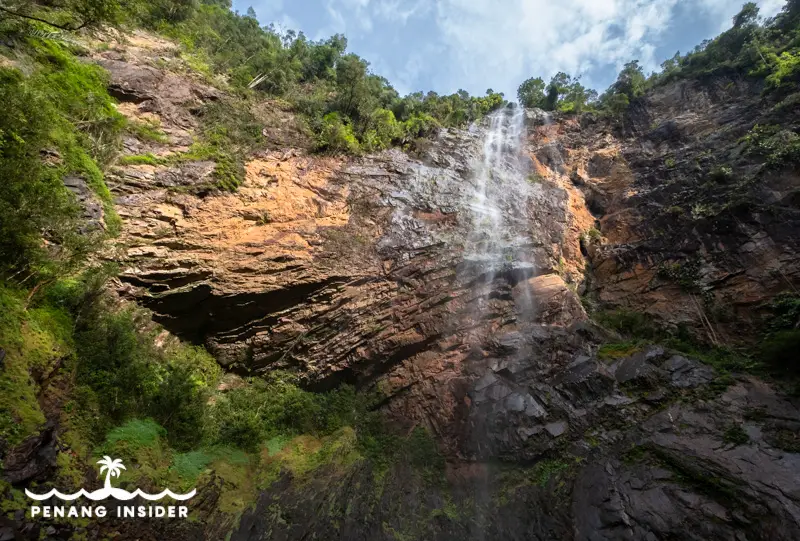 Literally, EVERYONE in town is able to put you in touch with a driver or a guide. We arrived after dark, sat in a local restaurant for dinner, and the owner was quickly able to help us book two seats for the next morning. If you feel like you need to book beforehand, then you may call or text Patrick at +60124446424. You can use English, Malay or Mandarin.
Once at Lubuk Beruk, it's about one kilometer of jungle trekking to the falls. The hike starts with a short river crossing, so it's recommended to come wearing a swimming suit. A change of clothes and a pair of Adidas kampung are also recommended.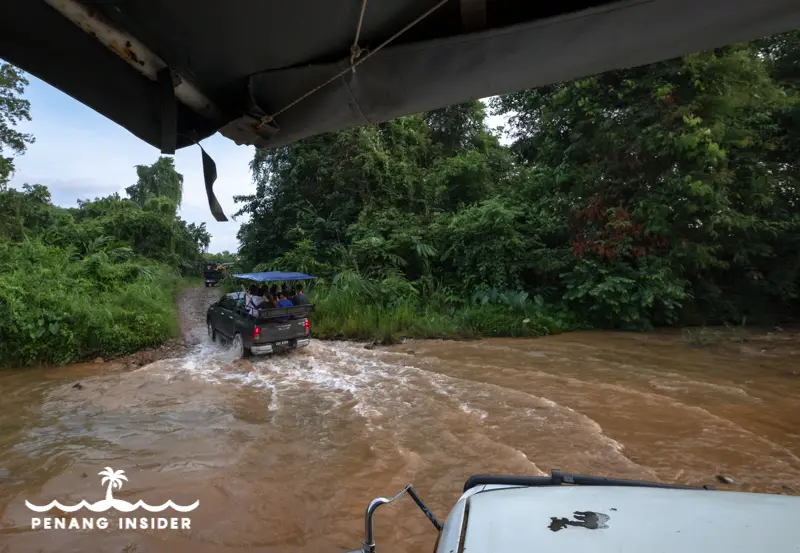 You'll arrive at about 8.30/9 am and you'll hang out at the waterfall for almost two hours. Don't worry — the guides will wait as long as possible for the rainbow to come out before gathering everyone and heading back. The cars return to Sungai Lembing between 12 pm and 1 pm in time for lunch.
---
3
Have a stroll in Sungai Lembing town
It won't take long to check out the main strip in Sungai Lembing, whose main attractions are the many shophouses lining a central concrete and stone divider topped by huge, beautiful trees. The Big Tree is certainly the most impressive, as it's as old as the town itself… about 120 years!
Don't forget to take a peek at the Thean Hou temple dedicated to sea goddess Mazu. It's tucked up an alley right opposite to the entrance of the morning Food Court right before Sungai Lembing's Big Tree. The courtyard of the temple has a large statue dedicated to Mazu and is a perfect vantage point to watch the river.
---
Bukit Panorama is a 40-minute trail along a well-marked staircase that leaves from the parking lot behind Sungai Lembing's central morning food court.
Visitors usually start gathering at the trailhead as early as 5.30 am, aiming to reach the top before sunrise and see the awanano (carpet of clouds) blanketing Sungai Lembing's valley.
If you don't want to climb that early or decide to take the tour to Sunrise Hill and Rainbow Waterfall instead, remember that you can come here at any time of the day and still enjoy superb views from the hilltop.
Once you reach the end of the staircase, don't stop at the pavilion on the left-hand side but walk either to the left or to the right following one of two opposite paths. You'll have 360-degree views of the valley stretching almost all the way to Kuantan and the sea. On one side, you'll see the massif of Gua Charas sticking out of the forested land all around; on the other, Sungai Lembing and the Kenau river rest below clouds and mountaintops. Amazing stuff.
Here's a map of Bukit Panorama's trailhead:
---
Set inside an old wooden bungalow, this museum is a few hundred meters to the north of Sungai Lembing's main strip and hosts an exhibit of the town's early tin mining industry.
One used to be able to also visit the site of the old mines, but unfortunately, they were closed at the time of our visit — it's not clear when they will be reopened.
---
6
Walk on Sungai Lembing's Jambatan Gantung (Hanging Bridges)
Sungai Lembing also has four hanging bridges connecting the two sides of the Kenau river. Kolong Pahat Bridge is the most famous and photographed, and for good reasons: it is the oldest in town, rickety and slung across the widest and deepest part of the river valley. It leads to a cluster of houses where you'll have chances to try some of Sungai Lembing's special foods.
---
7
See how noodles are made and try Mountain Water Tau Fu Fah
Right across the Kolong Pahat Bridge, turn right and walk down the slope and you'll bump into Mountain Water Tau Fu Fah. This old-school Chinese shop is great for the refreshing, unusual concoctions of Tau Fu Fah and other ingredients such as Blue Flower Jelly. This shop also makes hand-pulled Chinese noodles that are made traditionally using the shophouse's original kitchen and stoves — they look unchanged since well back into the last century.
Here's Mountain water Tau Fu Fah's location:
---
8
Go Spelunking and Praying at Gua Charas
Timing: 8.30 am — 5 pm (longer on days of celebrations and prayer)
This stone massif, home to the Sivan Hindu temple, lies 18 kilometers away from Sungai Lembing near the small town of Panching. The access road starts at a turn on the main road to Kuantan, which lies 25km away, and meanders through palm oil estates until the entrance of Gua Charas. Soaring 355-meter-tall over palm oil plantations, the grand limestone massif is estimated to be 400 million years old and should not be missed on your Sungai Lembing itinerary.
Gua Charas is sacred to both Hindus and Buddhists: it shelters a 30-feet long reclined Buddha, a recent Hindu shrine, and a collection of many other statues of Buddhist and Hindu deities. Among them, you'll see the statues of an elephant (the mind) and a monkey (the mind's agitation) kneeling before a seated Buddha tucked in a corner of the cave. At the back of the massif lies the Sleeping Buddha.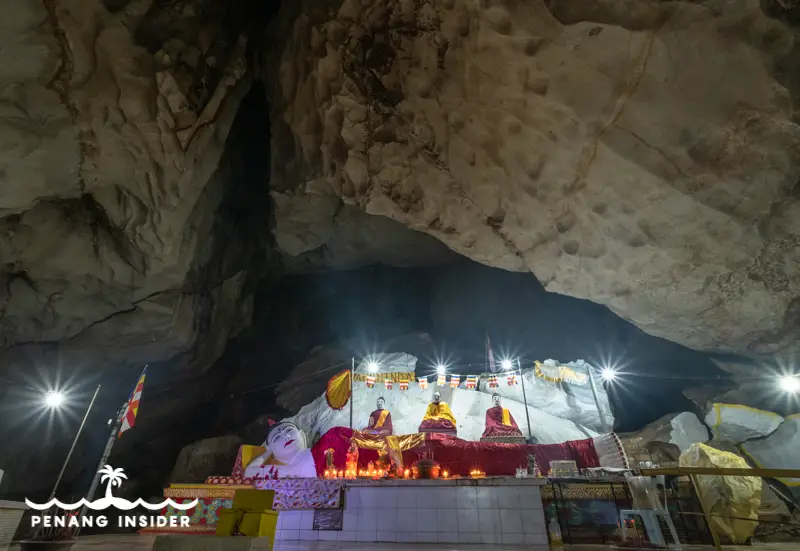 You can park your car in the parking lot outside (where you'll be charged RM2) and then walk up a few flights of metallic stairs that lead visitors up the hillside and onto the main cave's entrance (a symbolic donation of RM2 is expected — you have to drop the cash into a box hanging on the wall). The cave itself is HUGE: you will follow a concrete road built to transport materials into the cave all the way down to the floor of the main chamber. From there, a look back at the gaping mouth of the cave will make you feel like a very, very small thing.
The reclining Buddha is found at the end of the cave — it takes about ten minutes to walk there one way and take a quick look around, more if you intend to follow the side paved pathway that snakes all around the cave's inner nooks and crannies. It will take you about an hour and a half to roam around the cave with ample time and enjoy the site without rushing. If you visit during Hindu celebrations, you may spend longer observing devotees performing rituals at the Hindu shrine set in the center of the cave chamber.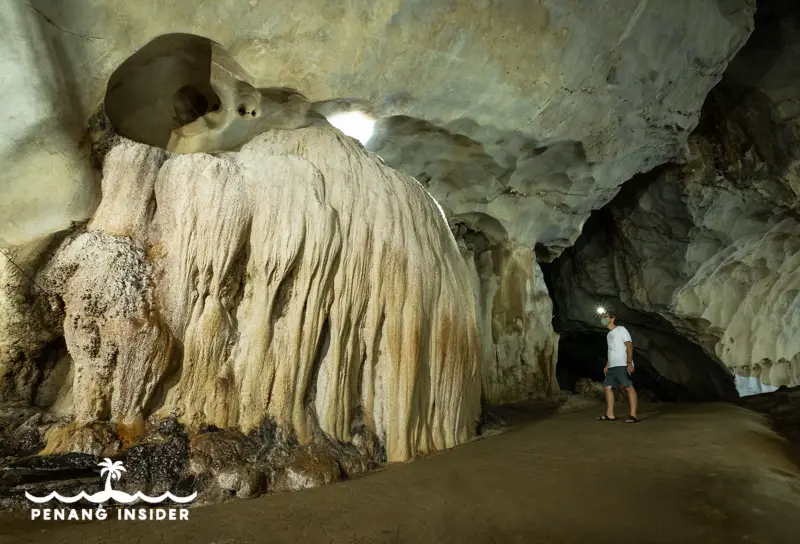 Here's a map of Gua Charas' location:
Sungai Lembing: the Verdict
Sungai Lembing has plenty to keep you occupied for at least a full day or two — try to stay overnight to catch a good sleep before setting out early the next morning for sunrise and a visit to Rainbow Waterfall. It's a perfect choice for a weekend away from Kuala Lumpur or Kuantan.
The town is ideal for both backpackers and hikers and suited to families, who can easily join the tour to the Rainbow Waterfall, letting the locals handle all the logistics. One thing that is left to be said is, that Sungai Lembing is definitely a quiet place. Forget a party town, even though the central road is packed with small cafes and restaurants where it's easy tho while away the hours.
The research and writing for this article were jointly collaborated with Tourism Malaysia with a focus to boost tourism growth and promote Malaysia as a tourist destination post-COVID-19 pandemic.

Kindly visit the Tourism Malaysia Official page for more information.
YOU MAY ALSO LIKE
Best Things to Do in Merapoh
Best Things to Do in Gua Musang
Guide to climbing Gunung Tahan
How to Visit Kenong Rimba Park
---
And if you liked this, why don't you sign up for our mailing list? We will send you immediately a FREE photographic eBook with some incredible pictures of Penang, and we promise, we will disturb you only about once a month with some good local advice you won't find on the site