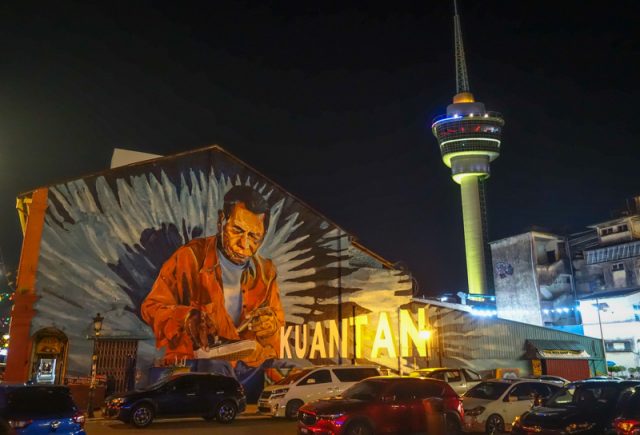 Kuantan, the capital of Pahang state, does not get the love it deserves from travelers. We don't know why: hugged by very swimmable, long beaches that have nothing to envy to either Penang or Langkawi, and set only 3 and a half hours away from Malaysia's capital Kuala Lumpur along a perfectly paved highway, there's no reason why you shouldn't spend some time in this very underrated, and very cool coastal city.
Kuantan keeps changing and improving: in 2022, a new prominent Kuantan attraction, Tower 188, opened on the riverfront. On top of that, since 202 there's amazing mural art (that probably surpasses even Penang's famous street art) and a young, creative vibe all over this green and leafy seaside town.
So if you are thinking of visiting Pahang's capital, this article suggests a list of many interesting places in Kuantan we enjoyed, and that we think will make you come back to this cool and quaint seaside city time and time again.
---
How to reach Kuantan?
Here's a map of Kuantan:
Kuantan By Flight
At the moment, Kuantan is only connected via flight from and to Kuala Lumpur, and otherwise, the only way to get here is by bus, or driving.
Kuantan by Bus
You can catch a direct bus to Kuantan from many major cities in Malaysia. The shortest route is via Kuala Lumpur, a 4-hour journey one way. We recommend that you book your tickets in advance:
Kuantan By Car
It's a long drive from Penang and the Northwestern Coast of Malaysia, so if you decided to drive, we recommend that you plan at least a stops along the way, such as Gua Musang, where you can go caving and explore the nearby Taman Negara Sungai Relau near the village of Merapoh, and Kenong Rimba Park.
From Kuala Lumpur, it's a quick 3 hour drive along the scenic Karak Highway to Kuantan.
---
The Best Places to Visit in Kuantan
From big mosques to long beaches, waterfalls, street art, and vintage markets, Kuantan has it all. You'd be surprised by how cool this city is — especially as it's much less pretentious than Penang or Kuala Lumpur, has far less traffic, and most landmarks are all within a 10 minutes drive from the city center.
1
Visit Masjid Sultan Ahmad and Kuantan central square, Padang MPK1
Like it or not, the biggest mosque in Pahang state is quite a sight and dominates the center of Kuantan. With four long and tall minarets that nod to the Islamic architectural style of Turkey and an impressive central dome, Masjid Sultan Ahmad is within walking distance of the Kuantan riverfront and faces directly the Padang MPK1, a large square. Come here from 8 pm to midnight every day to take a stroll at the Pasar Karat Padang MBK2, where you'll find everything, from new and second-hand clothing to street food and drinks.
---
2
Visit Kuantan Art Street (that easily makes a run for Penang's) and Pasor Dinda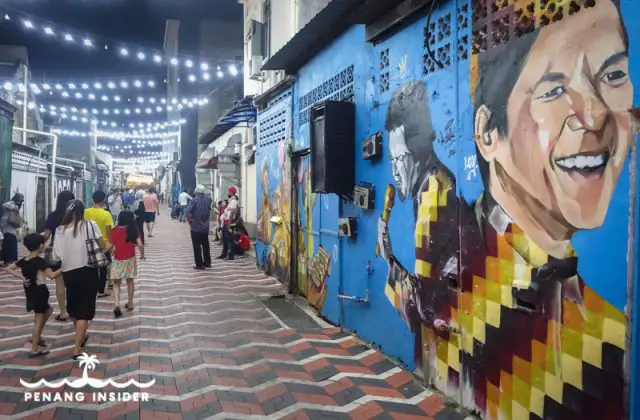 The mural dedicated to Sudirman Arshad is among the first in Kuantan Art Street, the city's latest attraction. (image © Marco Ferrarese)
Since 2021 Jalan Taman — which runs parallel to the south of Masjid Sultan Ahmad and is two minutes walk away — spruced up into what is now better known as Kuantan Art Street. There are more than 30 excellent murals here, all drawn by 13 Pahang artists between 26 and 52 years old.
Among the most recognizable is a portrait of legendary Malaysian singer-songwriter Sudirman Arshad (originally from Temerloh in Pahang). Other noteworthy murals celebrate the indigenous peoples (orang asli) of Taman Negara Pahang, a flying dragon jotted all over the facade of a tall building, Pahang's endangered Malayan tiger, the surfing off the coast, a KTM Malaysian train carriage, and much more.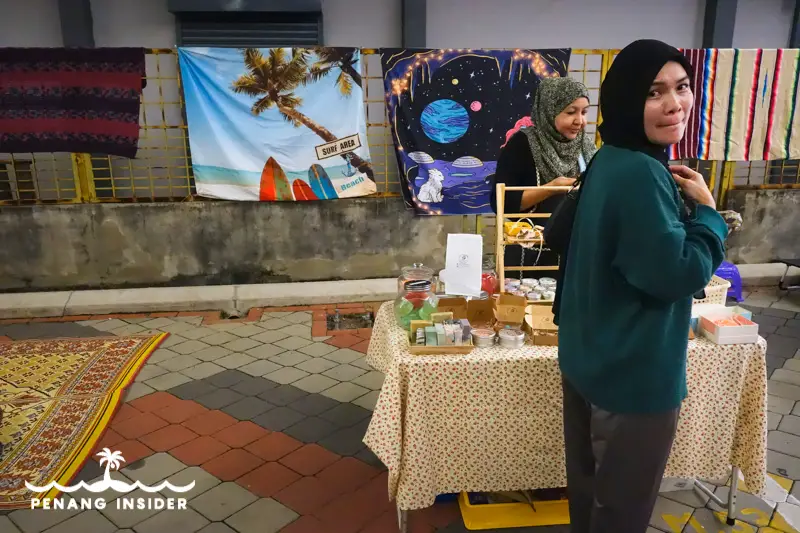 Come here on a weekend, when the street comes alive with people and you can hop between the many little hole-in-the-wall bars that line it. Don't miss the Pasor Dinda, a women-only handicraft market tucked at the southern end of Kuantan Art Street, where you may find cool jewelry and stuff made by some of Kuantan's most talented women artisans.
Here's a map of Kuantan Art Street:
---
3
Swim, Chill, and Hike at Teluk Chempedak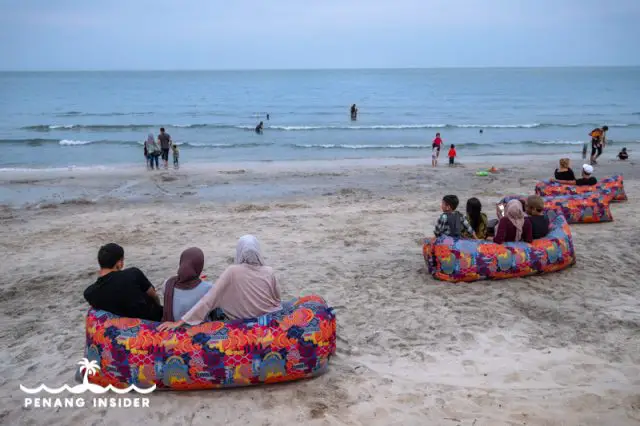 Locals enjoy the evening at Teluk Chempedak, Kuantan's most famous beach and attraction. (image © Kit Yeng Chan)
Kuantan's most famous beach sits on the easternmost cape of the Kuantan River estuary. If truth be told, it has gentrified quite a bit in the past ten years or so since we first visited. Expect to find a barrage of new developments that include Starbucks, Subway, and McDonald's outlets, together with other hip and trendy bistros and cafes where many locals and tourists throng daily. The place explodes on weekends, with people coming to chill on the beach — many lazying on the beanbags that one can rent from beachside stalls.
Don't think that Teluk Chempedak is not worth going through — come on a weekday, take a walk on the beach and continue along the wooden walkway that proceeds north along the coast until the smaller, beautiful cove of Pantai Teluk Tongkang. There's also a campsite here.
To the south of the main Teluk Chempedak beach are more walking trails and the popular Zoo Teruntum whose main claim to fame is the Dinosaur Encounter park — a Jurassic theme park in nature.
Here's a map of Teluk Chempedak:
---
4
Have Nasi Kerabu for Breakfast at Kotam Station
Kuantan is very close to the southern end of Terengganu state, so it's obvious that food, here, is a concoction of Pahang and East Coast tastes.
One place we enjoyed thoroughly was Kotam Station: this modern, airy restaurant is popular with locals and for a good reason — breakfast. The Nasi Kerabu is divine, served fresh, and spicy. Wash it all down with a cup of Kopi and don't forget to try the roti bakar here, which is thick, crispy, and cooked in butter to perfection.

Here's how you get to Kotam Station:
---
5
Hunt for Some Bargains at Pasar Karat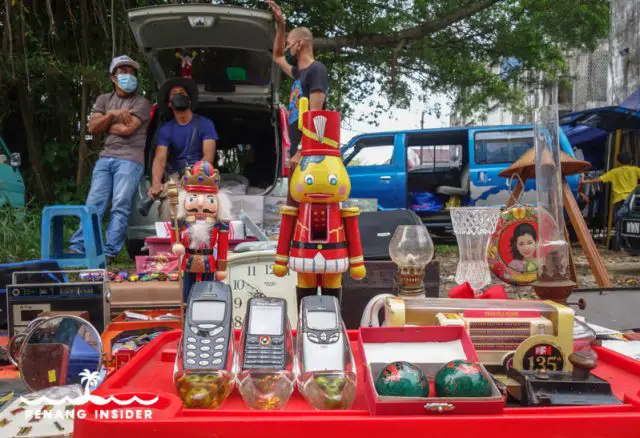 Vintage toys, old cellphones, and memorabilia at Pasar Karat near Kuantan's Centre Point mall. (image © Marco Ferrarese)
If you like shopping for curious antiques and a lot of second-hand stuff, especially clothes, in very good shape, try to come to Kuantan on a weekend. Every Sunday morning, the Pasar Karat behind Kuantan Centre Point shopping mall offers several hours of second-hand paradise browsing. If you are looking for shoes and clothing, like second-hand jeans in very good condition at only RM10 per pair, or vintage records and toys, this is one place not to miss.
Come to Pasar Karat at this location:
---
6
See the City from above at Kuantan Tower 188
Opened in 2022 and modeled on a similar tower in Alor Star, Kedah, Kuantan Tower 188 is 188 meters tall and the second highest viewing platform in the country after the 421-meters-high Kuala Lumpur Tower.
For now, Kuantan Tower 188 has a 104-meters-high observation deck that grants 360-degree views over the city and the estuary. A rope course and other adventure activities similar to those offered at the Top in KOMTAR, Penang are coming soon — check their website, which always has the latest information on current events.
Here's how to get to Kuantan Tower 188:
---
7
Explore the Hiking Trails at Bukit Pelindung
Hikers rejoice, for Kuantan actually has a hill just north of Teluk Chempedak. Bukit Pelindung has some short hiking trails, a waterfall, and plenty of greenery to keep you happy.
A common entry point is from the road starting about one km north of the Quarters of Pahang's Forestry. If one goes straight, the road eventually leads to the top of Bukit Pelindung. Taking the right-hand path one passes by a wooden gazebo and the entry arch to a mountain bike trail. The start of the 1km-long Meranti Trail is next. If you continue, after a second gazebo keeps to the right and follows the way down to a parking lot.
By taking the left-hand path instead you can continue on the Meranti Sarang Punai trail, or stick on the main road until the junction to the boardwalk that leads back along the coast to Teluk Chempedak.
Here's the location of the main trailhead in Bukit Pelindung:
---
8
Hike via a Water Dam to Bukit Galing
Maybe a bit less known than Bukit Pelindung is Bukit Galing, which is generally accessed from Taman Polo, where the main track starts behind the Petronas petrol pump. The first part of this hiking trail follows a drainage canal that leads up to the Bukit Galing Water Dam and its tall drop. After crossing the dam, the real jungle trek to the 296-meters-high summit starts. It's a bit of a scrawl in parts, but from the top, the views of Kuantan and the surrounding valleys tumbling to the sea are fantastic.
Here's a map of Bukit Galing's trailhead:
---
9
Go back in time to Hujung Tanjung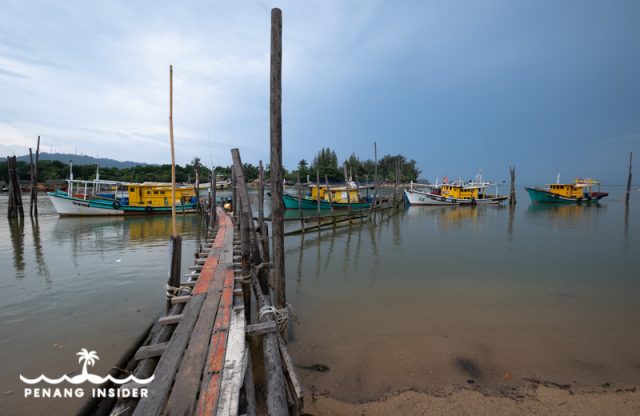 Fishing boats and wooden jetty at Hujung Tanjung, a hidden attraction in Kuantan. (image © Kit Yeng Chan)
Keen photographers shouldn't miss this spot, called "the end of the cape" in Malay, where fishing boats, fishermen, and rustic wooden jetties all converge against a beautiful sea and mangroves backdrop for the perfect sunrise or sunset pictures.
It's right on the southern bank of the Kuantan River mouth, only a short drive north of the Swiss-Belhotel Kuantan. If you come here, a popular spot to have fresh seafood is Celup Tepung. Nothing fancy on the outside, but pretty good meals here, much endorsed by locals.

Get to Hujung Tanjung here:
---
10
Escape the Crowds at Pantai Kempadang Beach
If Teluk Chempedak is too busy for you, try a real undeveloped Kuantan beach at Pantai Kempadang, set on the southern outskirts of town. Locals come here for the views that stretch all the way to Teluk Chempedak's cape and the camping facilities. You can easily decide to overnight here, as there are toilets and mandi (shower) facilities for only RM1. It's a good spot to do a cookout and check the sunrise.
---
Best places to see on the outskirts of Kuantan
11
Lao Zi Temple: Kuantan's Weird and Wonderful Golden Dragon Temple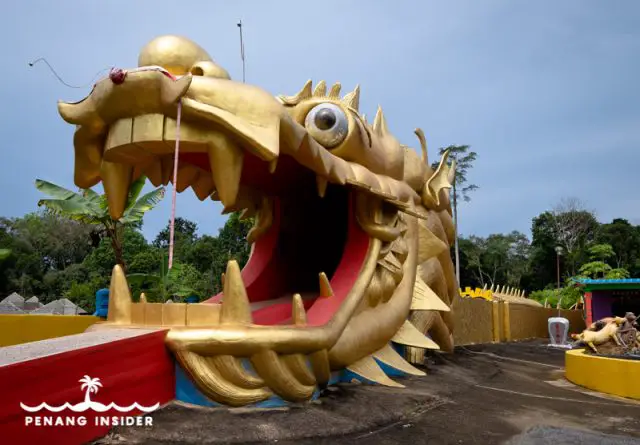 The head of the longest Golden Dragon in Malaysia, one of Kuantan's offbeat attractions. (image © Kit Yeng Chan)
Tucked away on a side road along the way west to Sungai Lembing, the Lao Zi temple's main claim to fame is the 823-meter-long golden dragon that surrounds the temple complex. It made it into Malaysia's Book of Records.
Once you park your car, you'll enter from the dragon's backside — where there's a ticket booth, which is often not manned. A donation of RM5 is expected, and if you won't find anyone here, you'll pay after having walked through the dragon's body (a corridor with few covered parts that's best tackled in the early morning or late afternoon) and exited through its mouth in the temple grounds proper.
The fun continues all around the dragon's open mouth, where many statues — including dinosaurs, the animals of the Chinese Zodiac, and miniatures of Chinese philosophers placed on dioramas of rocks — will easily take up an hour or so of your time. Don't forget to visit the temple itself, for it has some interesting ancient statues on the altar.
---
12
Visit Sungai Pandan Waterfall, Kuantan's Most Beloved Waterfall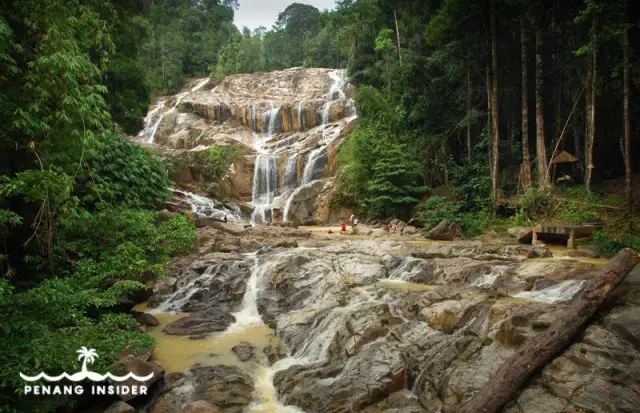 Sungai Pandan waterfall is certainly one of the best places to visit in Kuantan. (image © Kit Yeng Chan)
This beautiful waterfall is the largest multi-tiered fall in the state and has a large pool where locals come to swim and picnic. The biggest fall cascades for about 250 meters and has three tiers.
Sungai Pandan Waterfall is about 13km from Kuantan in a FELDA area near Panching, and opens at 9 am — come early to beat the crowds, especially on weekends, when queues of cars await for their turn to enter the waterfall's road access gate. There are several short hiking trails around the sides of the fall, and basic facilities to start a fire and BBQ your lunch.
---
13
Go Caving and Re-align your Chakras at Gua Charas
Timing: 8.30 am — 5 pm (longer on days of celebrations and prayer)
This stone massif, home to the Sivan Hindu temple, is 25km away from Kuantan town on the way to Sungai Lembing. You'll turn off the main road at the small town of Panching, and drive through plantations to this soaring 355-meter-tall cave complex that's said to be 400 million years old.
Gua Charas is sacred to both Hindus and Buddhists, and shelters a 30-feet long reclined Buddha, a recent Hindu shrine, and a collection of many other statues of Buddhist and Hindu deities.
You can park your car outside, where you'll be charged RM2, and then walk up a few flights of metallic stairs that lead visitors up the hill face and onto the main cave's entrance (another RM2 is expected — you have to drop the offer into a box hanging on the wall). The cave itself is HUGE: you will follow a concrete road built to transport things into the cave down to the floor of the main chamber. From there, looking back at the entrance you'll feel like a very, very small thing.
---
14
Explore Sungai Lembing, a Gem of a Former Mining Village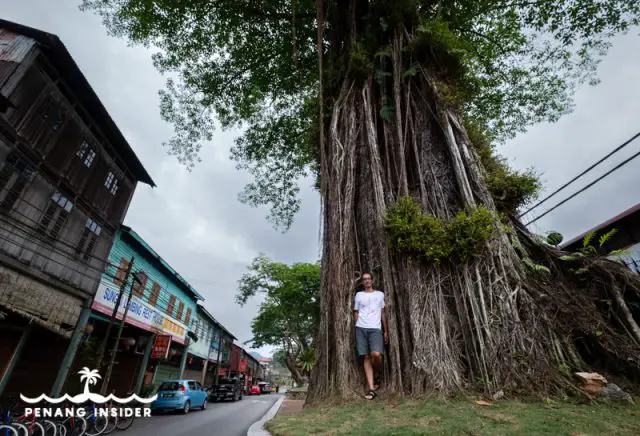 Marco poses in front of Sungai Lembing's iconic Big Tree in the middle of this old mining town, a popular getaway from Kuantan city. (image © Kit Yeng Chan)
Sungai Lembing is arguably one of the most beautiful and characteristic small towns in Malaysia and it's a must-see when in Kuantan. Sungai Lembing is set about 42km northwest of Kuantan's city center, from where road C4 proceeds west, becoming then Road 231. Follow it all the way to the center of Sungai Lembing.
READ MORE – The Ultimate Guide to Sungai Lembing
Pretty much just a handful of wooden homes and shophouses scattered along the meandering Kenau river, Sungai Lembing boasts an idyllic setting surrounded by verdant hills and mountains. There's hiking, Chinese food galore, and plenty to learn about the town's mining history. A day trip is enough, but it's best to stay the night and rise early to catch the sunrise a Panorama Hill and then take a trip to the beautiful Rainbow Waterfall.
Here's a map to Sungai Lembing:
YOU MAY ALSO LIKE
Hiking Gunung Tahan, Malaysia's Highest Peak
Kayaking Malaysia at Lembah Tanum Pahang
Best Things to Do in Gua Musang
The research and writing for this article were jointly collaborated with Tourism Malaysia with a focus to boost tourism growth and promote Malaysia as a tourist destination post-COVID-19 pandemic.

Kindly visit the Tourism Malaysia Official page for more information.
---
And if you liked this, why don't you sign up for our mailing list? We will send you immediately a FREE photographic eBook with some incredible pictures of Penang, and we promise, we will disturb you only about once a month with some good local advice you won't find on the site