When coming to Malaysia, Pahang is generally the best choice to see some of the country's oldest jungles. Most travelers decide to explore Taman Negara, the largest national park established in 1939 and containing some of the world's most ancient rainforests.
Others take the road less travelled and enter Taman Negara from its western side, Sungai Relau, 7km from the village of Merapoh and the Sungai Relau Treetop Walk near Gua Musang, where it's also possible to start the shortest climb to Gunung Than, Peninsular Malaysia's highest peak.
But there's another park that gets much lesser attention and visitors: it's Kenong Rimba Park, a protected rainforest area near the town of Kuala Lipis, the former capital of Pahang, which borders the southwestern part of Taman Negara.
If you are willing to see rivers, caves, jungle, and maybe hike a limestone massif or two, Kenong Rimba Park may be a better option for you. This article tells about our experience visiting Kenong Rimba Park in 2022.
---
How to get to Kenong Rimba Park
Kenong Rimba park is about 20km east of Kuala Lipis town on route 234 to Jerantut.
The first step is to reach Kuala Lipis: you can drive or catch a bus from Kuala Lumpur to Jerantut, where you'll have to change.
A train service serves Kuala Lipis, too. The town is one of the main stops on the East Coast Line train — the popular "Jungle railway" — between Johor Bahru, Kluang, and Kota Bharu. The only problem is that trains now reach Kuala Lipis in the middle of the night. Click here to check schedules and buy tickets.
Once in Kuala Lipis, you'll transfer to Kenong Rimba Park with Tuah Travels and Tours, which is the operator running the Kenong Eco Camp. More information is below.
If you need to spend a night in Kuala Lipis, the best choice is the modern, super clean and rather new Starwell Hotel — not only it faces the bus station, but it's the best accommodation in town and in walking distance to restaurants, shops, and even a coin-operated laundry service. Check the latest prices and book on AGODA
This is a map of Kenong Rimba park's location:
---
What to Do at Kenong Rimba Park
Kenong Rimba Park is divided into a northern and a southern half. The southern half, where the Kenong Eco Camp is, has three adjacent caves (Gua Batu Tangga, Gua Batu Tangkup and Gua Batu Telahup) and a low hill, Gua Batu Tinggi. The northern side has a campsite, Taman Eco-Rimba Kenong, near Gunung Kesong hill.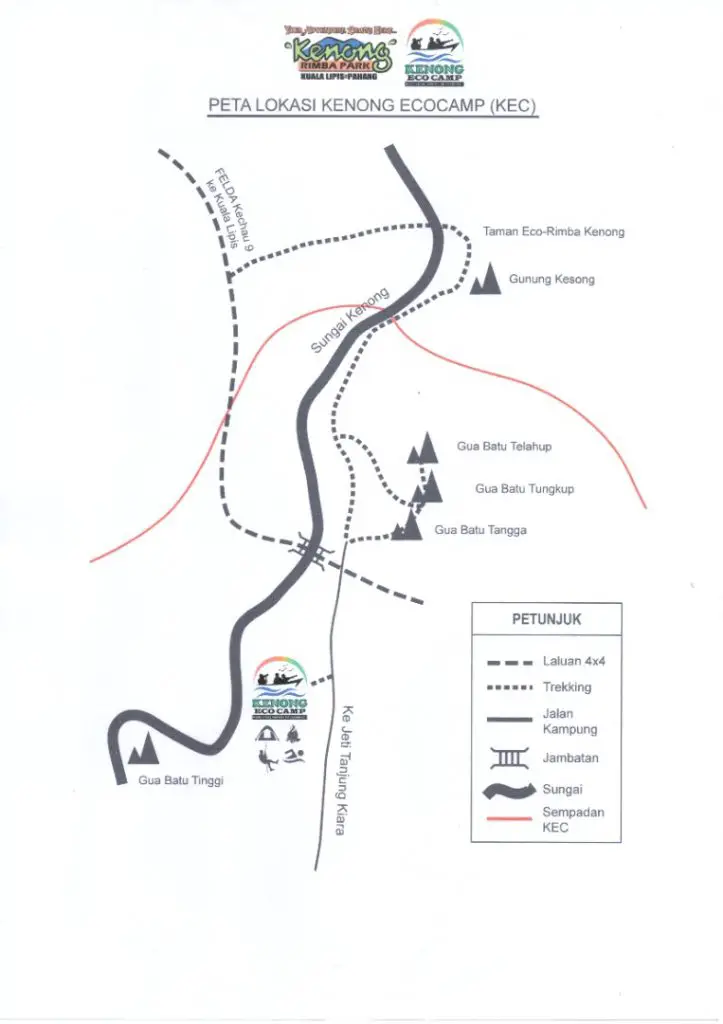 Unfortunately, only the southern part of Kenong Rimba where Kenong Eco Camp operates is currently open to visitors.
The northern part is in fact pending renovations to its chalets, which are constantly attacked and destroyed by wild elephants which seem to dislike intrusion in their territory.
When we visited the Pahang Forestry offices in Kuala Lipis in late June to ask when the northern half of the park will reopen, and when we would be allowed in, we were met with fearful, almost concerned stares. We didn't get a proper answer, but it looks like the "powers that can" have no intention of reopening the park in the near future as its benefits as a tourist destination are more of a chore for them to maintain. We will update you as soon as we can.
For now, you may only visit Kenong Eco Camp — and you should, with all the beauty that it has.
---
What's a visit to Kenong Eco Camp like
The common package for a visit to Kenong Eco Camp is 3 days and 2 nights, at a cost of RM460 per pax and a minimum of 7 people, via Tuah Travel. You can also visit for a shorter time — contact Hassan at Tuah Travel for more information.
Tuah Travel has managed this large, attractive eco-camp set on a bend of the Kenong river for years. There is a campground, toilets, and cosy wooden gazebos to relax after your excursions.
These are the main activities to combine during your days at Kenong Eco Camp.
---
Caving and jungle paths at Kenong Rimba Park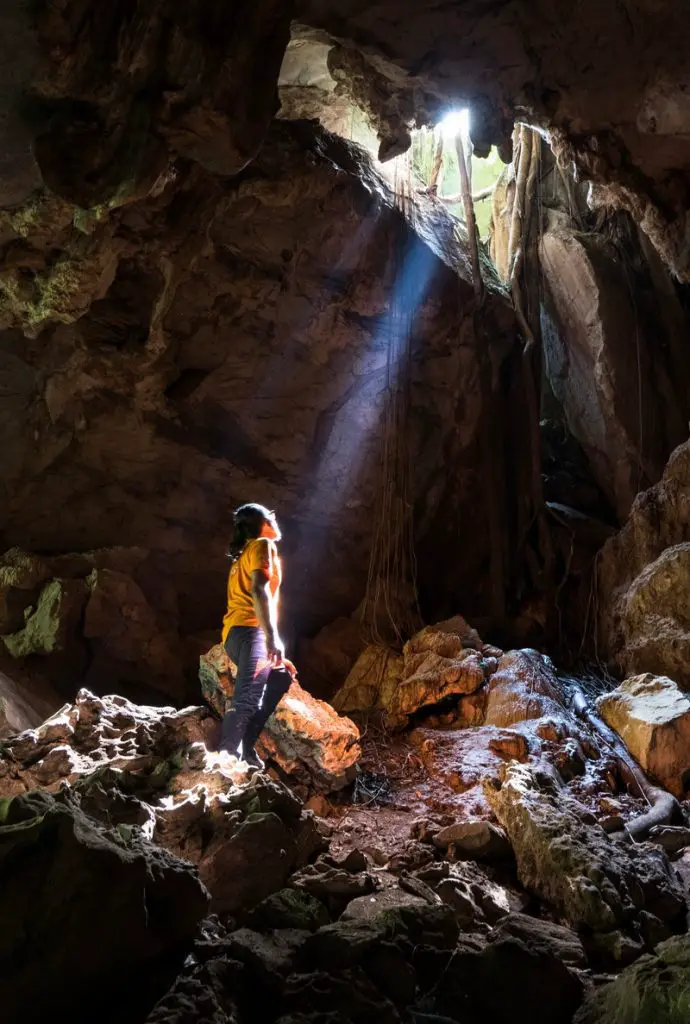 Near Kenong Eco Camp are a series of interesting caves that are all reachable within a 20-minute walk from the campsite.
Gua Batu Tangga, Gua Batu Tangkup and Gua Batu Telahup are all magnificent — some with huge fig trees that have literally sent their roots "through the rooftop". If you don't get the image, you really need to go and have a look in person.
If you have time, a short hike and climb up Batu Tinggi Hill grants some beautiful views over the forest canopy. This hill is also near the campsite, and it's best to climb either in the early morning or before sunset for views.
---
Swimming and Kayaking at Kenong Rimba Park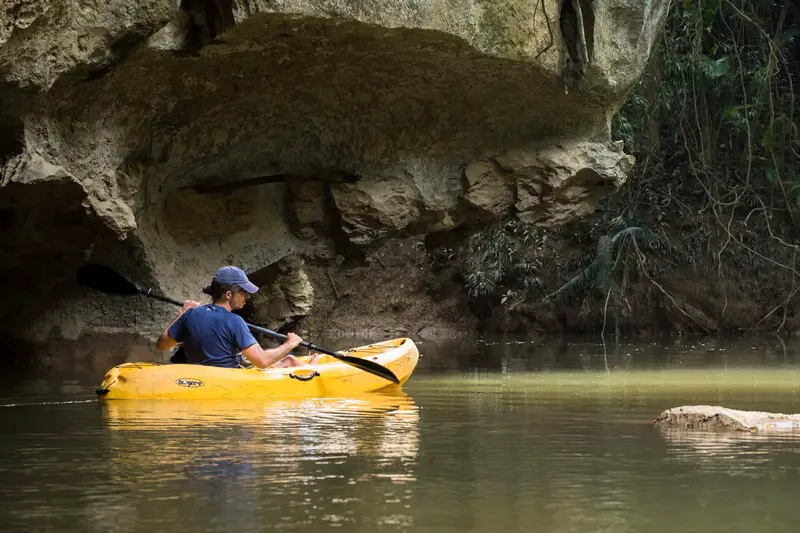 The other main activity at Kenong Eco Camp is enjoying the Kenong River. You'll start with a short transfer from the main Tanjung Kiara jetty on the Pahang River, and about 20 minutes up the Kenong river to the Eco Camp. The journey is beautiful, as it passes through incredible patches of forest and low-lying rocks that create natural passages that only a small boat can navigate.
You can always get back on the kayak from the camp, and spend one, or more, hours exploring the Kenong river area near the eco camp's shore — it's the most beautiful. Swimming in these low waters is also possible, but of course, a kayak ride allows for further exploration.
---
Camping and Accommodation at Kenong Eco Camp
Usually, guests would camp in tents at Kenong Eco Camp — this makes for a much more authentic jungle experience, but it's also possible to use one of the available chalets.
The Eco Camp has proper common toilets and showers built with concrete and set on one side of the camp. There is also a permanent kitchen where your guides will cook your meals unless you want to avail yourself of the bonfire.
The research and writing for this article were jointly collaborated with Tourism Malaysia with a focus to boost tourism growth and promote Malaysia as a tourist destination post-COVID-19 pandemic.

Kindly visit the Tourism Malaysia Official page for more information.
YOU MAY ALSO LIKE
River kayaking at Lembah Tanum, Pahang
Best adventure activities in Gopeng, Perak
8 of Ipoh's Stunning Limestone Caves
---
And if you liked this, why don't you sign up for our mailing list? We will send you immediately a FREE photographic eBook with some incredible pictures of Penang, and we promise, we will disturb you only about once a month with some good local advice you won't find on the site