Lily Aziz in her own words
I love this island. I was brought here 6 years ago as Publisher of Time Out Penang, an annual guide which later launched into a website, and then soon after as an app. My15 years in the media industry in KL (KHell in my head) completely depleted me of all my energy. All that traffic, pollution, mean faces, ass kissing…I think I just had enough. Now, on my misfit island, I get to be next to the sea, see my son grow up and invest energy into my own business, property management. Organising niche events and personalized food tours designed by Delish Asia is another part of my job. Some of our collaborated activities are captured on our work-in-progress website Penang Local.com, that is also on Facebook.
Her Favourite PLACES in Penang:
Lebuh Chulia: The Street! You'll probably find me at Chulia Court The Tavern to start with, it's got a large car park at the back, so that's my meeting point before I take friends for some bar hopping. I know the staff well and feel safe enough to lounge about alone while waiting for my friends.
Tanjung Bungah:  This is where I live. My second home is Gusto: I network a lot here, their coffee wakes me, I use profusely their wifi, and that's also where I hold my day meetings. You'll find me there banging on my mac, too.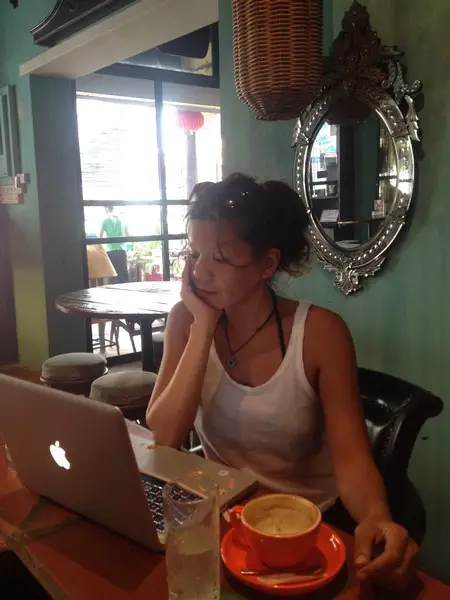 Walks and hikes: We're so lucky to be close to nature, hiking to Monkey Beach or Turtle bay from the Forest Reserve and taking the short boat ride back. The waterfalls up in Balik Pulau. All free stuff you can do to give yourself a little breather, DON'T go on School Holidays if you can afford to. I love kids, I just don't like parents with their kids on school holidays.
The FOOD she Loves:
1) Beach Corner Seafood  I love this place, one of the oldest and most consistent serving seafood, local Chinese food, and house specials. It's not the beach, family or friends will enjoy this place.
2) Masjid Terapung  There isn't a proper link to this place, but Lat Cafe at Masjid Terapung serves local Malay food cafeteria style, everyone comes here for lunch, there is usually a long queue for their hot food so best to get there before 12.30.
3) For the best Indian food, you should definitely go to Little India in George Town! There are so many things to try every 5 steps or so… everything smells lovely and spicy.
The places she recommends you TRAVEL to:
Well, Penang is the centre of the world. In less than a few hours, you can get to Thailand, Singapore and if you really need to… even KHell 🙂