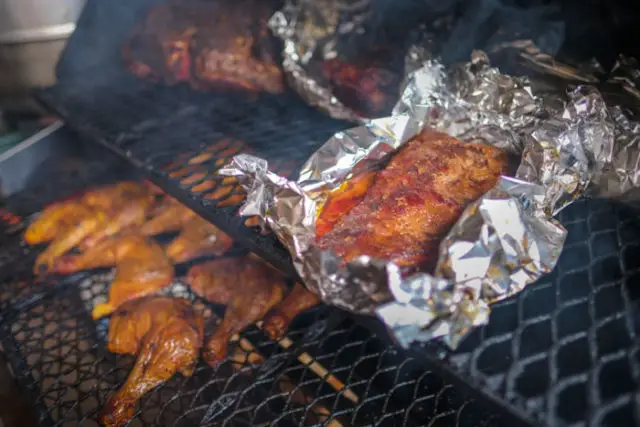 Think of real, smoky BBQ in Penang and well, the choices are kind of slim. If we don't consider Korean BBQ, the reason is that Asians in general, and Penangites in particular, are not very much accustomed to the concept of a Western steak and meat — regardless of the high number of Western restaurants in Penang.
Well, Penang BBQ lovers rejoice, as since November 2018 you can get your juicy pork ribs and smoked chicken drumsticks at the excellent Smoke Papa, located inside the Jetty Food Court (once known as CF food court) along Pengkalan Weld, just a short walk away from popular Penang Little India and the best of Penang Street Art in Armenian Street.
This post is a review of our meal at Smoke Papa in May 2020 and reflects our personal opinion of the experience.
In brief, read on if you are looking for:
Smoked, soft & juicy pork ribs
Savory and melt-in-your-mouth pulled pork
Chicken drumsticks smoked so well you'll want more
A clever spin on French fries… with pork
Smoke Papa: Great Texas-style BBQ in Penang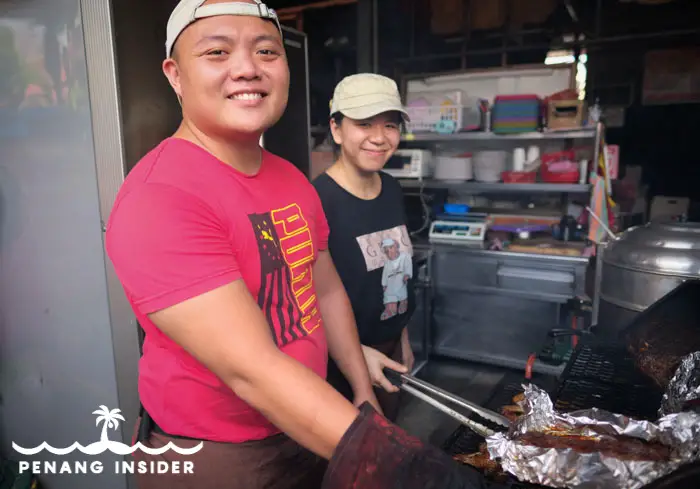 Hong is a young Penang man with a love for Penang food and meats. His passion for cooking started when he was a boy following her mother to her work — she was an expert Nyonya chef. After his studies, in 2013 Hong went on to take a culinary chef course in Kuala Lumpur, and in 2015 landed his first job in a Singapore's bakery.
His epiphany, however, was working in Singapore at Spago, a restaurant by Austrian celebrity chef Wolfgang Puck in Marina Bay Sands, where he learned the basics of grilling meats.
Singapore is also where he met his Vietnamese wife Jen, with whom Hong is running Smoke Papa. They decided to return to Penang when Jen gave birth to their first child.
Why Smoke BBQ is available in Penang?
Hong self-taught himself how to smoke and marinate meat, and got carried away researching all the origins of this culinary tradition. That's where he came across Texas smoke BBQ (a place he still has to visit) and loved the idea, especially because it was a new thing in Penang.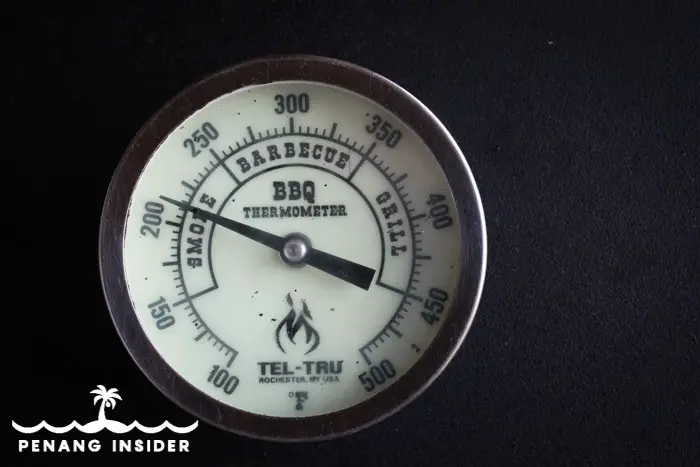 When Hong found out that Kuala Lumpur had a few BBQ joints, he drove down just to try and was totally hooked. "I loved the briskets, the ribs… the way the well-cooked meat falls off the bone and melts into your mouth," he says. And that's how Smoke Papa was born at the end of 2018 — taking the name "Papa" from the new role that Hong got in life with the birth of his first son.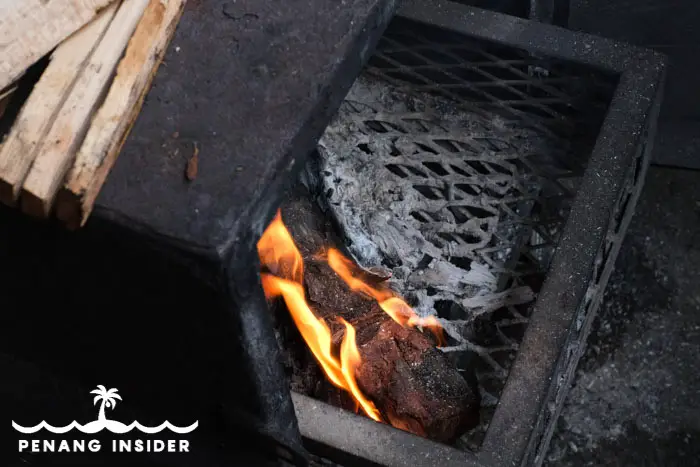 Smoke Papa's offset smoker was entirely custom made by a British resident of Perlis, who prepared it in line with all the best Western standards. And that's how Hong found a spot at the Jetty Food Court and started his business.
Do Penangites like Smoke BBQ?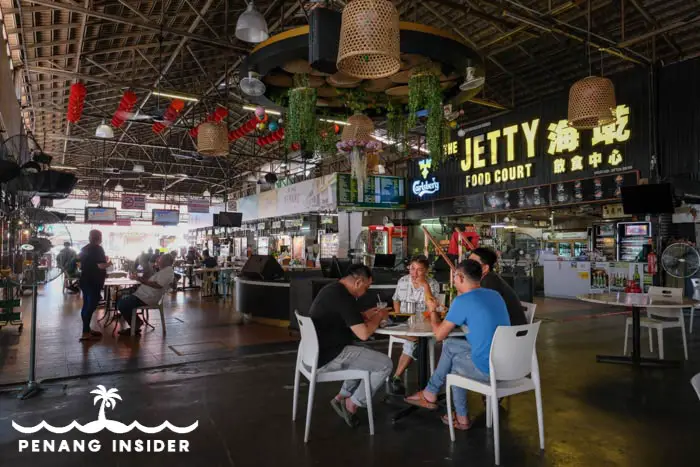 At first, it was hard to attract local Penang people to BBQ meat. "Business was bad at first," says Hong. "People were criticizing me and asking a lot of questions like, why the meat is so dark coloured, why you want to do this, we have never seen this stuff before…".
But after a few first bumpy months, tourist started coming in, giving him a lot of good feedback, and that's how they built their younger customer base. Using delivery services during Malaysia's coronavirus MCO actually helped Smoke Papa reach a larger fan base who found his burgers and BBQ combos online.
"I never knew this existed before, otherwise I would have come much earlier," Hong recalls the reaction of many of his new customers.
And I have to admit it, when we received Hong's invitation, it was a first for us too — smoked BBQ meats in Penang? Could it be possible?
What You Can Eat at Smoke Papa BBQ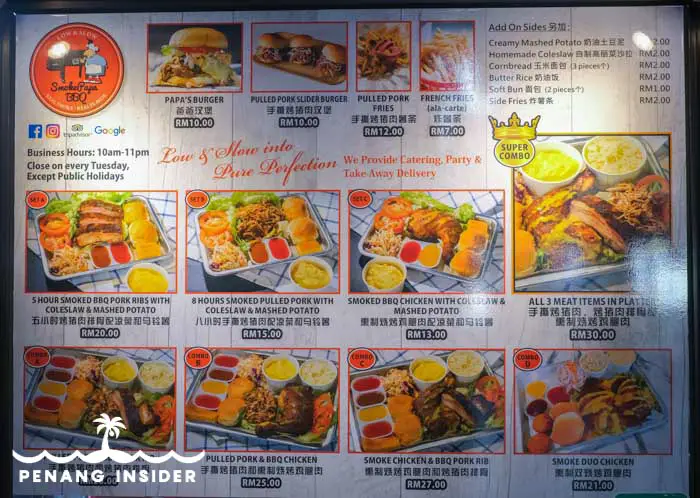 First of all, remember that Smoke Papa is a food stall inside Jetty Food Court on Pengkalan Weld — it's not a restaurant. But don't be put off by the humble premises as the meat offer here is quite varied and, always important, very modestly priced.
Truth be told, Texas BBQ is beef. But because of local Penang tastes and a clientele of mostly Chinese patrons, Smoke Papa only offers BBQ pork and chicken meat. You'll have to sacrifice a bit of Texan authenticity, for sure, but you'll get your stomach full anyhow — and the best thing is their pulled pork, so yummy and tender it melts in your mouth.
At only RM10, Papa's Burger, with pork meat, is definitely one of Hong's best sellers. It's perfect for a quick bite that's also a filling meal. There's also a version with pulled pork we recommend you try.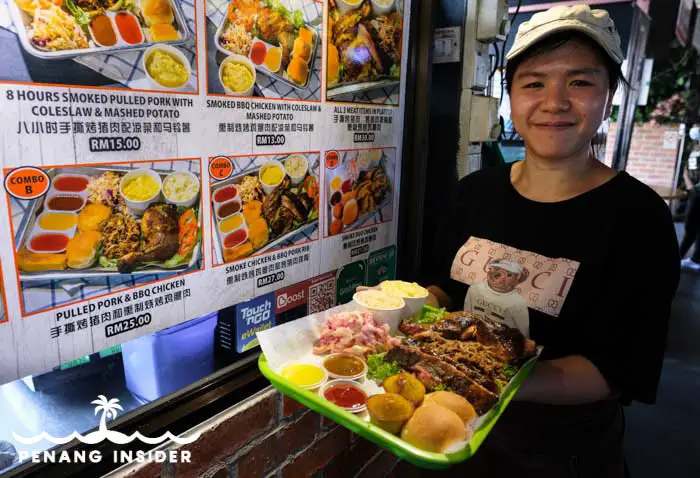 For more substantial meals you can have one of their sets. The 5 Hour smoked BBQ pork ribs come with mash potatoes, coleslaw, salad and tomato, and some homemade muffin-shaped cornbread. It costs RM20
If you are up for the delicious pulled pork, the Set B, selling at RM15, substitutes the ribs with a bed of melt-in-the-mouth pulled pork.
At last, RM13 gets you a heavenly-smoked chicken drumstick, savory and fragrant on the outside, with crispy skin, and golden-tinged on the inside. Absolutely no blood, but a tender, delicious thigh to bite to small pieces.
There are other combos that, for a few ringgit more, combine different types of meats and can feed two people.
What we Tried: Smoke Papa Super Combo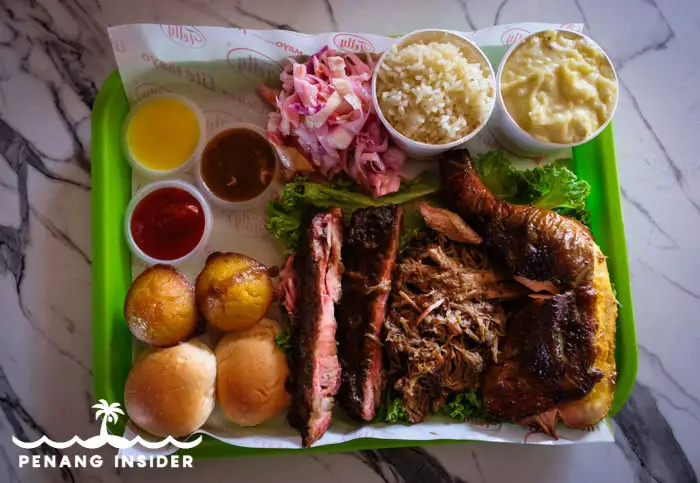 If you want to have a sampler of all that Smoke Papa has to offer, go for the Smoke Papa Super combo. It contains two pork ribs, a bunch of shredded pork, and one chicken drumstick. Sides include two cornbreads, coleslaw, mashed potatoes, butter rice, and a side of fresh vegetables.
For RM30, this is a well-priced combo that easily feeds two people — myself and my wife Kit walked away happily fed and satisfied, but it may not be enough for two very hungry people. Consider this option when taking out a date or a friend and want to have a casual, hearty meal of modestly priced meats.
As you may have understood by now, I really appreciated the pulled pork: mixed with the mashed potatoes and a bit of coleslaw over bread, it's just delicious.
Kit, on the other hand, loved the pork ribs. What must be said is, the meat is tender and perfectly smoked, so much so that even Kit — who's absolutely not a big fan of meat — was surprised. She claimed that the taste doesn't even feel like meat — in other words, the sapient smoking technique took away the meat's sometimes not so pleasant aftertaste. Well done, Smoke Papa!
Smoke Papa's Sunday BBQ Specials Not to Miss
If you are thinking of a special weekend treat, don't forget that Smoke Papa also has some pretty tasty and good value set meals that can easily feed 2 to 3 persons, and are perfectly smoked for 12-14hrs. There are three main weekend special options: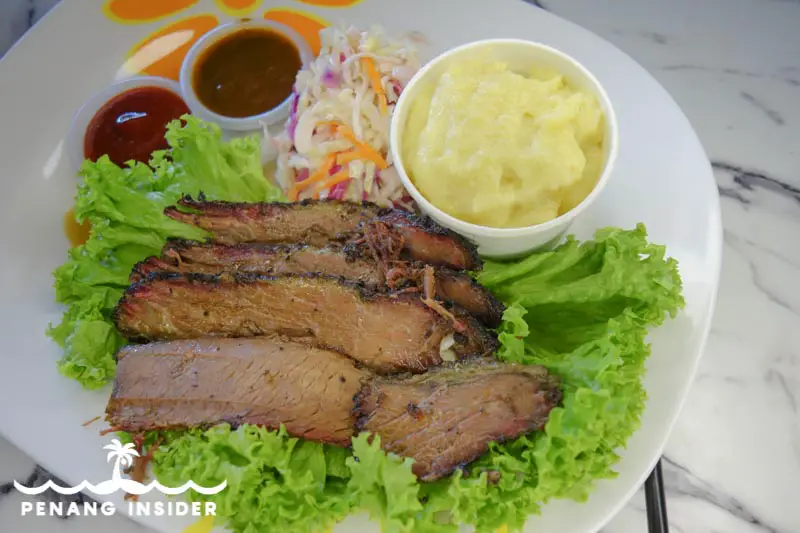 The Beef Brisket costs Rm20 per 100g and comes with 2 side dishes. You have a choice of creamy mash potatoes, coleslaw, soft roll, or cornbread. We tried this plate and can guarantee that the meat is very tender, with a slightly crispy out layer when it chars on the upper side of the cut. It pairs perfectly with mash potatoes and coleslaw, and is very well cooked.
One of our favorites however is the second offer, the Smoked Whole Duck with Aromatic Vegetable stuffing such as carrots, onion, and potatoes, served with a creamy deglazed brown sauce and one side dish of your choice among those listed above.
The whole duck costs RM 80 and can easily feed 4 people. You can also go for a half duck, which will cost you RM 40 and is a decent amount of food for two. What really impressed me about this smoked duck is the delicate taste of the meat. Many people say they can't stand the strong natural scent and flavor of duck meat, but here at Smoke Papa, the bird is soaked in lemon for hours on end before the meat is finally put into the roaster. This technique results in a less tangy, pleasantly lemon-scented duck that won't stuff you up and will come off the bone way too easy with a touch of your fork. We recommend this as really tasty treat for the family.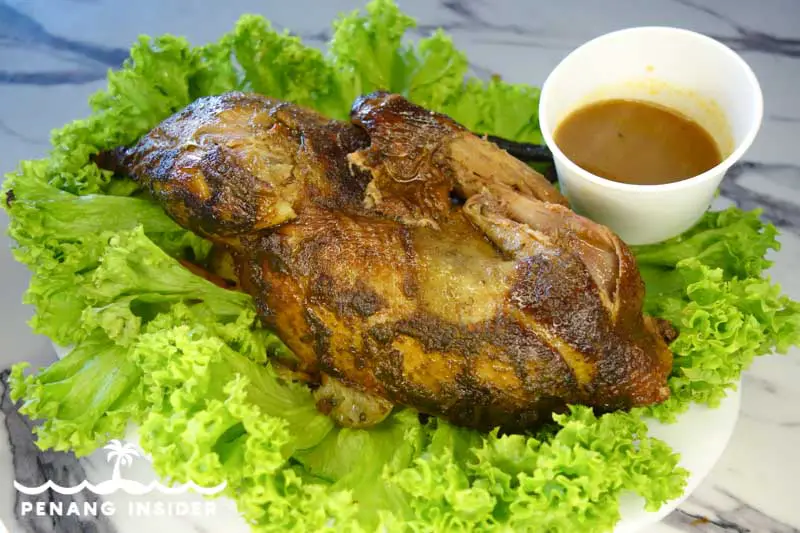 At last, you can go for the Smoke whole Lamb Rack marinated with herbal flavors and 2 side dishes of choice. It costs RM 100 and is a good portion to feed 2 very hungry or 3 people. As per the smoked duck, Smoke Papa knows well that the strong scent of meats like lamb may turn off some local customers, and solves the problem by using a nice coating of herbs to make the meat all the more flavorsome and easy to digest.
Smoke Papa Smoked Turkey Package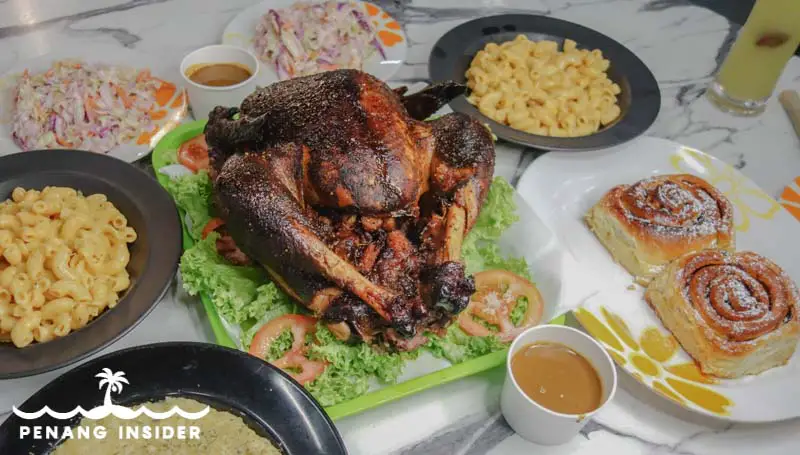 If you want to celebrate that special occasion or miss the flavors of festivities like Thanksgiving and Christmas, you should consider asking Smoke Papa for their smoked turkey deals. We tried it: the meat is perfectly tender, juicy without being soggy, and the skin is crispy. The turkey comes with a delicious cranberry-scented stuffing that perfectly enhances the taste of the meat.
Remember that you can't just rock up at Jetty Food Court and ask for a turkey though — you need to contact Hong and order it at least a week in advance.
At current, to promote this new addition to the Smoke Papa menu, you can get a deal containing:
– One Smoked Whole Turkey w/ Cranberry stuffing (which is enough for a group of up to 10 people)
and a sides of Creamy Mashed potato, Homemade Coleslaw, Homebaked Soft Cinnamon roll, House Mac&Cheese, Sweet Cranberry jam, and Homemade Creamy brown sauce.
This offer comes at RM 420 for the whole family – that's only about RM42/50RM per pax to eat like a king!
You may also order your whole smoked Turkey "A la carte" w/stuffing for RM 388
Additional beverages package:
1 x Bottle HEREFORD Red merlot- RM 49
3 X CARLSBERG Green Label- RM 42
3 X CARLSBERG smooth draught- RM 42
3 X TIGER BEER- RM 44
---
Smoke Papa BBQ Penang: the Verdict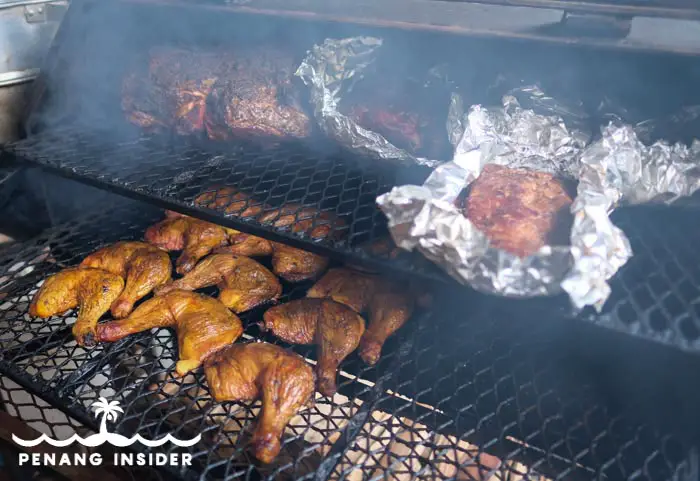 If you are after an honest mom & pop (literally) business that puts passion and good food before profit, try Smoke Papa out.
The premises are simple but above average tatty Penang food court — the Jetty Foodcourt has been recently renovated and looks pretty swanky for my humble tastes.
The dishes are presented simply but nicely, served over plastic trays, and the experience is more of a familiar, casual sit-and-eat-with-hands type of experience. Consider this if you planned on bringing a date here: this is no romantic place… but the pulled pork… oh my, I fell in love.
At last, the owners: Hong is chatty and passionate about his work, and his wife Jen helps out with an eternal smile. Go, eat and talk to Hong as he loves to hear about what effect his Penang BBQ makes inside of your mouth.
---
WINNING POINT: We had one Super Combo at lunch on the day after a very heavy dinner with friends. I felt like I picked the wrong time to come enjoy Smoke Papa but… I was mistaken.
I did eat a bunch and I DID NOT feel heavy or bloated afterwards. Smoke Papa BBQ is not only delicious but also light and devoid of all those mayonnaise and ketchup that make any Malaysian burger a total nightmare.
A truly recommended BBQ joint in Penang — and yes, you can buy beer at this food court. Enjoy!
---
Disclaimer: Penang Insider was a guest of Smoke Papa BBQ, but all the opinions expressed in this article are solely our own and are an honest review of our dining experience. In other words, if a place sucks, we'd never recommend it to our readers… believe it or not, we are always honest in our judgment. Go try for yourself.
---
And if you liked this, why don't you sign up for our mailing list? We will send you immediately a FREE photographic eBook with some incredible pictures of Penang, and we promise, we will disturb you only about once a month with some good local advice you won't find on the site
---