If you love Penang Food and can't get enough of Penang laksa and nasi kandar, you should know that you can go deeper into the secrets of Penang cuisine by taking a recommended cooking class in Penang.
Cooking with Chef Samuel is a fun and deep half-day immersion into learning how to prepare some of Penang's iconic dishes in the comfort of your own home. If you want to truly bring back some Penang food knowledge, and not just Malaysian souvenirs, taking a class with Chef Samuel should be on your Penang bucket list.
What is Cooking with Chef Samuel?
With many years of experience in Malaysian kitchens spanning from Genting Highlands to Penang, Pahang-born Samuel Tham decided to offer a cooking class that truly explores the secrets of Penang cuisine from market to table.
The experience starts in the early morning when Samuel will pick you up from your Penang heritage hotel or home to take you for breakfast and buy ingredients at a local market.
It's a fun crash course in learning what to pick up at the local market as you sample some of Penang's famous breakfast dishes at
the famous Ayer Itam market, bustling with crowds on weekends.
You'll then drive with bags filled with fresh ingredients to Sam's own home, an apartment in Air Hitam with a beautiful view of Penang Hill and the northeastern part of Penang island all the way to the Straits Sea and Seberang Perai.
BOOK SAMUEL'S COOKING CLASS AT 10% OFF!! CLICK HERE
---
What to expect from Cooking With Chef Samuel
A standard class costs RM270/person and includes the teaching of three dishes which you will then eat with Samuel and his wife Jaqueline chatting over lunch at their cosy pad. You'll be then driven back to your accommodation, and will have the rest of the day open to explore any of the many other things to do in Penang.
Cooking with Samuel: Our Experience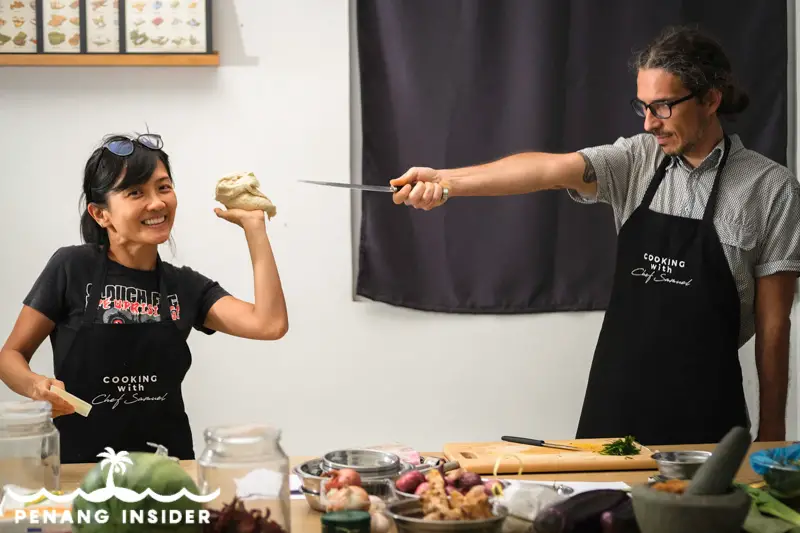 Because of COVID–19 restrictions, we could not enjoy the first part of the class at the market and met Samuel after he had already bought all the ingredients for our experience.
We reached his home and kept chatting with this amiable guy and his wife until it was really time to get started. The following is a list of the dishes we had a go at preparing.
---
Chicken Rendang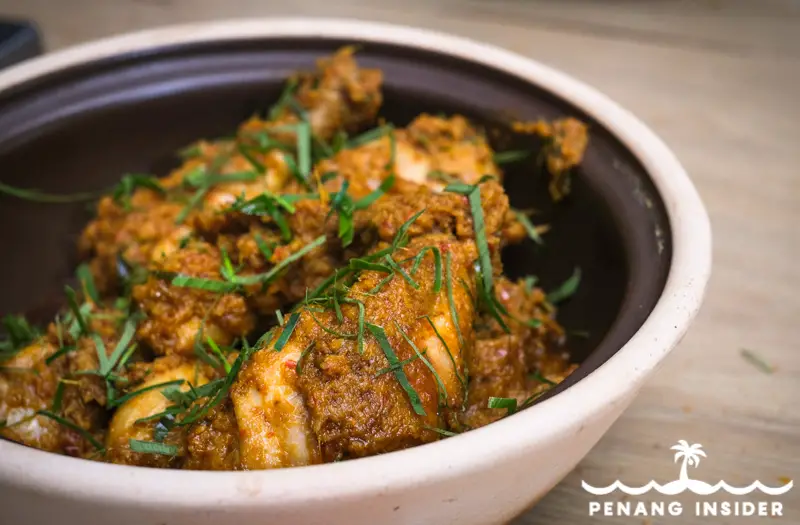 Few Malaysian dishes are more iconic than chicken rendang, a quintessential dish whose preparation and authenticity have spurred plenty of debate.
Samuel is a purveyor of the original, most zesty taste, and got me started in no time bashing on shredded coconut he had previously sauteed until golden-brown with a stone mortar and pestle. My task was to bash it until it became "the consistency of peanut butter". Easier said than done, it took me an eternity to not even get close to the expected result. I ended up leaving the chef to show me the way, while I weighed and sliced shallots, garlic, ginger, galangal, dried chilli, turmeric leaf, turmeric, and lemongrass.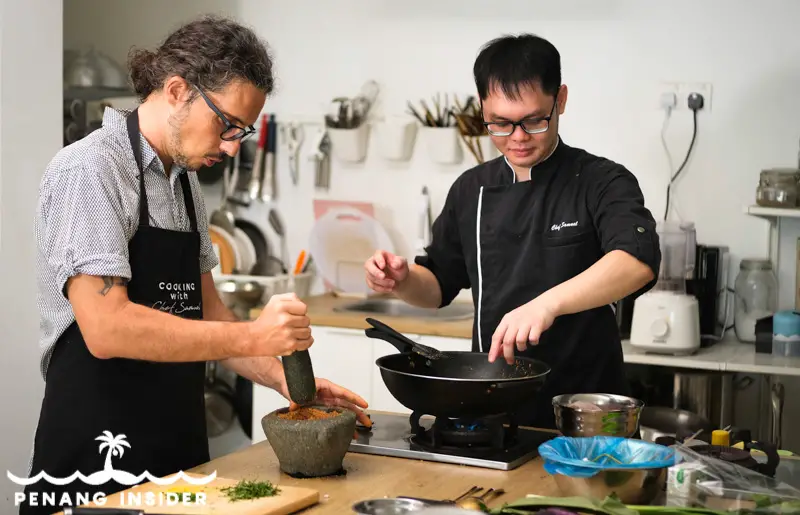 We blended everything and started frying the mixture with pandan leaf until split oil and the paste became darker.
It was time to add the chicken and after boiling, add coconut milk and seasoning. When the dish was ready a while later, it smelled and looked delicious.
---
Roti Canai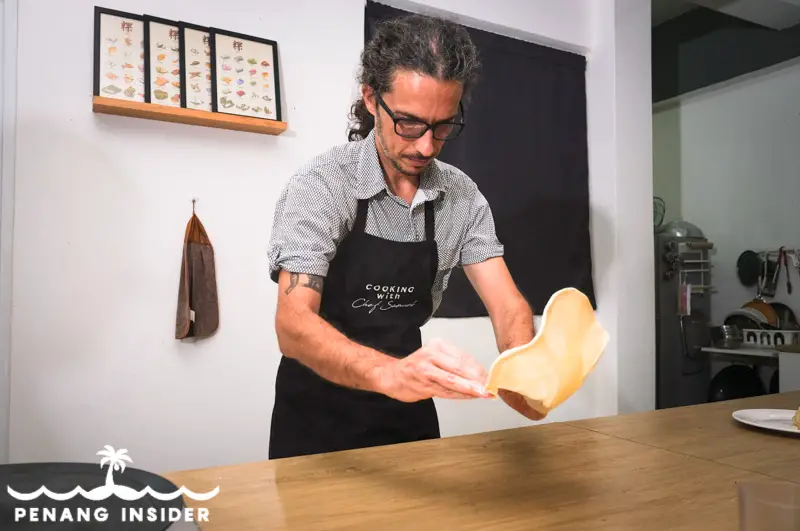 Samuel is skilled in producing this most quintessential Malaysian breakfast bread — don't forget roti bakar, too — and took some time to explain the technique to prepare it and, more challenging, flip it. You must have a go until you feel comfortable enough to do it with the dough.
This was probably the most fun part of the cooking class, and the time one starts developing a real admiration for all the mamak and Malay roti canai makers that make the preparation of this dish look so easy — trust me, it is not.
My past as a pizza maker in Australia may have helped me a bit: I managed to learn the ropes quickly, and whip out a couple of decent roti canai myself. They were deliciously paired with the thick, spicy rendang sauce we had just prepared.
---
Sambal Tumis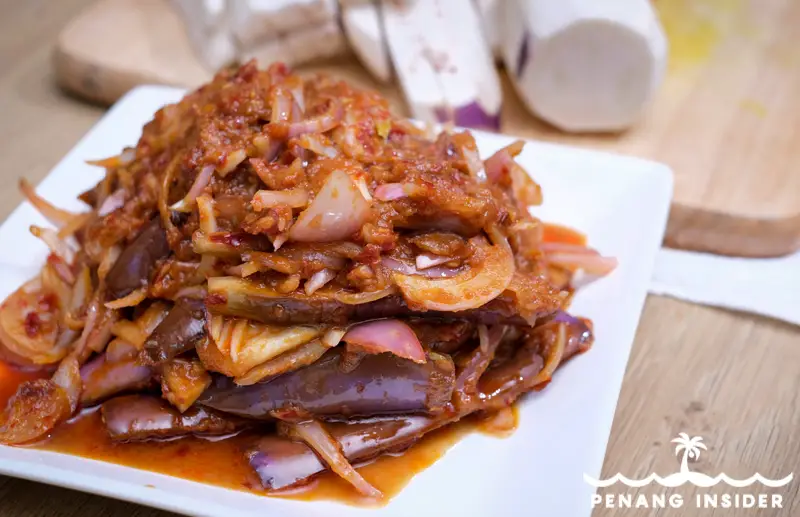 Prior to taking Chef Samuel's cooking class, we agreed that we wanted our food spicy, and decided to prepare the fiery local Sambal Tumis to be cooked with a whole eggplant.
The dish starts with blending several ingredients such as garlic, shallots, dried chilli and belacan, and then sauteed it together with pandan leaf.
Throughout the process, Sam kept explaining tips and tricks on how to adjust the spiciness of the sauce by adding more different ingredients according to taste. We decided to go for eye-watering spicy, pulling no punches, and prepared a fiery base to fry up the eggplant. A very nice companionship to chicken rendang.
---
Salted Egg Yolk Brinjal (eggplant)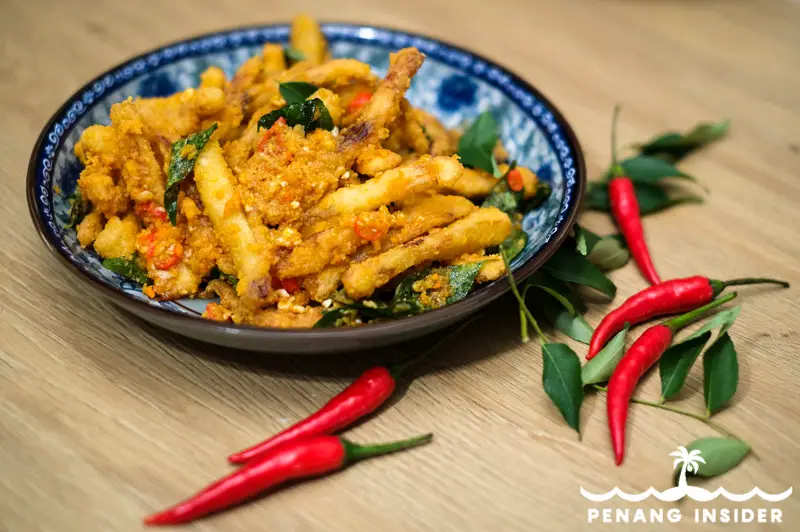 As a special treat, Samuel decided to teach us how to make deliciously salted egg yolk-smeared french fries… using eggplant!
By creating a coating of crushed egg yolk, oil and butter, we prepared one of the yummiest side-dish I had never heard of — and was very excited to try.
It was melt in your mouth, pure buttery awesomeness, and great to rinse off the spiciness of the other dishes from our mouths.
---
Chef Samuel's Nutmeg Rice Wine Hutan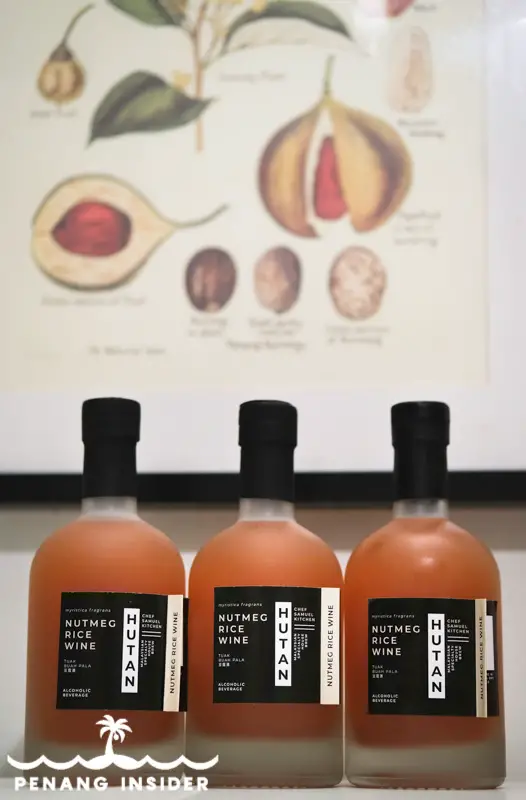 If you like a glass once in a while, don't forget to ask Samuel to try his own Nutmeg Rice Wine, which he brews himself. We are not talking moonshine here though: Samuel has prepared a nice bottle with a label that can also make a special gift for friends and family.
If you are as crazy as I am for the bittersweet taste of Nutmeg, or Buah Pala in Malay, you will just love this homemade tuak infused with a strong kick of heavenly Nutmeg — another one of Penang's endemic delicacies.
---
Cooking with Chef Samuel: the Verdict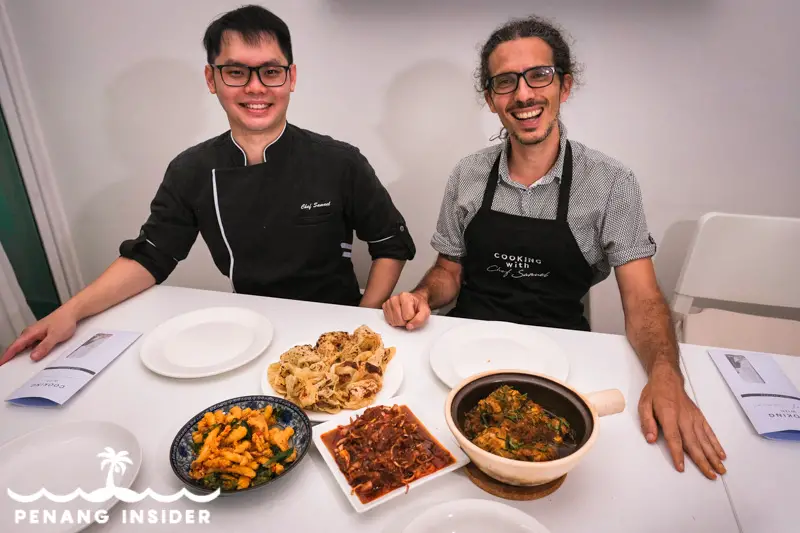 The half-day experience provided by Cooking with Chef Samuel is an interesting and educative romp through Penang food making delivered by an expert and convivial chef. Samuel won't waste time in small talk and delve deep into the intricacies of each recipe — that's where his passion is, and where it comes out most prominently. Ask him anything, from the intricacies of choosing ginger to what type of galangal is best for what paste, and he'll have the best answer.
I took the class with my wife Kit Yeng and could recommend this Penang cooking class to couples, but even families with children should consider setting aside half a day in Penang to learn about some of its culinary secrets.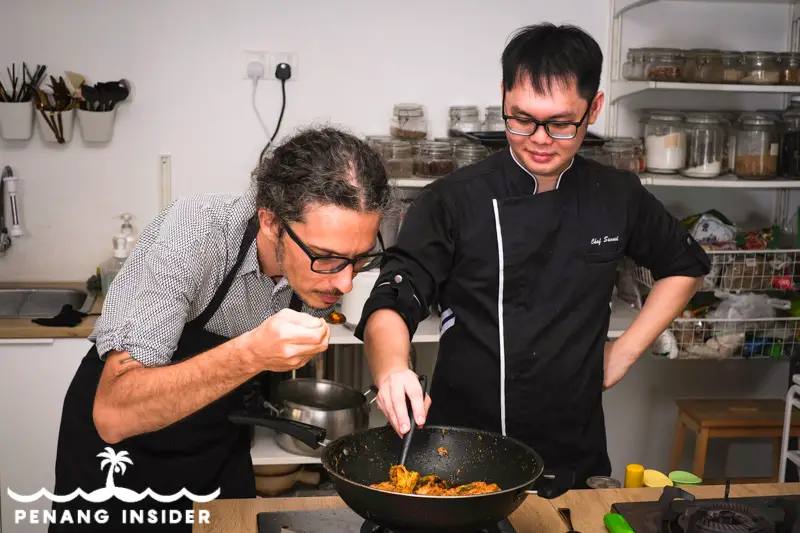 The class is hands-on and yet not too complicated, and Samuel is also happy to help when you feel overwhelmed or too tired to bash on that mortar — but that's all part of his goal to let you understand that to truly taste the best of Penang, there's a challenging preparation process behind it.
CONVINCED? BOOK YOUR COOKING CLASS WITH SAMUEL HERE AT A 10% DISCOUNT!
If you think we went too far with spiciness, well you may be right, but Samuel has a series of different recipes to teach you and will adapt the menu according to your taste.
The cherry on top of the pie was sitting down next to that beautiful high-rise view over Penang's nature and human development, and tasting the dishes we prepared together over small talk. Definitely a recommended experience for those who want to scratch Penang's surface deeper than most — the market experience we couldn't try also sounds like a very hands-on and fun start of the day to be had with Samuel.
Blogging Transparency: we have been guests of Chef Samuel, but this post describes our own opinion on the experience. For the record, we would never recommend something we didn't think is worth paying for.
---
And if you liked this, why don't you sign up for our mailing list? We will send you immediately a FREE photographic eBook with some incredible pictures of Penang, and we promise, we will disturb you only about once a month with some good local advice you won't find on the site