Rising in the central part of the island, Penang Hill (known in Malay as "Bukit Bendera", or Flag Hill) is an imposing 833-meters-high hill, and one of the unmissable things to do in Penang.
Developed by the British colonial powers as the very first Hill Station in Malaysia in 1787 — also don't forget the second, Maxwell Hill in Taiping — Penang Hill is not just the green lung of Penang but also boasts fifty-something heritage buildings — some of which may soon become charming homestays.
This article is our ultimate guide to visiting and have a great time on Penang Hill. You will learn all about:
Reaching the top of Penang Hill
What are the Best Things to See, Eat and Do on Penang Hill
Where to Stay on Penang Hill
How to have an adventure Hiking Penang Hill
So without further ado, let's start:
How to Reach Penang Hill?
First of all, here is a map of Penang Hill's main peak:
Please understand that when people say "Penang Hill", most refer to its very top, the area around the Upper Station of the famous Penang Hill funicular train, where there are several attractions and places to eat we will describe later in this article.
But Penang Hill, in truth, is a cluster of different peaks and can be tackled from many directions, especially if you consider hiking. We will review the most common routes later in this article.
---
Penang Hill by Rapid Penang Bus
You can reach Penang Hill using Rapid Penang Bus Route 204, shuttling from Weld Quay, the old Penang Ferry jetty, via Jalan Ria near KOMTAR, Air Hitam, and finally to the lower station of Penang Hill Funicular train.
---
Reaching Penang Hill from Penang Botanical Gardens
A paved and motorable road to the top of Penang Hill leaves from the car park in front of Penang Botanic Gardens. You can't drive your own vehicle unless you have a permit, though. A jeep service to the top used to start from here, but it is currently not operating because of the coronavirus lockdowns.
Nobody will stop you from walking up along this tar road, but we do not recommend it as it's boring — there are several other options to hike to Penang Hill, including the Moongate hiking trail that starts about a hundred meters before Penang Botanical Gardens' entrance, and eventually also makes its way to the top of Penang Hill.

If you are interested in hiking, you should read our guide to Bukit Hijau, and then check out the best trails in Penang Mainland. These include Cherok Tok Kun Recreational Forest, Bukit Juru, Bukit Pachor State Park, and the scenic Frog Hill.
---
Where to Stay at Penang Hill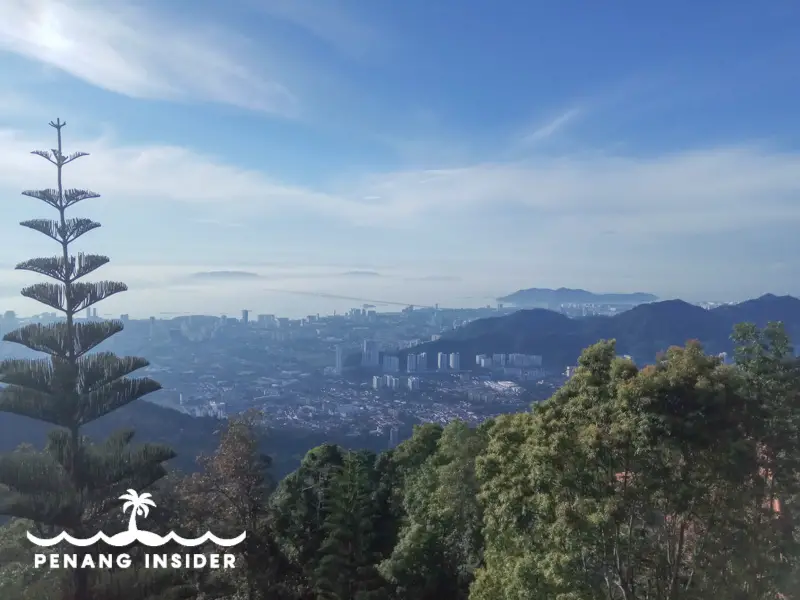 We already compiled lists of recommended best boutique hotels in George Town, Penang budget hotels, Penang backpacker hostels and the best 5-star hotels in Penang, but the following are a few recommended suggestions if you want to base yourself on Penang Hill.
HOTELS ON PENANG HILL
Bellevue Hotel is the long-standing trusted option near Penang Hill Upper Station and all the attractions. The bungalow has 12 rooms and a restaurant with a well-manicured lawn offering amazing views over George Town and the Straits Sea. Check prices on BOOKING | AGODA
Hickory on Penang Hill is another beautiful old-world bungalow with wooden-furnished rooms and a large courtyard to soak Penang Hill old-world atmosphere. Check prices on BOOKING | AGODA
Hillside Retreat offers beautiful stays on Penang Hill, housed inside an upholstered colonial bungalow. They also have campsites with full facilities.
HOTELS NEAR PENANG HILL
De View Hotel opened in 2021 straight in the center of Air Hitam, near the market and access to the beautiful Buddhist temple Kek Lok Si. Penang Hill lower station is just 5 minutes drive away. Check prices on BOOKING | AGODA
Penang Hill Lodge is another budget and quality accommodation on the main road to Air Itam township, and just five minutes drive from Penang Hill Lower Station. Check prices on BOOKING | AGODA
---
A Brief History of Penang Hill
Established in 1787 by Francis Light, Penang Hill was the first hill station in Malaysia, developed on the model of other British colonial hill stations in India.
The original name was "Bukit Bendera", or "Flag Hill" in Malay, from the flagship pole near the Bel Retiro, the residence of the Governor of Penang builti by Light in 1789. This area of connecting peaks became a favorite residence of the British, who settled here to avoid the stifling heat and risk of malaria on the plains. Many of those bungalows are still on the hill today.
Of course, living on top of a hill had its transportation issues: at first, people climbed either on horseback or were shuttled by local coolies. A first attempt at building a railway to the top happened between 1905 and 1907, but was unsuccessful. The first Penang Hill Funicular Railway opened only on the 1st January 1924, and started consolidating the hill as a prominent holiday destination.
Upholstered completely with new cars in 2010, until then, passengers needed to change trains at the Middle Station. It is no longer the case now, and the trains are much faster — you can reach Penang Hill Upper Station in less than 10 minutes.
---
How to get on top of Penang Hill
First of all, here's a map of Penang Hill Lower Station from where you can take the Funicular Train to the top of Penang Hill.
The Easy Way: Take Penang Hill Funicular Trail
The easiest way to visit Penang Hill is by taking the Funicular Train from Lower to Upper Station.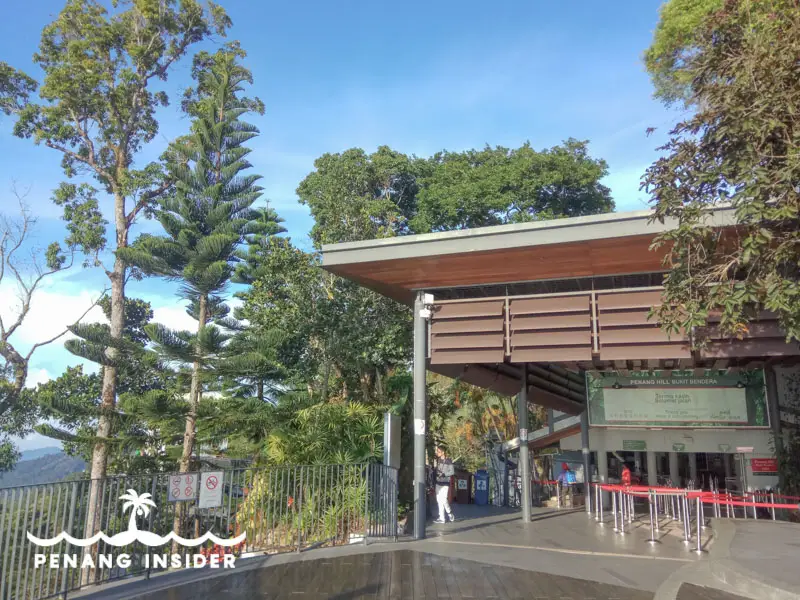 The journey takes only about 10 minutes, but as it's a very popular destination. It can get very crowded and queues are the norm on weekends. Try to go early or pre-book your Penang Funicular Train tickets here.
---
How Much Does it Cost to go Up Penang Hill by train?
This is a table of Penang Hill Funicular Train ticket costs. Unfortunately, foreigners pay much more (RM30 for Adults/RM15 for children up to 12 years old return) than Malaysians (RM15 for adults/RM8 for children return) for the exact same service. When this silly double-tiering pricing that sounds so much like a post-colonial hangover will finally stop?
You can check all prices and offers at the official website.
MONEY SAVING TIP FOR MALAYSIANS: You can actually get a very cheap RM3 Sunset ticket if you go to the ticket booth in person between 6.30 and 8 am. This ticket is valid for a return trip, meaning, you can either go and return using the train (and this is valid throughout the whole day), or you can hike up at your leisurely pace and then catch a train down from Upper or even Middle Station.
---
Penang Hill Funicular Train Timings
Normally, the first train leaves Penang Hill Lower Station at 6.30 am (ideal to arrive and set up your tripod to take pictures of the sunrise) and the last descends at 11 pm.
But at the moment, given Malaysia's Movement Control Order, Penang Hill is either closed to visitors, or train operating times have been reduced to 6.30 am/8 pm on weekdays and 6.30 am/9 pm on weekends.
---
Best Things to do at Penang Hill
Now that you reached the top of Penang Hill, please follow our suggestions on some of the best things to see and do here.
1
Hop on the Funicular train to Penang Hill
As we have mentioned above, the original Penang Hill Funicular Train was built in 1925 and in itself is one of the essential things to do in Penang.
Built using a Swiss-made system and featuring the steepest tunnel in Asia, it's also the longest funicular ride in Asia — a real tourist experience in itself. The train takes between 5 and 10 minutes to whiz from the Lower to the Upper Stations, going through Penang Hill greenery. If you have never taken this train, it is unmissable: you can even consider to walk your way up, and take the train down.
2
Take a nature walk at the Habitat Penang Hill
Spanning a 130-million-years-old stretch of Penang Hill's rainforest gazetted in 1911, the Habitat Penang Hill is a private park with several interesting attractions.
Beyond the guided nature walk nature that will help you familiarize with some of Penang Hill's flora and Fauna, the Habitat's selling points are the Curtis Crest, a circular viewing platform that's the highest viewpoint on Penang Hill, and the 230-meters-long Langgur Canopy Walk that will give you an unprecedented primate-eye view of Penang Hill's thicket.
For an additional cost, you may try the Flight of the Colugo Zipline, a series of exciting jumps that include a double zipline and abseiling down a tree-top.
Interested in visiting the habitat? You can pre-order 5% discounted tickets via our partner Klook by clicking here.
---
3
Walk on Curtis Crest, Penang Hill's Highest Point
Even if it's located inside the Habitat we described above, Curtis Crest Treetop Walk deserves its own mention.
At 13-meters, it's the highest public viewing platform in Penang. Located on the plateau just above the Mid-Point Rest Area and Museum, it is designed to handle up to 120 people at a single time, and offers mesmerizing 360-degree views of Penang, including George Town, and serves as the highest public viewing point on the island.
On clear days, the archipelago of Langkawi can be seen in the distance, as much as the beautiful Gunung Jerai right across the Straits Sea in Kedah State. If you look just in front of you, you'll see Bel Retiro, the former Governor of Penang's mansion. Sunsets here are magical.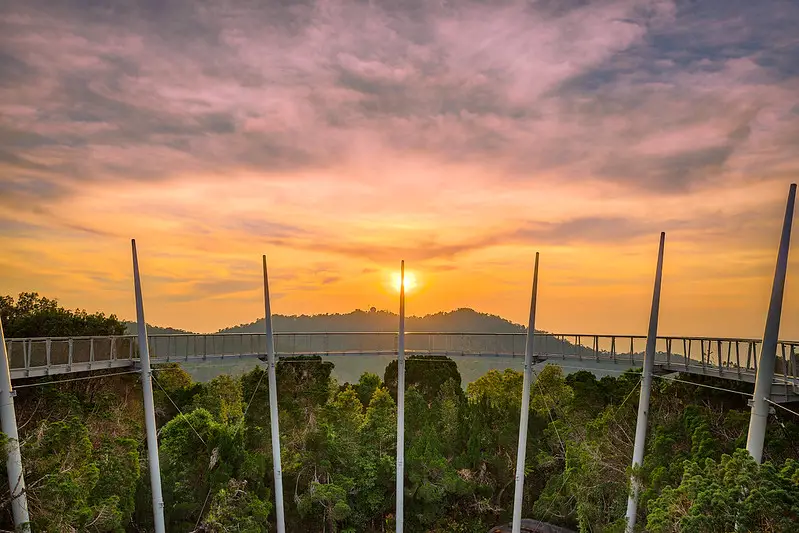 Interested in visiting the Curtis Crest? You can pre-order 5% discounted tickets via our partner Klook by clicking here.
---
4
Enjoy some Incredible views of George Town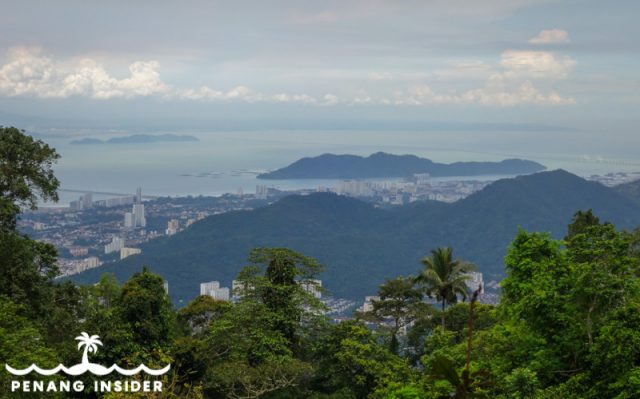 Views of George Town, the Penang Bridge and Pulau Jerejak from the top of Penang Hill (image © Marco Ferrarese)
Wherever you walk on Penang Hill, the views of George Town and the eastern side of Penang island will stay with you for a long time.
At the time of writing, Penang Hill's viewing deck was closed pending some works — it's probably going to become a two-storey affair, which is questionable. Anyhow, the views are amazing all over, both when climbing up, and from the many viewpoints and nooks you'll find at the top.
---
5
Visit Penang Hill's Colonial Bungalows and History
We have already mentioned Bel Retiro, but Penang Hill is literally strewn with old colonial bungalows, and all you have to do is look around and walk. The more you go out of the main Dataran along the walking paths and the paved road, the more chances you'll have to see the vestiges of Penang Hill's past — including a 32-Pounder-Cannon overlooking from the top of the hill.
Check out the Convalescent Bungalow, the Edgecliff and the Hillside. You may read more about Penang Hill Bungalows here.
---
6
Visit Sri Aruloli Thirumurugan, one of Penang's oldest Hindu temples
Set on top of Penang Hill and built in the 1800s, Sri Aruloli Thirumurugan temple is dedicated to the Lord of War Murugan and is built in the traditional South Indian style.
It testifies to the Hindu population of Penang and Malaysia — see our guide to the Sri Pathira Kaliamman temple in Pangkor island — and from the elevated square it soars from you'll be able to see an old colonial cannon and a very beautiful panorama of George Town.
---
7
Browse Bellevue Ginger Garden and Aviary
Bellevue Hotel is not only a good place to come for a coffee with a view, but also to browse this compact garden and aviary. You'll be able to see many ginger and plant species here, and also an enclosure with several local and foreign bird species, including peacocks and a rare type of hornbill.
---
8
Visit the Monkey Cup Garden
This place gets mixed reviews, but if you are interested in monkey cups — the pitcher plants found in the Malay and Indonesian archipelago — then you may want to try this garden to see a wide collection. Nothing like finding them on the trails, though.
---
9
Meet some Penang Hill animals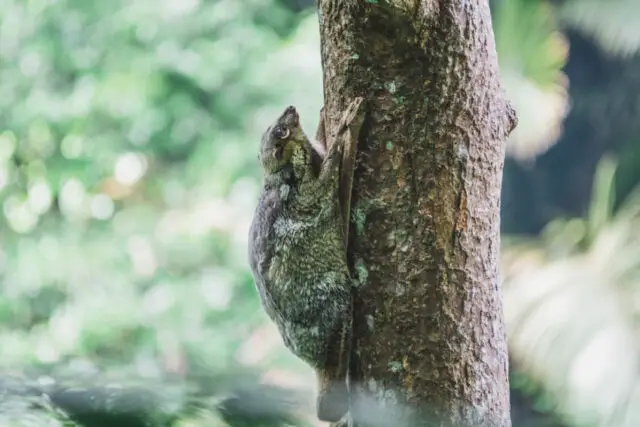 The colugo is one of the strangest Malaysian animals, and can be found on Penang Hill (image courtesy of The Habitat Penang Hill)
Penang animals are amazingly diverse and their kingdom is Penang Hill: keep your eyes peeled to the tree-tops, and you may be able to see some swinging in the canopy.
Obviously your chances will improve if you take the Moniot trail or even walk all the way up, but moving away from the main tourist area always offer some sightings of birds and monkeys.
---
10
Dare to go to the Crag Hotel, Penang Hill's haunted house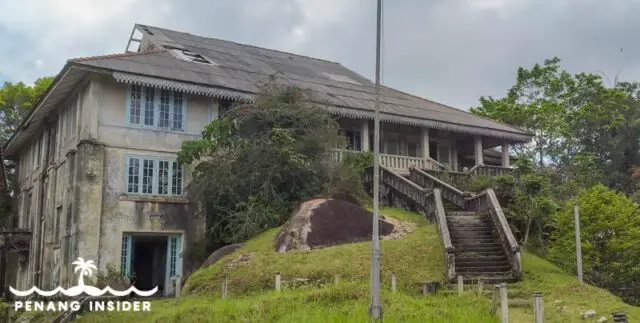 A view of the abandoned Crag Hotel, a lesser-known spot on the northern side of Penang Hill (image © Marco Ferrarese)
The Crag Hotel was once a swanky Penang Hill hotel built in 1895 by the Sarkies Brothers, the seminal Iranian-Armenian architects who gave Southeast Asia four of its grandest colonial hotels — the Strand in Yangon, Eastern & Oriental and the Crag in Penang, and the Raffles in Singapore.
Locals have all the good reasons to believe this Penang Hill bungalow is haunted: the Crag Hotel has remained empty and abandoned since 1977, when the Uplands School, which had taken over the building in 1955 to set up its boarding quarters, moved from the top of Penang Hill to sea level. The Crag was later used sparingly as a guesthouse until 1999.
Surrounded by walls of viridian forest and often blanketed by thick mist, the decrepit empty building oozes a timeless old-world charm that makes it a perfect setting for a "haunted hotel" or a film location. It has been the case: British historical drama "Indian Summers" (2015) used it as a location for a social club in Shimla, colonial India, and a Malaysian Tamil horror film, "Irul: Ghost Hotel" (2021) by Prem Nath is a found-footage horror that exploits the Crag's spooky reputation. You can read more about the film and Penang Hill heritage mismanagement in this story I wrote for Nikkei Asia.
---
Penang Hill Food
Are you hungry after all this walking and reading? Even if the choice is not huge, Penang Hill has some places to eat — try to choose those with the best views, of course.
---
11
Chill at Kopi Hutan, Penang's Highest Cafe
The Monkey Cup has a cafe called Kopi Hutan which, because of tables that spill onto a refreshing area near the jungle, is loved by many Penangites and it's one of the most Instgrammable Penang cafes. To be fair, many others think it's over-hyped and not worth it, but you'll be the judge.
Their signature coffee "Kopi Hutan", served in a tall Italian-style mocha coffee pot, blends five types of different coffee beans from different countries. You may want to try their best-selling onde onde cake, which tastes like the Malaysian "onde-onde kuih".
Keep in mind that Kopi Hutan is to the west side of Penang Hill, and it's a 40 minutes walk from the Funicular Train Upper Station. They do offer a free 4WD pick-up service for paying customers, so you may want to call ahead.
---
12
Have a true-blue English experience at David Brown's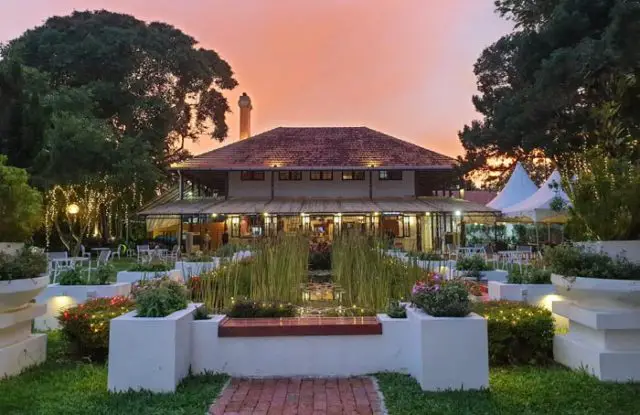 David Brown at Strawberry Hill on Penang Hill. Penang's highest restaurant, and also one the best Western food available island-wide (image courtesy of David Brown's Restaurant)
David Brown's Restaurant & Tea Terrace is Penang Hill's only proper restaurant, offering a true-blue English teahouse experience. Their British high-tea experience with scones is very popular and a recommended thing to do while on Penang Hill.
Self-touted as a "quintessential British restaurant" that basks in the Hill's glorified colonial past, David Brown's certainly has a stellar setting that's worth the experience alone and relies on a strong menu that's lighter on the wallet when enjoyed as a lunch or dinner set. Without forgetting the afternoon tea, of course. Imagine the usual western staples such as grilled chicken chop, seafood Aglio-olio spaghetti and fish & chips, paired with other Malaysian delicacies like Nasi Ulam with beef rendang.

The salads are impressive, too, especially the smoked Norway salmon, which pairs well with other creative appetizers such as cauliflower with bechamel and cheese toast. On weekends they also have classic English-style roast, both chicken or marinated sirloin beef.

As the tradition requires, David Brown's Restaurant is housed inside a restored colonial cottage originally built in the 1940s — a perfect place to go to impress on a date.
---
13
Hawker Galore at The Cliff/Astaka Penang Hill Food Court
The Cliff Cafe (also known as the Astaka Bukit Bendera) is set right on Dataran Penang Hill and offers three storeys of food court galore.
You can try a variety of typical Penang food that spans Penang laksa, char kuey teow, ice kacang, coffee, fruit juices and much more.
---
Hiking to Penang Hill: the Hard Way to the Top
Now that you know everything you can see, do and eat on Penang Hill, let us explain our preferred mode of reaching the top.
Taking Penang Hill Funicular Train is quick and easy, but also expensive for foreigners and not very adventurous. If you are moderately fit, a much more interesting alternative to explore Penang Hill is to actually hike to the top on one of the many trails that snake on its flanks.
The possibilities for hiking in Penang and hiking in Penang Mainland in places like Bukit Juru or Bukit Panchor State Park are endless.
In this post we will limit to describe the most common ways to walk up to Penang Hill.
---
The Heritage Trail
The most straightforward (and boring, to us) walk to the top is Penang Hill Heritage Trail, a 2.5km trek along a steep staircase following the Penang Hill Funicular Train's railtrack. It takes about one hour plus to complete all the way up to Upper Station, but again, the continuous ascent on a steep staircase may not be everyone's cup of tea and very hard on the knees.
---
Hiking Up from Penang Botanical Gardens
Set right at the bottom of a flank of Penang Hill, Penang Botanical Gardens are the starting point of a few trails that snake from the valley up to this 800-meter-high mountain. Here is some useful information to strike out and explore more.
The main route to Penang Hill Upper Station starts at Moongate, the former Chinese-styled access arch to a millionaire home. We have already described how to hike from Moongate to Station 5.
Here's a map of Moongate, the popular starting point to hike to the top of Penang Hill:
From here, the next step is to proceed to Station 84 via Bukit Cendana. It's a steep climb that rewards hikers with open views over the eastern side of Penang island and Penang bridge, especially from the popular Rainbow Rock viewpoint we suggest you don't miss.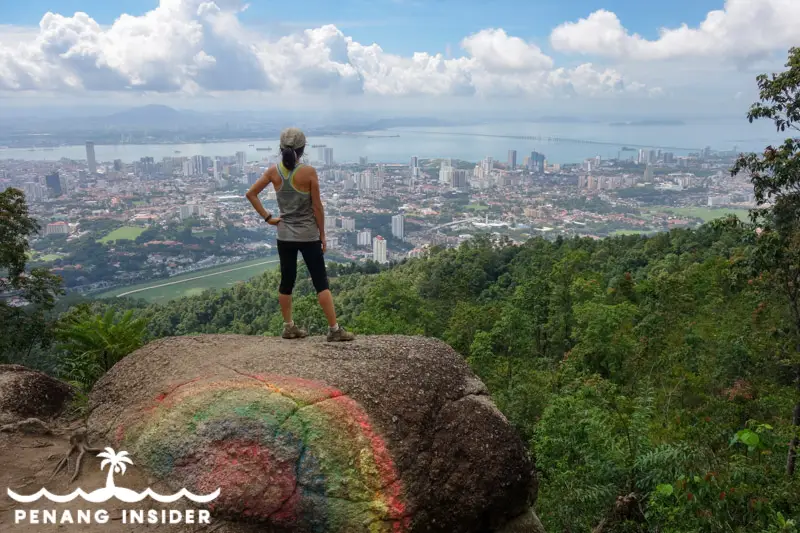 From here it's only about 15 minutes to Station 84, a very well-maintained area with public toilets on the paved tar road to Penang Hill.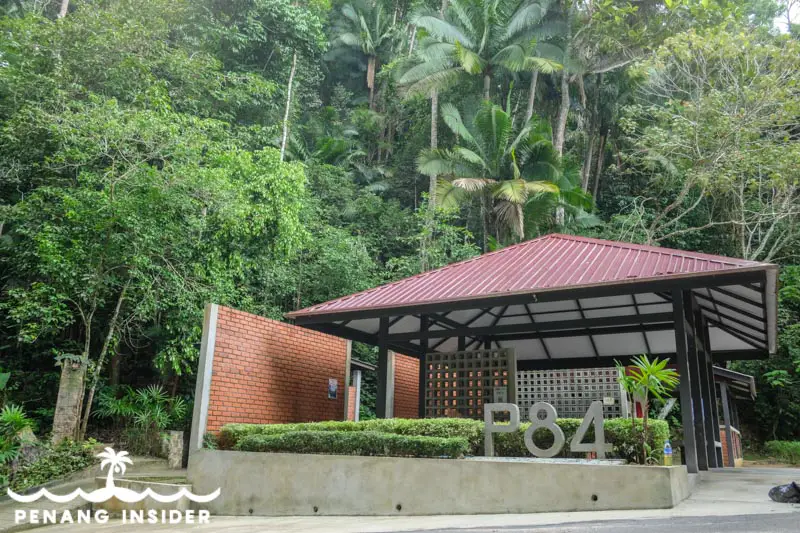 At this point, Station 84 meets the tarred jeep track continuing to the top of Penang Hill. On the first bend in the road you'll see on the left of Station 84 is the beginning of the Moniot Trail.
---
Moniot Trail East to Penang Hill Upper Station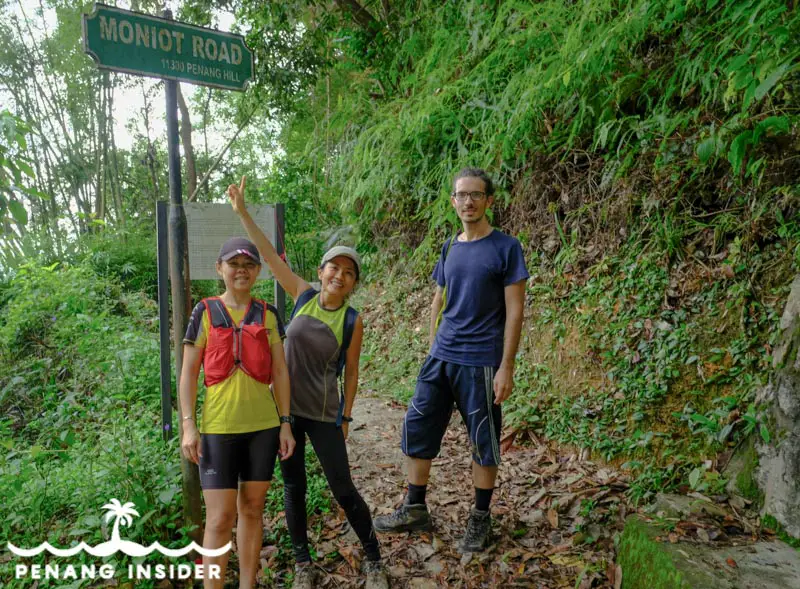 The Moniot Trail is a historical path built by Francis Light in the 1790s. Before the Penang Hill funicular train arrived, the Moniot trail was part of a 13km bridle path laid out in the 1820s as the main route to the hill summit — it was large enough to allow horse-drawn carriages to go up. With the arrival of the trains in 1925, it became disused.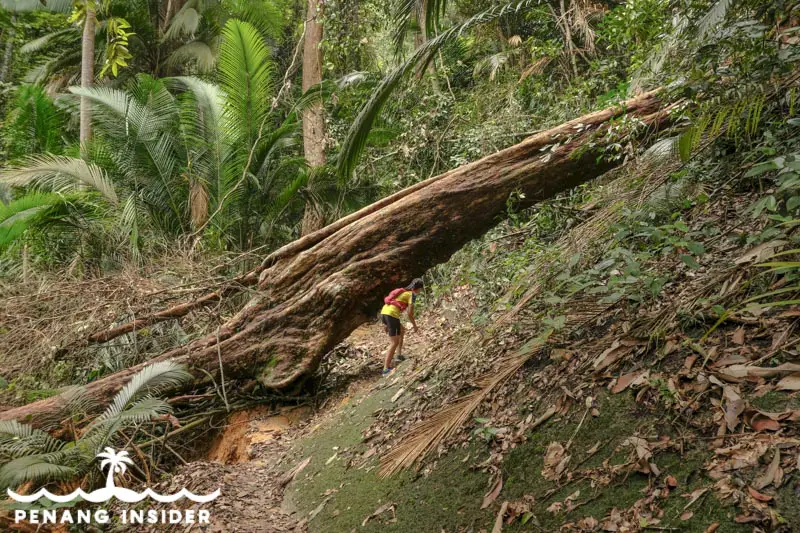 But you can still walk on sections of it today: it takes about 45 minutes to an hour to follow it from Station 84 all the way to the Viaduct Road East, where you will intersect the Penang Hill Funicular train at the Viaduct Station.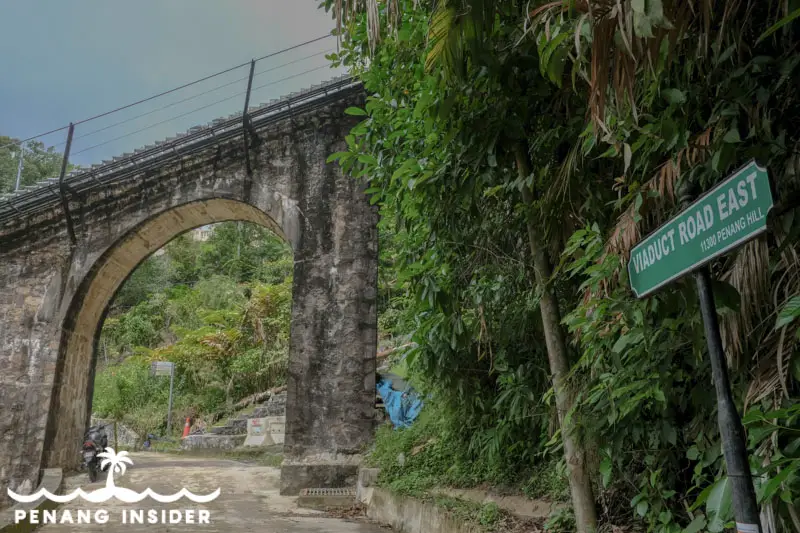 From here, you can continue to the Dataran Penang Hill by following Path G parallel to the Lower Tunnel Station, and then reach the Upper Station using By Path A.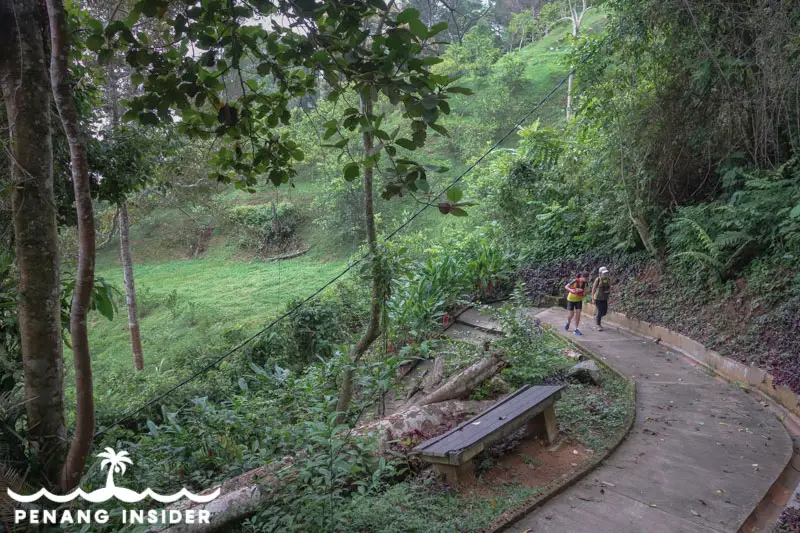 Welcome to the top of Penang Hill! Tired? We bet, but we are sure it was worth the walk and the views!
---
And if you liked this, why don't you sign up for our mailing list? We will send you immediately a FREE photographic eBook with some incredible pictures of Penang, and we promise, we will disturb you only about once a month with some good local advice you won't find on the site