After you have visited Penang street art, the historical Penang Hill and Penang Botanical Gardens, Entopia by Penang Butterfly Farm is another one of the most famous things to do in Penang and a highlight of Teluk Bahang, the northwestern corner of the island where you'll find Penang National Park. Have you visited Monkey Beach yet?
A blend of the words "entomology" and "utopia", Entopia is a self-proclaimed paradise for insects where up to 15,000 free-roaming tropical butterflies flutter in beautiful green grounds adorned with walking paths and waterfalls. It's a fantastic activity for a half-day out and one of the best things to do with kids in Penang.
We have visited for you and this post is an honest review of Penang Entopia. You will learn:
All that you can see at Entopia Penang
What types of insects and animals you can see at Entopia
If it's worth going to Entopia
How to Save money by buying your Entopia ticket. Click here for details.
---
How to Reach Entopia Penang
The easiest way is to drive your own car or, if you are a group, charter a van from George Town or wherever else you stay on the island. Entopia Penang has ample parking space.
If you want to catch a bus, the Rapid Penang buses number 101 and 102 shuttle between Teluk Bahang and Penang Airport, and stop nearby — but be prepared to spend an hour plus on the bus, compared to about 30 minutes in a car from George Town.
Alternatively, you may catch a Grab car from George Town. Here are some of the reasons why we think Grab in Penang is a good choice.
This is Entopia's location on a map:
---
Entopia Ticket Price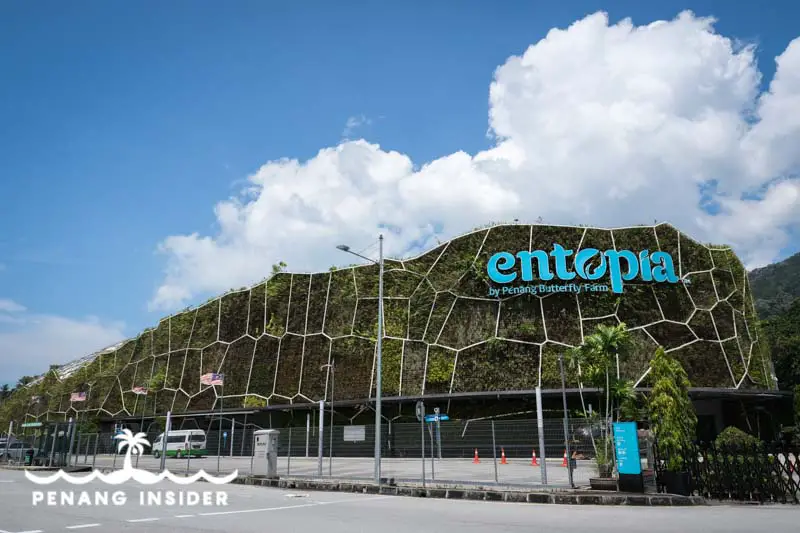 There are different categories of entry ticket prices to visit Entopia, and unfortunately, there is a double-tiering price and foreigners must pay more than Malaysians.
The main Entopia ticket prices are as follows:
Adult: 69RM non-Malaysian / 49RM Malaysian
Child up to 12 years of age: 49RM non-Malaysian / 29RM Malaysian
Walk-in customers can also enjoy some special family package prices.
But if you want a discount (and of course you want it! It's RM10 less for Malaysians and RM14 less for foreigners!) and also skip the queues we recommend getting your Entopia tickets in advance via Klook at this link.
---
Entopia Penang: What to Expect when you Visit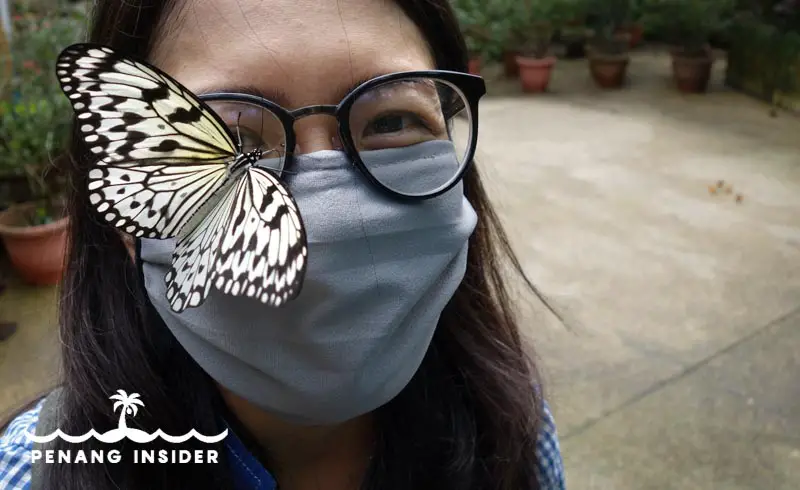 Entopia opened in 2016 after the famous Penang Butterfly Farm, akin to a butterfly pupa, decided to transform itself and become the best it could ever be. The vision of creator Joseph Goh, the eldest son of Penang Butterfly Farm owner David Goh, was to open the best insect sanctuary available across Southeast Asia.
The result is the Entopia that we can visit today: set right next to Penang's Taman Rimba and in the shadow of the Teluk Bahang dam, just a few minutes drive away from Penang National Park — read about all the great things you can do at Penang National Park here — Entopia by Penang Butterfly Farm impresses at first sight with its outside walls, adorned with one of Asia's biggest tropical wall gardens. Inside there are more than 60 different species of tropical butterflies, together with reptiles, creepy crawlies, and insects.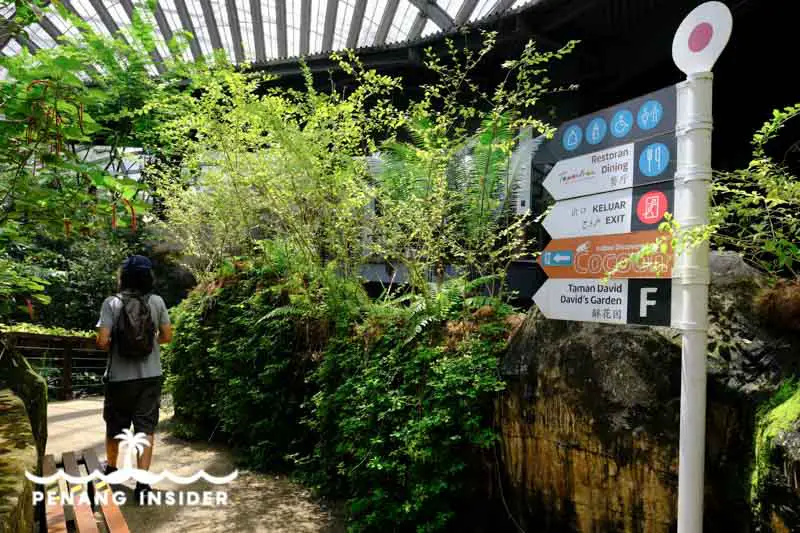 Visiting Entopia at a normal pace takes between 3 to 4 hours if you decide to see both Entopia's outdoor garden, called Natureland, and all its inner exhibits, housed on two levels inside an indoor area called the Cocoon.
We'll review our visit — which happened in October 2020, during Malaysia's RMCO in response to the coronavirus, so yeah, Entopia is open even at this time — and describe in detail what you can expect from Entopia. You won't find a more comprehensive Entopia review online than this article.
---
Entopia Penang Natureland: an Outdoor Garden for Butterflies and Reptiles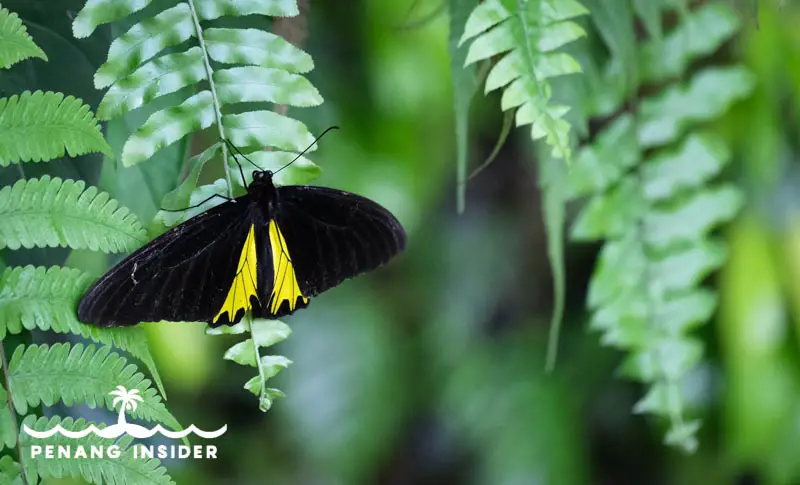 After paying for your ticket you'll be whisked to the entrance of Natureland, Entopia's outdoor garden, which is divided into several different areas. If you could observe it from the sky using a drone, Natureland looks like a butterfly wing — one clever architectural concept.
---
Adopt a pupa
This interesting program started in 2016 and aims at offering visitors a chance to purchase butterfly pupas to bring home. This way, they will be able to monitor the process closely from their own homes, learning how a pupa morphs into a butterfly.
Right after the entry turnpike where your ticket bracelet is scanned and checked you'll find the beginning of Natureland. It's in this corner that Entopia has a vending stall set up where you can purchase jars containing two butterfly pupas for RM 20. During this time of restricted movement due to COVID–19, you can also buy the pupas online at Entopia's website.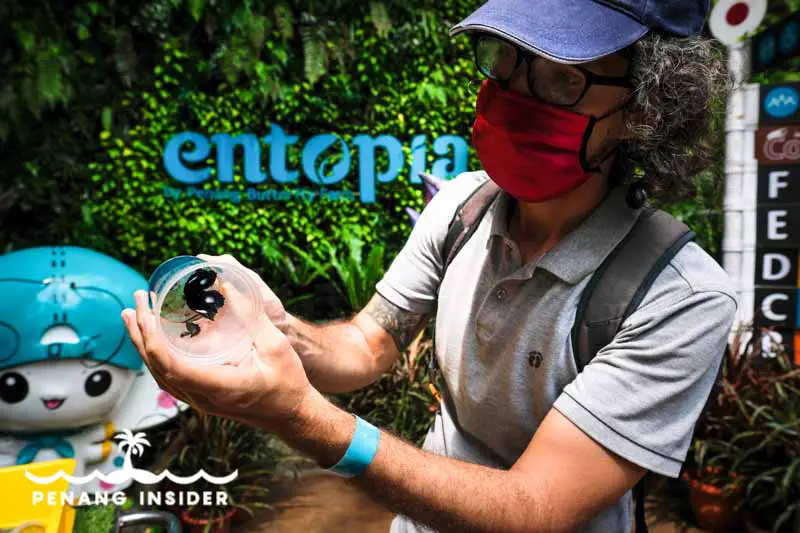 But if you are visiting Entopia, you should come during the two daily butterfly release sessions at 11.30 am and 4 pm. The guests, assisted by Entopia's staff, will open plastic cups and free the newly born butterflies into Natureland's garden.
You must know that before MCO in Malaysia, Entopia's Natureland used to hold about 15,000 free-flying butterflies at any single time. Given the short life span of butterflies, the workflow interruptions due to Malaysia's coronavirus lockdown have reduced that number, and to get back to as it used to be before, it's really necessary to release new butterflies. As of now, Entopia is committed to releasing about 1000 new specimens every day.
When we visited, there were up to 60 different species of beautiful tropical butterflies around us. They feed on the nectar and food slices that Entopia's staff place around the park.
---
Interesting Entopia Activities to check out
Beyond a visit, Entopia also has a series of extra activities such as the nature talks held at 10 am and 2 pm that is free of charge for visitors.
With an additional RM18 per person, guests can participate in Entopia Fun Hour, a series of activities that range from cooking class Bug's Kitchen — yes, you'll learn why on Earth humans may want to eat insects — and petting sessions with different types of crawlies. Check the link above for timings and a calendar.
---
Visiting Entopia's Mystery Cave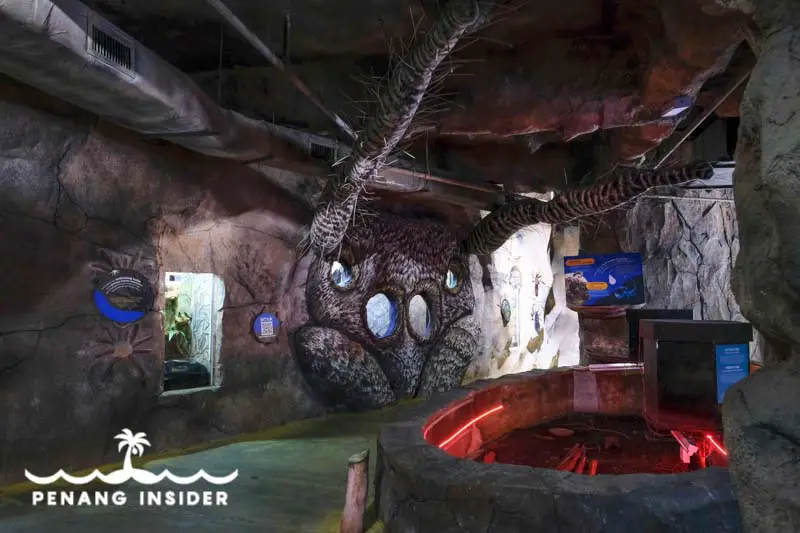 The beginning of Natureland is this cave where guests can, among other things, see frogs and insects such as the giant centipede, different Central and South American tarantulas like the Guatemalan tiger rump, the Brazilian red and white tarantulas, or the Mexican Red Knee tarantula. There are also snakes here: we saw a venomous and rear-fanged mangrove snake, with its sinuous green and yellow body.
Some of the glass cages where the spiders are kept are housed inside a wall that's cleverly shaped like the head of a tarantula — a first hint at what kids will get to enjoy later once they get inside Entopia's Cocoon.
Probably the best (and craziest) thing to do while at Entopia's Mystery Cave is handling the tame scorpions that lay in an open enclosure at its center. Don't worry: as one of the guides told me, they are "well feed" and wouldn't really think of stinging you. See what this beauty did to my hand.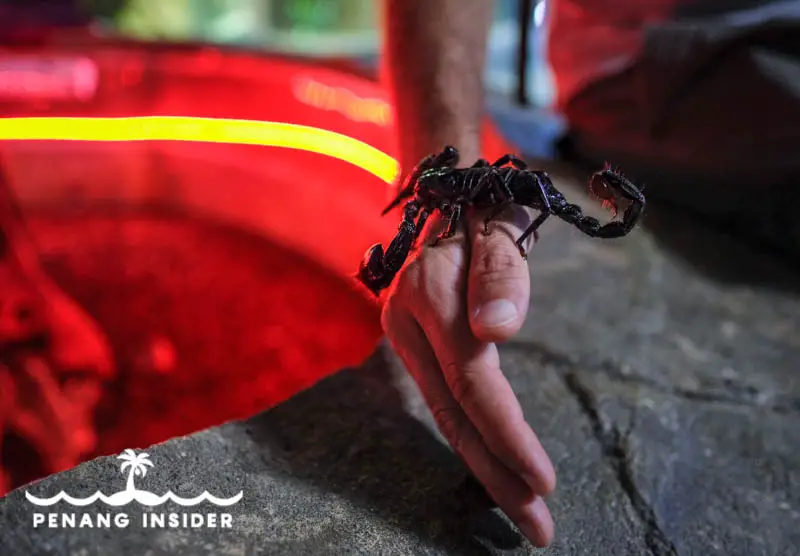 ---
Natureland's Tiger Falls
Once you step out of Mystery Cave you start walking inside Entopia's proper outdoor space. You may bring a sun hat but you won't be entirely outside: there's a double layer of netting overhead to protect the butterflies from bird attacks and, of course, to keep them inside Natureland's enclosure.
Tiger Falls is set in a scenic opening with a sloshing waterfall and the first chance to see fluttering butterflies all around you. The walls here are covered in vegetation, and the style and ambience of the place remind me of the jungle. You will continue walking up the main path to reach the next section of Natureland.
---
Entopia's Home Tree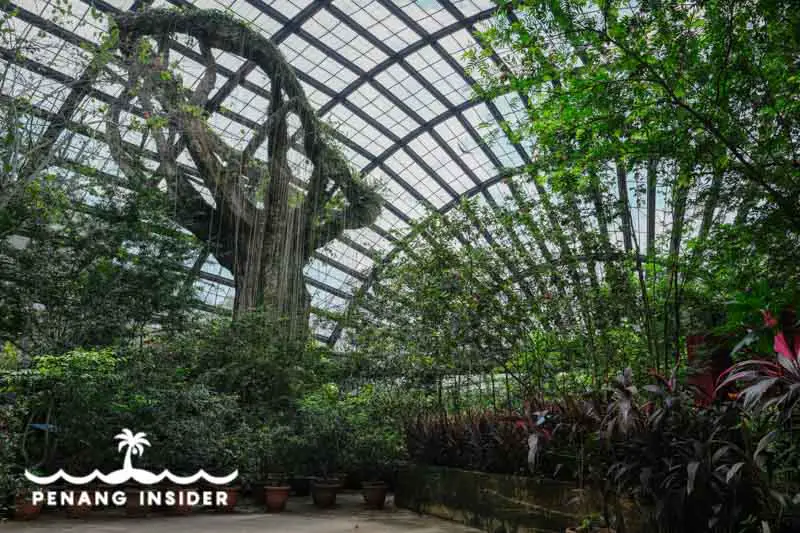 After Tiger Falls you'll walk up one level and will find yourself below Natureland's centerpiece, the Home Tree. Soaring high, this is of course a tree built with concrete, and it's one of Entopia's main landmarks.
This place is usually filled with butterflies, which love to flutter at higher ground. You can see them come and rest on the metallic platforms where Entopia's staff places slices of fruit, especially pineapples, to feed the hungry butterflies. Keep your cameras handy for some great photo opportunities.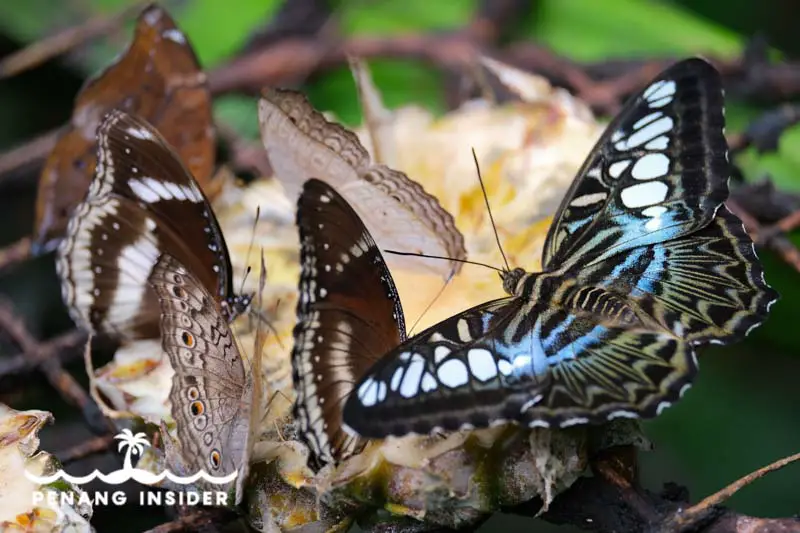 Next to the Home Tree is a pond with two big water monitor lizards. Lazy and pampered, the reptiles soak into the sun or relax in the swimming pool reserved for them — proceeding to the Aroma Trail later you'll be able to loop underneath it and put your head inside an acrylic dome to see the water monitor lizards very up close.
The water monitors are a preview of the next part and Natureland's biggest area, the Dragon Path, with all its reptiles.
---
The Dragon Path
The Dragon Path is Entopia Natureland's only area where you won't see many butterflies as it's reserved for reptiles — which certainly love to eat insects.
This wide area of Entopia houses reptiles such as Kuhl's Flying Gecko and the Green Iguana, which can both be seen in close proximity. Some reptiles are kept inside glass cages, while the peaceful iguana has quite a bit of open space all for itself inside a little garden with a small pond and tall grass.
That's where we even managed to spot a tiny frog resting on a high leaf as we explored the garden. Definitely try to keep your eyes wide open, as tiny frogs and other reptiles can pass unnoticed at first.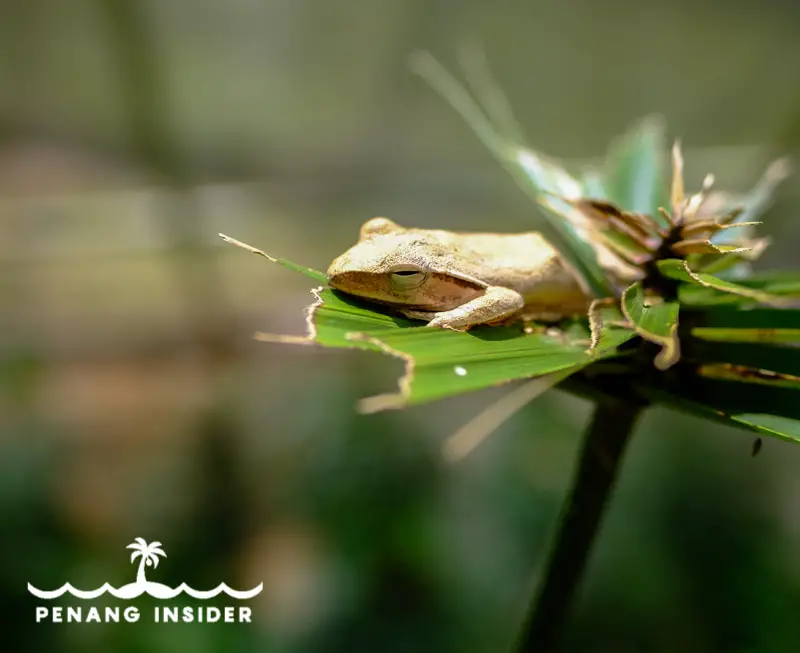 ---
Aroma Trail
Next up is the Aroma Trail, one of the last areas of Natureland. Coming from the Dragon Path, you will have a chance to see the water monitor lizards that laze next to Entopia's Home Tree up close from a transparent acrylic dome rising in the midst of their pond. If you are lucky, you'll get to see scales at a very close range.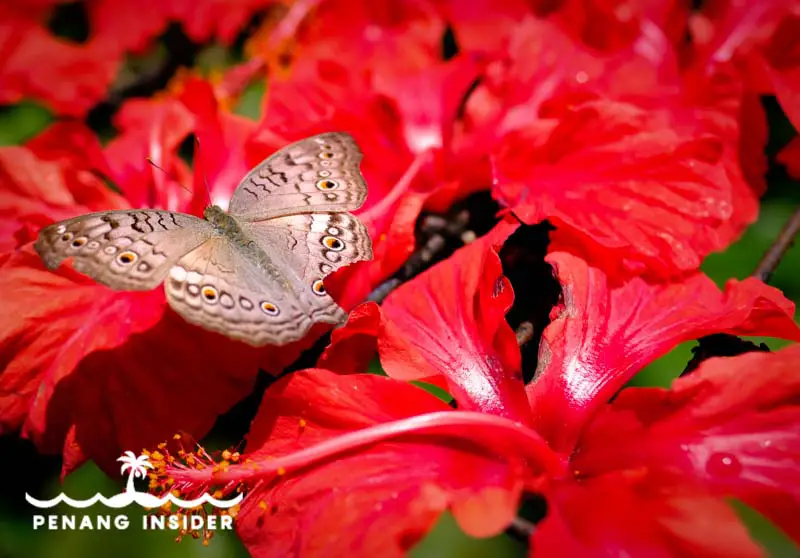 When the trees are in bloom with flowers, the Aroma Trail lives up to the best of its name and is an excellent place to spot a number of butterflies that come here to eat and do their courtship-fluttering dances.
---
The Cocoon: Entopia Penang's Double-Level Indoor Space
Beyond Natureland, Entopia also has an indoor area developed on two levels and called the Cocoon in honour of the butterfly pupa. You can access the Cocoon from the end of the Aroma Trail. Note well that butterflies are not allowed inside because they would not be able to find their way out, so if any has landed on you while in Natureland — they love to suck the salt off your sweat — make sure you let her go before entering the Cocoon.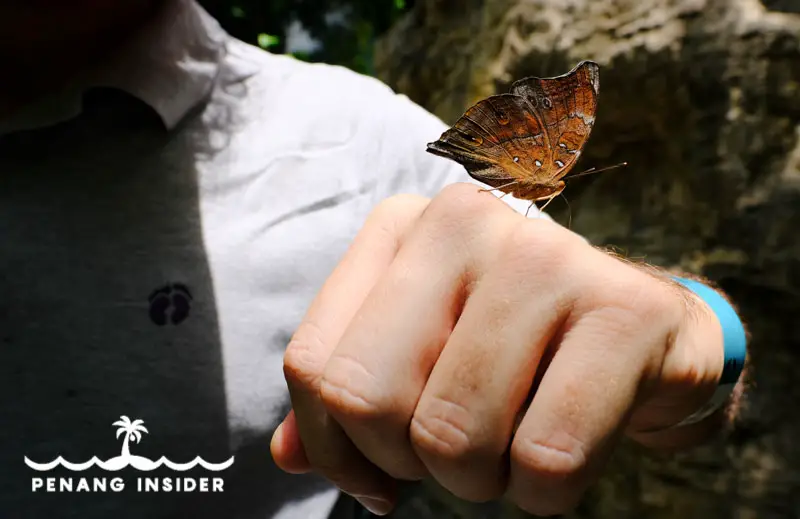 ---
Pandora Forest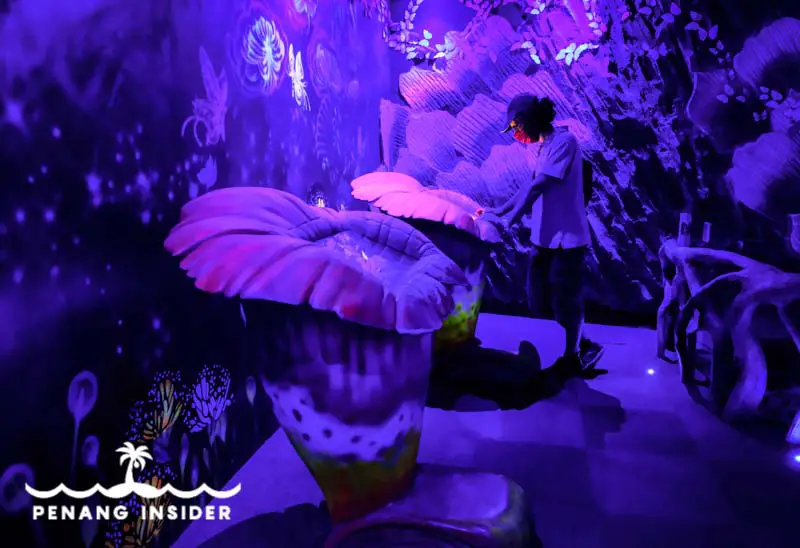 First up is Pandora Forest, a UV-lit room where you can learn about the myths and stories that refer to butterflies from all around the world. From Chinese folk tales to the significance of butterflies to the Chersonese and other American Indian societies, the flower-shaped touch screens here have many a tale ready to entertain children and adults of all ages.
---
Metamorphosis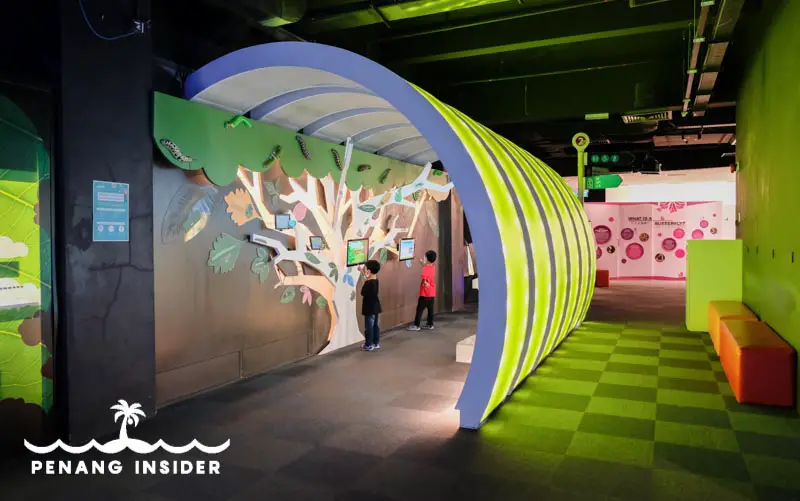 This is possibly one of the Cocoon's largest rooms, and it's filled with boards and games explaining how caterpillars transform into butterflies. The focus here is definitely on children: the room is filled with interactive games — think touch screens and walls where kids press buttons and see, for example, what type of eggs belong to which butterfly species.
Interactive boards make a good job of giving the basic facts about the way butterflies are born and their current status as a declining species. But the focus is children — so don't expect very detailed information, and keep on browsing around and having fun.
Next door is Cinerama, a room where you can sit and rest watching insect-themed documentaries on a big screen as if you were in an entomologist-approved cinema.
---
Breeding Ground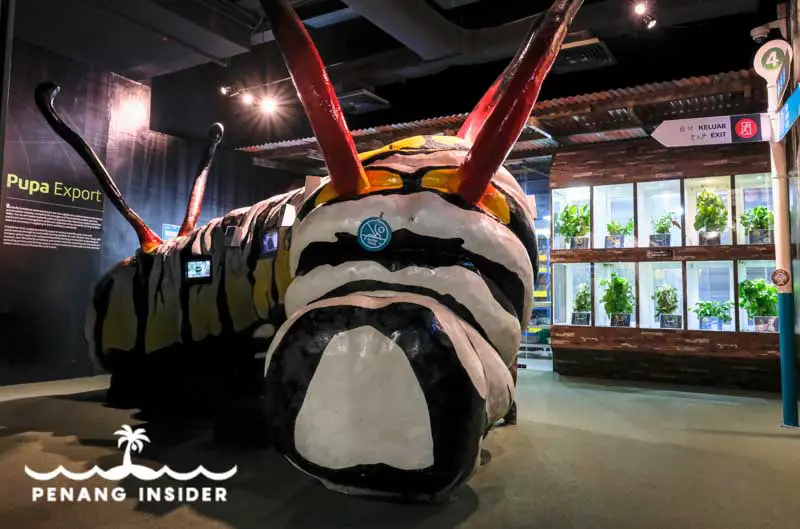 This section of the Cocoon is dedicated to learning more about caterpillars, pupas, and the first stages of a butterfly's life. The first section has a butterfly collection aviary and reproductions of the beautiful and rare atlas moth. Then you enter a room whose center is a larger-than-life caterpillar sculpture. It has TV screens showing how caterpillars eat different types of leaves. You can put your ear close to the small holes on the giant caterpillar's sides and listen to the different sounds a caterpillar makes when chewing the leaves.
The rest of the room offers a display of caterpillar-rearing cages and glass cages where pupas are hung and left to become butterflies. Some of these butterfly pupae are exported to the rest of Malaysia and even abroad to other counties. The back of the room, protected by a glass door, contains the area where Entopia workers prepare the boxes with the pupae for export.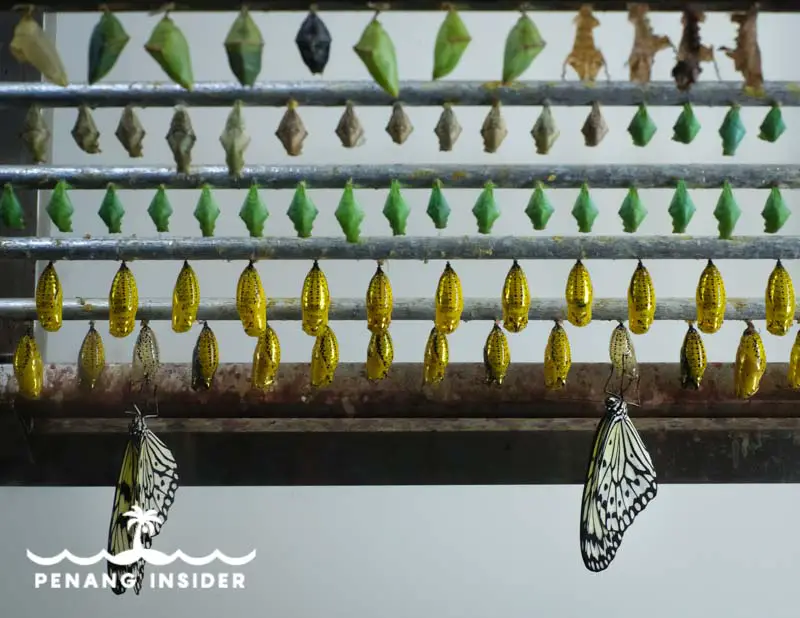 ---
Lumino City
Up next is Lumino City, an exhibit fully dedicated to the life of fireflies, from eggs to larvae. It was under work in progress when we visited, but from what we saw, there are plenty of useful information boards explaining all about the fireflies' habitat, their life cycle, and their geographical spread around the world.
---
Downtown Entopia
After passing through the Cave of Evolution and its UV-lit walls, guests enter a plaza hosting a fun reproduction of a shopping mall made for bugs and insects. From food vendors to a liquor store owned by "Bug Daniels", this is Entopia's most playful and child-oriented section.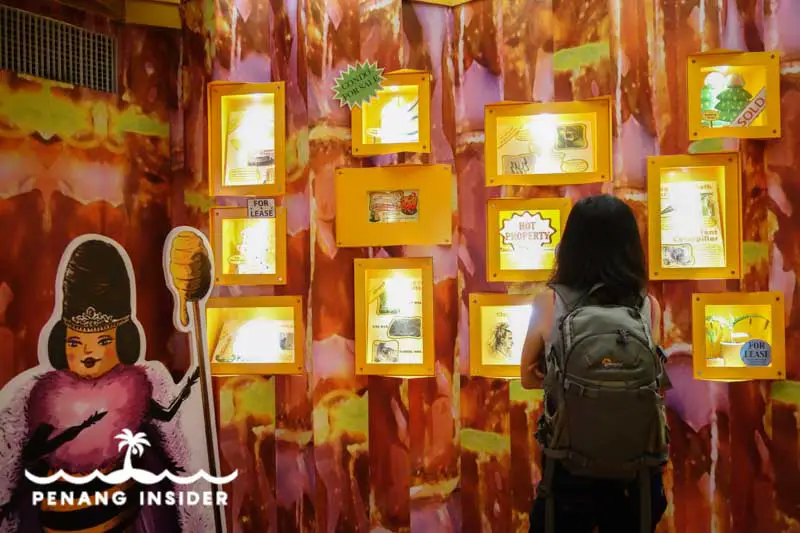 The explanations inside each shop still deal with the insect world and are cleverly disguised as objects for sale. Don't miss the Hopper bookstore, which has glass cages containing giant long-legged and mixed Katydid.
---
Underground Mysteries
Up next is this exhibit dedicated to creepy crawlies — and trust me, it may spook those who can't tolerate roaches. The best way to observe them up close is by going through the "Creep Tunnel", a children-sized hole that even adults can navigate by getting on their knees and crawling inside.
It is definitely a creepy space if you don't like roaches: the series of glass cages inside contains more cockroaches than you can handle on an average day. Don't forget to take a small detour and put your head inside the glass cage of the huge Madagascar Hissing cockroaches… you'll never want to go to Africa afterward.
---
Understory Tales
Cocoon's last room is one of the best, in our opinion. It packs glass cages containing many types of mantises and beetles that live underground or dwell in streams. You will see big insects like the Green, Orchid and Banded Flower mantises, the Macleay's Spectre stick insect, frog-legged beetles, fire snails, Green Tree snails, Longhorn beetle, stag beetles — including the giraffe type — and other critters such as water scorpions.
The highlight is a section dedicated to one of the biggest insects you'll see here: the endemic and beautiful Malayan Jungle Nymph. Silent and stiff, they can weigh up to 75 grams, and easily camouflage with the branches. Get up close to observe them as it won't be that easy to spot them in a real forest environment.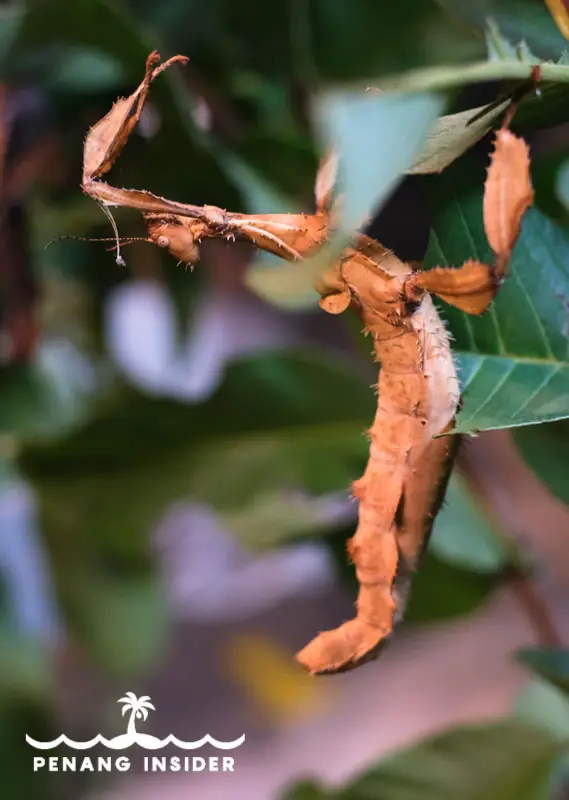 …and after all of the above, you have reached the end of Entopia! Before you leave, you'll find a souvenir store where, besides books on insects, Malaysian flora, and Malaysian animals, you'll find many butterfly-themed souvenirs. There are some beautiful frames with conserved butterflies for sale here — including the rare Rajah Brooke, which is just for exhibition purposes — but they don't come cheap.
---
Entopia by Penang Butterfly Farm: the Verdict
Entopia is definitely a great thing to do in Penang with kids who, if going through all that Natureland and the Cocoon have to offer, will have at least 3 hours of fun on a visit.
Natureland's outdoor space is pleasant for a stroll and offers many photo opportunities with the butterflies, waterfalls and reptiles that you'll find here. You need to e patient and walk around a bit to spot the places with the most butterflies, but once you find one, you won't stop snapping away.
The Cocoon continues an interesting showcase of information on insects, butterflies and bugs but, in all honesty, it could have been developed a bit more for adult visitors. Of course, we understand that Entopia shines for kids, but we also believe that some of the Cocoon's rooms could have housed more species of insects, in the style of Understory Tales, rather than dedicating so much space to the kids-only games and activities like those found in Metamorphosis.
But again, if your goal is to take your children out on a fun and informative half-day trip among insects and reptiles, then Entopia is one of the best places you can take your kids out in Penang.
Remember that you can buy discounted Entopia tickets on Klook here — a particularly good suggestion to save some ringgit, especially if visiting Entopia with your whole family.
---
And if you liked this, why don't you sign up for our mailing list? We will send you immediately a FREE photographic eBook with some incredible pictures of Penang, and we promise, we will disturb you only about once a month with some good local advice you won't find on the site