Tucked in the northwestern corner of the island in Teluk Bahang, Teluk Duyung is one of the best things to do in Penang.
This is one of Penang best beaches and it's popularly known as "Monkey Beach" for the many crab-eating macaques who inhabit it — and which, thanks to the huge number of tourists who come here, have learned how to snatch bags and steal valuables so please be careful if you are going to Monkey Beach in Penang.
Monkeys aside, Monkey Beach is one of Penang's largest and longest beaches, a cove of sand backed by tropical rainforest that you can only reach by boat, or hiking along the northern coast of Penang National Park.
Many tourists come here during weekends when Monkey Beach fills up to the gills with people and jet skis. Not recommended: come during weekdays for a much better experience. And if you are looking for a diminutive, offbeat Penang island, check Pulau Aman out.
This post will tell you everything you need to know to:
Reach Monkey Beach in Penang
Hike to Monkey Beach
Camp at Monkey Beach
Find a place to stay at or near Monkey Beach Penang
---
How to Get to Monkey Beach Penang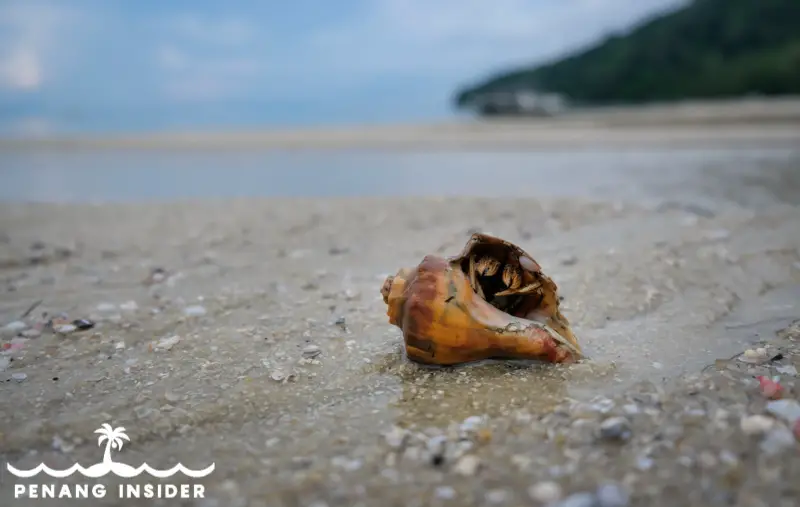 Monkey Beach, or Teluk Duyung, is perched on the northwesternmost coast of Penang island, inside the protected Penang National Park in Teluk Bahang.
Here's a map of Monkey Beach:
---
Monkey Beach by Public Bus
The Rapid Penang Bus 101 shuttles between Penang Airport and Teluk Bahang. It stops at Chulia Street and KOMTAR, which are within walking distance to some of Penang budget hotels, Penang boutique hotels, Penang's backpacker enclave and some of Penang best 5-star hotels. Tickets are cheap at RM 2.70 per person, and the bus goes direct to the National Park from George Town, but consider it can take up to an hour to reach.
Monkey Beach by Car/Motorbike
From George Town and the North of Penang: It's a nice drive from George Town to Teluk Bahang via Tanjung Bungah and Batu Ferringhi. The road is small but entirely paved and snakes along the coast offering some nice sea views.
From the South of the Island: if you are coming from points south in the island, remember that there is a scenic road from Balik Pulau to Teluk Bahang that would save you quite a bit of time.
TIME-SAVING TIP – If you don't want to negotiate public buses or taxis, you may consider joining a tour of Monkey Beach from George Town. It includes a transfer from your accommodation, a return boat trip from Penang National Park to Monkey Beach, and a BBQ lunch. Check prices here.
---
Penang National Park Opening times and Registration
At the time of this article's research during Malaysia's Movement Control Order to curb the spread of Covid–19, Penang National Park is open from 8.30 am to 5 pm. Don't worry as you'll be able to leave the park even after 5 pm when the staff leaves — the main gate is left open.
You will have to ring with you a smartphone equipped with a QR Code reader to scan and register your entry to Penang National Park into the Perhilitan online system, where you'll have to register your details, passport/IC number, and the final destination of your visit to the park.
Remember to screenshot the result and keep the image handy inside your mobile phone, as the Perhilitan staff on duty will sometimes need to check it to allow you into the park.
A limit of 200 visitors is enforced at all times.
---
Boat to Monkey Beach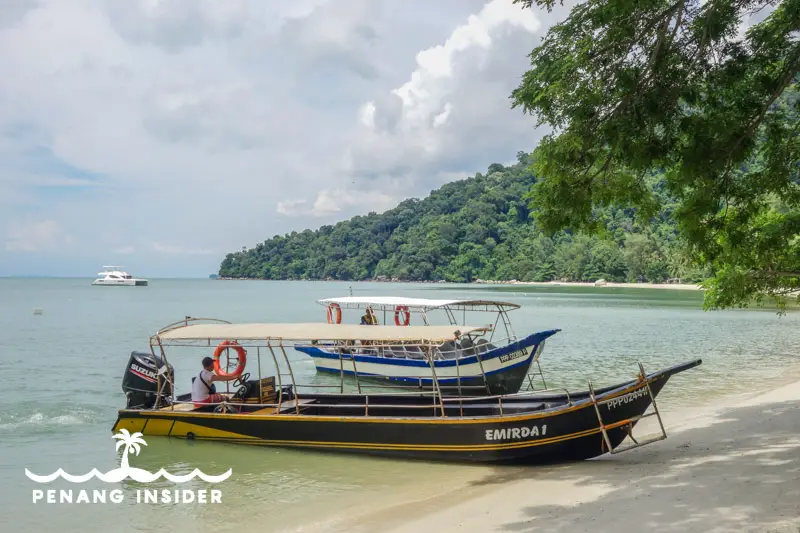 Monkey Beach is most easily reached by the boats that leave from Penang National Park headquarters. After registration, look ahead and you'll see a small beach and a pier on the right-hand side. That's where boats depart to Monkey Beach and other destinations within Penang National Park.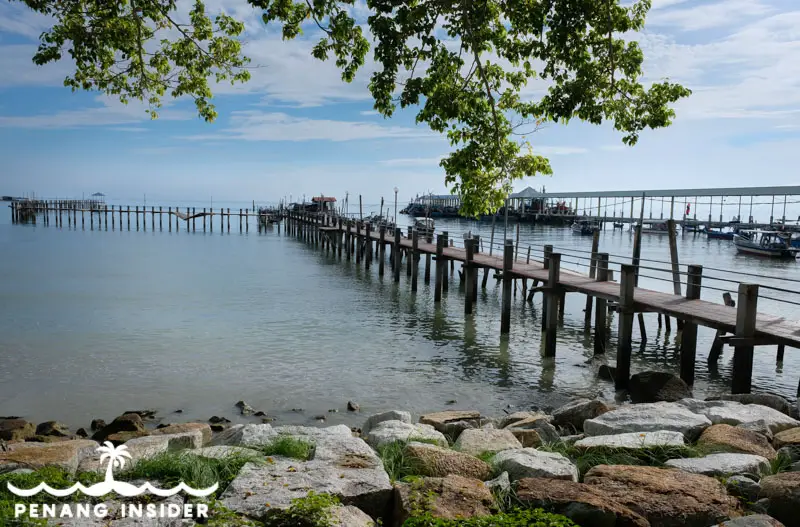 A boat to Monkey Beach should cost RM 100 inclusive of return for a maximum of 8 people. You pay to one of the operators who await right after the Park's registration counter and arrange the time of return pick-up directly with your boatman. As phone signal is sometimes poor on Monkey Beach, make sure to be there on time, or you'll have to walk back.
---
Can I hike to Monkey Beach in 2021?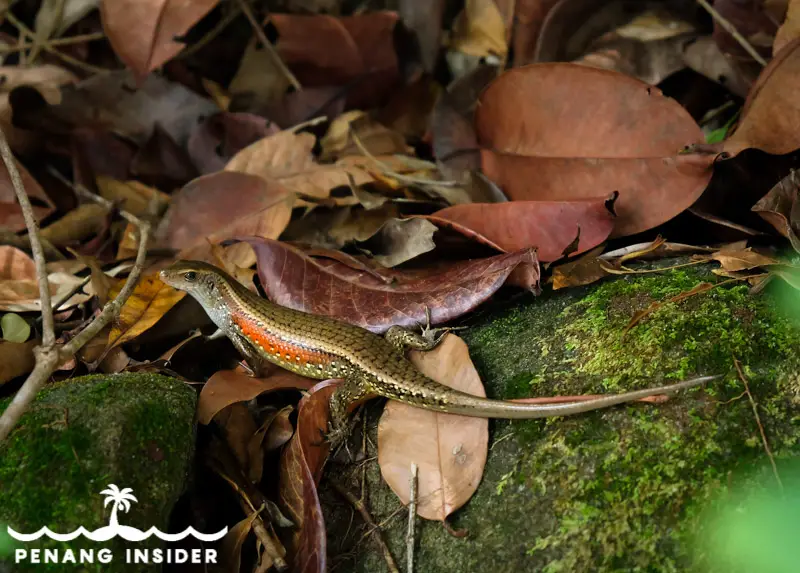 Ask anyone, forest rangers or boatmen, and the answer is "no, you can't".
But the truth is: yes, you can hike to Monkey Beach although it's discouraged. Why? Well:
Locals want your money, so they'll prefer you to take their boats
The hiking path to Monkey Beach is still well-marked, but it's poorly maintained and dangerous in parts, with fallen trees and a broken bridge at the end.
Our recommendation is to strike to Monkey Beach on foot ONLY IF you are a confident hiker and are modestly fit. Overweight people may have problems to get across the last stretch of the trek, where a collapsed bridge can only be walked across over tiny wooden planks which may break under excessive weight.
Do you still want to hike to Monkey Beach? Follow our instructions hereinafter.
READ MORE— Best Hiking in Penang Mainland
---
Hiking to Monkey Beach Penang:Step-by-step guide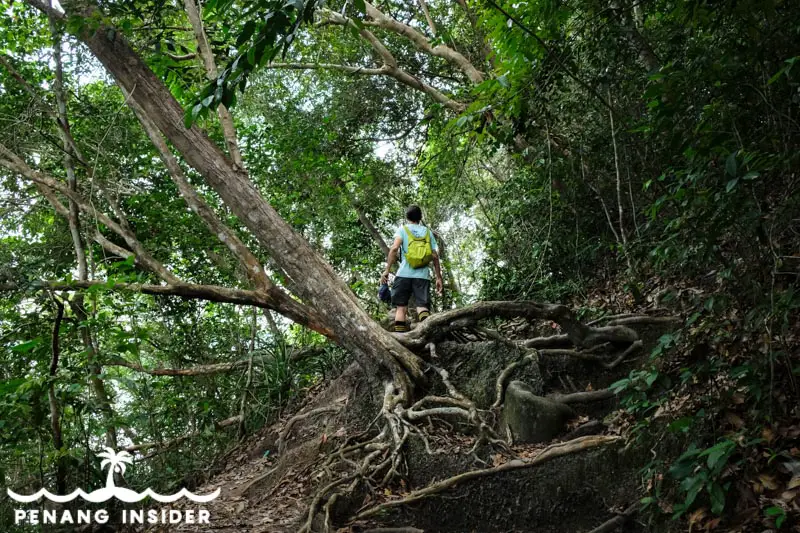 This information was researched during our last trip to Monkey Beach Penang in May 2021 and we think it's the most accurate you can find on the Internet.
The distance from Penang National Park's headquarters to Monkey Beach is about 3,5 kilometers.
Start walking from Penang National Park headquarters, where there is a free public toilet and shower if you need it, and walk under the main archway following the main paved path.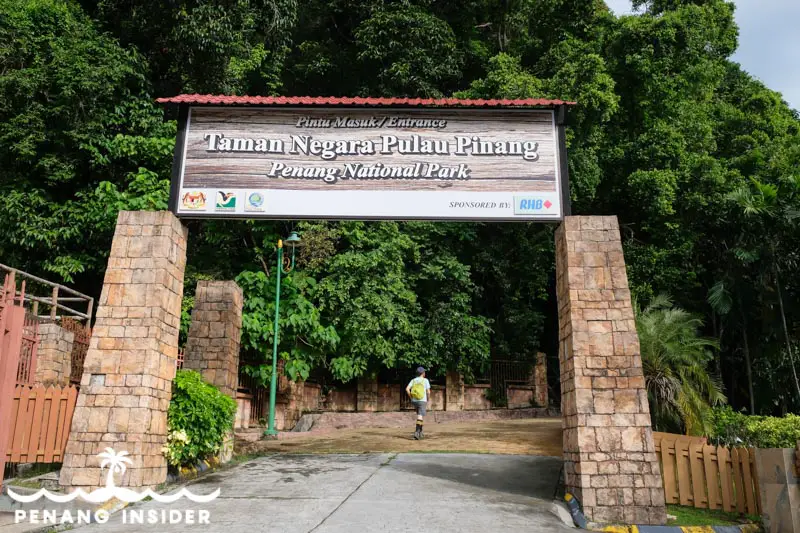 Walk for under 10 minutes along the coast and a rocky beach until a suspended wooden bridge over the Tukun river that empties into the sea.
---
Sungai Tukun Junction
The Sungai Tukun Junction is the only turn you'll ever take on your hike to Monkey Beach and, as plenty of signage suggests, you must turn right. If you follow on the left, you'll get on another trail that crosses the National Park to two western beaches. One is Pantai Keracut, with its small Turtle Sanctuary, and the second is the beautiful (and farther) Teluk Kampi.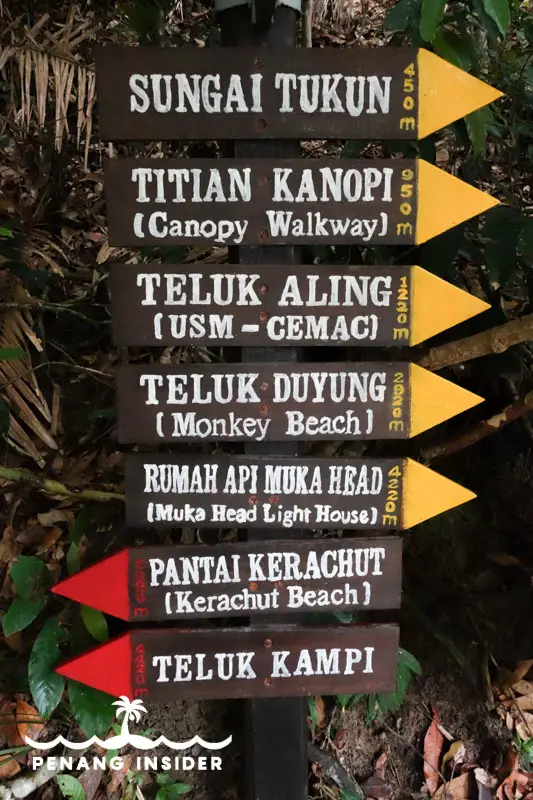 Penang National Park has a Canopy Walkway, but at the time of writing, it was still closed pending much overdue maintenance.

Again, take a right and proceed along a very well-marked path that alternates between a concrete pathway and iron staircases over the rocky headland above Penang's northwestern coast.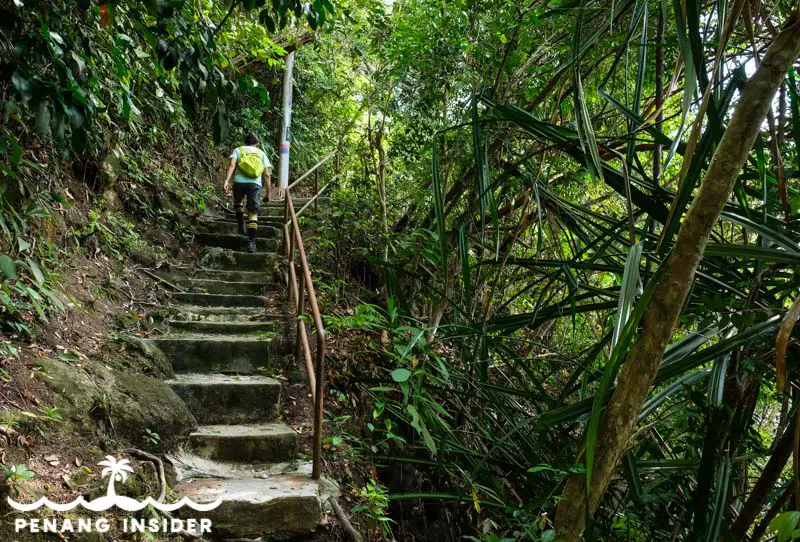 ---
Teluk Aling/USM Marine Research Center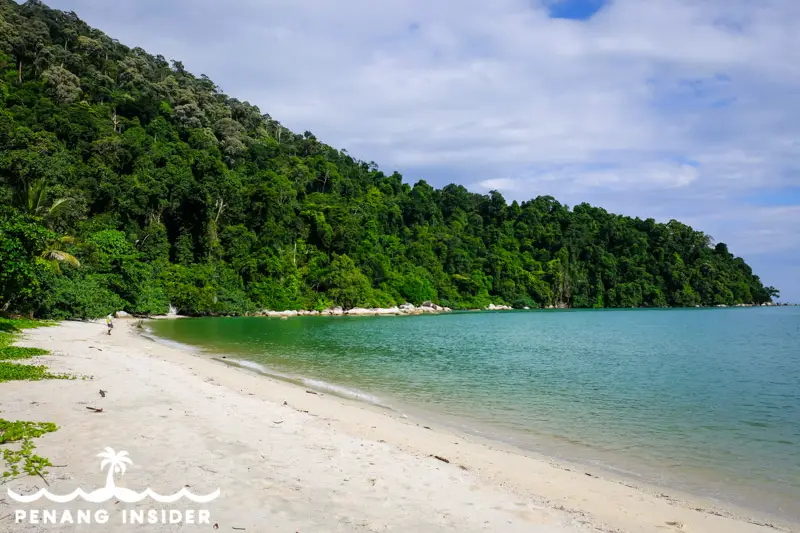 The first large beach you'll find on the way is Teluk Aling, a less-visited cove where the marine biologists of Universiti Sains Malaysia have a research center. It's closed to visitors unless you made prior arrangements for a visit. It should take you about 30 minutes to reach Teluk Aling from Penang National Park's headquarters.
Teluk Aling is peaceful enough for a swim and kicking back a little, but if you intend to proceed to Monkey Beach, don't spend too much time here as it's not even halfway from your final destination.
---
Arriving at Monkey Beach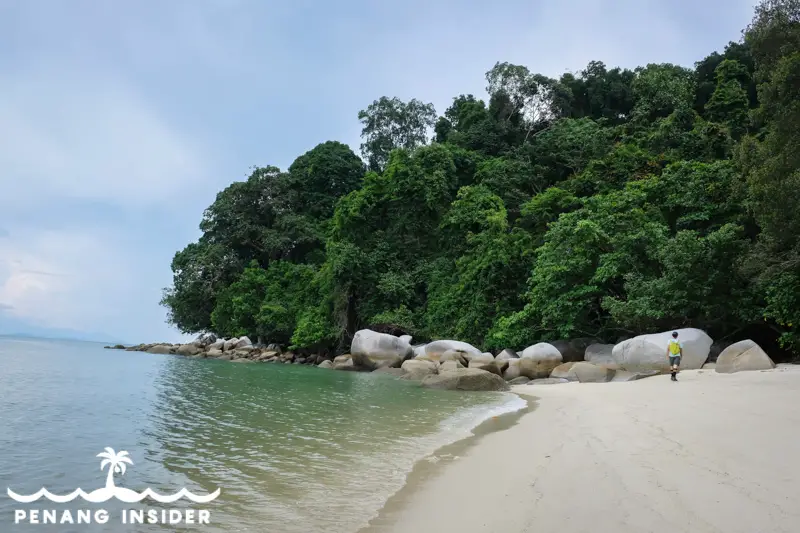 From Teluk Aling, it's about another hour to reach Monkey Beach on foot. The path continues along the coast, using the metallic staircases installed years ago by the park rangers.
It shouldn't be a problem to follow it but mind well that, as we explained above, several fallen trees obstruct the trail, and you'll have to curl under them or climb over them to continue. This should be no problem for seasoned hikers.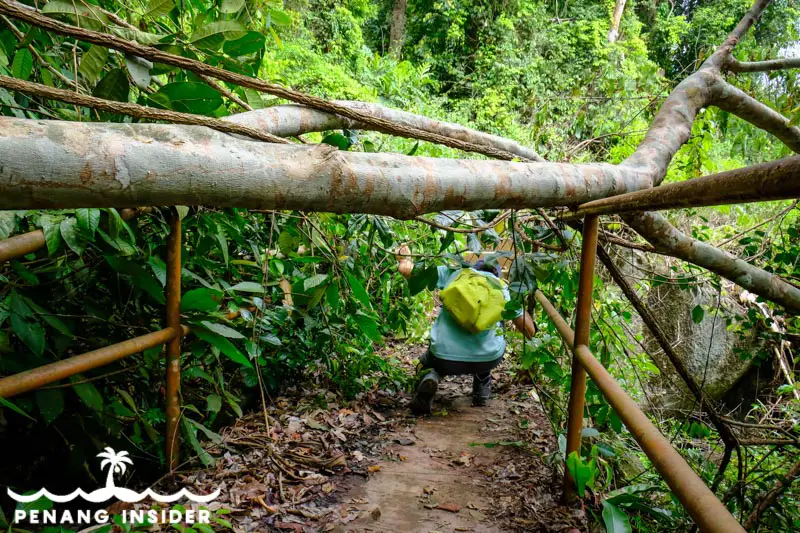 There's one confusing part though, pretty much 10 minutes before approaching Monkey Beach. As a big tree has fallen over the path, the new way goes over and around it using the hill to the left side of the path. Be careful when descending, as even though ropes are provided, the soil can be frail and a fall here may not be uncommon.
You must be particularly careful when coming back, as the path is not very visible. If you arrive at a white concrete and steel staircase, that means you have to turn back. The correct trail is about 50 meters back towards Monkey Beach: look up to your left as it snakes up over the hill to circumvent a huge clump of fallen trees that are not recommended to tackle.
One last hazard before you reach Monkey Beach is the last footbridge, which is broken in half. People have placed some planks over the two parts to help people move through, but be careful, as they are not very stable. You may prefer to stay down and walk around the bridge.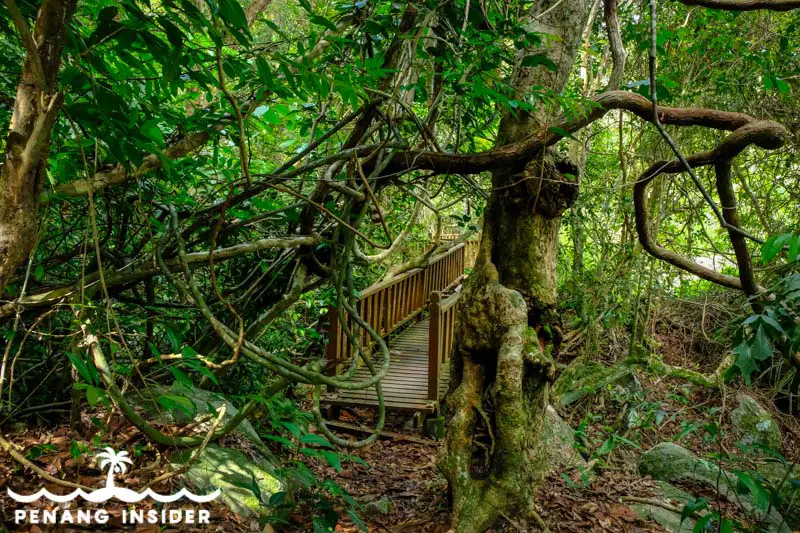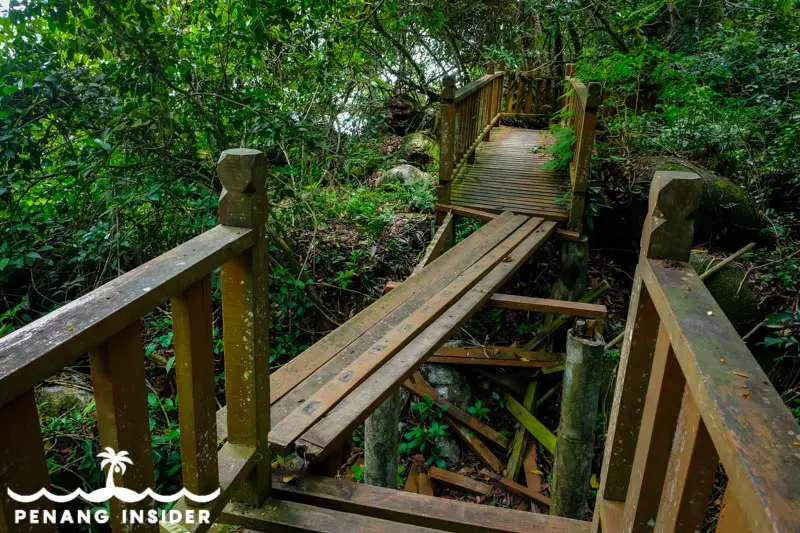 After this last obstacle, you'll be ready to enjoy Monkey Beach.
---
Can I camp at Monkey Beach?
Yes, you can. Monkey Beach is the only piece of land in Penang National Park owned by a private and as such, you can camp here without a nature guide — who you need to hire to camp in other parts of the park. Ask for more details at the registration desk upon arrival.
Thing is, Monkey Beach is now occupied by a few beach shack and A-frame style accommodation-cum-restaurants, so wild camping is discouraged — or let's put it this way, it is "regulated" by those who make business on the beach.
---
Lazy Boys Cafe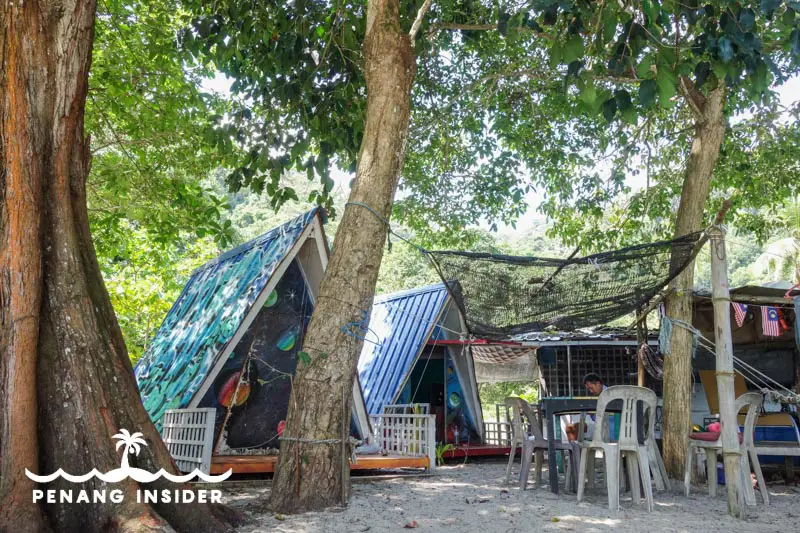 A collection of driftwood A-frame huts, tables, and loungers, this rasta-style beach bar is a solid option on Monkey Beach. They also offer a campsite for RM 10 per tent if you bring your own, and RM20 per tent if you rent it from them. The price includes usage of toilet and shower facilities, and their kitchen — of course, you'll have to BYO food, but they also sell simple dishes.
READ MORE Best Hotels in Batu Ferringhi
---
Can I swim at Monkey Beach Penang?
The short answer is, yes.
The long answer is you have to be careful since Penang waters have strong undercurrents and include an extra hazard: the presence of the lethal box jellyfish. Don't play play, as they say around these parts: if you get stung by one of those, you'll be dead before reaching the National Park's headquarters even if carried by boat.
This said, the water is still and warm, inviting, and people swim here daily. Just exercise some caution and you'll be fine.
---
Muka Head: Penang Lighthouse hike from Monkey Beach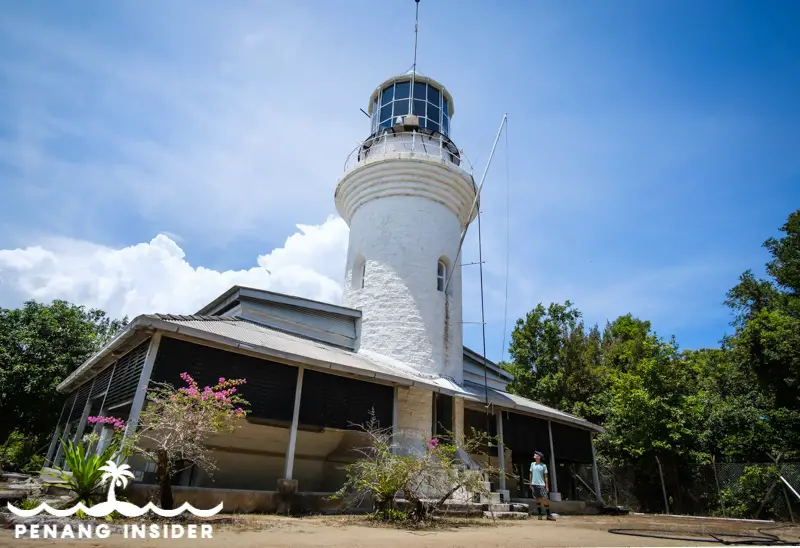 The hike from Monkey Beach to Penang's only Lighthouse is a cool additional trip you can take from the beach even if you have arrived by boat.
Rumah Api Pulau Pinang, also called Muka Head, is a 14-meter tall lighthouse built by the British in 1883. It stands on the top of a 227-meter-high verdant hill on the northwesternmost corner of Penang island. From here, you'll have 360-degree views all the way to Balik Pulau in the southwest of the island.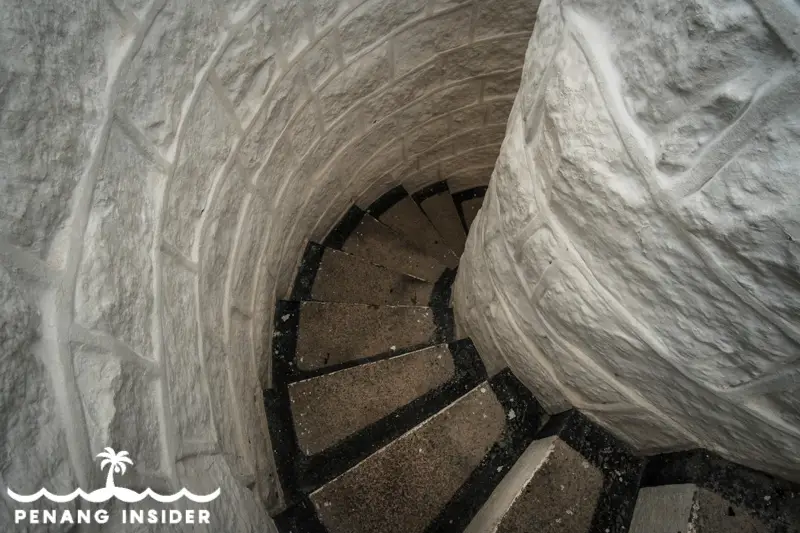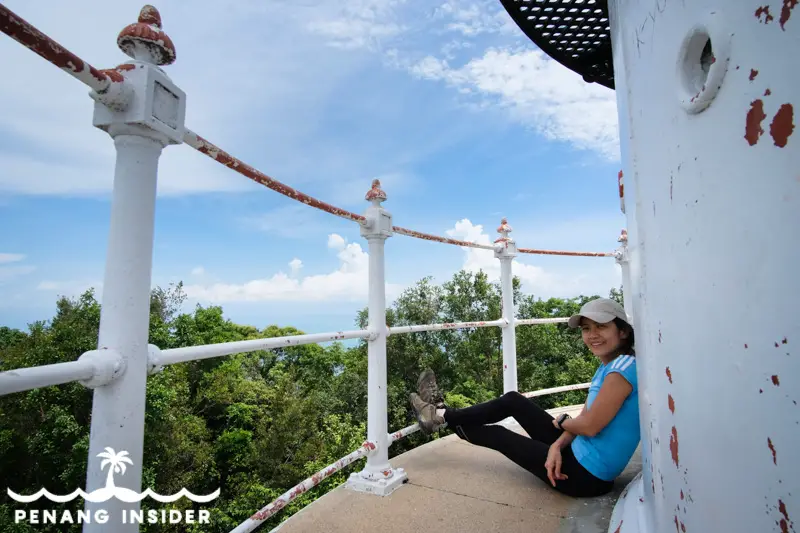 From the western end of Monkey Beach, follow a well-marked trail starting beyond the guard houses. It's a wide trail with concrete steps that goes up the hill, and if steep, it's still well-maintained and has several wooden Malay Pondok where you may rest.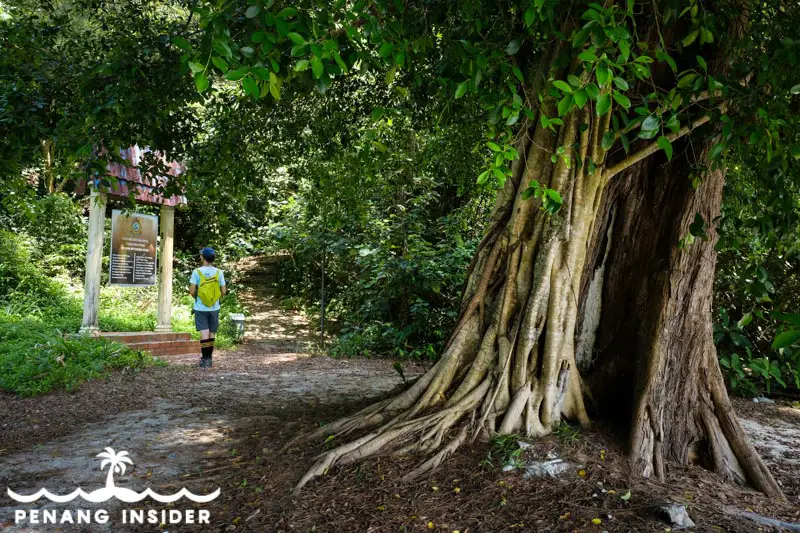 It's only about 30 minutes uphill to reach Penang Lighthouse: a sign says it is open to visitors from 8 am to 9 pm, but when we visited there was no guard, the gate was opened, and the place unsupervised. If you decide to enter and walk up to the top of the lighthouse, do so at your own risk, and don't spoil the surroundings.
The place is now under the responsibility of Penang Museum, and it is hoped that soon it will be controlled more.
---
Monkey Beach Penang: Where to Stay
Blogging transparency: this post contains affiliate links. These are products and services that we personally use and recommend. If you click on one and buy any service, I will get a small commission at no extra cost to you. Consider it a small way to say thanks, and keep Penang Insider going.
ON THE BEACH
Lazy Boys Guesthouse described above is the best place to stay directly on Monkey Beach if you don't mind rustic A-frame huts or are OK with camping.
IN TELUK BAHANG
Angsana Teluk Bahang is one of the best 5-star hotels in Penang, with delightful rooms and suites for couples and families. Expensive, but for good reason. Check prices on BOOKING.COM|AGODA
Bahang Bay is another upmarket hotel with all the bells and whistles needed for a perfect family holiday. Check prices on BOOKING.COM|AGODA
Eco Capsule Resort is a series of rooms set inside capsules in a beautiful green area not far from the Teluk Bahang dam. Check prices on BOOKING.COM|AGODA
Boulder Valley Glamping is even more glitzy than the previous, with an unbeatable location among durian orchards, and an upper-class feel. Very recommended if you have the cash to splash. Check prices on BOOKING.COM|AGODA
---
Monkey Beach Penang: Final Verdict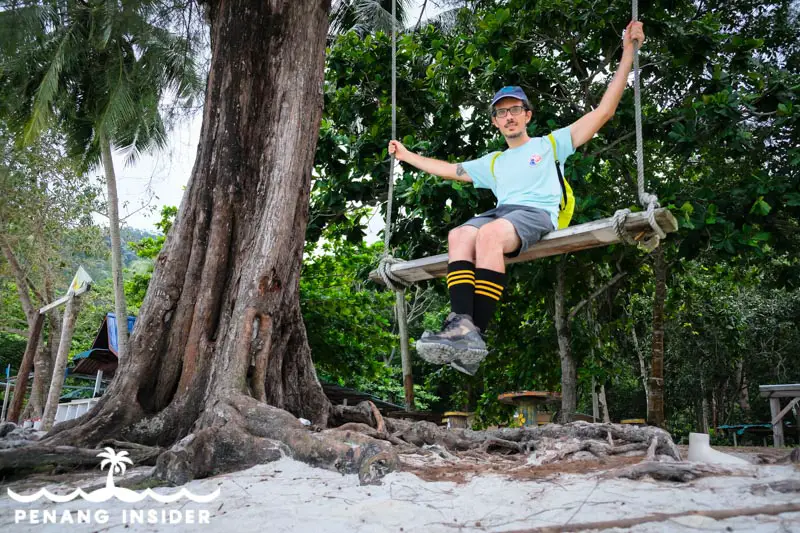 If you want a quiet tropical beach experience in Penang, Monkey Beach can be a good choice on weekdays, when it's less busy. Weekend see quite a number of holidaymakers, jet skis, and general chaos, and make an otherwise idyllic beach feel like a bit of a circus. This said, the walk along the coastline to Monkey Beach is one of the best sea-side hikes in the whole Penang, and walking to Monkey Beach is still recommended.
Families and couples may want to get there by boat, from where a quick hike up the hill will take them to Penang Lighthouse. And if you have kids in tow, don't forget you can pair Monkey Beach with a visit to the butterflies and insects at Entopia Penang.
Monkey Beach is a good spot for a half-day (or more) out in nature and some brisk swimming — but do so at your own risk, as a jellyfish hazard is quite normal in Penang.
---
And if you liked this, why don't you sign up for our mailing list? We will send you immediately a FREE photographic eBook with some incredible pictures of Penang, and we promise, we will disturb you only about once a month with some good local advice you won't find on the site