LATEST NEWS:  Grab Takes Over Uber in Malaysia
From April 8th, 2018, Uber (including its services Uber Eats and Uber for Business) ceased operations in Malaysia and Southeast Asia. 
All Uber drivers have been asked to transfer to Grab: all you really have to do from now on is just use Grab while in Penang and Malaysia.
WHAT IF UBER IS NO LONGER AVAILABLE IN PENANG?
No biggie, as you can still use Grab in Penang and Malaysia. Your existing Uber account doesn't need to be cancelled either, as Uber still operates in many countries outside of Southeast Asia. Just switch to Grab when in Penang.
WHAT WILL CHANGE FOR GRAB IN PENANG AND MALAYSIA?
Nothing much for the moment, as Grab guaranteed that his GrabCar and JustGrab services will maintain the same fares, subject to calculated distance and the usual increase when there is high demand.
Getting around without your own transport in Penang can be difficult. The island is certainly not like Kuala Lumpur — where distances can be huge and points of interest spread apart — but if you live outside of George Town or want to explore the best of Penang in 48 hours, you can't really do it on foot. Plus, we have already advised you against taking the reckless Penang driving lightly.
Until a couple years ago, the only viable transport choices were slow and unreliable buses or red taxis. Penang taxis, however, had and still maintain a bad reputation: they have inflated prices, never use the meter, and cost double after 11 pm when buses have stopped service.
You are in luck because things have improved drastically in recent years since mobile apps like Uber – now no longer operational – and Grab Car arrived in Malaysia and Penang. To me, there are 5 main reasons why using Uber & Grab is always better than hiring taxis.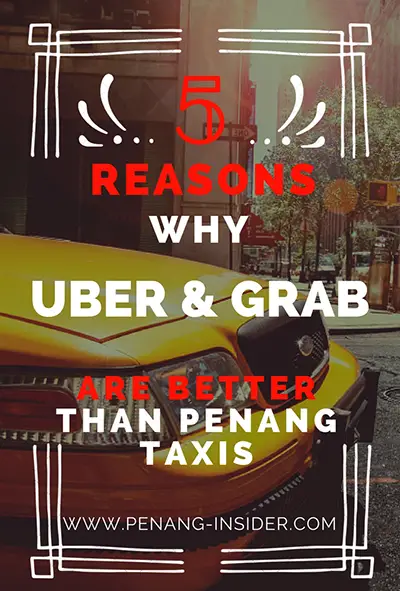 1
Prices are always more competitive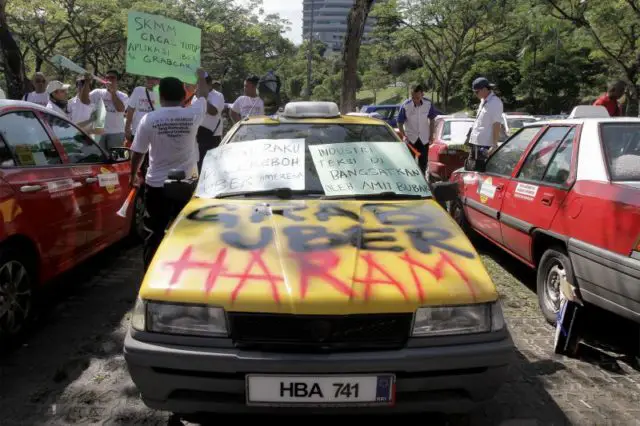 Malaysian cabbies strike against Uber and Grab, instruments of the Devil 🙂 (sourced from
Malay Mail Online
)
In the first few months Grab & Uber arrived in Penang, newspapers started publishing stories about drivers being harassed or attacked by jealous taxi drivers. Why? Because all customers had turned to Uber & Grab, completely ditching the more expensive taxi services. Indeed, choosing Uber & Grab over taxis is a real no-brainer: for example, a taxi to the airport would cost between RM40 to RM50. With Uber, I got the same ride for less than RM20. Even night prices are not so steep, as they are dependent on the number of drivers on the road at a particular time of the day/night. The obvious result is that almost anybody with a smartphone is using Uber & Grab in Penang these days. Many taxi drivers have then ditched their jobs, and turned into Uber & Grab drivers to chase customers. It was a real revolution.
2
Uber & Grab come to you. All the time.
In Penang, taxis usually hang out either below KOMTAR's underpass, at Gurney Drive, in Batu Ferringhi where more foreign package tourists hang out at the resorts, and around the hotel area of upper Penang Road. Beside these spots, it's actually not so easy to hail a cab. On the other hand, using Uber or Grab you can request a car to meet you wherever you are on the island. The application will even show you where your car is, and how long will it take for it to reach you. You'll never get stuck again.
Now you got a Grab, where to go in Penang?
GET INSPIRED:
3
Better Conversations make Better Rides
I remember that taxi drivers in Penang were quite a mixed bag in terms of politeness and friendliness. There were certain exceptions, but in general, most didn't shine in conversation. The advantage of using Uber & Grab, on the contrary, is that your drivers are locals who have started driving people around to earn a side income. This is great, as none of them has the desperate hustle of professional taxi drivers. On my Uber rides, I have met students, retirees, street food hawkers and whatnot. All of them had an interesting story to share.
The point above is good to realise that with Grab, rides are also safer. Have you ever been harassed by a Malaysian taxi driver who demanded higher pay than what the meter showed, or what you had agreed before getting in the car? I have, and I can tell you stories of many other friends who were harassed, too. One got a wrench shoved into his face because he refused to pay what an angry taxi driver suddenly demanded.
With Uber & Grab, each ride is registered into a system with a unique ID — this means that you are also able to see the name and license plate of your driver. Call it a security measure, but if someone wants to rip you off, you will be able to report them to the service and get them banned immediately. Drivers know this, too, and transactions are pretty much as safe as you can get.
Have you ever seen a Malaysian red taxi? If you haven't, imagine an ugly steel box on wheels with a grumpy driver behind the wheel. Most have no a/c, broken seats, smell of cigarette smoke and would turn into deadly metal blades if crushed in a road accident. On the contrary, Uber & Grab use regular drivers who come to you with their own cars. It's extremely rare to find anyone driving an old wreck. I've seen friends getting lifts in BMWs, and I had pretty comfortable rides myself. In a Grab Car, you will have working a/c, music, and seats that are still in very good shape. A normal car, used by a friendly individual on his daily routine. Can a smelly red taxi beat that? Mmmm…
These are the top 5 reasons why we believe that when in Penang and looking for a ride, Uber and Grab are the way to go. Have you ever had a bad experience riding Uber or Grab? We'd like to hear about it in the comments below.
Disclaimer: The content of this post is based on personal experience. Penang Insider cares to precise that this is not a sponsored post, and we have not received pay from either Uber or Grab Car to review their services.
---
And if you liked this, why don't you sign up for our mailing list? We will send you immediately a FREE photographic eBook with some incredible pictures of Penang, and we promise, we will disturb you only about once a month with some good local advice you won't find on the site 🙂