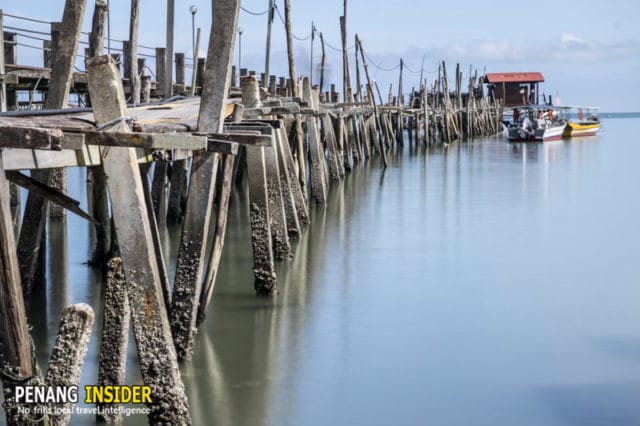 When you are tired of George Town, Penang Street Art and gorging on Penang food, or you have already shopped at Penang's alternative markets and best night markets, it's time to experience some nature.
Remember that among Penang's best things to do, most revolve around nature. Besides Penang Hill and the Penang Botanical Gardens and some good hiking — check our guides to Moon Gate Station 5, hiking in Penang Hill and the best hikes in Penang Mainland — Penang island has Taman Negara Teluk Bahang, also known as Penang National Park, Malaysia's smallest nature reserve. It's one of the best things to do in Penang.
It may be small, but it's packed with great things to do: Perched on Penang's northwestern corner, Taman Negara Teluk Bahang hugs the coastline and has plenty of forest and beaches (read our ultimate guide to Monkey Beach) to amaze even the most jaded travelers. Whether you are looking for an energizing stroll through the rainforest (watch out for the amazing Malaysian animals you can encounter in the wild) or you want to jump on a boat and zoom across Penang's sea to reach a secluded beach — lookout for Irrawaddy dolphins along the way… yes, we have spotted them in these waters, so no need to make the trip to Kuala Sepetang — Penang National Park in Teluk Bahang has everything you need. And did we say that there is no entry fee to Penang National Park?
This post explains everything you need to know to visit Taman Negara Teluk Bahang, from how to get there, to what are the best things to see and do, including costs and other practicalities. You can check Teluk Bahang's best 5-star hotels here.
---
How to Get to Penang National Park in Teluk Bahang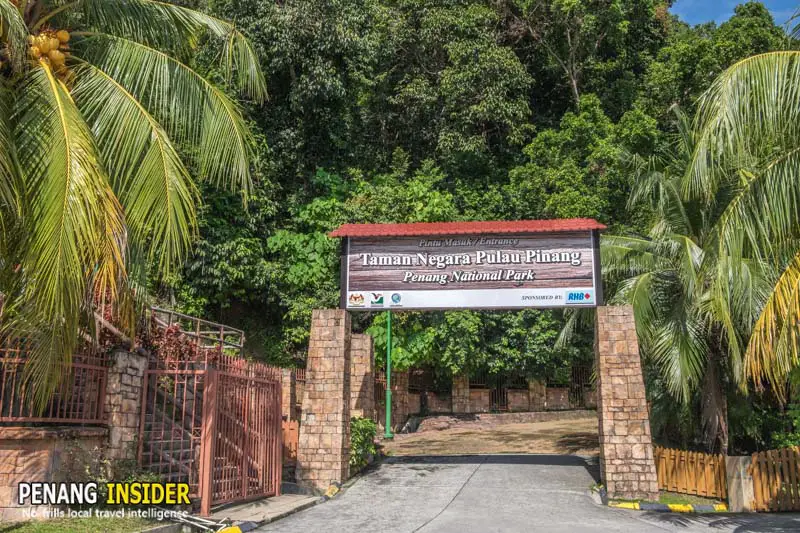 Getting to Taman Negara Penang (which means "Penang National Park" in Malay) is very easy.
If you are on a budget (see a selection of the best budget hotels in Penang) the park sits at the further end of the Rapid Penang Bus Line 101, shuttling between Penang Airport, George Town — read our complete guide to what to do in George Town in 3 Days — and Teluk Bahang. The cost is RM2.70 per person and from George Town's Backpacker enclave Chulia Street it takes between 40 minutes to an hour and a half depending on traffic.
If you self-drive, you can park your car next to Penang National Park's entrance in a secure lot guarded by the local shopkeepers. The cost should be about RM5 per entry.
---
When is the Best time to visit Teluk Bahang and Penang National Park
You can visit Teluk Bahang's National Park every day of the year, but it's obvious that during the rainy season you will have to get ready to get wet. A good rain poncho and either some sturdy waterproof hiking shoes — or even better, a pair of rubber tapper shoes known as "Adidas Kampung" — will do the trick.
Please consider that when it rains, it pours down a lot, and if you don't have proper rain gear, you may have to find one of the several wooden shelters set inside the park, and wait for the storm to pass in the jungle for several hours. We recommend visiting on a clear day, or early in the morning when weather conditions are generally better year-round.
For the same reasons above, you shouldn't risk going on a boat trip when sea conditions are rough.
---
Best Things to Do at Penang National Park in Teluk Bahang
There are several great things visitors can do at Penang National Park, and all involve nature, water, and sport. Here's a list of what we think are some of the unmissable experiences at Penang National Park.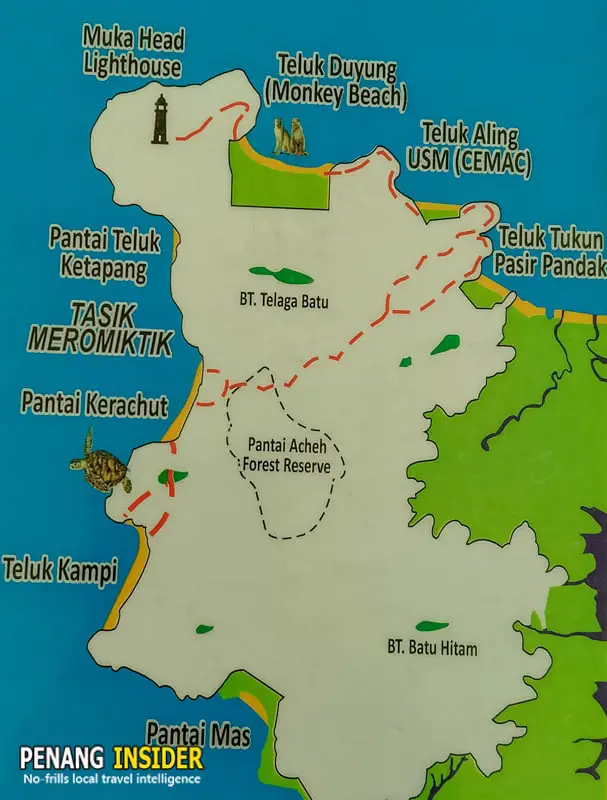 ---
1
Pantai Kerachut (Turtle Beach Penang)
Also known as Penang Turtle Beach, this is Penang National Park's longer, wider beach. It's a totally protected environment because it is here that, believe it or not, marine turtles still come to lay eggs. Leaving these animals undisturbed it's paramount for the conservation of their endangered species.
For this reason, Pantai Kerachut has a Turtle Conservation and Protection Center (Pusat Konservasi dan Penerangan Penyu Pantai Kerachut Pulau Pinang) open to the public daily from 10 am to 4.30 pm.
Depending on the season, you will be able to see exemplars of baby, teenage and adult hawksbill and green turtles that the center collects, rehabilitates, and then releases again out at sea.
Knowledgeable workers are happy to explain more about the local conservation activities, but keep in mind this is a scientific research center, not a theme park, so tourist facilities are reduced to a minimum.
---
2
Pantai Kerachut's Meromictic Lake
Pantai Kerachut also has a meromictic lake, meaning a lake in which sea and freshwater collect together without ever mixing. There are only 19 of these lakes around the whole world and only 5 in the whole of Asia. The one in Penang is the one and only meromictic lake existing in Malaysia.
At the time of our visit in October 2019, however, the lake was empty of water. Speaking to a local guide, we were told that the situation has been similar for the past two years. The reason could be the irregular monsoon season (climate change, anyone?) and, as a consequence, not enough water coming into this lake. Our guide also explained that the lake is not technically disappeared yet: water levels may come back, because there is no track record of how this lake came into existence in the first place.
We will keep an eye out for developments, but meanwhile if you visit and see the meromictic lake filled with a proper amount of water, please contact us and we will update this page with your information.
---
Teluk Kampi is Penang National Park's most secluded beach. A hike to Teluk Kampi takes about 3 hours one way from Taman Negara Teluk Bahang's headquarters.
The beach here is smaller than the national park other beaches'. It's a beautiful cove set between two forested crests, with a scenic islet rising on the right side of the bay. Facilities here include toilets and wooden tables and chairs, a campsite with kitchen desk (don't expect gas cylinders though — bring your own if you intend overnighting here) and also a covered wooden veranda that can be also used as a camping ground in case of torrential rains.
---
Monkey Beach is Penang National Park's most famous shore, and a victim of its own hype: a private beach, it has transformed into a touristy strip of sand where too many locals are peddling food, drinks and jet ski rides to all sorts of foreign visitors — from the casual matsalleh backpacker, to high-spending Arab and Mainland Chinese package tourists.
There are also quite a few monkeys here too, which are well known for grabbing everything that shines, especially plastic bags — beware of your belongings.
The bay itself here is pretty, but this is not the park's best place for a quiet hike and swim anymore, especially on weekends when it fills up with day-trippers.
However, the hiking trail that starts at Penang National Park's headquarters and ends at Monkey Beach is pretty nice, if you don't mind an adventurous scramble up and down the rocks that dot the shore of Taman Negara Teluk Bahang. Be careful, because some parts of the trek, at current, are not extremely well-maintained. The guides discourage single hikers from making the trek, but if you are comfortable in scrambling up and down some fallen trees and rocks, this is actually quite an adventurous, energetic trek. We don't recommend this trek to families with children though — no worries, as there are at least 30 other great things you can do in Penang with Kids.
---
5
Visit Muka Head, Taman Negara Teluk Bahang's Light House
If Monkey Beach's tourists and stalls are not for you, there is another trail leaving Monkey Beach and proceeding to Muka Head, Penang's one and only lighthouse. It takes about 45-minutes one way and ends at the bottom of this well-preserved, still functional lighthouse.
---
6
Volunteer at USM's Center for Marine & Coastal Studies (CEMACS)
Set smack center at Teluk Aling is Universiti Sains Malaysia Center for Marine & Coastal Studies. This is not a place for tourist though, but a full-fledged marine research department.
It was first opened in 1978 as Muka Head Marine Field Station, the first in the whole country, and acquired its current name and affiliation in 1995. The work that CEMACS does within Taman Negara Teluk Bahang is research on green mariculture (meaning "marine agriculture"), coral reef sustainability, ocean acidification and climate change, and public awareness on jellyfish threat — a common problem in Penang's waters. Their mariculture oyster project has been developed for over 30 years from the original Ph.D. research of CEMACS director.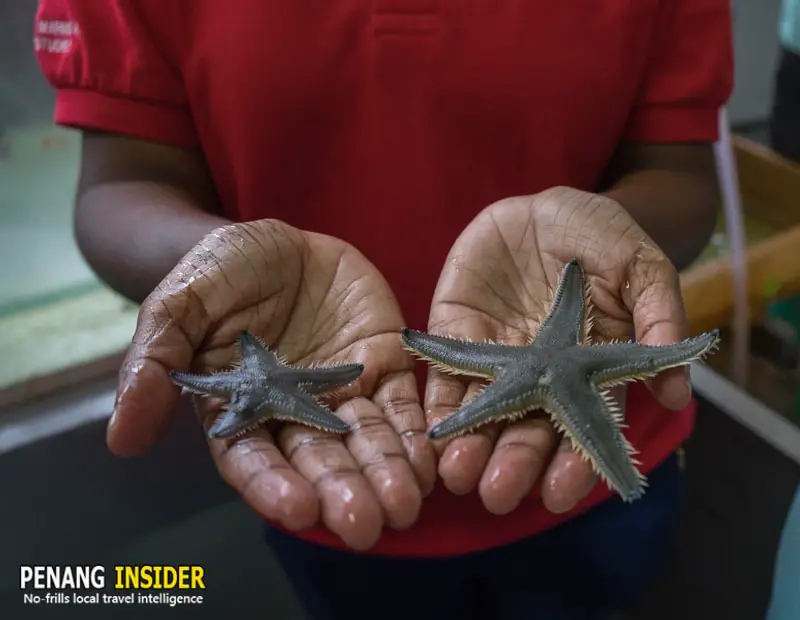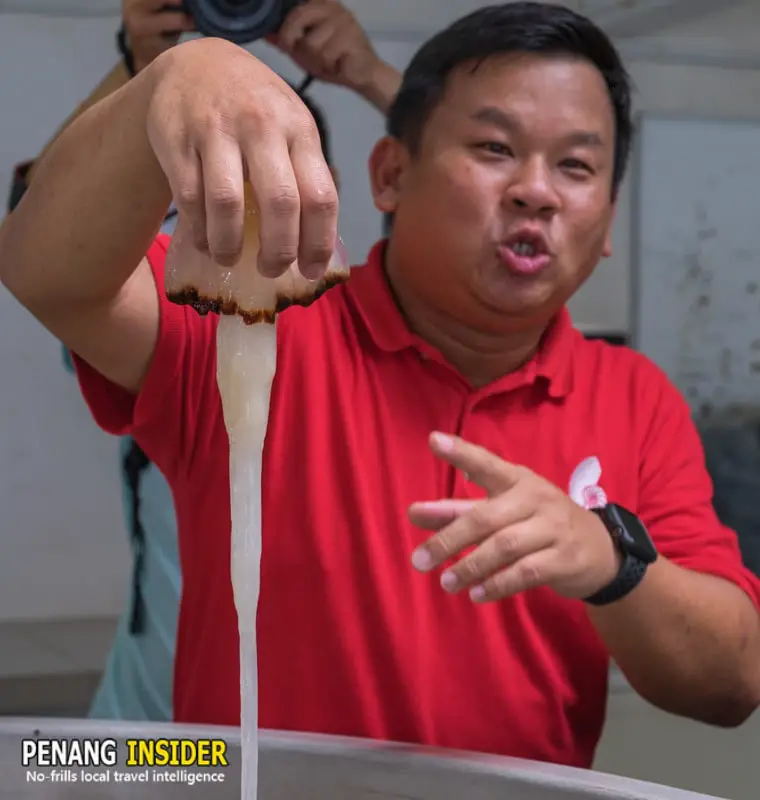 Although walk-in visits are not encouraged or allowed, researchers, volunteers and interested groups can get in touch with CEMACS to organize programs, especially for schools and children.
You may contact Dr. Annette Jaya Ram at annettejr(at)usm.my for further inquires.
---
7
See Thousands of Butterflies at Entopia by Penang Butterfly Farm
Formerly called Penang Butterfly Farm, ENTOPIA is one of Teluk Bahang's best attractions. Read our full review of ENTOPIA here. In brief offers a much larger space to observe insects, creepy crawlies and other small animals. Take your time to stroll inside Natureland, a living garden vivarium with 15,000-odd free-flying butterflies, or browse the Cocoon, two floors of learning exhibits, and indoor activities all dedicated to insects and bugs. It's a great place to visit in Penang with kids, but is certainly also educational for people of all ages.
Admission prices are RM69 for non-Malaysian adults, and RM49 for children and seniors, and include an all-day access pass. But we are sure you'd love to use a 10RM discount by buying your Entopia tickets directly from our partner Klook. Click here to claim your discount.
---
8
Enjoy the Rainforest at Taman Rimba
Right next to Entopia by Penang Butterfly Farm is Taman Rimba, a 32-hectares natural park that serves as a great introduction to Penang and Malaysia's rainforest. The park is equipped with all sorts of picnic areas, a forestry museum, and a decent number of hiking trails, some of which connect with other hiking circuits via Laksamana Hill until Penang Hill.
The beauty of Taman Rimba is certainly its lush forest, some of the thickest in Penang. You can consider swimming in one of the many holes here, or bring a tent and camp overnight. Arrange your stay at park headquarters.
---
9
Mangrove Boat Tours at Sungai Pinang, Taman Negara Teluk Bahang's Lesser-Known Second entrance
Taman Negara Teluk Bahang also has a second entrance, to the south, and in Balik Pulau. This isn't a very well-known entrance to Penang National Park, but it's the starting (or ending) point of interesting mangrove boat explorations.
A mangrove boat tour leaving from Teluk Bahang's main national park entry costs RM350 per boat (maximum six people). The boat will circumnavigate the western side of Penang National Park, entering a maze of smaller canals where you'll be able to see many species of birds and other endemic species like monitor lizards, mudskippers and fish. This area is still quite pristine, and a very different experience from the culture of George Town — fishermen still ply their ancient trade around here, and beside nature, the area of Sungai Pinang retains an old-world charm that's difficult to find elsewhere on the island.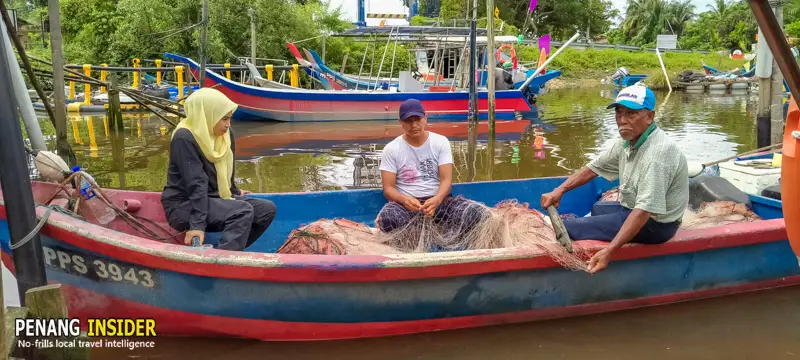 ---
10
ATV Tours in Balik Pulau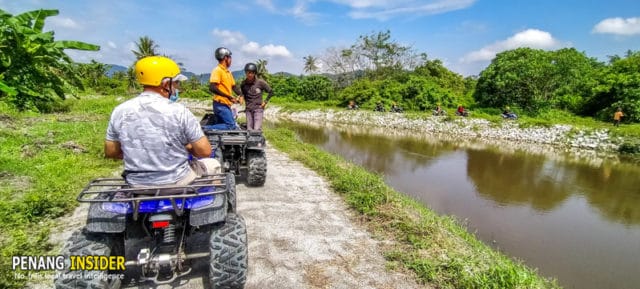 Riding in Balik Pulau's countryside on an ATV is a great way to see an undiscovered side of Penang (image by Marco Ferrarese)
Technically not in Teluk Bahang, but only a short ride away from the second entry of Penang National Park in Sungai Penang, are the ATV Tours in Balik Pulau. Riding one of these buggies is a very scenic and adventurous way to explore the back roads of Balik Pulau, a very pristine and forested area in the southwestern corner of Penang island. Penang ATV Eco Tour Balik Pulau is operating two different routes that snake for 10 kilometers off the main road and into paddy fields and back paths. One of the two circuits ends at Malindo beach, one of Penang's best beaches, and it's particularly scenic at sunset.
READ MORE — Best Things to Eat, See & Do in Balik Pulau
The ATV trips in Balik Pulau last between one and two hours and costs RM100/RM150 per person (local/foreigner have different prices). It's a fun activity to do with friends, even if one can't drive — riding pillion costs only an additional RM50, and it can also be a cool thing to do with children while in Penang.
---
How to move around Penang National Park
The best way to enjoy Taman Negara Teluk Bahang's nature is to hike inside the park. There are two main trails, one following the coast to Monkey Beach, and a second that cuts through the forested interior continuing to Pantai Kerachut. Close to the end of this trail, another fork in the road leads to Teluk Kampi beach, the most secluded and pristine.
All the trails are clearly marked and you don't really need to hire a guide, although larger groups of 10 and more people are required to get one (read details and costs below).
Another faster and more comfortable way to reach Penang National Park's beaches that would suit families, elder visitors, or just those who prefer to avoid a hike is to hire a boat transfer from the park's headquarters.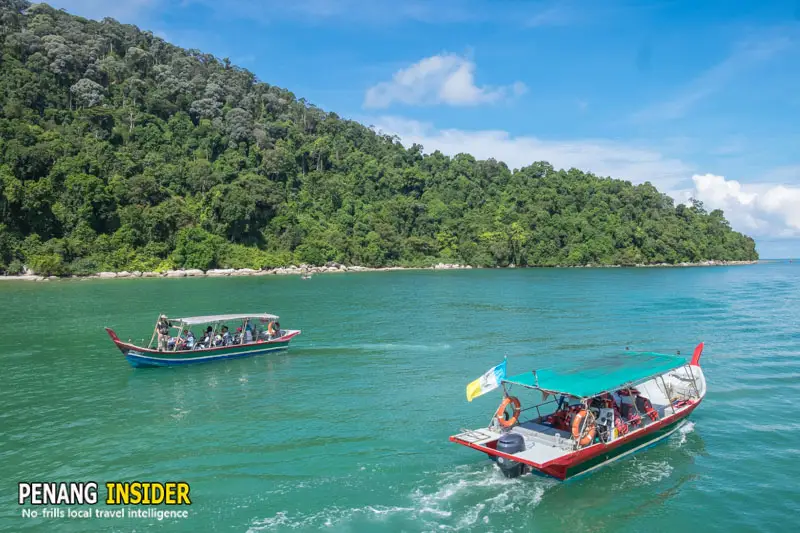 At the moment, the prices of transfers to any of the beaches, per boat and for a maximum of 6 people are:
to Monkey Beach RM50 One way/ RM100 Roundtrip
to Teluk Aling / USM CEMEC RM40 One way/ RM80 Roundtrip
to Pantai Kerachut RM100 One way/ RM200 Roundtrip
to Teluk Kampi RM120 One way/ RM240 Roundtrip
Make sure to discuss pick-up times with your boatmen before you get in the boat, as cellular phone reception is not good inside Taman Negara Teluk Bahang, and you may otherwise have communication issues.
---
Where to eat and sleep near Penang National Park in Teluk Bahang
There is a good selection of international 5 Star properties at popular Batu Ferringhi beach (a 15 minutes drive from Penang National Park. Check best offers on Booking.com), or at least 20 great boutique hotels in George Town, 40-minutes to one hour drive away, but if you want to stay right next to the park entrance, you can do so at Hype Eco Park Resort (currently still branded as Sportfishing Hotel).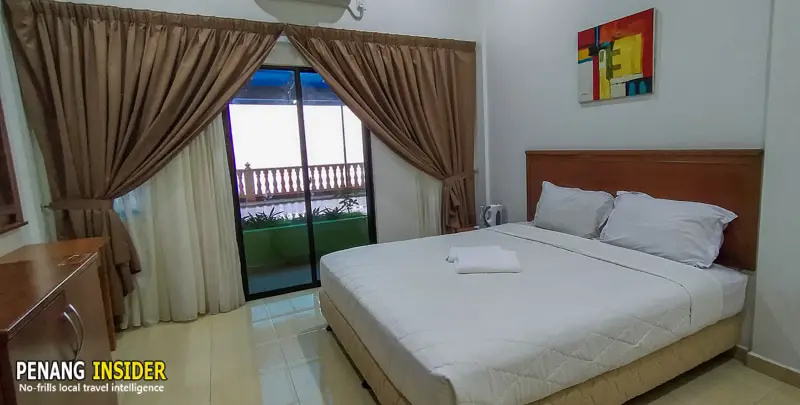 It's right on the shore, with beautiful views of Teluk Bahang's bay, and simple yet large and comfortable rooms starting at RM160.
READ MORE Best Hotels in Batu Ferringhi
---
Security at Taman Negara Teluk Bahang
Taman Negara Teluk Bahang is generally a very safe place, but in recent years there have been a few episodes of drowning and mugging at the camping areas near Pantai Kerachut and Monkey Beach. For this reason, there are some security concerns you should be aware of before you strike off alone on the hiking paths.
Can I hike by myself inside Penang National Park Teluk Bahang?
Yes you can, provided you will visit Penang National Park Teluk Bahang
as a day trip. Reach the park headquarters, register yourself at the counter by indicating what trail/s you intend hiking, and give an estimate of your return time. You will have to countersign on your way out. For overnight stays and day trips with 10 persons and more, however, the presence of a guide is compulsory for safety reasons. See below for costs.
Can I swim at Taman Negara Teluk Bahang?
Technically, all swimming has been restricted at the beaches because of a case of drowning in 2014. In practice, swimming is not recommended as the beaches of Penang National Park at Teluk Bahang all have steep drops. But if you are a confident swimmer, and the water is calm, you can swim at your own risk. Swimming at Monkey Beach is especially tolerated, as it's private land, but otherwise, do so at your own risk.
---
Penang National Park entry fee and guided tour costs
Entering the Penang National Park is absolutely free of cost, as is camping — you must, of course, bring your own equipment and tent.
The Penang Nature Tourist Guide Association provides officially licensed guides at a cost of RM150 for trips to Monkey Beach and Pantai Kerachut, and RM180 to Teluk Kampi Beach. This price is for a group of maximum 10 people and is valid for both day trips and overnight with return on the next morning. You can contact Penang Nature Tourist Guide Association for any inquires.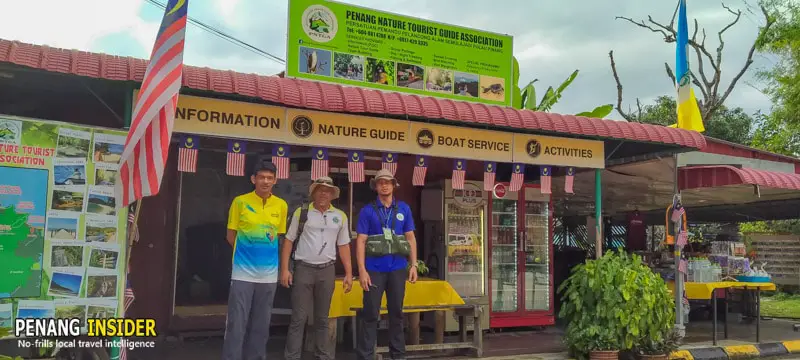 Night Walk and Photography Tour
Penang National Park also has a guided night walk program focused on observing night creatures and taking macro photography. Tours run from 8.30 pm to 11 pm, cost RM140 for a minimum of two people, and require booking. Any other additional person costs an additional RM40.
Fishing Tours at Penang National Park
The waters off Penang National Park are still a good place for anglers and fishermen. Penang Nature Tour Guide Association organises guided and sustainable fishing trips. Boats cost 150RM per hour, hosting a maximum of 6 people.
Fishing trips can be combined by BBQ lunch on a beach of choice at an extra cost of only RM35 per person. Consider this option for a nice day out with family or friends.
---
This post has been written thanks to the kind support of Tourism Malaysia Wilayah Utara, who hosted us during their Balik Pulau Nature Exploration on 23 October 2019, a part of the "Visit Truly Asia Malaysia 2020" campaign.
---
And if you liked this, why don't you sign up for our mailing list? We will send you immediately a FREE photographic eBook with some incredible pictures of Penang, and we promise, we will disturb you only about once a month with some good local advice you won't find on the site