Penang Botanical Gardens are certainly one among the coolest things to do in Penang but are often overshadowed by other Penang attractions such as Kek Lok Si temple, Entopia, and the popular Penang shopping malls.
One thing is certain though: if you love nature and are not much of an adventurer, Penang Botanic Gardens (yes, people call them either "Botanic" or "Botanical" without much difference) are an easy trip from George Town and a break from its famous Penang Food — otherwise, you can always go to Balik Pulau to check out the greenest side of Penang island.
If coming from George Town, it's a mere 10 minutes drive to Penang Botanical Gardens: set at the bottom of Penang Hill, they are the green lungs of the city, and are said to be the closest botanic gardens to a city center in the world.
MORE PENANG GREENERY – Bukit Hijau Guide
This article of course is our humble guide to inspire your visit to Penang Botanical Gardens. Here you will learn all about:
Reaching Penang Botanical Gardens
What you can see and do at Penang Botanical Gardens
What to Eat after your visit to Penang Botanical Gardens
---
Where are Penang Botanical Gardens?
First of all, here is a map of Penang Botanic Gardens:
There is an ample car park just in front of the Botanic Gardens' entry gate. To its left is the road to the top of Penang Hill. You need a special permit to drive up with your own vehicle.
Penang Botanical Gardens by Rapid Penang Bus
You can reach the Botanic Gardens using Rapid Penang Bus Route 10, shuttling from Weld Quay, the old Penang Ferry jetty, via Jalan Ria near KOMTAR, Gurney Drive, and finally the Botanical Gardens.
The bus back to George Town is not too frequent — be ready to wait about half-hour, and make sure you walk a few minutes outside of the car park to the bus stop in front of an apartment building down the road.
---
Reaching the Top of Penang Hill from Penang Botanical Gardens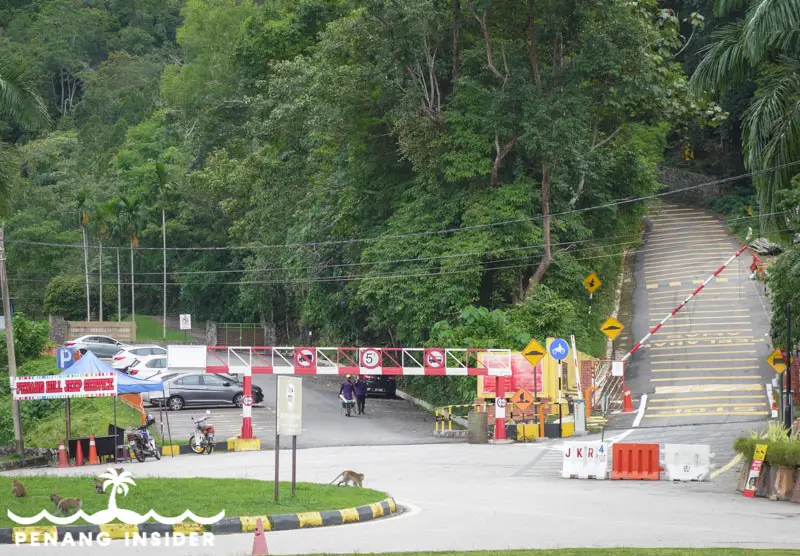 Usually, a jeep service to the top of Penang Hill was available from the car park, but it is currently not operating because of the coronavirus lockdowns. Nobody prevents you from walking up along this tar road, but we do not recommend it as it's boring — there are several other options to hike to Penang Hill, including the Moongate hiking trail that starts about a hundred meters before Penang Botanical Gardens' entrance.
If you are interested in hiking, we have a guide to the best trails in Penang Mainland, which include Cherok Tok Kun Recreational Forest, Bukit Juru, Bukit Pachor State Park and the scenic Frog Hill.
---
Where to Stay near Penang Botanic Gardens
We already compiled lists of recommended best boutique hotels in George Town, Penang budget hotels, Penang backpacker hostels and best 5-star hotels in Penang, but these are a few quick suggestions if you wanted to base yourself near Penang Botanical Gardens.
---
Waterfall Hotel is the closest to Penang Botanical Gardens, and has simple, well-appointed rooms near to several places to eat. Check prices on BOOKING | AGODA
---
G Hotel Gurney is one of Penang's best 5-star hotels and has all the facilities, bells and whistles to match. It's also next to two of Penang most popular shopping malls. Check prices on BOOKING | AGODA
---
G Hotel Kelawai is the second born in the G Hotel family, facing busy Kelawai road. It has impeccable rooms, offers one of Penang's best buffet, and has a fantastic rooftop bar with amazing sunset views. Check prices on BOOKING | AGODA
---
A Brief History of Penang Botanic Gardens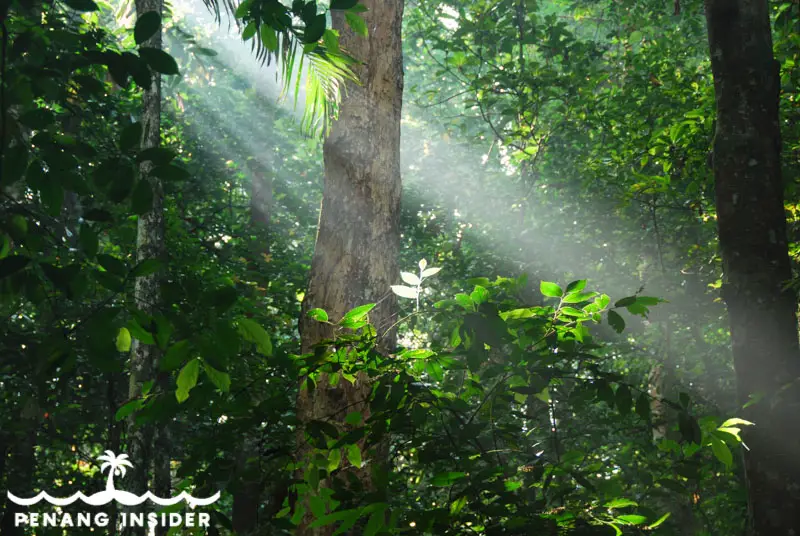 Established in 1884 almost at the same time of the beautiful Taiping Lake Gardens — one of Perak's main attractions — Penang Botanical Gardens date back to 1884 and were previously known as Waterfall Gardens from the large, sloshing source of water found within them.
The first curator was Briton Charles Curtis — the Curtis Crest elevated walkway at the Habitat Penang Hill is named after him — who transformed a lush valley in an old granite quarry into these gardens at the foot of that waterfall. Even today, Penang Botanic Gardens maintain their original English-style design, with large open lawns hemmed in by hills covered with viridian tropical rainforest.
The original colonial interest here was of course spices, but Charles Curtis was also interested in Penang's native plants. He contributed immensely to the discovery and classification of Penang's flora, and introduced many plants in these Botanic Gardens.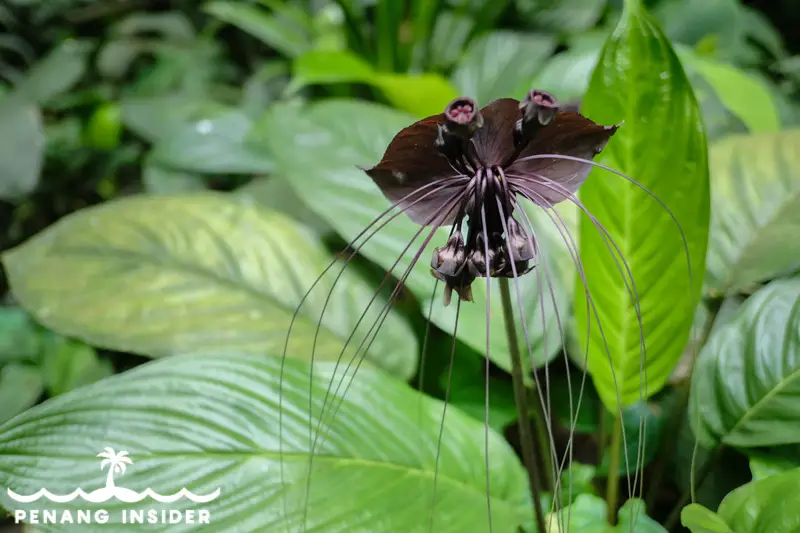 In 1910, the Gardens risked being flooded to make space for a water reserve, but the plan did not go on beyond the small water reservoir that even today occupies the northernmost side of Penang Botanical Gardens. During World war II, the Japanese used tunnels by the Botanical Gardens' Lily Pond to store ammunition and facilities.
In 2003 and 2004, Penang Botanical Gardens expanded the area from 29.14 hectares to the surrounding forest, reaching 242 hectares of protected areas that's a habitat of diverse Malaysian animals such as macaques, giant squirrels, dusky leaf monkeys, and many others.
---
Penang Botanical Gardens entrance fee and operating hours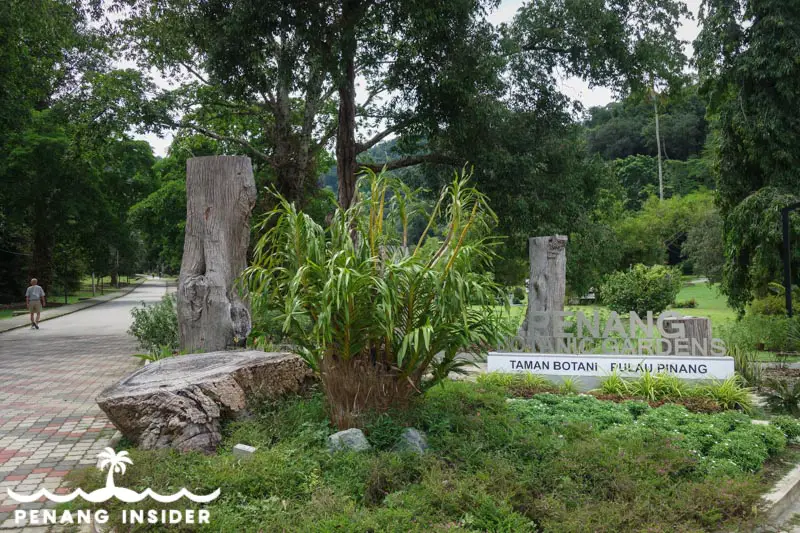 The entrance fee to Penang Botanical gardens is free of charge.
At the moment, the Gardens are open from 7 am to 7 pm, and subjected to entry regulation under Malaysia's Movement Control Order, meaning, you must enter wearing a face mask and register yourself through the smartphone application MySejathera. For the moment, a guard will count visitors as there is also a limit of 200 people inside of Penang Botanical Gardens enforced at all times.
---
Best Things to do at Penang Botanical Gardens
Penang Botanical Gardens are better visited on foot. There is ample — and free — parking in front of the main gate, where you can park your vehicle and start walking to enjoy these beautiful grounds.
The following are suggestions on some of the best things to see and do at Penang Botanical Gardens.
1
Check out the Aquatic Garden
This garden welcomes visitors before the main gate of Penang Botanical Gardens with fountains and four large pools of aquatic plants, like the Giant Victoria water lily and lotus.
---
2
Walk in the Formal Garden
Set right in front of Penang Botanical Gardens' main gate, the Formal Garden has the features of an English garden, where plants and building structures are organized in symmetry at different levels of height. In the old days, this area was used to host event, tea parties, and other official colonial affairs.
---
3
Visit Penang Botanic Garden's Japanese Garden and Bambusetum
Don't miss a stroll in this miniature interpretation of nature, framed the Japanese style. There's a striking red Japanese archway here, and stone structures that mimick waves, walkways and rivers. To the right side of the arch, clusters of bamboo soar around a stream, offering an abode of peace and quiet to visitors.
---
4
Enter Penang Botanical Gardens and start your Walk
After having browsed the outside gardens, access the Penang Botanic Gardens proper, and start walking either clock or counter-clockwise along the perfectly paved road that will take you deep inside the gardens' world of discoveries. If walking, a circuit of the grounds will take you between 40 and 60 minutes.
---
5
Check out local artistry and buy some refreshment at Botanika The Garden Shop
Just to the right side of the entrance to the Botanic Gardens of Penang, you'll find a small boutique, Botanika. This place sells the usual souvenirs you can find in George Town, plus drinks and packaged ice-cream. But the interesting thing is, it's run by the organization Friends of Penang Botanic Gardens who not only organize guided visits to the park, but also sell their own articrafts which will make for a different, special type of gift. Free information is also available here.
---
6
Enjoy Penang Botanic Gardens Many Plant Species
The reason why you have come here is to enjoy nature, so please look at the trees. Penang Botanical Gardens are one of the few places in the whole island where you may see, among others, the rare Cannonball tree. It blooms in spectacular flowers during spring, but in the winter, it becomes full of big, brown balls with a hard shell. There are trees and plants from as far as New Zealand here.
---
Penang Botanical gardens are a favorite spot for locals to come jogging and stretching their legs. The paved road that goes all around the gardens is ideal for running in a loop without interruptions and the noise of cars. You can run around the main circle, or take the road uphill at the Herbarium to make a longer loop that passes near the water reservoir. If you are looking for a clean, nice and inspiring place to run in Penang, we can hardly think of a better spot than the Botanical Gardens.
---
8
Marvel at the Orchidarium and the Fern House
Truth be told, as of late the greenhouses inside Penang Botanical Gardens have often stayed closed and unmanned. As an upgraded is expected when tourism will restart in full steam, for now we recommend at least to have a look through the gates of the Orchidarium and the Fern House. Their unsual pollination syndrome produce some unusual flowers you can see at different times of the year.
---
Set in the center of Penang Botanical Gardens, the bandstand dominates on the whole park and is a nice place to sit down and rest, especially in the hottest hours of the day. From here, you'll see the Herbarium on the western side, right across one arm of the river that bypasses the central part of the gardens.
---
10
Taste the Rainforest on the Curtis Trail
This 1.5km-long granite-floored forest trail starts from the gazebo beside the palm collection. In the spirit of the name of Penang Botanical Gardens' original curator,Curtis Trail will lead you to sample a deeper look inside Penang's tropical jungle ending at the Lily Pond. Once you'll have reached the summit of this steep trail, you'll be rewarded with views of the remnants of a building which is said to be Curtis' quarters, which were destroyed by the marauding Japanese during World War II.
---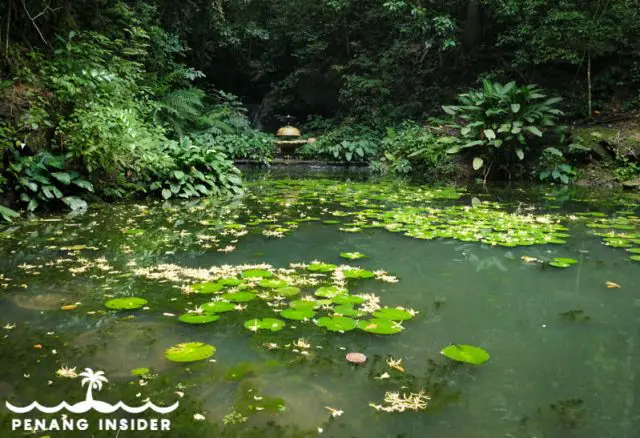 The Lily Pond is tucked away within lush greenery on the eastern side of Penang Botanic Gardens (image © Kit Yeng Chan)
A granite-floored path leaves Penang Botanical Gardens main path to just inside tall trees and jungle to a hidden gully with a mini-waterfall flowing into a pond covered with water lilies. Red karp and a few tortoises can be spotted here, too, and the area is scenic and relaxing if you love forest sounds and, of course, its eternal humidity. Be careful when treading around here, as the granite may get slippery, especially after rains.
---
"Aroid" is a common term to refer to the plants in the Taro family, the Araceae. You may see diverse species of aroids from Asia, Africa and the American tropics grow alongside a serene stream from this Middle Bridge situated in front of the Orchidarium.
---
13
Meet some Local Wildlife
Penang Botanical Gardens are of course a haven of biodiversity, but are particularly famous for their population of monkeys. The most common are macaques, who have become symbiotic with humans and come down from the forest because (silly) tourists feed them even though it's forbidden. If you take some time to hike a bit further into the surrounding jungle, you may spot the beautiful (and more endangered) Dusky Leaf Monkey, with its natural "white spectacles". You can read ore about Penang Animals here.
---
14
Take a look at the Bromeliad House
Maybe you don't know that the pineapple is the most common Bromeliad, but the other species on show here have pretty foliage with rosette arrangement. Have a look at several types of decorative Bromeliad, both terrestrial and tree-hanging, in this pavillion.
---
15
Visit Penang Botanic Gardens Waterfall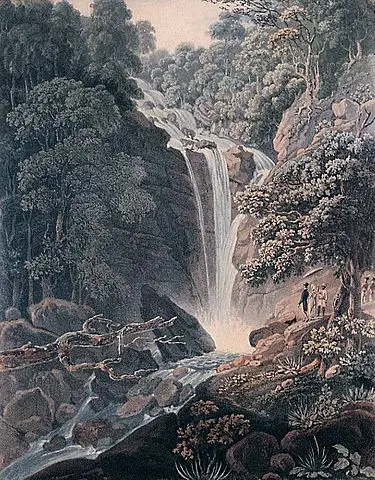 A painting of Penang Botanic Gardens' Waterfall (courtesy of Penang State Museum and Art Gallery, Public domain, via Wikimedia Commons)
The call to fame of Penang Botanic Gardens, this 122-meter-tall three-tiered waterfall was extremely famous back in the 1960s and 1970s.
Today unfortunately — or a boon in disguise, depending how you feel about nature — the waterfall sees very few visitors as the trek to reach it is closed.
You need to seek permission from the Penang Water Authority (Perbadanan Bekalan Air Penang Island)before being able to come here to visit.
---
Hiking Penang Hill from Penang Botanical Gardens
Set right at the bottom of a flank of Penang Hill, Penang Botanical Gardens are the starting point of a few trails that snake from the valley up to this 800-meter-high mountain. Here are some useful information to strike out and explore more.
16
Hike from Moongate to Penang Botanical Gardens
The main circuit that takes you above Penang Botanical Gardens starts at Moongate, the former Chinese-styled access arch to a millionaire home. We have already described how to hike from Moongate to Station 5. From here, you may proceed to Station 84 via Bukit Cendana. It's a steep climb that rewards hikers with open views over the eastern side of Penang island and Penang bridge at the popular Rainbow Rock viewpoint.
From here it's only about 15 minutes to Station 84, a very well-maintained area with public toilets on the paved tar road to Penang Hill. From here, you can continue up, but to return to Penang Botanical Gardens, from Station 84 you shall follow the ridge back down to reach the colorful (as it's painted as a rainbow) Station 46. From here, you can enter Penang Botanic Gardens via the steep staircase that lands on the upper western side of the park, near the Herbarium.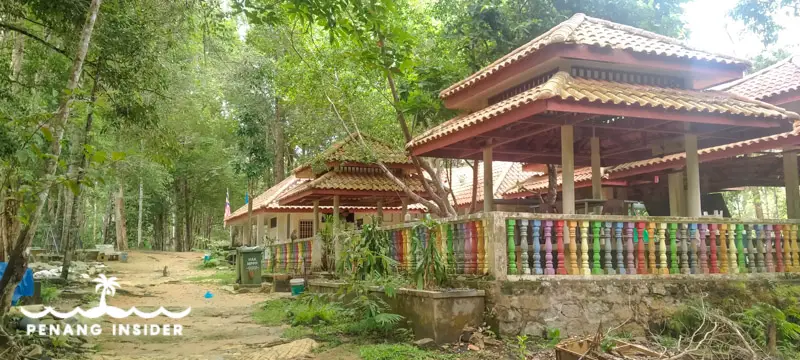 Of course, you can start the hike from Penang Botanical Gardens near the Herbarium and proceed in reverse as explained above. From Station 46 is also possible to walk to the northwest towards Tanjung Bunga and Batu Ferringhi. These paths are interconnected and with a good map (we often use the free Maps.me) you'll be able to plan a proper itinerary.
---
What to Eat at Penang Botanic Gardens
With all this walking, we are sure you must be hungry. Penang Botanical Gardens don't have a staggering amount of choices nearby, but if you are OK with some simple food, you can easily have a bite here and avoid returning to town.
On the right-hand side of the parking lot is Waterfall Cafe, an Indian joint that serves breakfast, Indian-style curries and rice, and South Indian staples like dosai. It's obviously slightly overpriced as it's in close proximity to the Botanical Gardens, but if you are looking for a proper meal, this is pretty much your only choice.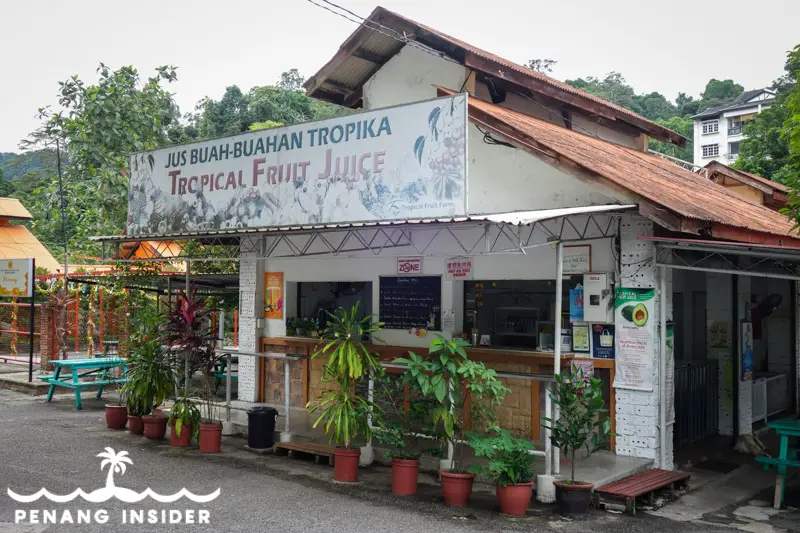 A few hundred meters down the road to your left, passed Moongate, is a parking lot with a few shops and a food court. There is a Bee Gallery that may be interesting if you have kids — did you check our full list of what to do in Penang with kids? — and next to it the Tropical Fruit Juice shop, serving many concoctions of delicious juices made with local fruit.
On the opposite side of the padang there's a small hawkers food complex where you can find basic roti canai, some types of Indian style fried noodles, and a fresh fruit stall. There's also a delicious (yet a bit overpriced at RM6) ais kacang with ice cream.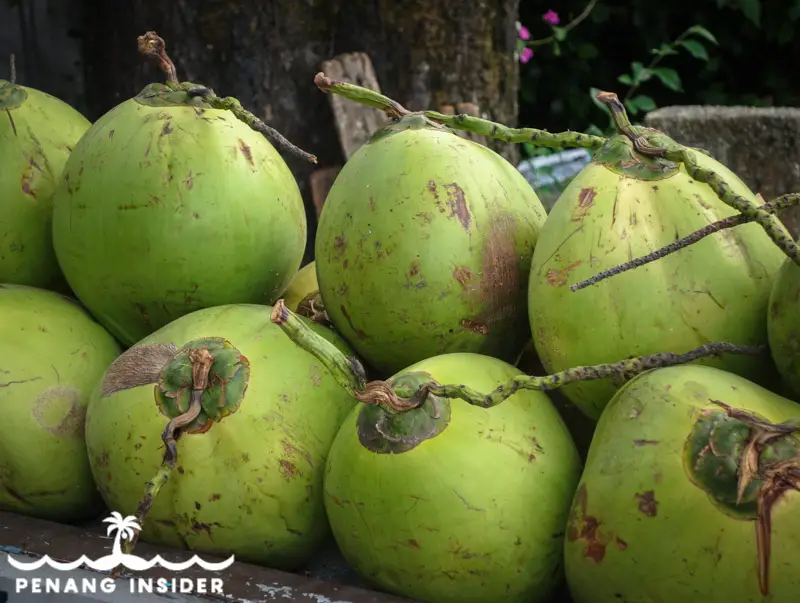 Around the corner and along the road are a couple of other simple shops where you can buy fresh coconut juice. Let the stall owner crack your kelapa muda open with his kife, sit down, and relax. Your legs have certainly earned it.
And if you liked this, why don't you sign up for our mailing list? We will send you immediately a FREE photographic eBook with some incredible pictures of Penang, and we promise, we will disturb you only about once a month with some good local advice you won't find on the site