The 99 islands of Langkawi's archipelago are the jewel in the crown of Kedah state and one of the most attractive and visited parts of Malaysia. Set only a short flight away from Penang, there are many things to do to keep you occupied on your Langkawi itinerary, including a number of great Langkawi beaches.
We consider a tour of Langkawi's mangroves one of the most exciting experiences — you can also get on a shared sunset boat tour of the mangroves, but what's better than tackling the small canals and mangrove-draped coasts of Langkawi than by your own power, paddling in a kayak?
Langkawi mangrove tours are far more adventurous than the popular Langkawi sunset cruises and a good way to get a real sense of Langkawi's untamed nature — if you are looking for other options, check out a list of other worthwhile Langkawi best tours for inspiration on other things to do while on the island.

READ MORE – The Best Bars in Langkawi
Blogging transparency: this post contains affiliate links. These are products and services that we personally use and recommend. If you click on one and buy any service, I will get a small commission at no extra cost to you. Consider it a small way to say thanks, and keep Penang Insider going.
---
An introduction to the mangroves of Langkawi's Kilim Geoforest Park
The northwestern corner of Langkawi is draped by the mangroves of Kilim Geoforest Park, one of the three main areas associated with the Langkawi Geopark, the first geopark inscribed by UNESCO in Southeast Asia in 2006.
At Kilim, a sprawling mangrove forest meets ancient gigantic limestone rock formations that formed some 500 million years ago. The beauty of Kilim is its stunningly diverse natural geological, biological and cultural resources. It's also the only place in Malaysia where coastal karst formations coexist with mangrove ecosystems.
A visit here is one of the top experiences to have in Langkawi — and we believe that the best way to experience Kilim Geoforest Park is by paddling on a kayak.
The reason? You can't get closer and more personal to Langkawi's mangroves than by floating right next to them, peeking at their habitat of fish, insects, and water snakes.
BOOK A LANGKAWI MANGROVE TOUR HERE – AND GET A DISCOUNT
---
How to reach Kilim Geoforest Park's jetty?
First of all, check out our detailed guides on Langkawi Airport, going from Kuala Lumpur to Langkawi and from Penang to Langkawi.
If you want to ride a ferry to Langkawi, see the latest info on the ferry from Kuala Perlis to Langkawi.
The Kilim Geoforest Park jetty is in the northeastern part of Langkawi, near the village of Ayer Hangat and on the way to Tanjung Rhu.
It's pretty far from Pantai Cenang and Kuah, and you'll need your own transportation — consider renting a scooter in Langkawi here or hire a taxi.
Here is a map of Kilim Geoforest Park's jetty:
This is where most boat and kayaking mangrove tours in Langkawi depart.
Need a place to stay in Langkawi? Check out a list of Langkawi Best Hotels.
---
Langkawi Mangrove Tour in a nutshell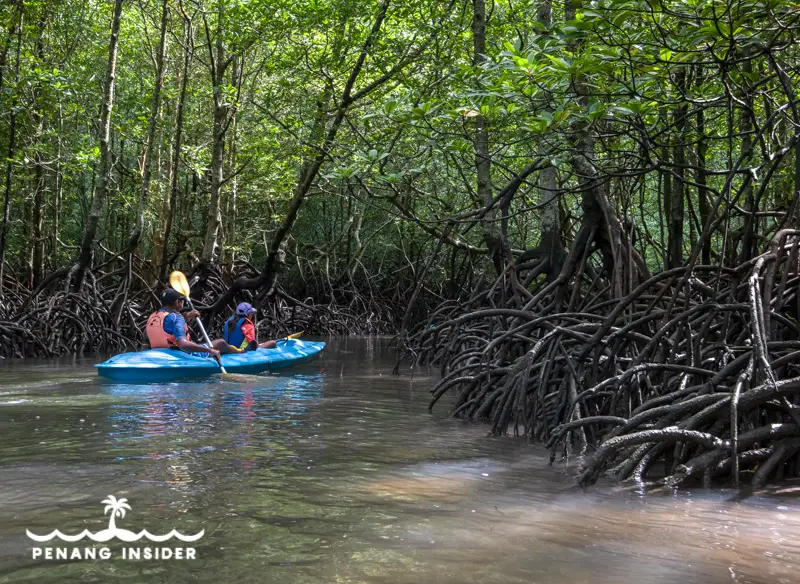 Going on a tour of Langkawi's mangroves is best done with operators who know the area inside out and propose eco-sustainable business practices in line with Langkawi's post-pandemic reopening green targets.
German-owned Dev's Adventures is one of Langkawi's most established and eco-savvy tour operators who pioneered guided kayaking tours of the mangroves and their smaller, inner canals. For four hours, you'll sample first-hand what it means to float in one of Malaysia's oldest and most interesting ecosystems.
Climb into a kayak and take off through the mangrove forest to observe local flora and fauna like sea eagles and kites, kingfishers, herons, mudskippers, fiddler crabs and monitor lizards. A guide will escort you, leading the kayak expedition. Most tours include lunch at a floating restaurant, where you can also visit a small fish farm.
Book your discounted Kilim Geoforest Park kayak tour here.
---
Getting ready for a Langkawi Mangrove tour by Kayak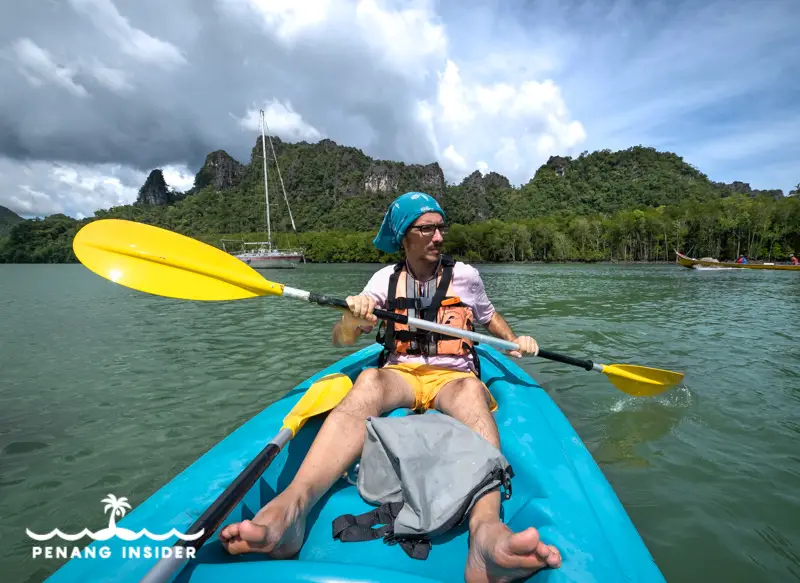 Dev's Adventure Tours can organize transport from your hotel to Kilim Geoforest Park. If you prefer to use your own to go somewhere else in northern Langkawi after the mangrove tour, you'll need to get there by 9 am to meet with your guide.
Let me tell you that their guides are one of Dev's Adventure Tours' highlights — locals who speak perfect English and have a deep knowledge of the mangroves, the sea, and their inhabitants. My guide was Haris Mukmin, a young and enthusiastic guy who met us and the rest of the group at the jetty.
Haris whisked us immediately on a bumboat for a short ride to the fish farm-cum-restaurant where we switched to our kayaks — couples may opt for a two-person kayak and paddle together.
Haris explained the basics of paddling and safety before letting us loose in the water. He also handed out our Sippys — the reusable glass water bottles that Dev's Adventure Tours provides to each of their customers to avoid single-plastic waste.
After a few spins and adjusting to our new vehicles, we all followed Haris across the channel and into the deep of Kilm's mangroves.
---
Kayaking the smaller canals of Langkawi's mangrove coast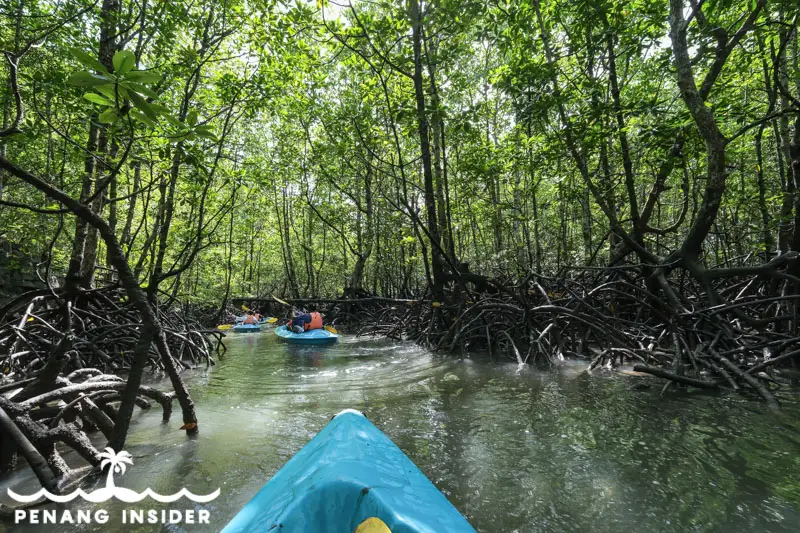 My favourite part of the Langkawi Mangrove tour was following Haris off the main waterway and into the side canals that criss-cross Kilim's large network of mangrove forests.
We immediately started navigating along small canals where we had to proceed in single-file, for a kayak at a time was barely enough to slide through. The mangroves closed in on both sides, giving us a unique opportunity to observe this unique ecosystem up close. Haris was very attentive and skilled in pointing out aspects of the local ecology and natural environment.
---
Crossing the Kilim Geoforest Park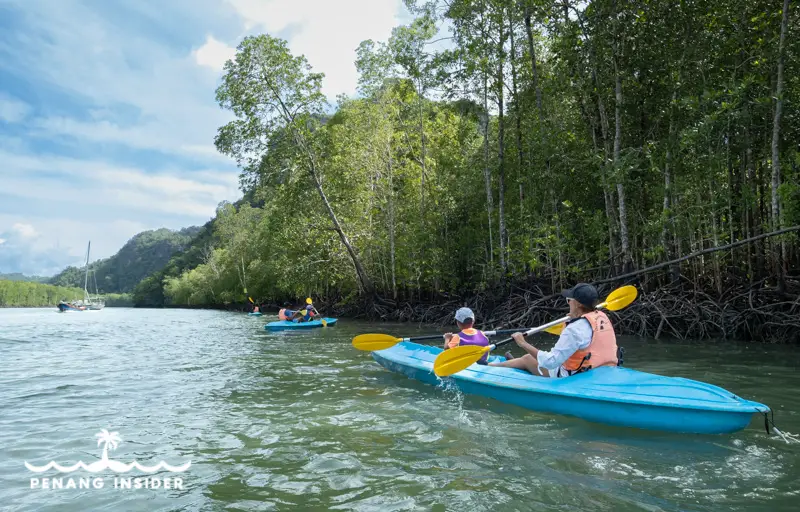 After paddling within the forest, most Langkawi mangrove tours return to the main sea channels where guests can marvel at the geologic formations within Kilim Geopark. Seen from the water level, the looming karsts are amazing.
At one point, Haris asked us to slide towards the mangrove coast, secured our kayaks to it with a rope, and let us take some time to rest and swim all around. It was very refreshing after having worked on the paddles for a couple of hours.
---
How a Langkawi Mangrove Tour ends: Lunch and Getting Back
The tour finishes back at the starting point — a floating fish farm that also serves as the simple restaurant where you'll have your lunch. After leaving the kayaks, we enjoyed a lunch of fried rice with seafood — you can also choose meat or just vegetables.
After a relaxed hour for lunch, we spent some time watching the fish farm's enclosures. It's a bit of a sad spectacle because you know well that those fish will end up on a plate, but we were able to observe some rare species, including a horseshoe crab.
The bumboat picked us up again from here and whisked us back to the Kilim Geopark headquarters in ten minutes. We were ready to leave on our rental motorbike by 2 pm.
---
Langkawi Mangrove Tour: Final Thoughts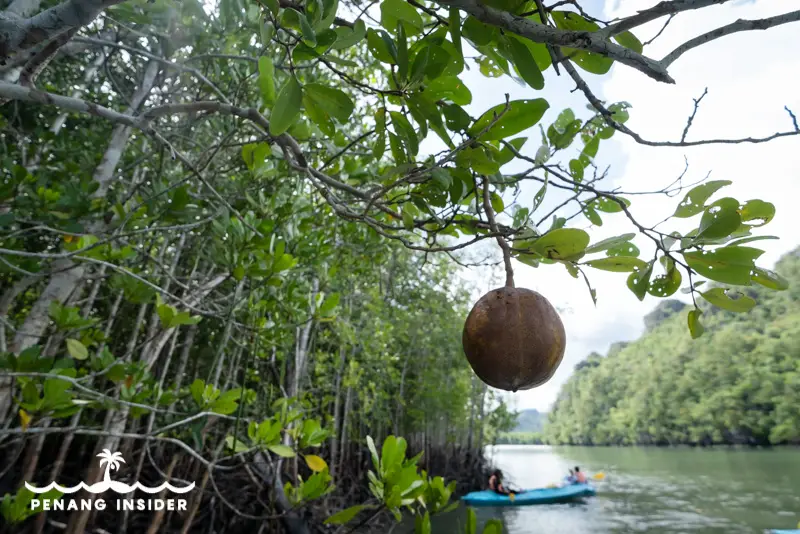 The beauty of Langkawi is its nature, and a mangrove tour by kayak is possibly one of the best ways to get out and explore it.
Striking out in the morning allows for spending a beautiful half-day on the water checking out the mangrove coast up close, and getting back to Cenang by early afternoon to continue watersport activities, a sunset cruise, or just chill with a sundowner on the beach.
Langkawi mangrove tours by kayak are recommended for families and couples alike. If you have small children, you can ride with them in a two-person kayak, and let them try some little adventure.
Interested? Book your discounted Kilim Geoforest Park kayak tour here.
YOU MAY ALSO LIKE
Langkawi 3-Day itinerary
Best tours in Langkawi
A guide to Langkawi Sunset cruises
And if you liked this, why don't you sign up for our mailing list? We will send you immediately a FREE photographic eBook with some incredible pictures of Penang, and we promise, we will disturb you only about once a month with some good local advice you won't find on the site