Of all the 11 states in Peninsular Malaysia, we think that Perak is one of the most beautiful. Spanning a long chunk of northwestern Malaysia that stretches from the Thai border in the north all the way to the Selangor state border near the capital Kuala Lumpur, Perak is a large state with an incredible variety of landscapes and attractions.
We have explored Perak's best and least-known corners for well over a decade, and we know well that there are many interesting places and things to do in Perak. From lazing on the beaches of Pangkor island and its Hindu Kali Amman Temple to soaking in the culture and colonial charms of Ipoh (check out our list of best hotels in Ipoh) or white-water rafting down the Kampar river and eating gorgeous Chinese food in Gopeng, Perak has it all. National parks, islands, mysterious villages, and some of Malaysia's most visited attractions are all here.
---
Things to Do in Perak Malaysia
This post highlights and selects 15 of the best attractions in Perak that we believe everyone should visit at least once. You may browse and decide which one suits your next Malaysian adventure best. Each item contains links to other detailed guides we have written on each of the destinations — click and read more to find the best suggestions on what to do, where to sleep, and where to eat.
---
Surrounded by the limestone karsts of the Kinta Valley, Perak's capital has stayed under the radar for a long time and is now opening up to an increasing number of travelers. And for all the good reasons: the laid-back old town looks like Penang without the maddening crowds (even though the crowds are there, more and more, these days), there are the stunning Ipoh cave temples, and the food can compete even with Penang food. Beansprout chicken, white coffee, and pomelos the size of heads are just some of Ipoh's delicacies.
STAY IN IPOH 
Best Hotels in Ipoh
12 Airbnb in Ipoh for a perfect homestay
The Kinta River slowly flows through the town, separating the colonial part, dominated by the imposing Ipoh Railway Station — dubbed by some a "Mini Taj Mahal" — from the new, sprawling city that attracts for its markets, first of all, the Loken Market, also known as Memory Lane — a smorgasbord of vintage Malaysiana, from toys to records to furniture.

READ MORE – Best Things to Do in Ipoh
Whatever you do in Ipoh, take your time to adjust to its peculiar, slower pace of life. Sit at an old-school cafe or one of the several refurbished shophouses turned into boutique hotels and posh bistros in the old town, and pretend time has stopped, at least for a day.
---
Even if it's the second-largest city in Perak after the state capital Ipoh, Taiping remains a place that not too many people consider visiting. Quite a pity, for Taiping, was the capital of Perak from 1875 until the British Colonial seat was moved to Ipoh in 1937, and the legacy of that past peppers the town even today.
Taiping is also a beautiful and sustainable place set at the foot of Bukit Larut (Maxwell Hill), colonial Malaysia's first hill station. The city was also voted in 2019 as the world's third most sustainable at the International Tourismus-Börse (ITB) travel trade show in Berlin. Part of the reason is the 70 hectares of beautiful Taiping Lake Gardens that occupy the center of the town.
These are all good reasons to visit: but don't forget that Taiping food should also be counted among Malaysia and the world's best. There's plenty of famous food and great restaurants in Taiping, some of which have a history almost as old as Malaya itself.
STAY IN TAIPING — 15 Best Taiping Hotels
---
Kuala Sepetang is another beautiful place to visit in Perak. This coastal village is only 15 kilometers away from Taiping and attracts a steady flow of visitors thanks to its mangroves, charcoal-making factories, friendly locals, and fresh seafood.
Set on the estuary of the Sepetang and the Sangga Besar rivers, it's very close to Penang. It makes for a perfect day trip, especially if you are interested in exploring the mangrove ecosystem that is the real backbone of this fishing community.
READ MORE — Best Things to Do (and Eat) in Kuala Sepetang
---
Floating in the shadows of Malaysia's more popular islands, Langkawi and Penang, Pangkor's international fame has been slower to take off. Located off the southwestern coast of Perak state, the island swells mostly on weekends as a short getaway for nearby city-dwellers.
Pangkor island and its three smaller sisters—Pangkor Laut, Pulau Mentagor, and Pulau Giam— had an important historical role. In 1874, the British and the Sultan of Perak signed the Pangkor Treaty, thus officially starting their rule over Malaya.
Besides early colonial politics, Pangkor's waters, rich with Indian Mackerel, mostly attracted Cantonese and Hainanese fishermen. A Marine Industry Association was founded in 1930, sanctioning fishing and boat making as Pangkor's main local trades. This is still reflected in the local cuisine, graced by a bounty of fresh seafood, shrimp, and anchovies, all spruced up with the local spices and herbs that grow in the island's forested interior. This offers a safe haven to an army of squeaky endemic hornbills: They often fly out of the thicket, gliding above the coastal road towards the sea.
STAY IN PANGKOR – 20 Best Pulau Pangkor Hotels for all Budgets
One of the best times to come to the island is between January and February during the Kali Amman festival when devotees from all over Malaysia flock to this unique sea-facing temple.
READ MORE — Best Things to Do (and Eat) in Pangkor Island
---
Gopeng is a Perak attraction that's definitely off the beaten track, but for no very good reason. Set only 20km south of Ipoh and about 2 hours drive north of Kuala Lumpur, Gopeng was one of Malaya's prominent tin-mining centers. Few things have stayed on from those times. Still, the town is set next to some of Peninsular Malaysia's most stunning limestone cave systems and the Kampar River, one of the best white water rafting spots in the whole of Peninsular Malaysia.
Gopeng town also had a strong Chinese community whose immigration history reflected in the town's architecture, heritage, and, of course, Gopeng food — lai fun noodles, anyone?
You should go to Gopeng if you want to experience a remote small Malaysian town with excellent tourist facilities — from good hotels to white water rafting and adventurous activities such as caving, hiking and abseiling.
READ MORE — Best Things to Do (and Eat) in Gopeng
---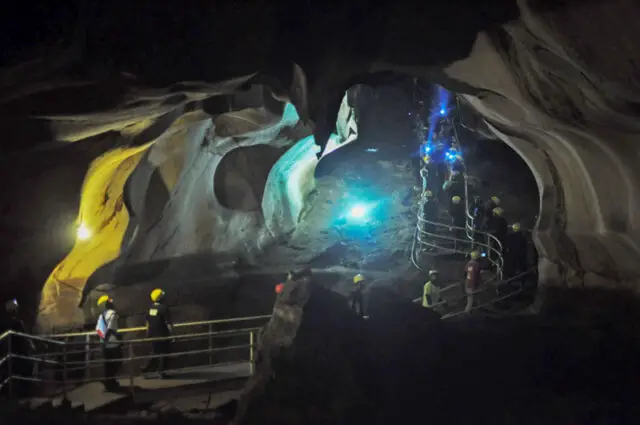 Gua Tempurung, one of Malaysia's most important caves, is right next to Gopeng (image courtesy of Nomad Adventure)
If you go to Gopeng, you shouldn't miss a trip to Gua Tempurung, one of Peninsular Malaysia's oldest and most stunning caves, estimated to be a stunning 400-millions-year-old.
Gua Tempurung is divided into 5 different caverns filled with stalagmites and stalactites, and being more than 3 kilometers long, it is a perfect place for all levels of adventure caving expeditions. For the same reason — huge, dark, and scary chambers — Gua Tempurung was also used as a hideout by the Communist insurgents of the Malayan Emergency between 1948 and 1960.
Today the cave is very popular among spelunkers who come in droves to try one of four different exploration packages. Expect to get wet and dirty as you trawl through wide and narrow passages and chambers filled with the tweeting of bats and sloshing of an underground river.
---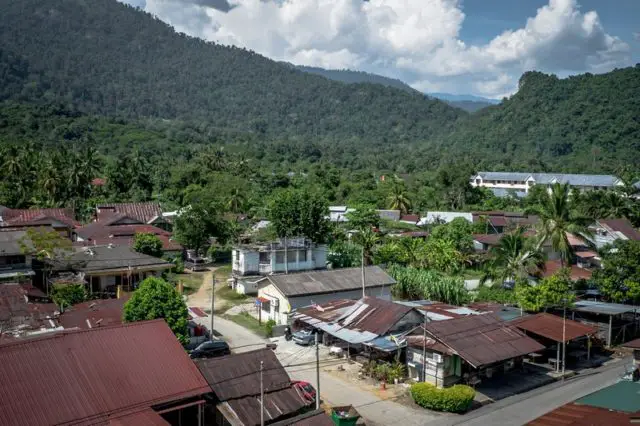 Lenggong town, nestled below a ridge of viridian hills that formed after a meteorite impact (image credit: Kit Yeng Chan)
In about two hour drive from Penang, Perak holds Asia's most secret Unesco World Heritage Site, the Lenggong Valley. Don't be fooled by the UNESCO inscription because the town of Lenggong, only 77km north of Ipoh in the midst of the state of Perak's jungle, is still a real backwater. The main reason to come here is to get close and personal with the mysterious Perak Man, Southeast Asia's oldest and most complete human skeleton — and maybe gorge on some of Lenggong's great seafood and Patani Malay cuisine.
Besides archaeological finds and digs, Lenggong is also a great place to spend a quiet weekend close to nature and friendly locals indulging in some seriously appetizing food. You can read about how to visit, where to stay, and what to do in our ultimate guide to the Lenggong Valley.
---
Not far from Taiping, Malaysia's Royal City is one of Perak's most charming small towns. One of its most famous landmarks is the golden-domed Masjid Ubudiah, built between 1913 and 1917, and still a striking example of Islamic architecture. The Istana Iskandariah, once the home of Perak's royal family, recently re-opened to the public. It's a stunning wooden building built without using a single nail.
If you are interested in British heritage and Malaysian literature, keep in mind that Kuala Kangsar was the place where British author Anthony Burgess, the author of "A Clockwork Orange", lived and taught as an English Professor at the local Malay College in the 1950s. You can walk around town looking for the buildings that refer to the heritage found in his books, particularly the banned "Malayan Trilogy". Look out for the Kelab Idris, once Burgess' drinking den and a gentlemen's club today.
Not far away is the village of Karai, with the remnants of the Victoria Bridge, built in 1897 to bring trains across the Perak River. The river itself crosses Kuala Kangsar's center and it's a perfect place to take long walks immersed in nature and traditional Malay villages of which popular Sayong is the foremost producer of labu. These pumpkin-shaped terracotta bottles adorn many Malay homes.
---
Perched in the northeastern corner of Perak, Temenggor Lake is Peninsular Malaysia's second-biggest lake and most scenic place to visit. You can't miss it if you are traveling from Penang along the East-West highway, as a long bridge crisscrosses it. The water is chiselled by hundreds of viridian crests that extend from the Belum Rainforest to the north, and continue to the southern, rarely explored reaches of this lake. Even if it looks quite stunning, remember that Temenggor is a man-made lake and resulted from the creation of the Temenggor Dam, which flooded the surroundings to help generate hydroelectric power. Tourists usually approach the main man-made island, Pulau Banding, where houseboats can be chartered for quick trips or proper overnight stays on the lake, which are recommended.
This is also wild elephant territory: comes dusk, and you may be able to see the grey pachyderms come out of the surrounding hills to enjoy the heatwave from the highway's concrete. Be on the lookout if you drive around here at night.
---
A candidate for Malaysia's next UNESCO World Heritage inscription, the Royal Belum Forest. It's the northern side of the Belum Temenggor forest, one of Peninsular Malaysia's largest and oldest, dating back to 130 million years — a forest older than the Amazon and the Congo. It continues into southern Thailand and is one of the last habitats for the dwindling numbers of wild Malayan tigers that still move across this border region.
The only inhabitants here are the native orang asli, who live in small groups and thatched huts, using blowpipes to feed on small mammals they hunt in these forests. Orang asli are increasingly involved in protecting this beautiful park, which one can visit only via guided tour. Check activities and prices here.
---
11
Teluk Intan and Asia's Leaning Tower
The main claim to fame that this charming southern Perak town set on a river estuary is the Menara Condong, or "Leaning Tower", which rises in the center of its main square. Standing at 25,5 meters in height, Teluk Intan's Leaning Tower was built in 1885 as a covered water tank to store water during the dry season. Built by a Chinese, its shape resembles an eight-story pagoda. It started tilting in 1889 as the friable ground next to the river could not fully sustain the structure's weight, and it's been standing like that until today.
It is no longer used to store water, but transformed into an interesting museum on the history of old Teluk Intan. You can climb to the top floors and take in proper views of the square and the old town, chiselled over a crest of land that juts into the water. All around the structure are plenty of small restaurants and coffee shops serving some of Teluk Intan's best food. This is an incredibly overrated town that we recommend you put on your list of Perak attractions.
---
Offbeat Perak Attractions
Some of Perak's attractions see a trickle of visitors compared to others. If you want to go where few other tourists have, the following suggestions should be on top of your list.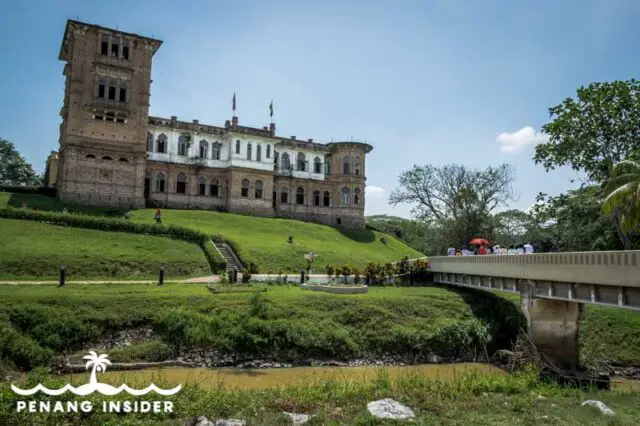 The imposing Kellie's Castle, an unfinished Scottish manor (the only one in Asia, possibly) that's considered haunted and is not far from Gopeng (image by Kit Yeng Chan)
Situated halfway between Perak adventure sports capital of Gopeng and the town of Batu Gajah, both not far away from Ipoh, Kellie's Castles is a very quirky sight in Malaysia — and one you that has a reputation for hantu — ghosts, in the Malay language.
Built by a Scottish planter, William Kellie-Smith, Kellie's Castle is an unfinished European-styled manor that mixes South Indian Tamil architecture and is set next to the Raya River in lush tropical surroundings. Locals say that Kellie built this manor either as a gift to his wife, or to celebrate the birth of his son in 1915. In the original plan, the castle should have had Malaysia's first elevator, an indoor tennis court, and a rooftop courtyard for nightlife and entertainment.
But something strange started happening during construction: many among Kellie's team of Indian workers started dying of a bad case of Spanish Flu. Worried they may have attracted the wrath of some god, Kellie's men asked him permission to build an Indian temple nearby — to which the Scot promptly agreed. The pandemic and the deaths stopped shortly after the temple was erected, and Kellie was immortalized as a statue among the Hindu Gods on its roof.
The castle, however, was never finished because Kellie died of pneumonia while away in Portugal in 1926. Devastated, his wife decided to return to Scotland, leaving everything unfinished. Today Kellie's Castle is a tourist attraction, and some say ghosts haunt it. You can experience this history on a Kellie's Castle Paranormal Tour, which brings guests through the empty hallways and rooftops of the manor.
---
13
Tanjung Tualang Tin Dredge
Rising in the middle of the countryside between Tanjung Tualang and Tronoh, the TT5 is the region's last remaining tin mining dredge. It was built in England by F.W. Payne & Sons in 1938, then upgraded in 1963, and continued operating for 44 years until August 1982.
Today the tin dredge can be visited by joining tours that explain the history of the area and the wealth that tin mining brought to Malaysia and Perak in particular. If you make it all the way here, don't forget to visit Tanjung Tualang and try its scrumptious prawns that are famous all over the Peninsula.
---
Kuala Kurau is a small seaside village in Northern Perak, but it's very close to Penang. It makes for a very interesting day trip from the island, as you can reach Kuala Kurau in about an hour from Penang and Taiping.
READ MORE — Best Things to Do (and Eat) in Kuala Kurau
What we like about Kuala Kurau is that it's developed along the Kurau River and its estuary. A bridge separates the town into the center proper on the northern side, with a morning market and a series of very interesting Chinese mansions — did I say Triad connections, right? — and old-world coffee shops.
On the southern and opposite side of the Kurau River is the area of Bagan Seberang, the most touristic, where you can see how much Kuala Kurau can sell out — expect a food court next to a water-facing modern Chinese temple with a concrete walkway passing by the riverside. Bagan Seberang is a good place to grab a bite (read more below) and take photos of the estuary. There's a tacky concrete board right by the waterfront to serve this purpose.
---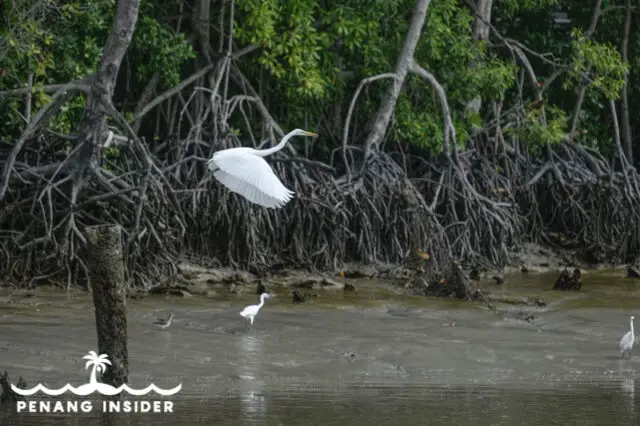 An egret flies on the banks of Kuala Gula's river, which is surrounded by mangroves (image © Kit Yeng Chan)
Tucked in the lesser-visited northern corner of Perak near the Penang state border are Kuala Gula, a fishing village very close to the fantastic Kuala Kurau, and the natural continuation of the more famous mangroves of Kuala Sepetang.
Probably nobody would know or want to visit Kuala Gula though, if it wasn't for the Kuala Gula Bird Sanctuary, a large area of the river estuary and mangrove swamps that empty into the sea. This place is not only inhabited by local fishermen who get out at sea daily to fish for prawns but also by a staggering amount of migratory birds. They favor Kuala Gula's warm tropical climate and the mangroves rich in nutrients like prawns, small fish, and snakes they find here.
The best time to visit is between August and October when migratory birds from as far as Siberia stop here on their way to the Southern Hemisphere. They also stop at Teluk Air Tawar, another lesser-known bird sanctuary in Penang state.
READ MORE — Best Things to Do (and Eat) in Kuala Gula
---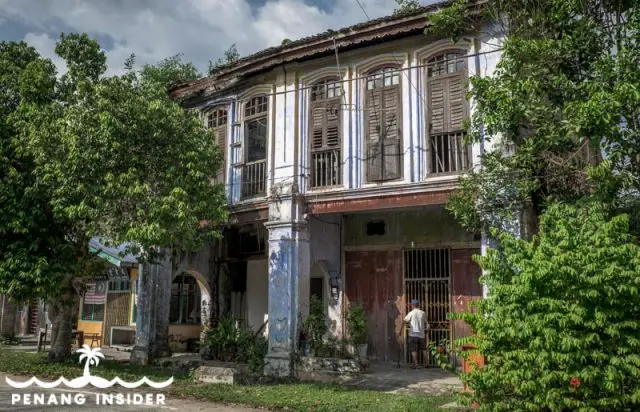 A row of dilapidated shophouses in timeless Papan, one of Perak's least-visited villages (image © Marco Ferrarese)
This tiny settlement south of Ipoh is a real ghost town. Quiet, decrepit, timeless, and charming, it's a string of old-school coffee shops, a couple of convenience stores, and way too many beautiful shophouses destroyed by time and vines. So why should you decide to come here then? Papan is also the birthplace of World War II hero Sybil Kathigasu, a Eurasian nurse who played a pivotal role in fighting against the Japanese invaders. Her ancestral home has been transformed into a very interesting memorial museum which we recommend you visit if you are interested in the fading history of colonial Malaya.
---
And if you liked this, why don't you sign up for our mailing list? We will send you immediately a FREE photographic eBook with some incredible pictures of Penang, and we promise, we will disturb you only about once a month with some good local advice you won't find on the site