Floating in the shadows of Malaysia's more popular islands, Langkawi and Penang, Pangkor's international fame has been slower to take off. Located off the southwestern coast of Perak state, the island swells mostly on weekends as a short getaway for nearby city-dwellers.
It's a short drive from other great Perak attractions like Ipoh, Taiping with its Lake Gardens and its hill station Bukit Larut, the mangroves of Kuala Sepetang, the fishing village of Kuala Kurau and the Kuala Gula Bird Sanctuary, adventure-capital Gopeng, and the UNESCO World Heritage Site of the Lenggong Valley.
This post will tell you all you need to know about:
How to get to Pangkor Island
Where to stay in Pangkor
The Best Things to do on Pangkor Island
What to Eat on Pulau Pangkor
Historical Importance of Pulau Pangkor
Pangkor island and its three smaller sisters—Pangkor Laut, Pulau Mentagor, and Pulau Giam— had an important historical role. It was here that in 1874, the British and the Sultan of Perak signed the Pangkor Treaty, thus officially starting their rule over Malaya.
Besides early colonial politics, Pangkor's waters, rich with Indian Mackerel, mostly attracted Cantonese and Hainanese fishermen. A Marine Industry Association was founded in 1930, sanctioning fishing and boat making as Pangkor's main local trades. This still reflects into the local cuisine, graced by a bounty of fresh seafood, shrimps and anchovies, all spruced up with the local spices and herbs that grow in the island's forested interior. This offers a safe haven to an army of squeaky endemic hornbills: They often fly out of the thicket, gliding above the coastal road towards the sea.
---
How To Reach Pangkor Island
Pangkor is situated roughly halfway between Penang and Kuala Lumpur, and is very close to Ipoh and its cave temples. A stop here is very much worth and there are many cozy Airbnbs in Ipoh.
From Kuala Lumpur, take the North-South highway and exit either at Tapah or Gopeng. Interstate roads lead to Highway 5 to Sitiawan and Lumut, where the jetty for Pangkor is located.
From Penang, drive to the Changkat Jering highway exit, and proceed south to Terong and along the coast via road A101 and 60 passing Pantai Remis to Lumut.
Lumut marina's multistory car park is right next to the pier where a half-hourly ferry departs to Pangkor Town (40 minutes; RM14 round-trip). You can park your car here at a multi-level car park and pay by the hour.
If you are coming to Lumut by bus, the station is within walking distance of the Pangkor jetty.
---
Best Places to Stay on Pangkor Island
There are plenty of good accommodation options on Pangkor island. You can check out our list of the 20 best Pangkor Hotels, while the following are some quick and trusted recommendations:
Best Budget and Mid-range Pangkor Hotels
1- Nipah Guesthouse is a perfect choice, clean and super friendly, with charming A-frame mini-villas set around a long and thin swimming pool. Check prices on Booking.com | Agoda.
2 – Joe Fisherman Inn is another flashpacker option offering two storeys of comfortable rooms tucked around an inner courtyard equipped with a long swimming pool. Check prices on Booking.com | Agoda.
3 – If you can ride a motorbike, Pangkor Fish House is a nice yet simple place with rooms inside an overwater stilt house and plenty of character to get to know the real-life of Pangkor's fishing villages. Check prices on Booking.com | Agoda.
Not enough choice? Check more Pangkor hotels here.
High-End Pangkor Hotels
Tiger Rock is Pangkor's charming and trusted boutique accommodation. The former secluded home of Penang-based visual artist Rebecca Duckett-Wilkinson and her family, Tiger Rock packs a cluster of charming eco-chalets on a former rubber estate enveloped by lush rainforest. Check their official website.
Set in the midst of Pasir Bogak's bay on the tiny islet of Pangkor Laut, the secluded Pangkor Laut Resort has a private beach and a series of thatched villas, and it's Pangkor's most luxe accommodation. Check prices on Booking.com | Agoda.
---
Best Things to Do & Pangkor Island Attractions
Pangkor is a small island but packs quite a number of things to do that will keep you busy for at least a couple of days.
1
Dutch Fort Ruins at Kota Belanda
The Dutch Fort (Kota Belanda), on the southeastern end of the island, is a not too flashy memory of Pangkor's colonial past. Built by the Dutch in 1670 to store supplies and control the tin trade in Perak, it was destroyed by locals in 1690, rebuilt by the Dutch in 1743 as a military garrison, and finally abandoned in 1748. What you can see today was mostly rebuilt in 1973 for conservation and tourism purposes.
2
Take a look at Batu Bersurat (Tiger Rock)
Across the road from Kota Belanda is Pangkor's most famous boulder, Batu Bersurat, or "tiger rock" for the inscription it carries. Sheltered by a pavilion, the gray stone has an enigmatic carving of a big cat: to some, it's a tiger mauling a child—a memorial to the cruel death of a Dutch dignitary's son; to others, it's the obscure lion from the Dutch coat of arms, holding a quiver of arrows and a sword. What poses no doubt and makes one think of the validity of the second option is the unmistakable "VoC" engraving, a symbol of the Dutch East India Company.
3
Stroll Pangkor Town's streets and markets
Pangkor's coast is peppered with modest villages where residents still peddle century-old trades, from wooden boat-making to fishing for ikan bilis (local anchovies). Pangkor Town, a swelling of iron-roofed buildings spilling out of the ferry port, is the main settlement. It's pretty much a small grid of lanes where mom-and-pop shops sell dried fish and daily essentials, and locals play a game of haggling for the best price. There's also a bank here if you need an ATM, and a thriving fish market in the morning. Come here to see how locals sell and buy the fresh catch of each day.
4
Visit Sungai Pinang Town and its Fishing Boat Yards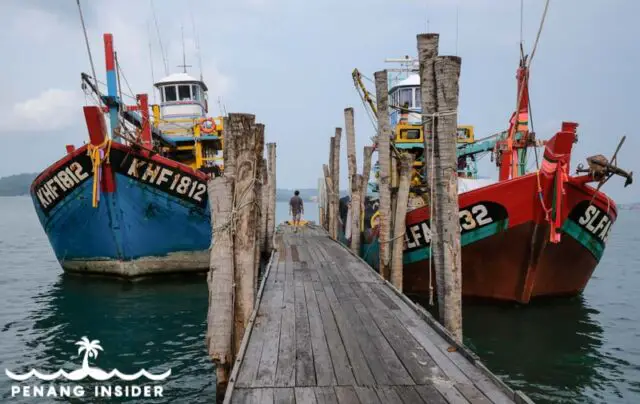 Fishing boats moored at one of Pangkor Island's Sungai Pinang Besar's jetties (image © Kit Yeng Chan)
The island's two main towns, Sungai Pinang Besar and Sungai Pinang Kecil, are Pangkor's two main Chinese fishermen settlements. Set halfway on the east side of the island, Sungai Pinang Besar is arguably the most interesting of the two for it has most of Pangkor's famous shipyards, an industry that thrived in the 1980s.
You can descend to a series of rickety wooden jetties where local boat-makers mould wood into the bows and flanks of newborn vessels, some of which will be sold to Thailand and beyond. Other moored boats float next to the jetties, waiting to fire up their engines for their evening sea hunt for fresh anchovies — dry fish is the second biggest industry here.
5
See China's Great Wall at Fu Lin Kong Temple
From Sungai Pinang Besar, skirt Pangkor's old abandoned cinema to reach the orange pagodas of Chinese temple Fu Ling Kong, a collection of bright orange curved Chinese pagodas scattered on a nearby hill. It's an extravagant concoction of the sacred and the cartoonish, made all the more quirky thanks to a mini-replica of the Great Wall of China that clings to the hill-slope. The views from the top take in as far as Pangkor Town and the port and provide great photo opportunities.
6
Visit Pangkor's Kali Amman Temple
Kali Amman temple, one of Malaysia's most sacred shrines to the fierce ten-armed Hindu goddess, was rebuilt in January 2019. It's one of Malaysia's few sea-facing Hindu temples, and for this reason, attracts many devotees throughout the year.
The yearly Kali Amman festival —similar to the Thaipusam celebrations held in Penang and Kuala Lumpur, but with the added dreamy beach backdrop — transforms this temple into a prime pilgrimage site for thousands of devotees who cross the sea from the mainland to pay homage to Mother Kali.
Expect to see processions, face and body piercings, coconut smashing, and more extraordinary religious shenanigans. Kali Amman Festival falls during the Tamil month of Masi (between February and March) and is very interesting for the striking number of local Chinese residents who take part in celebrating the goddess, whose statue is taken from the temple to the sea for a ritual purification bath.
7
Enjoy the Beach at Teluk Nipah and hike to Lin Je Kong Temple
Tucked up Pangkor island's western coast are Teluk Nipah and Coral Bay, Pangkor's two most alluring beaches. The coast here is strewn with many rocks and boulders, and swimming is peaceful thanks to the shallow waters naturally protected by the two twin bays. Walk along the shore up to the Lin Je Kong temple, strangely patrolled by a life-sized statue of Mickey Mouse — there used to be a Donald Duck on the left side of the access staircase, but it's been demolished by vandals. Dedicated to goddess Kuan Yin, whose statue stands above a golden dragon, Lin Je Kong has a very scenic beach location and is the starting point of a short trek that will take you to the end of the coast, from where the sunset views are pretty stunning.
8
Chill at more secluded Pasir Bogak
Pasir Bogak, a long stretch of fine sand backed by tall and thin coconut trees, is a quieter beach — well, everywhere is quite chilled in Pangkor, but here you'll be mostly alone with nature. There are very few food options here, so come prepared. Right in front of the bay is Pangkor Laut, the second biggest of Pangkor's five islands, which is privately owned by Pangkor Laur Resort. You can still visit, if you wish, by chartering a fishing boat on Pasir Bogak.
9
Feed wild Hornbills with your Own hands
Tucked up one of Teluk Nipah's two back lanes, the daily hornbill feeding organized by budget hotel Sunset View Chalet at 6.30 p.m. is unmissable. A group of 20-odd hungry birds patiently wait on the powerlines for a daily fruit feast prepared by the guesthouse's owners. They descend upon any brave tourist who dares lift a slice of fruit up in the air. It's fun—though slightly scary—to see the birds glide down to snatch the coveted pineapple from our fingertips. The best thing is, the spectacle is free of charge, and you are guaranteed to see the mighty birds.
10
Loop around the island on a Motorbike
Pangkor 16-kilometer-long paved coastal road is windy but well-paved, and getting on a bike is one perfect way to spend half, or even a full day, exploring. If you rent a motorbike at Pangkor Town's main jetty (around RM 25/day), you can strike off in a clockwise or anti-clockwise direction, and stop at your own leisure at most of Pangkor's sites. Make sure to fill up your tank at Pangkor Town, as there are no other petrol stations around the island.
11
Catch a Ride in a Pangkor Pink Taxi
Pangkor Island doesn't have ride-hailing or taxis, only this peculiar fleet of Nissan Vanettes painted in bright pink. They can be found mostly at the ferry port in Pangkor Town, from where they ferry tourists to Teluk Nipah and Coral Bay. The price per person is clearly written on a signboard that hangs at the port (about RM 10 per person to Coral Bay), so you won't even have to bargain for your ride. It's one unique form of transport on Pangkor, and the best option if you don't feel confident enough to rent your own scooter or car to cruise around.
12
Feel the Arts and Culture at Pangkor Island Festival
Started in 2013, this yearly appointment, most often held in September or November, sees a number of local and foreign artists flocking to the island to perform and create art connections with the locals. Pangkor Island Festival also offers interesting workshops and community events, and it's a perfect time to come to the island and enjoy a very different vibe.
13
Venture inside Pangkor's Rainforest on an ATV
Get a taste of Pangkor's nature by joining a tour with ATV Pangkor (from RM80 per person). The two-hour ride leaves from Coral Bay and snakes through the rugged paths of the interior towards Bukit Pangkor, climbing all the way to Pangkor's old airstrip. As you finally approach the sea at the deserted northern beach Teluk Dalam, you'll finally get to grips with the diverse charms of Pangkor.
14
Snorkel at Pulau Mentagor
Pangkor's waters offer good snorkeling off Mentagor islands (half-day tour RM380 per boat/6 people). It's actually very close to the southern end of Teluk Nipah, and strong swimmers may even want to brave getting there on their own.
15
Sail and Dive at Pulau Sembilan
The nine inhabited and protected Sembilan Islands to the south of Pangkor are a perfect spot for diving (RM1,800 per boat/6 people). The trip takes about an hour, and as the small archipelago is a reserve area, it's not possible to stay here overnight. A pity, because Pulau Sembilan is one of the best places in Malaysia to see rare blue plankton glowing in the dark on the beach. If you come here late in the day, you may convince your boatmen to stay after sunset and witness this most unique natural spectacle.
Check with locals whether or not the island is open, as often times it's unaccessible for conservation reasons.
---
Best Food in Pangkor Island
It's obvious that when coming to Pangkor, you'd better think of trying the local seafood.
Along the road leading to Pasir Bogak beach is Ye Lin Restaurant (Tel. +60 5685 1881, a meal for two from RM70), the no-frills, pioneer Chinese seafood joint that's famous island-wide for its scrumptious, juicy, and fresh courses.
Nipah Deli (fb.com/nipahdeli; dinner for two from RM50), right on the beach in Coral Bay, is a simple choice for tasty Chinese steamboat dinner, while tucking toes into the sand, and watching the sun paint the horizon copper orange.
Next to it, Daddy's Cafe (Tel. +605 685 1744, meal for two from RM50) is another popular option for cocktails, local fresh seafood, and Western-styled comfort foods — think pastas, seafood pizzas and chicken schnitzels by the beach.
---
Blogging transparency: this post contains affiliate links. These are products and services that we personally use and recommend. If you click on one and buy any service, I will get a small commission at no extra cost to you. Consider it a small way to say thanks, and keep Penang Insider going.
---
And if you liked this, why don't you sign up for our mailing list? We will send you immediately a FREE photographic eBook with some incredible pictures of Penang, and we promise, we will disturb you only about once a month with some good local advice you won't find on the site