The hiking trails of Penang Island have become quite a hit since the country experienced the lockdowns related to Covid–19. While hiking in Penang Hill and Penang Botanic Gardens, or striking up and around Bukit Hijau is certainly great, there are also many interesting hiking trails in Penang Mainland at Seberang Perai — don't forget scenic places like Frog Hill, Cherok Tok Kun, Berapit, Bukit Panchor and Pulau Aman near Batu Kawan and its seafood hotspot Bukit Tambun. And now that interstate travel is allowed, beyond exploring other attractions in Penang's own backyard, one can also strike to nearby Kedah state to climb Gunung Baling and Gunung Pulai.
This post focuses on one of my favorite Seberang Perai hikes, Bukit Juru. Hiking at Bukit Juru is perfect for beginners, those who want a short power-hike to exercise, and even for couples looking for a scenic and quiet place to go on a date. Since the ridge of Bukit Juru is large and equipped with wooden benches, it's also perfect to come for a family picnic.
Here is all you need to know to make the best of your visit to Bukit Juru.
How to get to Bukit Juru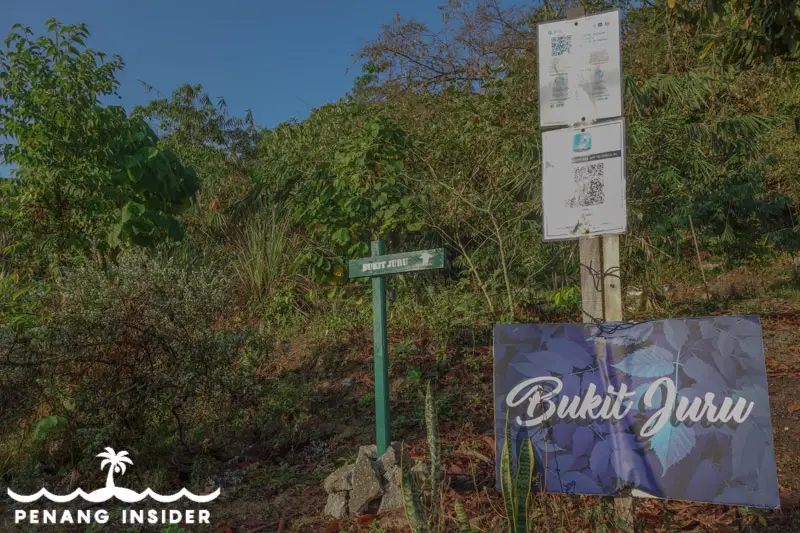 Bukit Juru is a hill set near the coast of the Penang mainland town of Bukit Mertajam. The hill is also not far away from Auto City and tucked beyond the old road running between Butterworth and Ipoh, in the area of Bukit Minyak.
Reach the junction right after the Taman Melati Driving Range — don't miss our complete guide if you are interested in getting a Malaysian Driving Licence — and turn right. The traffic soon will disperse, and a nice area of low paddies and Malay kampungs will open before your eyes.
Note well that there are two access routes to Bukit Juru. You want to start at the one that's marked as 1800 Steps Bukit Juru on Google Maps.
You need to drive to the bottom of the hill, where there is ample parking space next to a jetty on the Juru River. This is definitely worth a stroll, too, as you may see rare birds and other animals such as mudskippers.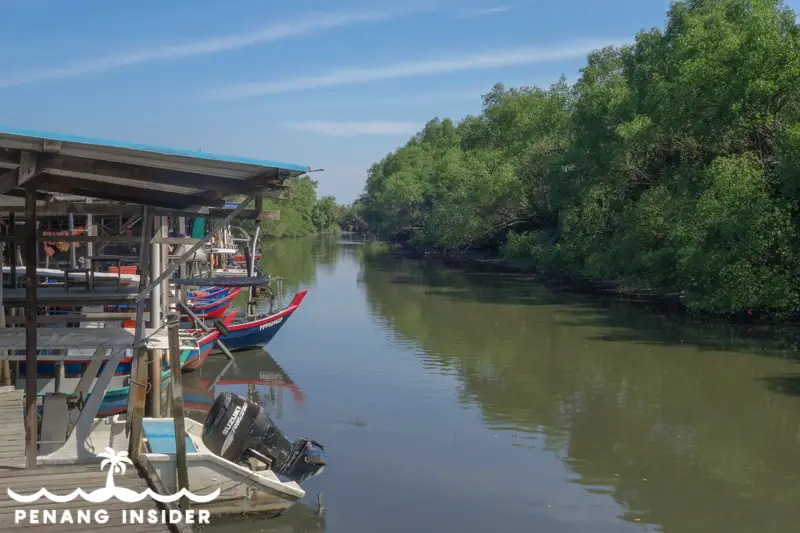 This is a map of Bukit Juru's location:
The river location is not as nice as, let's say, other Perak attractions such as Kuala Sepetang, Kuala Gula or Kuala Kurau, but if you love murky Malaysian rivers flanked by dense vegetation, you should definitely go have a look.
---
Bukit Juru's 1800 Steps Trail
Make sure that you start at the beginning of the 1800 steps trail, which is marked by a signboard with "Bukit Juru" written on it. Fool-proof.
This is a newer path carved out from the mountain itself — nice earthen steps, cleaned daily by the many volunteers who rock up and down the hill.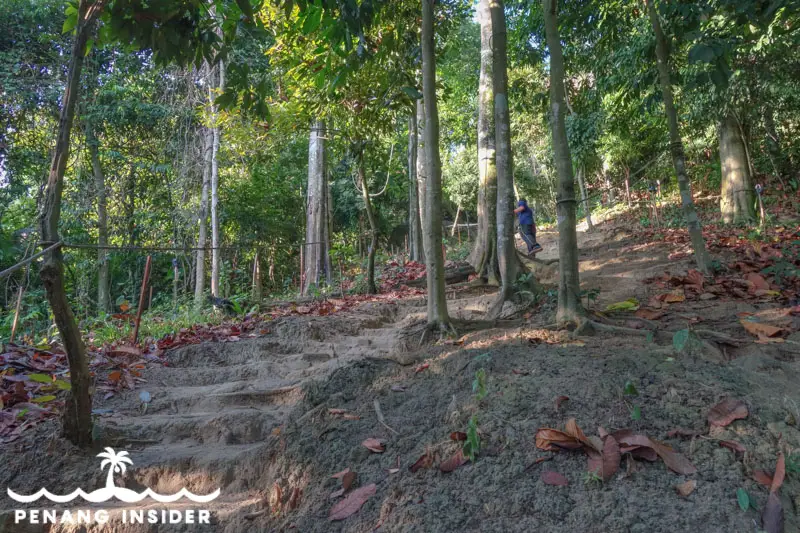 I am pointing this out because Bukit Juru has another access, also marked on Google Maps, from a Malay kampung situated a few hundred meters to the left of the 1800 Steps Trail. Locals recommend not use that path because not only it is an ugly concrete staircase, but it's no longer well-maintained and, we have been told, the residents don't like people using it as it's near their properties. Stick to the 1800 Steps Trail, which is also right in front of the parking lot, at whose end is the local Pertubuhan Kew Ong Yah jetty on the river. Easy peasy, can't go wrong.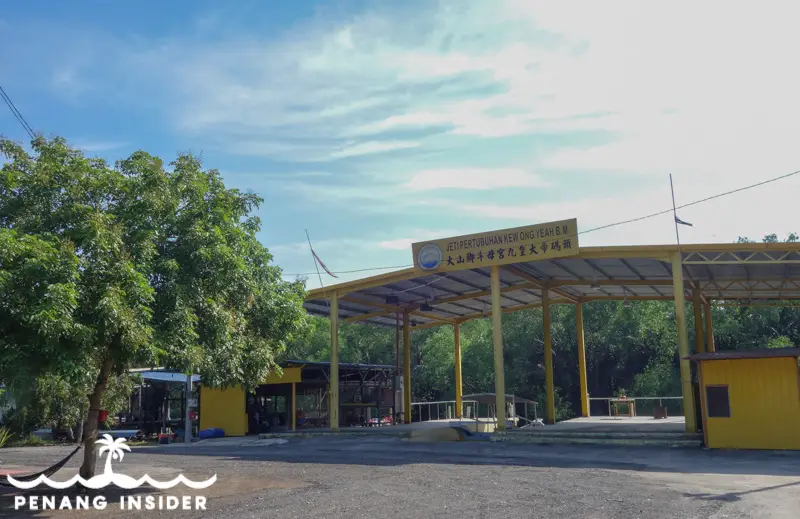 ---
Bukit Juru's Summit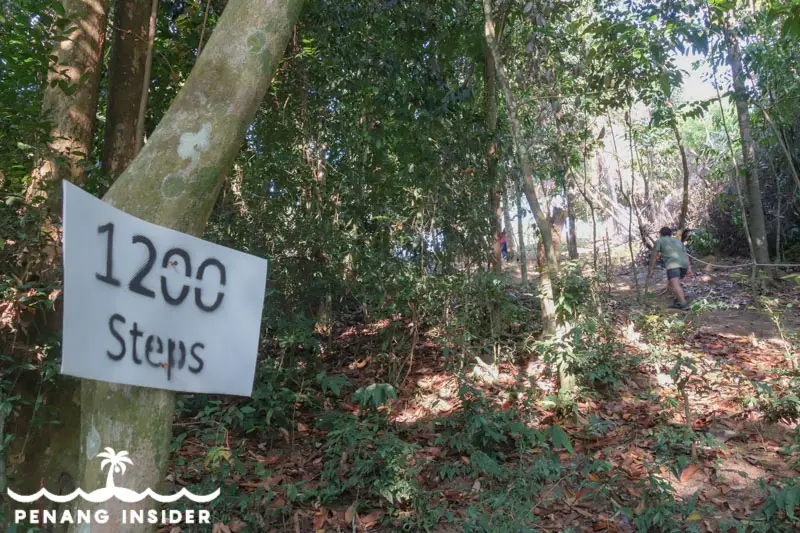 The beauty of Bukit Juru is of course reaching the top for the great views.
Don't worry too much when you hear that you'll have to climb 1200 steps to reach the summit — it may be true, but I am not sure how they are calculated.
Climbing Bukit Juru is really not as tough as it sounds, and it will take you only between 10 and 30 minutes to reach the summit depending on your level of fitness. It's an easy, short and straightforward hike along a very well-maintained path. There are also wooden sticks prepared at the beginning of the path for those who may need one to better climb.
Bukit Juru has two main parts, and here I am going to better explain them to you.
---
Bukit Juru Seaview
Once you reach the 1200 marker, you'll arrive at a junction signalled by one wooden post. On the right side is the way up to "Seaview", the right part of the ridge. If you follow to the left, you'll go instead to "101". I'll talk about it in a moment.
I suggest you proceed first to "Sunset" and then make a loop to the left, returning to the junction via "101".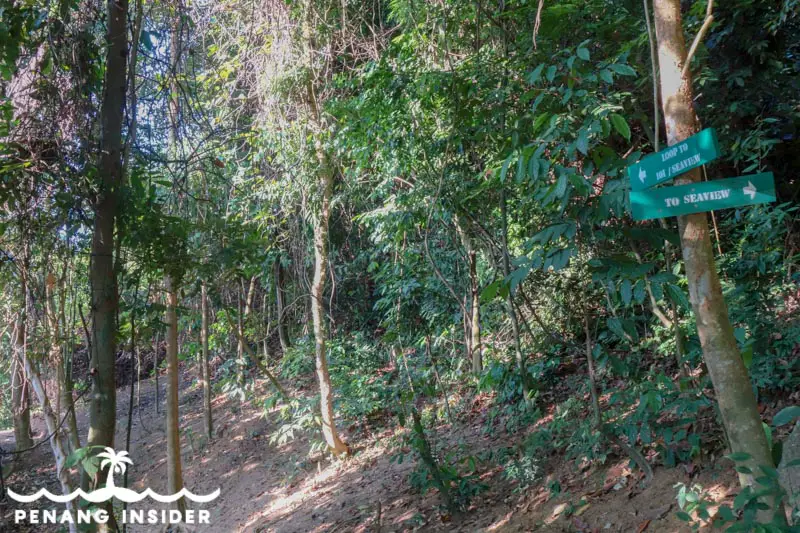 It's nice and breezy up here, a perfect place to spend some quiet time relaxing. We came in the morning, and the temperature up here was much more fresh and pleasant.
As soon as you arrive at Seaview, if you turn behind, you'll be confronted by an unobstructed view of Bukit Mertajam hill, the Cherok Tokun forest, and the surrounding fields and factories — an unfortunate eyesore, but that's the reality of Seberang Perai.
On the opposite side, you'll see the Straits Sea, Penang's Second Bridge and George Town. It's a very scenic spot that locals have equipped with wooden benches, some hammocks and many plants that make it feel like a welcoming outdoor garden. We believe it's a great spot for a romantic date — don't forget to bring your own food and drinks.
---
Bukit Juru 101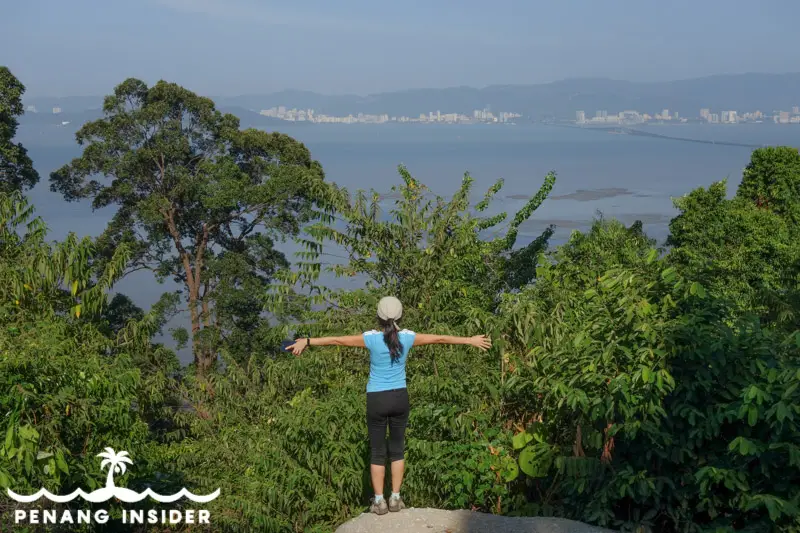 Tucked on the opposite side of Bukit Juru's ridge, pretty much where the ending point of the original concrete path from the Malay village is, and where there are a few concrete Pondok to rest, is "101".
It's a steady 10 to 20 minutes walk along a very well-marked, large path flanked by some very high and beautiful dipterocarp forest trees. I have been hiking all over Penang, and I must say, I didn't expect that the top of Bukit Juru could be so green and stunningly diverse. You can take some time to read the names of some of the trees, which are tagged or observe the species of mushrooms that grow over the tree bark. Definitely don't miss this walk to "101" as it's what makes a visit to Bukit Juru most rewarding.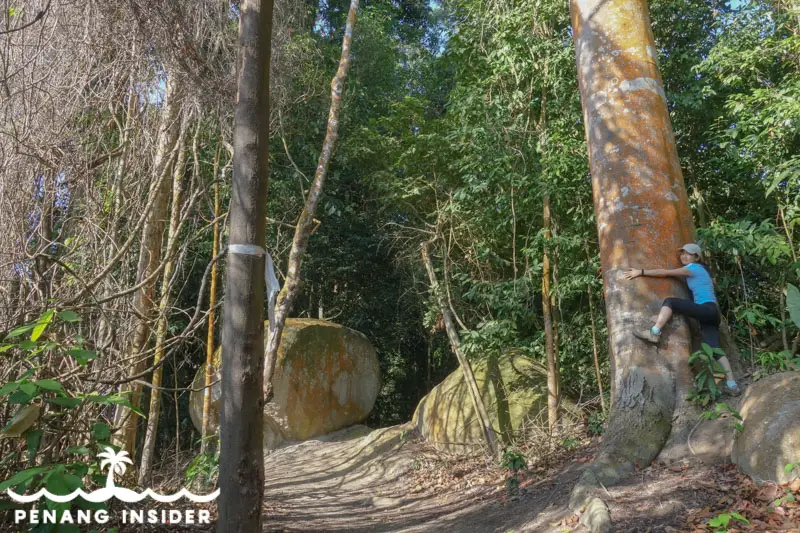 From this viewpoint, you'll see another nice view of Penang's First Bridge and George Town on the right-hand side, and on the left, the hills and a series of fish farms that are not visible from the road and make for a nice contrast. It's a very scenic picture spot.
---
Bukit Juru's Verdict
A very scenic beginner hike that can be done by anyone, including children and the elderly. It's a nice place for a picnic or a date. We went in the morning and started hiking around 8.45 am, we were done by 10 am after having taken plenty of time to take pictures, walk around and enjoying the views and the forest. I suppose tat sunset views over the island side from the aptly named "Sunset" are spectacular, so I'll let you know once I go back at a different time.
---
And if you liked this, why don't you sign up for our mailing list? We will send you immediately a FREE photographic eBook with some incredible pictures of Penang, and we promise, we will disturb you only about once a month with some good local advice you won't find on the site